07.20.20
Polina Miliou's Paper Pulp Pieces Have So Much Personality She Sometimes Gets Mad At Them
Many creatives have rituals they perform to get into the groove. Stretching, listening to music or drinking tea are all popular choices. Instead, Polina Miliou watches horror movies while she applies colorful, mushy paper pulp to her idiosyncratic papier-mâché furniture pieces in her studio in Los Angeles. "I can't tell what that says about me or the work," she says.
Miliou's first fully-formed pulp piece was a wonky pale pink side table. When she was starting out she'd collect any scrap paper she could get her hands on. Discarded packaging, old magazines and yesterday's newspapers would all be transformed into design objects. As her operation scaled up, she started working her way through a big pile of recycled newsprint that's still going. "As it is cheap and relatively easy to work with, papier-mâché has often been overlooked as a design material," she says. "So an interesting question for me was how can I redefine it and use it to its full potential."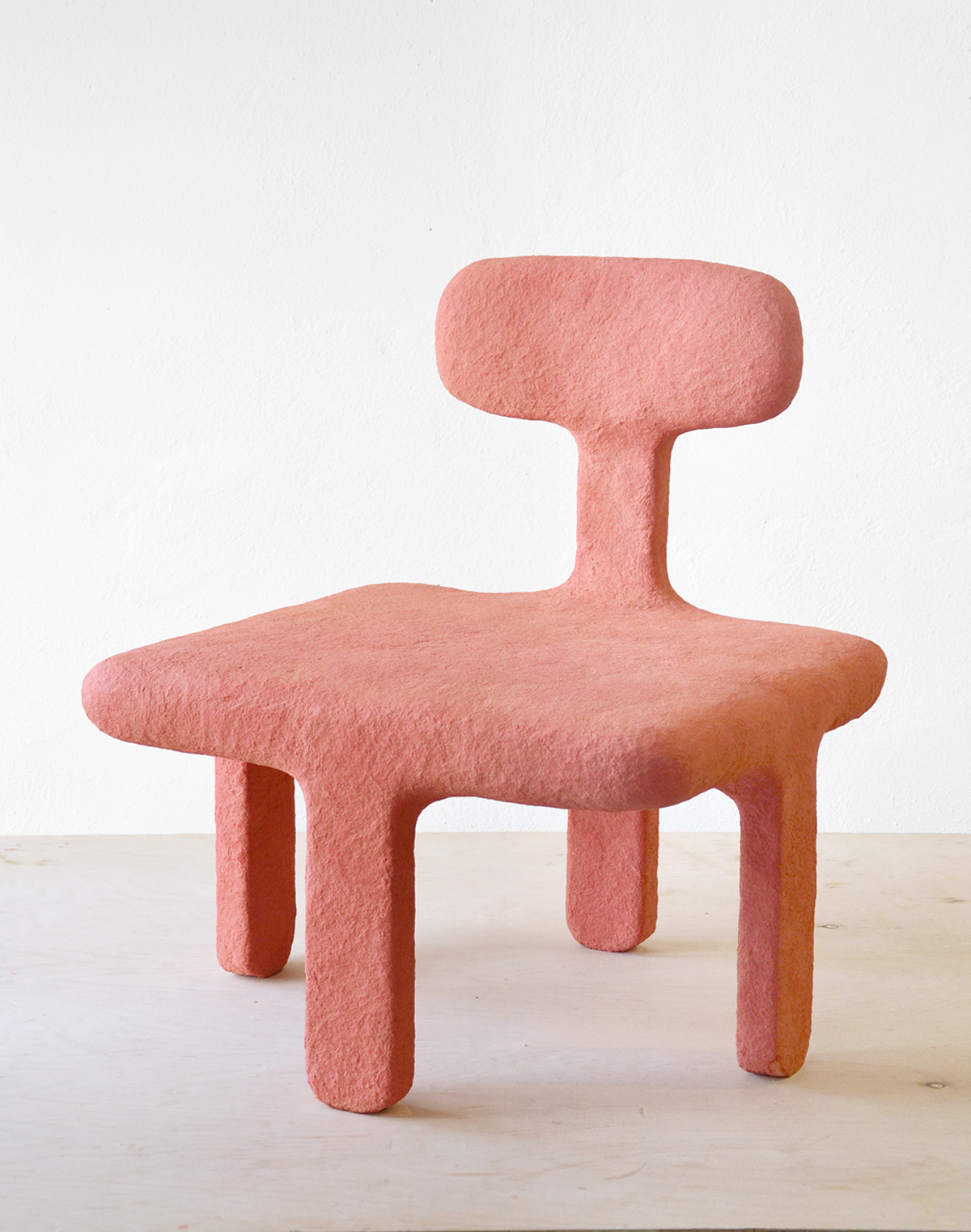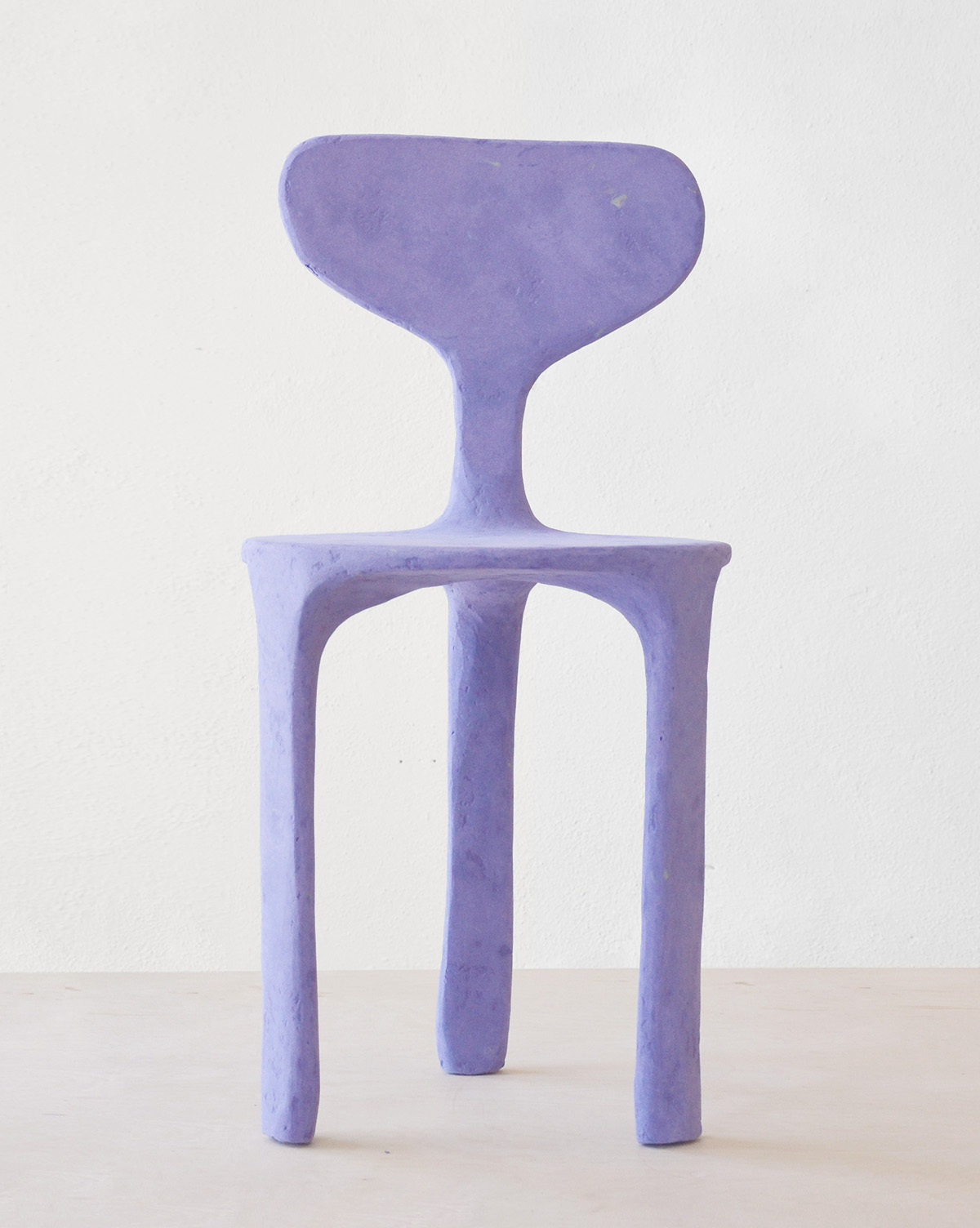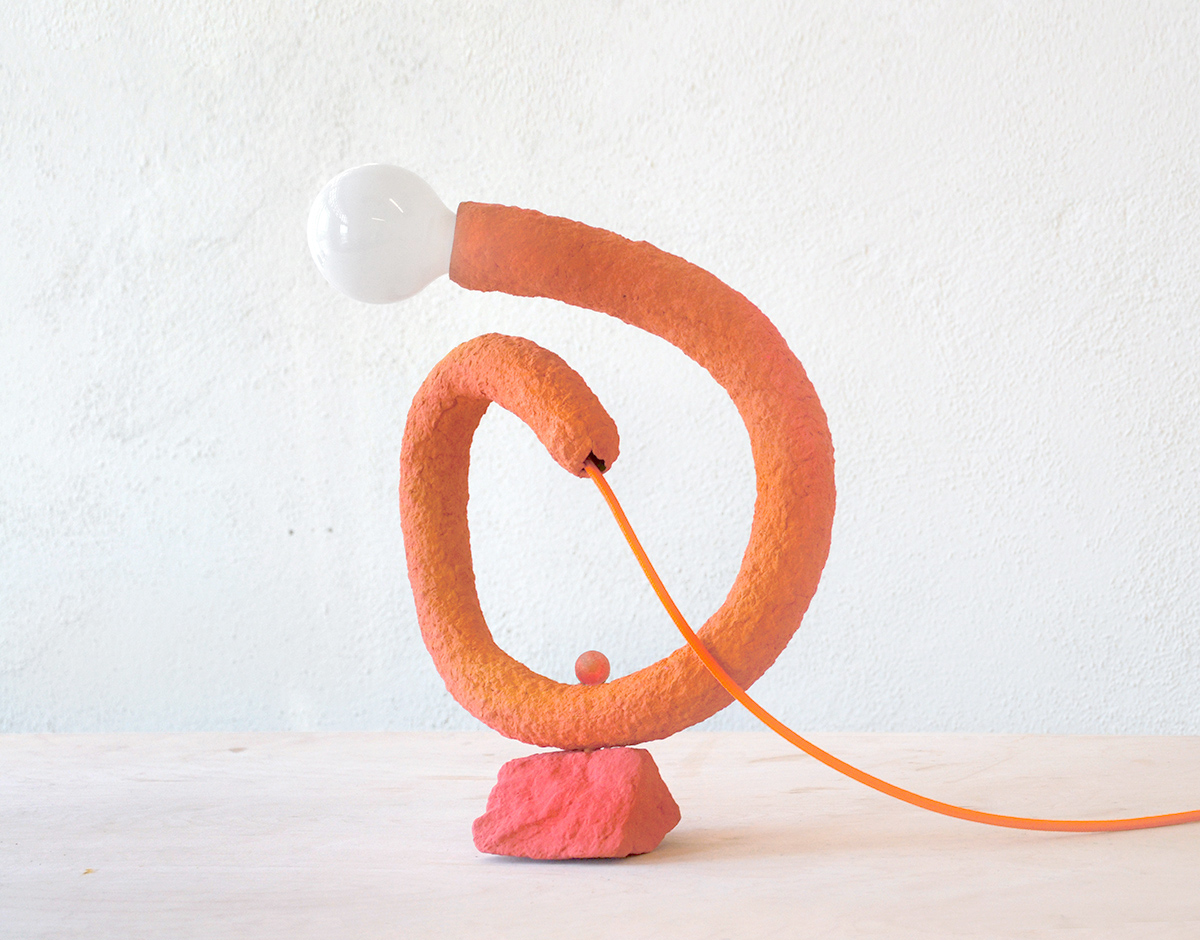 Before she moved to Los Angeles about five years ago, Miliou studied Architecture at the National Technical University of Athens in Greece. This formal background in the design of space gave her an interest in the scale of the human body in relation to things. She aims to develop larger and larger furniture pieces. "I find it very charming to work with the same material on different scales and see how far it can be pushed," she says. Her designs can be light and hollow or sturdy enough to sit on. She uses supporting materials like repurposed wood and sculpted foam for structures like chairs which she then coats with a thick layer of paper pulp to get what she calls a 'fleecy' effect. She's developed her own paper pulp formula that's durable but flexible and with every new piece, she throws something new into the recipe to see what happens. 
Whether chairs, macaroni-shaped light fittings or knotted, tubular standing lamps, Miliou sees her pieces as creatures. "I often start from an archetypal furniture form and gradually twist it into more of a character," she says. Once she's sculpted their form, she dresses the pieces in a final smooth layer. "It is a slow but fun process, during which I literally slap and caress the furniture," she says. "The time I spend with each piece lets me build a personal relationship with it. I've caught myself feeling mad with one of them if it gave me a hard time, or found another one cuter because it was more chill. At the end of this process each piece turns out rather unique as it had time to develop its own story. The whole process of caressing and pampering them, in combination with their organic curvy silhouette, make them feel alive to me," she says.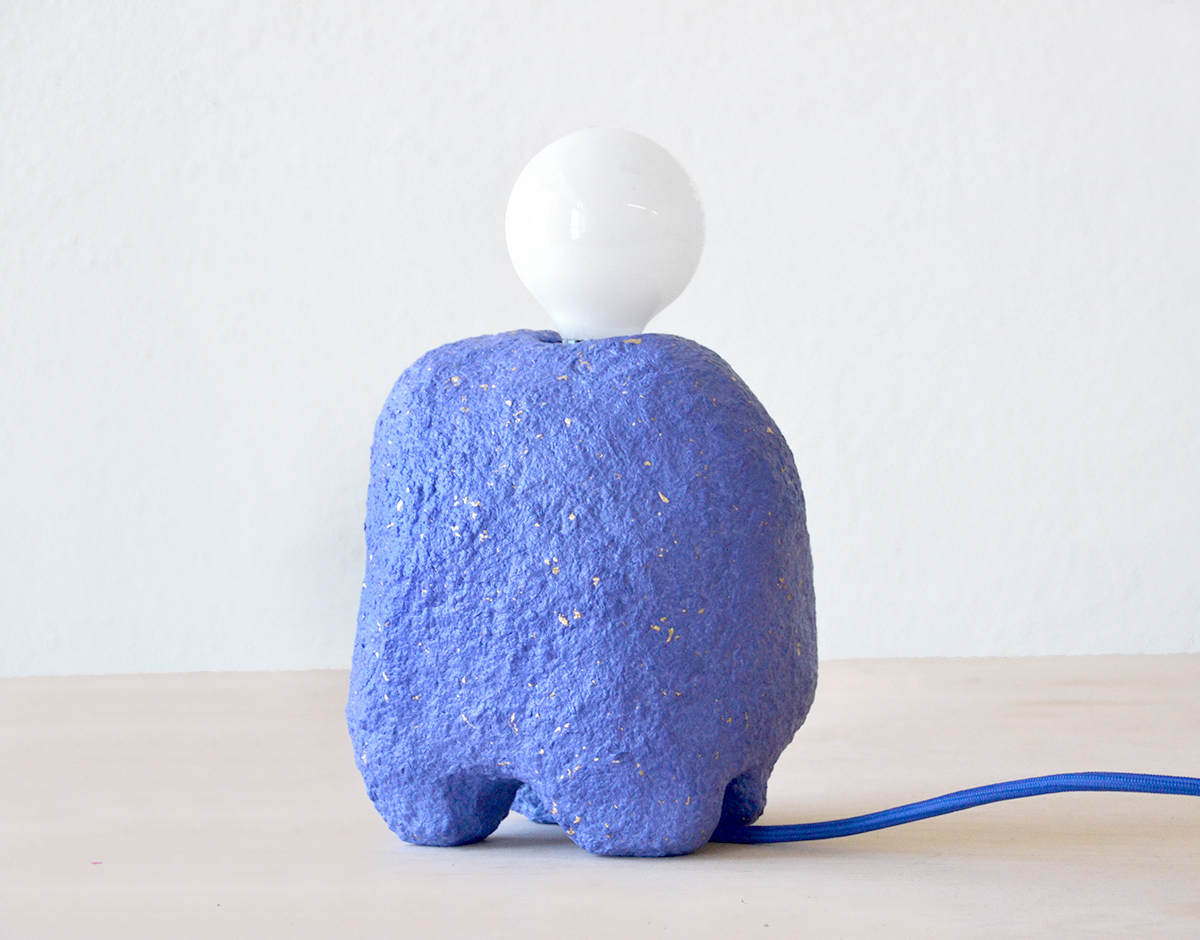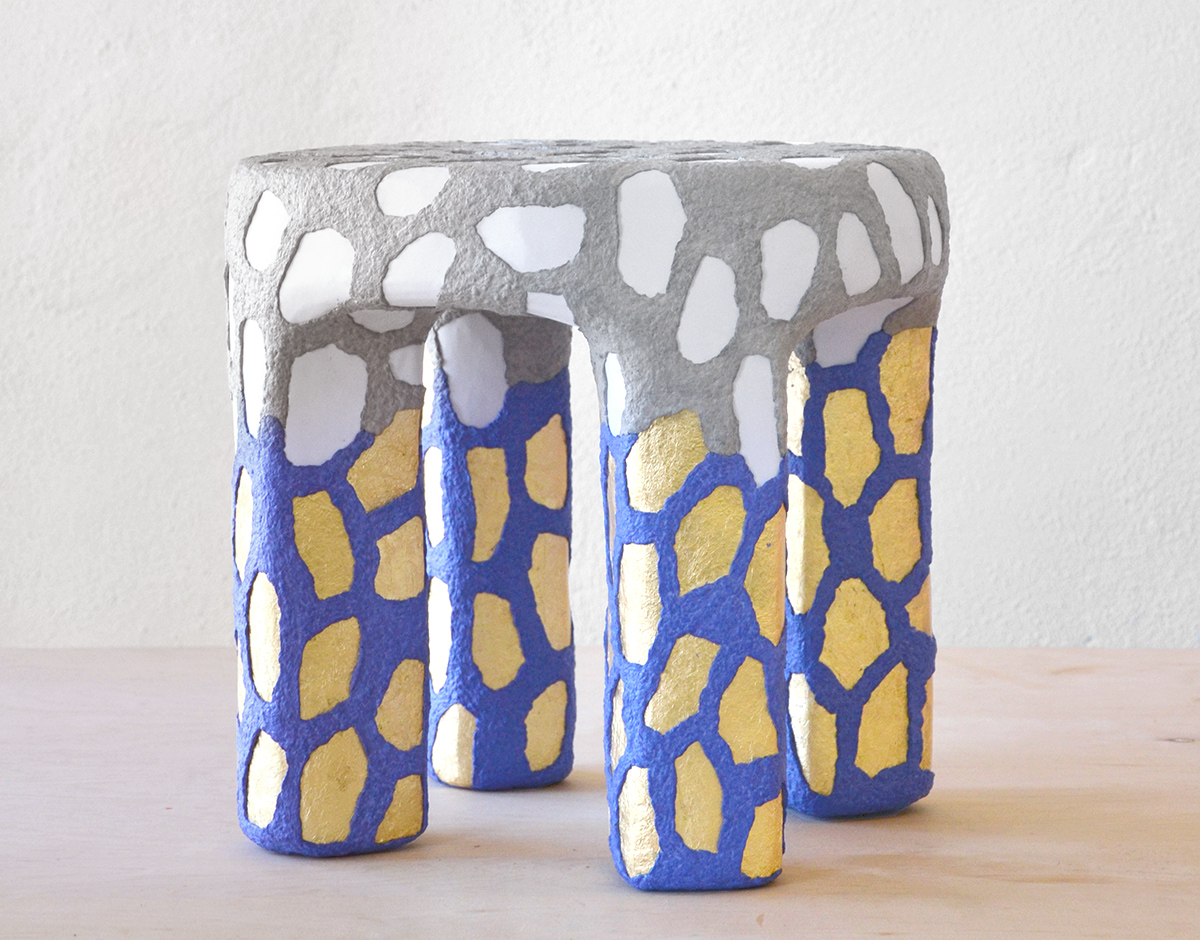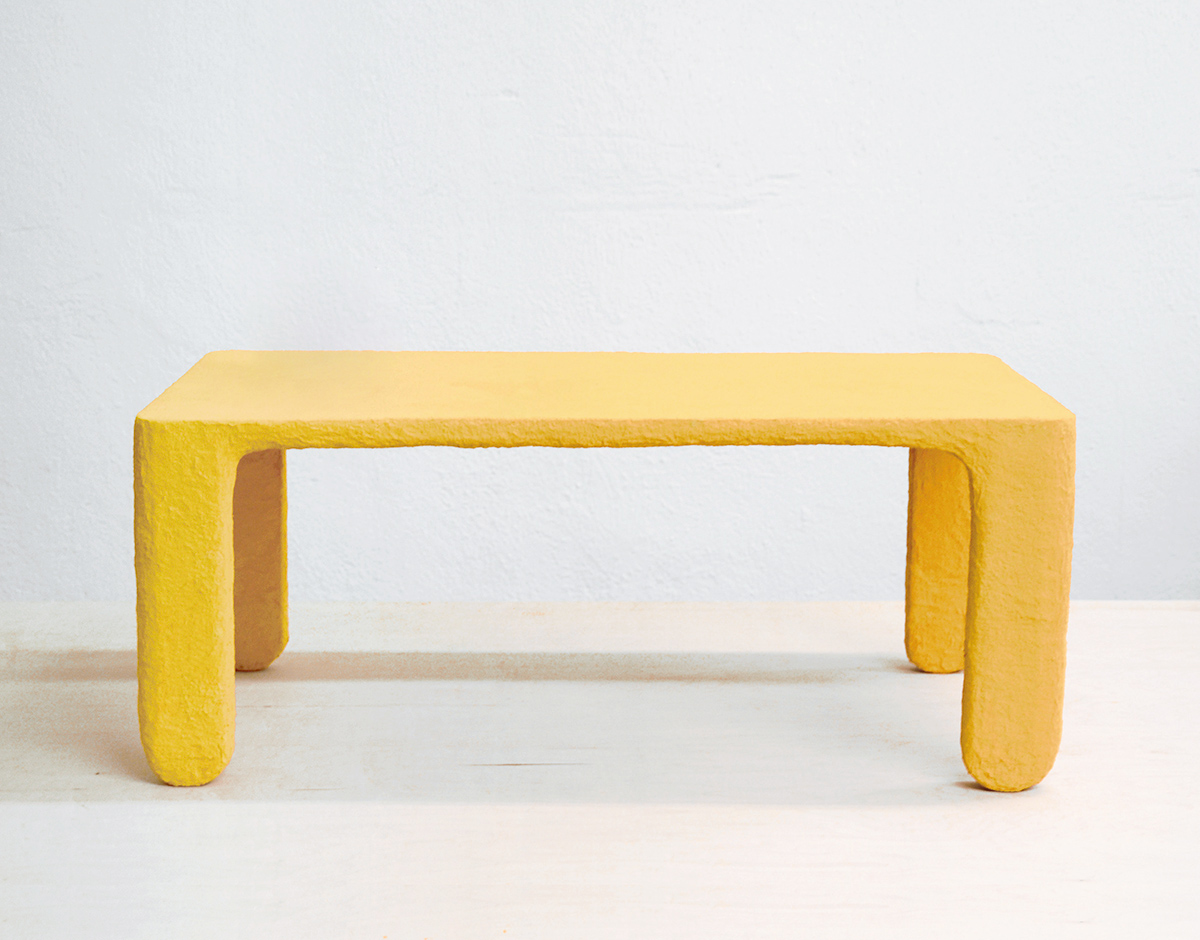 Their color adds to each creature's personality. Miliou mixes the pigments into the pulp itself, starting with primary colors until she gets the right shade. "Whenever I visualize a new idea it always comes with a color," she says. Once the pulp is ready she has to finish the whole piece in one sitting to keep the color consistent. The colors drying in different tones led her to try multicolored pieces so that she could break up the work into sessions. "The more comfortable I become with the material, the more I embrace its imperfections and make them part of the work instead of trying to fight it."
Some pieces are the surprise results of complete accidents. 'Squiggle VI', a Cheetos-colored loose spiral lamp secured to a tangerine rock started out as a self-supporting noodle lamp. "I was using a twist balloon to make the form, but while the pulp was drying, the balloon exploded dramatically! So I had to rethink its composition," Miliou recounts. "Trying to fix things brings you to unexpected territories."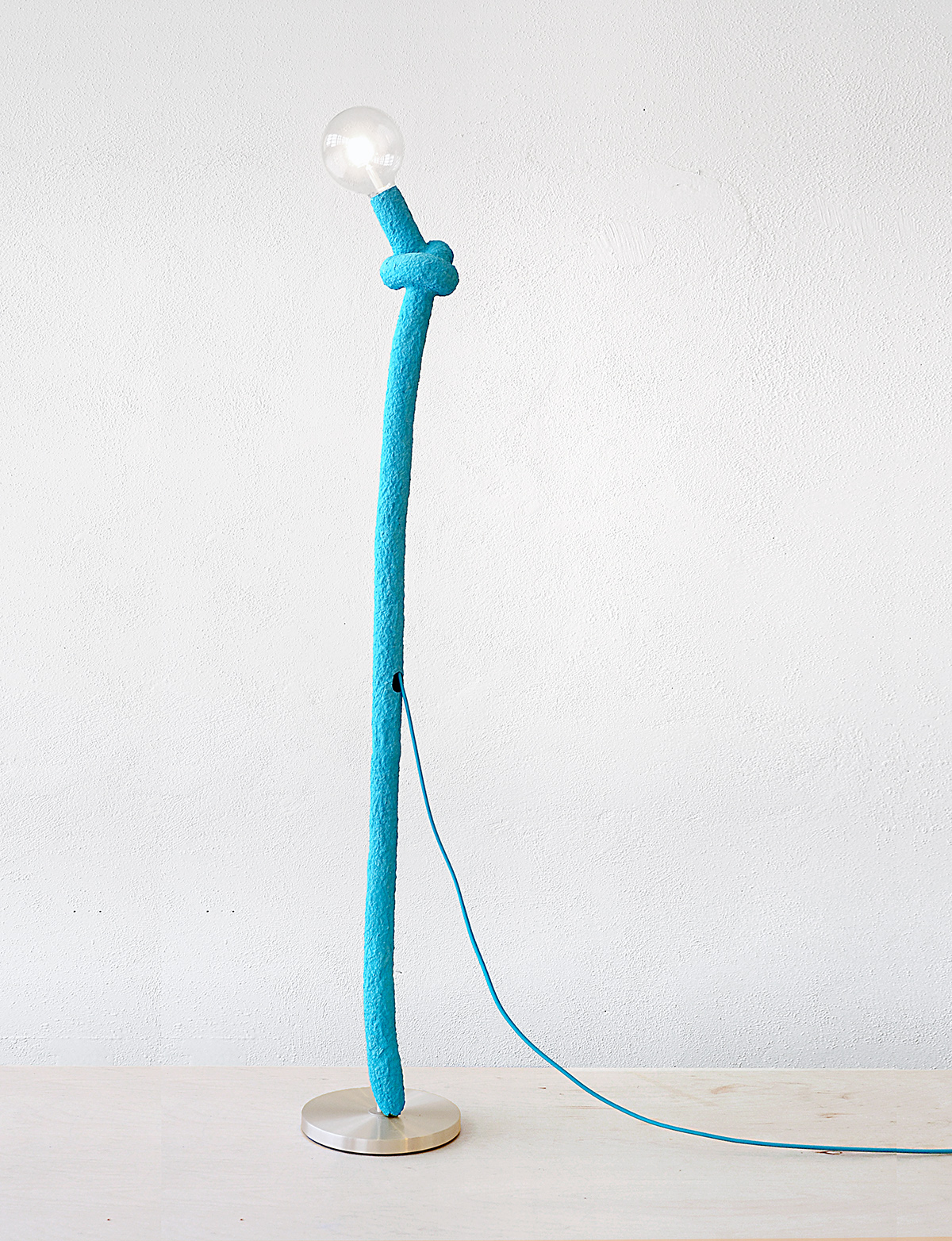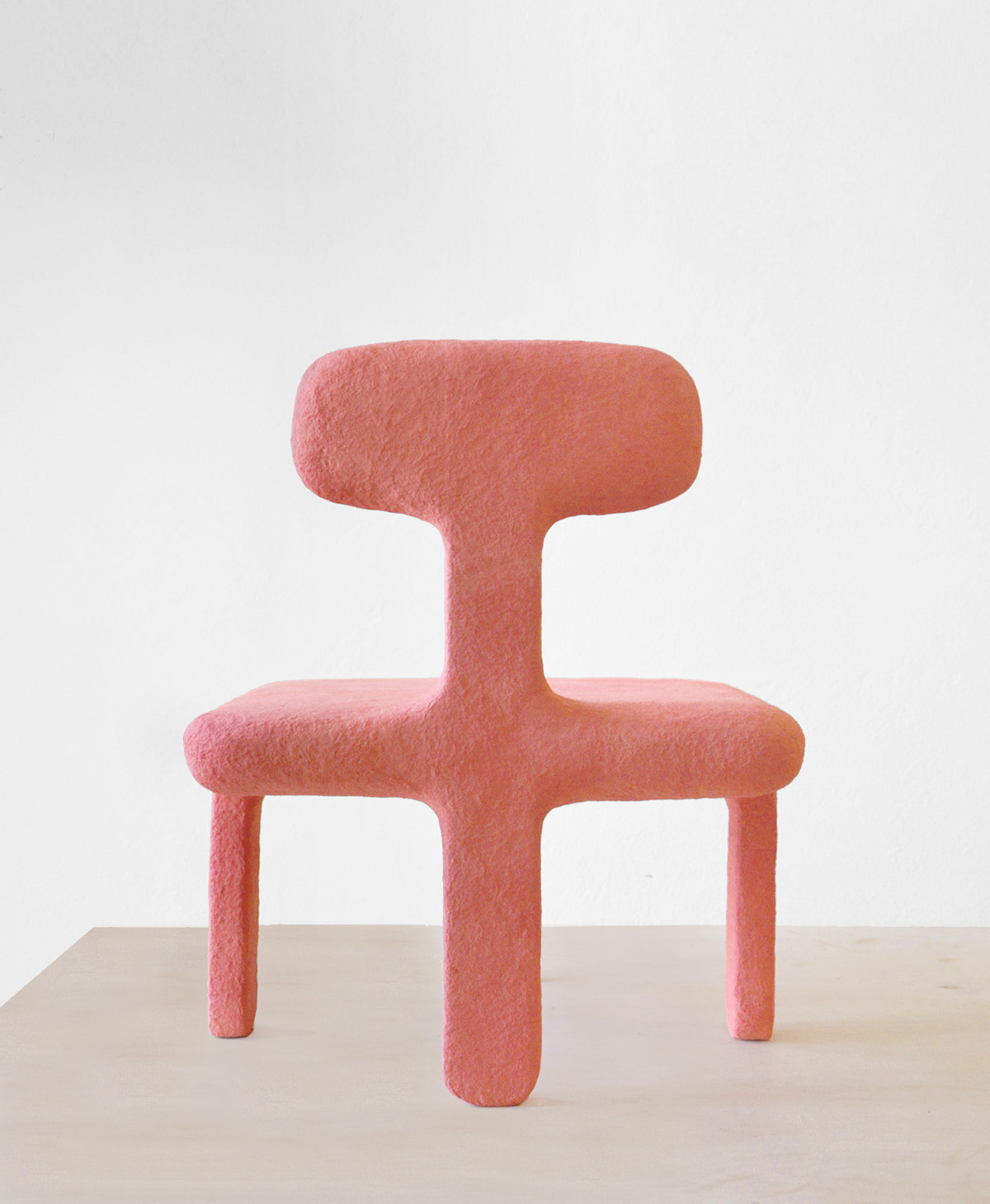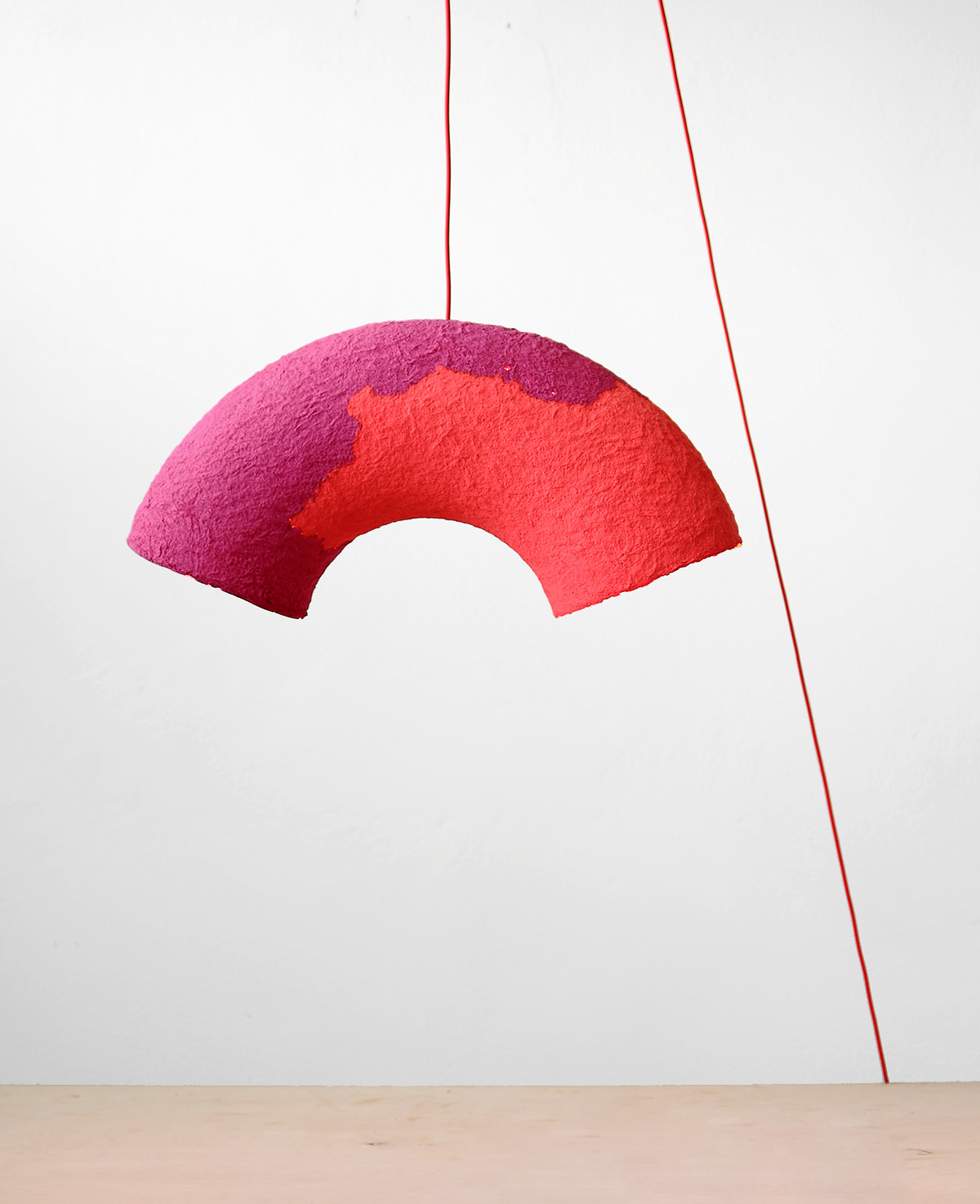 For 'Lounge Chair', Miliou imagined an alien-like form with an exaggerated seat that would feel both welcoming and awkward. "The result was pretty effective," she says. "When I first had a couple friends sit on it they started laughing, as the chair looked soft and alive but felt sturdy and weirdly satisfying to sit on. It's this kind of "interactive experience" I am looking for when I am designing a new piece."
Miliou's inspirations span the monolithic, handmade forms of Cycladic art and architecture to Primitivism to anonymous architecture of the Mediterranean. As is telling in her work, she's drawn to handmade, intuitive forms that feel like they've been around forever. "I want to combine these qualities with elements of intimacy, cuteness and humor," she says. "I sometimes think of myself as a gardener. I believe that each individual piece is imbued with the care and affection I put into it."