08.14.20
Meet Kelsie Rudolph, Our Newest Ceramic Furniture Crush
Ceramic artist Kelsie Rudolph glazes her adventurous creations in color combinations that just about make her skin crawl. She does this to better grasp color's effect on us. "As a child I had a true hatred for the Christmas versions of red and green together, for whatever reason," she says. "I've found my way through a variety of reds and greens that have an edge similar to my adverse feelings towards them as a child, which makes me feel like I understand them a little better." On vessels, sculptures and, more recently, larger furniture pieces like benches and chairs, the striking pairings jig across her work in stripes, zig-zags and checkerboard. "I'm really intrigued by the way color and pattern are able to make each other move. I love the way my pink glaze looks darker next to orange than it does next to grey, or the way that same grey looks more blue next to black," she says, "I use pattern as a way to make these colors dance a little over my rigid work."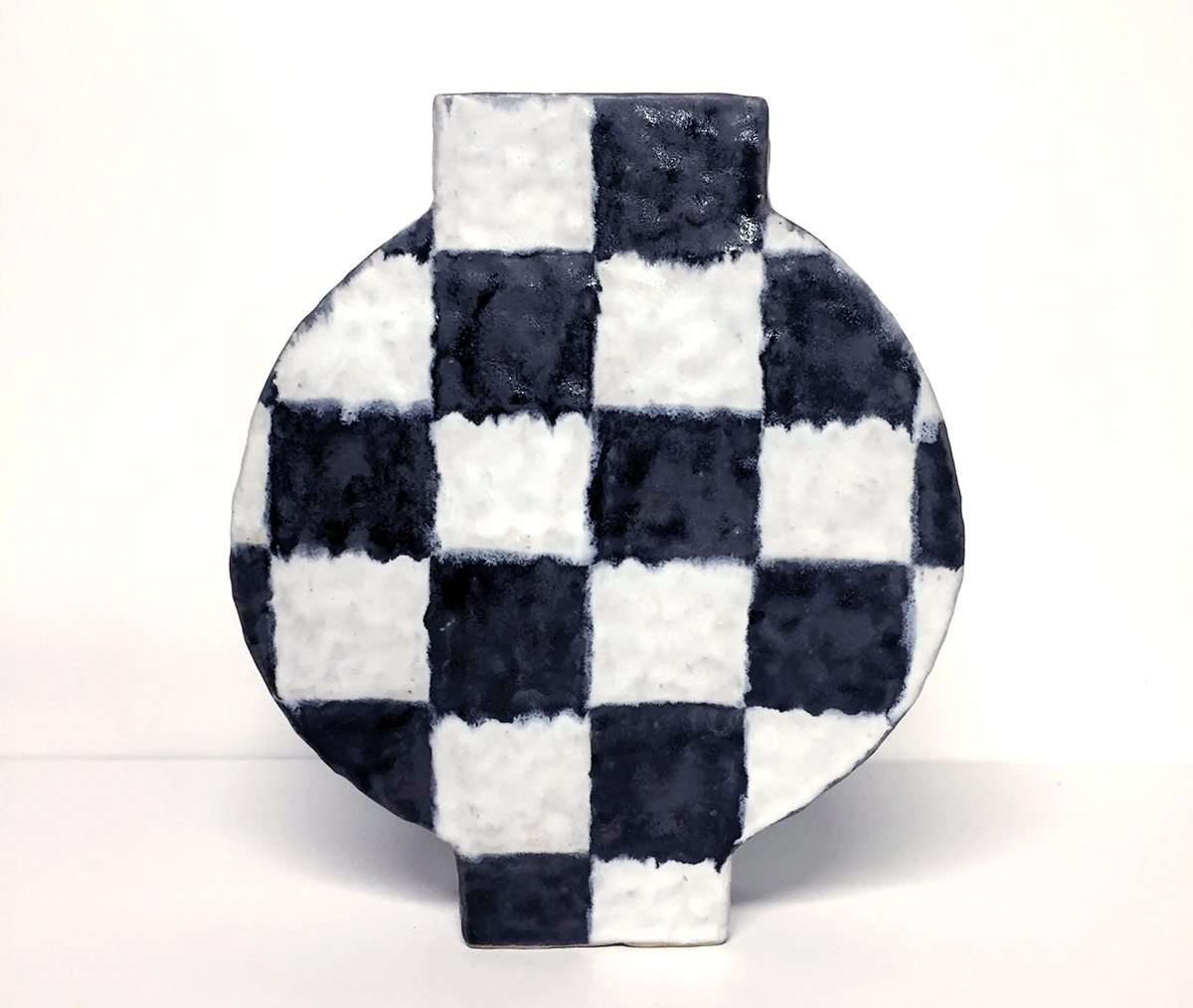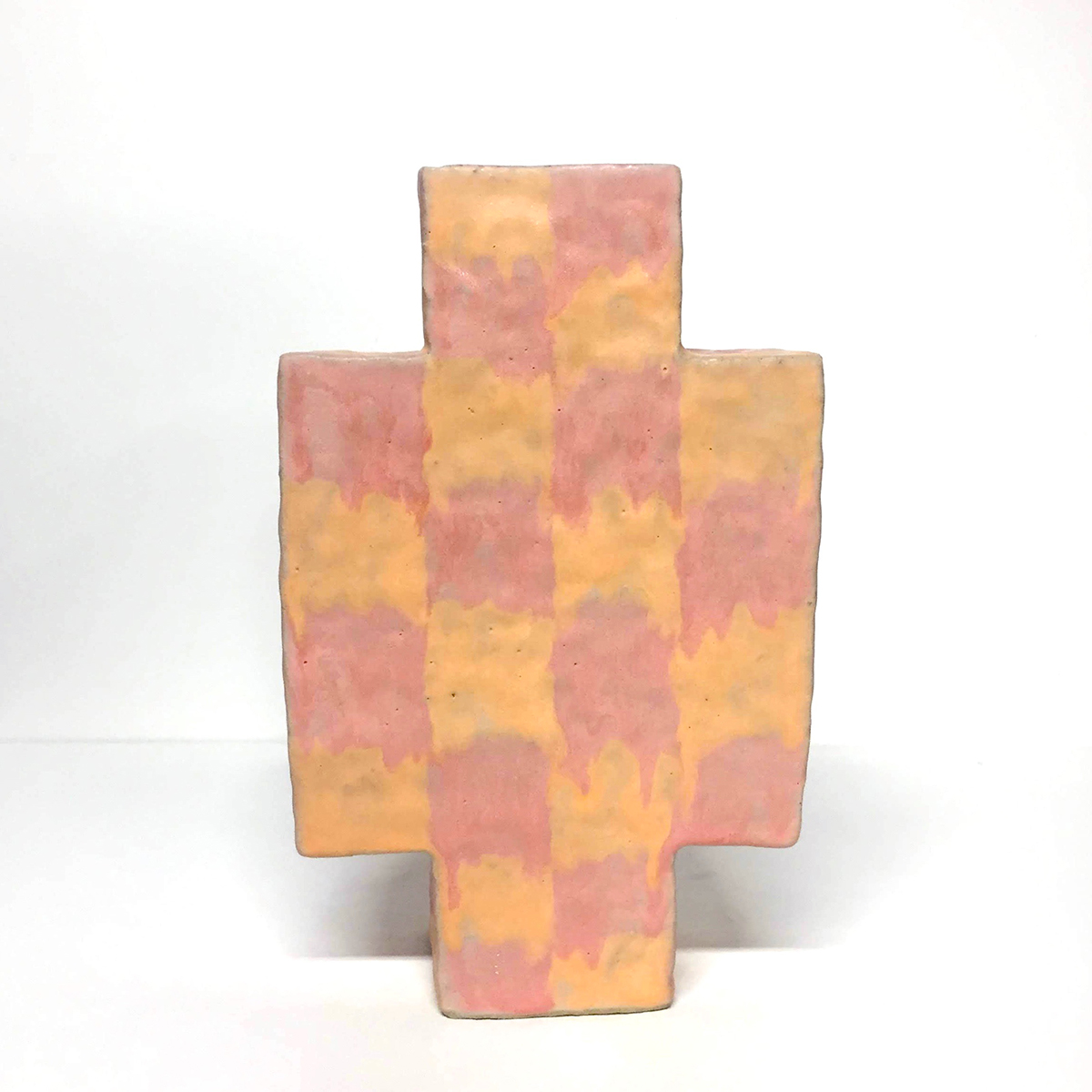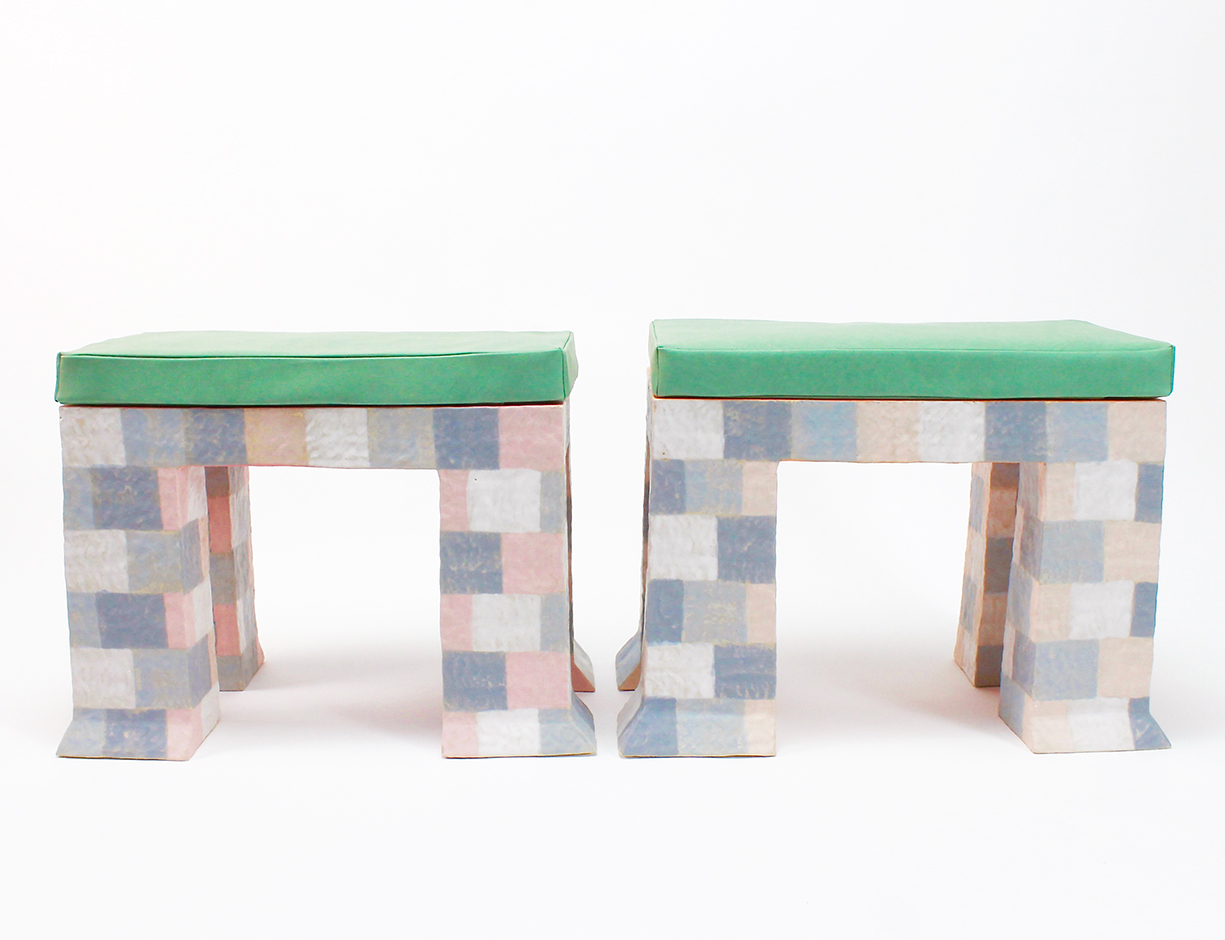 Rudolph first began working with clay close to a decade ago during her Bachelor of Fine Arts. Previously she had been building furniture with wood, focusing on the tedious but rewarding art of hand joinery. "Once I got into a ceramics class I was ready to loosen up," she says. She took to the immediacy of clay, feeling free to make decisions as she went along. "I also fell for the intimate relationship that clay forced me into, making me stick to a timeline that, for me, felt more involved than with wood." Once she got to grips with the material over a few years, she was able to combine her two passions by making ceramic furniture: stools that could be jazzy Tetris blocks, frilly window frames, a three-legged standing lamp and a dimpled, blue chair whose seat looks like the cross-section of an empty swimming pool.
Rudolph's most interesting pieces though are perhaps her series of Trophies, which started as an exercise to keep her hands moving during a creative block. She began by pinching a lot of tall thin tubes, cutting them up and then working them back together. "This kind of trophy metaphor represented my feelings towards needing a real win (or close second or third) while working my way through a variety of losses and changes in my actual life," Rudolph says. This simple exploration resulted in a series of playful, expressive sculptures that would make any win that much sweeter.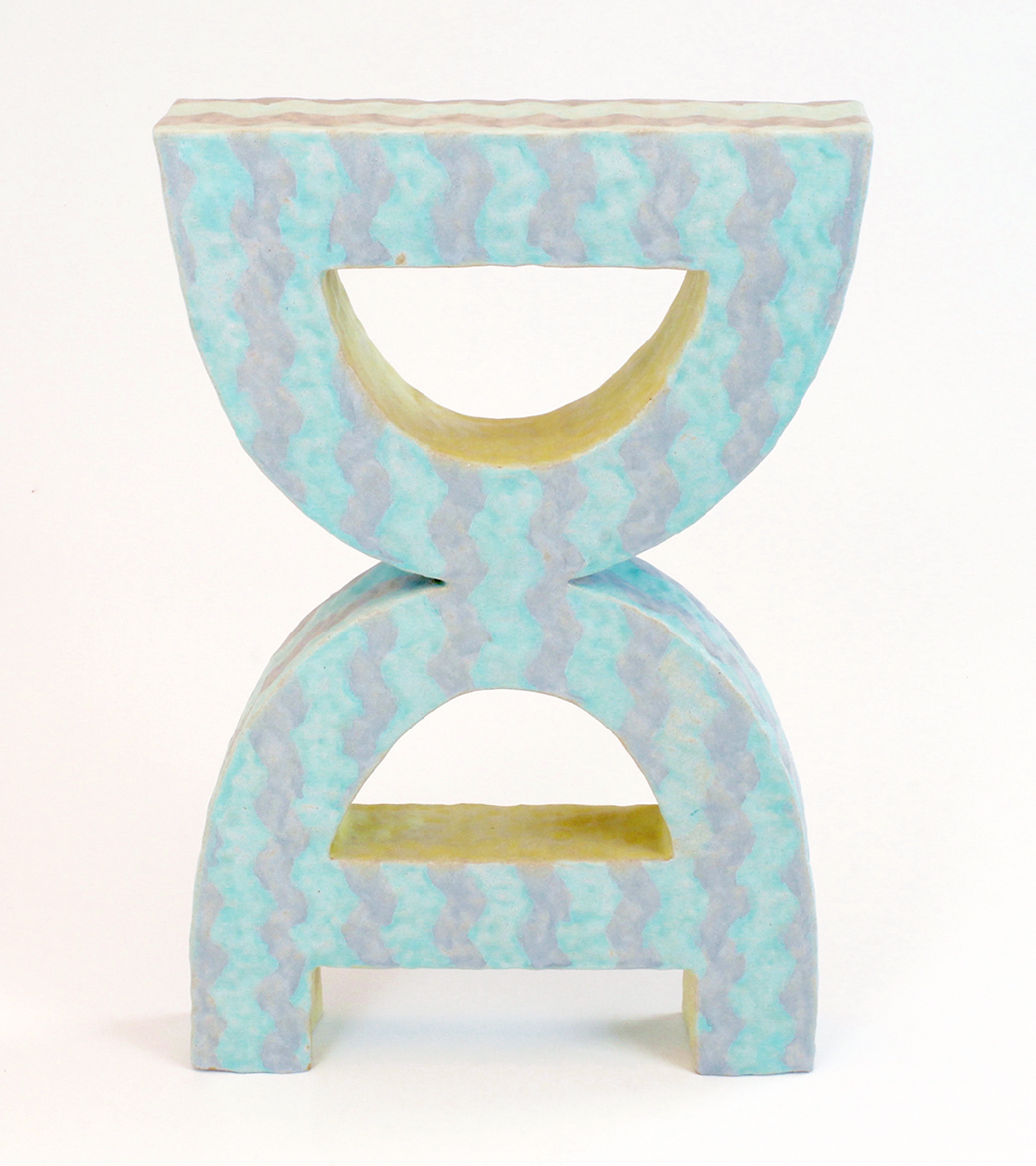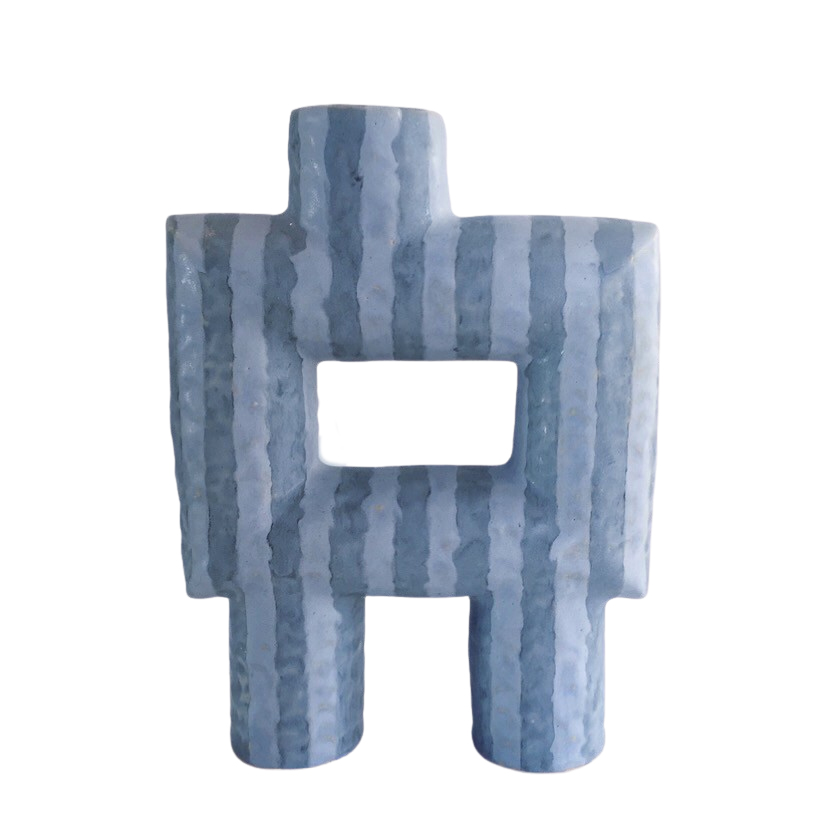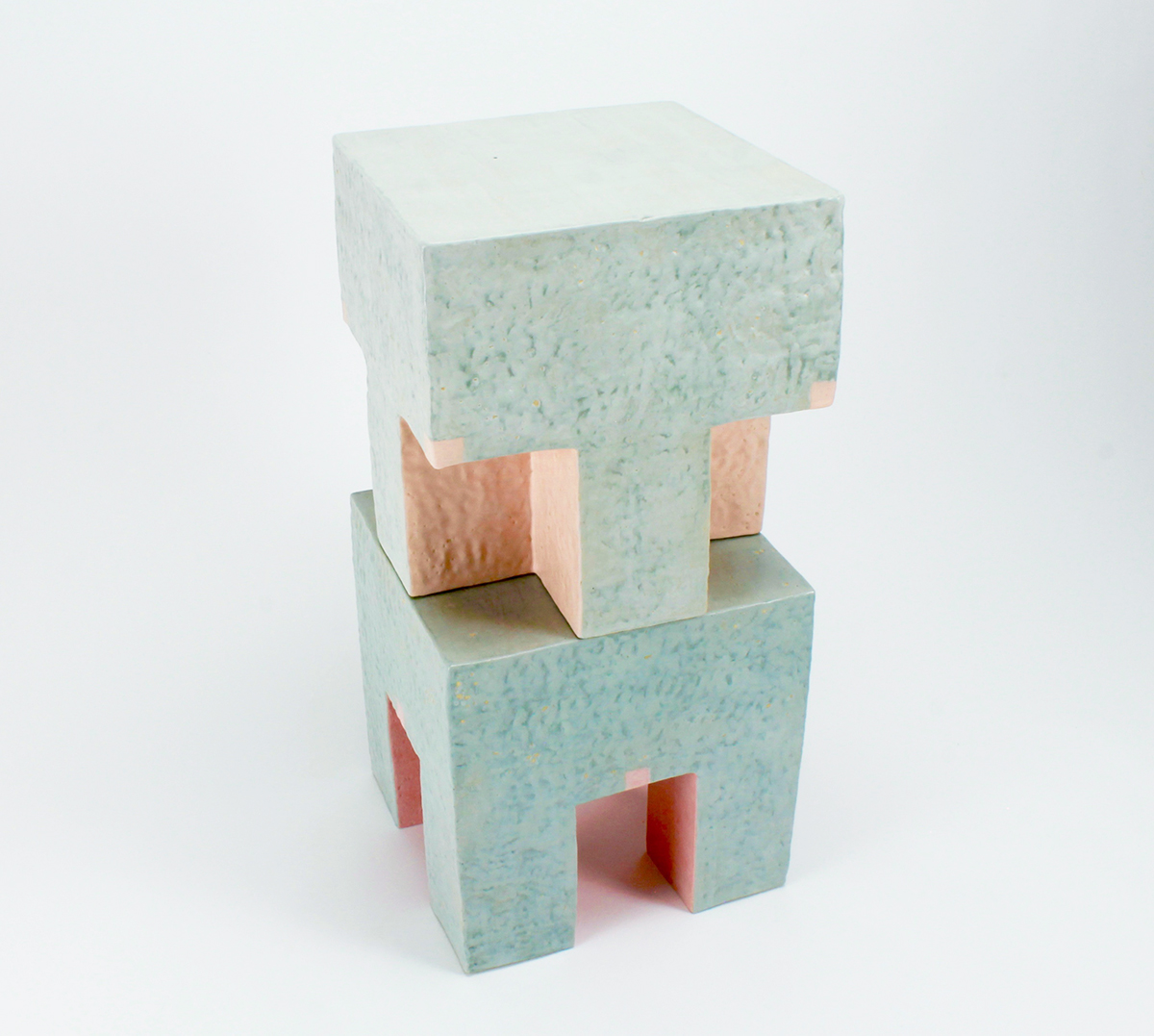 For her smaller pieces, Rudolph uses a banding wheel, turning it slowly as she goes. Her larger pieces remain stationary and instead she's the one moving around them. "I enjoy the full body engagement while working on these pieces," she says. Her furniture pieces are usually double-walled and hollow, with thin clay supporting walls built inside them which she calls the "bones" of the piece. The dimpled texture is a result of methodically building the piece up by hand and leaving her fingerprints behind. This knobbly effect is continued in the glazing where she purposefully adds gloopy drips of color by firing the glaze a bit hotter than recommended which makes it runny.
While she's currently based in Bozeman, Montana, Rudolph has spent large stretches of her career in artist residencies which have taken her around the States, to Taiwan, and to China. Her practice has also led her to South Korea, Australia, and Brazil. It was meeting artist and designer Hun Chung Lee in Seoul and later working as his studio assistant that first inspired her to expand the scale of the pieces she was working on.
Rudolph's next move is closer to home; in the fall she's going to Helena, Montana, for a two-year residency at the Archie Bray Foundation for the Ceramic Arts. In Asia, she has been inspired by the bold use of purples, pinks and greens, and in Cuba, she's been intrigued by the layer upon layer of paint peeling back on the walls of the buildings. In her home state, however, it's the community of ceramic artists that she's most influenced by. "My connections to those working around me keeps me motivated," she says. "It also helps to see first-hand how so many different artists have made their careers work from this location."