09.25.20
The Founder of AAKS Had to Return Home to Ghana to Bring Its Weaving Traditions to a Global Audience
After an eight-year stint in London, where she studied fashion, designer and entrepreneur Akosua Afriyie-Kumi returned to her native Ghana in 2014 to launch her brand AAKS. With AAKS, Afriyie-Kumi wanted to center the importance of hand-making by presenting her take on Ghana's weaving traditions to a global audience. With strawberry-lemonade pom-poms, blue and black and purple colorblocks, umber and red De Stijl–esque stripes — all woven in raffia – the colorful purses of AAKS found quite the following for their deft blend of everyday refinement and studied exuberance.
Striking a similar balance of aesthetic vivaciousness and refinement, Afriyie-Kumi has recently turned from decorating the body to adorning the home, with handwoven baskets, made in Ghana, and lamps crafted by Malian refugee craftswomen in Burkina Faso. Like alien ships or perhaps extraterrestrial foliage, AAKS's pendant lamps hover overhead, patterned energetically with whirling stripes, each strand of straw textured with organic cotton yarn. The baskets — which riff on the Ghanaian woven baskets that were among the initial inspiration for AAKS's signature bags— similarly vibrate with richly colored patterns, something like the surface of water, or maybe a glitching screen. For Sight Unseen, Afriyie-Kumi recently spoke to me about the value of working slow, the importance of sustaining traditional craft, and how design can generate income and stability for those who make it.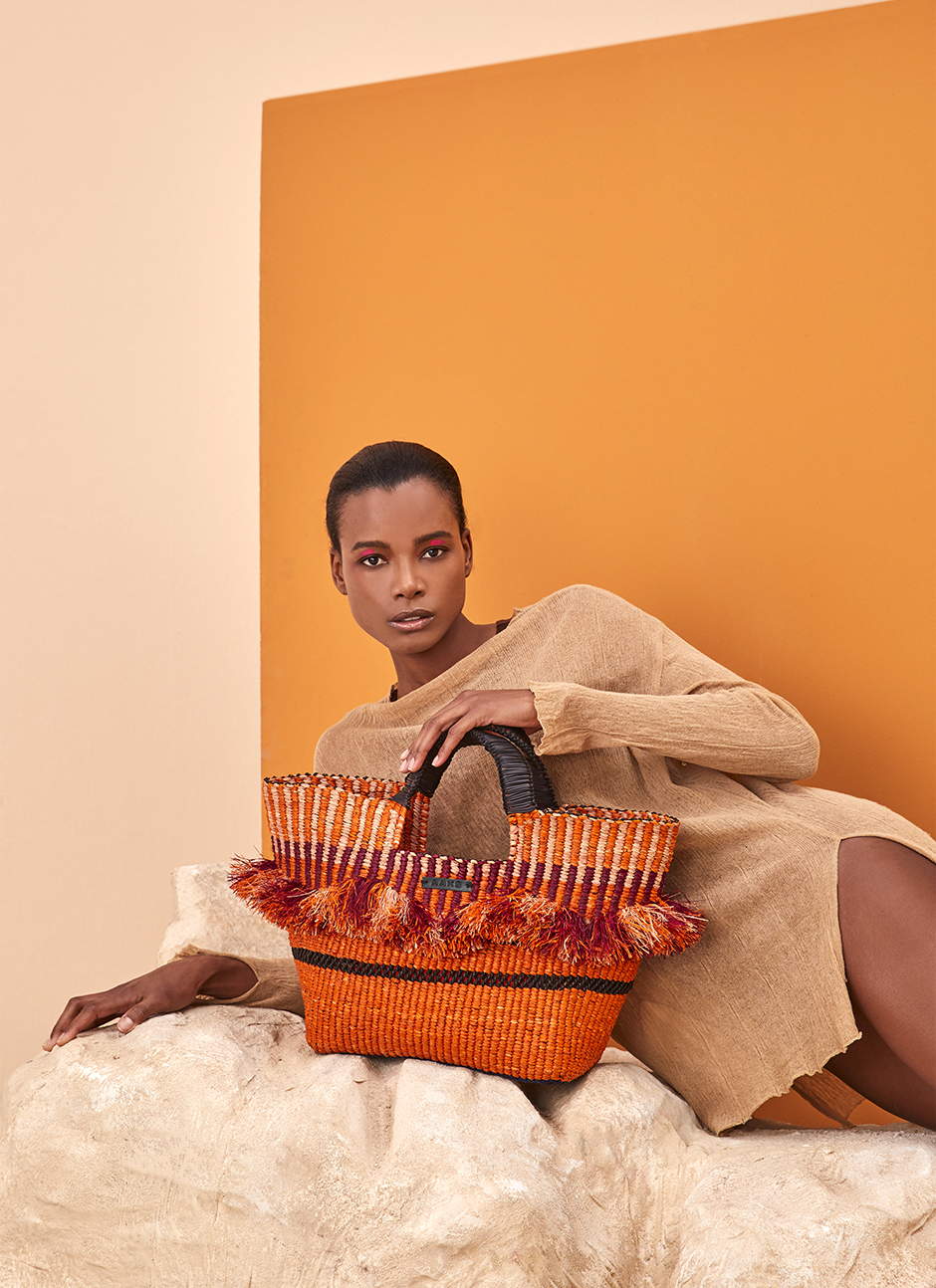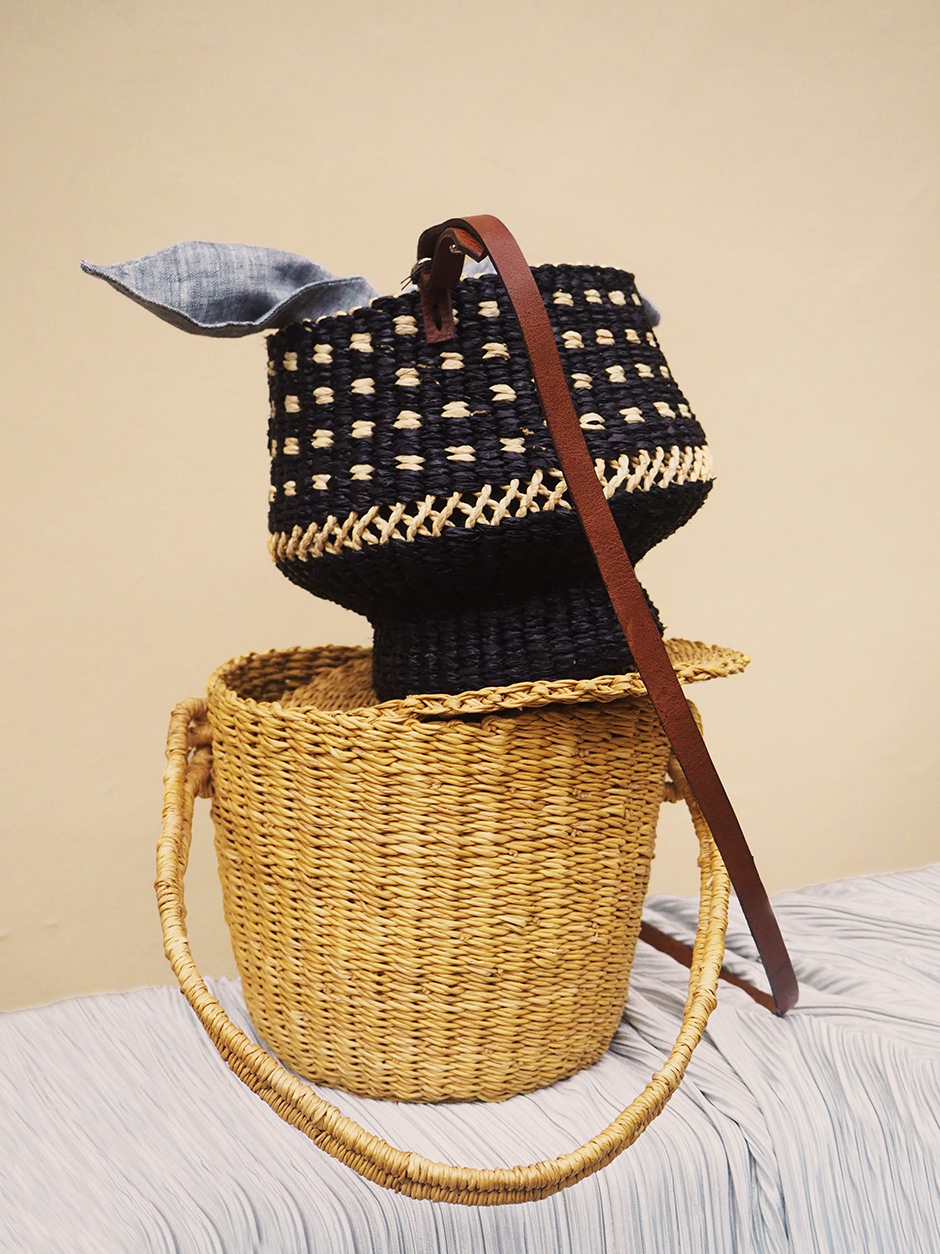 What the transition was like going from mostly creating fashion accessories to doing things for the home?
I can mix a lot of colors because it's for the home and it's not necessarily to put on your body, so that was very interesting. And also I realized it suits a different kind of client that I didn't have for my bags, someone who would look to decorate their homes who wanted something handmade. It was quite different and also very fun. That's the main word that I would use: fun.
I'm glad you mentioned color since to me that's one of the most standout aspects of your work. What is your approach to color? How do you experiment with it?
Growing up in Ghana I've always been around color. I don't know if you've been to Africa before but it's quite colorful. People may be walking down the road wearing clashing colors, clashing prints. The traditional wear here in Ghana is extremely colorful, as well. It has that juxtaposition of varied colors that I find a lot of inspiration from. And of course, it's sunny throughout the year, so a lot of those colors are very bright. When you wear black in Ghana, everybody thinks you're going to a funeral.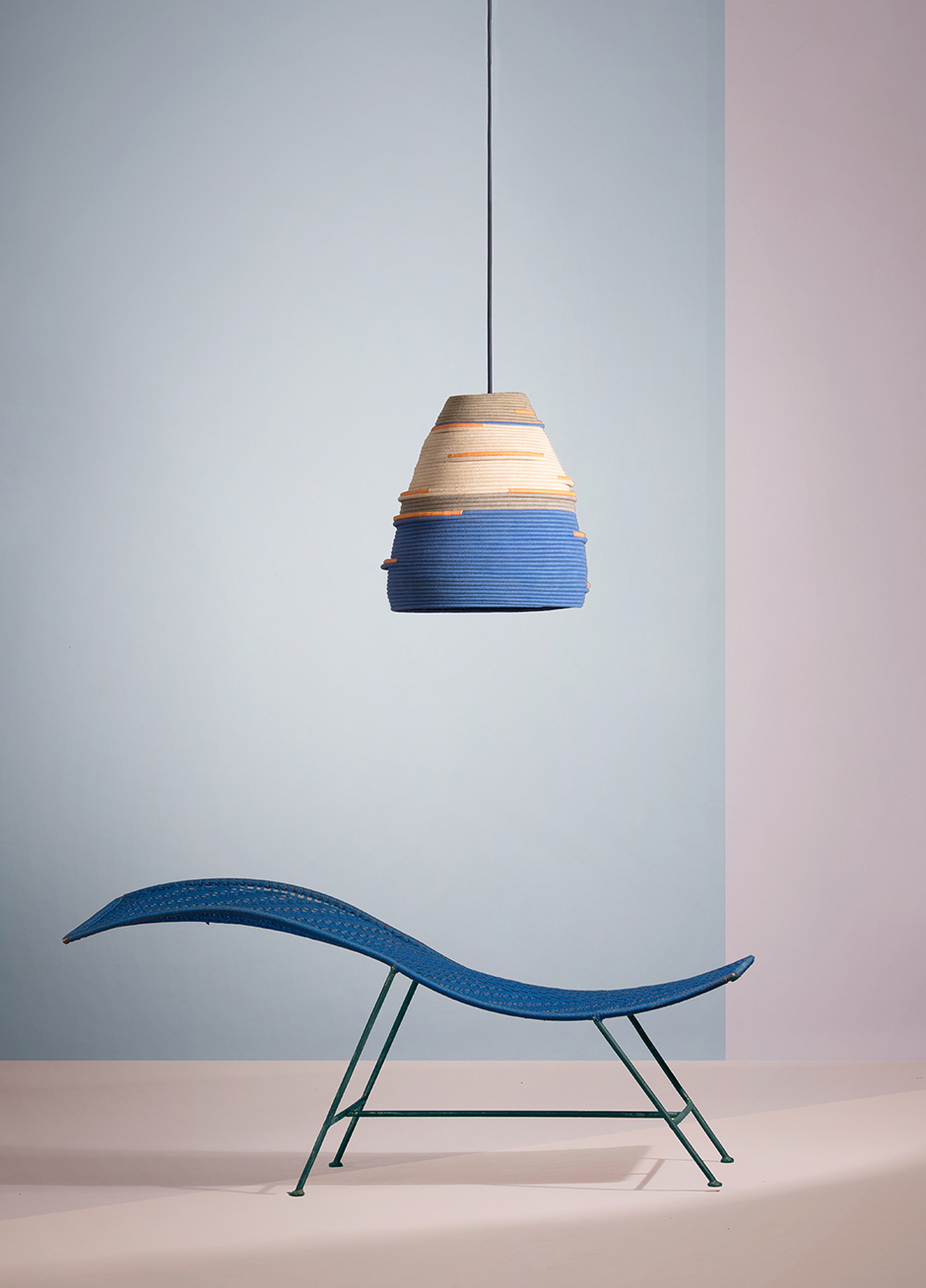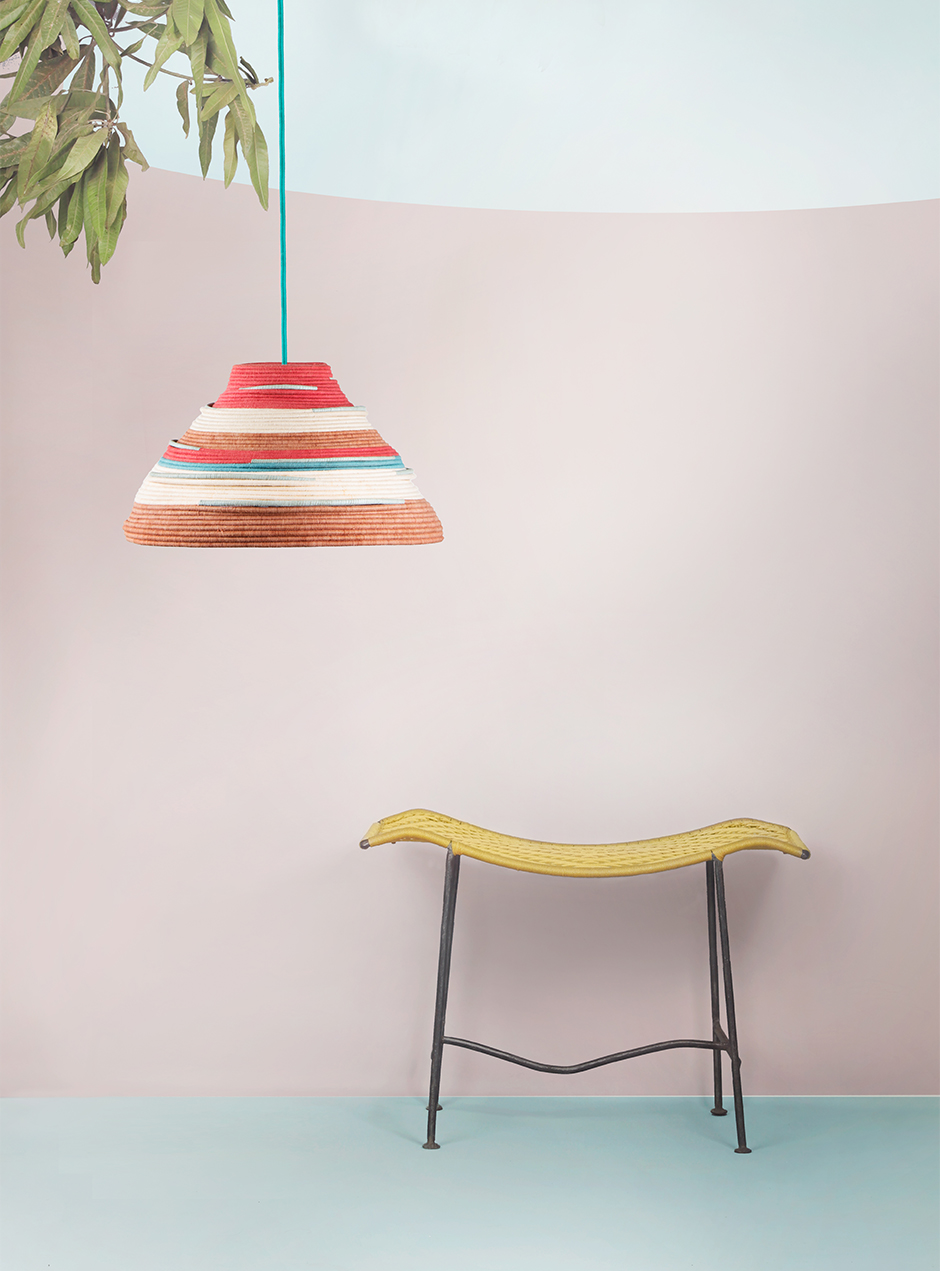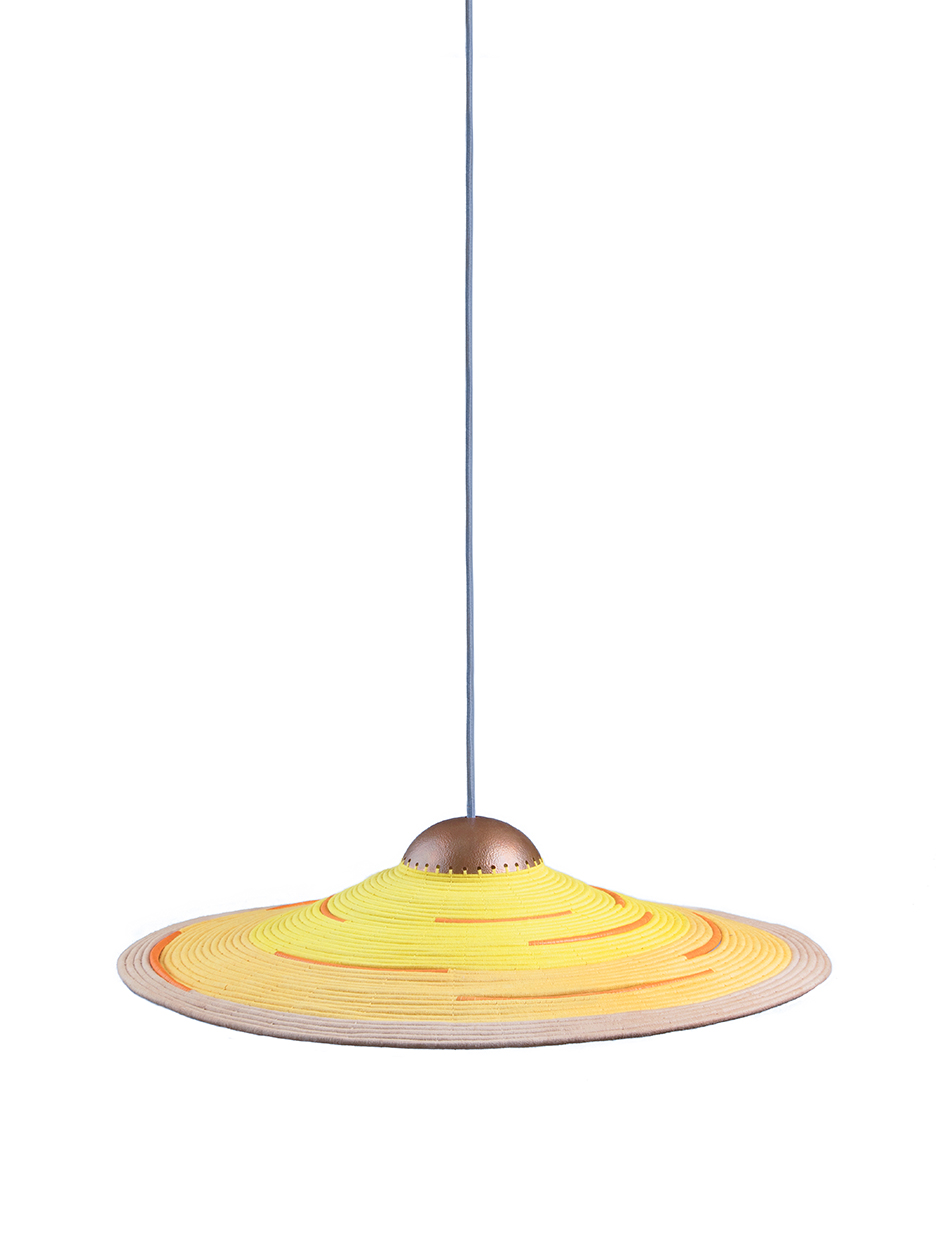 The handbags you make are done in raffia and realized using traditional weaving techniques. Are you using similar methods and materials for the home décor?
For the lamps we use straw and we use cotton yarn. Every country in Africa has their own way of weaving and its own source materials or plants that grow. When I went to Burkina Faso, I realized that the material was different than Ghana even though it was a neighboring country and I didn't want to change that, I always want to source locally. We started using their local materials and then adding the cotton yarn. The craftswomen already weave with threads and with straw but we changed it by going for organic cotton threads. Also, instead of buying the cotton from the market, we have an artisan who hand-dyes all our cotton yarns and then we take it from him and distribute to the women to work with. It was about using what was available and adding a little bit of value to that.
In previous interviews, you've talked about how, originally, when you were first starting the brand, you were visiting all these artisans and it seemed like they some were maybe were a bit suspicious. To counter that so you spent time building relationships. Now that you've been working this way for a bit longer, I'm wondering how that's evolved, and how you view your relationships with the women you work with? How do those relationships reflect the ethos of your project?
When I started It was extremely difficult because the craftswomen had had a lot of people come in to communities to [promise to] give them work and then never came. They were quite skeptical at the start. I feel building a human relationship while working in Africa is very different than elsewhere. I returned to Ghana from London with this preconceived idea of how I wanted my brand to be and how regimented everything was when I lived in London. I came here and it was a reality check, like, okay, things just don't work like that here. I needed to really slow down and build human relationships and get to know people, get to know their families.
Weaving has really been part of their lives. But they were looking after their children and then they were weaving a basket, it wasn't really something that they did as a 9 to 5. Part of the project was changing that perception about work and really valuing what they were doing. And I think now we've reached that stage where they value the work that they are doing and they see it as an income earner for them.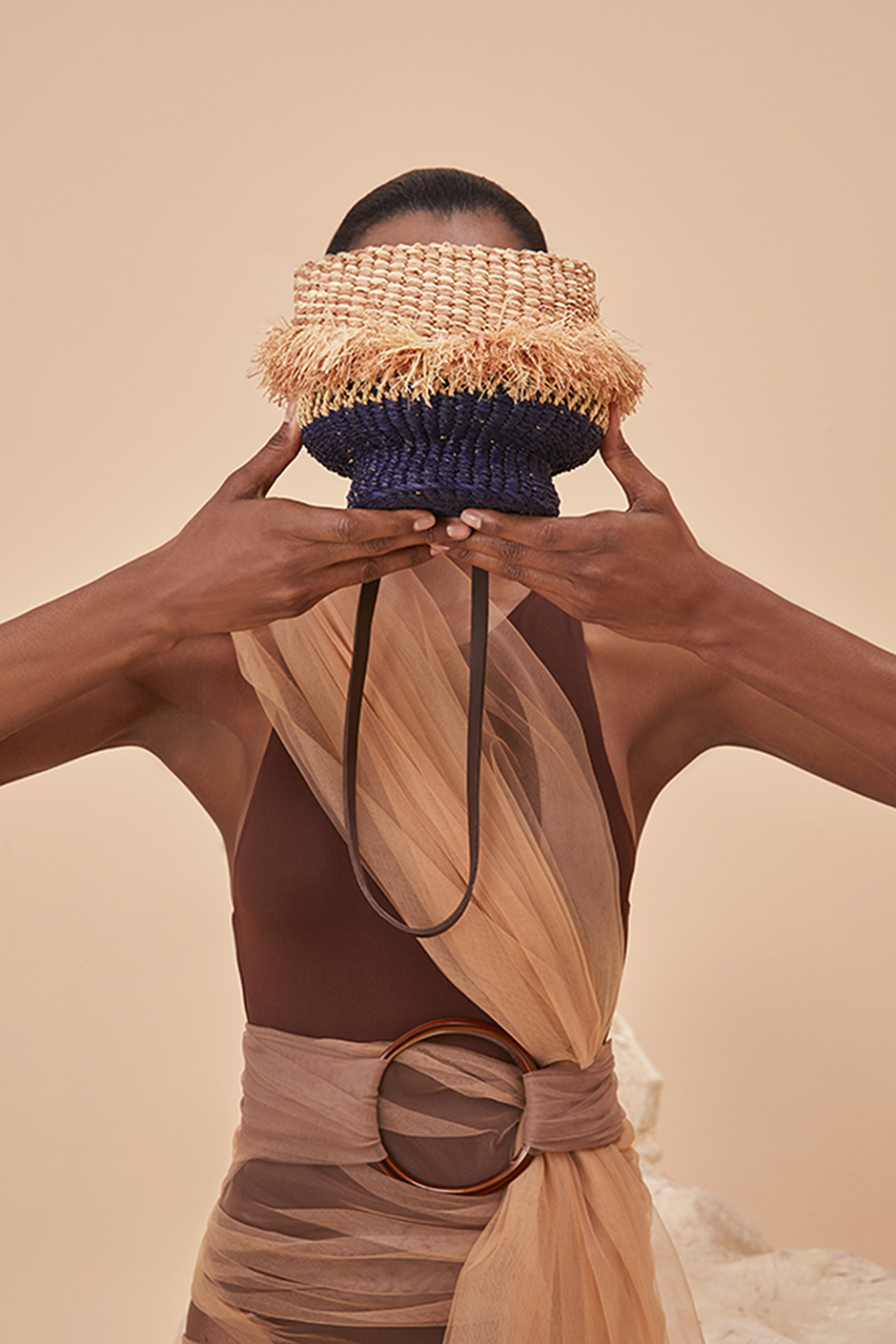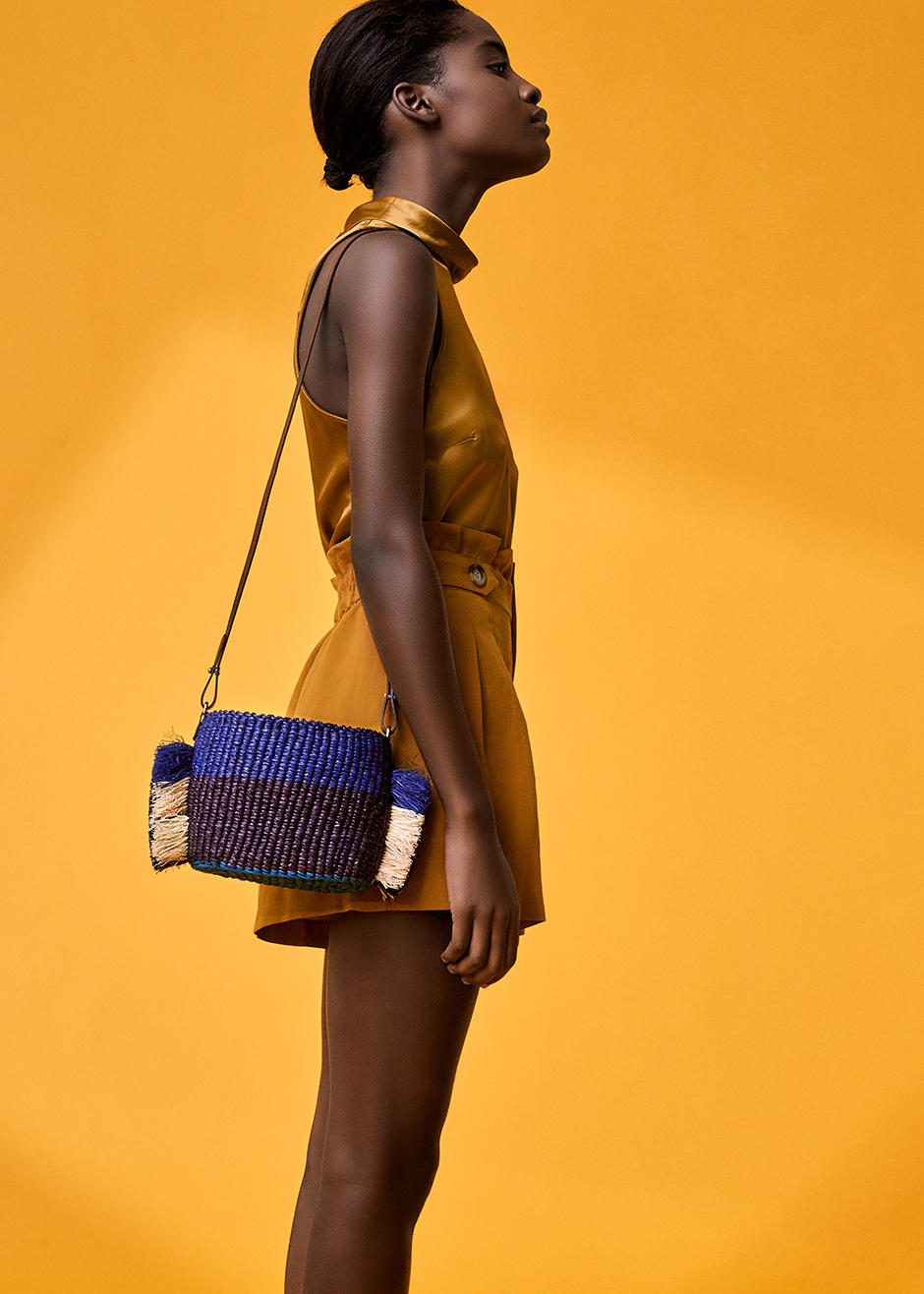 What's your design process like? Is it collaborative with the artisans?
I would say it's collaborative to a degree. I work in two different locations in Ghana. My weavers are based in the north and I live in the south, where I have my studio here and do all my research and my design. Normally I share my thought processes or my research with the women before I travel to meet them or they come here to work with me and it is really collaborative where I show them some of my designs and they're like "No, this isn't going to work, you need to change it!" [Laughs.] We work together and I ask them for their opinion and learn from them because they've been weaving baskets for years
How long does it take to realize a design by hand?
The lamps take a really long time to make, at least three weeks. And that's when the women are actually sitting down to weave, after dealing with all the raw material that we have to source. They are coiling really thin cotton yarn coiled over the woven straw, attaching it with a needle. Every time I go for shows or events people are like, "Oh, wow, I didn't think it was so intricate."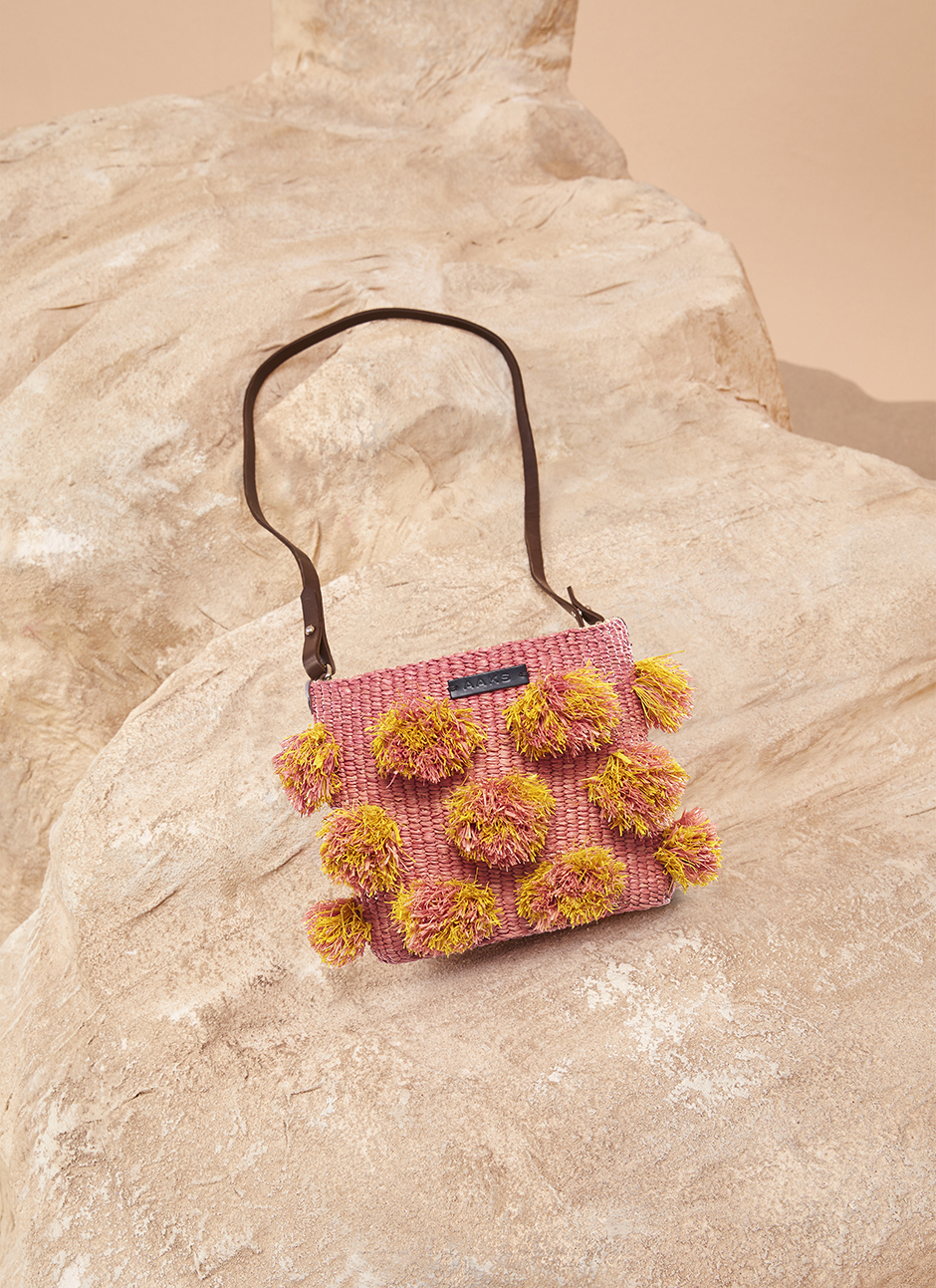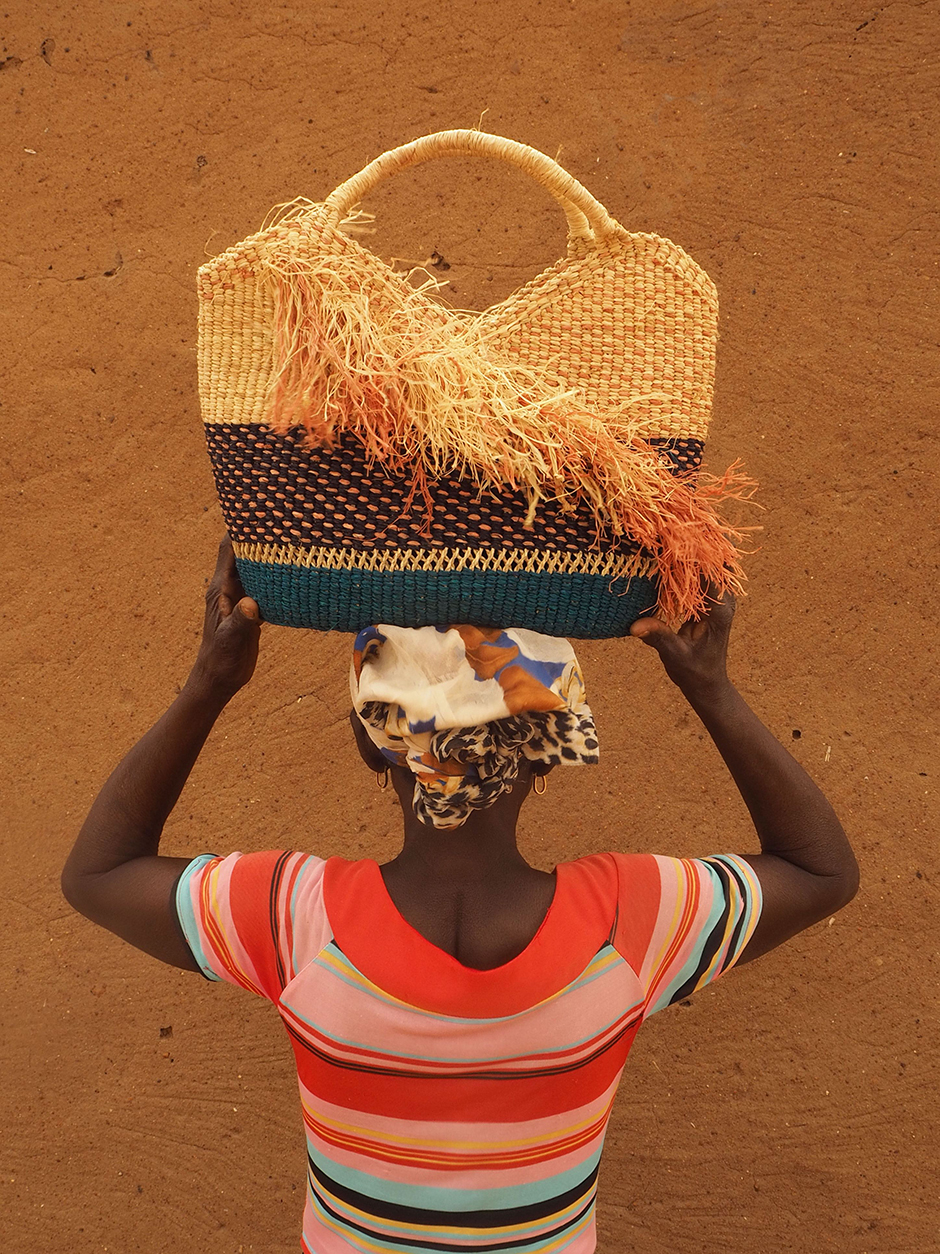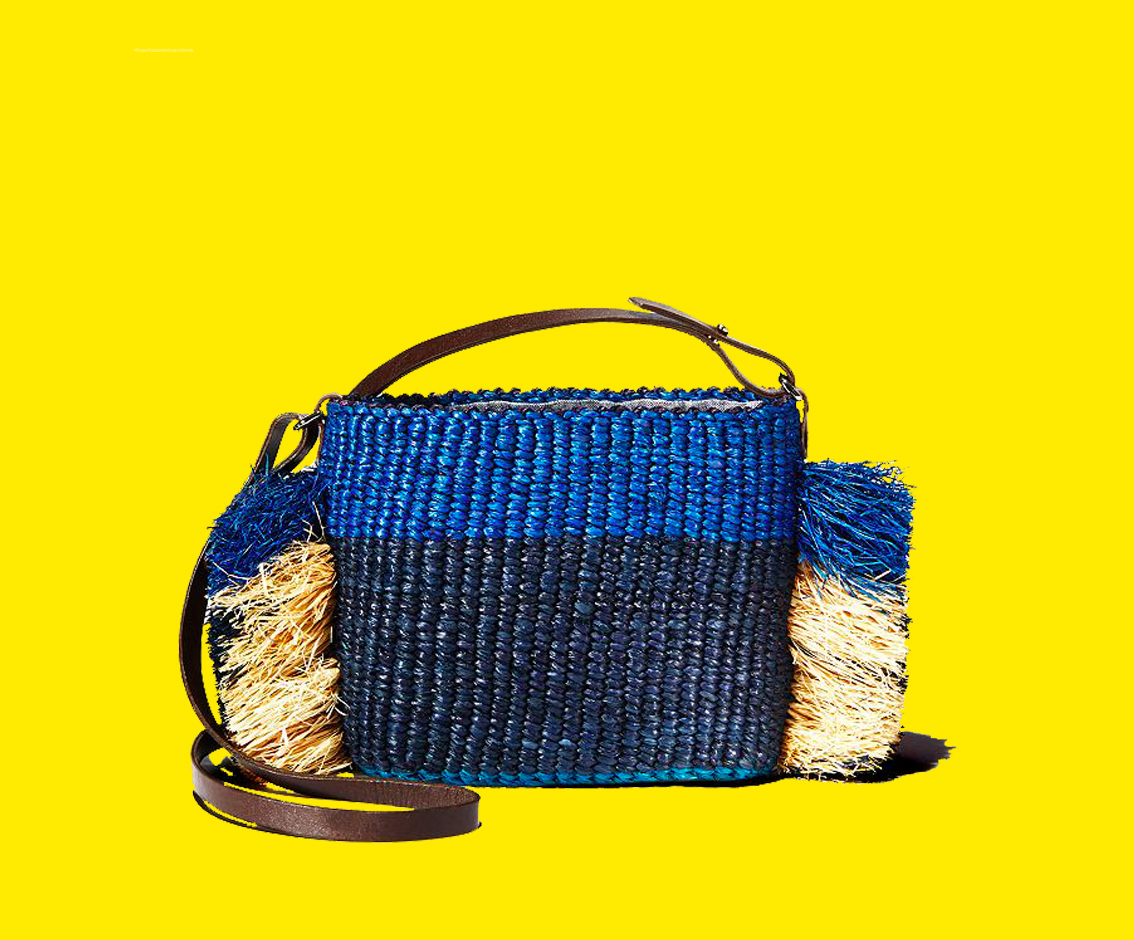 Slowness is unusual these days, in design and especially in fashion, where you've worked the longest.
When I lived away from here, in London, I used to shop at Zara. I wanted everything now now now. You order something online and it needs to arrive in the next the next hour. That was the norm until I came back to Ghana. The lifestyle and relearning that impacts the world in a very different way. A lot of it comes back to human relations, and how I relate to objects.
In terms of the lamp, it's really a product — because it takes so long — that customers can keep for lifetime. And it's valued. There's a lot of craft In Africa. and I wanted to shine a light on that, shine a light on what is made here, what is made in my home, and put value to that.
What are some of your design inspirations?
My mom does gardening. I spend a lot of time in this garden where we have so many plants and so many beautiful colors. That's one of my main reasons for even coming here — to have that outdoor space and take inspiration from that.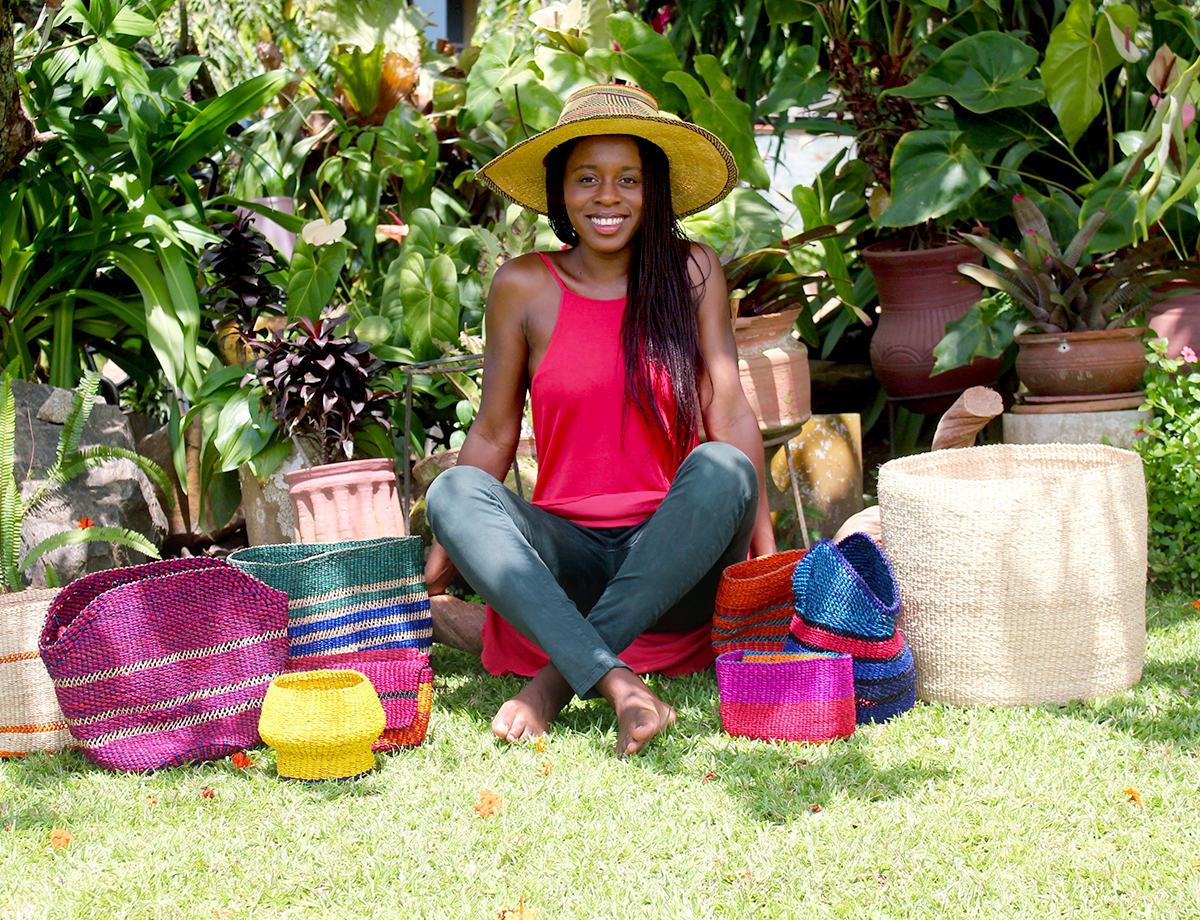 Founder Akosua Afriyie-Kumi