09.18.20
Juliette Wanty's Auckland Cottage is a Masterclass In Doing The Most With A Rental
Stylist and designer Juliette Wanty's Auckland home is a lesson in resourcefulness. As the art director for New Zealand shelter mag Homestyle, she's accustomed to whipping up a centerfold in an afternoon for one of her dreamy, impeccably styled interiors shoots. (Check out what she did when faced with a 3D rendering assignment as well in our story yesterday!) So when it came time to makeover the home she rents with her partner, Robin Schmid, an architectural facade designer, that inventive, DIY approach served the couple well. Unable to make any major structural changes to the weatherboard cottage, Wanty and Schmid set about doing what they could without leaving permanent marks. That meant designing and constructing their own built-in furniture, painting sparingly, and rehabbing vintage pieces.
But the home's real heart is the assemblage of objects the pair have accumulated over the years, most of which have been sourced from friends and family or come with a charming origin story attached. Take, for example, the confetti print pedestal dining table they've paired with a cluster of vintage Cesca chairs. "Robin and I used to play soccer at the YMCA in central Auckland," Wanty recalls of their score. "One day we noticed they were renovating the building because it was ancient and really quite shoddy. We saw a bunch of tables stacked up and I noticed the confetti pattern had kind of a Memphis feel, so I sent an email to the people there. And they said, yeah, you can buy them. I was like, sweet. Amazing." Add to that a smattering of vases from Prowd, Wanty's woodworking father's line, paintings and embroideries from friends and former housemates, vintage finds, and designer investments like lamps from Sabine Marcelis and Oscar Piccolo, Wanty and Schmid's home manages to do the absolute most despite the landlord-decreed restrictions.
We Zoomed in to Wanty and Schmid's home recently to discuss set designing their living room, paying tribute to favorite pieces, and how to redo your home while still keeping your deposit.
PHOTOS BY MICHELLE WEIR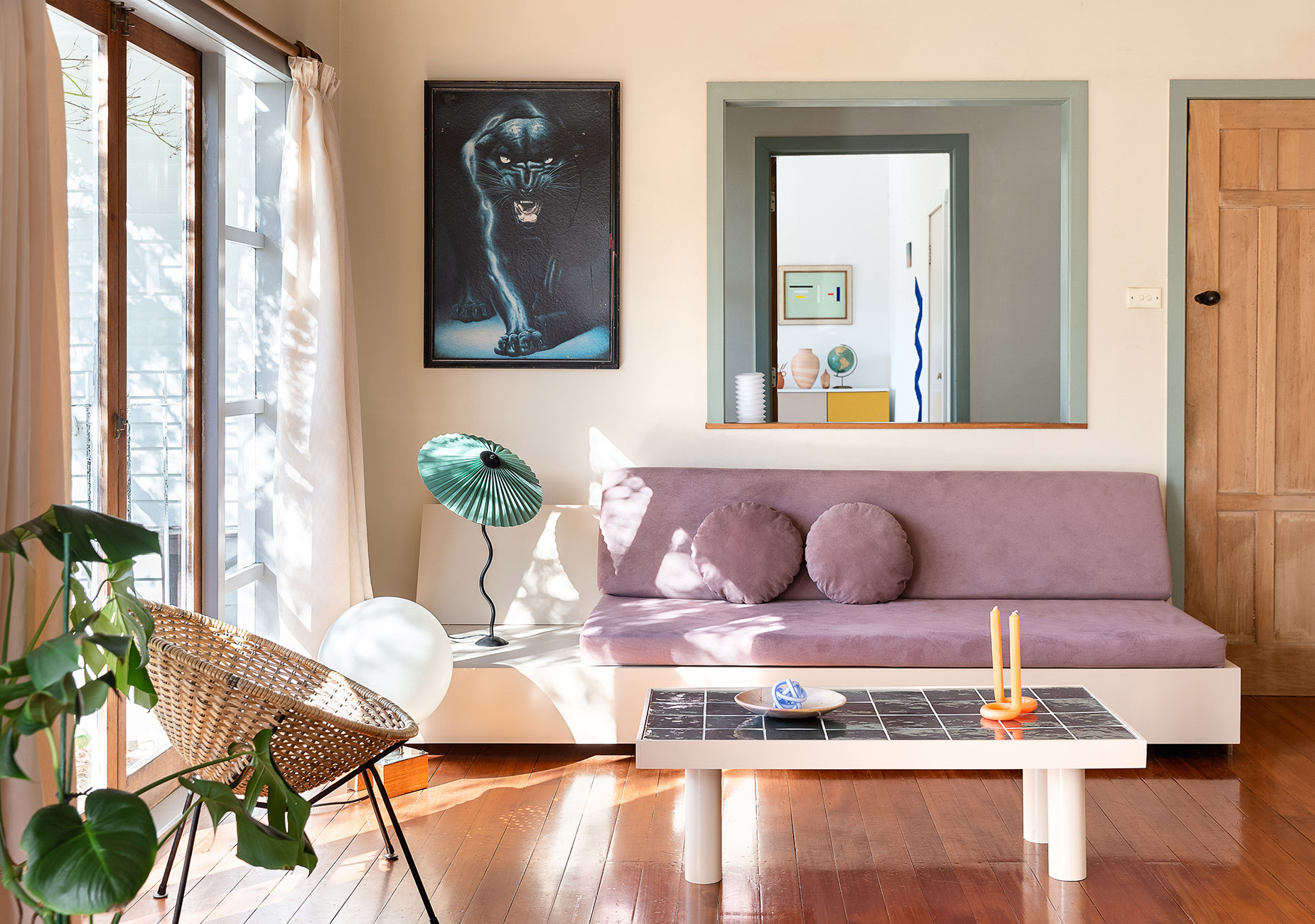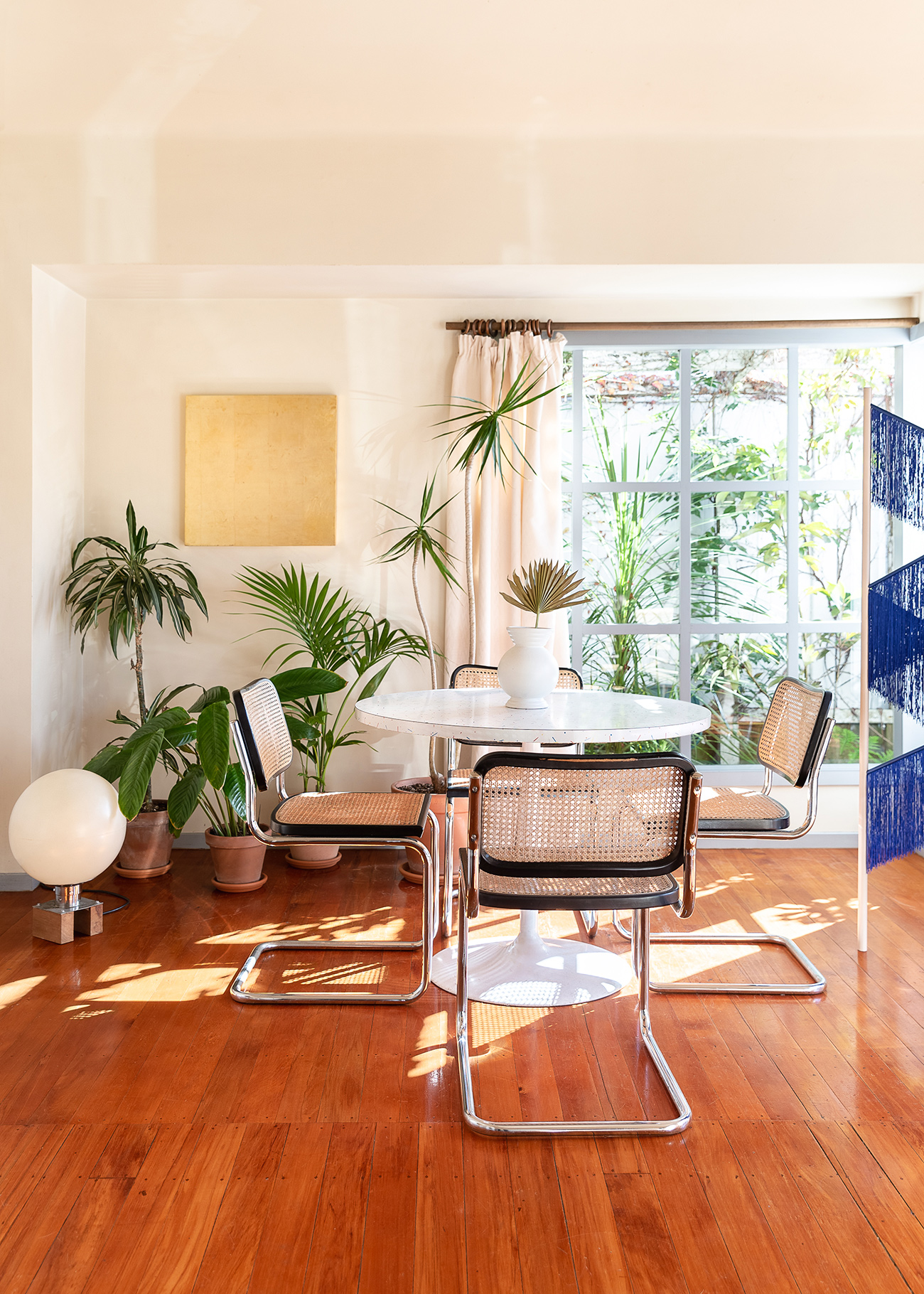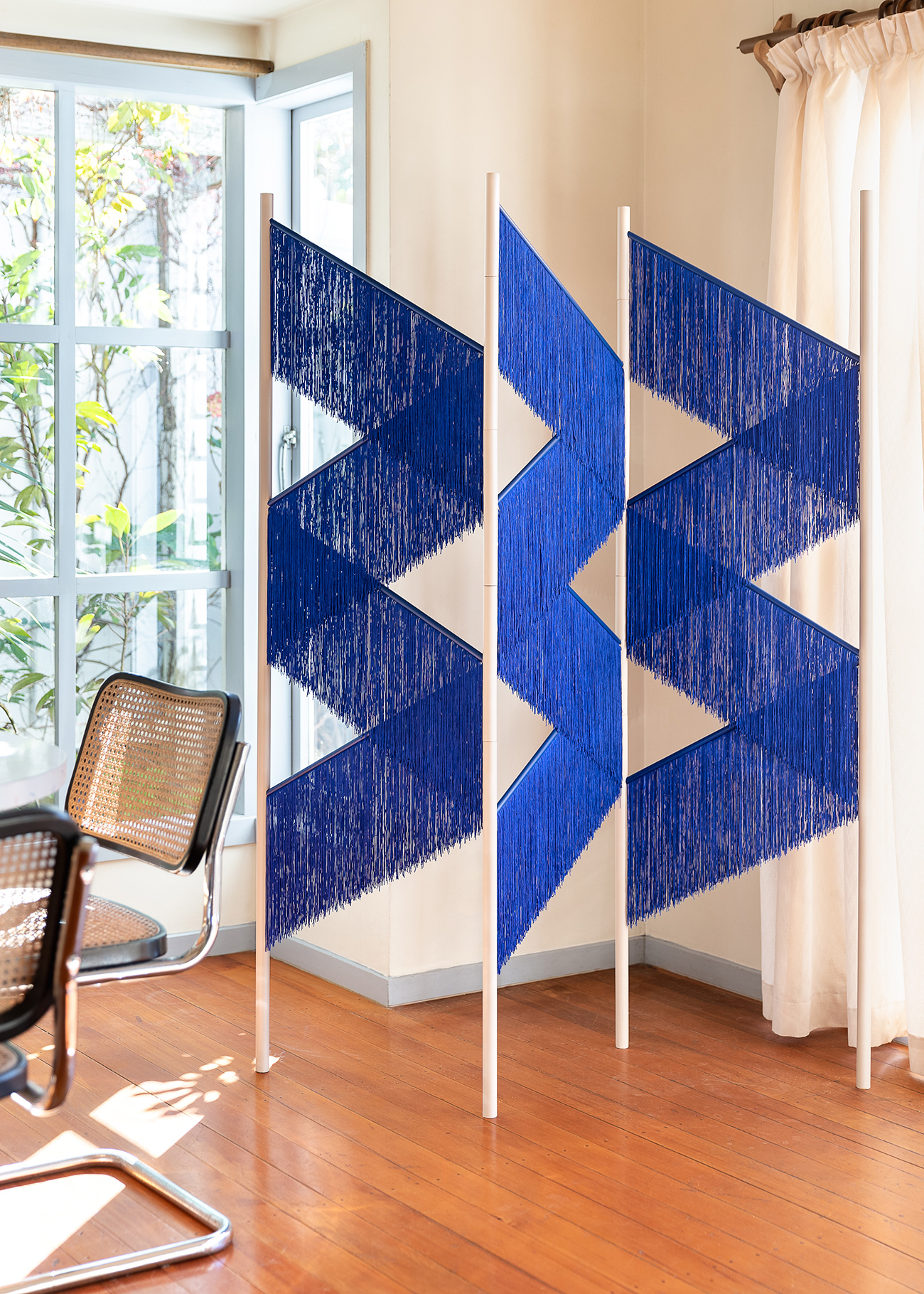 Tell us about your house! How long have you lived there?
JW: My partner Robin had been living here for ages, probably 10 years now, and I moved in about six years ago. We started out living with friends but slowly over time we whittled it down and now it's just us. I'm not sure the correct term to describe the style of house, whether it's a cottage or a bungalow. But it's a weatherboard — a classic New Zealand house.
How much have you changed from when you first moved in?
JW: We're renting so it's quite limited what we're able to do. We've tried to change mainly the furniture as well as painting walls. So that's obviously been a limitation, but we've tried to do what can within the constraints. We've embraced some of the strangeness of the house. We've refreshed it and introduced some of our own style through built-in furniture.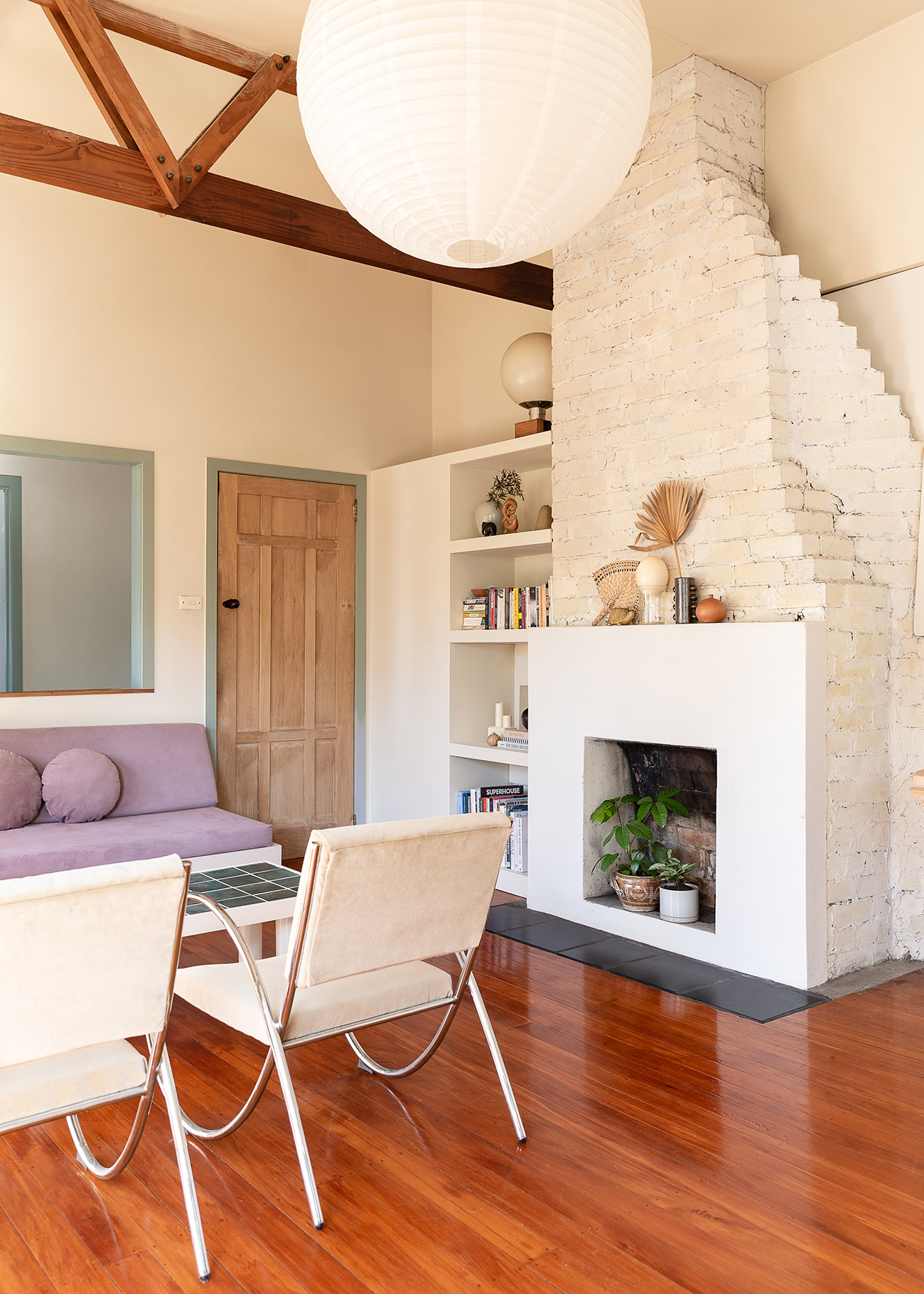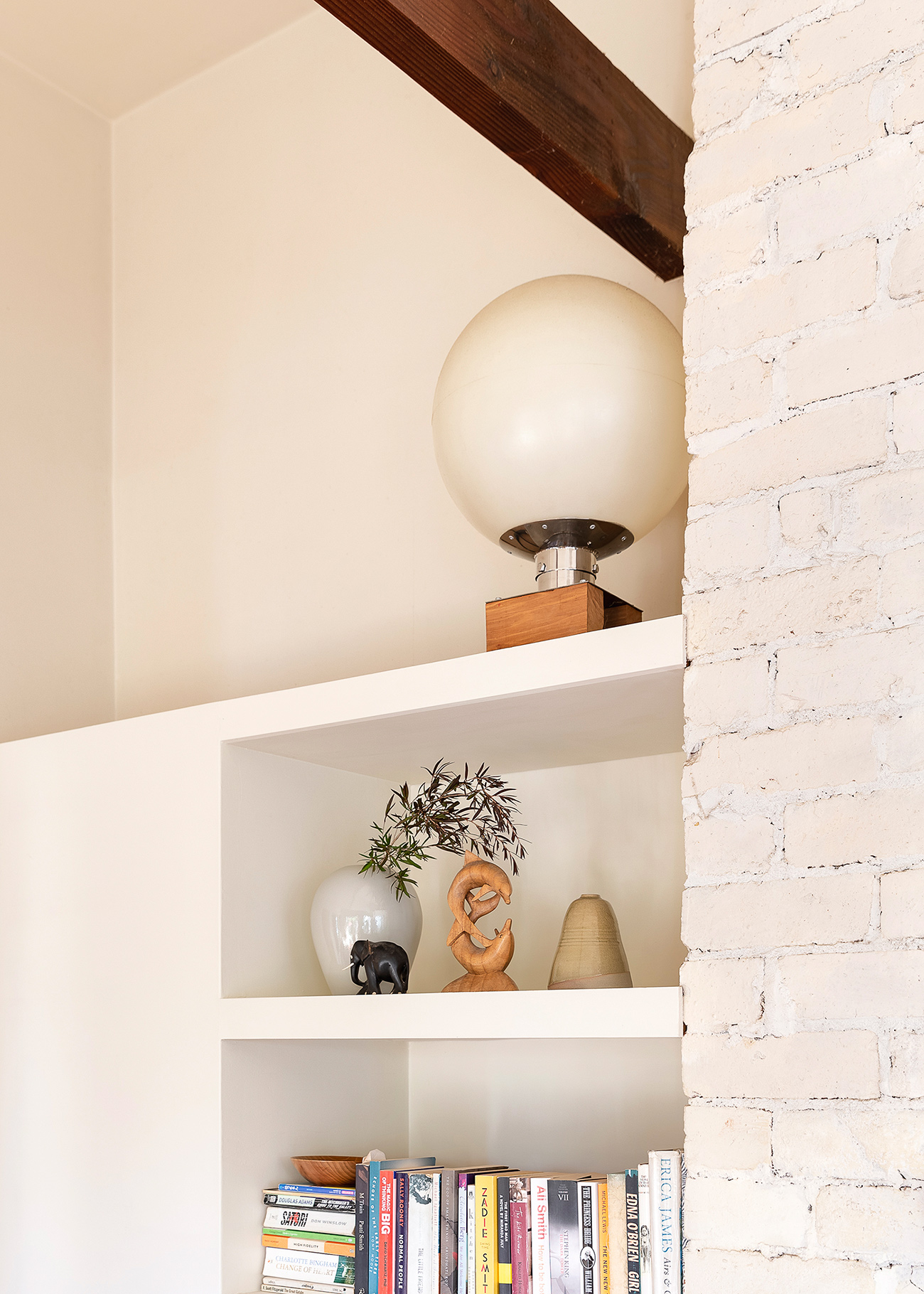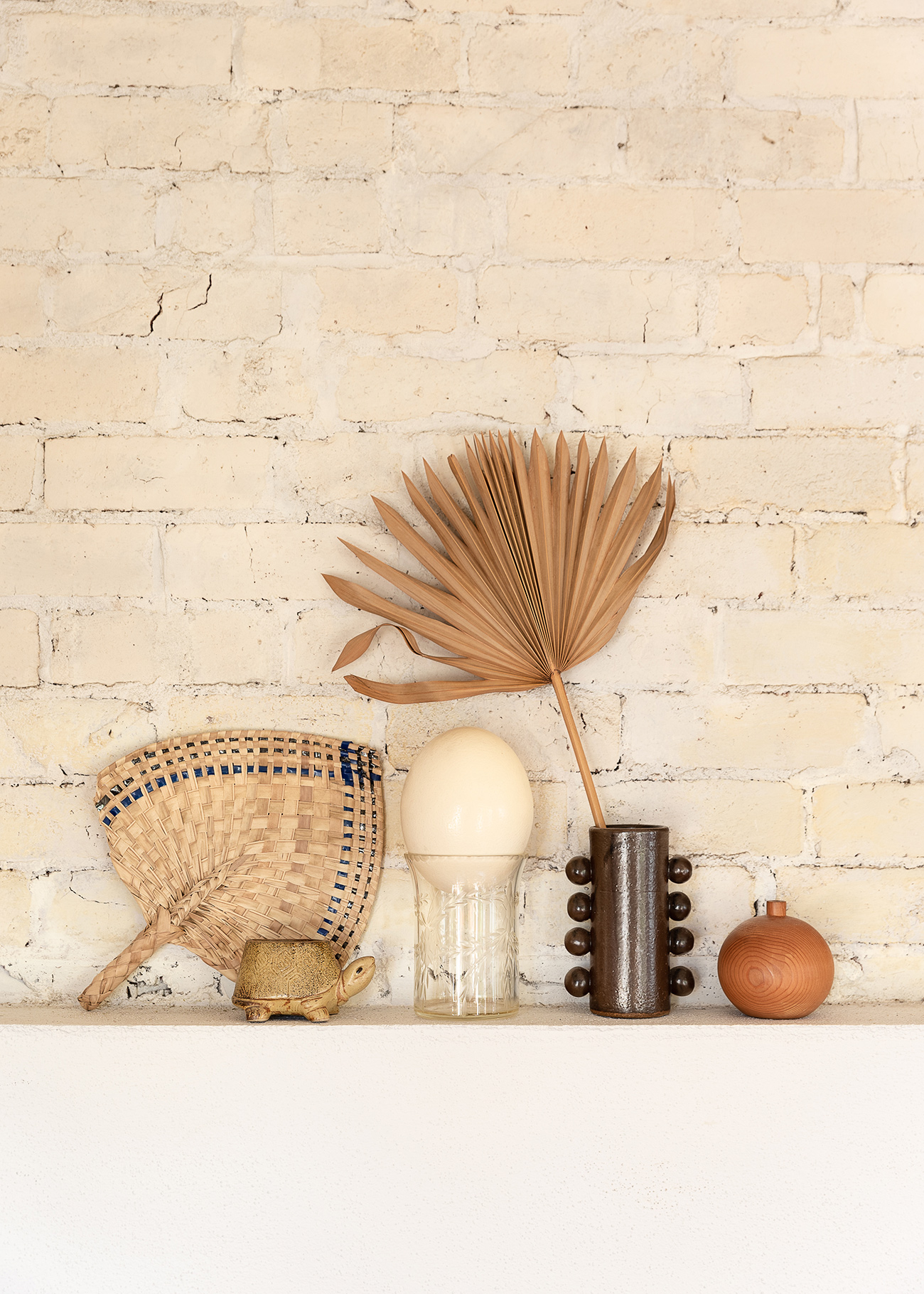 I really love the built-in sofa you guys have done. I feel often people shy away from building their own pieces even though the result is usually so impactful.
JW: Robin built everything, he's super handy and design-minded.
Can you walk us through your thought process in designing the house? Obviously as a stylist you're coming up with interiors concepts on a daily basis for the magazine, but how did you translate that into your own home?
JW: What I'm drawn to in my work as a stylist is less so the traditional aspects of styling, and more so what goes in between the architecture and the finishing. I really love that set design aspect and the fact that constantly at work I'm knocking together rooms in a day and taking them apart. Your mind starts ticking over like, well, we could do some of this too. It doesn't matter if it's not perfect, because everything's always evolving anyway, so I guess it all sprung from there. We just started doing things at home in that similar way, which is where the ideas for the built-in furniture came from.
Did you have an overall plan for the project or was it more ad-hoc?
JW: Our home is generally something of an evolution. Once our housemates moved out and we had that freedom and space to do change things, it became a little mission step by step. A lot of it is has been gradual and quite considered, but some of it has been quite flippant — like the junk furniture buys. We'll find a piece of furniture and say, ok let's try and make something happen with this. I'd say it's a part evolution and part intentional.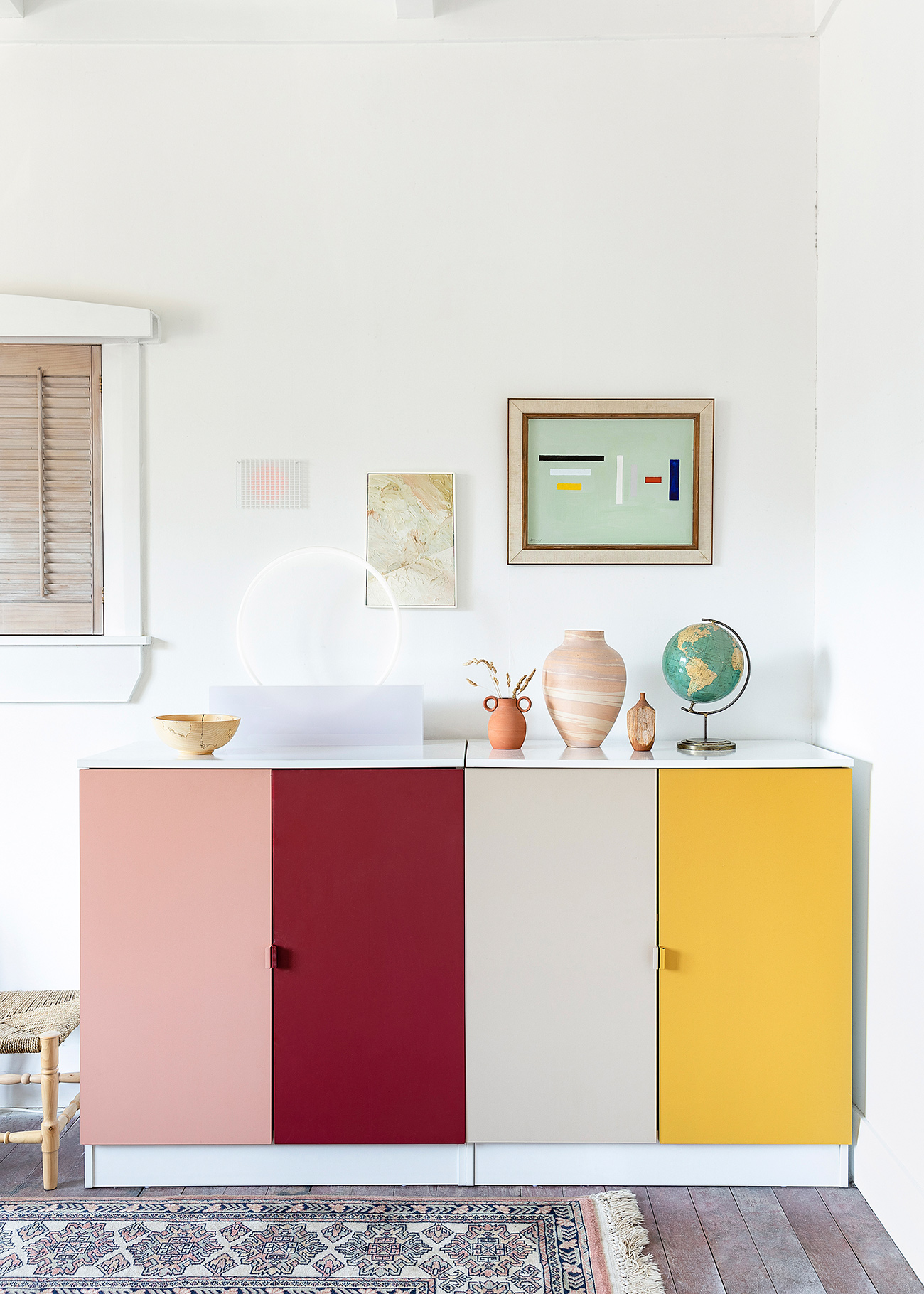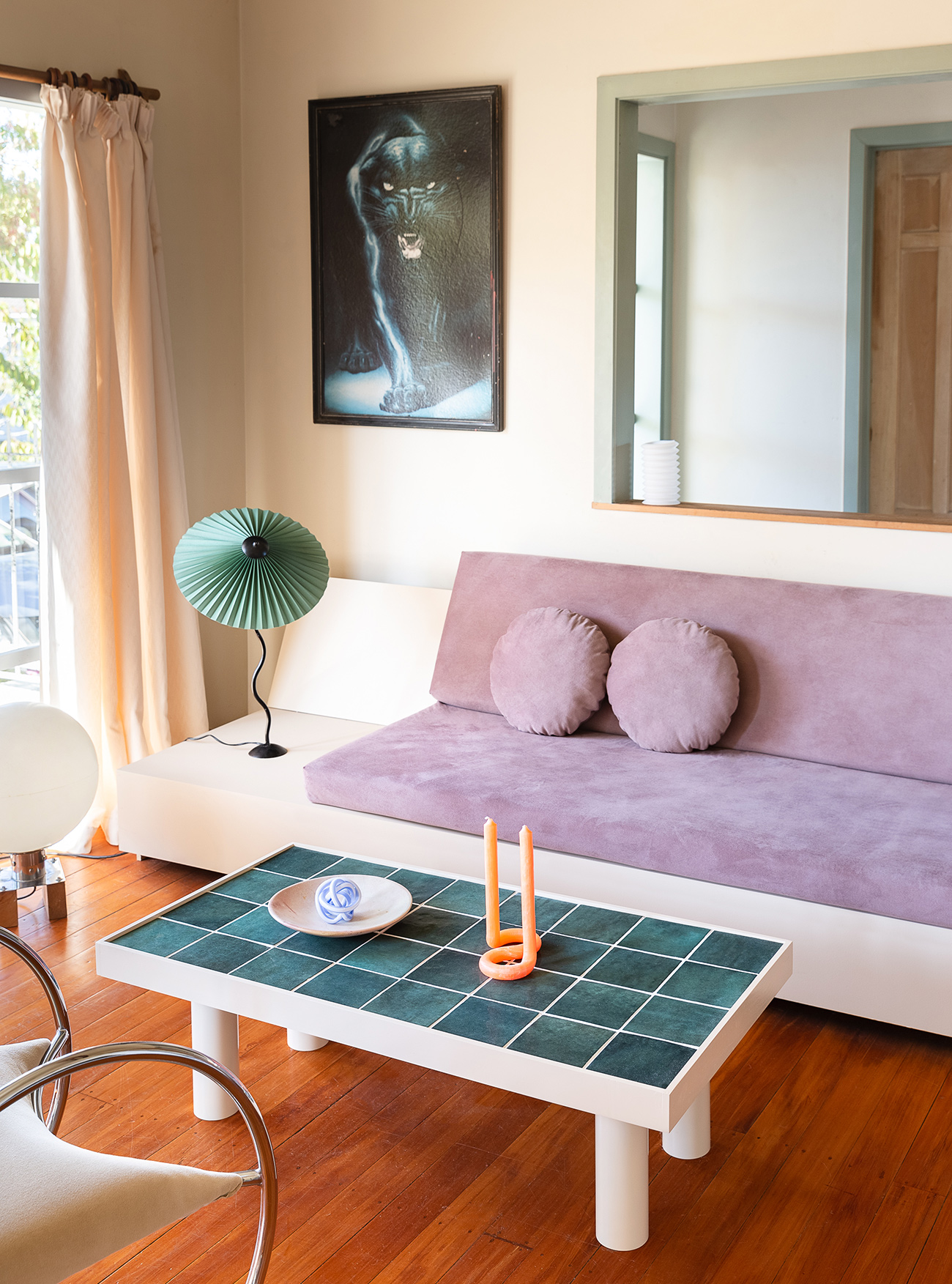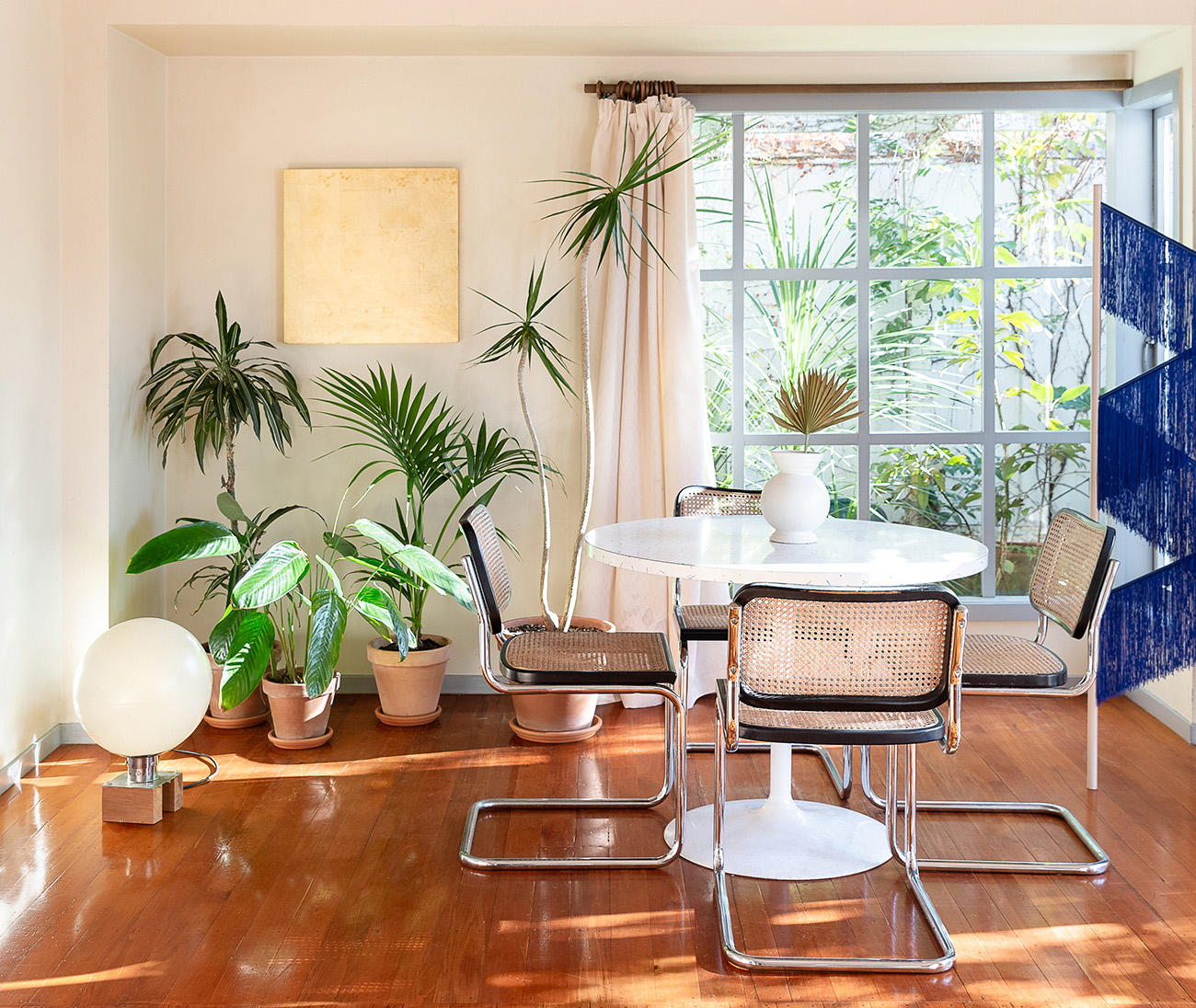 Let's go into some of those pieces. There are obviously a lot of really interesting built-in elements, but there are also some great design pieces. What would you say are the tentpole pieces that you've designed around?
JW:  It's mainly lamps! It's similar to the process of working backwards as a stylist. How can I create an area that that works to showcase this little item that I treasure? Every so often I'll invest in a special thing that I love and the personality and the identity of that piece is just so… sparky. I wanted to find spots for those things and celebrate them a bit better. I had this light from Sabine Marcelis that I didn't have a good surface for, so putting these colored cabinets [a custom painted hardware store buy Wanty previously used in a Homestyle shoot] in our bedroom became a nice stage for it. It's the same with the sofa and the deliberate space on the edge of it. It's a space that you can put anything you want to pay tribute to. At the moment we've got the Oscar Piccolo lamp there, which we love.
You also mentioned that you buy a lot of vintage or so-called junk pieces. Can you tell me about some of those? Are those amazing aluminum chairs in the living room something that you found?
JW: They are, Robin found the frames on the side of the road! He brought them home and made some seats for them, basically guessing how the original design would look. I had been looking for the design everywhere and luckily a few years later I saw a stylist I follow posted the same chair on Instagram, so I messaged her asking if she could take some photos of the backrest. She kindly did and sent pictures and we were able to remake them.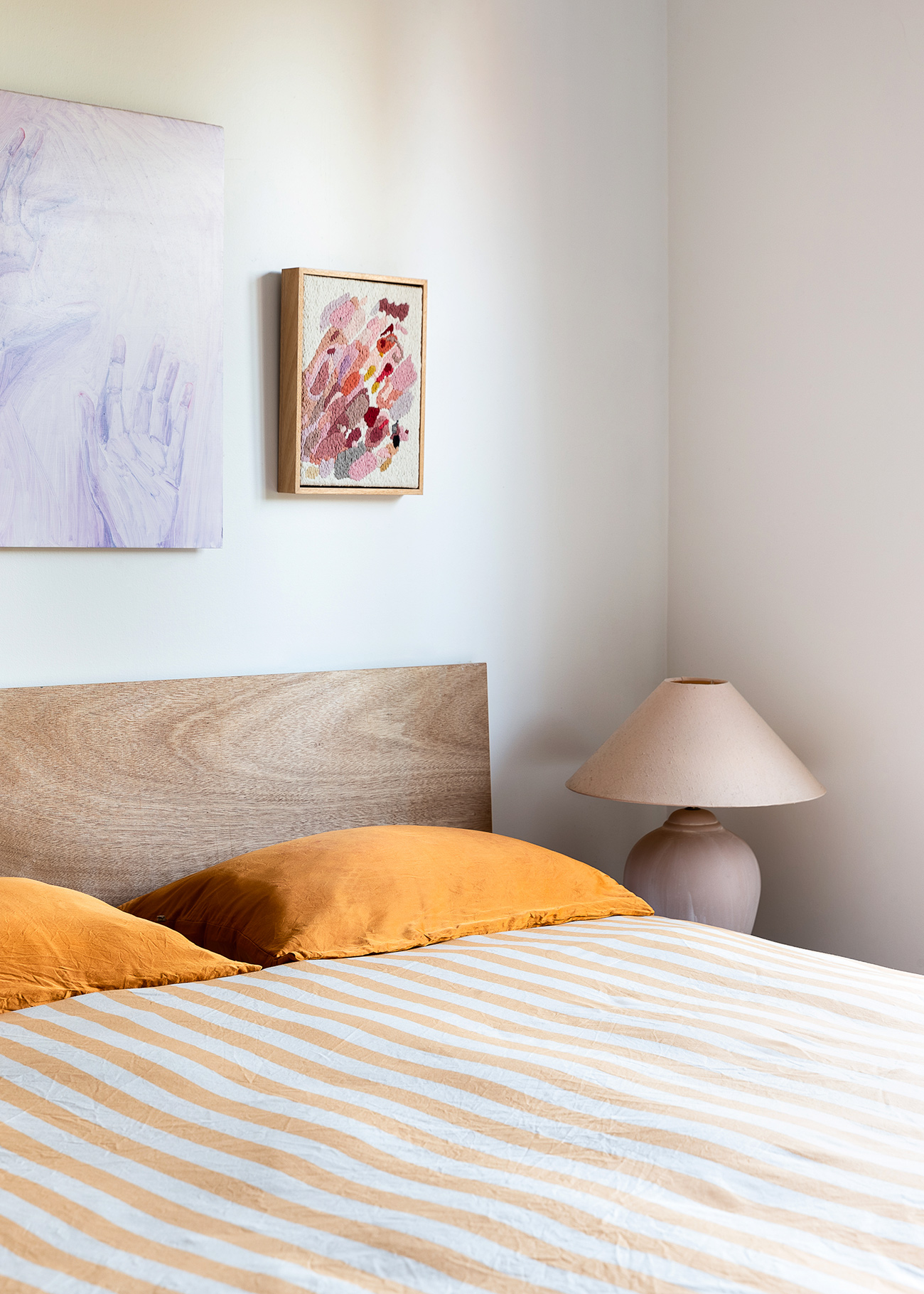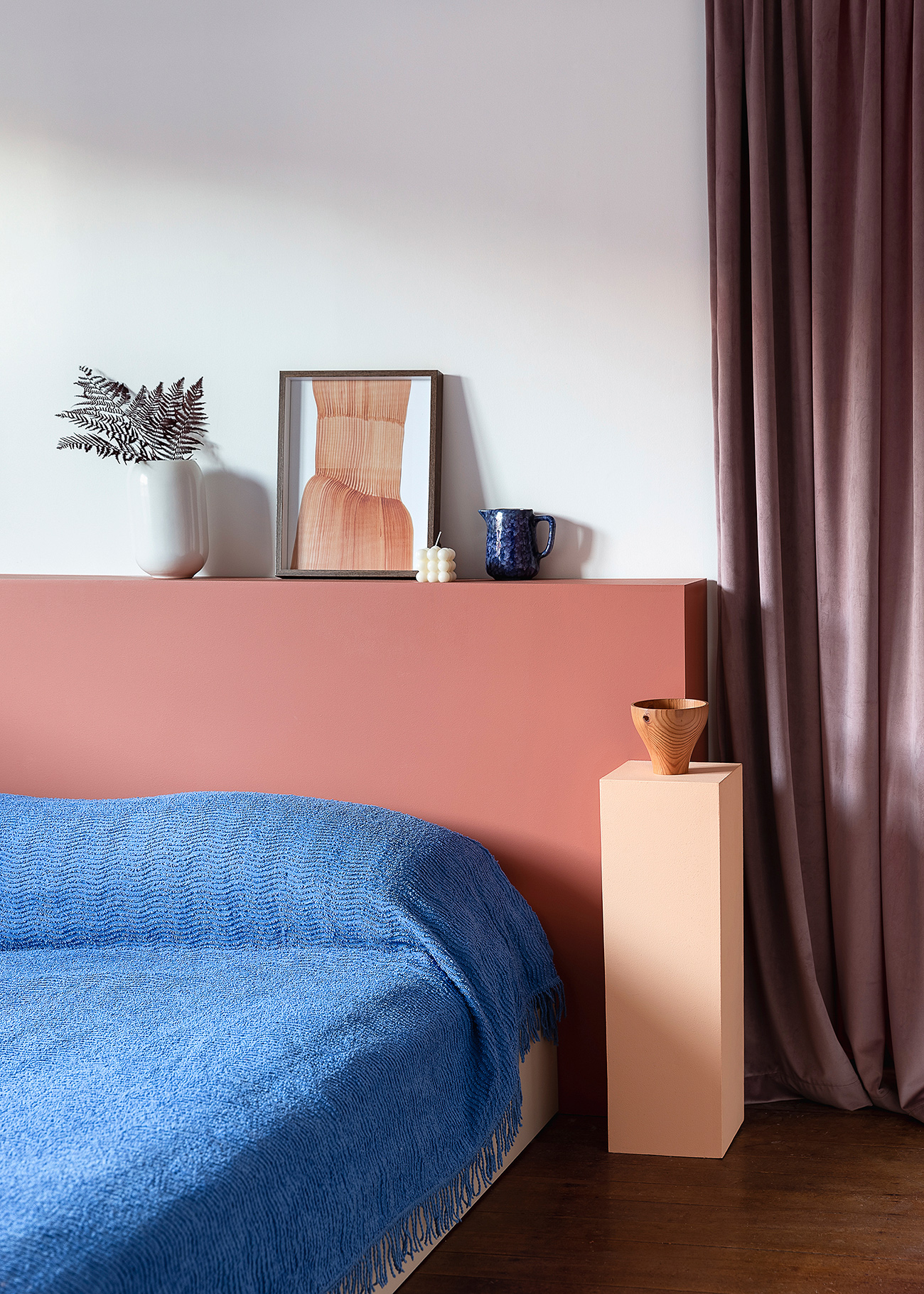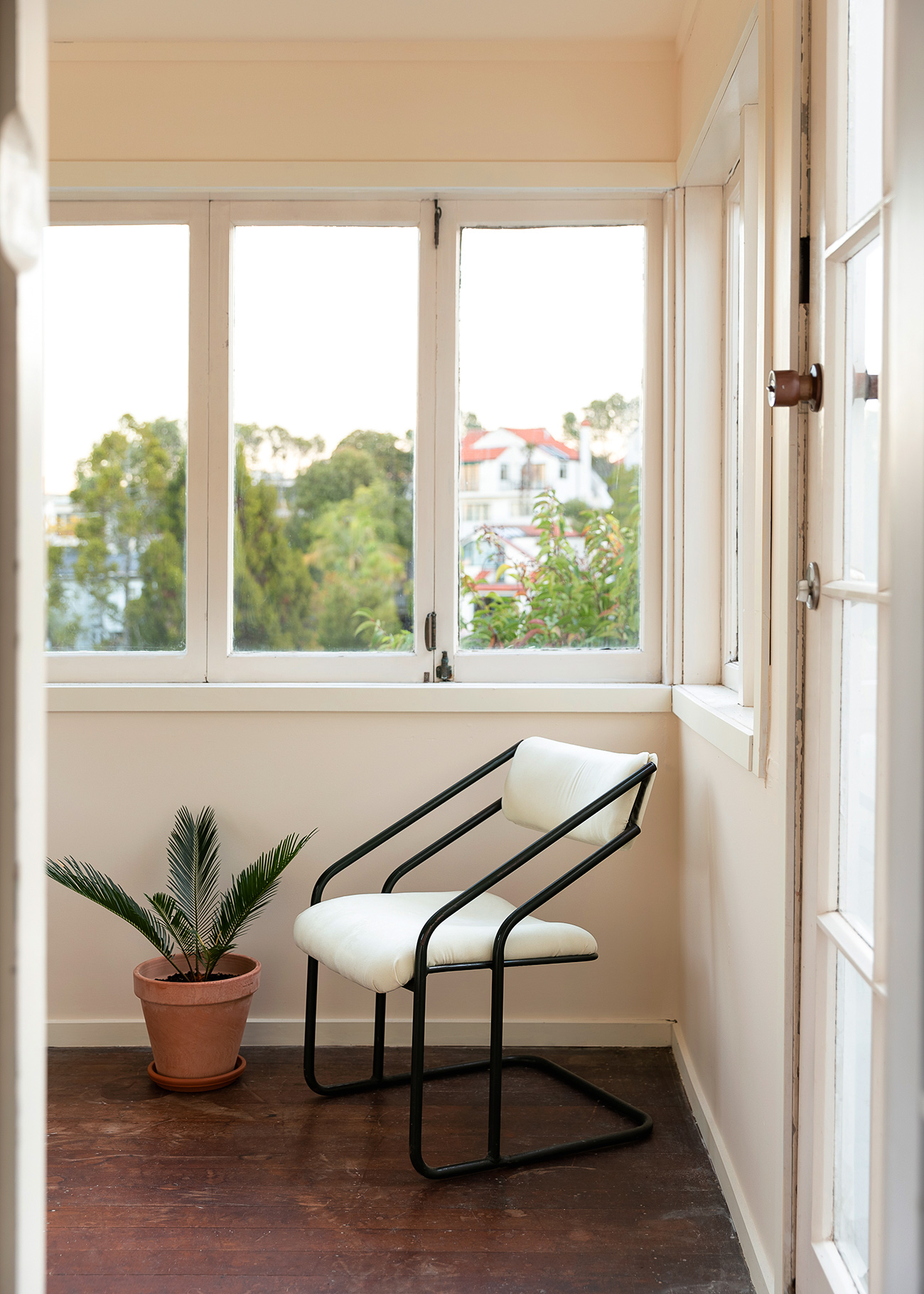 I really like the tiled coffee table, too. I noticed something similar in one your spreads for Homestyle. Was there a crossover?
JW: That was something that I did first in a photoshoot, yes. And I thought, What? Wow. Well, that worked great! I filed it away in the back of my mind after that. And I was like, I definitely think that I want to make a table like this. So we recreated that similar style
Is that something that happens often? That you'll stumble onto an idea at work and you'll decide to incorporate it into the house?
JW: In a way, particularly with sourcing, because if I love something and I want to put it in a shoot then there's a good chance I like it enough to put it in the house. But you also get used to seeing beautiful things so you become quite particular.
Are there any other pieces of furniture you're planning on building or making or that are on your wish list at the moment?
Robin: We want to do a redesign of our Diagonal Divider screen. It keeps me entertained thinking about ways to do that. We want to redo it with steel tubing to make it a bit more precise.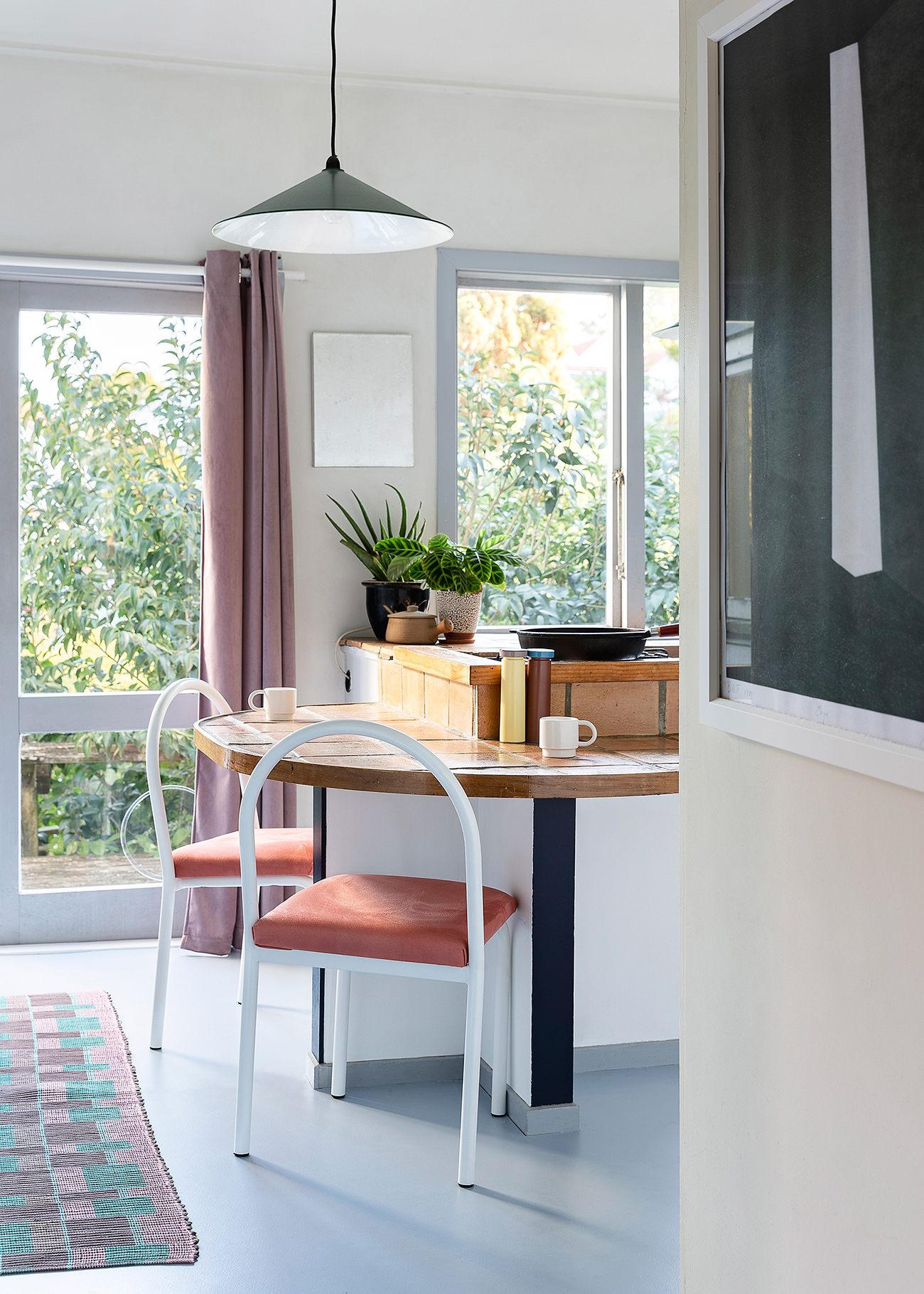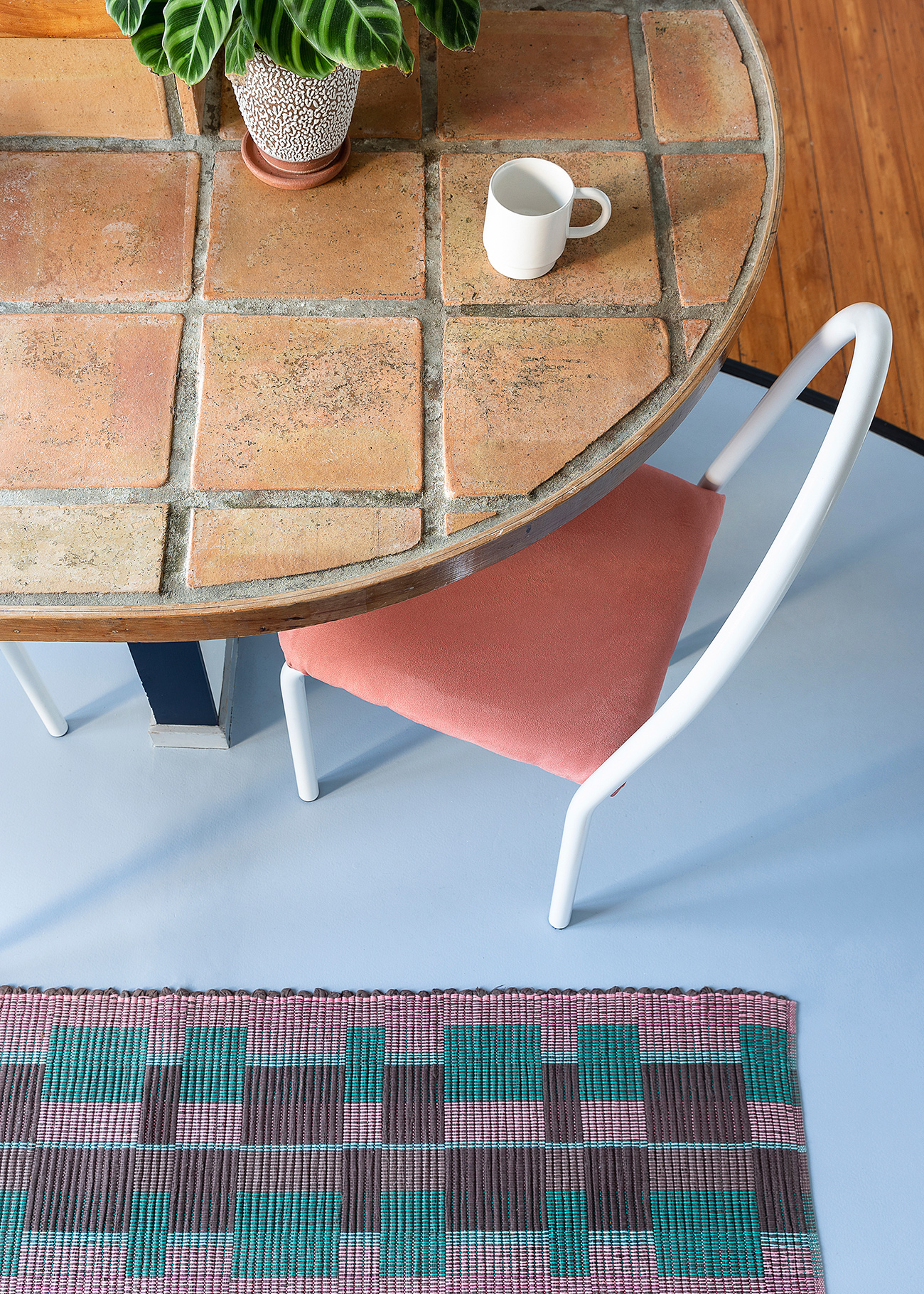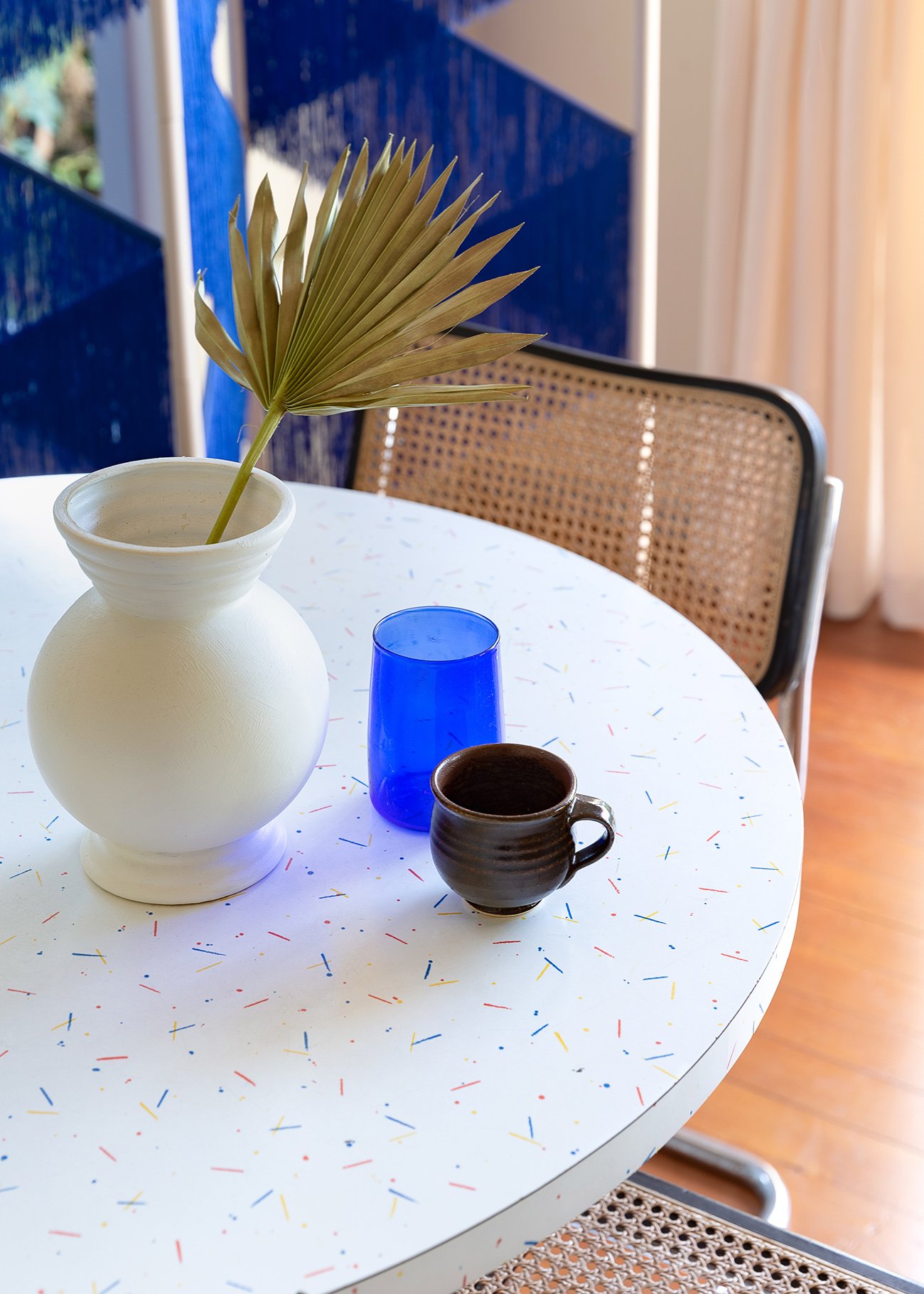 What about the paintings and prints you have up on the walls? What was the thought process there?
Juliette: So, the one thing about the art is that, unlike the way we've done the furniture, our art travels around the house a lot. It just sort of works being shuffled around, which is cool because it means that sometimes things will be in different parts of the house and it makes you appreciate it again when it when it's moved. The painting in our bedroom is by our former housemate Elisabeth Hyde-Hills and the embroidery is by Erica van Zon, who is based in Auckland, while the pieces above the colored cabinet are by Amy Unkovich and Mr Rogers.
What's it like sourcing vintage furniture in New Zealand?
Juliette: There are some really great vintage stores around Auckland and other parts of New Zealand. But I think the second-hand scene is probably quite different in Europe. There are some stores here that source things from overseas as well, just for a bit of variety. Otherwise, you have to get creative. We don't even have an Ikea!
Can you tell us a bit about what happening in New Zealand right now in design?
Juliette: We've got a lot of designers in New Zealand a lot of great creative talent, but I don't think we necessarily have so much of a culture of design in New Zealand. If anything, I think New Zealand design has always been quite informed by the landscape. The aesthetic is quite earthy and we're generally a laid back kind of people, so I think a lot of design and art bases itself around that. I feel like there's room for people to be quite brave, not necessarily just in terms of design, but people really follow their hearts here.