09.17.20
These Limited-Edition Art Prints Look Right At Home in Juliette Wanty's Poppy, 3D-Rendered Interiors
Most designers can point to the specific starting point that inspired a space, whether it be a concept, like a Balearic disco; a singular element, like a gilded backsplash; or a particular shade of blue. For a recent thought experiment, though, Absolut Art proposed that it could also just be a single piece of art. The Stockholm-based company, which works with up-and-coming talents to create and sell limited-edition fine art prints at an accessible price point, asked interior stylist Juliette Wanty to design five 3D-rendered interiors inspired by five of its collaborators: Manolo Campion, Jonas Lund, Julius Göthlin, Shantell Martin, and Stina Persson. "The brief was quite open, allowing me to lead with my design vision in an intuitive way," says Wanty.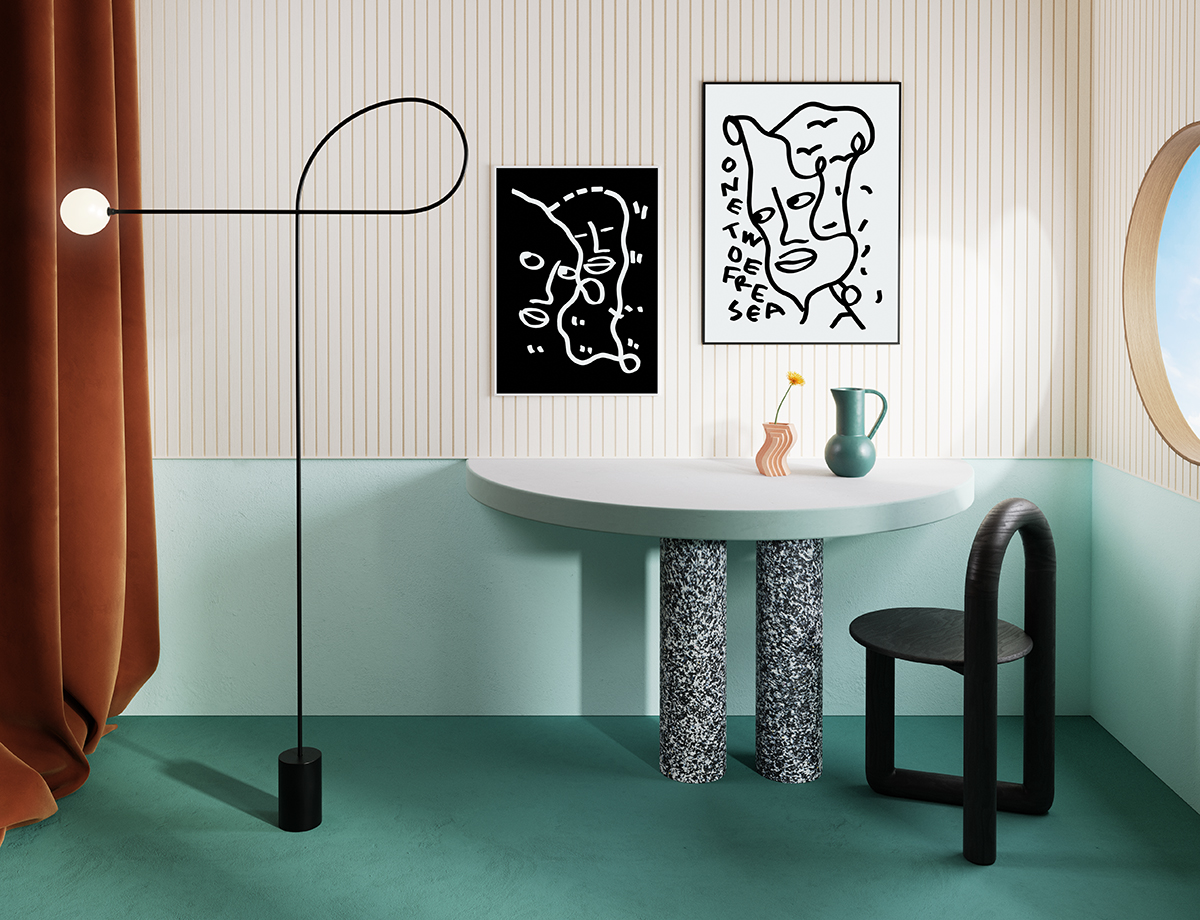 The digital environments have wildly different vibes. There's a steely blue sitting room encased in concrete for Göthlin's hazy solar system; a colorful assemblage of Pierre Paulins and Le Corbusiers that reference the human body to accompany Campion's abstracted nudes; a rose-hued bedroom illuminated by a Sabine Marcelis Voie light for Lund's psychedelic ombré print; a playful office for Martin's black-and-white line-drawn faces (above); and a bubblegum-pink breakfast nook with a striped built-in sofa for a portrait by Persson. "I took cues from the color, rhythm, and mood of the artworks," Wanty says. "The scale of each piece was also an important consideration. Furniture is like typography, where each item has a certain connotation or energy, forming an identity of sorts. Finding the right combination of elements together within an imagined architectural setting is an intuitive process, but when resolved it feels like cracking a code."
Artwork by Stina Persson
Wanty has spent years perfecting that process as the art director for Auckland-based shelter mag Homestyle. But while she's used to producing an array of alternate realities in print each month — in the form of physical photo shoot sets with an ultra-saturated, polished feel that could easily be mistaken for a particularly well-crafted rendering — translating her IRL interiors into the digital realm was a new experience. Normally, Wanty says she would "work in collage, sketching, and composition when envisioning spaces [for the magazine]," but to create the renderings she put together 2-D visualizations that she passed to digital artist Robin Barnes. "It was a meeting of minds in that way, and similar to how I collaborate with photographers when working on photoshoots in a studio," she says.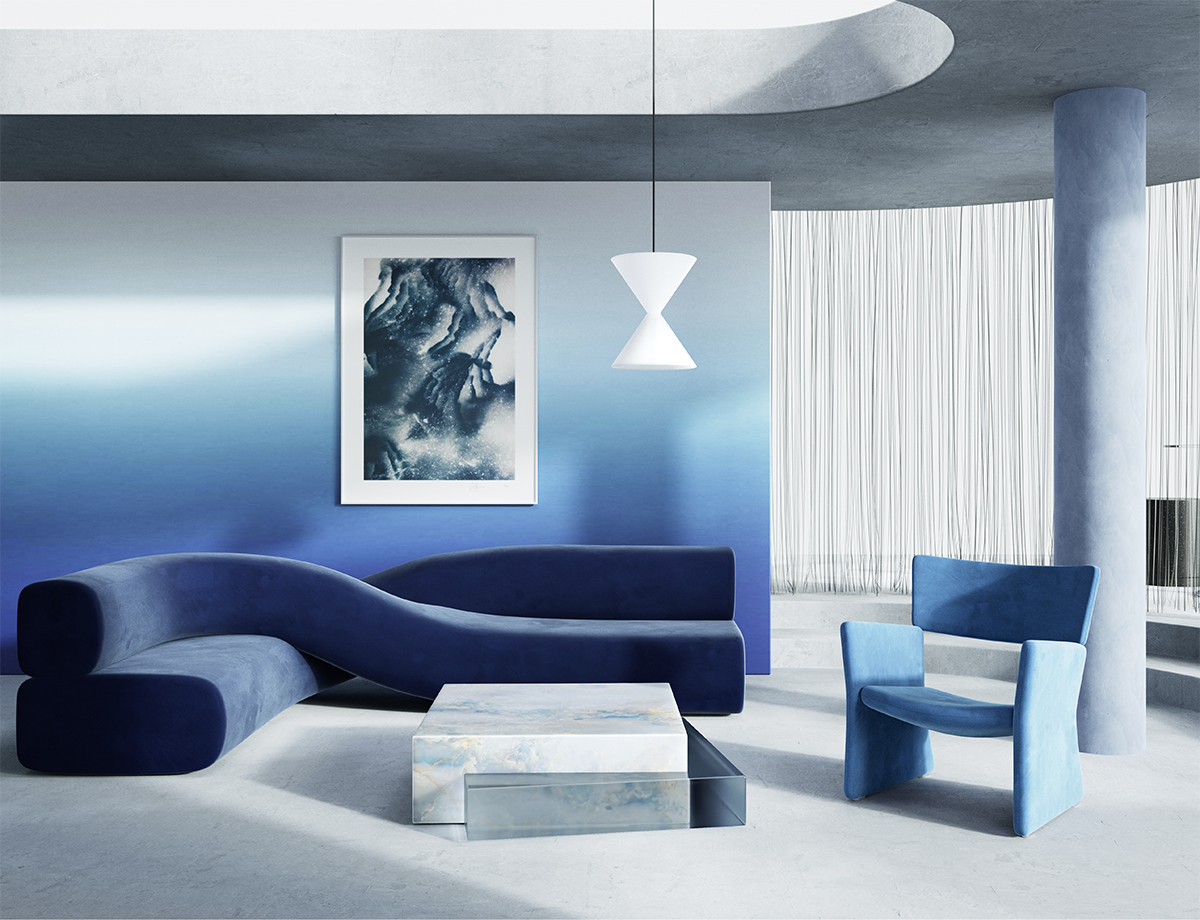 Artwork by Julius Göthlin
Working solely online also had a few added benefits. "As the images were being created digitally, the whole world opened up for possible sourcing, which was tremendously exciting," she says. "It was a joy to include rare contemporary pieces like an onyx and resin coffee table by Sabine Marcelis, alongside new releases like the Suit chair by Monica Förster for Artifort, and modern classics such as the Crown armchair by Chris Martin for Massproductions. I also looked to studios I've admired from afar but never had the opportunity to include in my work before, such as Estudio Persona, Objects & Ideas, and Dante Goods and Bads."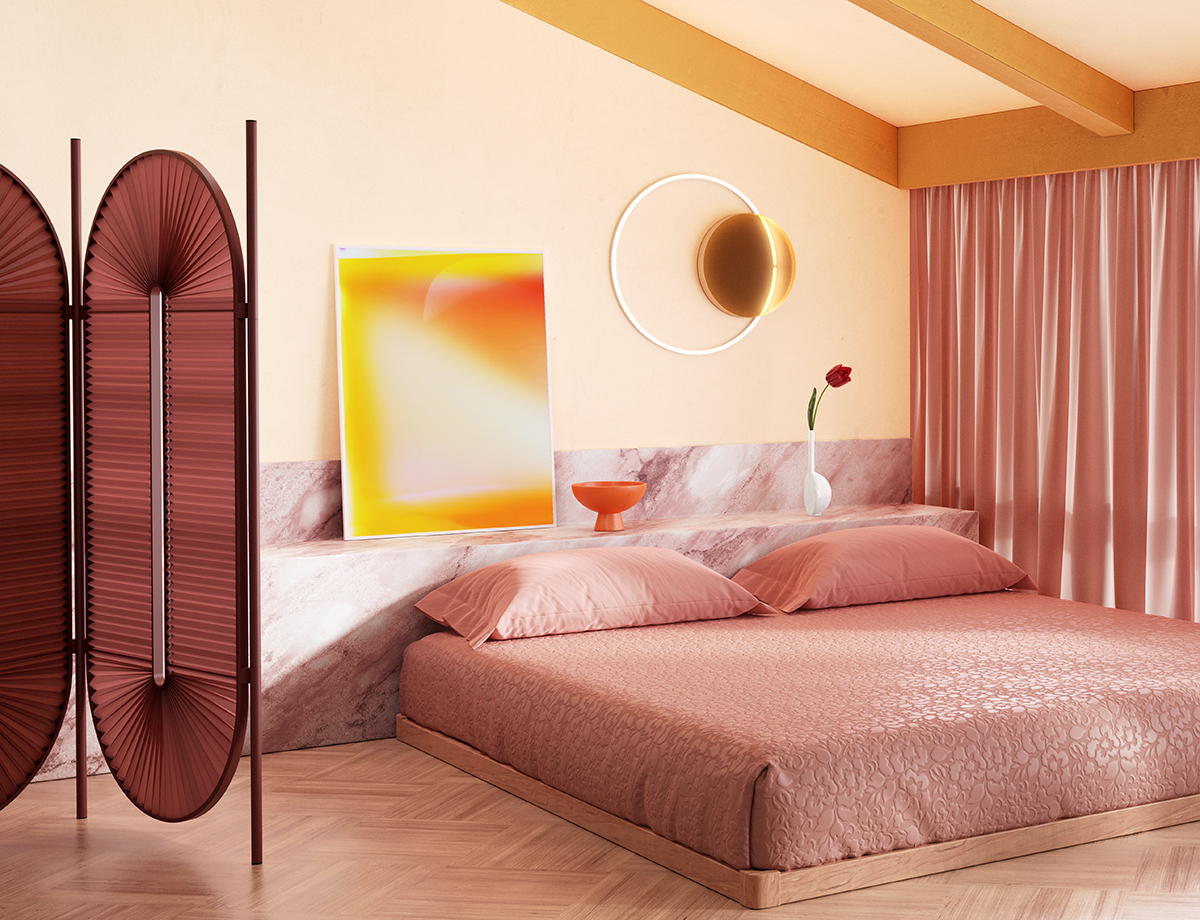 Artwork by Jonas Lund
"Like many other platforms who sell artwork, we show our prints in a variety of environments — from modern homes, country estates, and small city apartments. But for this project we wanted to do something a bit more creative and fun with our works," says Absolut Art creative director Michelle Grey, who works with the company scouting under-the-radar and established artists to create limited-edition print runs of their work, which Absolut then sells direct to consumer. The brand has collaborated with the likes of the Wu-Tang Clan and New York's Metrograph movie theatre, as well as contemporary artists like Mona Chalabi and Brigitte Lacombe, but this is the first time they've exhibited in the digital realm. "What really drew us to Juliette's work was her incredible use of color," continues Grey. "We particularly like her choice of bold poppy hues and her monochromatic interiors. Her style and visual aesthetic matched beautifully with the selection of prints in each image; in fact, the image itself is also a piece of art."