02.04.21
While on Lockdown at the Barbican, This Duo Made Brutalist Furniture Out of Moving Boxes and Other Scraps
The five-year-old design and art studio A Space is best-known so far for its series of geometric volcanic-rock tables, inspired by the architecture of ancient churches and monasteries in Armenia — which is both where the tables are made and where one of the studio's co-founders was born. But that intensely personal connection to heritage is not actually what has defined Anna Aristova and Roza Gazarian's work since, and in their newest launch, it's in fact quite the opposite — the Barbican collection is a series of mirrors, lights, and tables made with some of the techniques Aristova and Gazarian learned in their travels around the world, and its name references the famed London housing estate where they spent the past year living and making it. Having moved in last May, they conceived the series together as an homage to their new surroundings, then Aristova sculpted it out of the materials available to them during lockdown, including moving boxes, food containers, and plaster of Paris ordered online. We asked Gazarian to tell us more.
How did you end up in the Barbican Estate during lockdown? We always thought of you as a New York studio.
We used to be New York-based, but for a few years now we've been challenging the idea of having to have a set physical space in order to create work. In the last 2 years, we produced most of our work while traveling and living in Armenia, Turkey, Vietnam, and Portugal. At the start of 2020, we had pre-COVID plans of relocating to London for some time. We're big fans of Brutalist architecture, and since the Barbican was on our list for awhile, we moved here in May, and are still enjoying our life here — minus the lockdown, of course.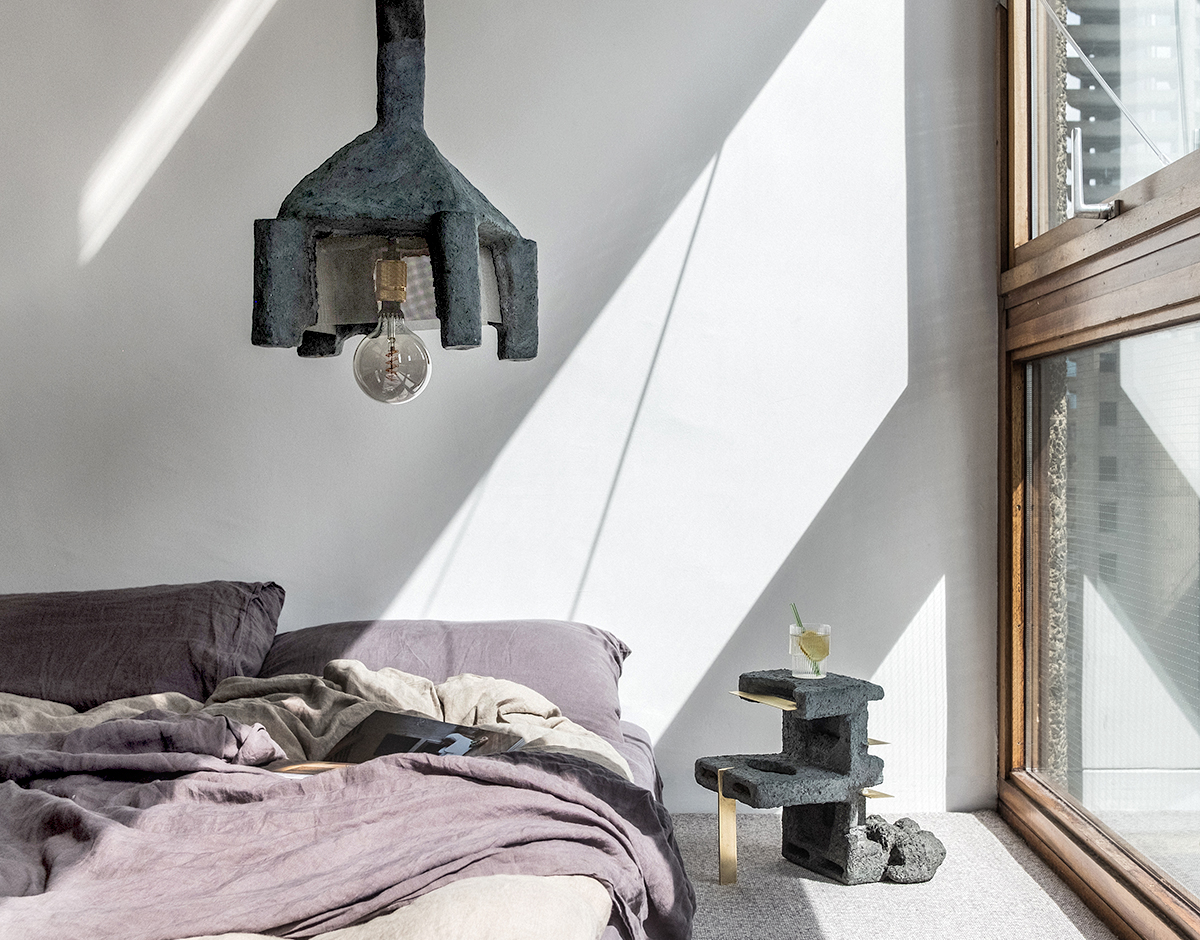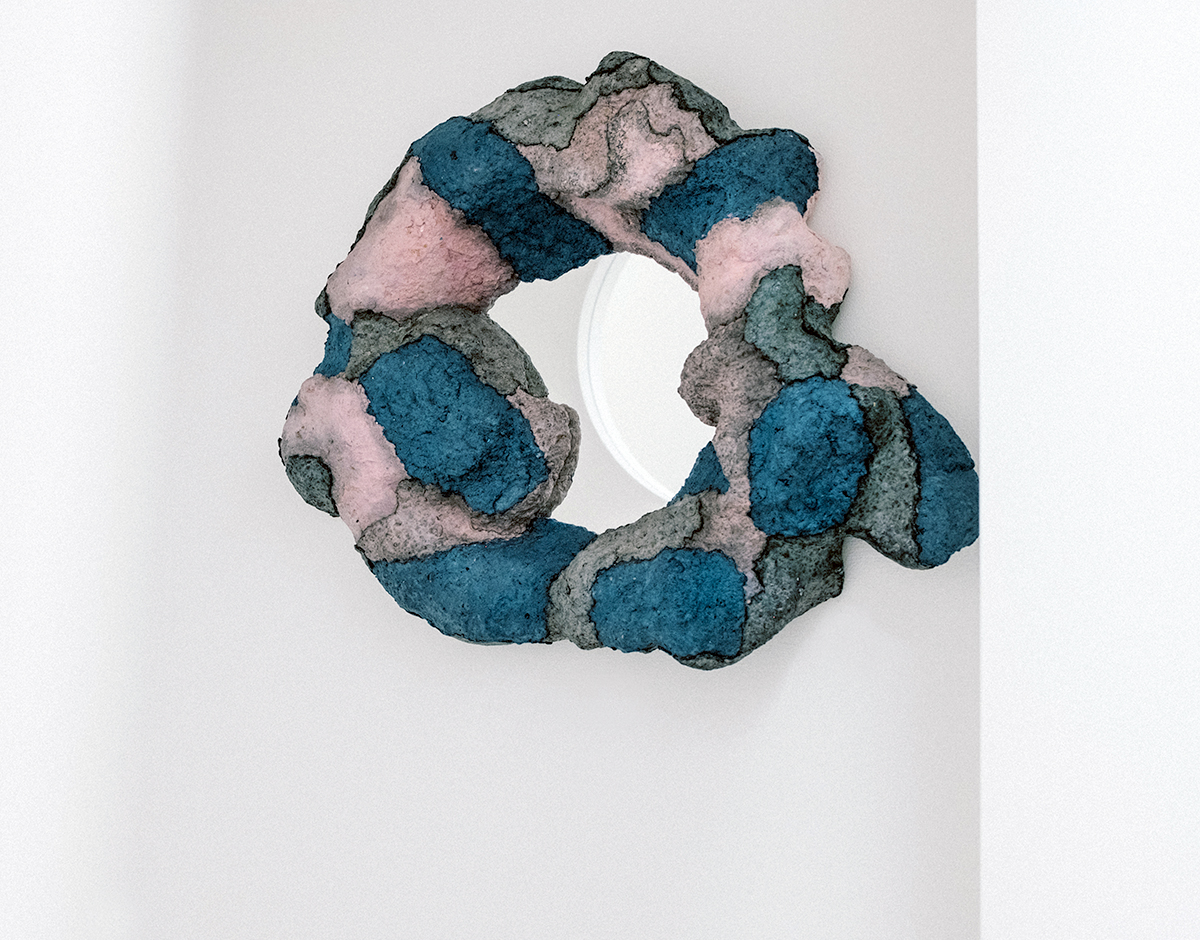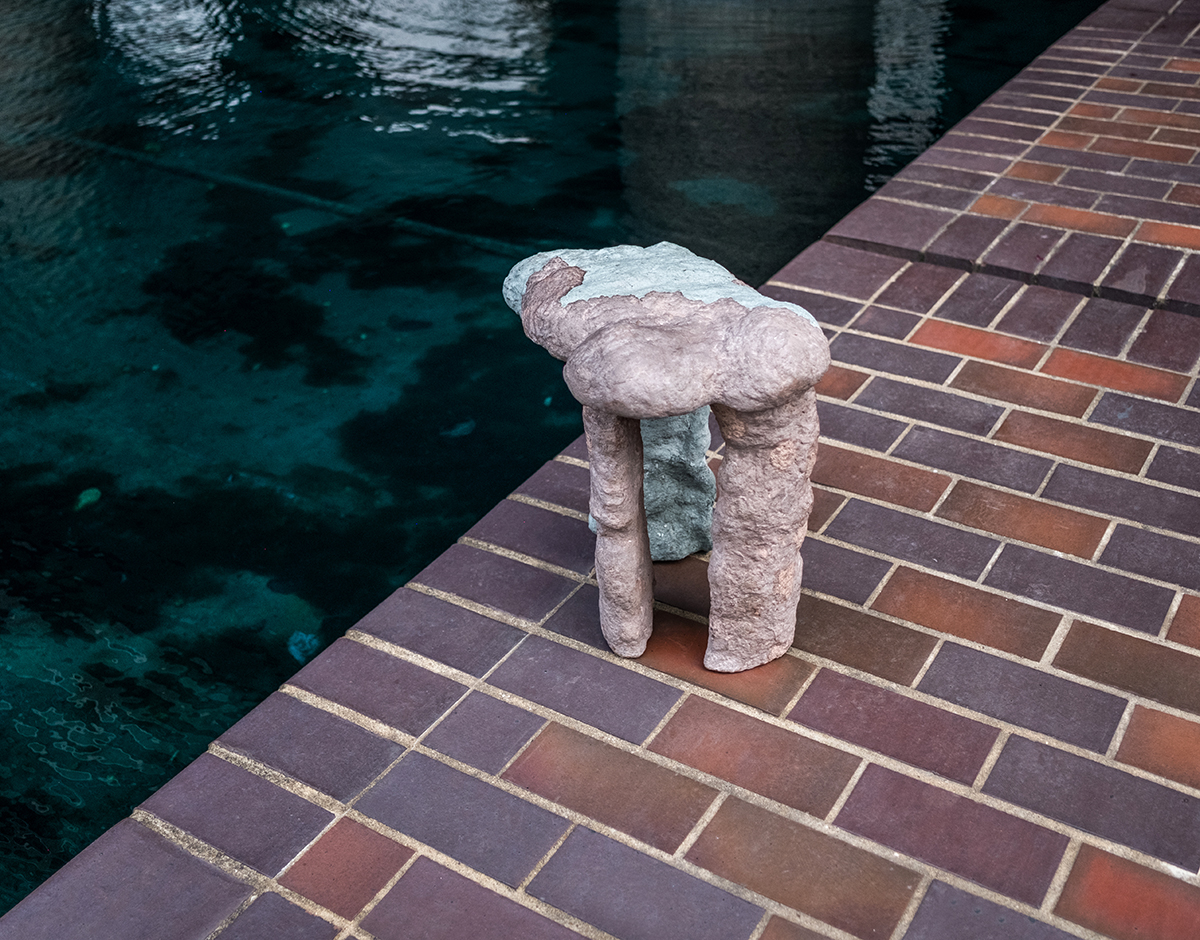 What's it like living in the Barbican? Anything special you can tell us about living there that an outsider wouldn't realize?
We LOVE living here. However, since our move happened during pandemic, we understand that our experience would've been much more different if life was as it was before. Even though it's central London, living at the Barbican is so quiet and peaceful, and the view of the surrounding buildings outside of our windows is eye candy every single day.
We walk around the pond and the gardens a lot, taking in the details, always noticing something new. For example, we are absolutely in awe of the combination of Roman ruins from 200 A.D. that are part of the complex, and the Brutalist architectural elements — this is something completely unique to the Barbican. Another striking detail is the Barbican's massive textured-concrete columns and their reflection in the smooth, calm water — a perfect combination of opposites, in which they not only coexist beautifully but also blend together into one unique visual and sensory experience.
We can only imagine how lively, friendly, and fun it must have been to have access to the conservatory, gallery, movies, and theater here, which I am sure adds immensely to the overall experience.
You mentioned in your project description for this collection that it came about because supplies were scarce during lockdown. How so exactly?
Initially we had a completely different vision for our 2020 collection. However, as the year progressed in its unexpected directions, we couldn't realize the project we'd imagined because of our inability to travel, and because for the most part, supply stores and fabrication shops were closed. So we were forced to react to the situation by reconsidering the meaning of luxury in creating the current collection. Instead of marble, we turned to cardboard, packaging materials, foam, food containers, and scraps of wood and metal. This act became a philosophical position wherein luxury consists of the time, feeling, and thought invested in a piece, and in the unexpected ways in which a handmade material reacts and shapes both the process and the design. We've also been interested in creating a more sustainable collection for awhile, so it seemed that everything just fell into the right place at the right time.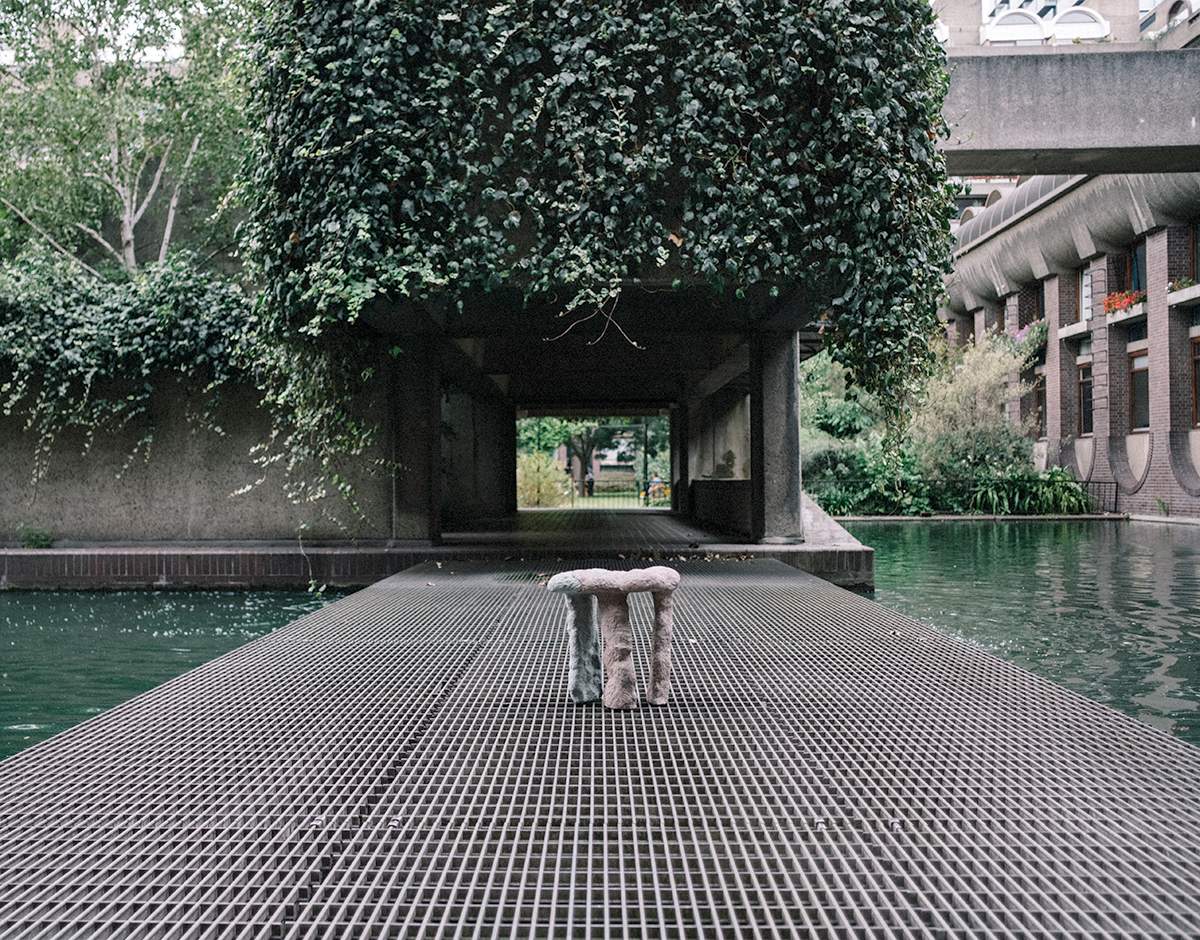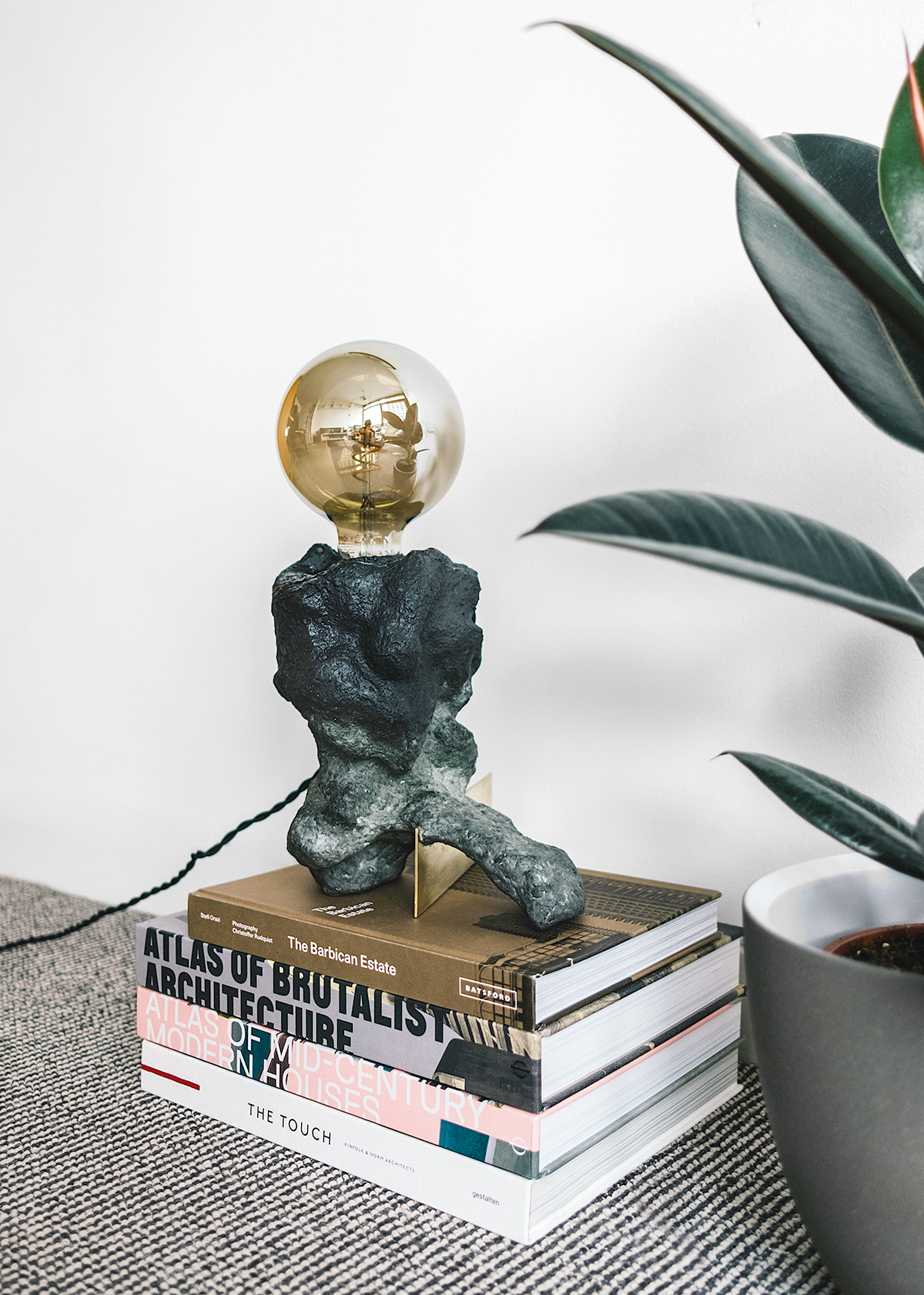 Can you tell us a bit more about how exactly you gathered the materials you ended up making this collection with?
Lots of the materials we used in the pieces came from our move, as well as from our everyday life.
Moving: cardboard boxes and linings, various plastic packaging and wrapping, foam packaging. Everyday life: online deliveries, food packaging (egg cartons, plastic containers, plastic bottles).
Purchased from the local hardware store: foam, metal scraps, chicken wire, electric wiring for lighting, PVA, and other natural glues. Ordered online: plaster of Paris, bandages (for shaping).
Your project description says that the pieces were made "using a fusion of methods learned and reinterpreted in places as different as Western and Eastern Europe, USA, Vietnam, and Japan." Can you tell us more about that?
Anna, who sculpted this collection, has a ceramics and printmaking background from Russia, where she was born. Living in United States for over 10 years has expanded her interest for mixing materials in more unexpected ways. Her interest in sculpting grew as we traveled the world, learning from various local artisans simply by observing them or participating in their workshops. It's hard to single out any particular technique that had the most influence on us, because it's more of an ongoing continuous process that changes constantly. From working at a ceramic studio in Brooklyn, to learning a completely new firing technique in a smokeless anagama kiln in Portugal, to spending several months in Japan with a ceramic master at his studio, helping him shape and lay down bricks for the kiln, to taking washi-paper workshops with local artisans in Fukushima and seeing how they work with the natural glues and recycled rice paper, to observing basket weavers in Hanoi — every one of these experiences added to our overall sculpting knowledge and inspired our experimentation in this project.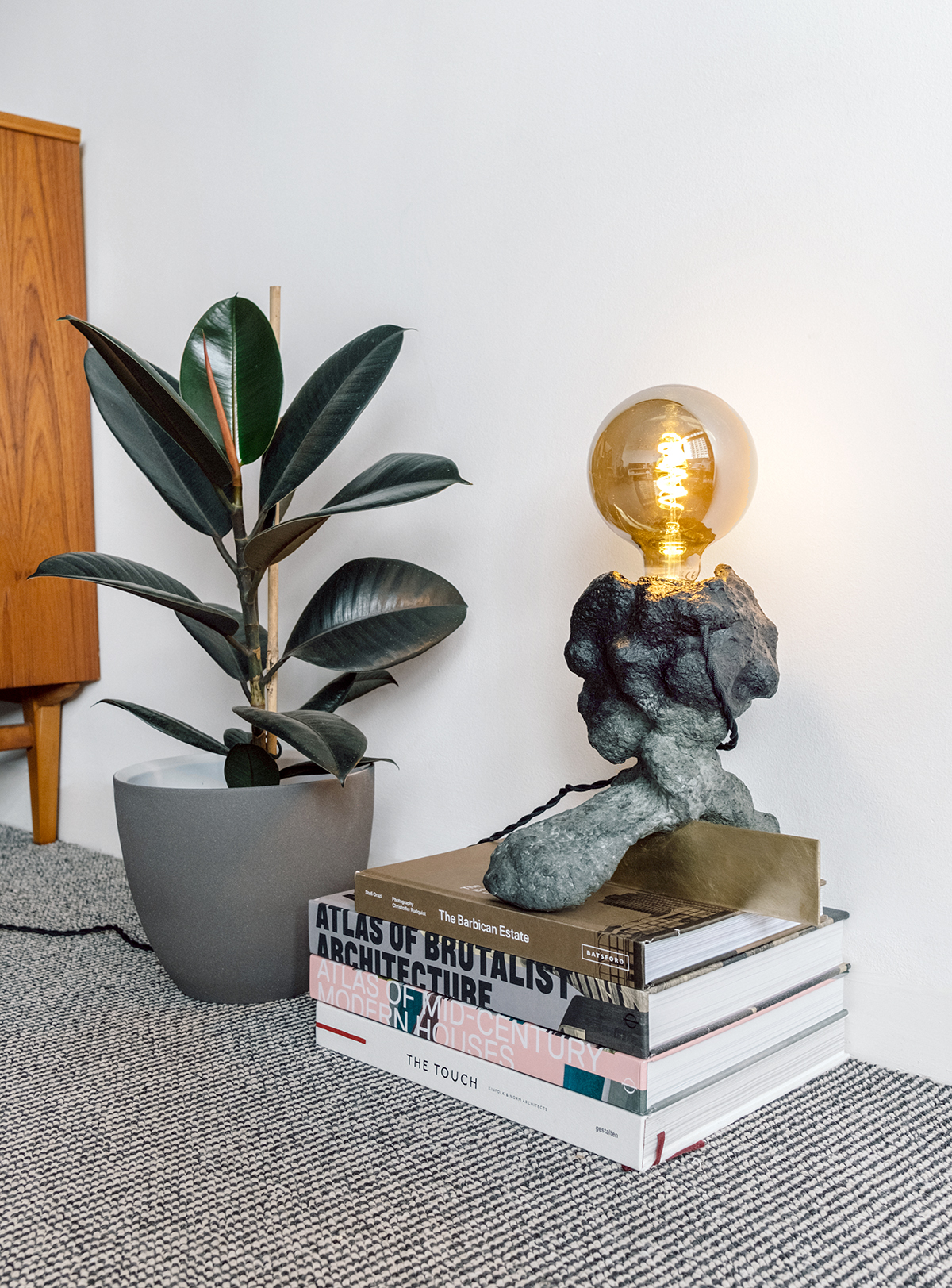 You mention that all the pieces in the collection are made with "an original mixture of gypsum, recycled paper, and natural glue, and finished with natural pigments and a waterproof topcoat." Was the technique for each piece the same as well?
The technique used to cover and finish each object is the same for all of the objects, which gives them a uniform look and feel. But the skeleton of each piece is uniquely different, and consists of a combination of random materials.
Can you tell us more about the origins of some of these forms? The side tables have quite elaborate shapes in particular, and the pendant light also looks like it has a specific reference behind it.
The pendant light takes most of its inspiration from the strong and massive columns that lots of buildings have, including the Barbican. The gradient color of the piece mimics the gradients on the concrete columns that show up after the frequent London rains.
Side Table No.2 and No.3 sort of co-exist together as a pair in our minds. Both were created from scraps of wood, brass, and packaging materials, their shapes inspired by overly-complicated Brutalist buildings with many levels, openings, angles, and corners. They seem a bit unpredictable and not logical, yet structural and functional. To break the geometry and add an organic element, we added these amorphous blobs from the foam that seemed to 'mess' with the distinct forms. While looking a bit wrong, it seems very right.
Are these all one-of-a-kind? Will the project or its pieces morph into anything else?
Each piece is one-of-a-kind, and just as the lockdown continues into 2021, we are continuing our work on pieces for the collection.
CLICK HERE TO SHOP PREVIOUS WORK BY ASPACE IN OUR 1STDIBS STORE