04.15.21
This Mexican Modernist Masterpiece by Mario Pani Is Now a Rentable Guest House
For people who love great architecture, just being able to see photos taken inside a renowned space that's normally off limits to the public is a thrill. But it pales in comparison to the excitement of actually being able to visit a private architectural landmark, or — the ultimate design fantasy — actually sleep in one. That's why architect Miggi Hood, Yola Mezcal co-founder Yola Jimenez, and entrepreneur Marie Cazalaa knew they'd struck gold when, having set out to find a property in their part-time home of Mexico City that they could turn into a stylish guest house, they found themselves in the running to acquire a charismatic residence built in 1962 by the famed Mexican architect Mario Pani. The home had been in the same family since its construction and was extremely run-down; the three friends won the bid by promising to fully restore it and invite others in to experience its design and its history. They spent two years turning it into Casa Pani, which is now bookable on Airbnb.
The project is an homage to its architect in more than just name. Pani was a Modernist and a top proponent of the International Style in Latin America; inside the house, he played with form, scale, and texture, juxtaposing lava-rock walls with chunky terrazzo floors, and adding circular porthole windows to organically curved white-stucco walls. Hood, working with the local architecture firm Estudio Atemporal, took pains to echo Pani's design language and devotion to natural light in a new addition she added to the back of the original house, and she and Jiminez tracked that language closely with their choice of furnishings as well. Hood even sculpted a white plaster dipping pool in the courtyard that features the same sinuous curves.
With the new addition, Casa Pani has a total of six bedrooms, each with their own bathroom, plus a communal space, a courtyard, and a roof terrace. Guests can book each room individually on Airbnb, or book the whole house if it's available. It's a unique setup that reflects the trio's ideas about what they always wanted the project to be: A place for people to gather and ideas to flow. Though it opened last February, right before the pandemic decimated global travel, these days it's often fully booked with photographers, artists, and other creatives. The hosts are often there, too, and have been known to invite their friends over for outdoor dinners, houseguests welcome. We spoke with Hood about how Casa Pani went from daydream to reality; if the story inspires you to start renting your own space, visit this link to get started!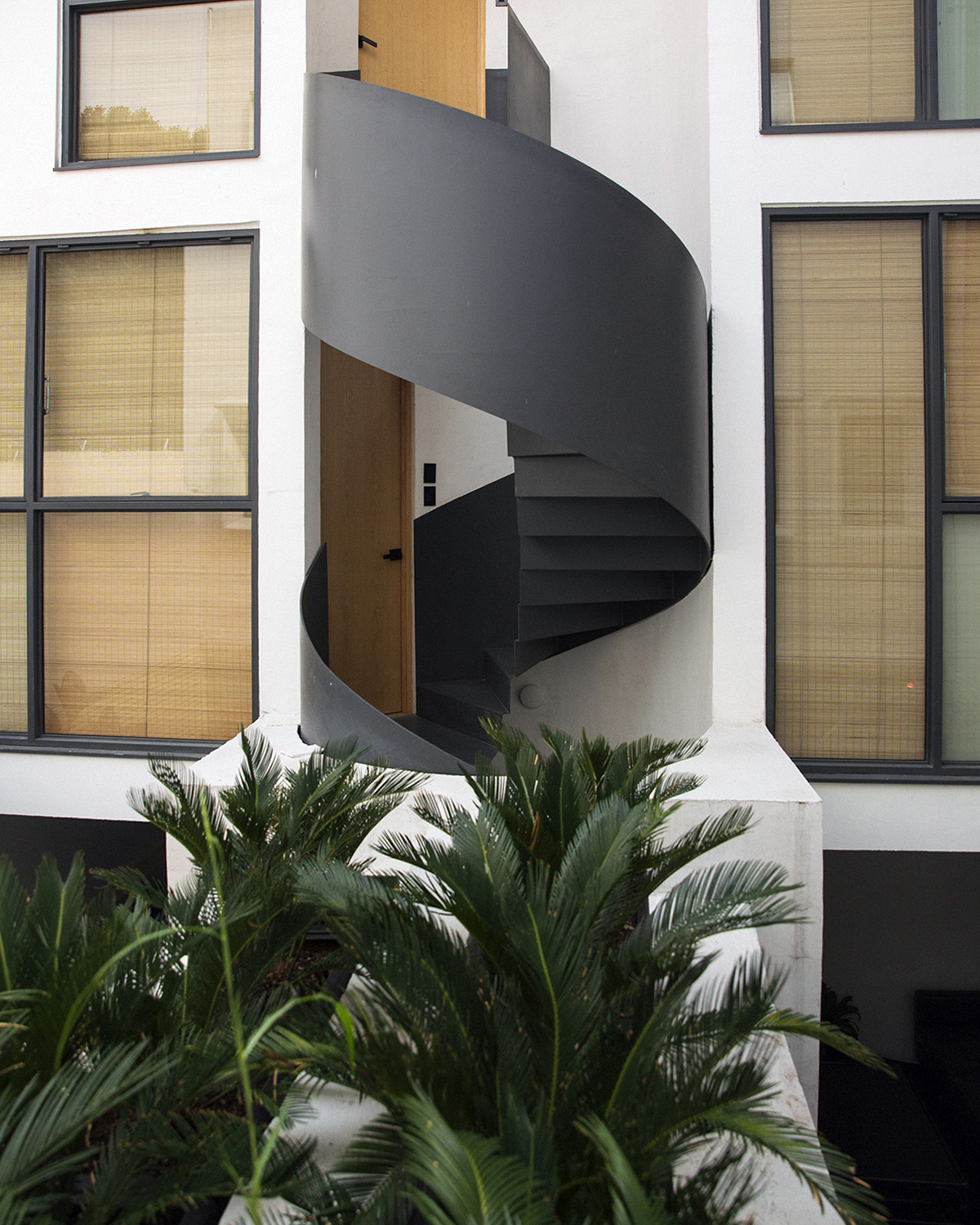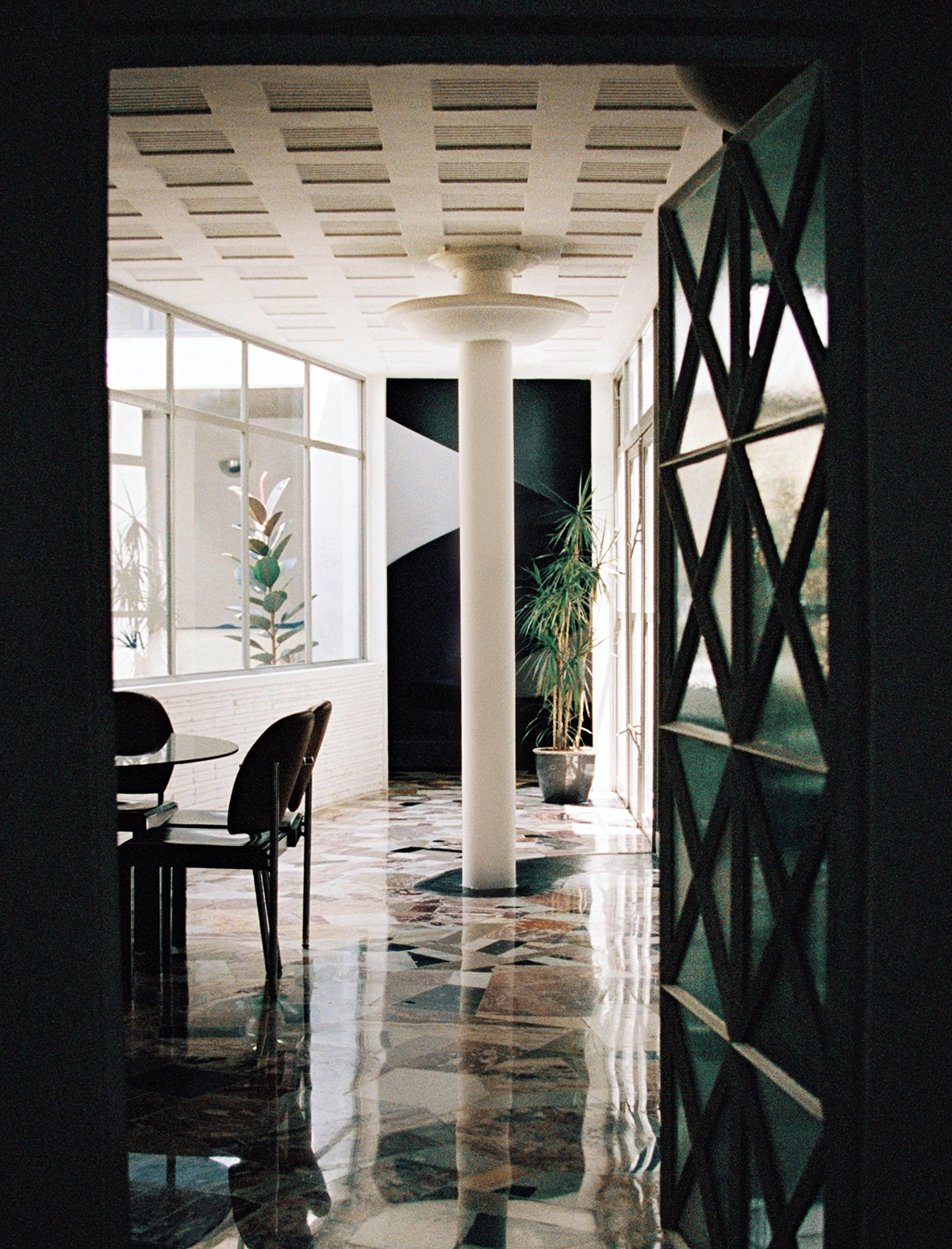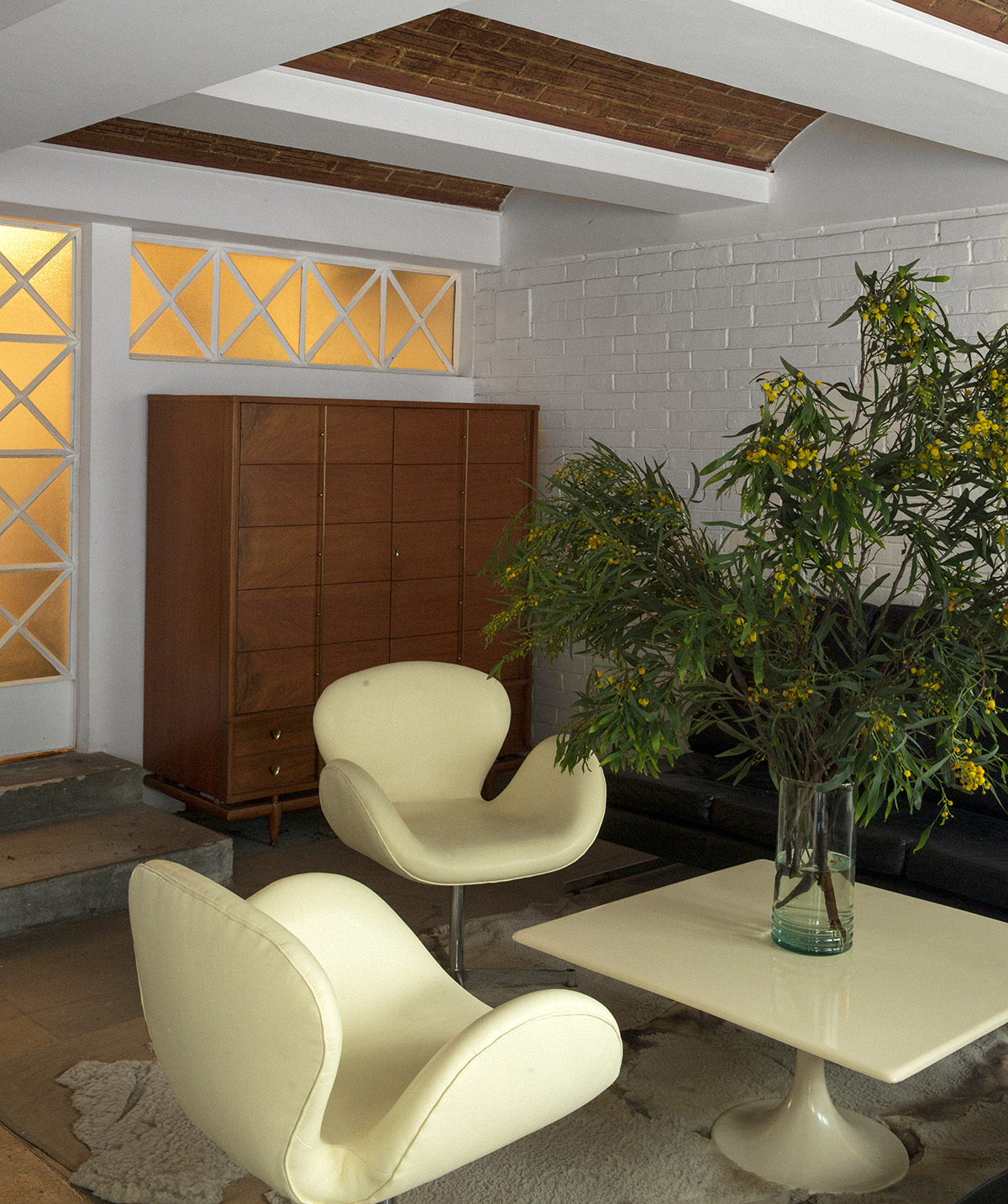 How did this project came about, and how did you luck into this amazing piece of architecture?
It started as a collaboration between myself and Yola — we were in a relationship at the time — and our friend Marie. Marie is French, Yola's Mexican, and I'm English but I live in LA. The three of us had always had in our minds that it would be great to find a property in Mexico and turn it into something we could rent to guests. And Mexico is affordable, so it's the kind of place where dreams like that can come true. It's also full of architectural gems. We looked at all the interesting classical Spanish-inspired buildings, but one day this house popped up: It was designed by the Mexican architect Mario Pani and built in 1962. I only saw a video of it, and I said Yes! That's it! It had the right history and the right provenance. It had been divided into two apartments, and it was very run down, but it was the perfect house. We got ahold of it actually because the seller was the son of the original couple who had first moved into it in 1962, and the other person who wanted to buy it was going to knock it down. In this neighborhood a lot of old buildings are being destroyed, and new condos are going up — nothing's protected in Mexico, it's sad.
The neighborhood also has several other Pani buildings. Just about three blocks away is a very famous building that Yola and I were living in at the time, the Río Balsas, and there are two big Pani apartment buildings on Reforma. Our house had been terribly neglected, but it still had that beautiful marble floor, the volcanic wall, and the wonderful oval stucco staircase. It was magical in the sense that it had these great spaces inside. Since the original owners were no longer living, it was very hard to get any information about the house or the circumstances under which it was built, but it was very much just a house meant for people to live in.
Pani himself was a real innovator – he was a Modernist. You could compare him to Le Corbusier. He did a lot of social housing, helped build UNAM, and his apartment buildings are magnificent. He would use a lot of transparencies; in Casa Pani there's a wonderful skylight that comes from the roof that's all glass block and louvered glass, to let air and light flow throughout the center of the house. I'm not an expert on Pani's work, but he's a much-beloved architect and a very good guy. He cared about people's quality of life. His social housing is very sought-after now and lived in by fashionable people. Río Balsas, where we lived, has actually since been turned into an Airbnb. He's kind of a hero in Mexico in the sense that he made a great contribution.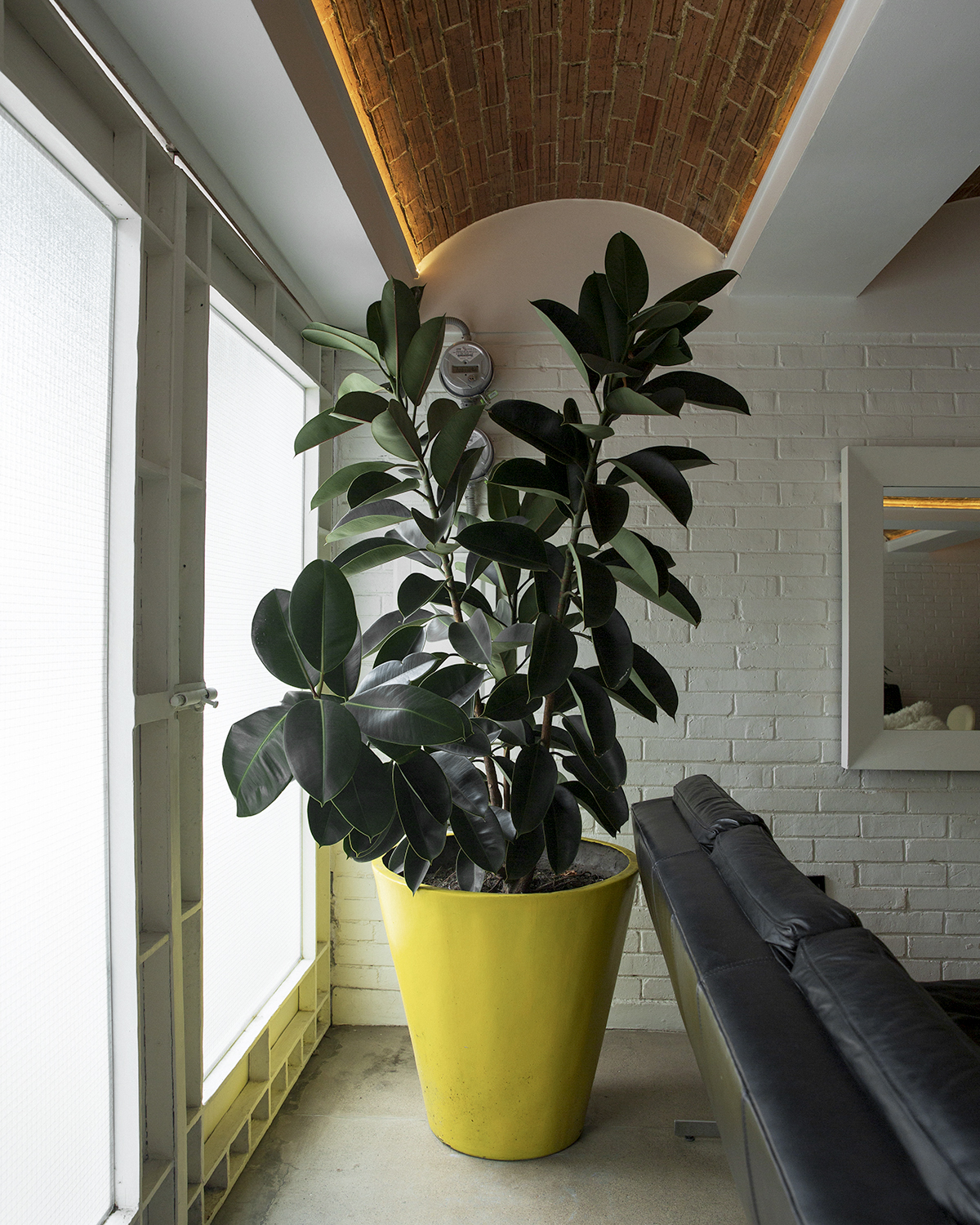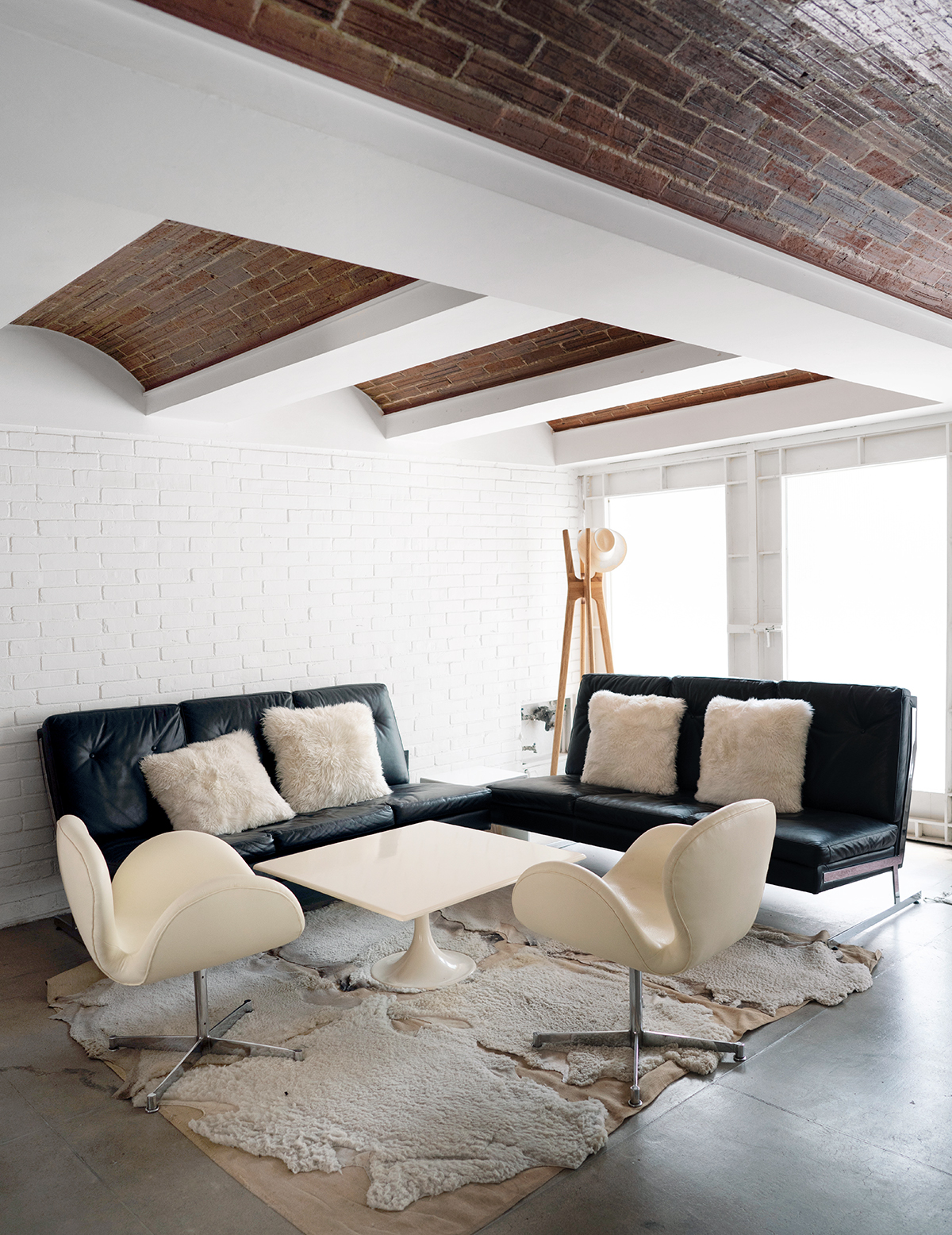 How did you end up adding the contemporary structure to the back of the original house?
The front of the lot held the original Pani house, and the back of the lot had enough space for us to build something new. Originally we were going to make the main house the guest house and build a house for ourselves to live in out back, until we realized it wasn't going to be big enough. If we built too high, we'd be blocking out all the light. So what we ended up doing was expanding the house's communal space over the whole footprint in the back, adding one guest room on each floor, and then adding a roof terrace. Meanwhile the layout of the original house needed changing from having two bedrooms and two separate kitchens to having four bedrooms and four bathrooms.
With that back structure, I tried very much to echo Pani's details while creating something much more contemporary. We echoed the original house's circular stairway in the new building, and that became a nice way to ground it in the same way the old building is grounded. But the new house is definitely a modern, very airy, very light space with big sliding doors that open all the way to the outside. On one of the balconies you have a direct view of the gorgeous Modernist church next door, with its stained-glass windows. On one side we have an apartment building, and on the other side is just the church, so there's a lot of light, and quiet. It's a wonderful place to listen to the sounds of Mexico City.
One of the more interesting elements you added is the little pool with a very sculptural form. What inspired you to create it?
We had thought about putting in a pool, but we realized we couldn't afford it, so we decided to make a small pool instead. Mexico is intense, it's gritty. So the idea of being able to have a body of water to wash away the grit and noise and dry climate was kind of compelling to me. My original training was as a sculptor, so I started making a form that I felt would work as an object in and of itself. I had also recently been looking at the work of Valentine Schlegel, which I love to pieces. I made the form out of modeling clay, and we built the finished pool based on that; we started with bricks, then added plaster, then made it waterproof. And it's heated, so it's basically like a bath for five people. It's totally refreshing. It's a fantasy that became a reality, I suppose.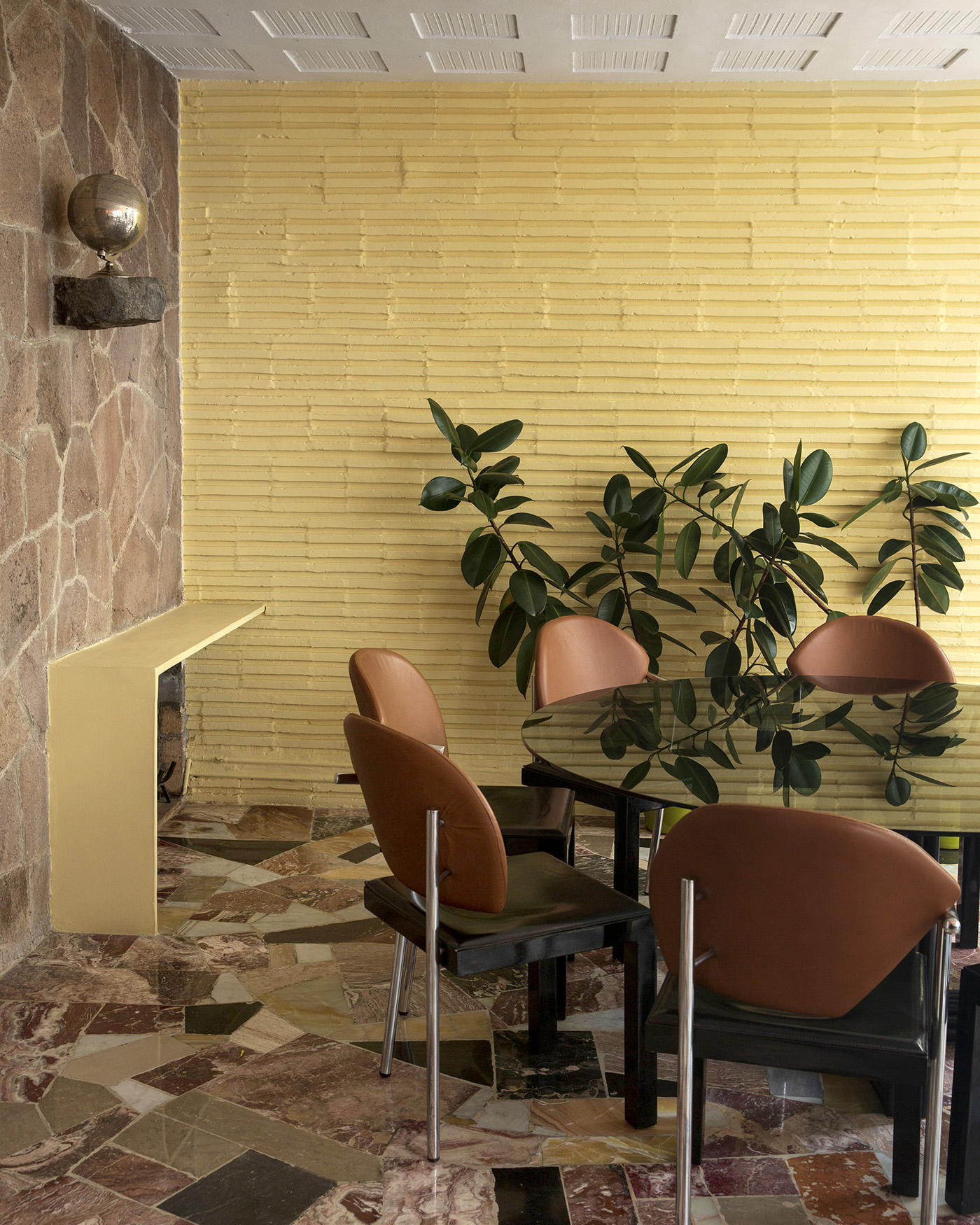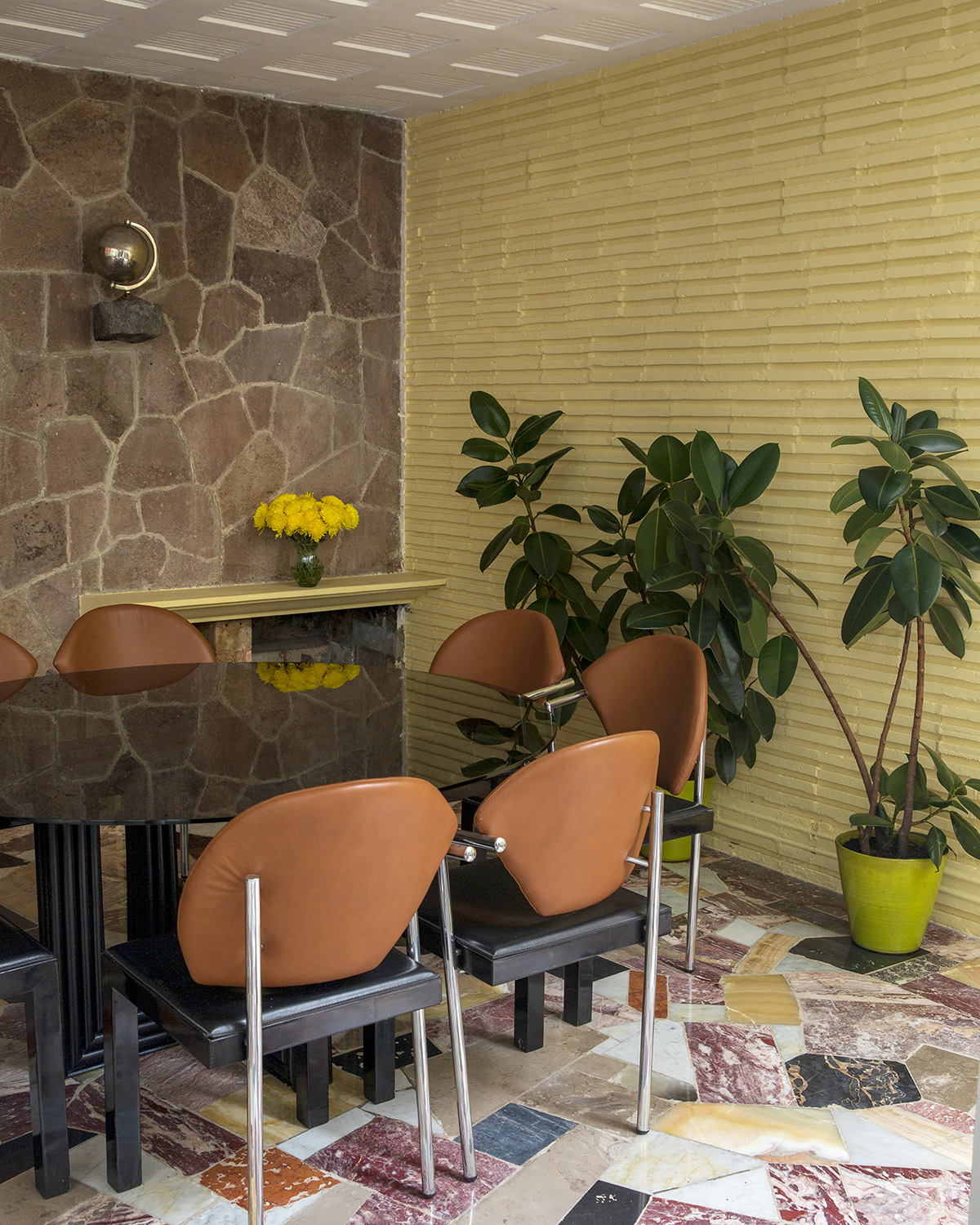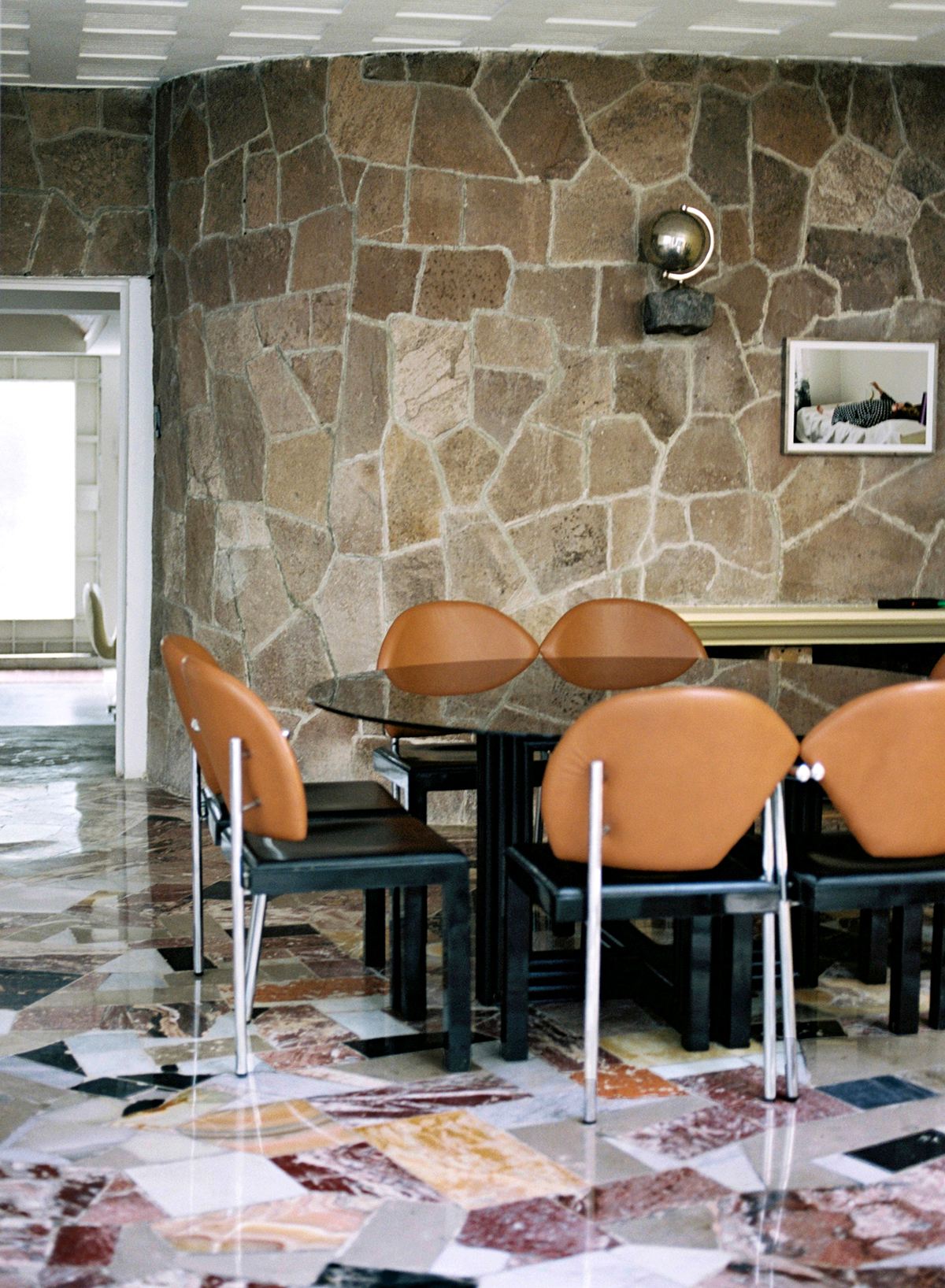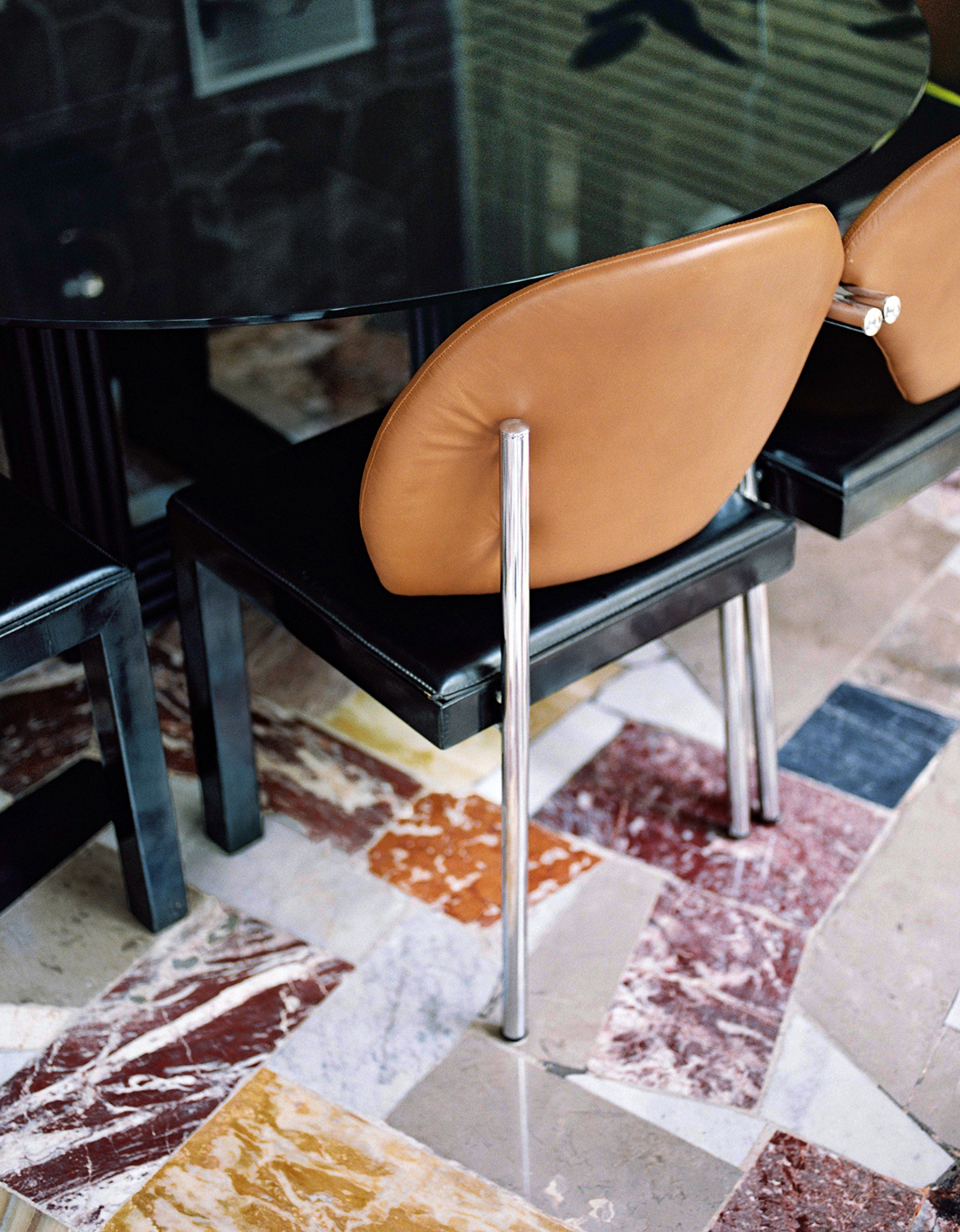 Can you tell us more about your interior choices? There's a lot of good vintage — and more personality than your average rental.
A lot of our furnishings came from the 1960s. I bought all of these Anglepoise sconces in LA, because it felt to me like a classic of the '60s. The house has some semicircular half-moon wall fixtures that Pani created, with the light shining up, so they work well together. The furniture is a combination of Vladimir Kagan, Michael Van Beuren — Yola's very interested in furniture, and very knowledgeable about it. We would go around to junk stores, flea markets, shops, and art fairs. We found two Eugenio Escudero carved wooden panels at the Zona Maco art fair and forked out $1,200 for them, and we used them as sliding screen doors between the bedroom and the sitting area in our Rockstar suite. The black leather and chrome sofas in the front lounge, I love them because they look like airport seating but are so comfortable, and you can lie down on them. For me, comfort is everything. Then we have the classic Tulip tables, and a little bit of marble here and there. We found these Paolo Buffa mini loveseats and chairs, which were perfect to make a tiny little furniture area in the suite. We searched high and low for the right fabrics to cover them in, and the right guy to make the curtains.
I've always been a big fan of Artemide lighting, so we have some of that. We bought the
Giovanni Offredi Wave sofa in LA, from a furniture store that was closing down, and took it by truck to Tijiuana, but it ended up in Guadelajara, and came back in pieces. We had to have it put back together again. The dining room chairs — we don't know who made those, but they're from the '80s, and they're quirky as hell. I love them because they're asymmetrical shapes, which works with the floors, because they're made from beautiful random pieces of marble. We got those chairs from a very good Modernist furniture store in Mexico City called Trouvé; the owner was a great help to us. He has a warehouse filled with things, that's where we found the Paolo Buffa chairs, too. Some of the furniture is from Metropolitana, which makes simple tables and chairs and benches out of natural wood. We really just bought things as we saw them. We even bought rugs in Morocco while we were there, and shipped them back. We wanted to put the color into the house rather than make it a color.
Decorating the house was a joy, because we were our own clients, and because we got to make things that we liked. My daughter and her partner designed the beds with us, and we had them fabricated locally — their headboards reference the circular forms in the house, as well as the arched windows of the church next door. And a lot of the art is from personal friends. Julia Condon did the mandelas, we have oil paintings by James HD Brown, photographs by Iiu Susiraja, and drawings by Alina Perkins. The Brooklyn artist Emma Kohlmann, I bought some of her watercolors at the Material Art Fair, which we framed and put in the bedrooms.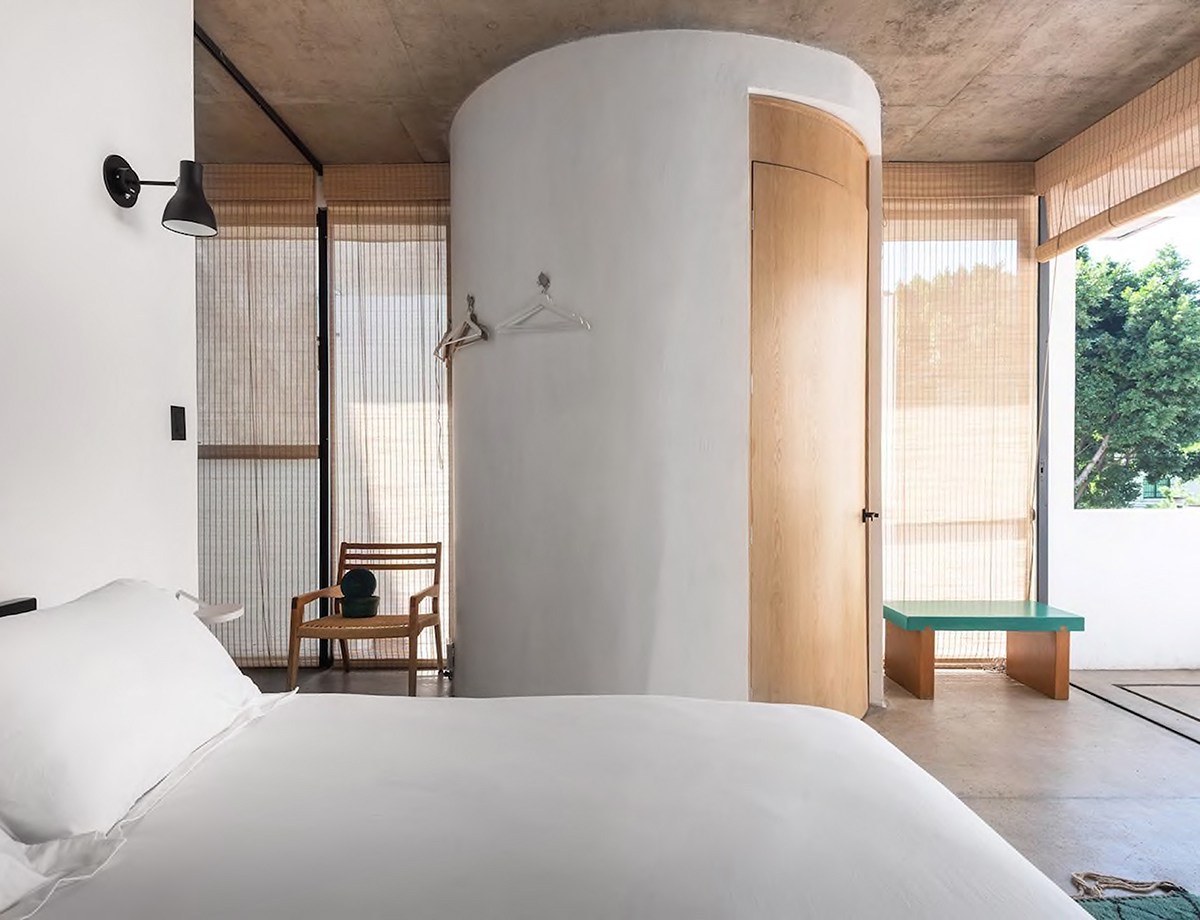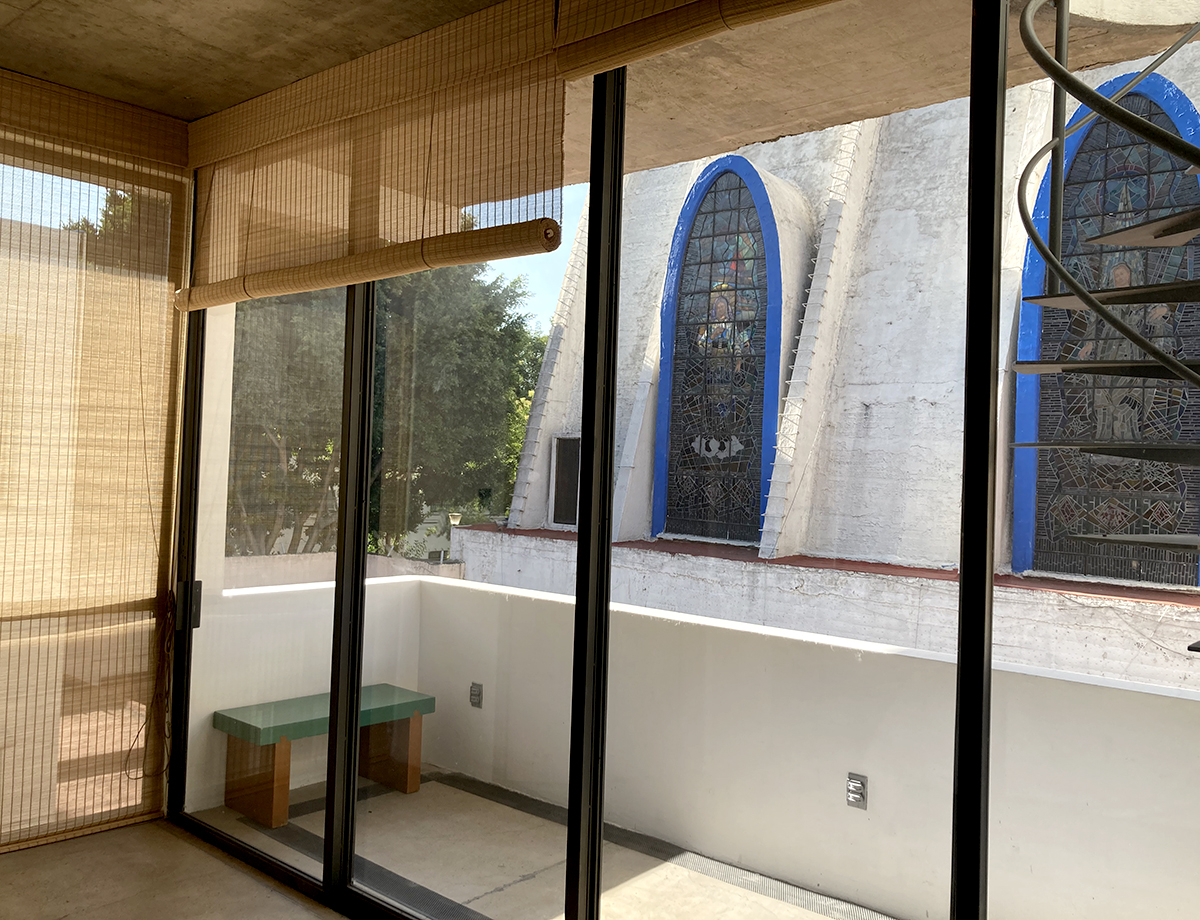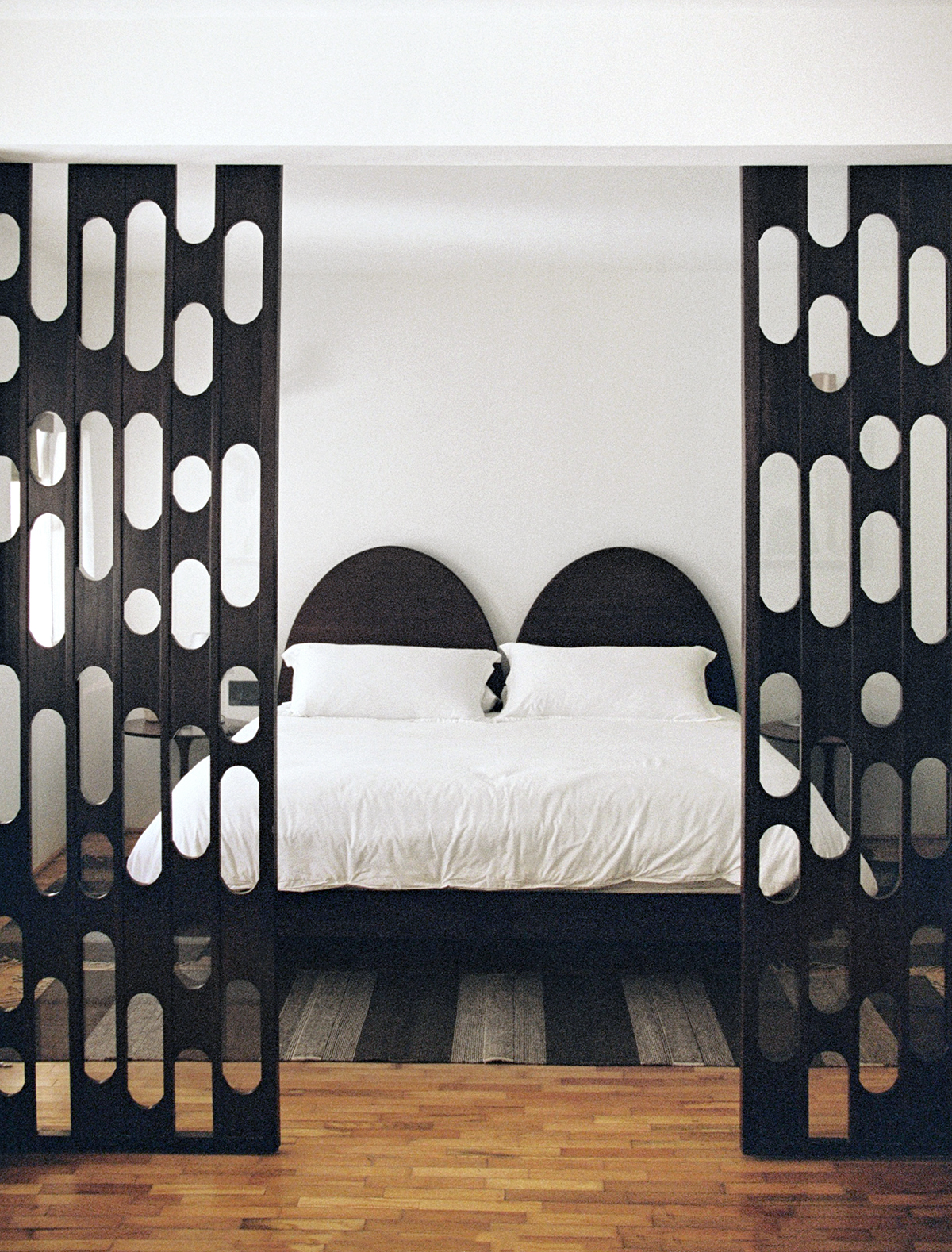 What about the hosting side of things? Are you enjoying that aspect of it?
I have a house in LA with a guest house that I rent out, so I've been living like this for awhile. It pays my bills, but it's also a nice way to live – you have privacy if you want it, but you also have company. It's like communal living, like co-housing. I think it's a very fun way to live. If our guests at Casa Pani just rent one room, they meet people. There have been many creative collaborations that have taken place at my house in LA, and there's the potential for that at Casa Pani too. We recently had Charlotte Wales staying there, a well-known fashion photographer, and also the photographer Sam Youkilis. We get a lot of photographers staying with us because the house is so beautiful to take photos of. We've had a cinematographer, magazine editors, a lot of guests from Europe. The front part of the house is the area I call the salon, where everyone can sit and chat and drink coffee. (It used to be where you parked the car, which is why it's got that beautiful barrel-vaulted brick ceiling.)
In that sense it's really somewhere between a rental home and a boutique hotel.
Yes. We do have a staff now, but they don't live there. We have someone who comes in every day, and various house people who pop in to take care of necessities. We don't change the sheets every day though, so it's more like a home away from home. You're on your own, but you're well taken care of, and you have someone to call to help you. You can have a cook come in, or a masseuse, or ask where to get a certain kind of food. Back by the pool there's a big refrigerator that's full of wine, beer, and juice.
Also, we have a water-filtration system so our guests don't have to bring in the egregious plastic bottles of water that are so ubiquitous here. We encourage people not to do that. We don't do little plastic shampoos and conditioners — we buy in bulk and refill our glass or ceramic bottles. It's all provided, but nothing is disposable. We try to be frugal and have a minimal carbon footprint. We have solar panels to heat the water, that kind of thing. Every room has a Dyson air purifier, which also acts as a cooler and a heater, so you can have your own little microclimate in your room. We sourced our mattresses from an organic mattress making place. It's been pretty thoughtful.
Do you bring in any local elements?
It's all right outside the door. There's a truck across the street that sells vegetables and fruits, so you can walk out and get mangoes, or papayas, or limes. There's a bodega on the corner, a guy who sells tamales, and two doors down a guy who makes quesadillas. One of the main markets in Cuauhtémoc is very close by. Yet it's a very residential neighborhood, so it couldn't be better. It's not noisy like Roma or Condesa. It's constant, it's not trendy. It's peaceful.
Despite the challenges of opening right on the eve of a global pandemic, are you glad you did it?
Yes, it's so worth it. What else is life about other than human relationships, creativity, communication, and contact with the world? I would say it's a roaring success. It was a journey, but a labor of love. And to be honest it's pretty nice to have your own hotel in Mexico City. None of our own homes have brand-new bathrooms. And the towels are all fresh and clean — I don't get to have such nice towels elsewhere in my life!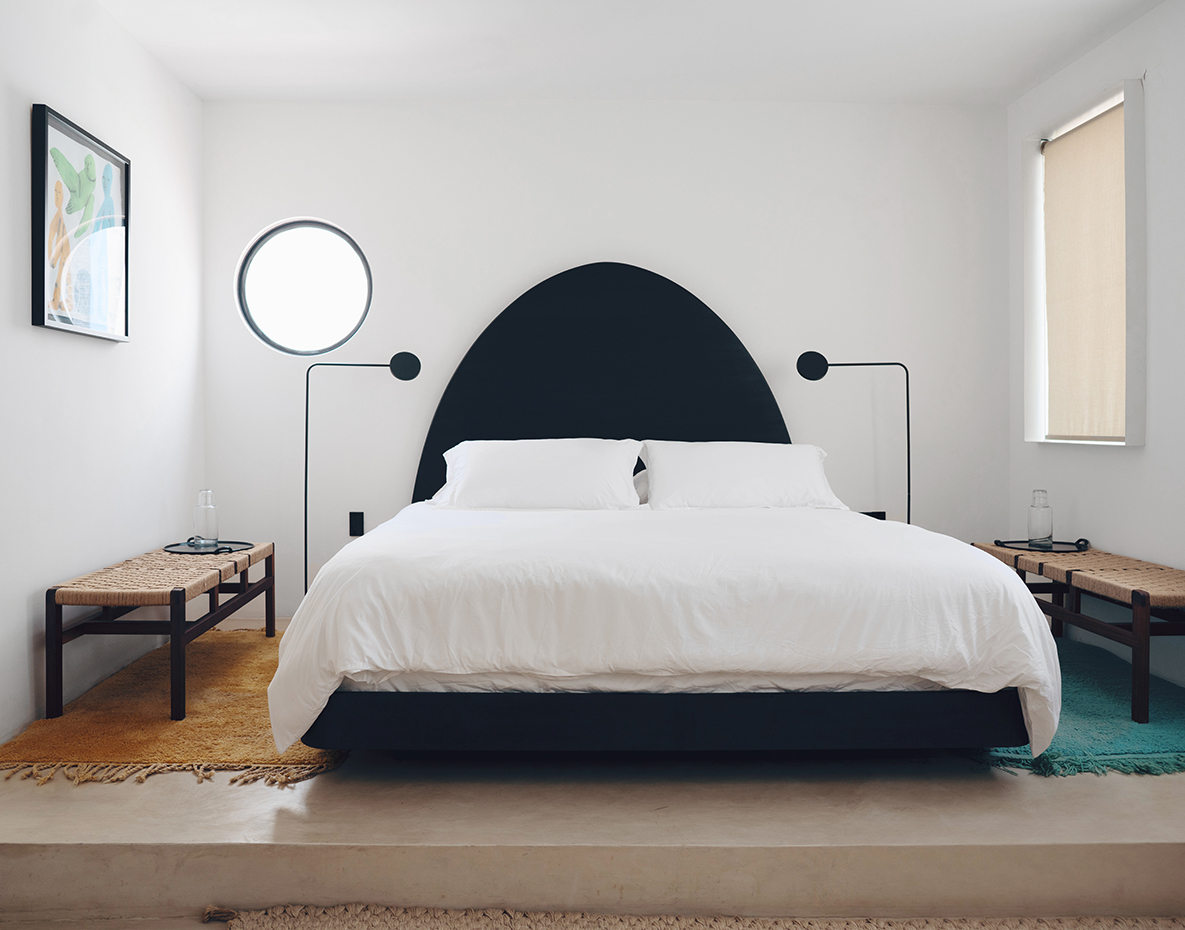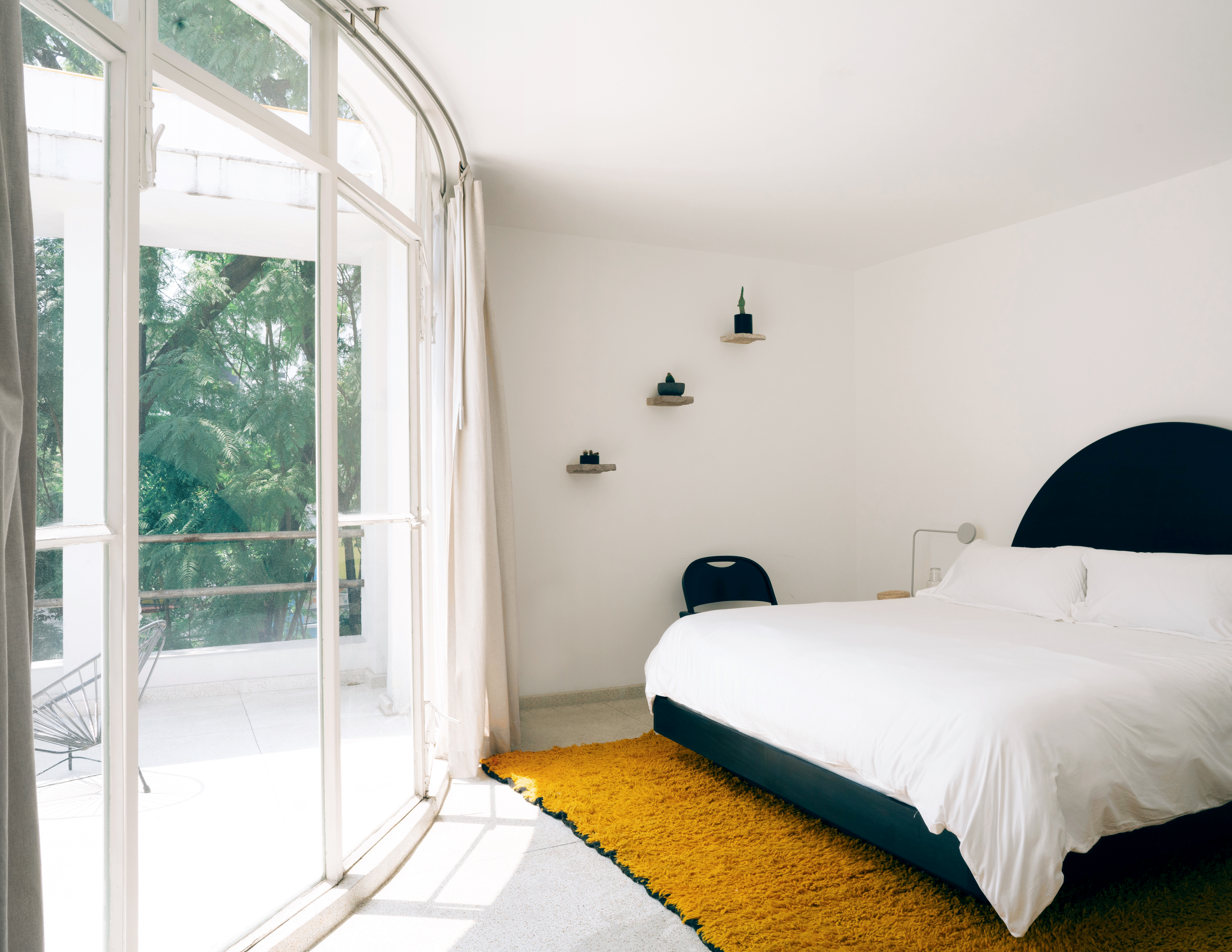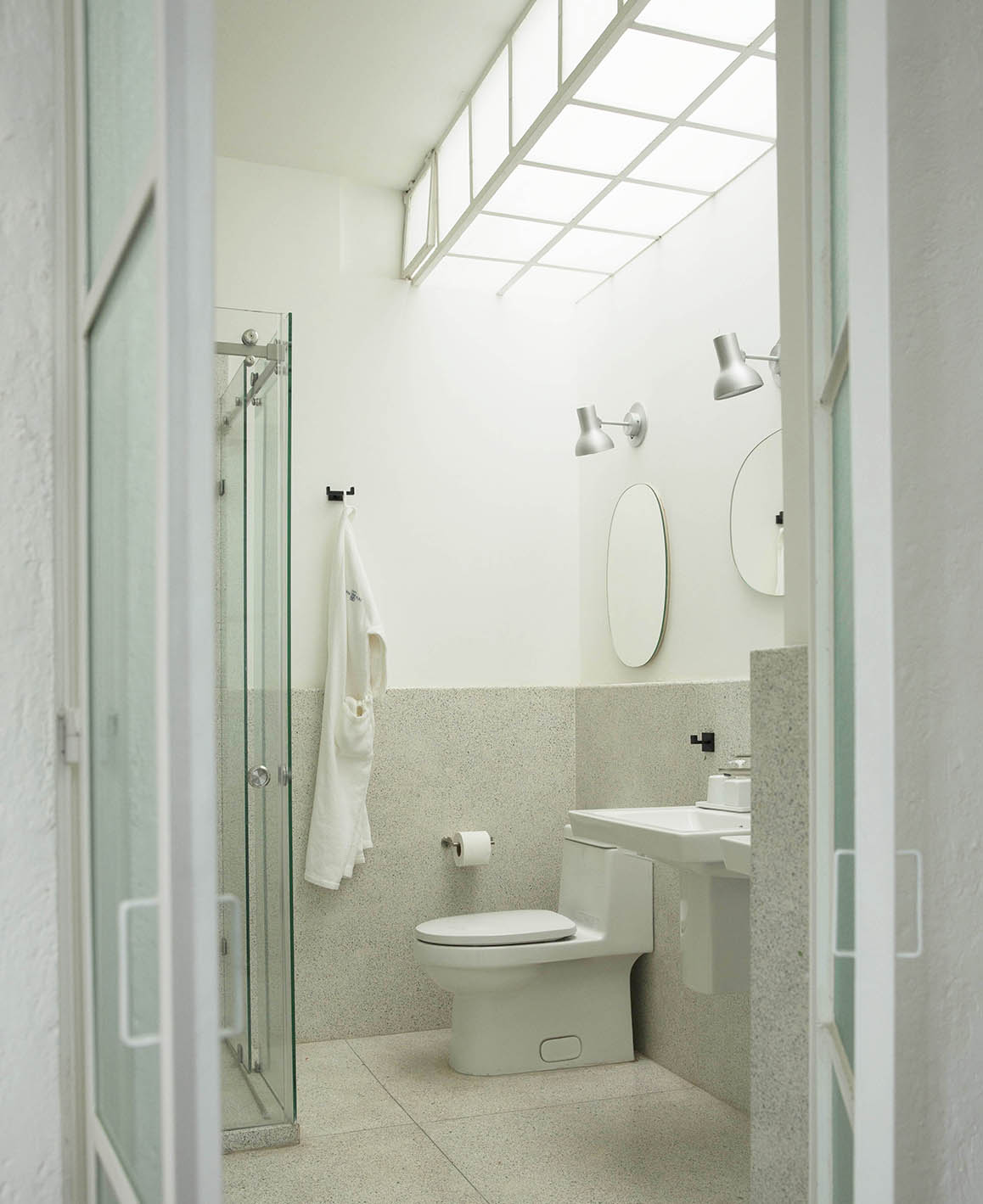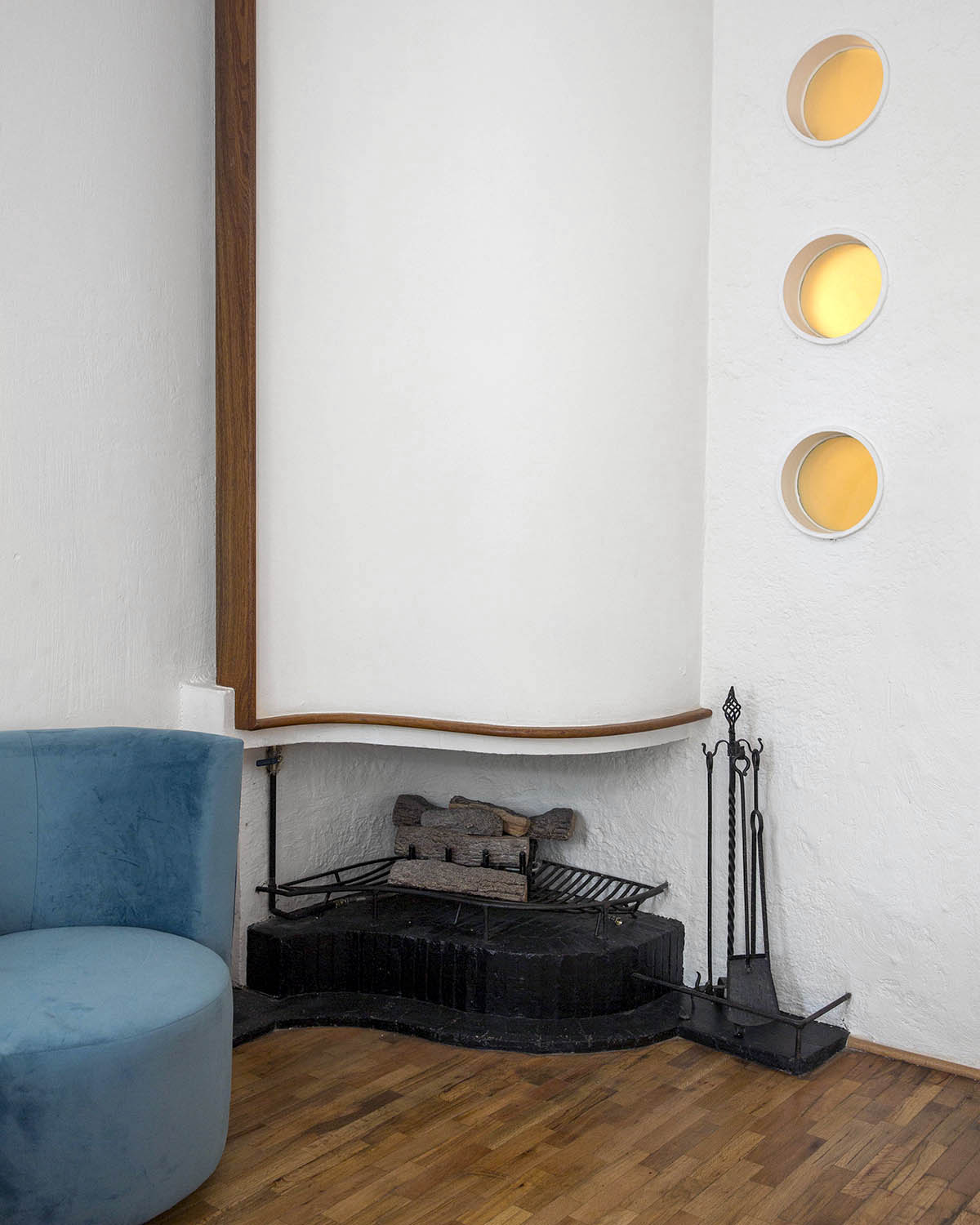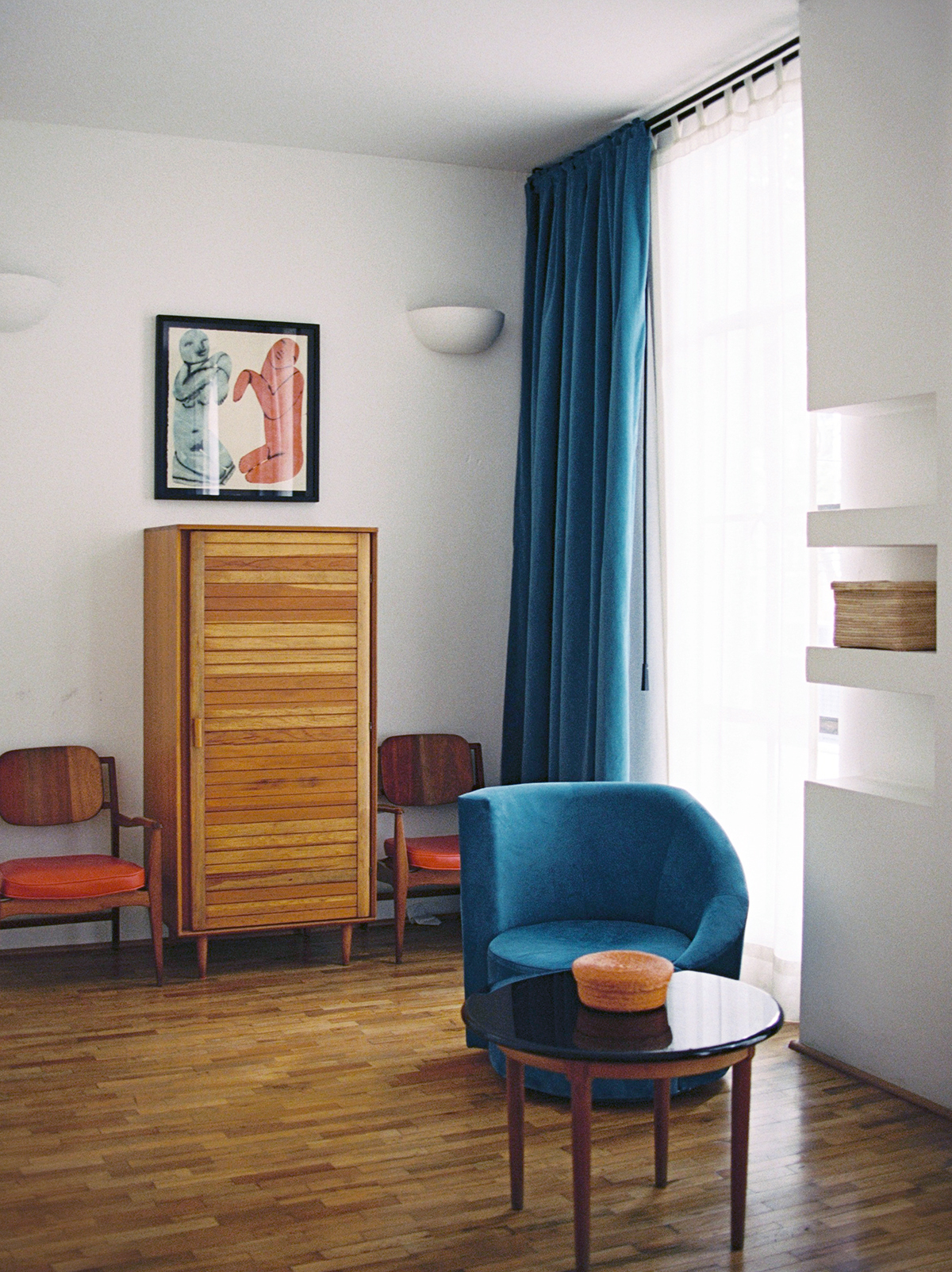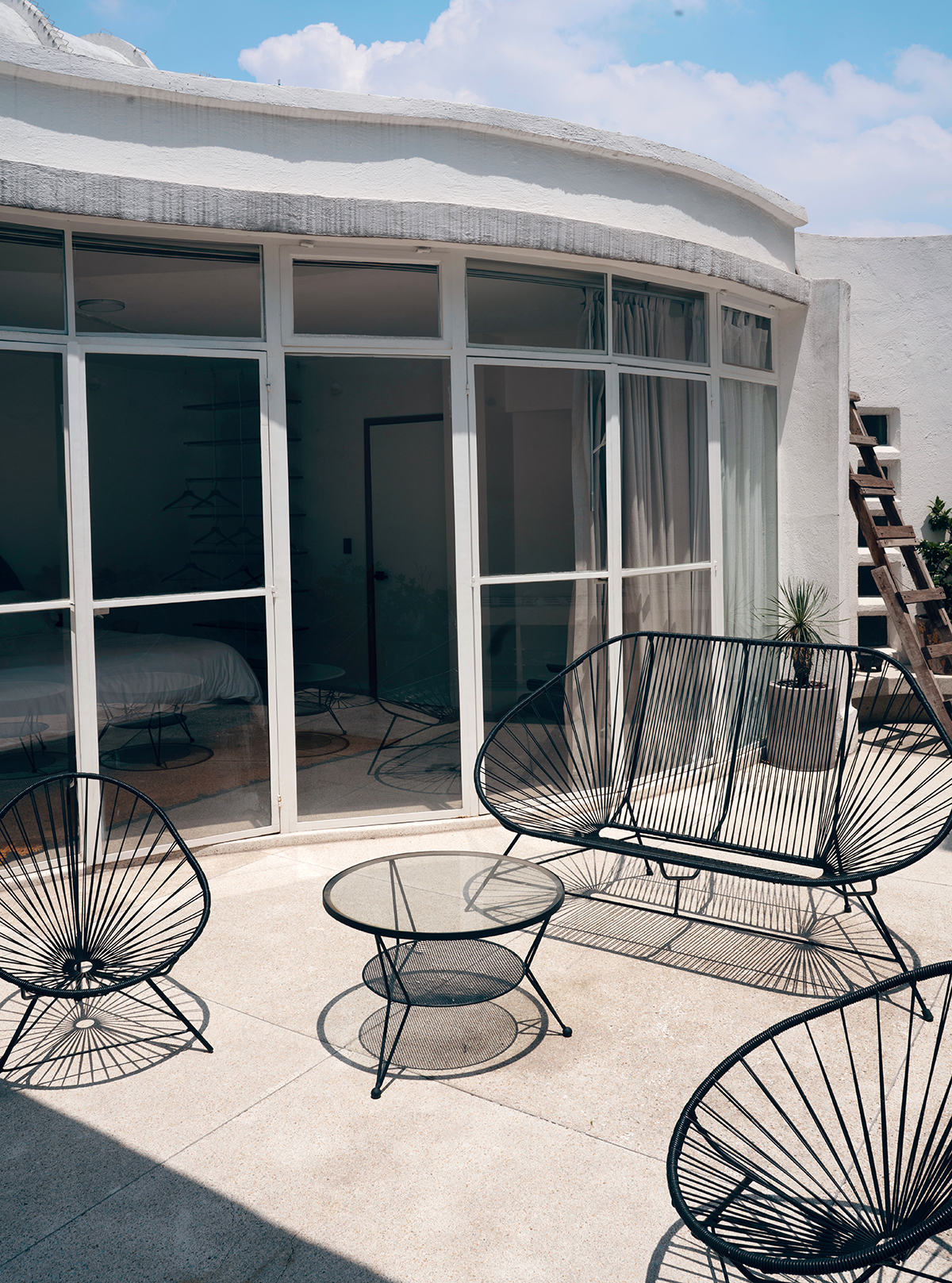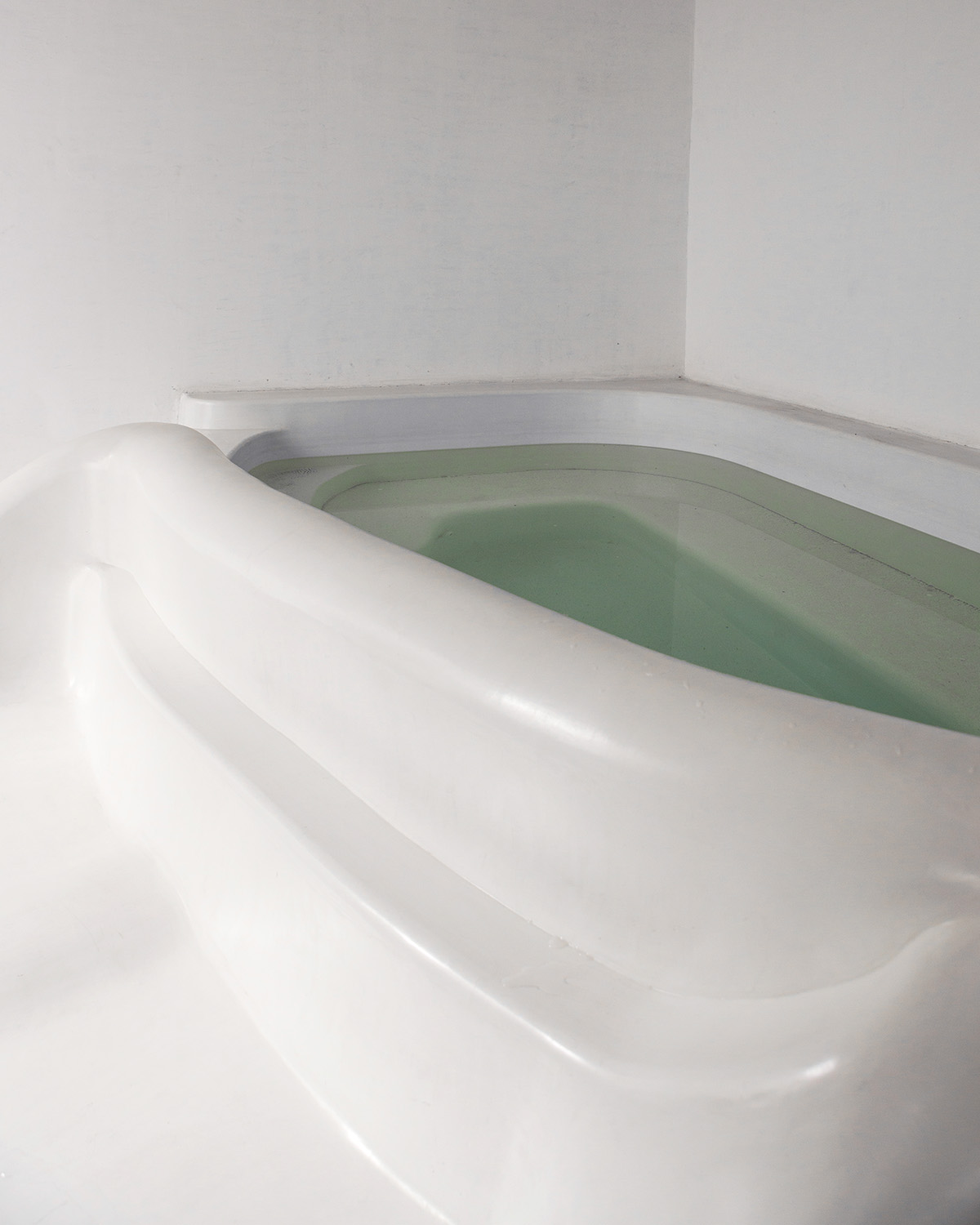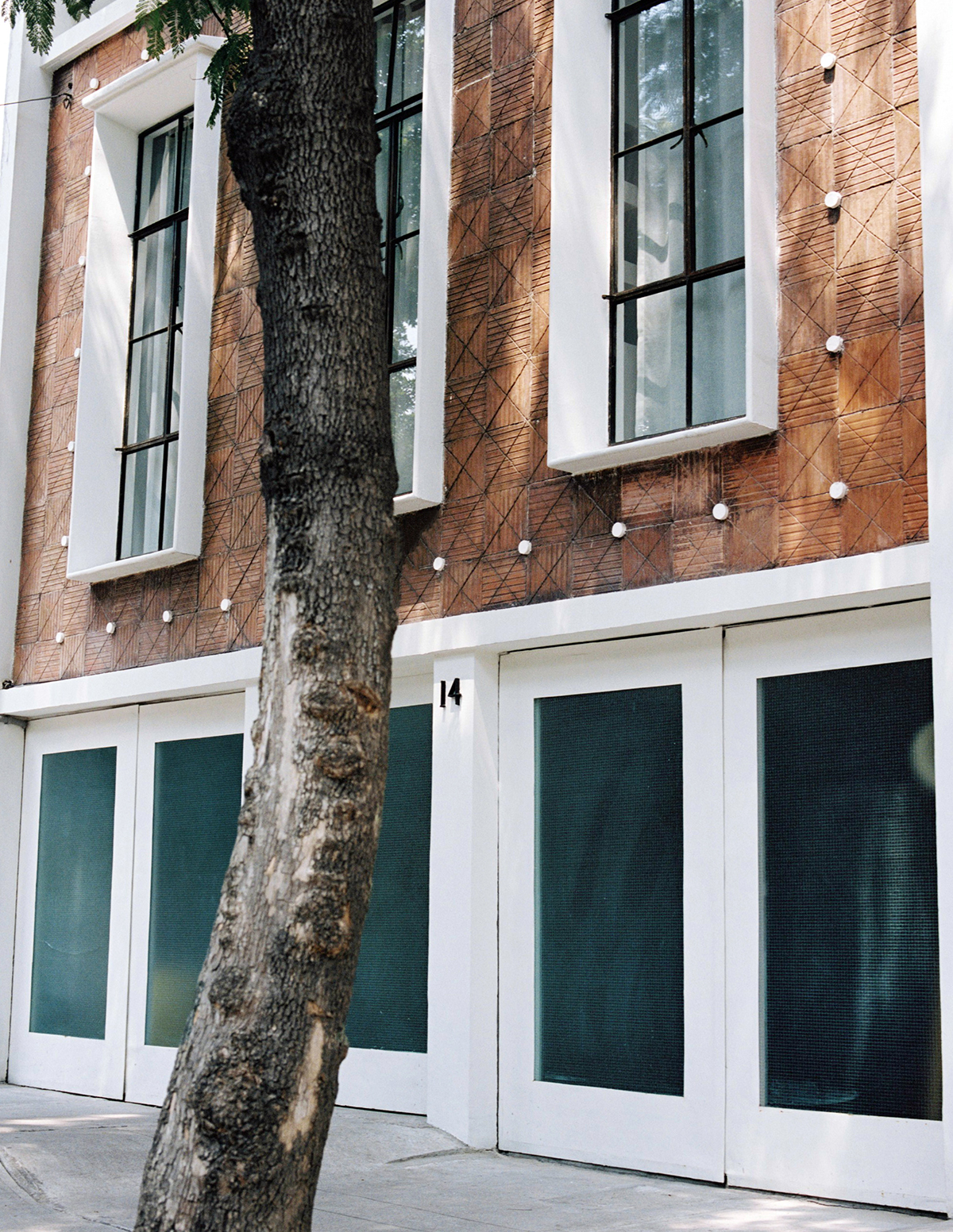 This post was sponsored by Airbnb, but all thoughts and editorial content are our own. Like everything at Sight Unseen, our partner content is carefully curated to make sure it's of the utmost relevance to our readers. Thank you for supporting the brands that support Sight Unseen.