04.14.21
Emily Mullin's 3D Reliefs Are Like Morandi Still-Lifes On Acid
The new sculptures that make up Brooklyn-based artist Emily Mullin's just-opened show at Jack Hanley Gallery are, to put it lightly, a riot: fringed or seemingly filigreed ceramic vessels scrawled on with what looks like crayon or painted in imprecise patterns, sitting atop blobby, brightly colored plinths. At first glance, you wouldn't associate the boisterous reliefs with the quiet, muted tones found in still lifes by 20th-century Italian painter Giorgio Morandi, but upon further inspection, the comparison makes a lot of sense. "A few years ago there was such a wonderful Morandi show at CIMA, and I was so blown away by the intimacy of those works and the relationships between the objects," Mullin tells us of the inspiration behind her new exhibition, called Get A Room. "I had just started working with clay and I wanted to take a crack at the traditional genre of still life painting, but I wanted it to be dimensional, and I wanted it to be something that would constantly shift." In addition to the ceramics and their settings, Mullin incorporates a floral arrangement within the sculpture, which she regularly swaps, adding what she describes as a colorful, flexible variation to the work. "Whoever lives with this work is invited to activate that painterly space and think about color and seasons and gesture as they engage with it."
We spoke with Mullin about her new show, experimenting with ceramics and how lockdown life became a boon for her creative process.
PHOTOGRAPHS BY TONY MULLIN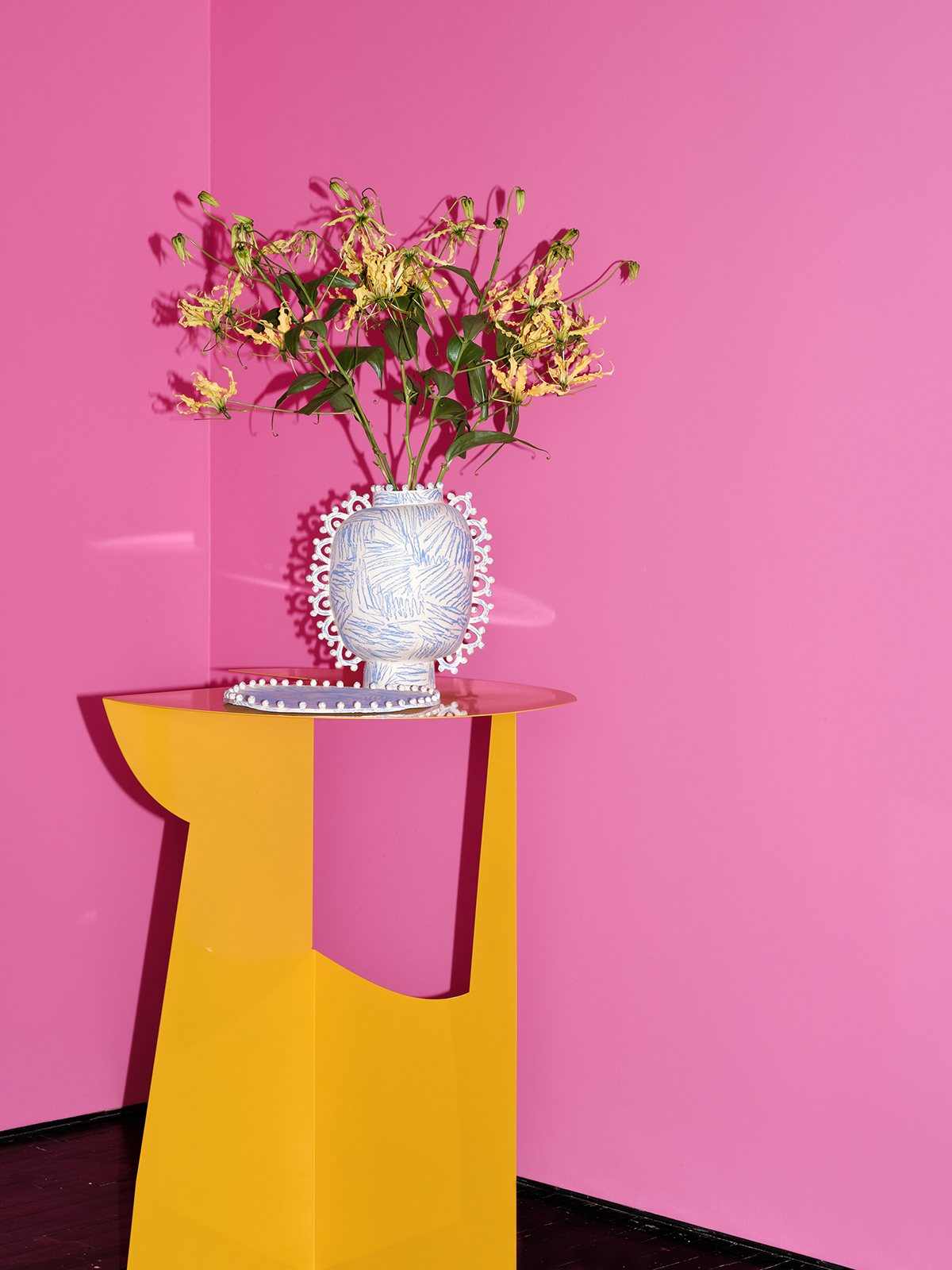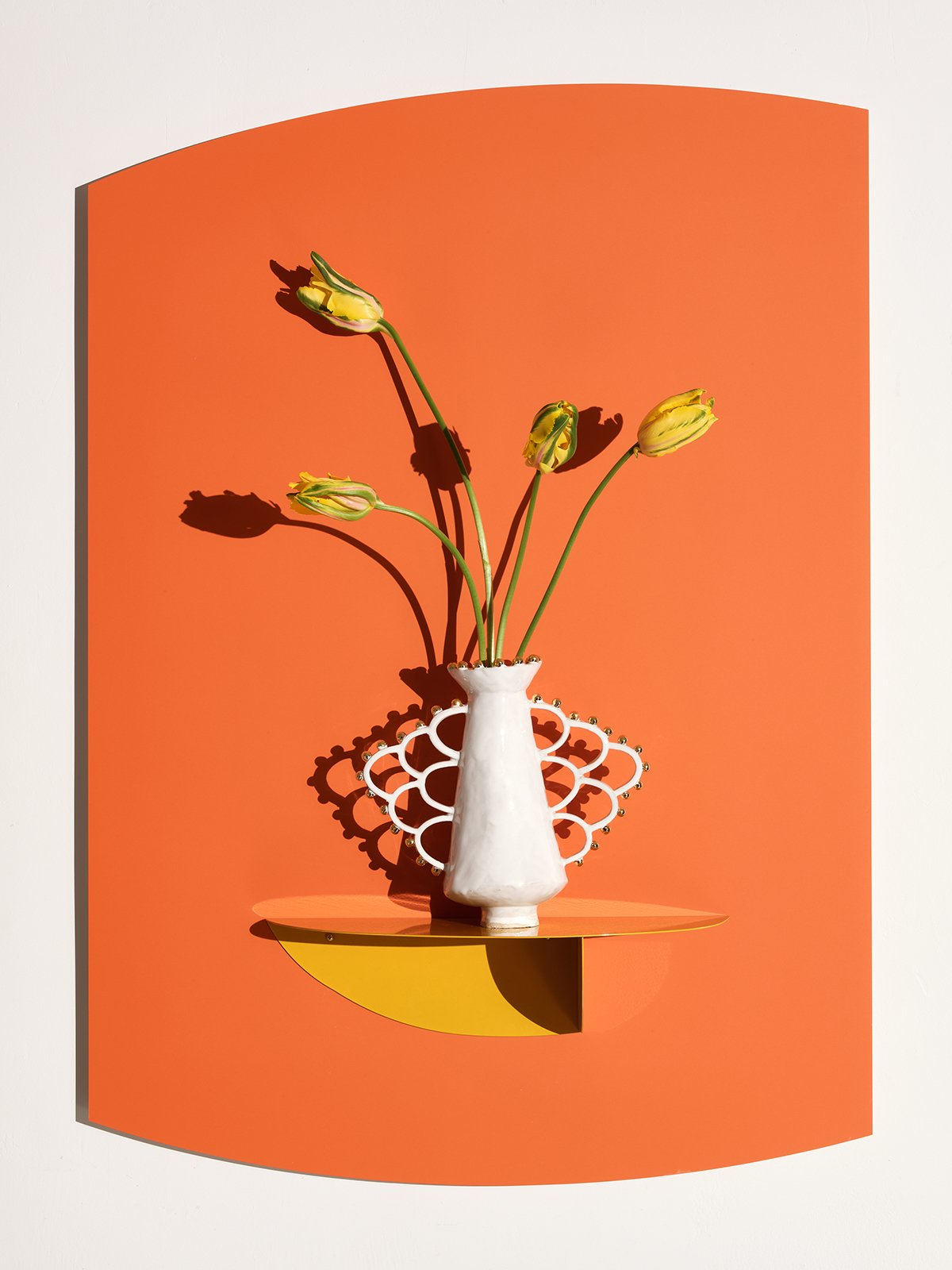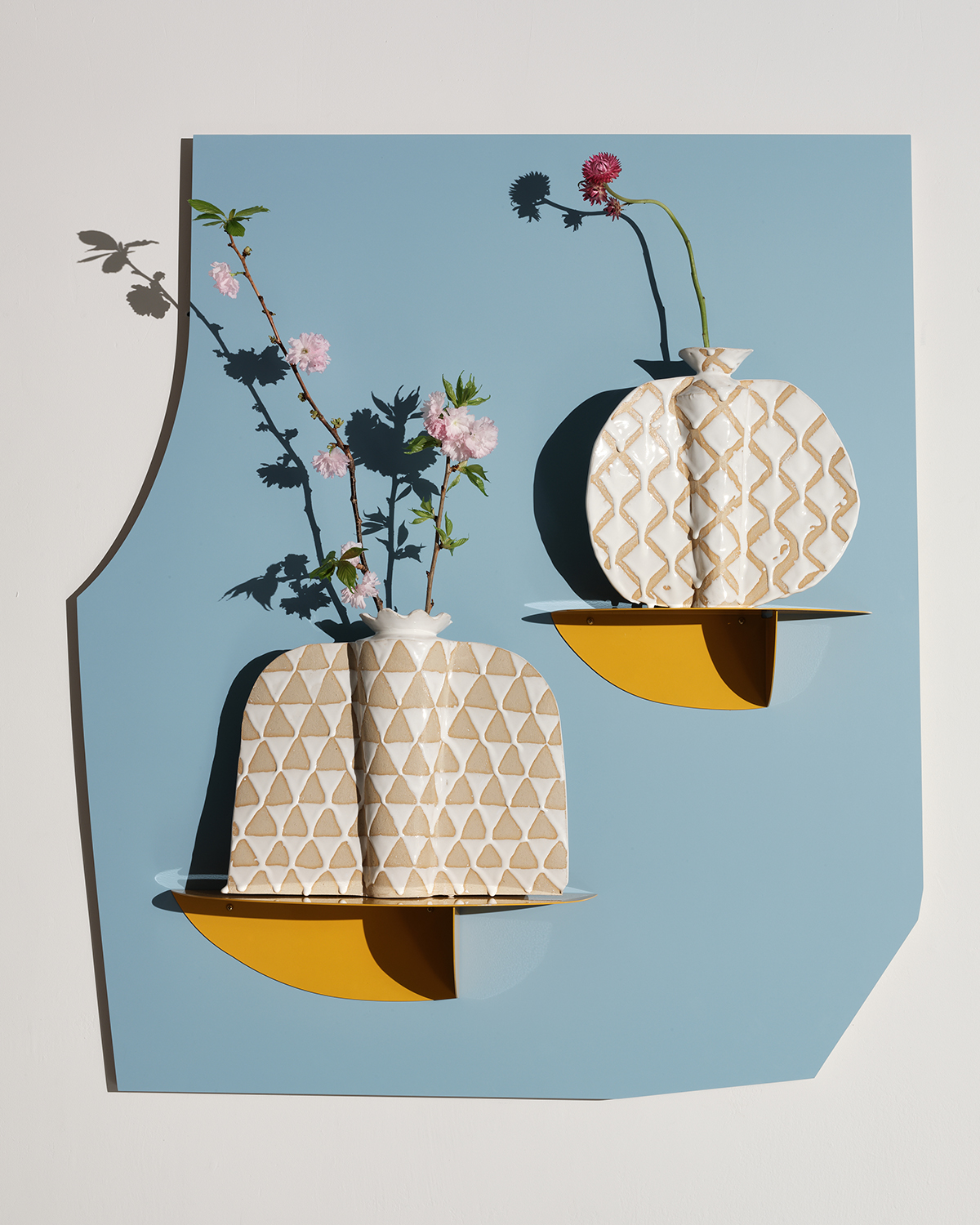 Tell us about your background. How did you get to where you are today?
I grew up in California in a family that liked to spend a lot of time outdoors. That landscape, palette and the architecture out there definitely made an impression in terms of what I respond to visually. I made my way east for college, then to London for some art school experience. I immediately cut my hair in a classic early-aughts-Euro-mullet to try and look cool and fit in which was bad, but I learned a lot about art and how to take criticism which was good. Then I moved to New York, where I did the freelance hustle to pay the bills — everything from windows at Bergdorf's to art handling at MoMA. All along I would keep plugging away with my own work, mostly painting and sculpture, until I took a nighttime continuing-ed ceramics class. I got hooked on the medium and started making work about framing the vessels I was making, creating theatrical stages for them to exist on.
Your new exhibition with Jack Hanley Gallery is called 'Get a Room'. Can you describe the concept behind the exhibition?
The new sculptural works in the show were made in collaboration with my husband Tony Mullin, an Irishman that I met while I was at art school in London. To generate the new forms, we spent a lot of time talking about architectural spaces — both gallery spaces and domestic ones, looking at images from places we have travelled, and pieces from art collections we love. The title is a nod to the romance of the collaborative process; we spend way too much time together. "Get a Room" also speaks to how one chooses to display art. We were looking at a lot of modern Italian exhibition design from the 50's and thinking about unusual ways of elevating art objects.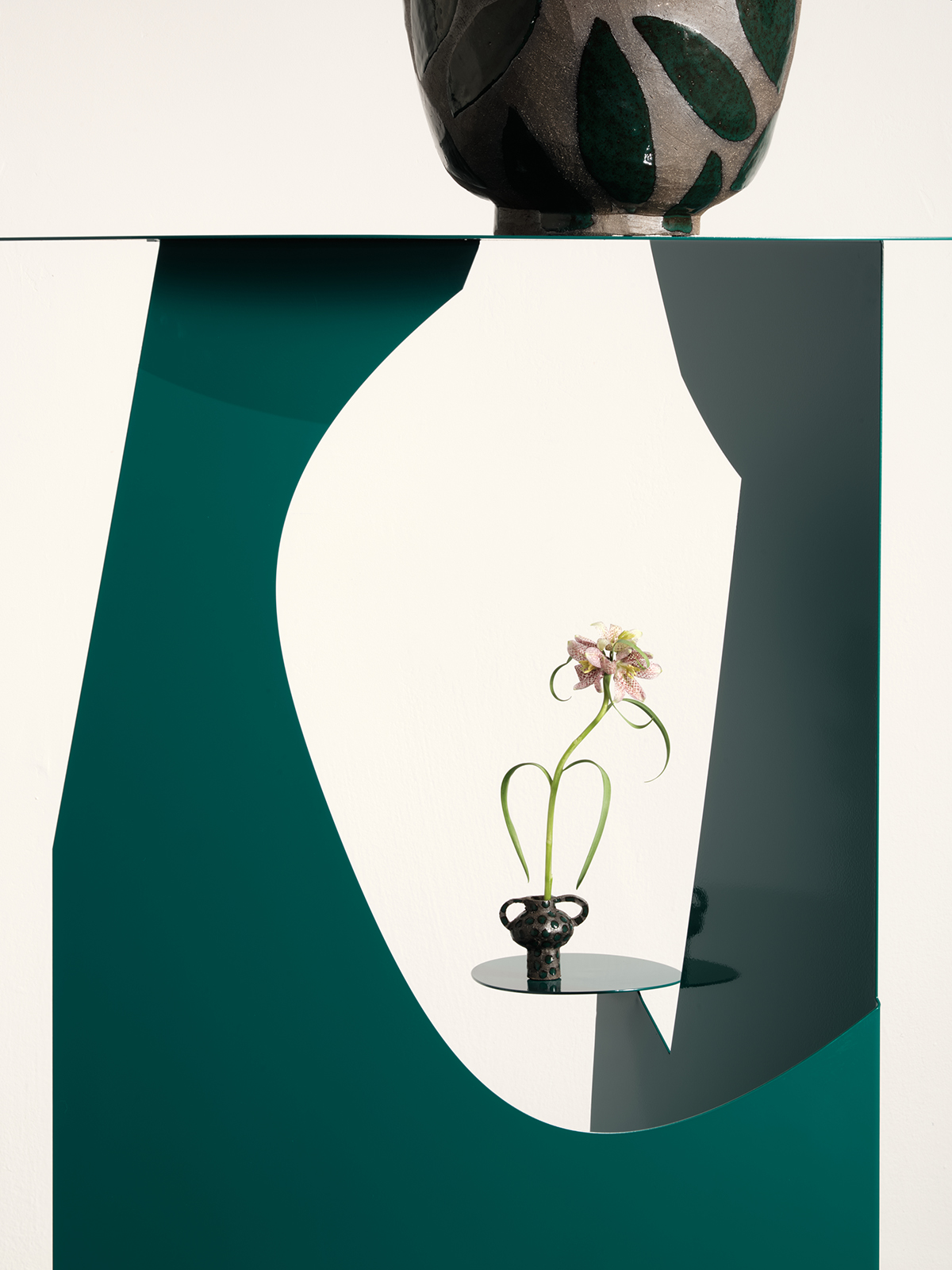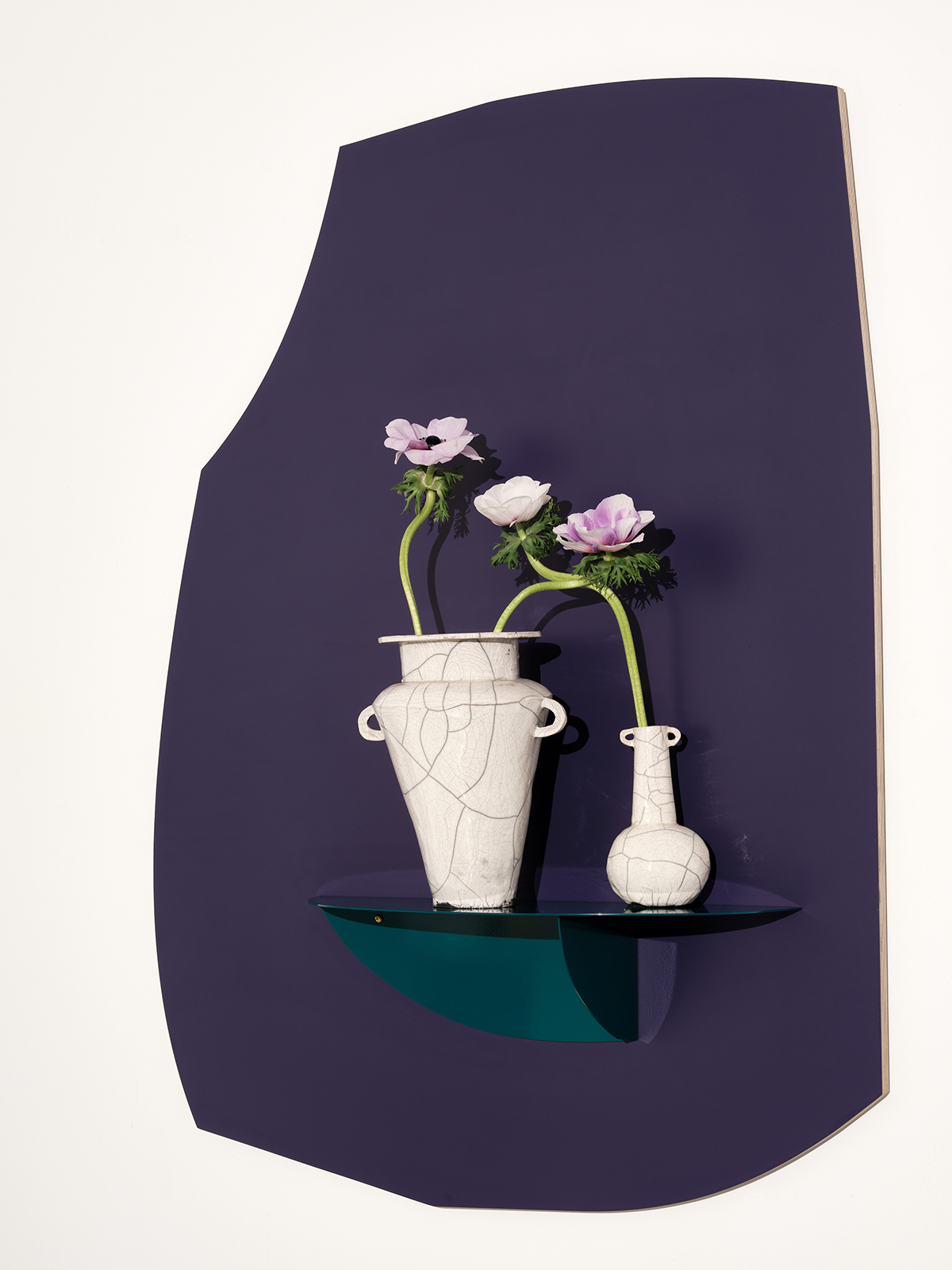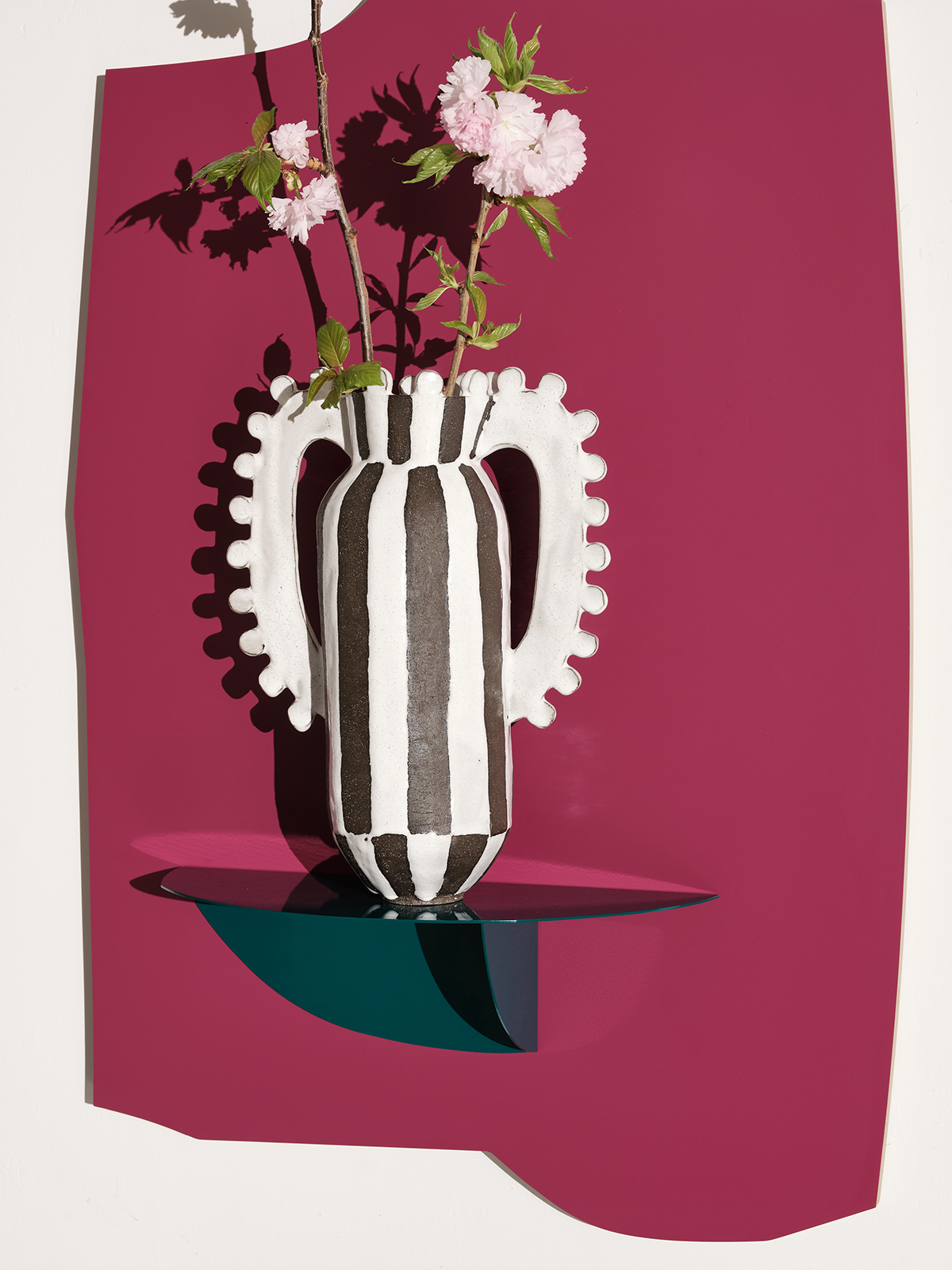 The ceramic vessels are all very brightly colored or patterned, often with unconventional finishes and forms. Can you describe your process of making them?
With each vessel, I usually draw a little and start with a vague idea of what it might be. Then the vessels tend to take on their own assertive personality as I make them. Sometimes the point of departure comes from a flamboyant piece of costuming, or a motif from a sculpture or painting that I love, but as I work, I give myself permission to deviate from the plan. I tend to embellish the vessel with decorative appendages that stress the limits of the clay, so I deal with a lot of things cracking and breaking during the making process — lots of drama. The glazing is a way for me to tie the process back to drawing and painting, often through repeated abstract mark making. I love to heavily load the glaze on the vases so there are drips and sags so it looks like wet paint. The problem with this is that sometimes things get stuck to the kiln shelf…
You have a really interesting process by which you make the plinths, hand-cutting tiny paper models then blowing them up to human scale. Tell us about that process.
The paper models were a way to work out what would work both visually and structurally, because if something can stand up made of paper, chances are it will be sound when it is fabricated out of sheet steel. So Tony and I would sit down at the table and hold up shapes and say "What about this?" And then trim little pieces off and then bit by bit we arrived at the forms we wanted. We wanted the sculptural displays to have a light and humorous presence while lifting and celebrating the vessels. I love imperfect shapes and wanted the sculptures to retain that handmade immediateness that the maquettes had.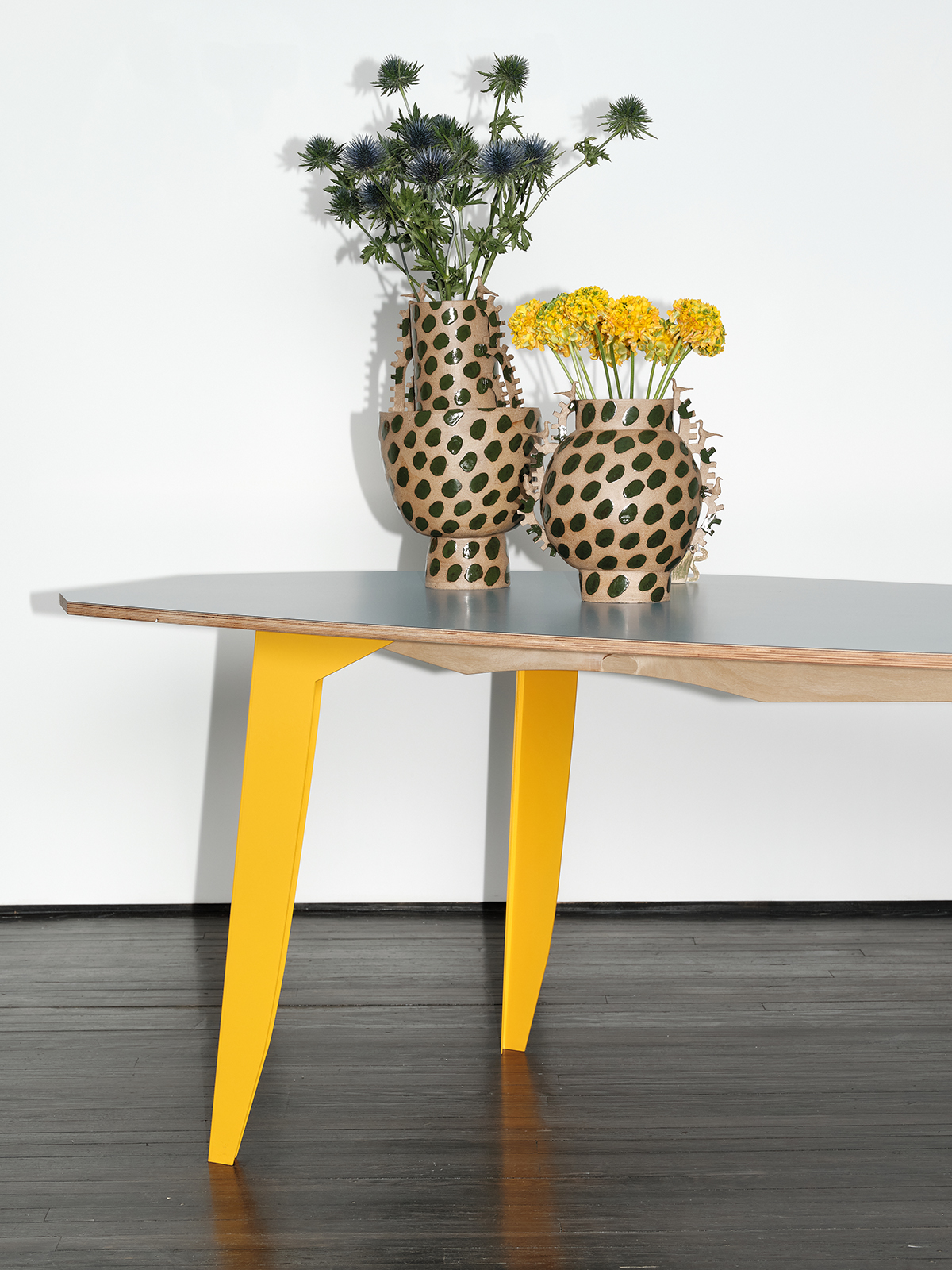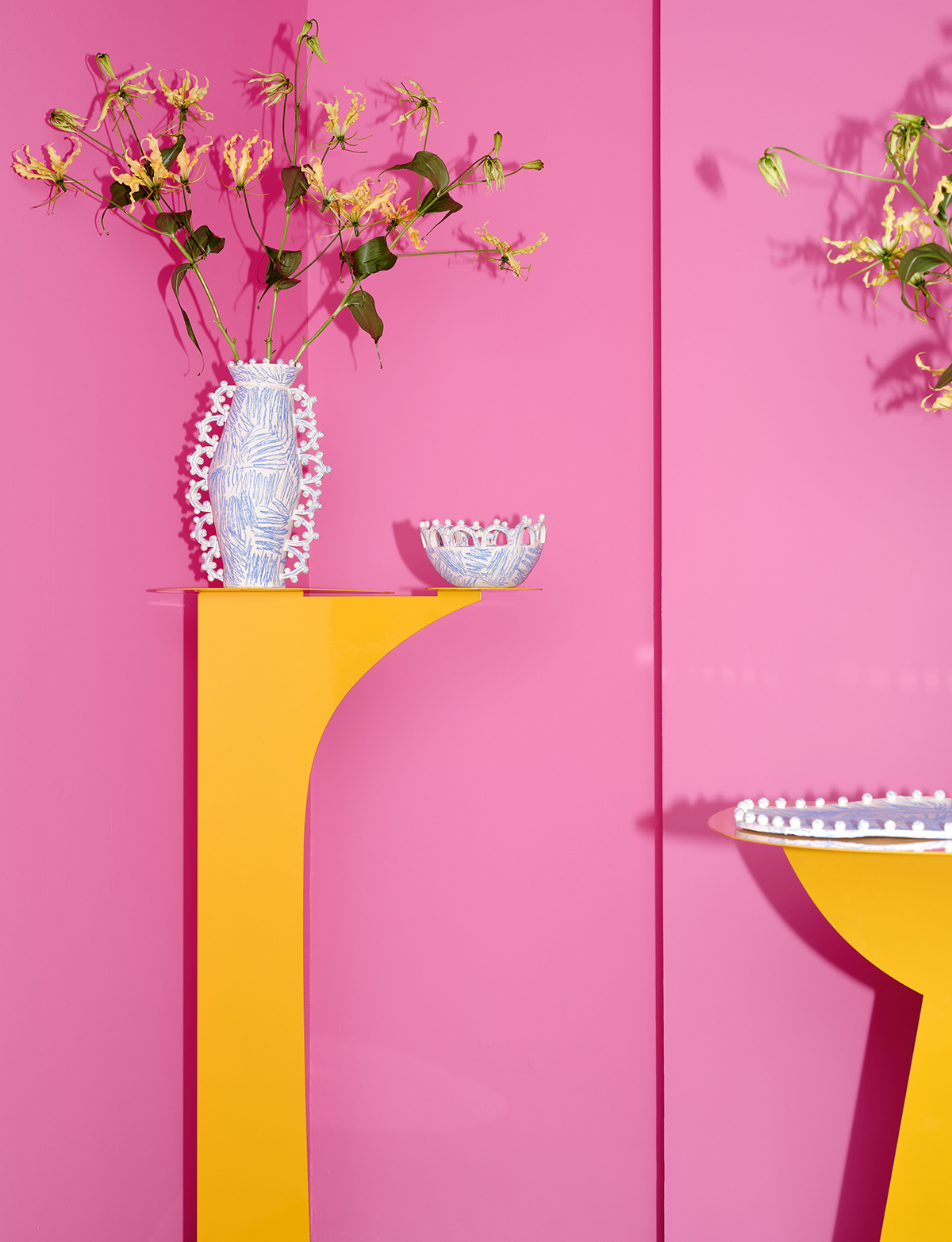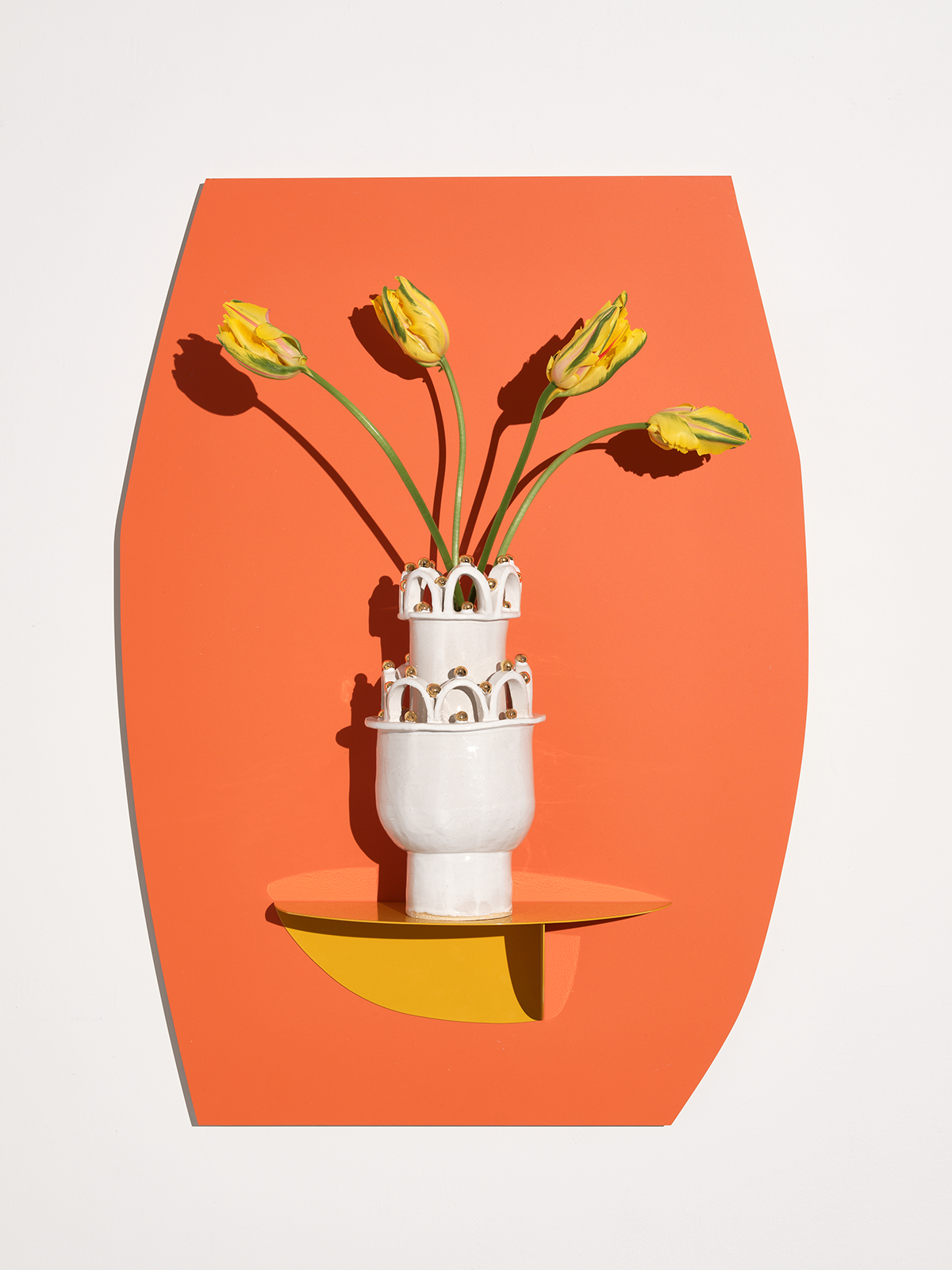 I'm curious about the naming of the pieces — 'Curtain Call,' 'Castle,' 'Bombay Garden,' 'Lace Revivalism.' What do those refer to?
The titles usually nod to something I was thinking about while I was making the work, or something that I think about once I'm looking at the completed piece.
Each of the pieces also hosts a different floral arrangement. Do you have a specific flower or plant in mind when you are creating the piece, or does it ever change?
The floral elements change all the time due to what's seasonally available. Having the show in the spring is so nice because the flower market is going off right now. I tend to like flowers that have either a squiggly linear stem like allium or poppies, or big tropical plants that have a big abstract presence in the work. Dutch Flower Line and Caribbean Cuts are my favorite flower market destinations.
You describe a wealth of really interesting influences for this exhibition: the collaborative exhibitions between Franco Albini and Caterina Marcenaro; the abstract cut-outs of Matisse; Saul Steinberg's sketches; the architecture of Lina Bo Bardi. What's your research process like?
I don't know, I had a lot of time on my hands during the pandemic, soooo… There were lots of internet deep dives, books ordered, online lectures listened to, and documentaries watched. I'm always sniffing around for things that I respond to visually, this year I just had a lot more time to do that!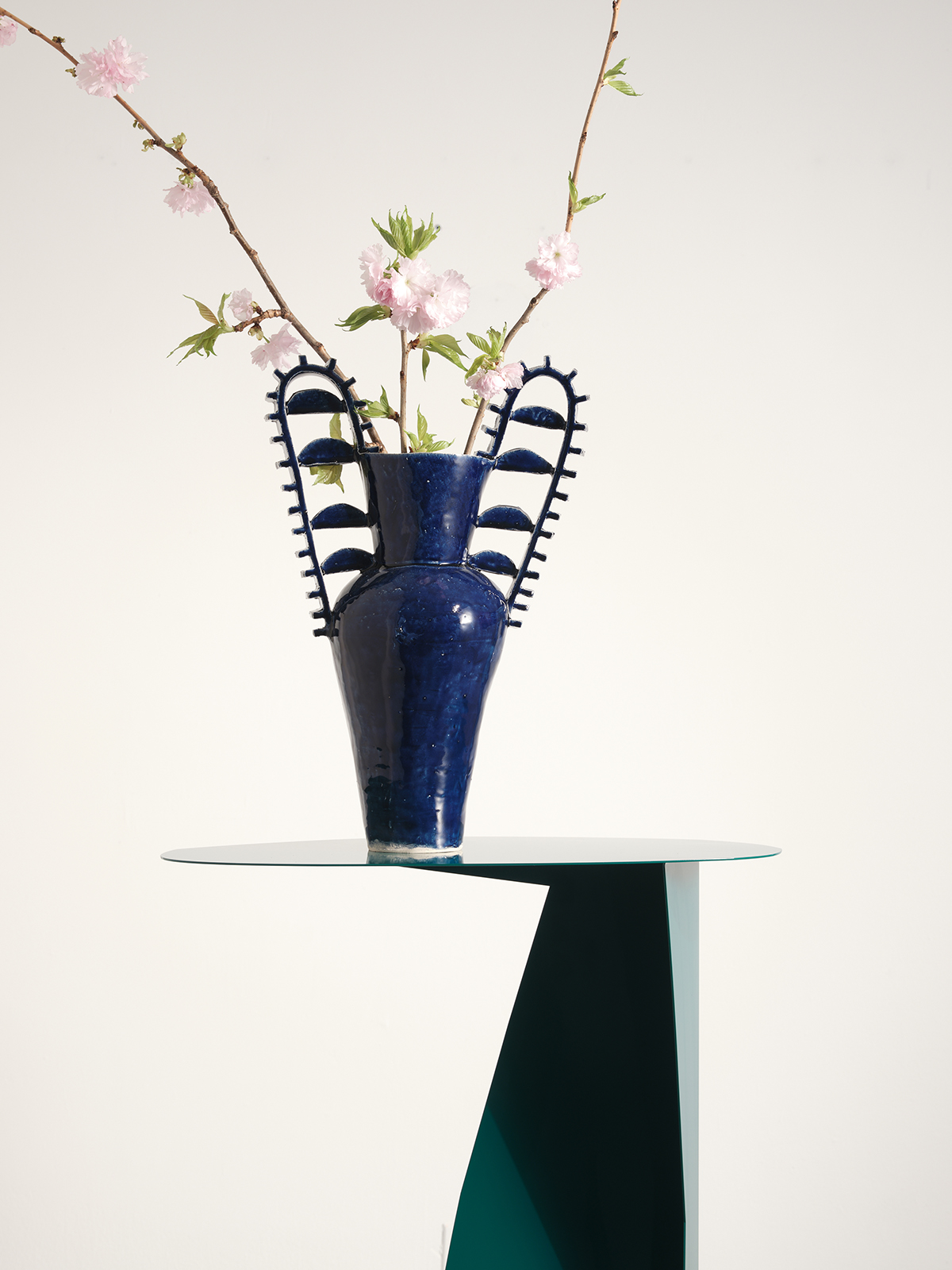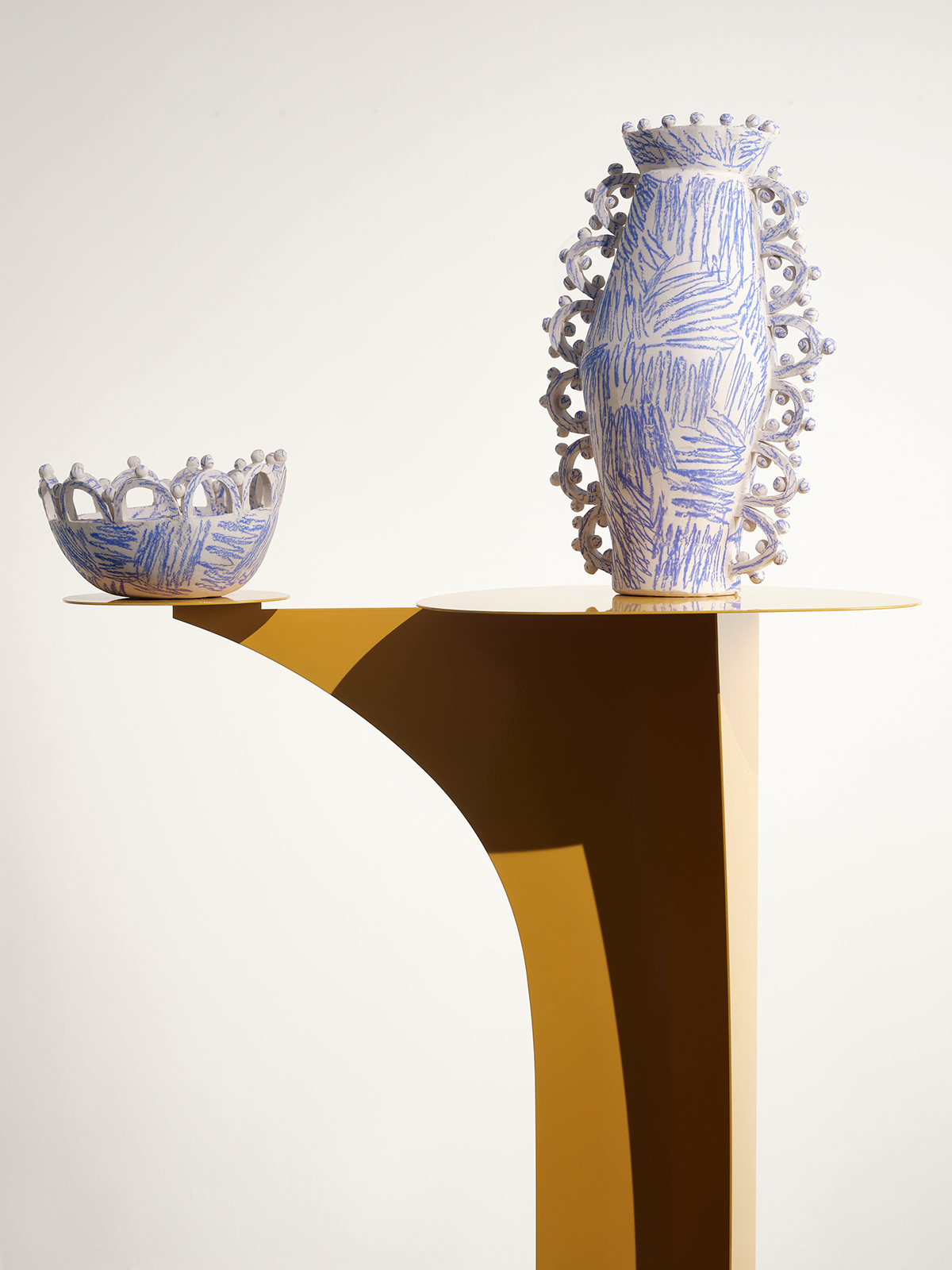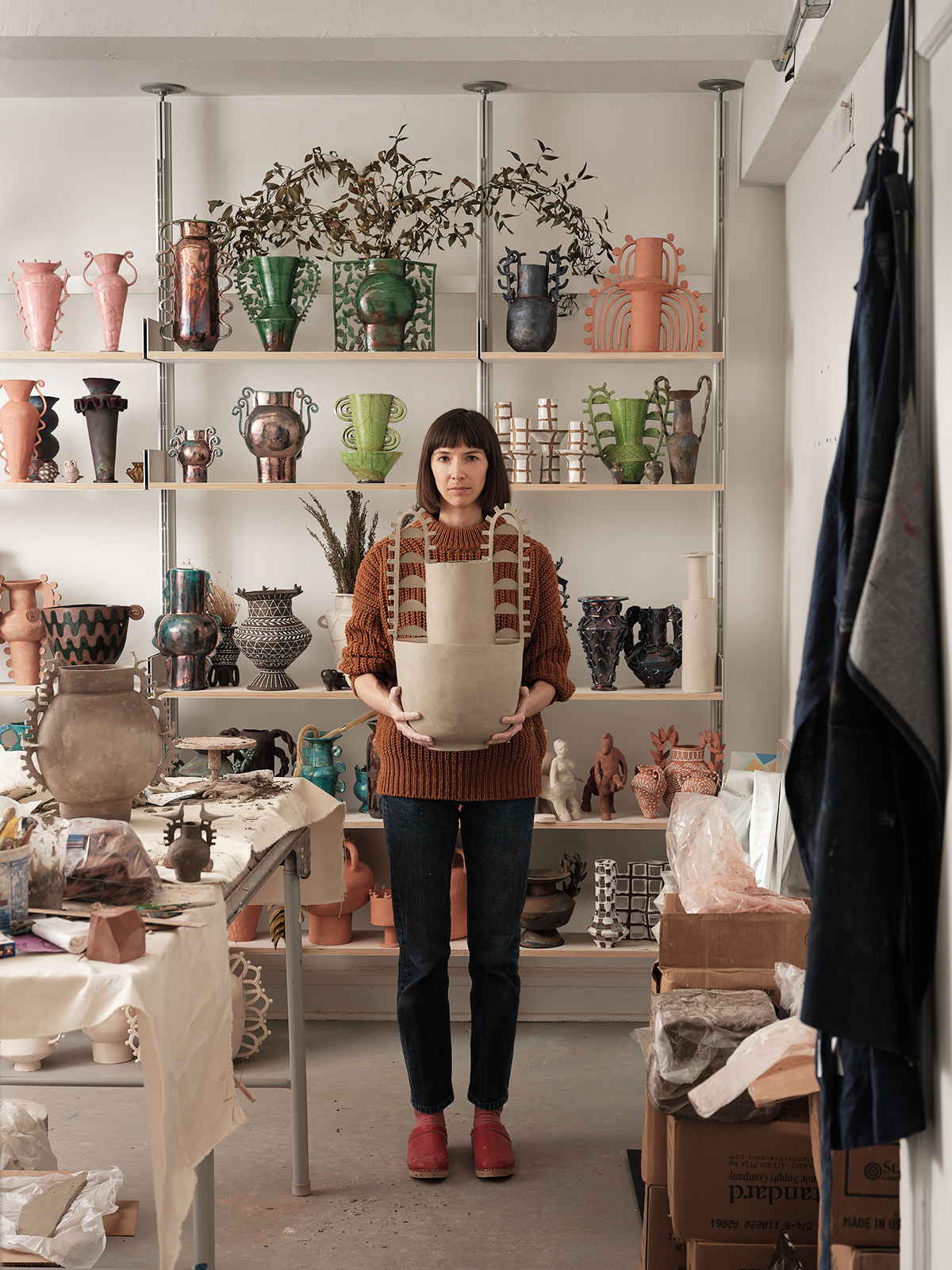 Some elements of the work are made with your husband, Tony Mullin. Tell us about your process of collaboration.
We share a studio and are always in each other's business. Things aren't too heavily planned so typically where we arrive at is a surprise for both of us and it takes a little pressure off during the fabrication. There is a mixture of modeling things by hand and modeling on the computer and not holding one process higher than the other. There is also a willingness to change course sometimes even close to the end and be fine with it.  We have worked alongside each other for so long that the collaboration is mostly pointing and grunting. It's very easy and fun.
What's next for you and your practice?
I got a residency upstate this summer in Bovina, so I'm excited to spend some time out of the city making work and hopefully not getting Lyme disease. Shooting for the stars.