04.26.21
Sara Rydberg Nilsson on the Perks and Pitfalls of Turning Your Home Into a Gallery
It may sound like some sort of aesthetic fever dream to live full time in a design gallery but, in practice, it's not without its hazards. After a show at her flat-turned-exhibition space in Stockholm, interior designer Sara Rydberg Nilsson, aka Studio Hilda, left a pink ceramic raku sculpture by Swedish artist Bo Arenander in a corner of one of the apartment's rooms. "My son Max accidentally knocked it over," she says, recalling the horror of the worst-case-scenario moment. "It was totally careless of me to leave it out like that." Though the sculpture ultimately survived the trauma, it was left with a deep crack, threatening the integrity of its delicate structure. The upside? She had an excuse to keep it for herself. "It's so beautiful, but now even more fragile," she adds.
Alongside sculptures and paintings by Arenander, Rydberg Nilsson shows a mix of contemporary artists and vintage furniture at her gallery home. There are works by young Swedish painter Elin Odentia, vessels by ceramicist Sofia Tufvasson, and photographs of the Barbican by Jonas Ingerstedt, as well as pedigreed mid-century modern pieces like dining chairs by Vico Magistretti pulled up to a Bruno Mathsson table, stools by Nanna Ditzel and Josef Frank, and a Charlotte Perriand, Le Corbusier and Pierre Jeanneret-designed lounger for good measure. Rydberg Nilsson also uses the gallery to debut her own designs, including a painted solid pine sideboard, wavy upholstered headboard inspired by the artist Imi Knoebel, and a scalloped red bench made in collaboration with Otakt's Pernilla Norlander. An enviable setting for anyone to call home.
We spoke with Rydberg Nilsson about opening a gallery where you live, her path from psychology to interior design, and what's next for her practice.
PHOTOS BY JONAS INGERSTEDT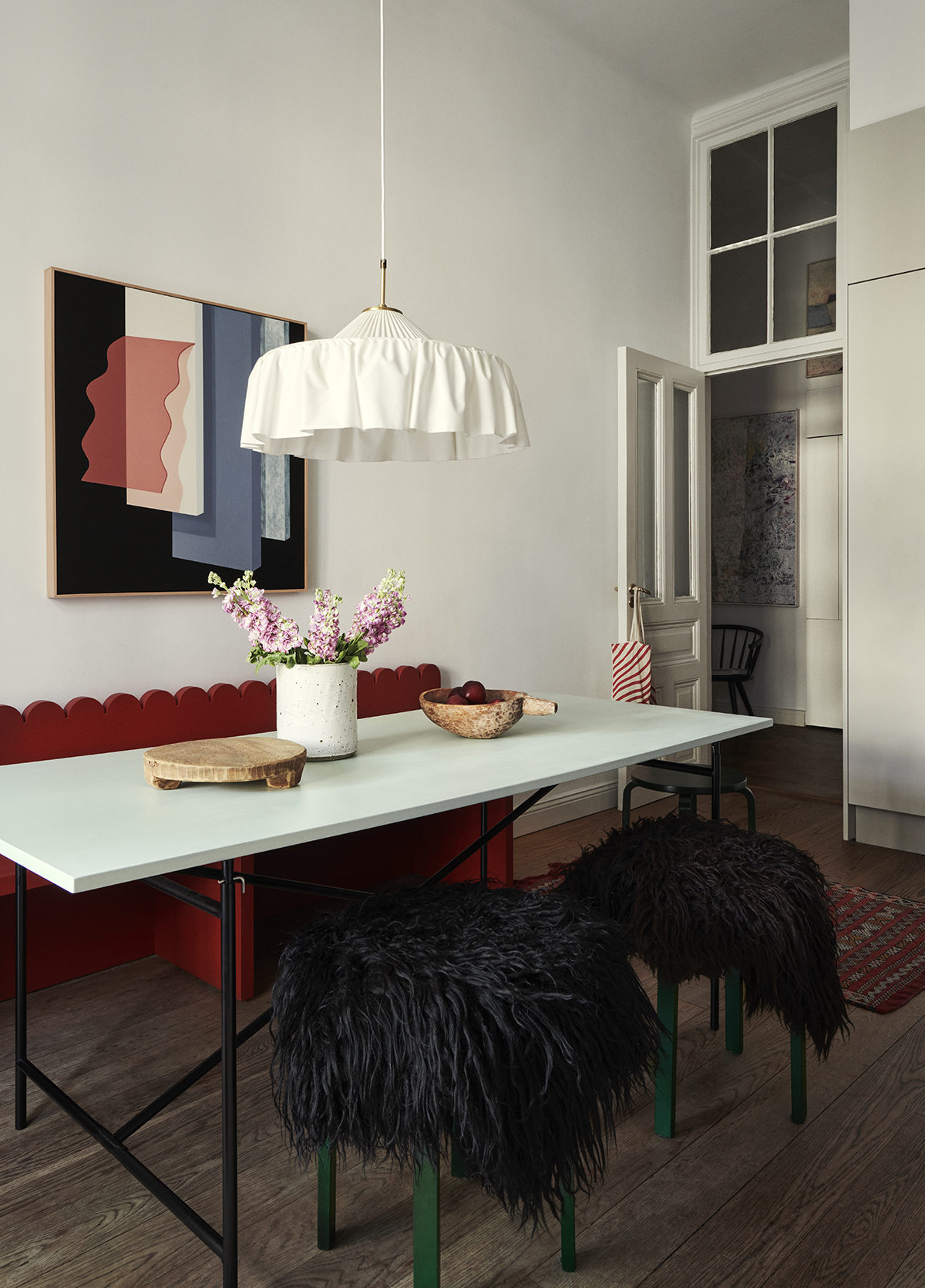 Tell me about yourself and your practice. I read in your bio that you have a Master's in organizational psychology. How did you end up in interior design?
Growing up, I always loved creating and drawing and I was interested in fashion and design. Art class was my favorite subject in school and I did some projects on industrial design and product design. But a career in a design field felt far away at the time. When time came to go to university I decided to pursue other interests of mine such as psychology, sociology, etc. The human mind I thought was fascinating and my studies in psychology in a work setting are still relevant today as I am ultimately creating an experience for the persons occupying the space.
So I had a different career before some events in my life finally made me decide to pursue my passion, interior design. I did a course in interior design that rendered me my very first assignment and I have had work since then. My clients include real estate companies and start-ups, among others; lately I've done more residential work as well.
How would you describe your design style?
I like to be a little understated, but I also like color, books, plants and art. I think Kelly Wearstler said "everything is sculpture" and I agree with that. Beyond that the space functions well and feels good. I like the interaction between different shapes such as something angular next to something of a more organic in shape and surface. The cubes seen here in the apartment are originally podiums I built for a vernissage that I had before and which now serve as small tables here and there. I sometimes test colors on them for my interior design projects so they have proven useful in several ways. When it comes to the furniture in my home, most of it is vintage or furniture I designed or built myself. There are also furniture prototypes such as a bench and a chair that I designed together with my friend designer Pernilla Norlander. We call our collaboration Studio Hilda + Otakt.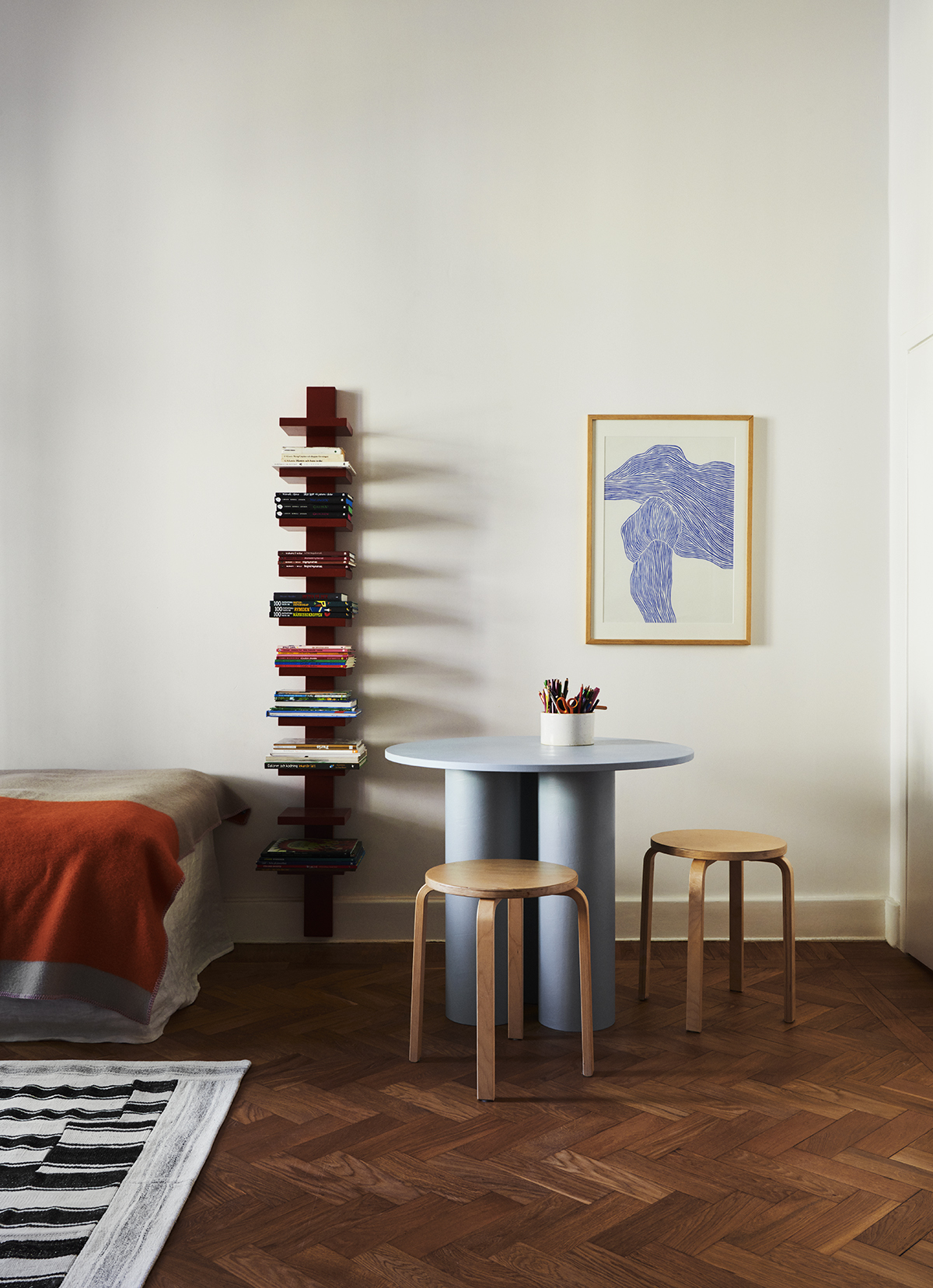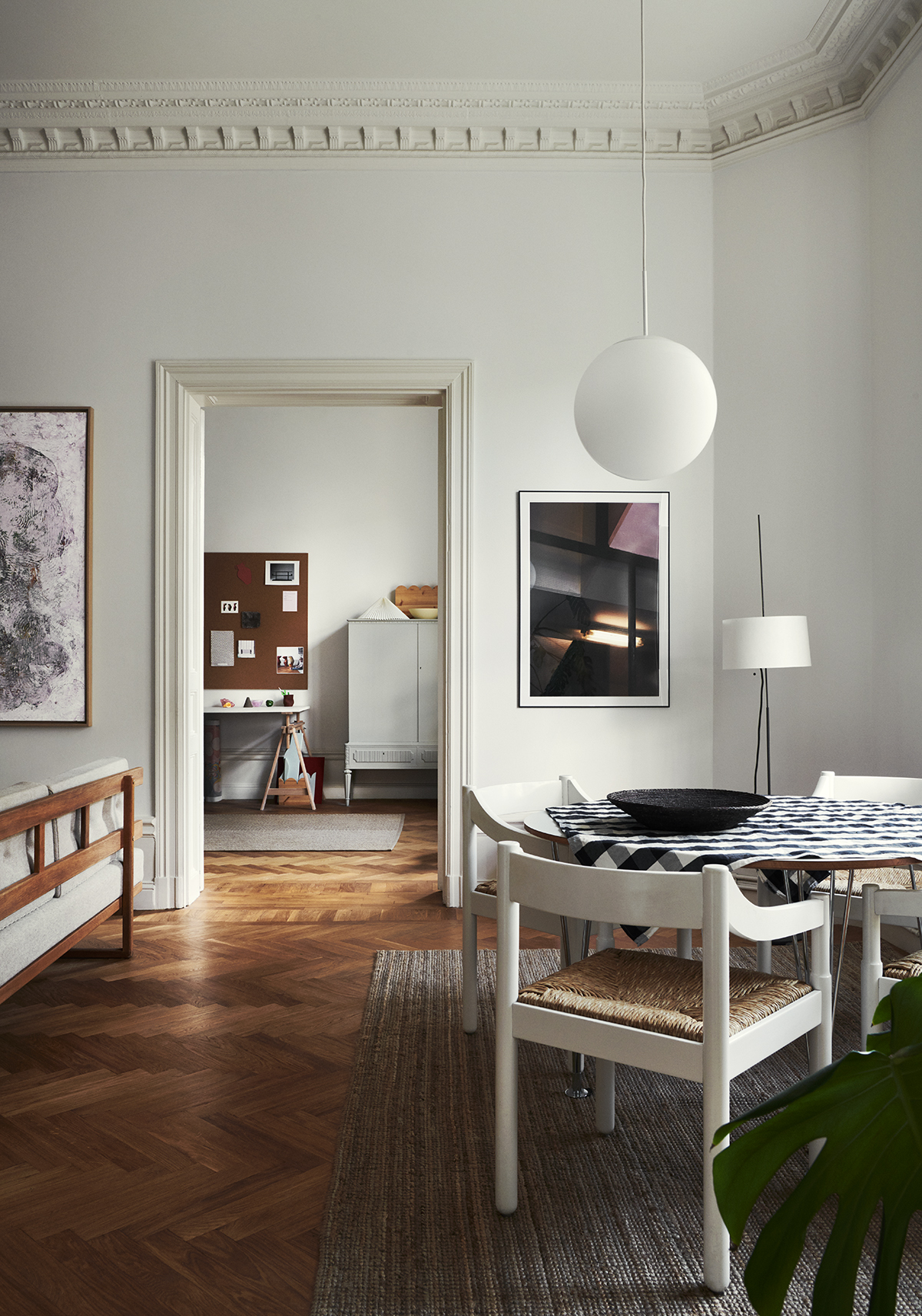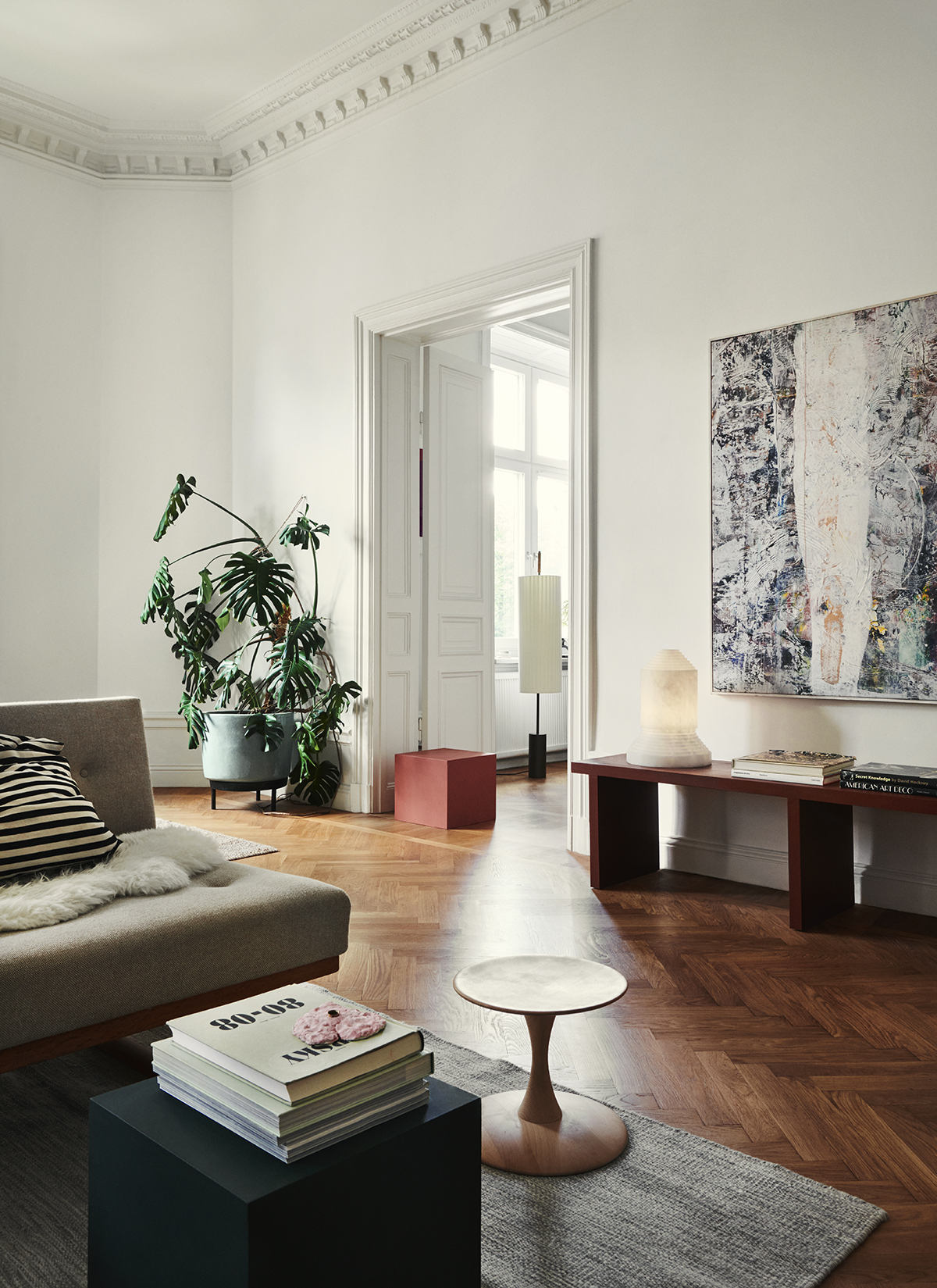 Tell me about your flat. Where is it located? What is the building and neighborhood like?
I live in an apartment in a building constructed in 1895, and it is located in the Östermalm district. The neighborhood where I live was originally intended to be detached villas in the English style, but gradually several apartment buildings were built and it is in such a house that I live. The house is built in the Art Nouveau style and has an ornamented facade with details from nature, including a family of owls. We moved here in 2014 when we had our second child and wanted more space. The house is located on the same street as the preschool where both our boys went for several years. We like the area as it is just next to green areas such as the park Humlegården and the forest Lill-Jansskogen and close to most things, restaurants, and cultural life.
Is the flat renovated at all? What was it like when you first found it?
The most prominent feature of this apartment is the unusually high ceilings with original moldings and the airiness that comes with that. The apartment was in a good shape when we got it so we have mostly renovated surface layers, sanded and hard waxed the floors, painted walls, repainted the kitchen, to freshen it up and create a more uniform base. We tried to get a lot of bang for the buck.
Your home also doubles as a design gallery. How does that work?
It has been a case of one thing leading to another. It started out that I sold a few paintings to friends by artist Bo Arenander. As I noticed a growing interest among my friends I organized an art show with his incredible raku fired sculptures and paintings. I was planning on following up that event with more shows but I have been busy doing other work and then COVID came. So anyone who is interested in the art is welcome to reach out.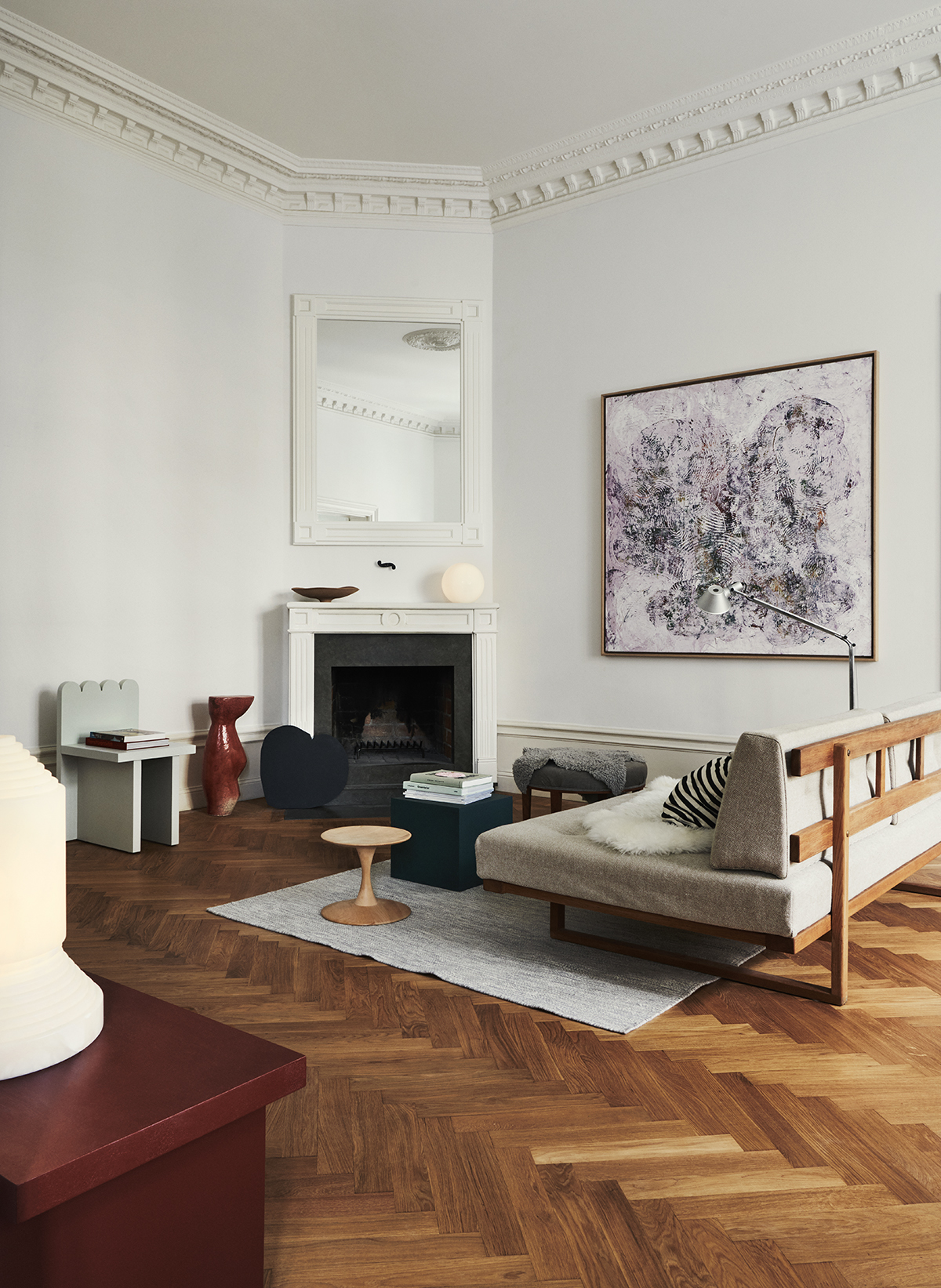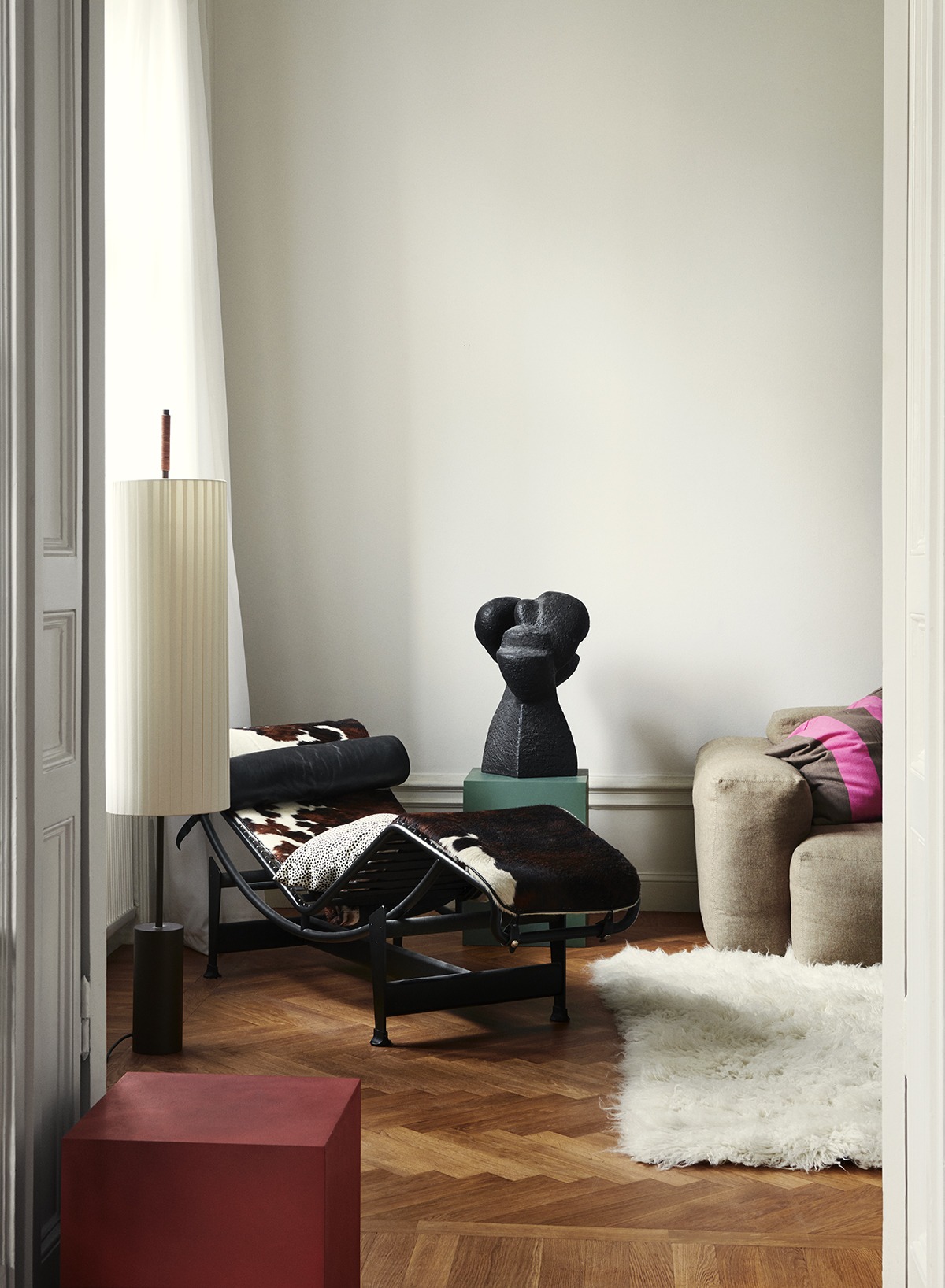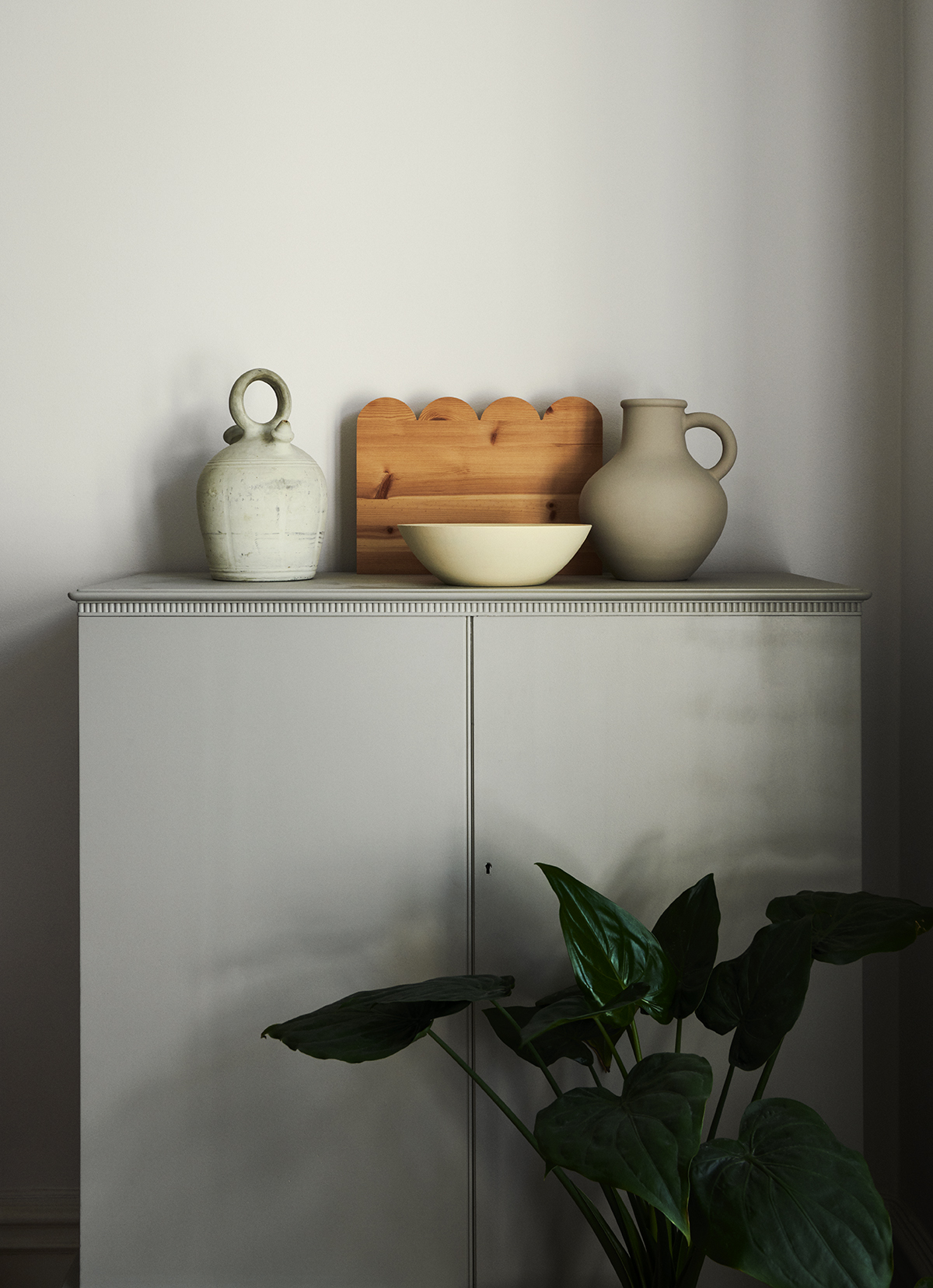 Walk me through the spaces. Can you describe the design of each room?
You enter into a small hallway that leads towards the big living room with the fireplace, that is the middle of the three rooms with views onto the street. I like to avoid propping furniture against walls when possible and so I put the daybed opposite the fireplace. I also decided on a smaller dining table creating a more intimate setting and keeping the space airy. One of the adjacent rooms is used as another living room where we can watch TV or my kids can play video games.
Then there is the room where I have my home office and keep samples and the stuff I use for my work. On the opposite part of the apartment there are three rooms connected by the old serving passage: the kitchen, a small room that used to be a maid's room, and another room. We use those rooms as bedrooms as they face the courtyard.
What sort of things, if any, do you collect?
I don't collect anything really. I don't like to throw stuff away and therefore I try to be mindful of what I do bring into the home. I also don't have a massive budget being just a few years into my business. I'd rather save up and spend on art, ceramic, or glass objects made by contemporary artists or vintage than on a lot of throwaway things.
What is your favorite room in the house?
My favorite room is our living room with fireplace, where I often sit and work even though I have a separate workplace. When it gets colder, we like to light the fire which is very cozy during the cold and dark Swedish winter. Here I also have an overview of the other nearby rooms where my children build with Lego or play.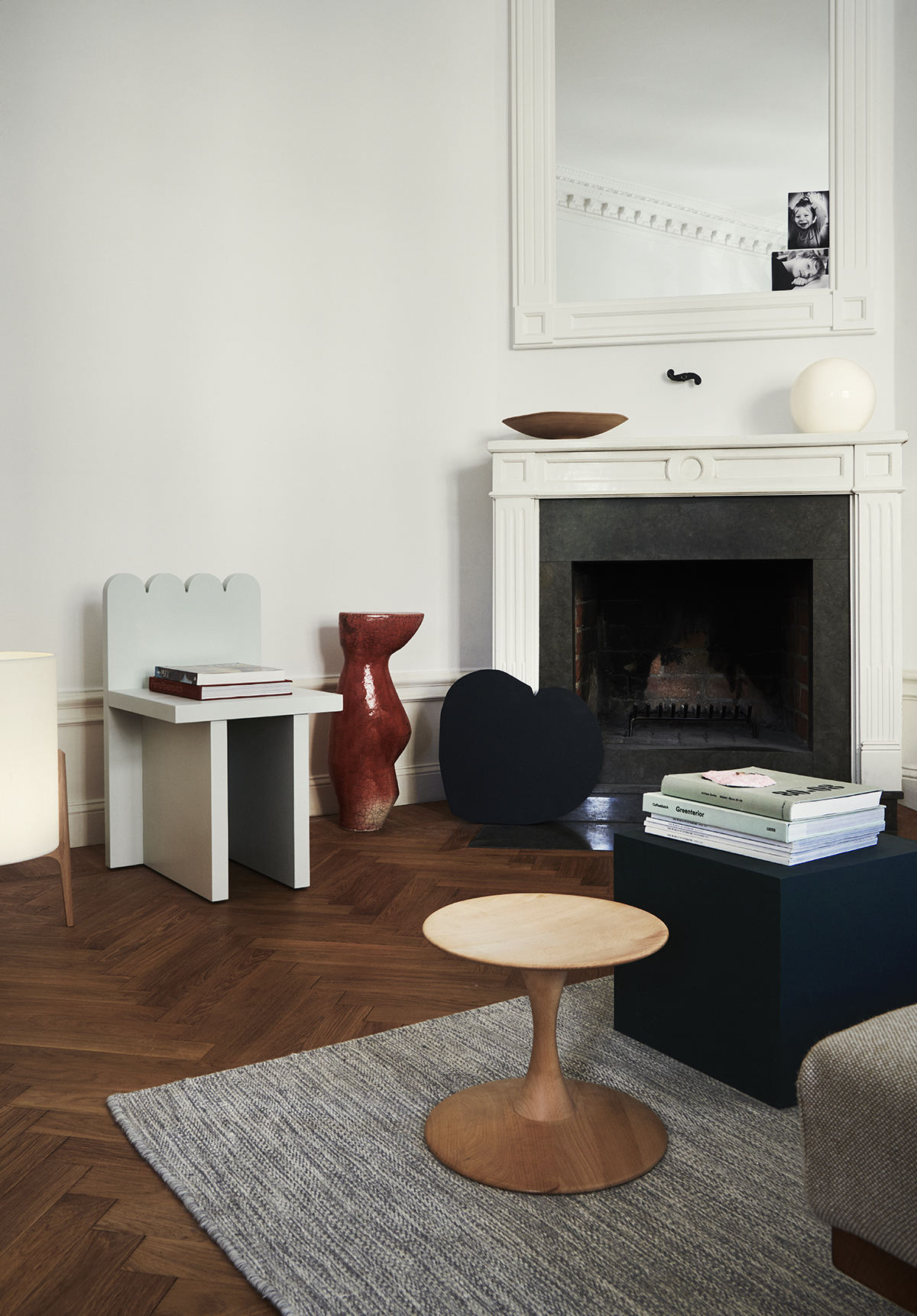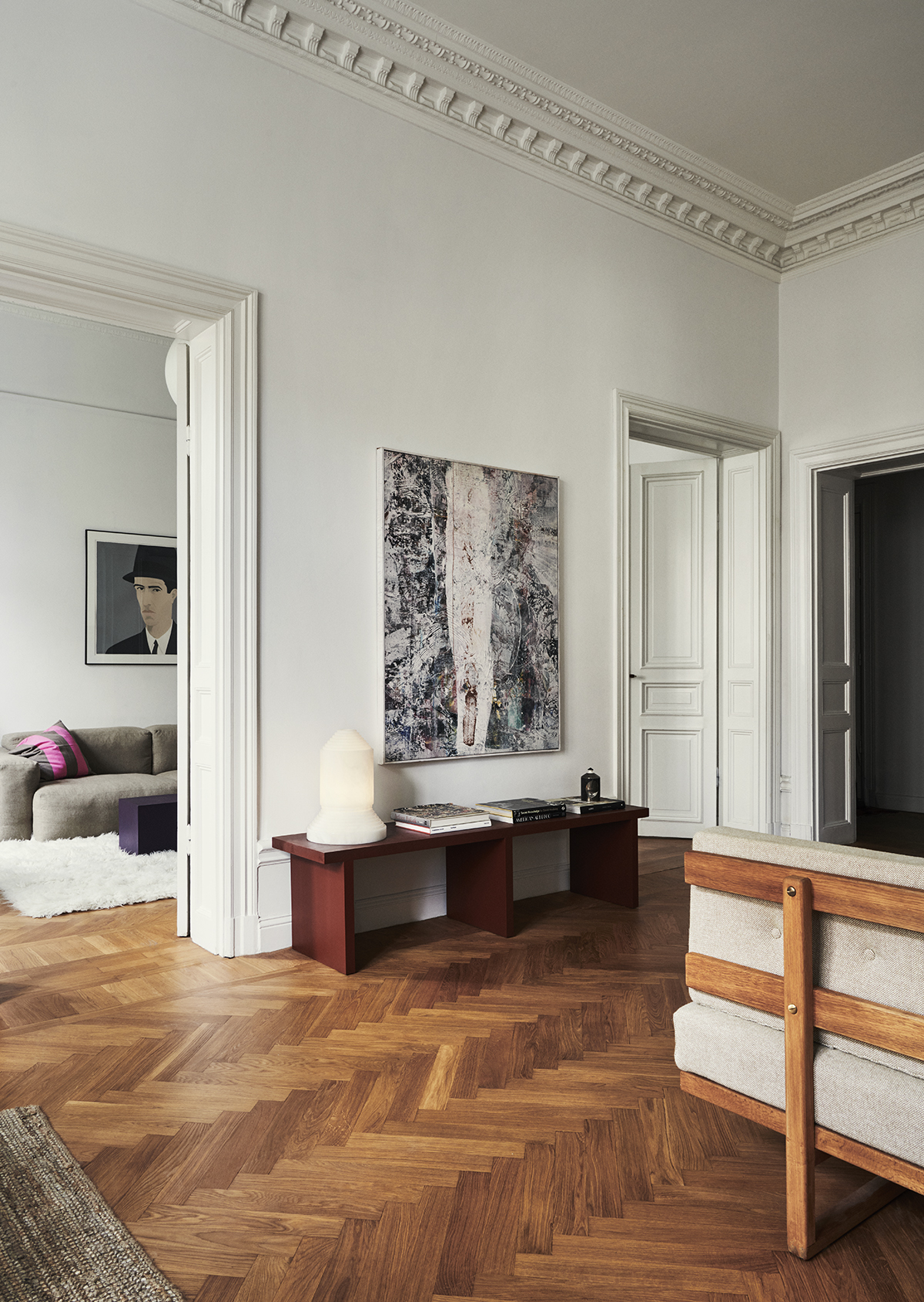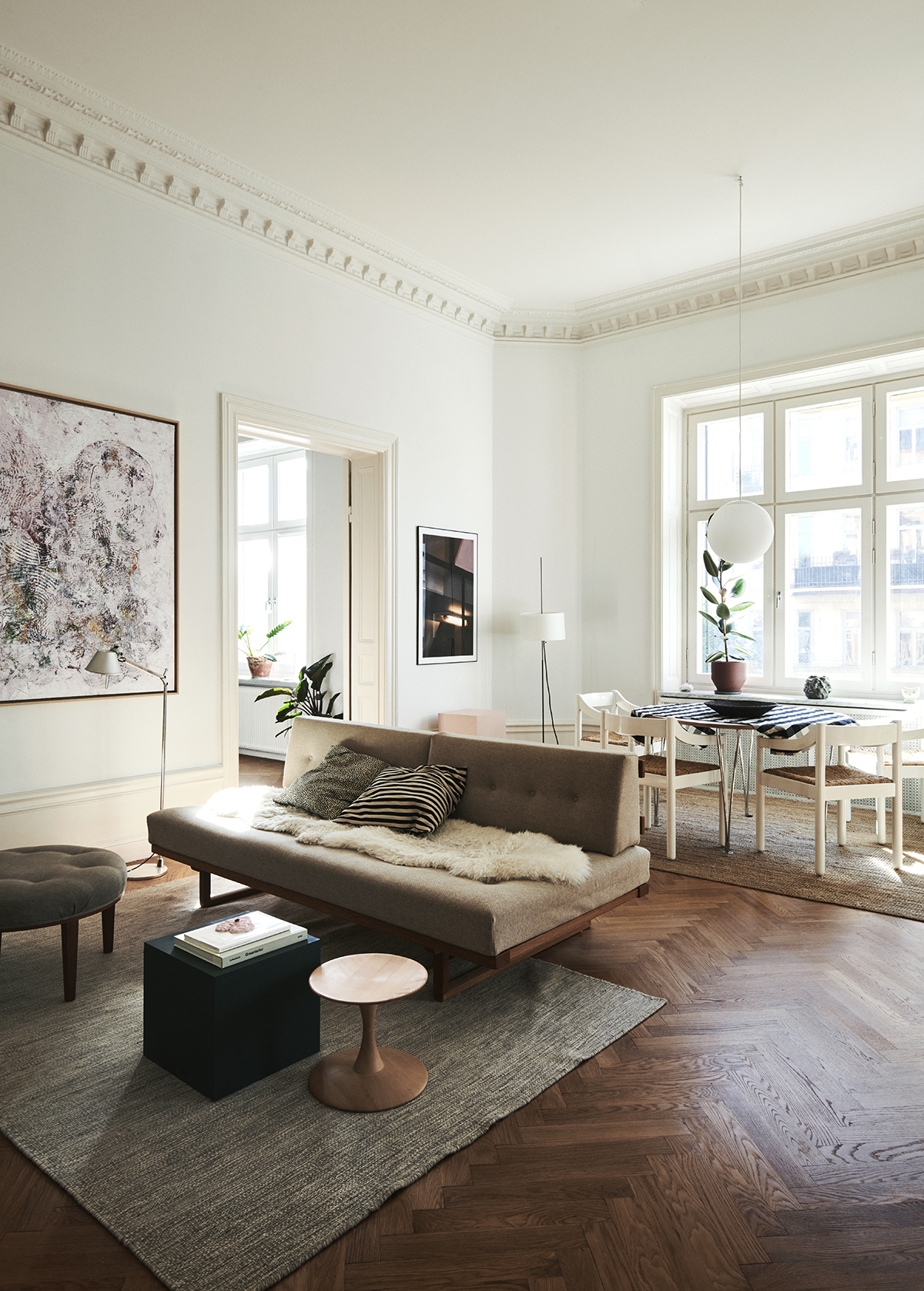 How do you approach designing for yourself vs designing for a client?
I try to keep track of the building and the architectural context, my client's wishes and needs of course. I start there and then I get inspiration from books, art, something I have seen and work out a concept. So it is a mixture of spontaneous work, which I structure before the presentation. I don't have a definite idea of what the project should look like from the start. If anything, I try to "kill my darlings" so the best idea wins and the end result is interesting and long lasting, hopefully. I also like when I can make custom-built solutions and furniture, as then my clients get something unique and I support local furniture carpenters and craftspeople. I try to have a long-term perspective. The ambition is to create an environment that lasts over time also stylistically. When it comes to my own home, I can be more free of course. I like vintage objects, both for the sake of the environment but also for the feeling they give.
What sort of projects do you have coming up?
At the moment I'm working intensely on an office project that has a tight deadline. The client is a hedge fund and the offices are located in a building from 1897. I am also involved in two residential projects. Other than that, I am open to new collabs and to continue with new projects and just trying to get better at what I do.