07.19.21
This Czech Glass Designer Revived a 200-Year-Old Tradition For His Latest Collection
I first came across the work of Prague-based glassmaker Lukáš Novák in 2019, at the yearly Design Block festival held each year in the Czech capital. A friend of mine, Eva Slunečková, who is the editor of the Czech imprint of Elle Decor, was touring me around the booths, giving me a low-down on the ones to watch in Prague's up-and-coming design scene. The first designer she led me to was Novák, then showing his Lost and Found collection. At first, I was a bit confused. Eva had introduced him as a glass designer, but the vessels on display — dark, heavy-looking faceted vases streaked with turquoise, copper, and navy blue — looked as if they were made of polished, semi-precious stone. Novák explained to me that they were, in fact, glass — the result of a 200-year-old process the young craftsman had revived for the collection, in which he melts down rocks and minerals and incorporates them into the molten glass before blowing them into a beech wood mold.
For his latest collection, Amaline, Novák has taken the technique a step further by integrating bolder, more expressive colors in the minimally-shaped vessels. He's also created stamped vases (inspired by the techniques used to make medieval goblets), a wonky-shaped tea set (which we featured in our gift guide last year) and opaline stacking glasses (all of which you can pick up on his website). We spoke with the young Czech designer about his new and old collections, reviving old traditions, and what's it like coming up in the Czech glass scene.
Photos by Vojtěch Veškrna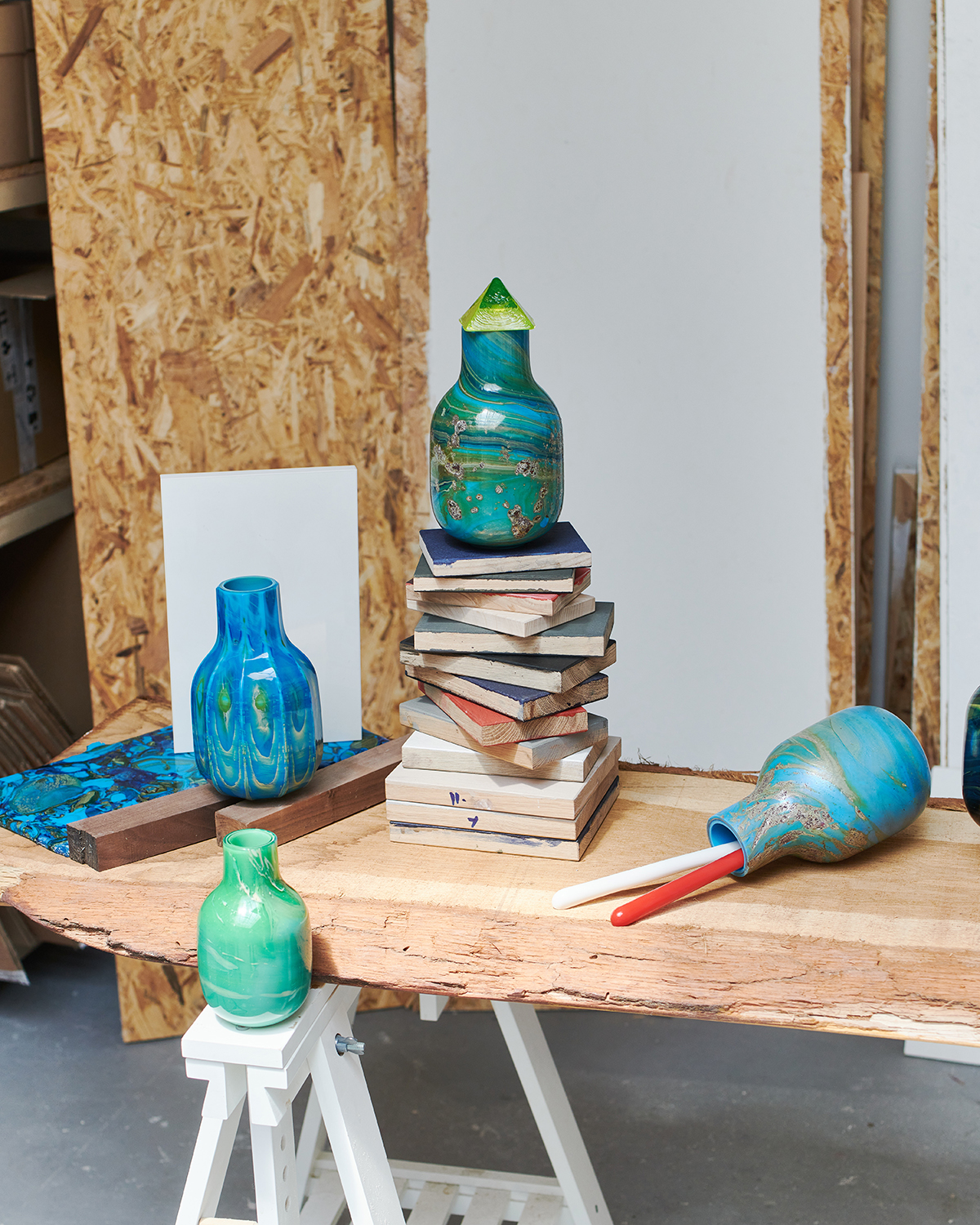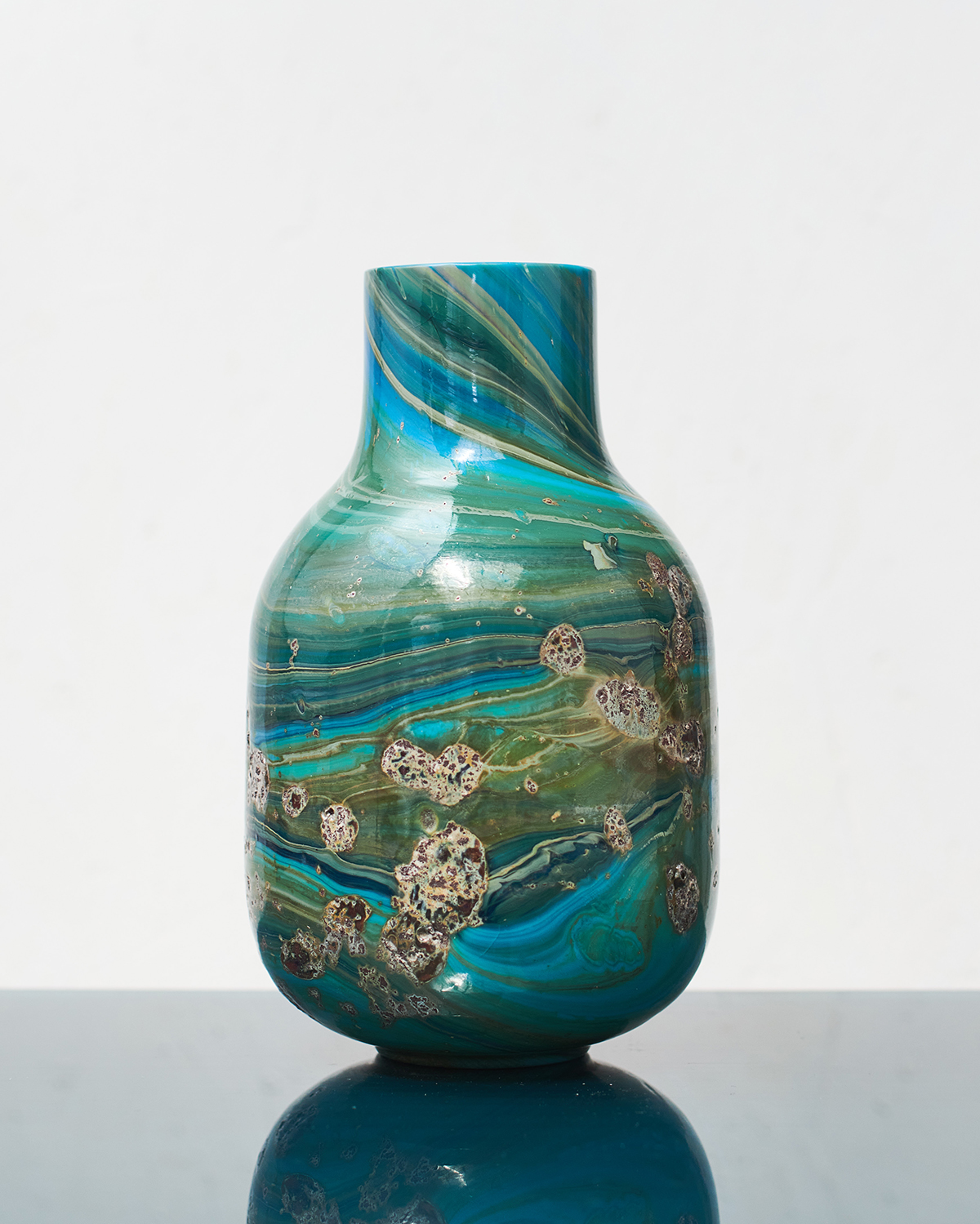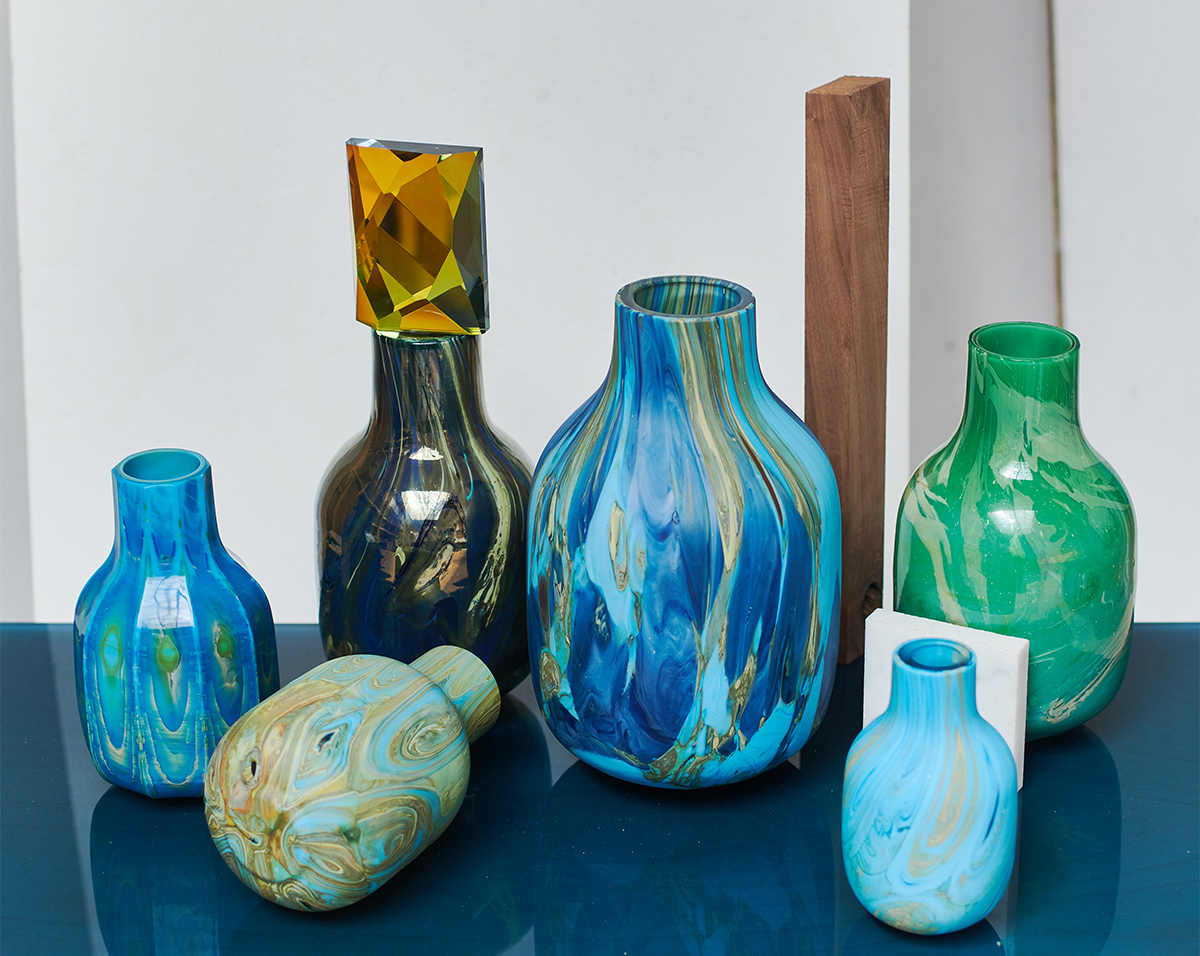 First of all, tell us about yourself. Where are you from? What did you study?
I grew up in the glass town of Nový Bor, north of Prague. I come from a glassmaking family. My family makes painted glass, and first I studied as an apprentice. I'm a trained glassmaker, a craftsman, but it's been a long time. Today I have only knowledge and some experience left. At that time, I wanted to know more about glass and art. I often met the artist and architect Bořek Šípek at the smelter and I liked that he had a Volvo, a massive bracelet on his hand, and it was fun for him. Then I continued on to the UMPRUM (Academy of Arts, Architecture and Design in Prague), where I graduated four years ago.
The glass vessels that you've been making for the past few years — which look like they've been painted or hewn from semi-precious stones — have a really fascinating history. You've told me previously that the technique you use had once been forgotten. What's the story behind it?
That was the Lost and Found collection from 2018.
I tried to bring back a 19th-century technology called Lithyaline with a then-fellow glass technologist. The technique was invented in the early 19th century by glass geek Bedřich Egerman in my hometown. Then she was almost forgotten for a long time. There have been some attempts to bring her back to light, but they have never had significant success.
How did you go about researching and reviving it?
It took about a year and a half to settle the technique so that it didn't just look like a 200-year-old museum vase. I had to find the right colleague to help me move Lithyaline into the 21st century. Today, after three years of work, I managed to connect with a glassmaker who can mix glass perfectly so that I can experiment and produce my own glass, which builds on the previous collection, but is already a big step forward.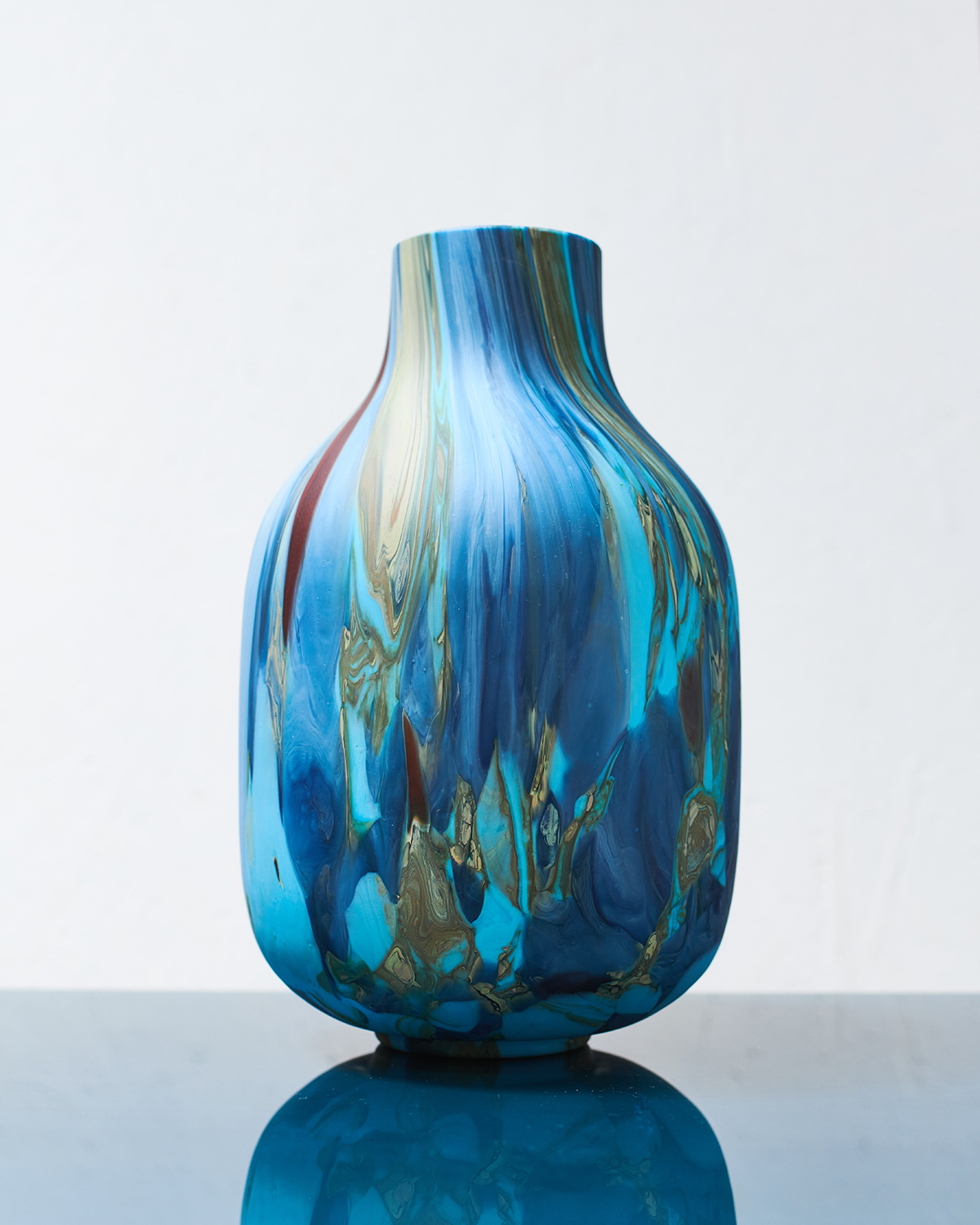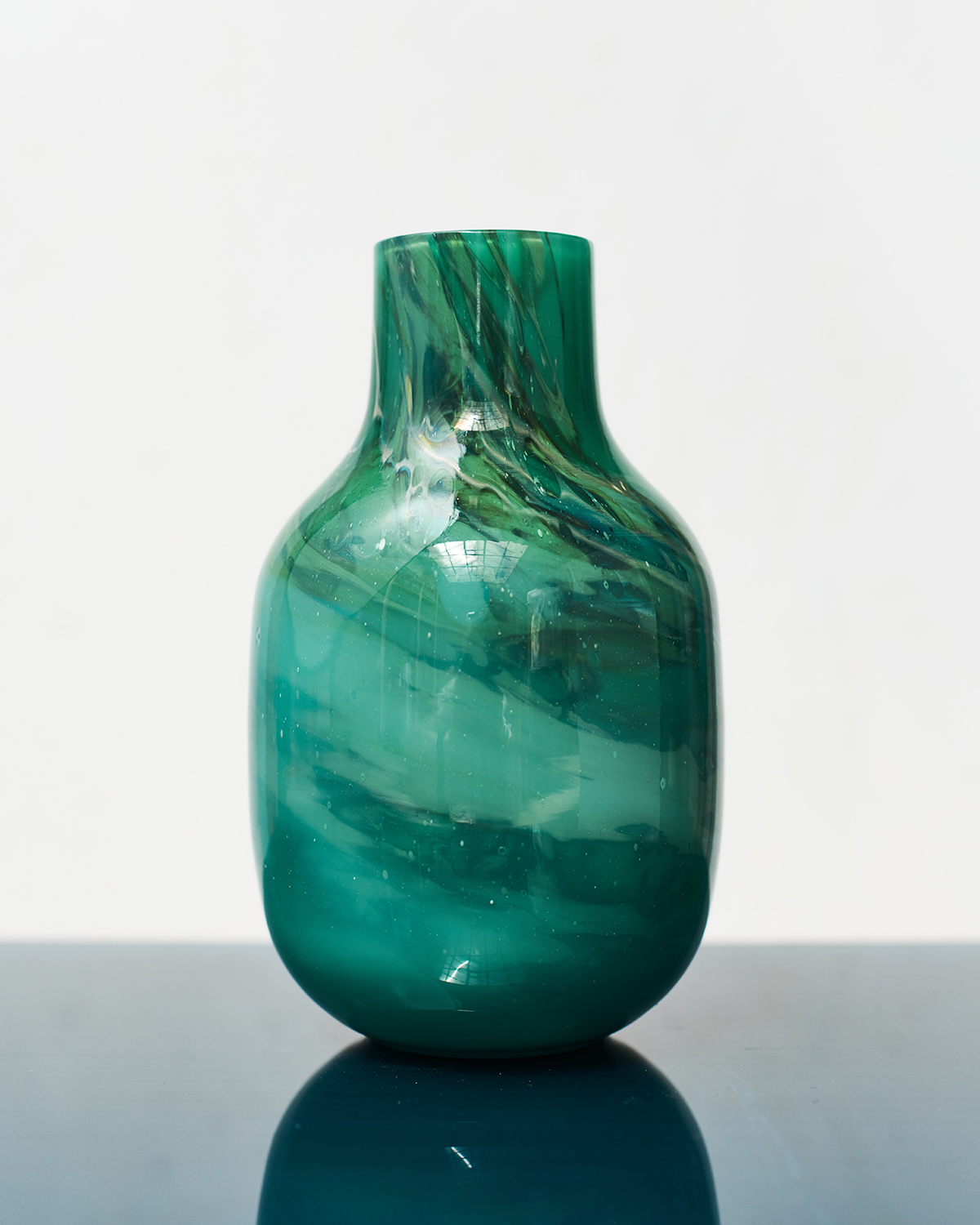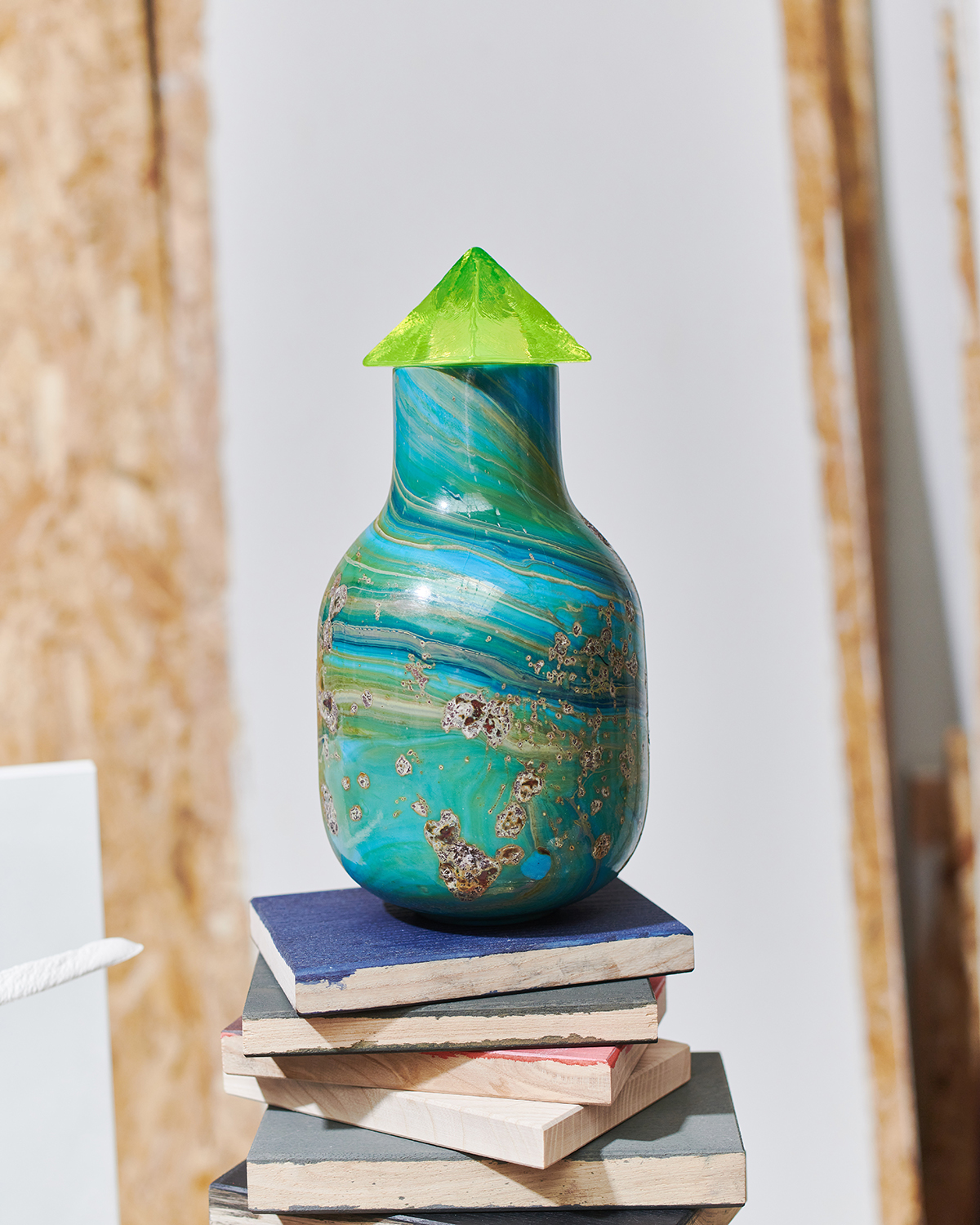 Can you take us through the process of designing and making them?
I like colors. The beginning is always about choosing the right color, which I usually can't achieve for a long, long time. And even though I'm so worried about the result, it usually ends up completely differently than I originally wanted, and that's usually the best result. I don't plan shapes too much, I like to give space to glass to make it natural. Flow, motion, blending colored layers… For the faceted pieces, I use classic beech molds, keeping the shapes of the vases are as simple as possible.
How much control do you have over how it turns out or is it mostly up to chance?
A year ago, I would have told you none. Today, thanks to frequent melts, I am learning to control the process more. At a minimum, we can prepare colors, shapes, and we begin to control the resulting drawing, and we continue and experiment again and again. I'm currently working on a mix of traditional Czech and Murano techniques.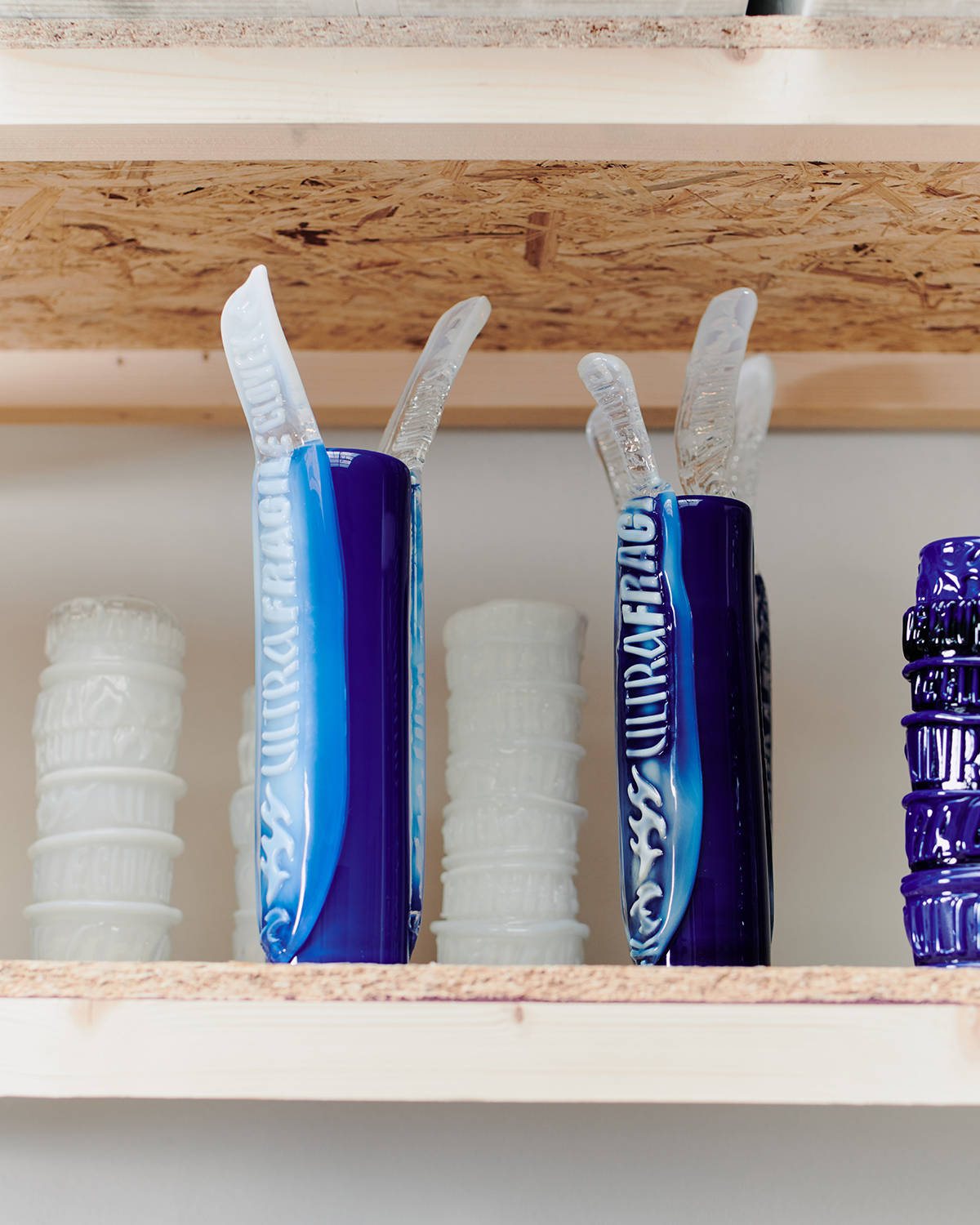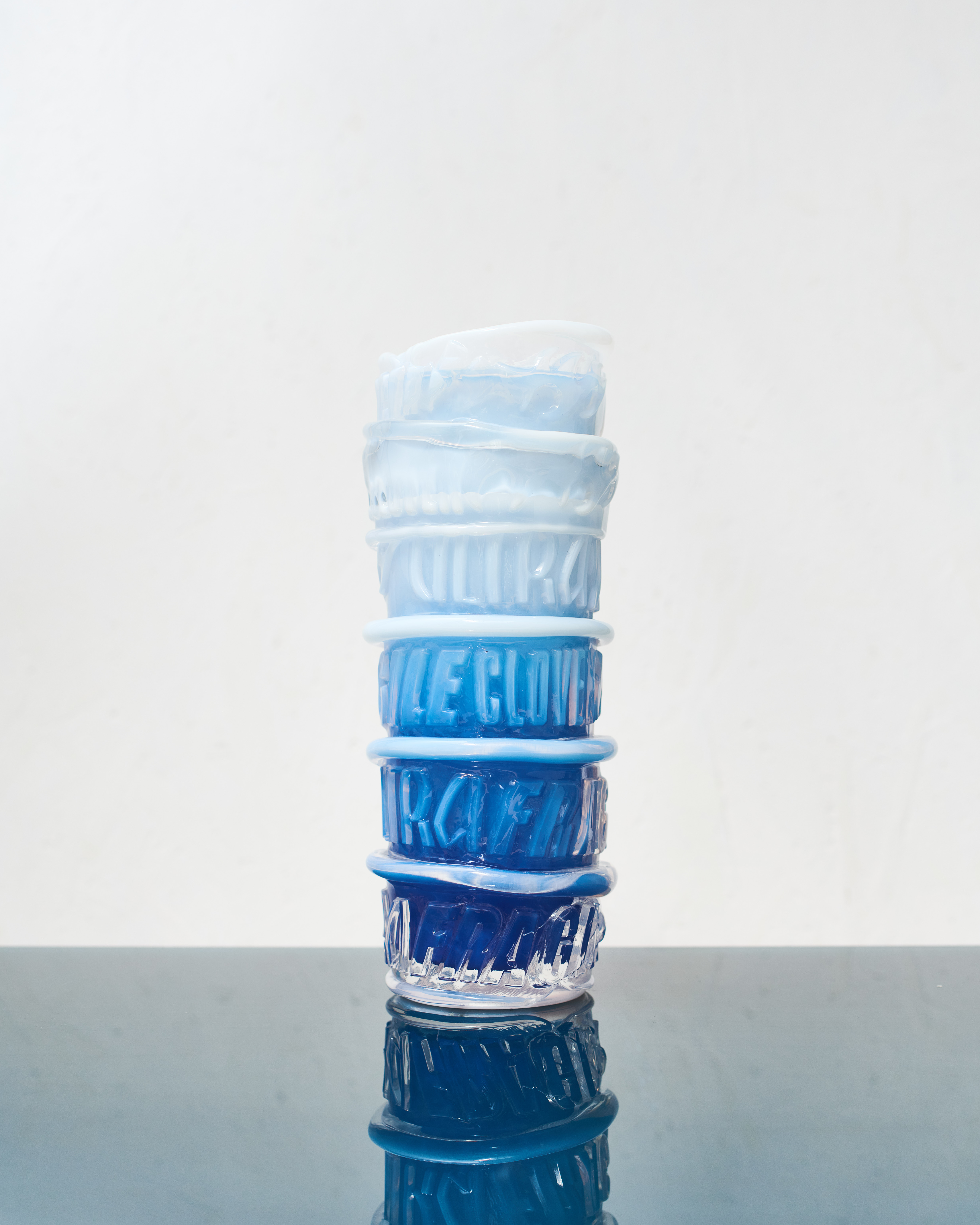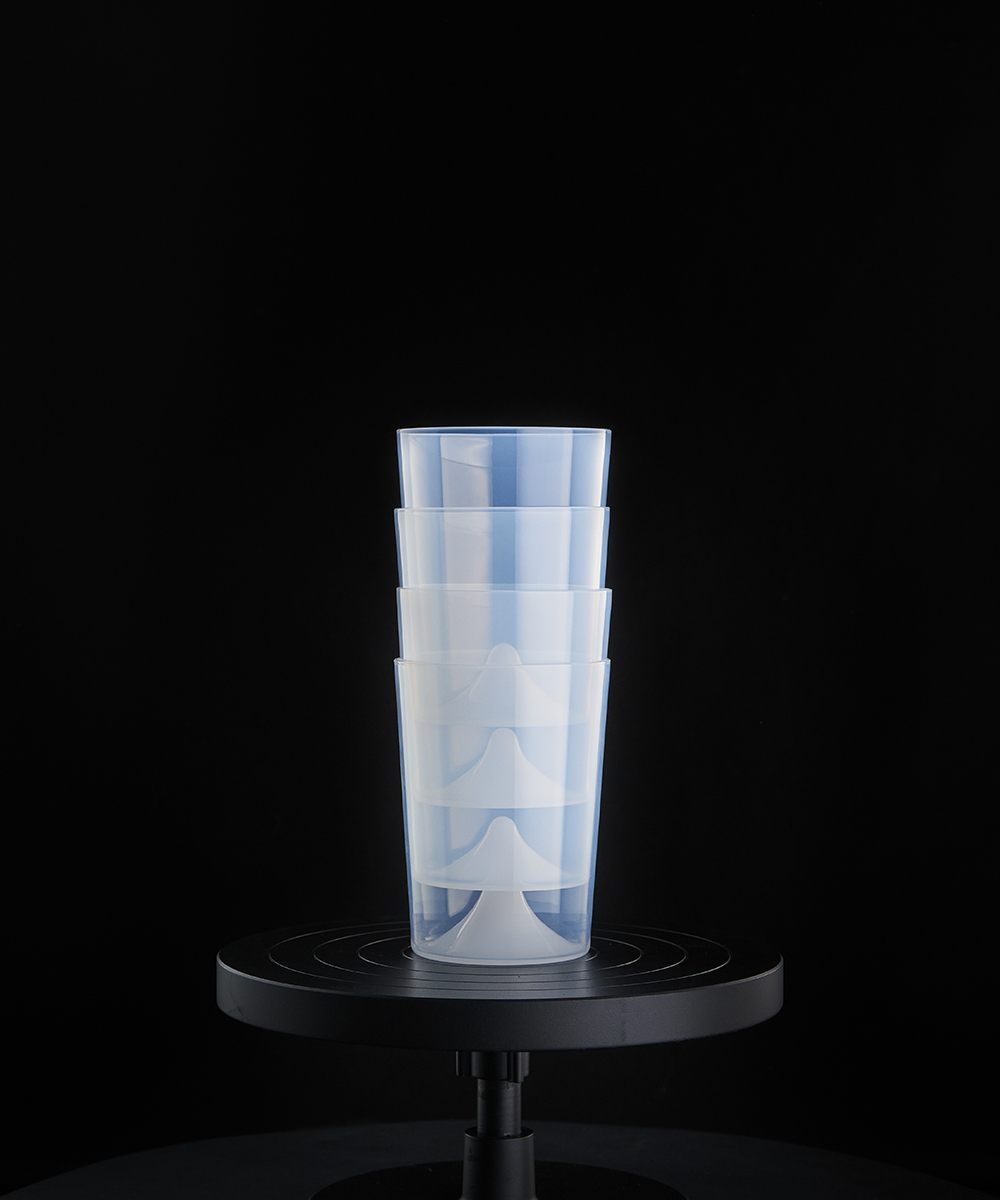 What about those stacking cups with the milky, opalescent finish? What's the technique there?
I needed some glasses at home, my friends had nothing to drink from and I have a small apartment. So I drew simple stackable glasses. I really like opaline glass. You can play with its turbidity. It can looks like a moonstone, or milky, or like a plastic cup. It's a super cute product.
I'm also really interested in your other pieces that look as if they've been wrapped in shipping tape — but are in fact stamped glass. Can you take us through the inspiration, design and construction of those pieces?
Ultra Fragile vases are built on the medieval technique of decorating glass. In the Middle Ages, people ate with their bare hands and had greasy hands. So that the glasses would not slip between their greasy fingers, a grip of glass serrated thread was made on the surface of glass or goblet. A thin thread of glass was applied to the surface of the glass or goblet at the smelter, into which the notches were extruded by a gear wheel while hot. Like decorating dough for baking. I made my own tool with which I extrude various characters and my own symbolism into the hot glass. Basically a gear wheel with characters. My next collection will be built on the idea of extrusion into glass.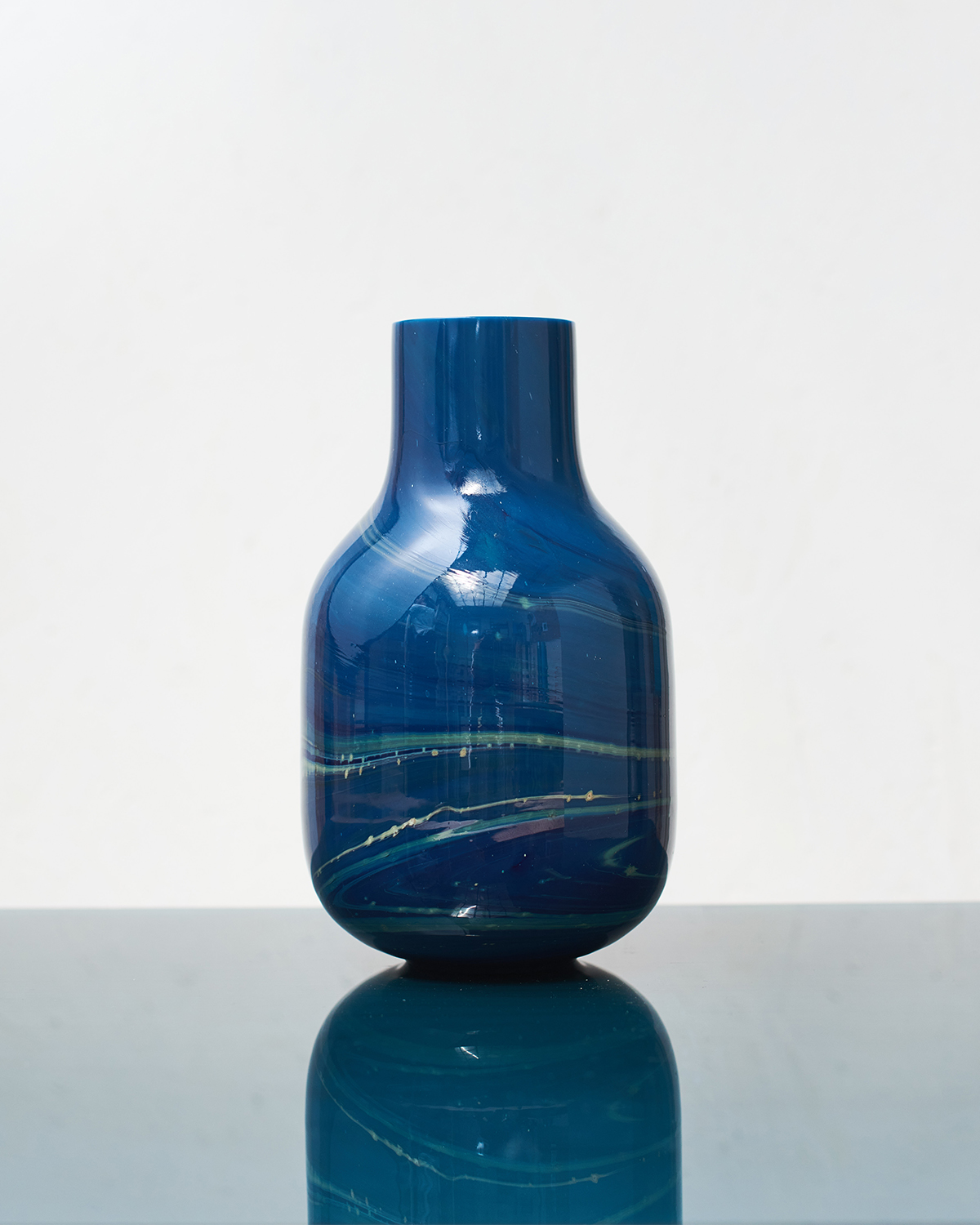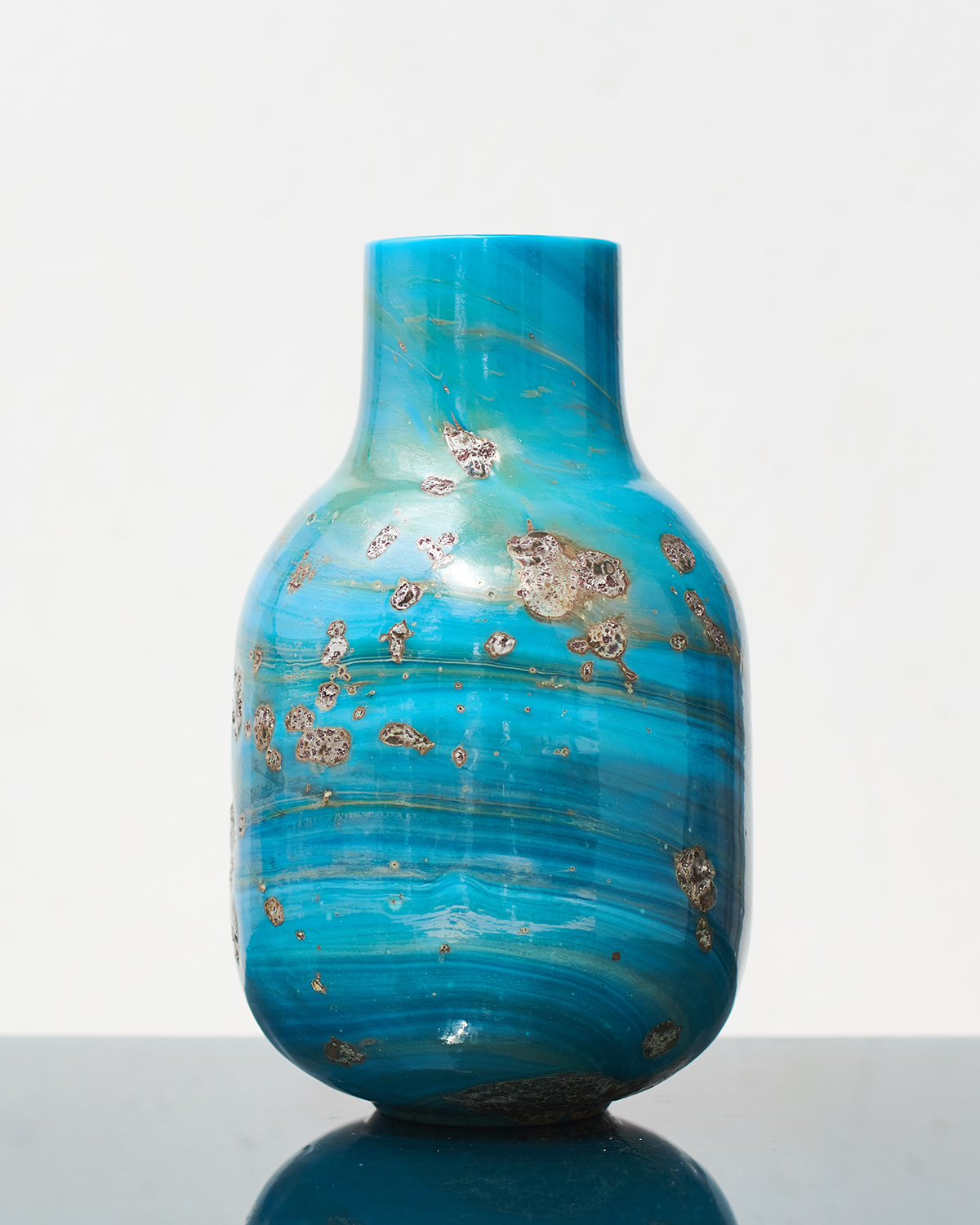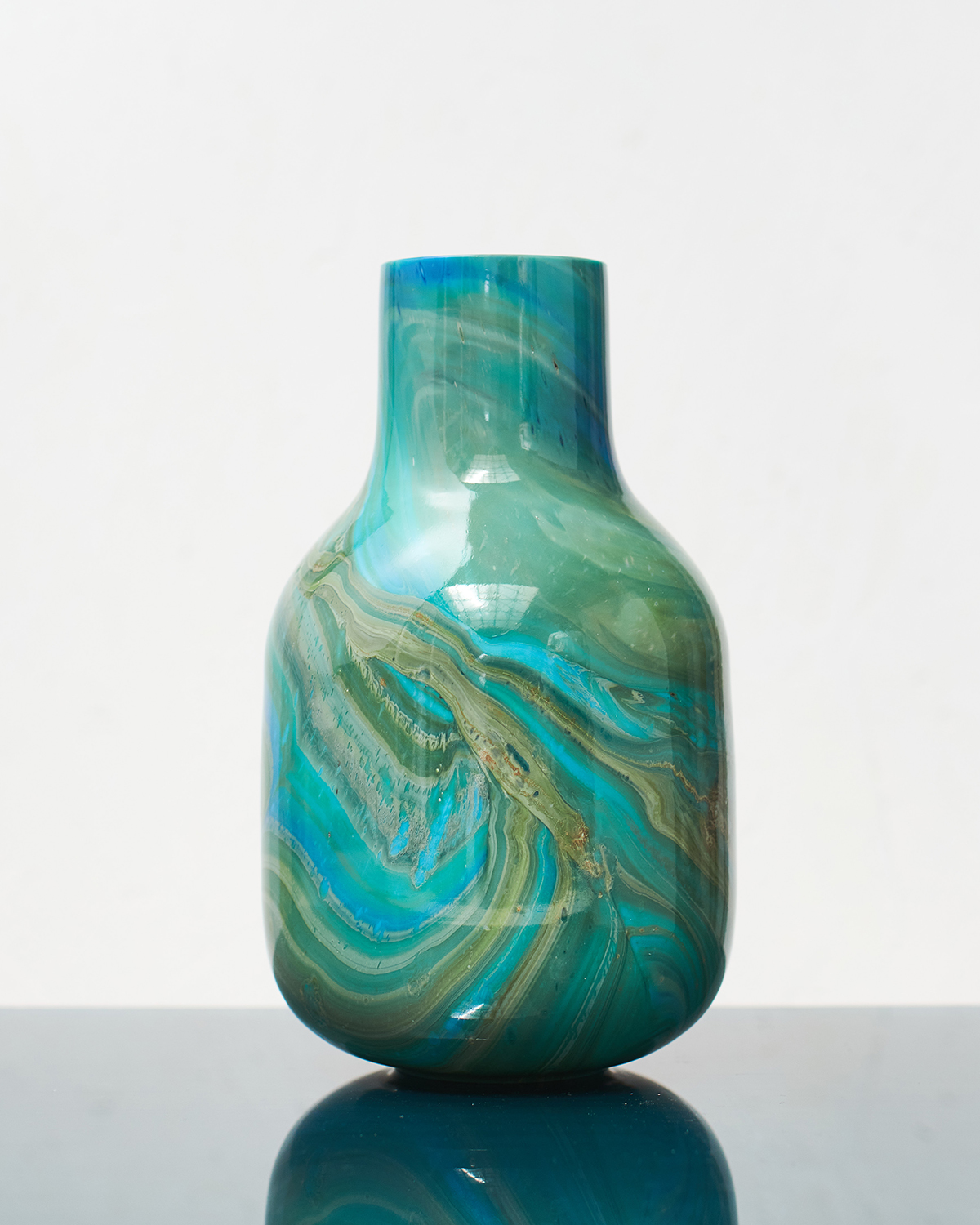 Each time I've visited Prague I always come across really interesting young glass designers who are working with the material in quite unexpected ways (yourself included). What's the community like there?
The community is quite strong here, precisely because it is quite easy to work with glass in Czech. We have a huge range of glass techniques here. Dozens of different techniques. There are, for example, family workshops that have been concentrating for several generations on one selected specific technique. For example, cut glass. You can cut glass in several different ways. What is important is to find your very own point of view and position. The possibilities are infinite. And that's the hardest thing.
There's also always talk of how the Czech glass industry, which is one of the major centers for glassmaking rivaling maybe only Venice, is in decline. Would you say that that's true? Are there any initiatives to preserve these traditions?
We are certainly still one of the building blocks of the world of glass. But today you can find glassworks all over the world. I recently found on the internet a map of glassworks and they are really everywhere. I think our uniqueness is mainly in the ability to improvise and find the best possible solutions. Murano glass is said to be just an illusion for flowing tourists, an open-air museum. I think the current situation will give them the charge to come to life again!
What's next for you?
Right now I am looking for new partners who would sell my glass outside the Czech Republic.
I am already selling in the USA, Norway, and Austria, for example. I would also like to find other shops, fashion retails and galleries.I am currently working on several custom lighting objects for private clients or development projects. This is a type of work that I have always wanted to do and that I really enjoy. At the same time, I am finishing the table, floor and wall lamp to my existing collection Spacey for the Czech company Lasvit.