11.04.21
How Two Sisters Turned Their Childhood Home in Mallorca Into an Artist's Residency and Coveted Airbnb
In the late '90s, just before Claudia del Olmo was born, her parents had a major moment of real estate serendipity: Having purchased a piece of land in Mallorca they were still a little unsure about, they went to view an existing home elsewhere on the island and immediately fell in love. The house had been languishing on the market for 5 years at that point, so they took a chance and offered half the asking price. "They assumed the previous owners wouldn't accept it, but they did, so it was kind of like fate," del Olmo says. Her mother decorated the sprawling villa with rich tapestries and handmade furniture, and she and her older sister Isabella got to grow up there, playing in the garden and watching their mother host countless parties and dinners. "It was always really magical," she says. So much so that as adults, the sisters wanted to recreate that magic, first channeling their own gift for hosting into a dinner series in London, and ultimately reclaiming their childhood home for themselves, transforming it into an events space, artist's residency, and Airbnb property called Casa Balandra.
Their reimagining of the home — which their parents had moved out of almost a decade earlier — began just before lockdown, in February of 2020; with the help of a friend, designer Cécile Denis, Claudia gave it a new interior full of vintage finds, furniture she designed, and a few select original pieces she had too many memories of to part with. We recently spoke with her about the origins of the Casa Balandra project and her hopes for expanding it in the future. If her and Isabella's story inspires you to become an Airbnb host yourself, visit this link to get started!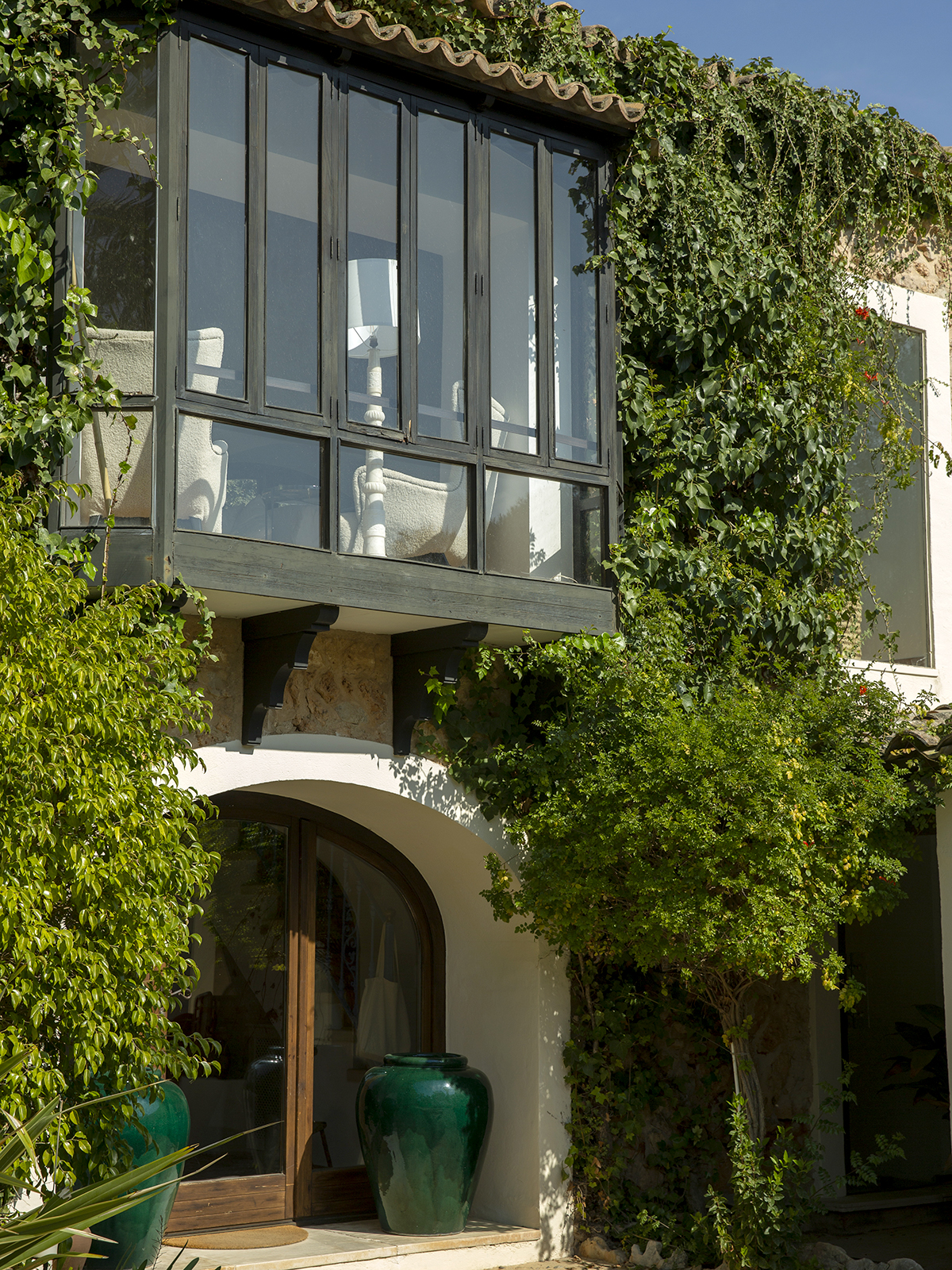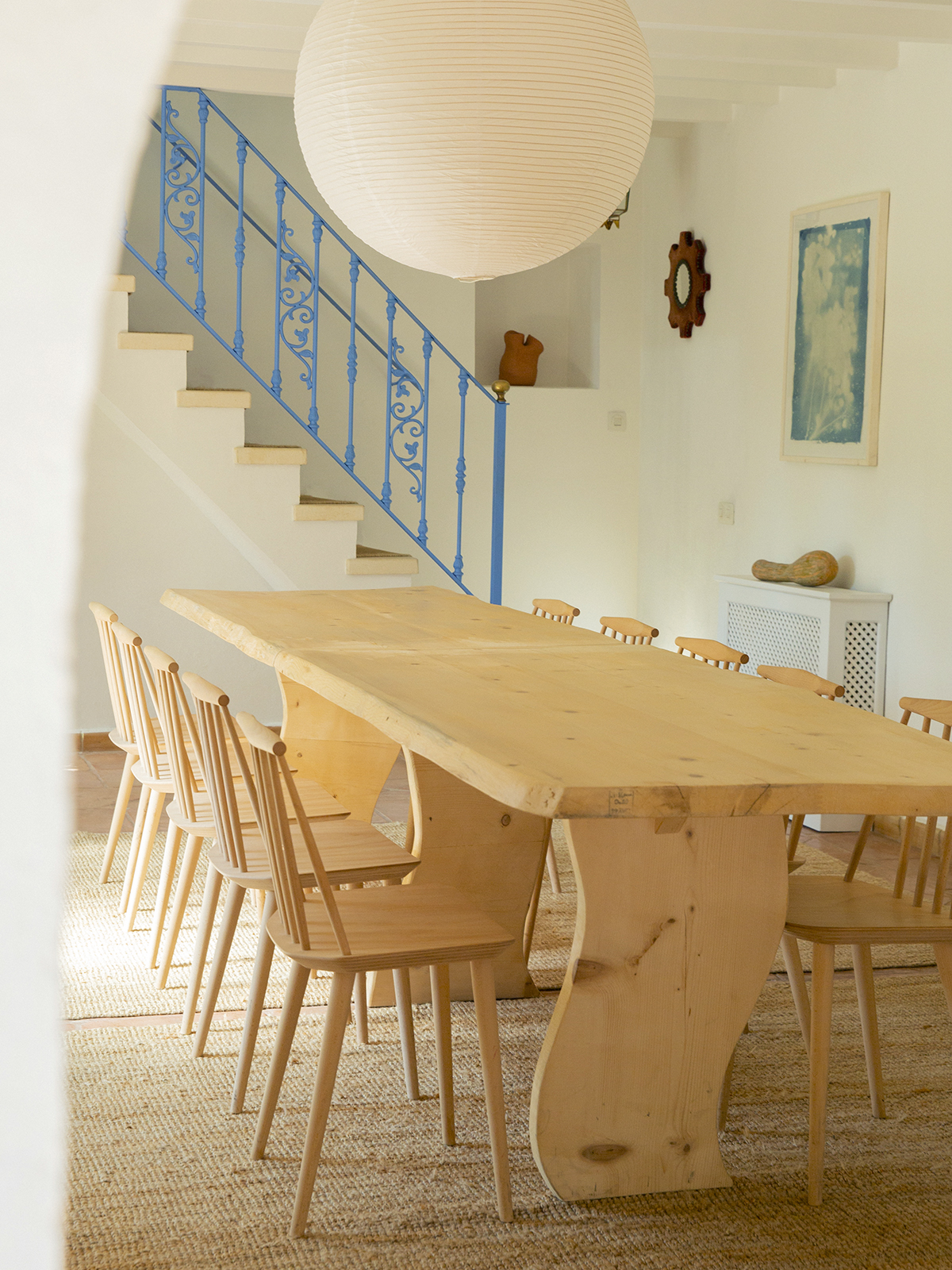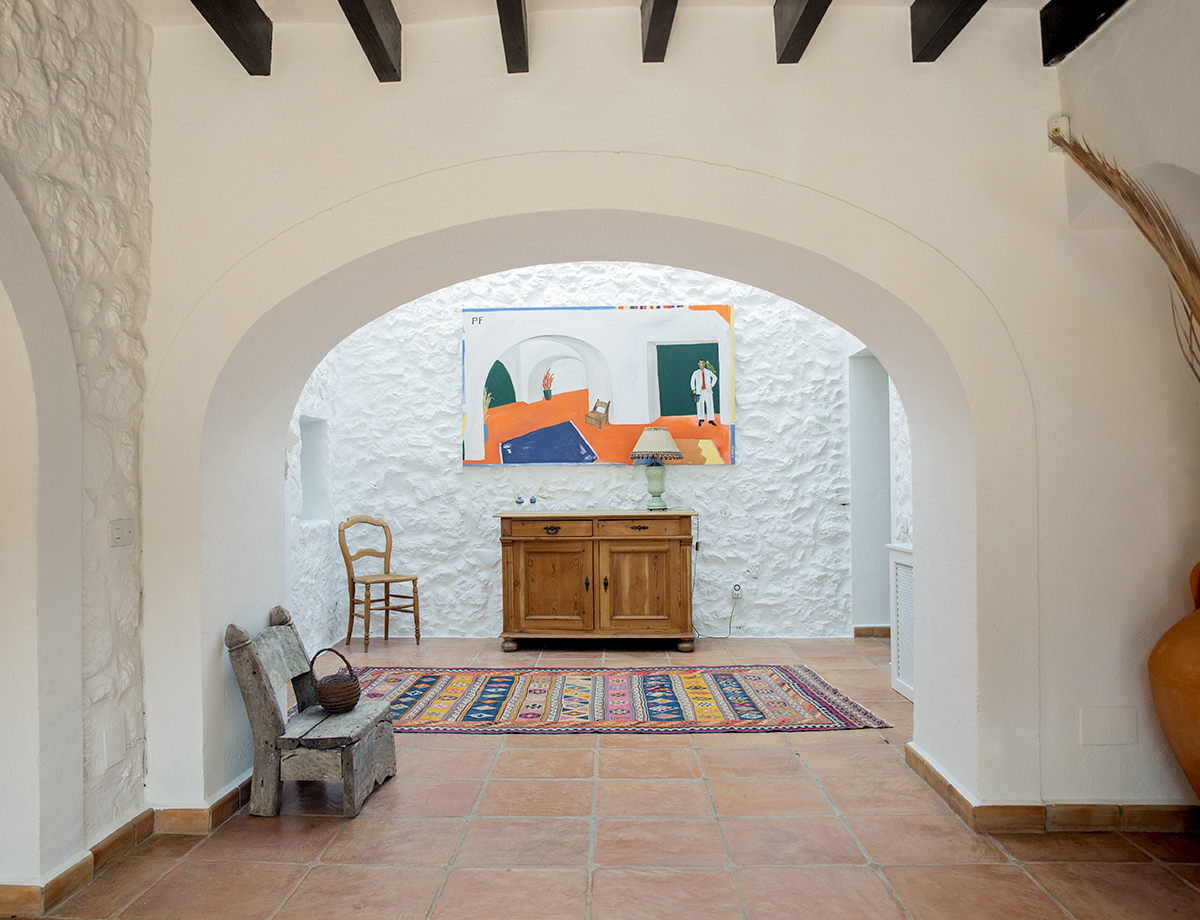 Tell us more about the house itself — when was it built? What do you know about the architecture?
We've always tried to find the original plans or find out who made it and when, but we never managed to. At one point there was an architect living here who made a bunch of changes, but apart from that, we have no idea. It's definitely not traditional Mallorcan architecture. It feels a bit like a labyrinth; it's not your typical layout. There are a lot of mixes and matches and add-ons. When architects visit the house they aren't able to define its style, and when you're here it doesn't feel like you're in Mallorca. Typical Mallorcan homes are quite square and have really small windows and thick walls, to keep the heat out. They're all made out of stone, with tiled roofs. It's possible our house may have started more Mallorcan but changed over time, with the large windows added later.
How and when did you decide to turn it into Casa Balandra?
In 2019, me and my sister were both living in London and started thinking about wanting to create a brand that felt like us. Our mom is American, from a Japanese mom and Italian dad, and our dad is Spanish but grew up in Belgium. We've always traveled tons, and we've been so fortunate. We never really felt 100% from Mallorca, or from anywhere else either. We wanted to create a brand that embodied this new culture that's multicultural, this new citizen-of-the-world thing. We named the brand Balandra, and started imagining shoes as the main vehicle, but quickly realized that wasn't what we wanted to do. So we started having supper clubs in our apartment in London, where I was cooking and my sister was hosting, and they were great.
Then my sister got a job in LA, and I still wanted to do Balandra, but in a proper space. So I thought, why not do it in the family home? My sister had left the house for boarding school when she was 16, and I had left when I was 18 to study in London, and then my parents decided to stay full time in Palma and rent the house out, so at that time, a family member hadn't lived here for around 9 years. Me and my sister contacted my best friend Cecile to join us, and me and Cecile moved here in February 2020 to start the project together. We started redoing the house just before Spain's lockdown happened, working on it and painting it. We had our first Airbnb client in June 2020. Airbnb is the main source of income for the house and funds our other activities.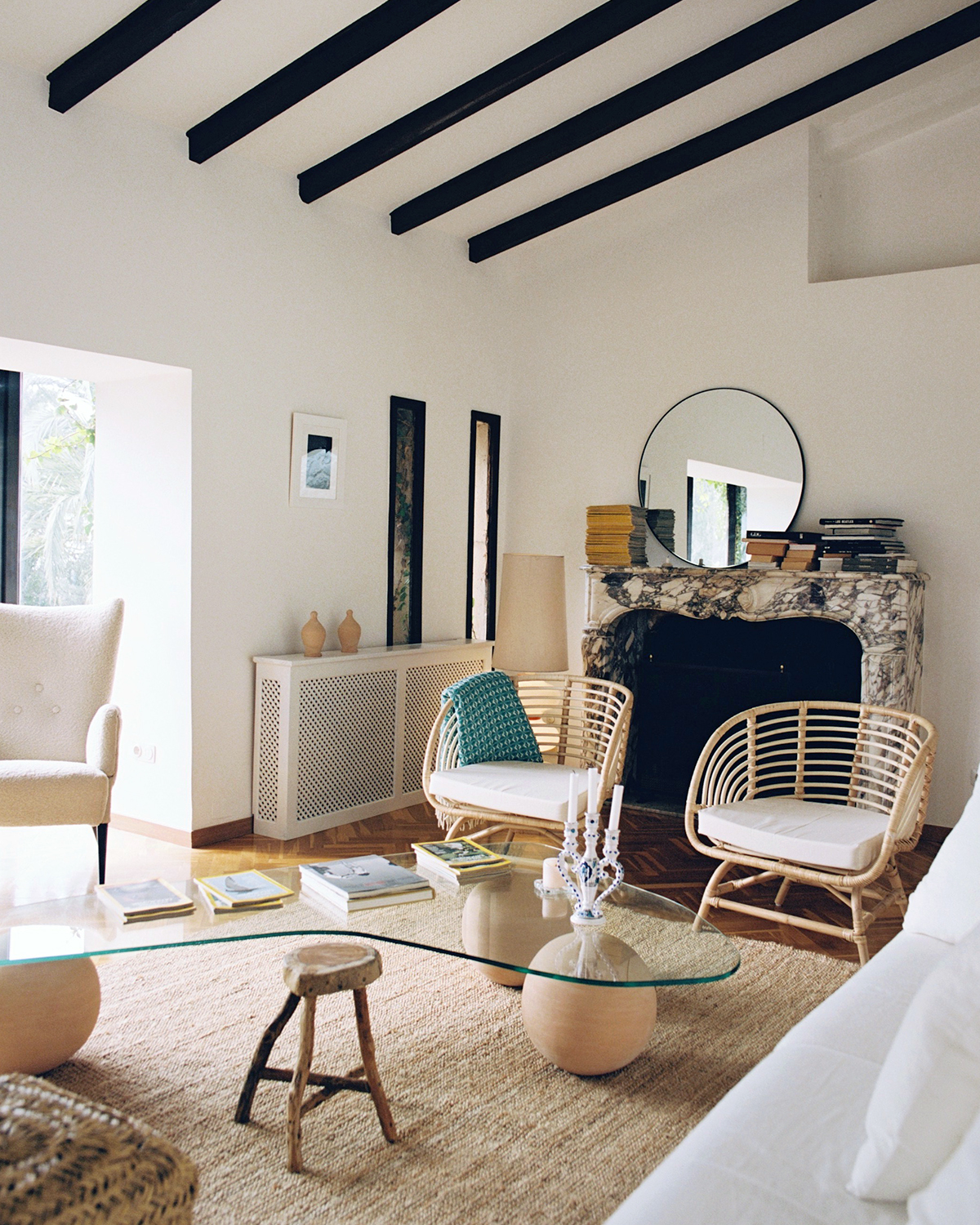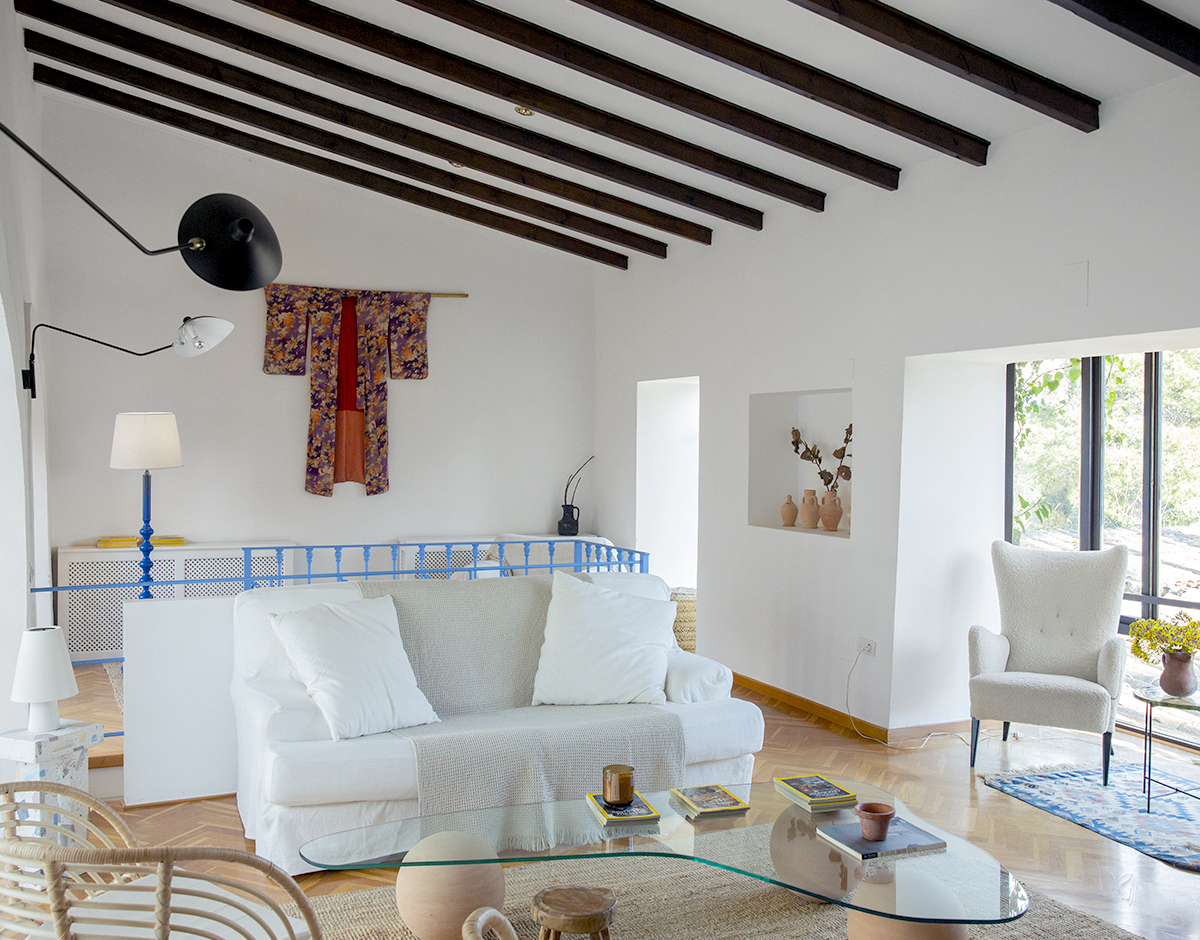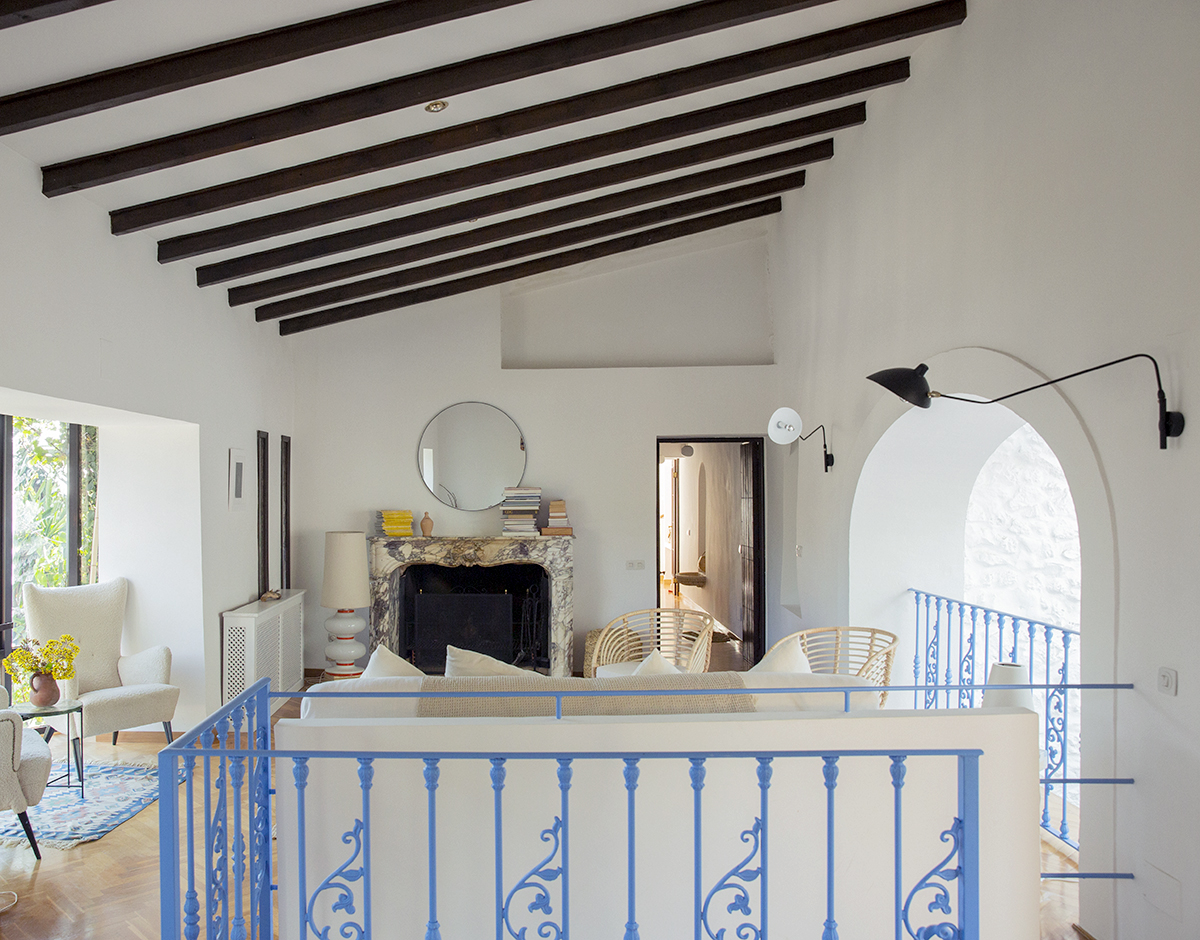 Why did you decide to list the house on Airbnb, and what has your approach to hosting been?
Airbnb was so easy. It offers more protection, more insurance, and low fees, so it made sense for us. I had used Airbnb all the time for my personal stays, so it felt like the best way to ensure that, even if someone didn't know our brand, they could still find the house. The only sad thing is that when we rent it, we don't get to be there to host in person, so we love when we can offer our guests experiences and either cook or set up the table — that feels more like us. Offering experiences was our gateway into being able to curate people's experience a bit more. We mostly offer dinners and lunches, and if you want to hire a musician, we organize that for you. We can organize a creative activity for you, or yoga, too.
A lot of our guests are groups of friends in their 30s. They go to the beach in the summer, but they stay in the house a lot too because it's so hard to leave once you're here, and so relaxing to lie by the pool. When we started hosting, we tried to think of what we would want if we were to get an Airbnb, and we wanted it to feel quite boutique-y and un-curated. That inspired us to start the shoppable element of the house, where we offer different brands and items you can purchase throughout, like a beauty bar, and a wine fridge stacked with natural wines from our friends who have a wine bar here. We once stayed in a place in Lisbon where every morning they left a bag at your door with fresh orange juice and fresh croissants inside, and those are the kinds of touches that make it special.
The original idea had been to have a bed and breakfast and be able to sell each room individually, so we could curate the experience of each individual customer, but unfortunately because of licensing we couldn't. We worked with the restrictions we had, and now we rent the whole house out on Airbnb in high season, and run artist's residencies the rest of the year.
What motivated you to add the artist residency program, and how does it work?
The artist residency side of the project came from my wanting to create a collaborative community of creatives. When I realized I wanted to start a residency, I wanted to gain more experience, so I worked for Semaine in Paris and then worked at the Villa Lena residency program in Tuscany. Our month-long residencies are based on forming community, and how that can transform an artist's work long-term even more than just working in a studio for a month. It's multidisciplinary, though so far we've had mostly painters and photographers. They share a house with the other artists and everyone ends up cooking for each other, and we have one family meal a week that we cook and make into a special event. The residents get a studio space that's very basic and rough, which means they can get dirty in it, which I love — I like the idea that you can throw paint around, or clay. The program is very new, and started very organically, and on a very small budget. But you leave feeling that you have a new family.
Our residents are asked to done one of their artworks when they go, so as soon as you walk into the house, we have a huge painting by Joshua Perkin that's based on the house, and it's the first thing you see. We've got beautiful pieces by Laila Tara, this incredible Persian artisan who does miniature paintings. We have a black and white painting by Klas Herbert, a textile artist who paints the idea for his textiles first, and one piece that really stands out is by Will Thompson, who drew a picture of the room he was staying in, and we put his drawing in that room. They all really tell a story, and you can really sense the artists that have been there when you walk in the door. You can feel the creative energy.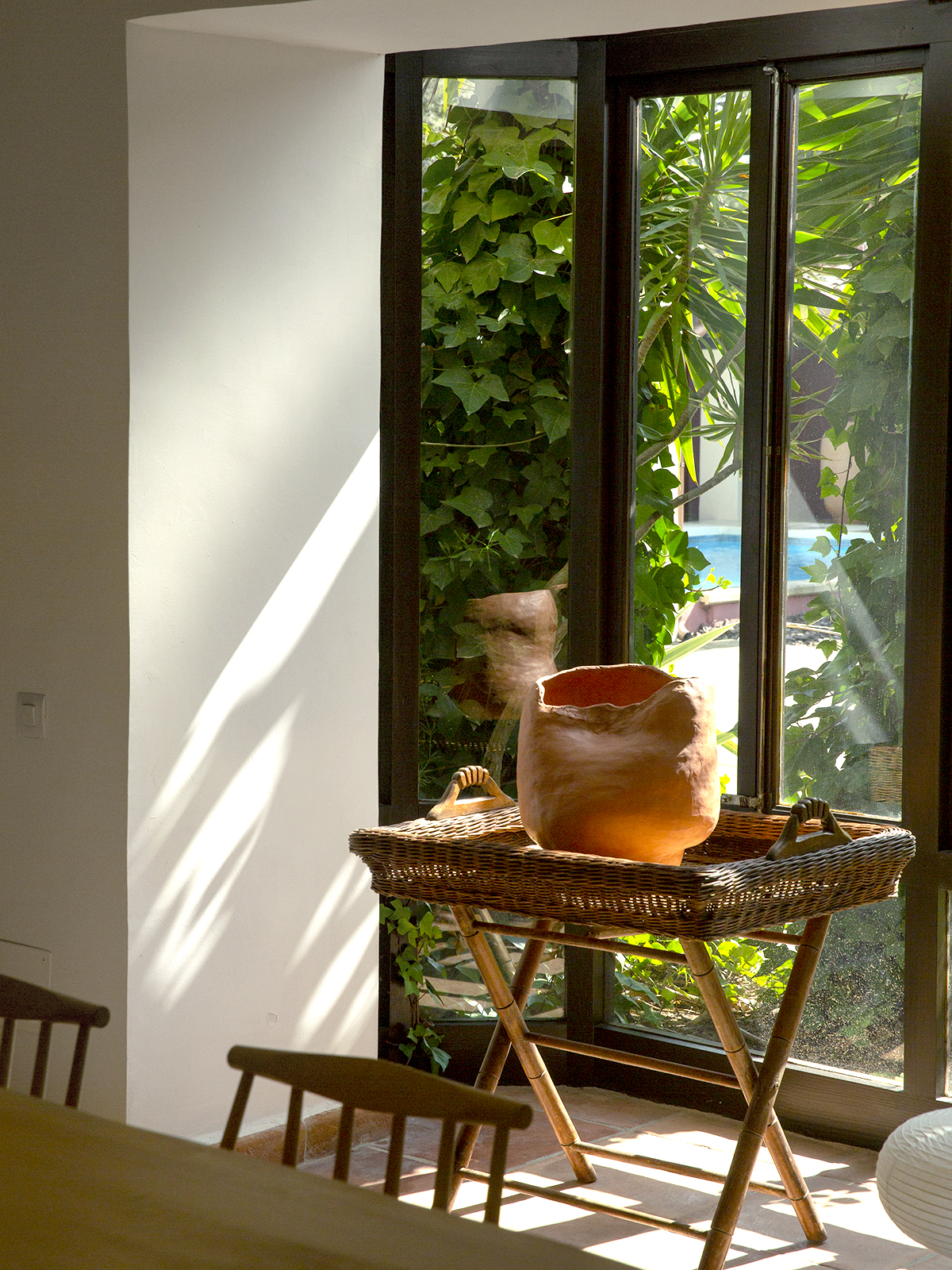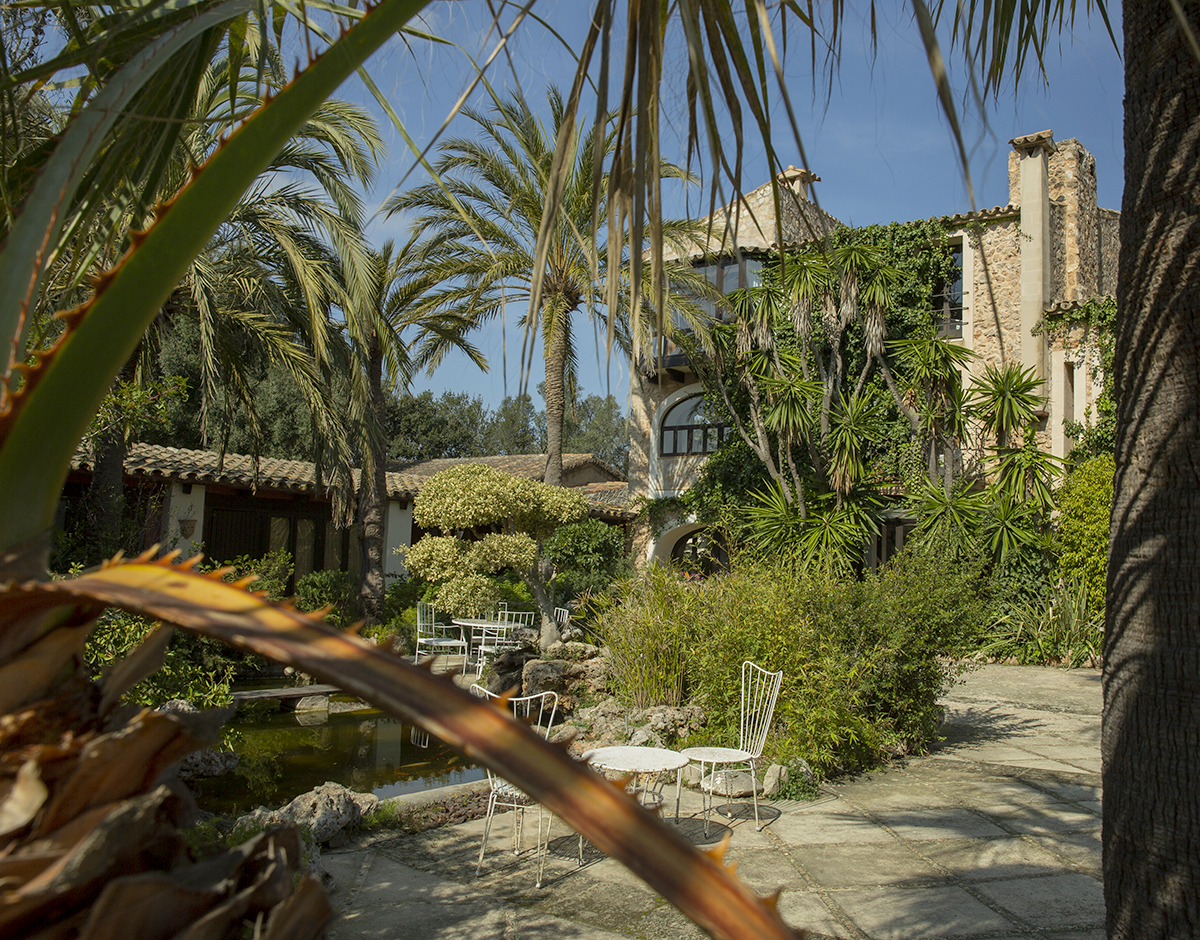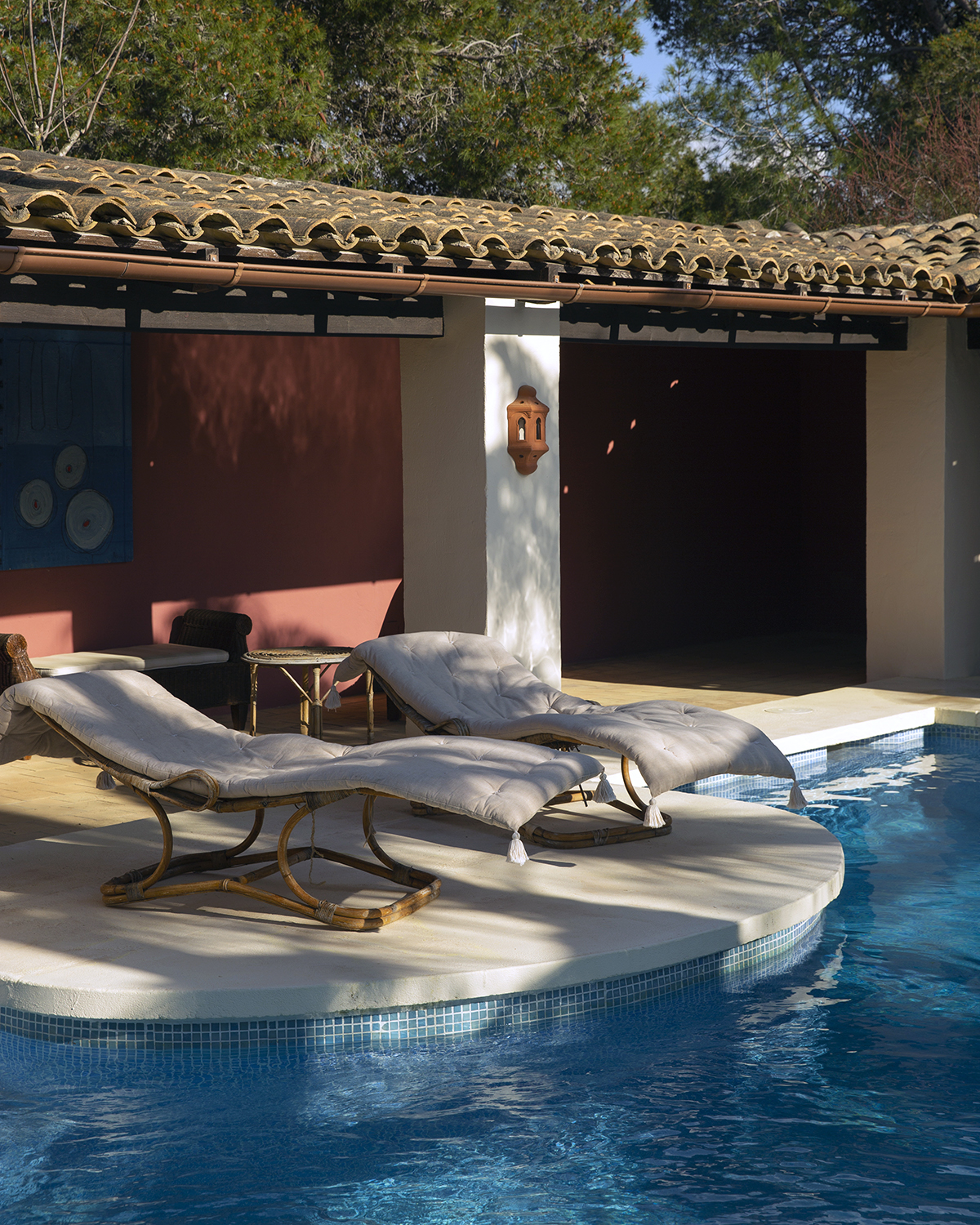 Tell us about the interiors of the house — what did they look like when you got back, and how did you go about reworking them?
When I was growing up in the house it was really lavish, with a lot of carpets and tapestries — more suited to the style back then, in the late '90s. But when my parents moved to Palma and started renting it, they didn't want anything of theirs that was nice in the house, so they took everything with them and replaced it all with things from stores like Ikea. It lost a lot of its charm and its homey feeling. So when I came back in, there was less of a feeling of nostalgia, which was actually good. It's much tougher to remodel a house you grew up in and get rid of the things you grew up with. Instead it was a blank slate. The house needed people living in it to put love into it, and we needed to get to know it again. We also needed to create a space that was still blank enough that when artists came, they had a space to imagine their work inside it.
Me and Cecile worked on it together on the interior, and we have very different tastes — she loves white and beige and earthy, beachy, simple vibes, and I'm a bit more eclectic; I like to add a pop of color. There's still so much to do to be honest — it's a work in progress. But we created what it is today. Cecile is no longer involved, sadly, so now I'm more inclined to add in some crazy stuff, now that I have free reign.
When we started decorating it, it was lockdown, so it was tough to get furniture from the markets like we'd planned to. But we still found vintage furniture online, and had prior contacts from the markets who were selling their stuff from home. Some of the original pieces of furniture that were left in the house needed to stay there, because of what they represented for me, but the rest was a mix of vintage and new. In the dining room, we got our chairs from Hay, and we made the dining table. I designed it and the caretaker of the property, who's incredible with wood, fabricated it. I also designed the glass table upstairs, and I had a ceramicist make the round balls that are its feet and a glassmaker cut the top. I definitely want to keep creating my own furniture, I love it.
The most important piece that we kept from my childhood is the antique green cupboard in the kitchen, which is painted with flowers. Growing up we spent all our time in the kitchen. We used to do our homework there, and have there, lunches, and all our birthdays there. It was the heart of the home for sure. And the green cupboard was the heart of the room — there are photos of me and my sister as kids inside its cubbyholes. I don't know how we fit in there, but we did. It still feels like the most relevant piece of furniture in the house.
Do you ever feel nostalgic for the way the house used to be?
One year into the project, I started feeling really nostalgic about it. Mostly because of becoming an adult and missing the idea of being a child, of being there with my parents when everything was light and easy. It also came along with starting my own business, that pressure and that weight. I miss playing in the garden and not worrying about anything. Also this Christmas was the first one we all spent here since it became Casa Balandra, and it felt so different — especially to my mom, who doesn't feel like she owns it anymore. She poured her heart and soul into making it a beautiful home, and she loved it, and so that was that was a bit hard for her. It's a new era here.
For me, one of the first nights after I moved back, during lockdown, I was by myself and it was so creepy to me. I got scared. You're in the countryside, in this big old house that makes noises. But when I was growing up here and I found myself alone, I was never scared. It was this weird moment of oh wow, it doesn't feel like my home anymore. But now, almost two years later, it definitely does feel like my home. I spend so much time here.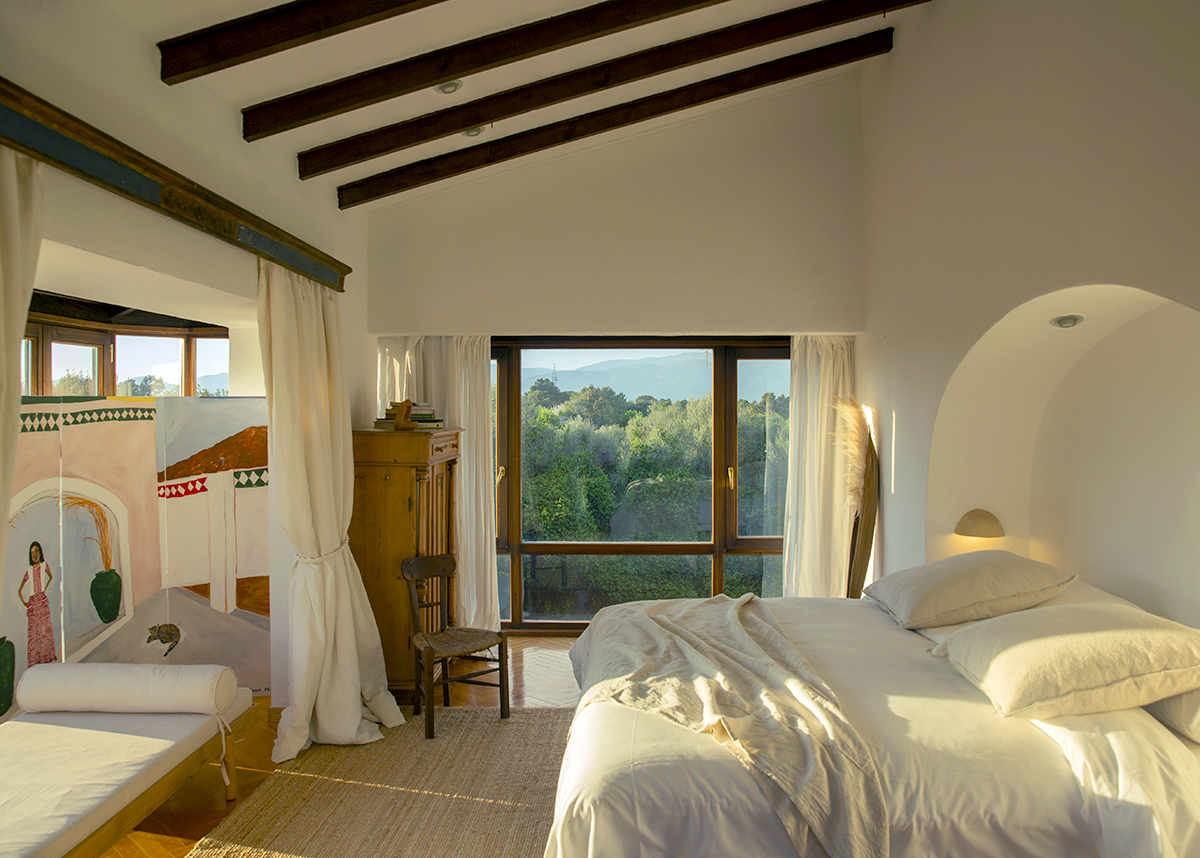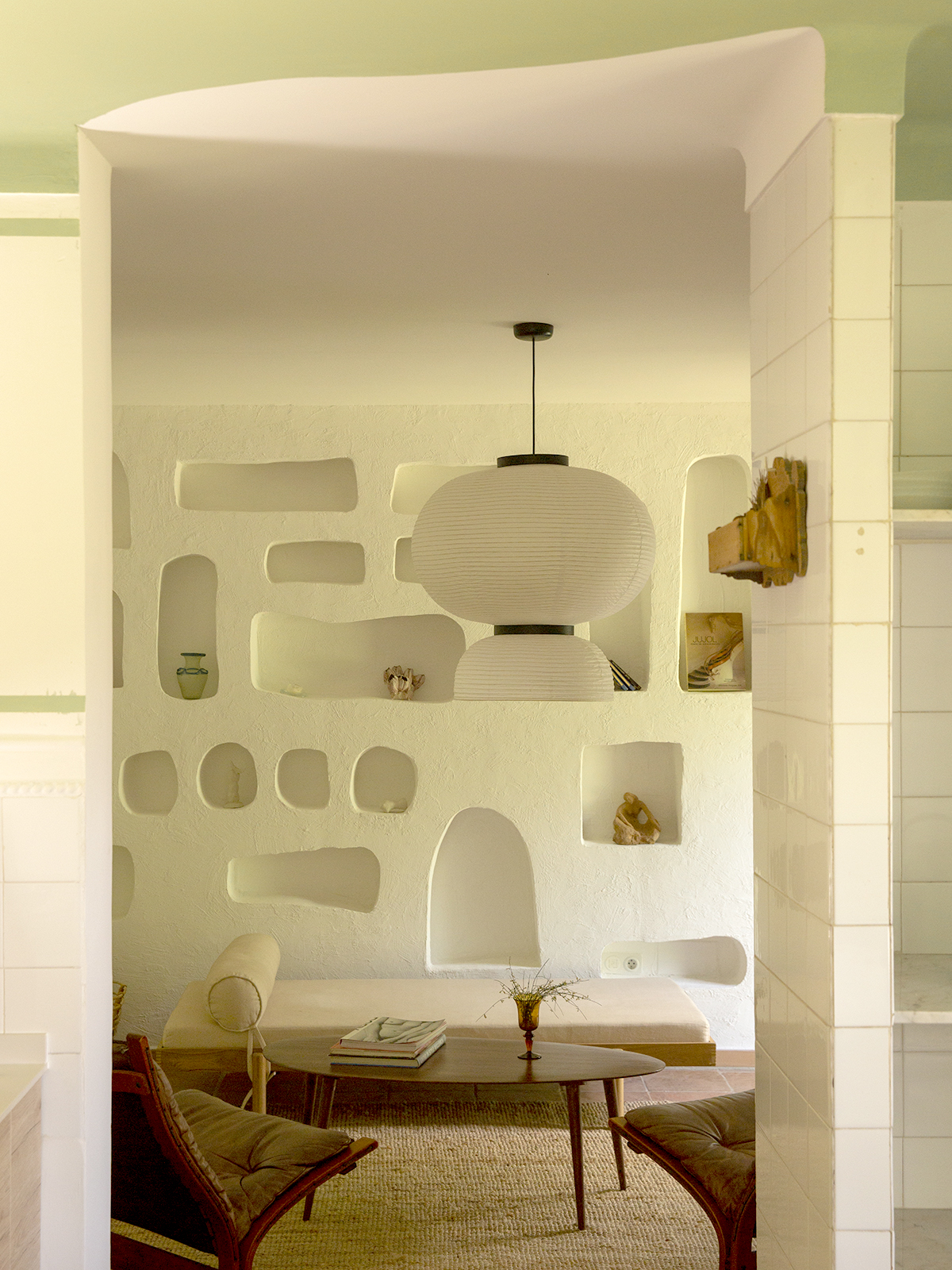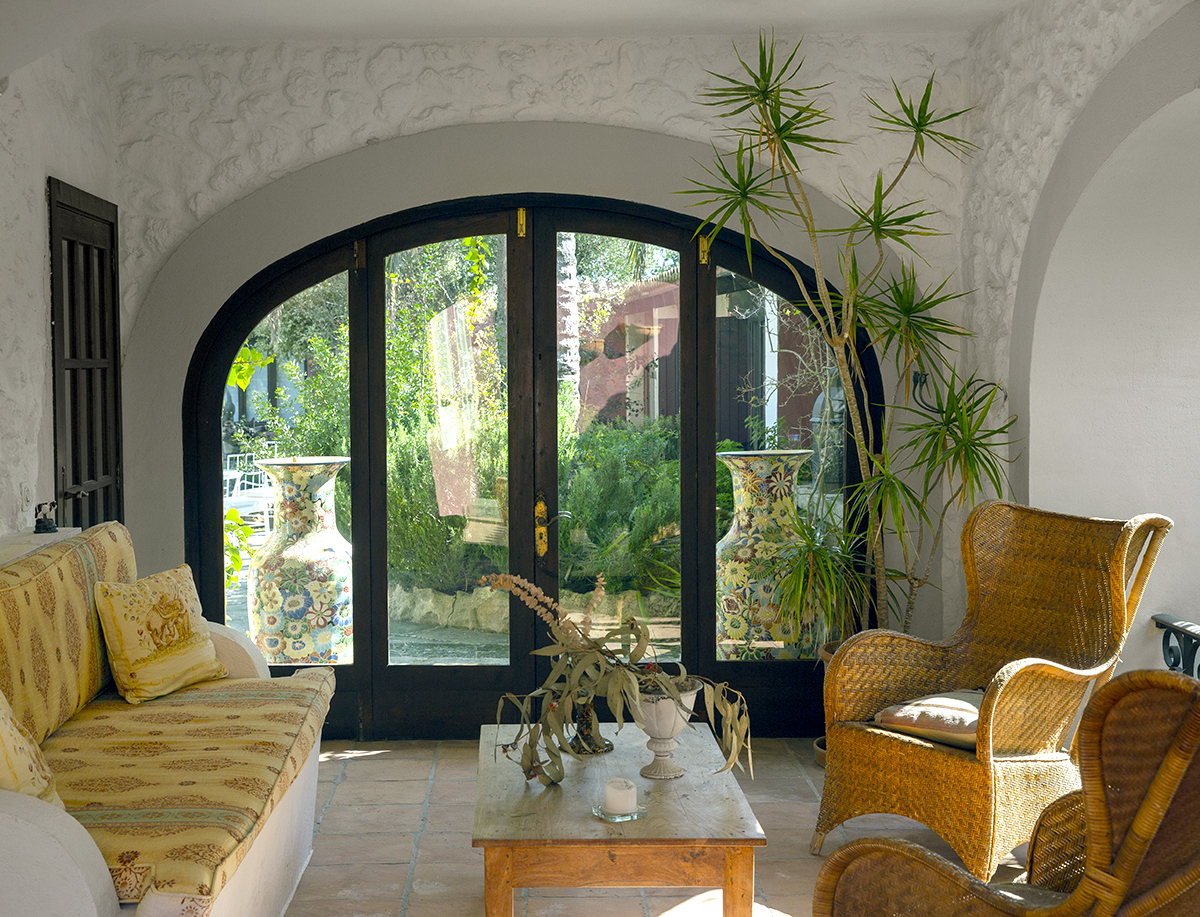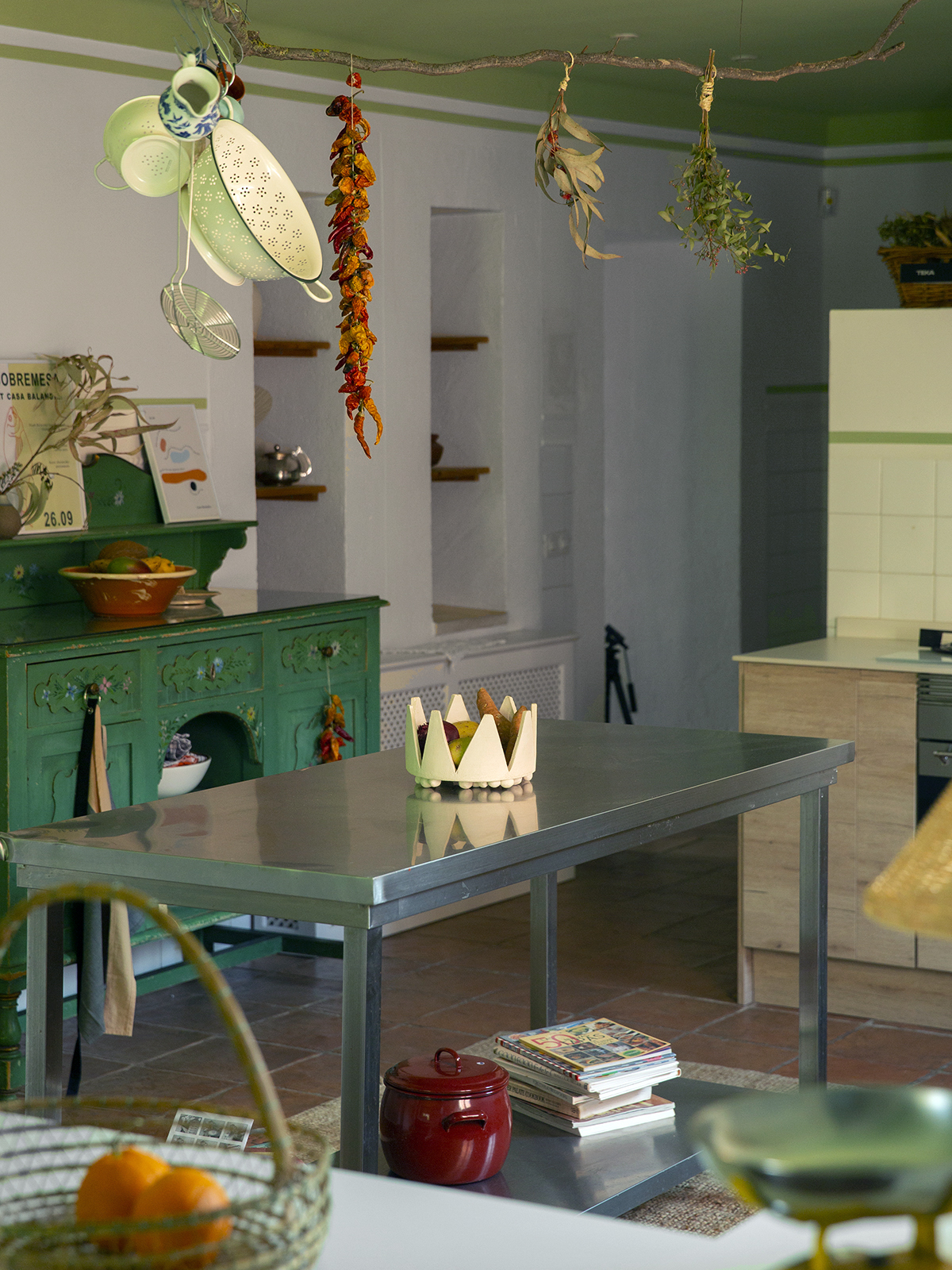 Two years into your first business, how are you feeling about it? Are you enjoying hosting guests?
My whole family comes from a hospitality background, so it's not far from my knowledge. My mom quit her job when she had us, but my brother works for Sage Hospitality in the US, and my dad worked in marketing for a huge hotel group called Melia. He dedicated his life to it. For him it was really exciting to see my form of hospitality, because it's very different to what he practiced; he was working in a very traditional company. Back then Airbnb wasn't around — when it launched it was revolutionary and gave everyone the opportunity to become a hotelier. He understands that part, but he doesn't really understand the residency aspect of what we do, or the way we host, the way it's almost like an open house. But it's good to have his help and advice. He's very hands-on with Casa Balandra. He loves helping with check-ins. I didn't realize my parents were going to be as involved as they are — it happened organically — but obviously in the end it's their house, and we're just using it as a doorway to build a brand.
I love hosting. It gives me a lot of freedom to work on other things. I'm working toward a bigger Casa Balandra, where I'm able to run it more like a hotel and rent individual rooms. But I'm also working on doing more events, and I'm working on an online shop. We have the shopping element on-site, but I want to give everyone access to it. It will be mostly homewares and table-related objects, both sourced by us and made in collaboration with artists. We'll create a brief and an artist will respond.
Casa Balandra is meant to be a lifestyle, a feeling — it can be embodied in so many different ways and aspects of life. The idea is to keep expanding it. Without the Airbnb income we couldn't do all the rest. It gives me the flexibility to work towards those things, which is super exciting. ◆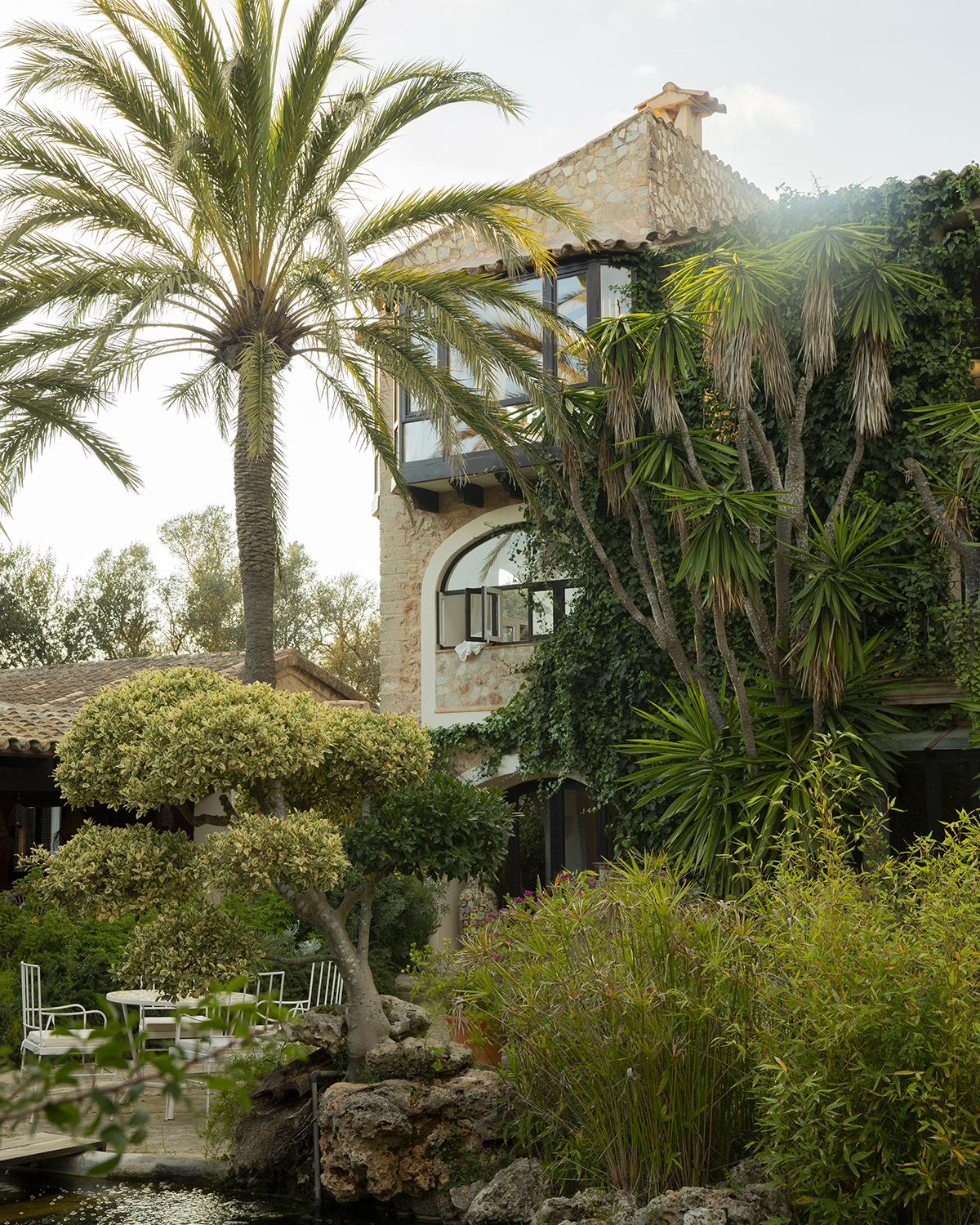 This post was sponsored by Airbnb, but all thoughts and editorial content are our own. Like everything at Sight Unseen, our partner content is carefully curated to make sure it's of the utmost relevance to our readers. Thank you for supporting the brands that support Sight Unseen.