11.15.21
13 of Our Favorite New Design Studios From Edit Napoli
Late last month, Edit Napoli, the independent fair that brings together designers, artisans and small-scale producers, returned to the center of Naples for the third year. More than 80 exhibitors were in attendance, at both the main fair house in the 13th-century cloister Complesso San Domenico Maggiore, as well as scattered across the city — in a private library of a Renaissance philosopher, the historic city archives, an 18th-century villa that was once the king's hunting lodge and at the famed Teatro San Carlo, one of the oldest and most impressive opera houses in Europe. We were lucky enough to travel down to Naples for the event, so here, in no particular order, are our 13 favorite projects from the fair.
Stamuli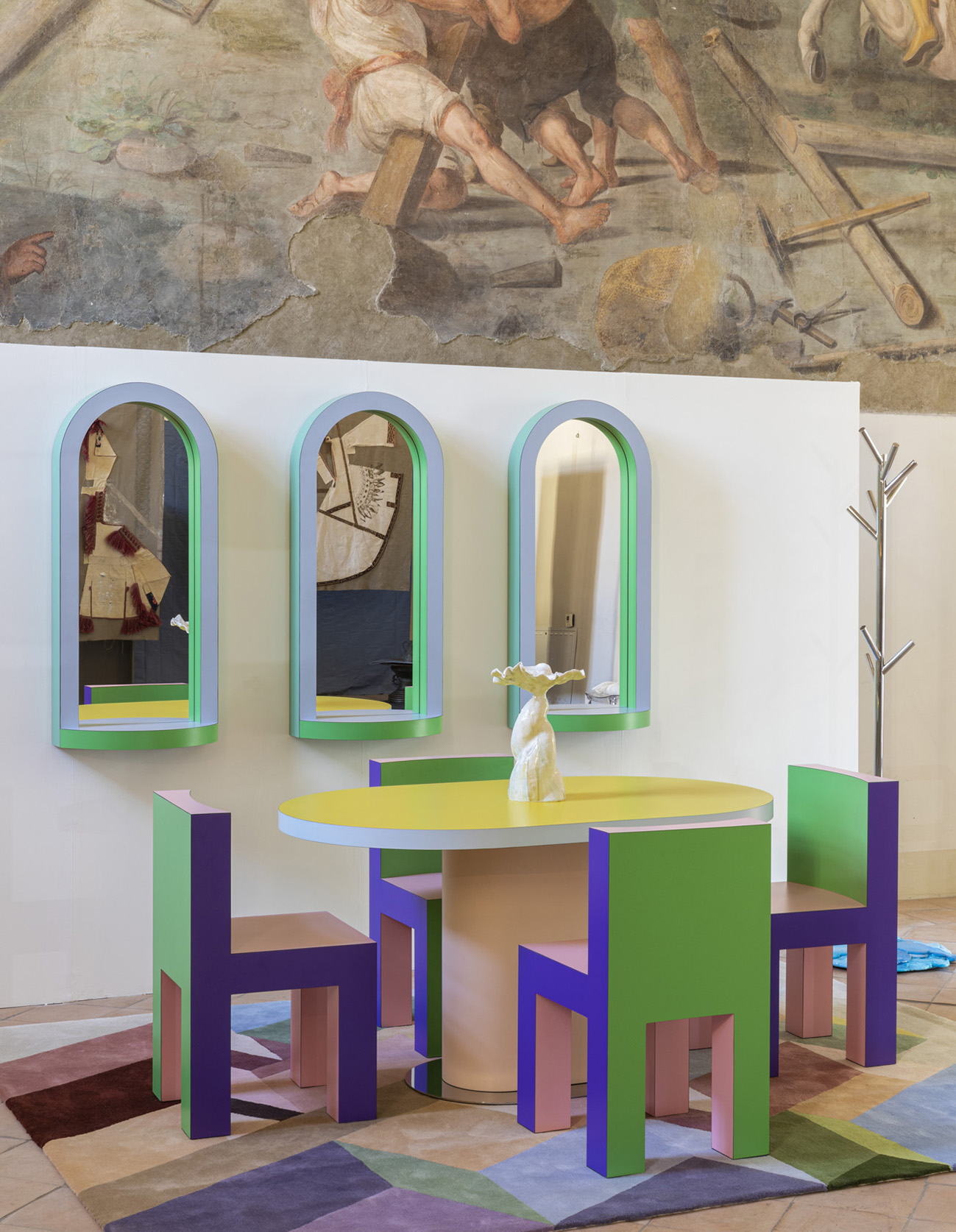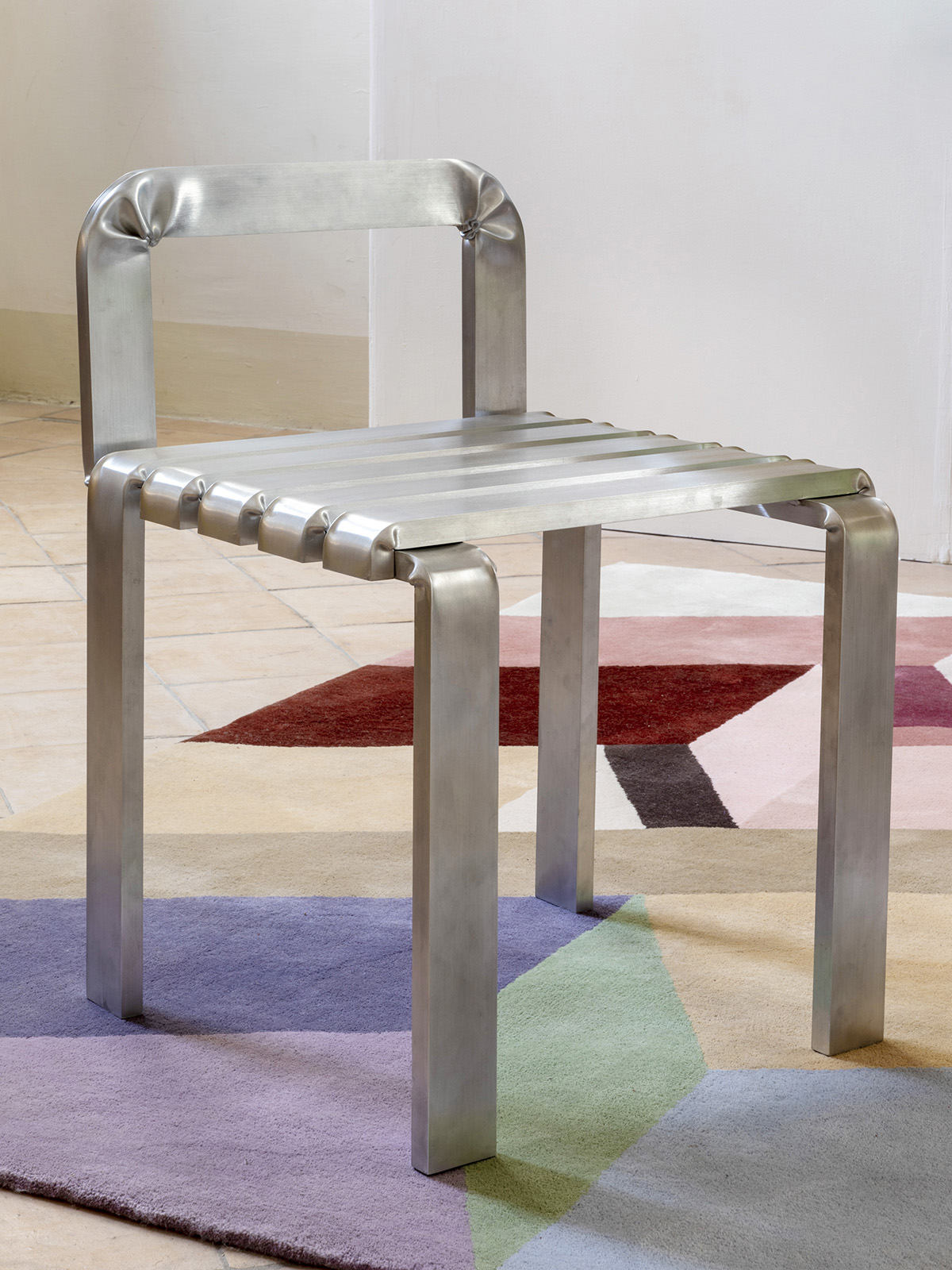 Stamuli, the Italian-Swedish studio you may recognize as the designers behind many recent Acne, Ganni, and Alexander Wang shops, came away from the fair as the all-around winner, and it's really no surprise. They brought with them an extremely cool collection: a color-blocked set of table, chairs, and mirrors (easily the most Instagrammed object of the weekend); their Unstressed Chair formed of bent aluminum bars; and an aluminum coat rack that looked as if it were melting into the ground.
Alexander Kirkeby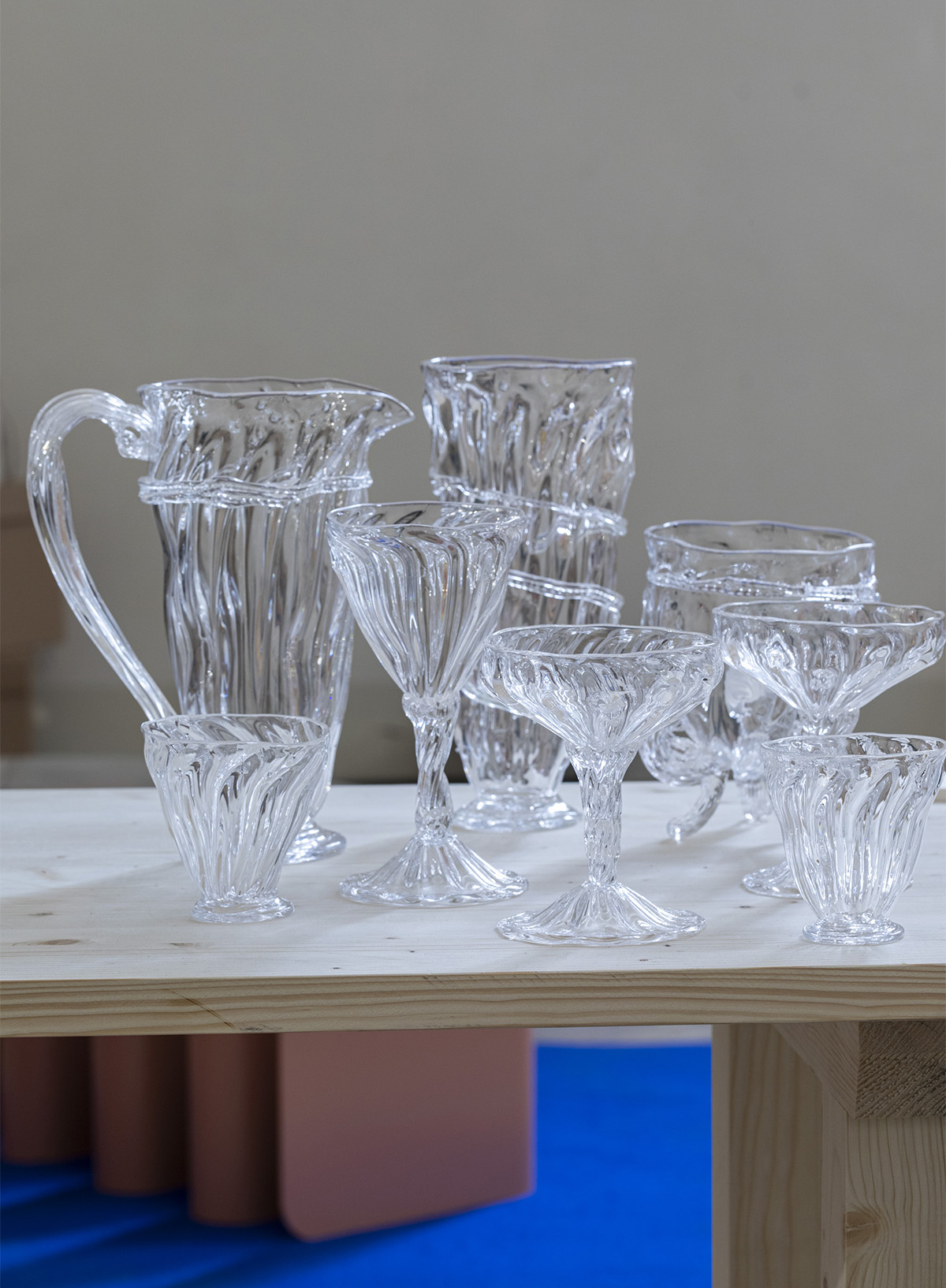 We recently featured Danish glass designer Alexander Kirkeby in our write-up of the recent Ukurant exhibition in Copenhagen, so we were pleased to finally get to see his work up close in Naples.
Studio Notte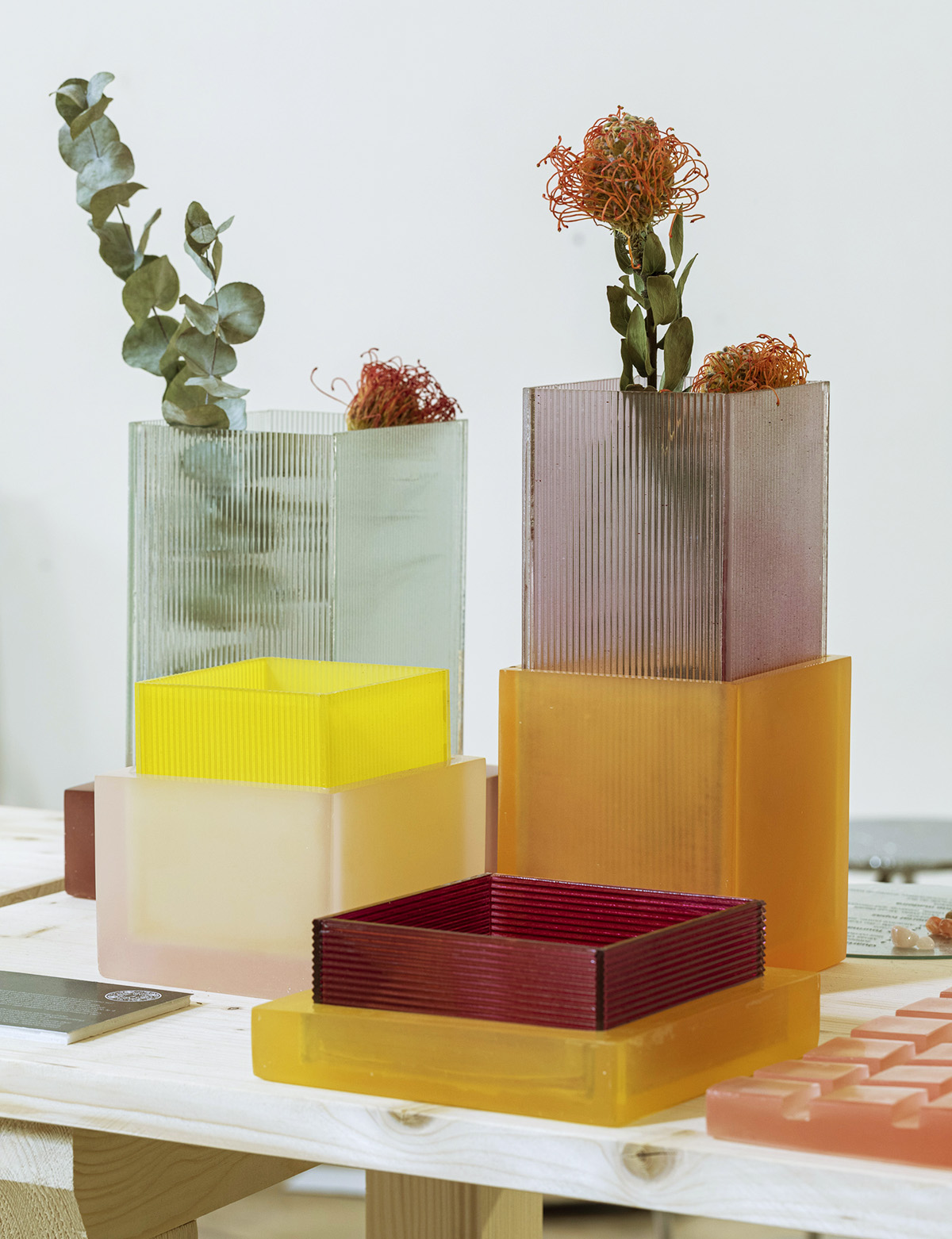 Milan-based Studio Notte's Berab collection was inspired by pink quartz, tourmaline, imperial topaz and Madeira citrine, precious stones found in Brazil where co-founder Camila Campos hails from. The pair, which also includes Milanese designer Luisa Alpeggiani, experimented with different glass finishes in designing the vases, which contrast color and texture in a really pleasing way.
Federico Pepe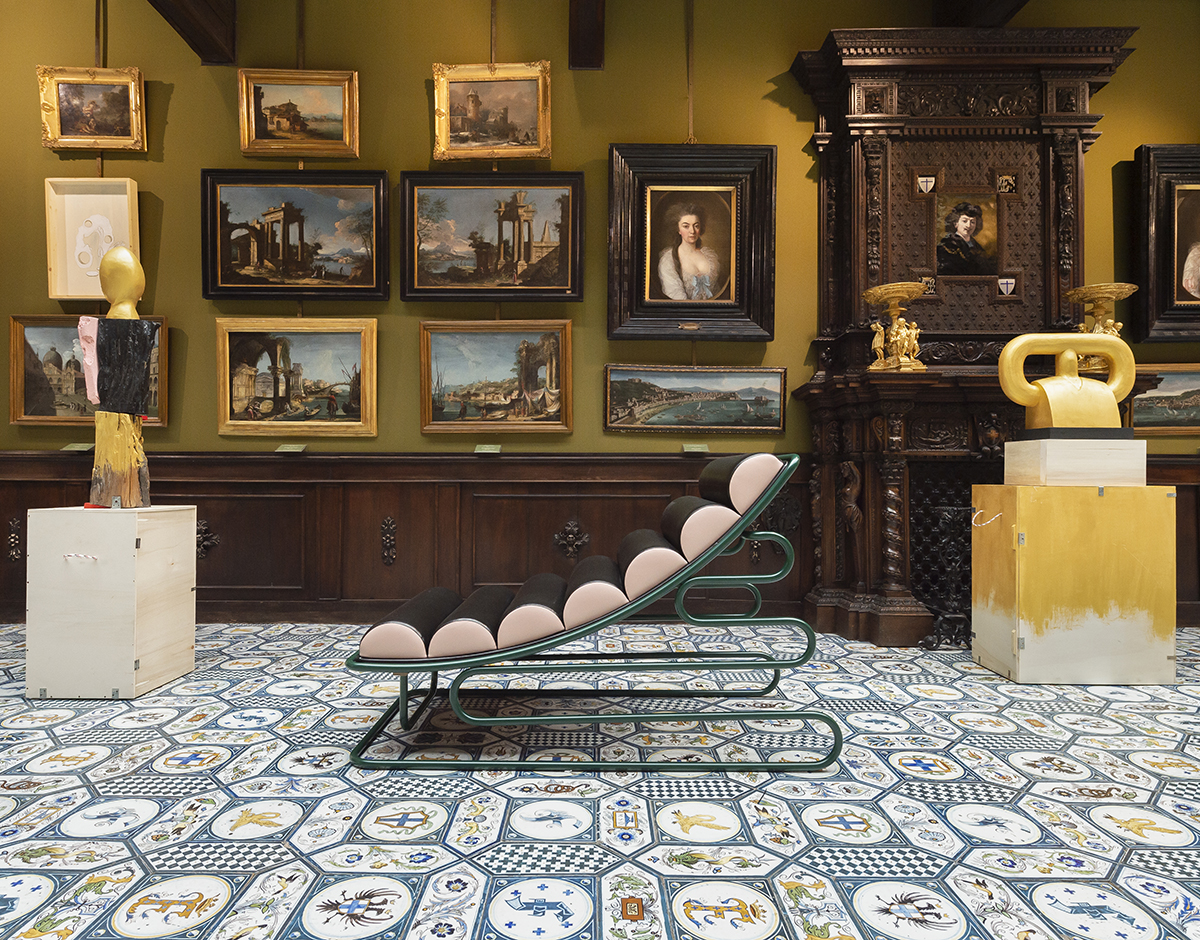 Probably the most fun part of the entire Edit Napoli fair is Edit Cult, which takes advantage of Naples's grand historic venues to host monographic exhibitions. My personal favorite was Chest'e, an exhibition of new work from Federico Pepe curated by Federica Sala, which was installed within the Gaetano Filangieri civic museum, a Baroque private library that somehow perfectly matched's Pepe's colorful, character-driven sculptures and furniture.
Aufgabe Null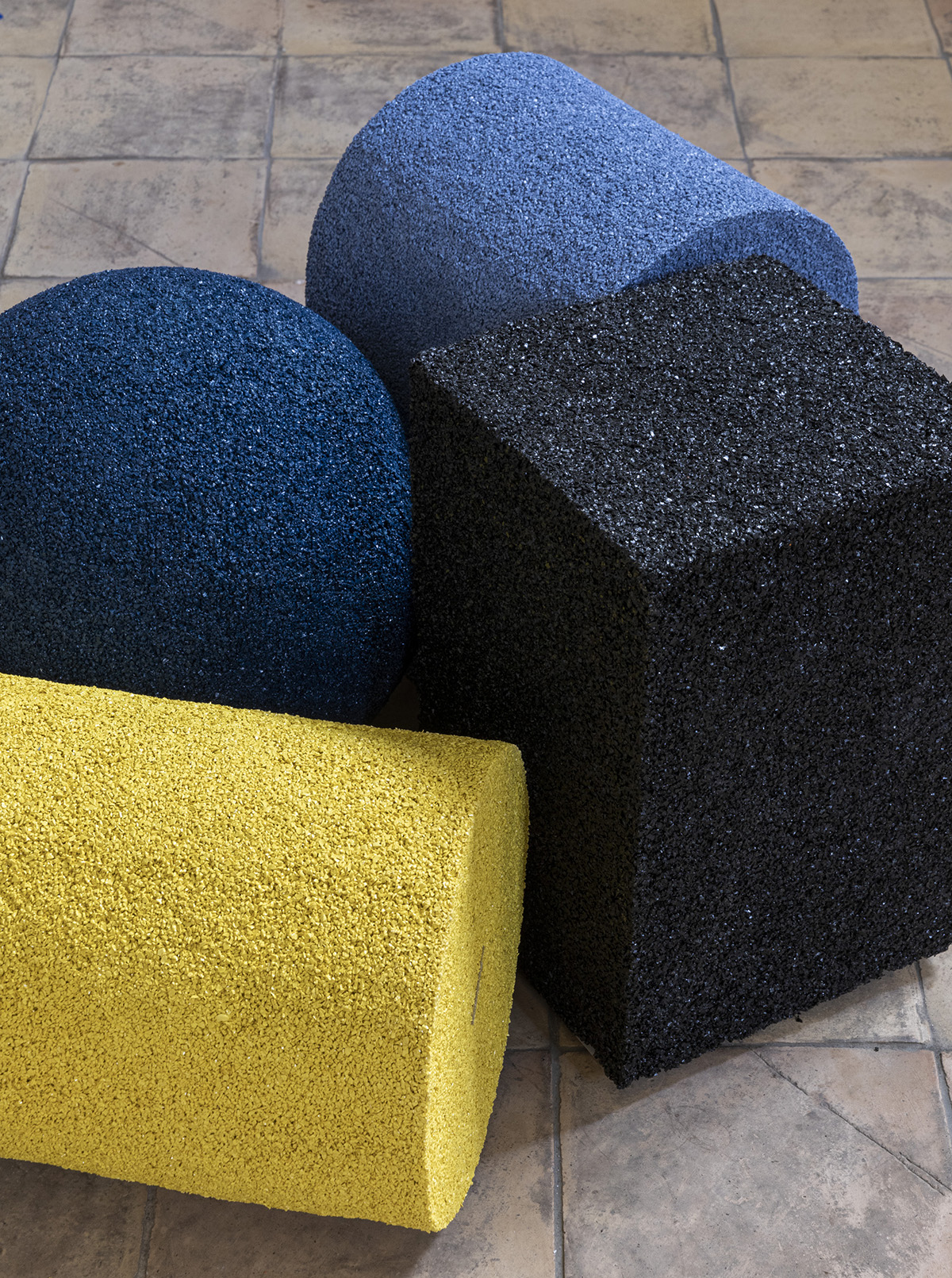 We loved the playful shapes and bold colors of Berlin-based studio Aufgabe Null's objects, which can be used as stools or side tables. Each piece is made of the same rubbery granules, normally composed of shredded tires, that one finds covering the ground in children's play areas as a way to absorb the shock of falls. Null's goal with the project is to further expand the recycled material's uses and find ways to incorporate it into interiors in a more meaningful way.
Forma&Cemento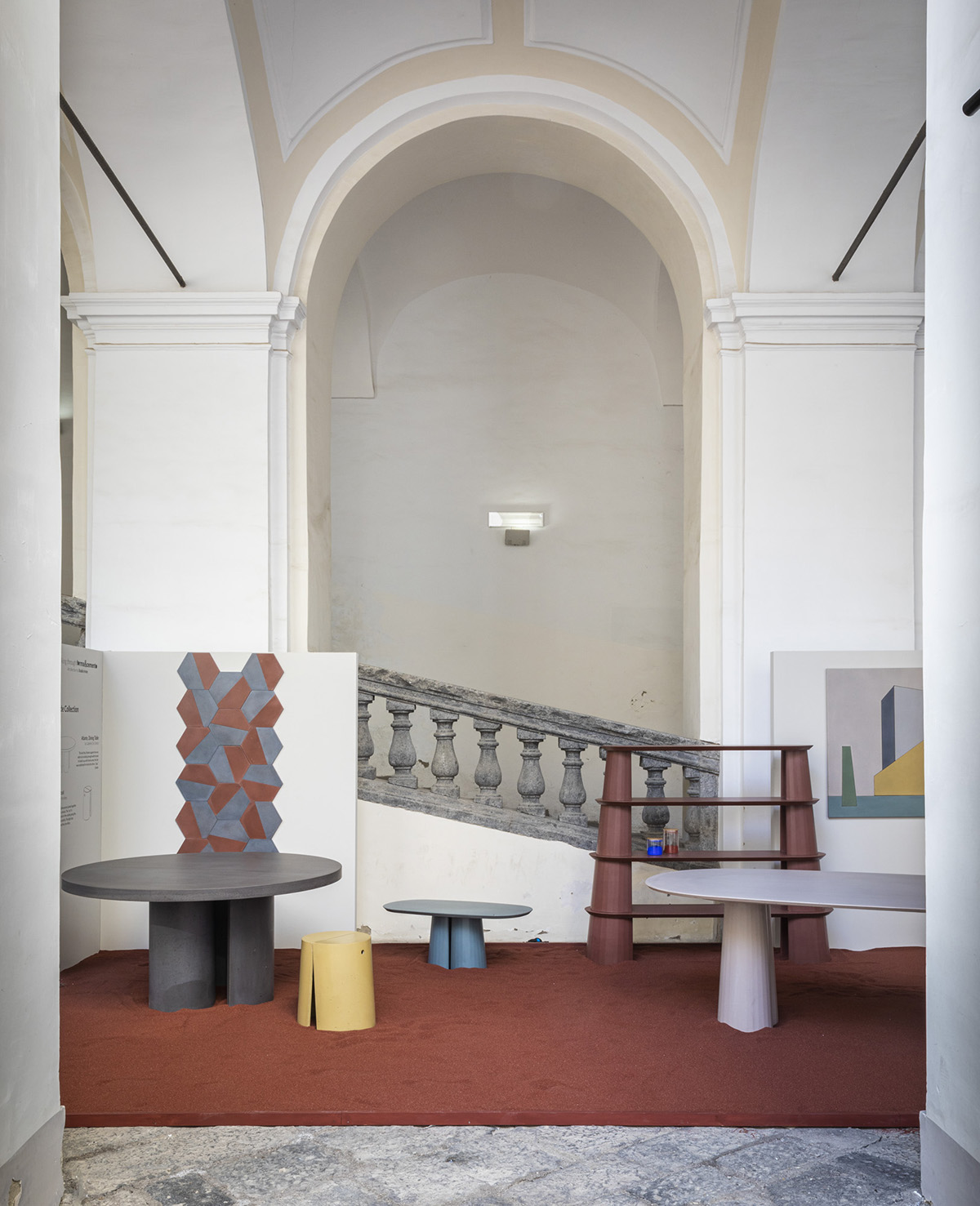 Italian brand Forma&Cemento, which works primarily with concrete to create objects and furniture, collaborated with Studio Irvine on a new series of tables, chairs and shelving.
Medaarch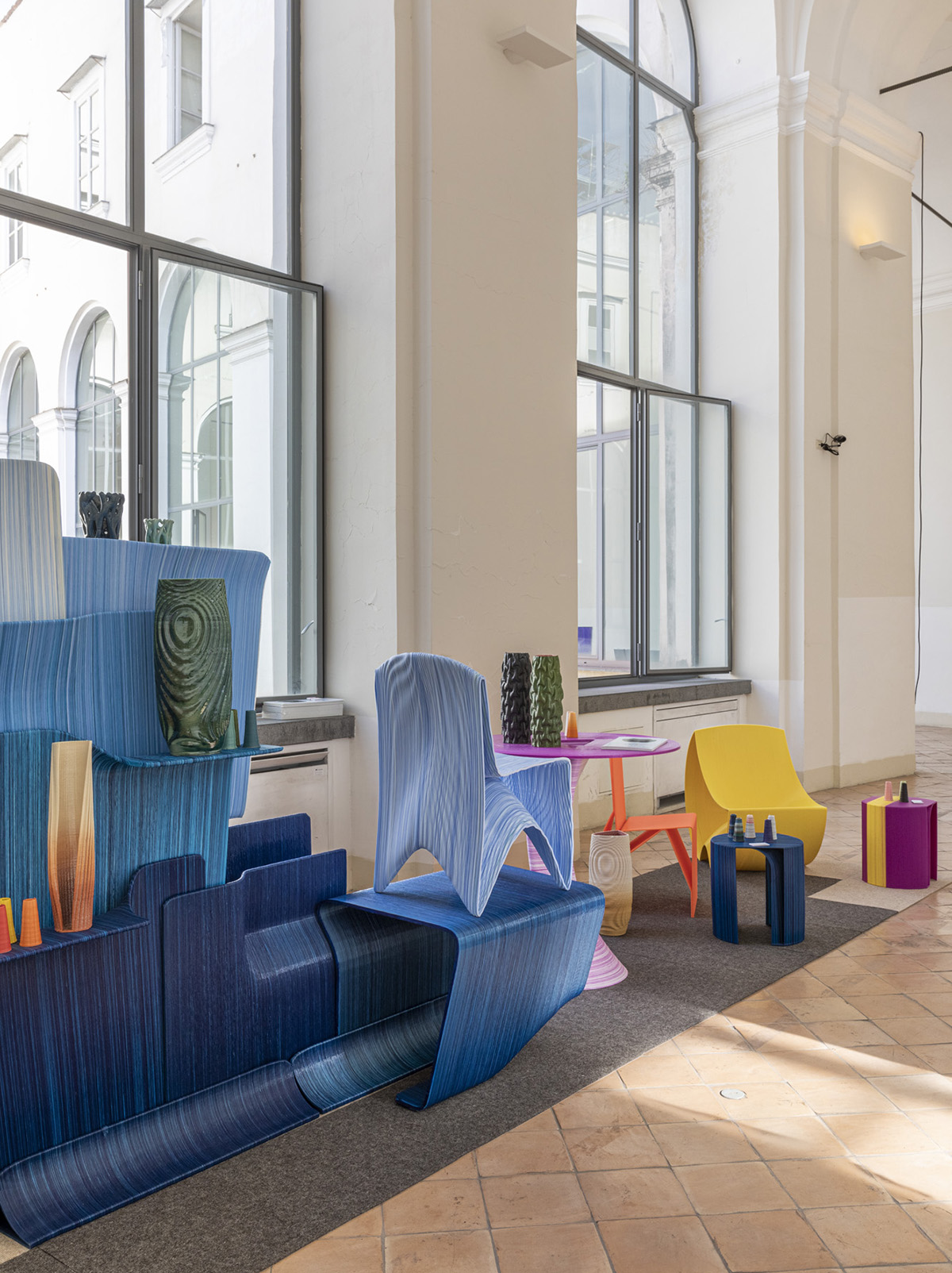 Medaarch, a digital fabrication studio, brought with them some fun, colorful 3D printed furniture that ended up being a hit with the kids in attendance.
Julia Chiaramonti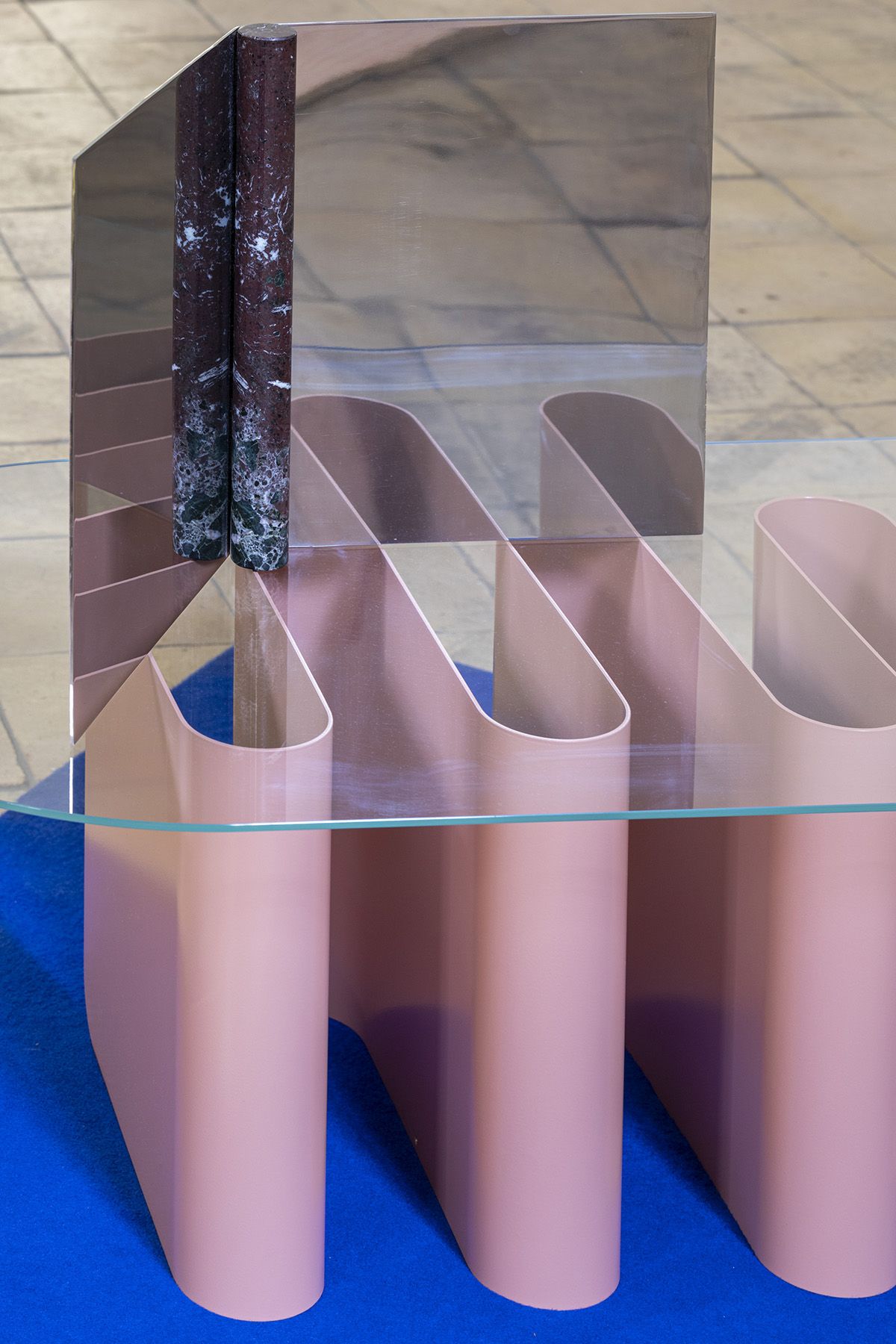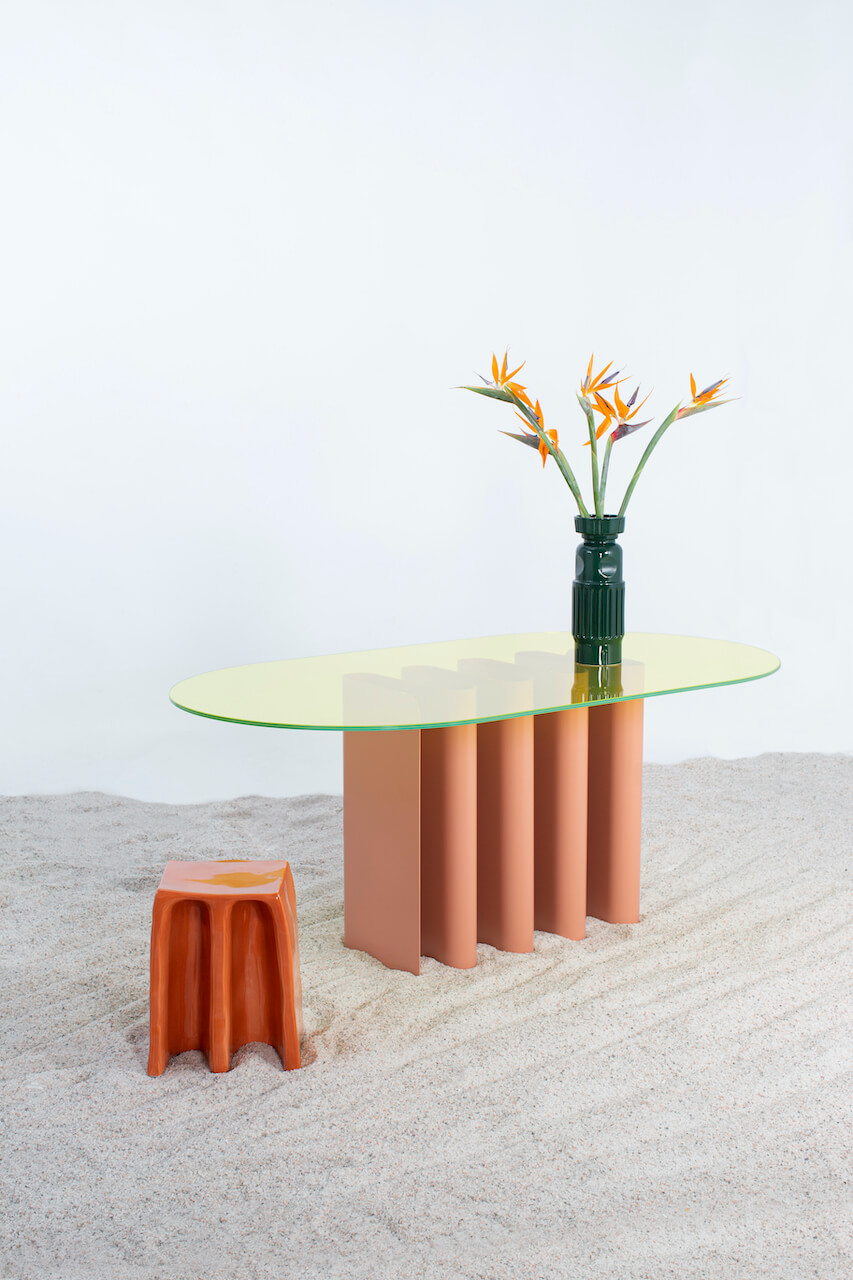 It was our first time coming across French-Italian designer Julia Chiaramonti's work and we were totally impressed with it. Here squiggly-based Tavolino2 made of epoxy-coated stainless steel and tempered glass in collaboration with Pulpo Products is definitely up our alley.
Atelier Malak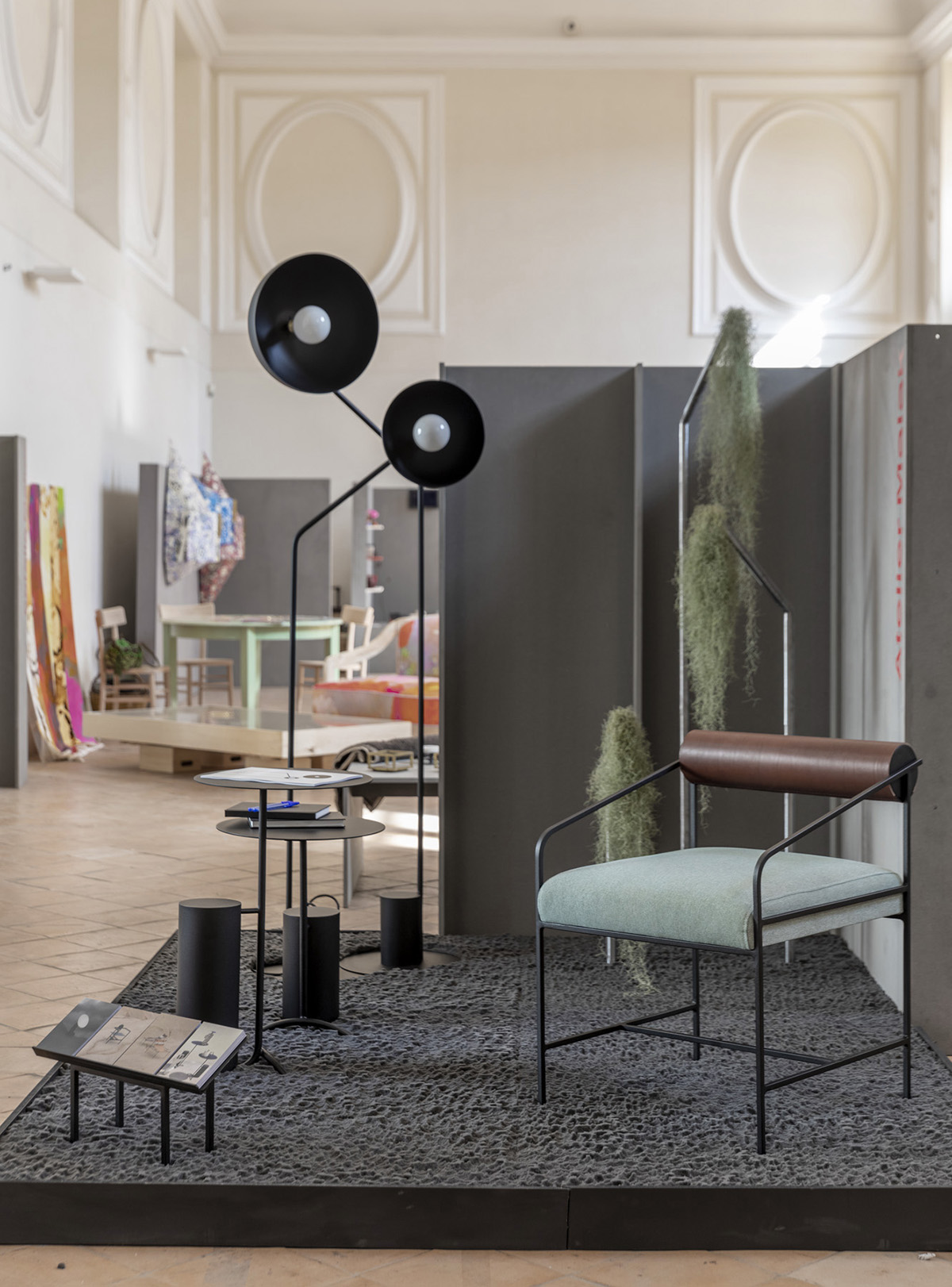 French studio Atelier Malak, who we featured last year, had a strong showing in the fair. I particularly liked their Archipeligo project, a new line of metal tables with built-in vases and natural slate surfaces, which makes for a really lovely material contrast.
Finemateria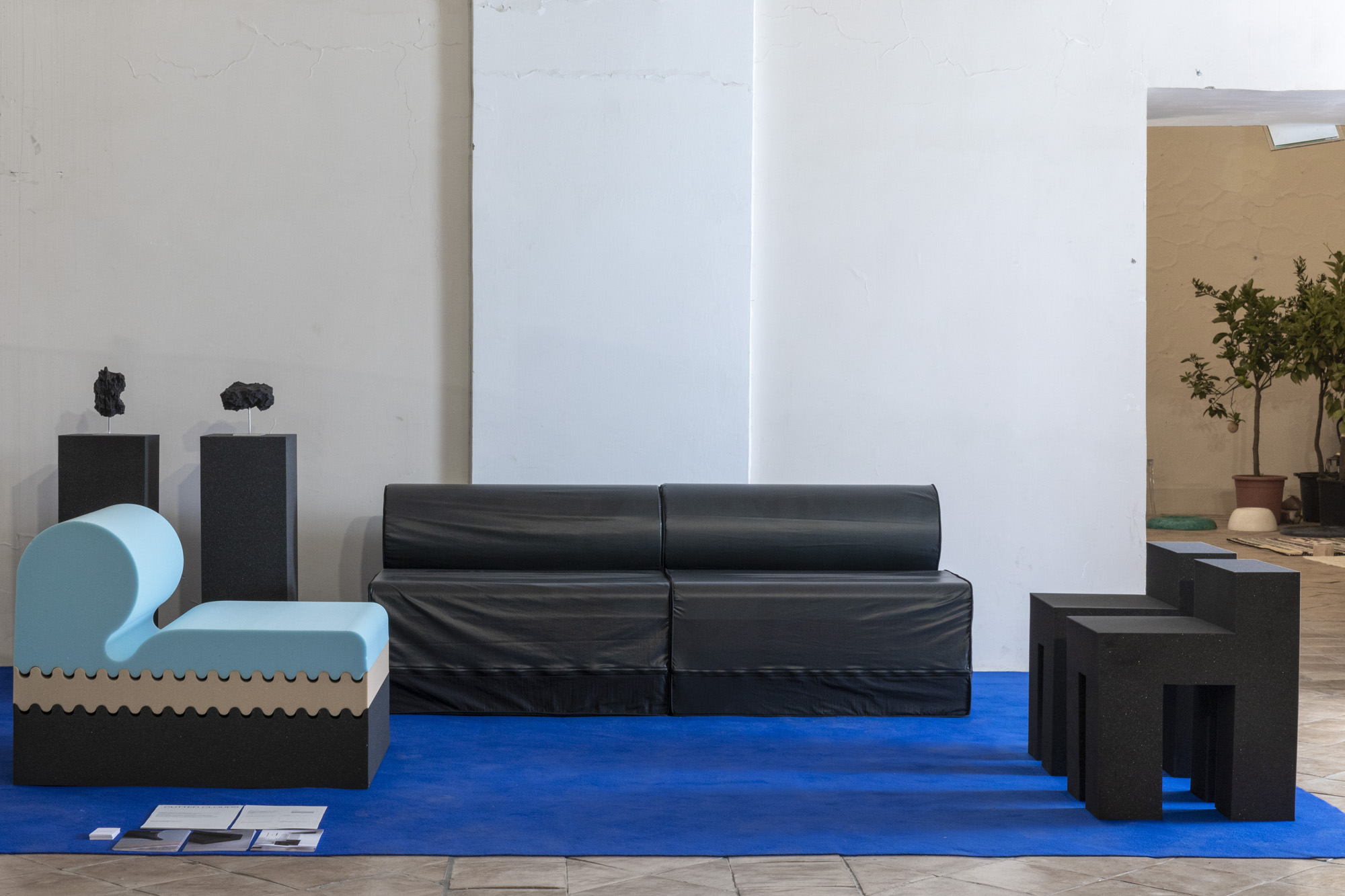 Probably the most interacted with booth at the entire fair was Finemateria, the up-and-coming Milanese brand that, as of late, has been researching the potential of polyurethane foam. They used heat-reactive textiles to upholster their foam-filled Cutting Clouds sofa, which causes the black leather-like material to be briefly bleached white when touched or sat on, leaving a perfect outline of hands or backsides.
Michele Jodice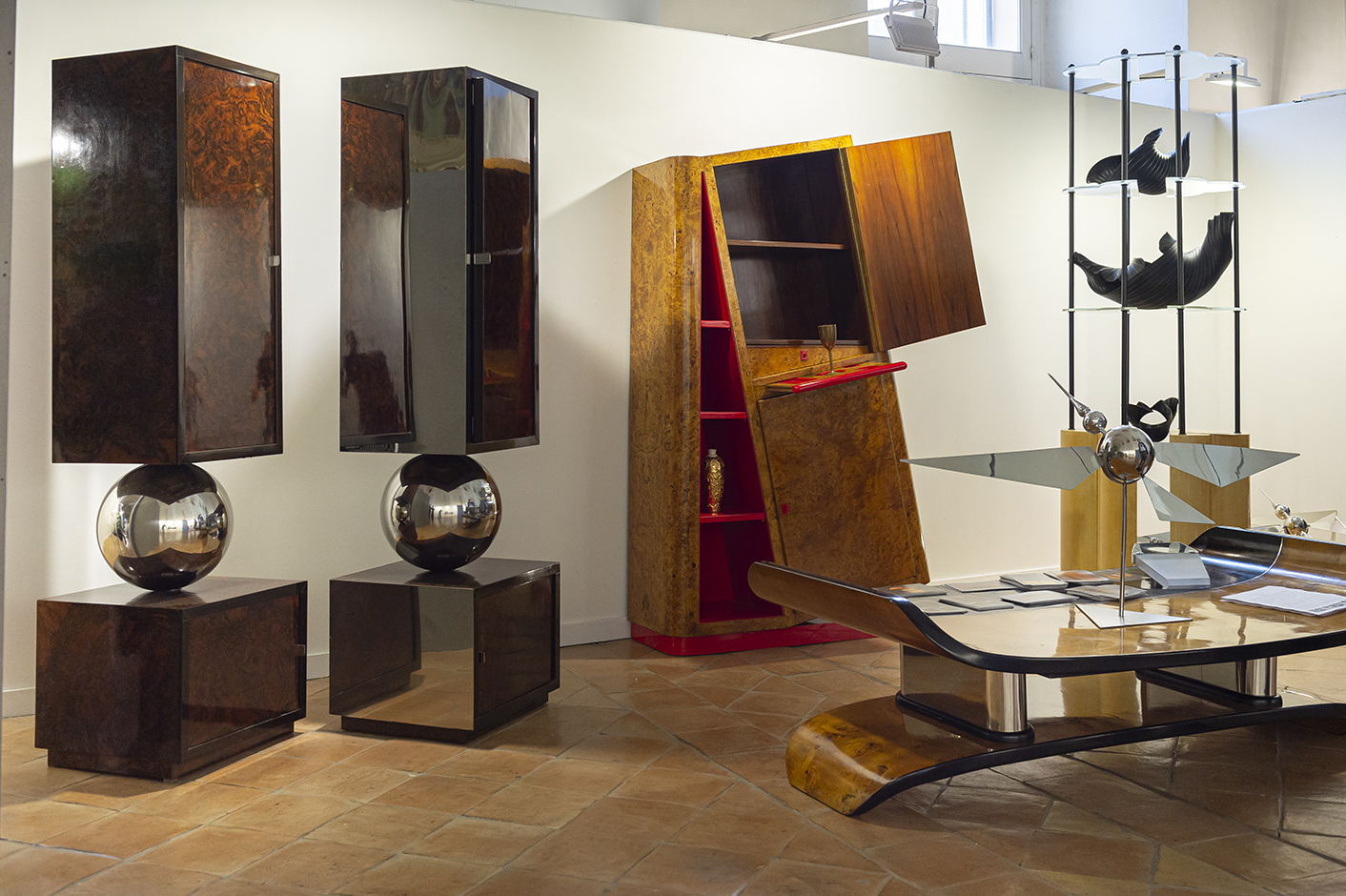 I was extremely into the work of Neopolitan artist and designer Michele Jodice, who designed this series of cabinets and table in lacquered burl wood in collaboration with local gallery Esprit Nouveau.
Basis Rho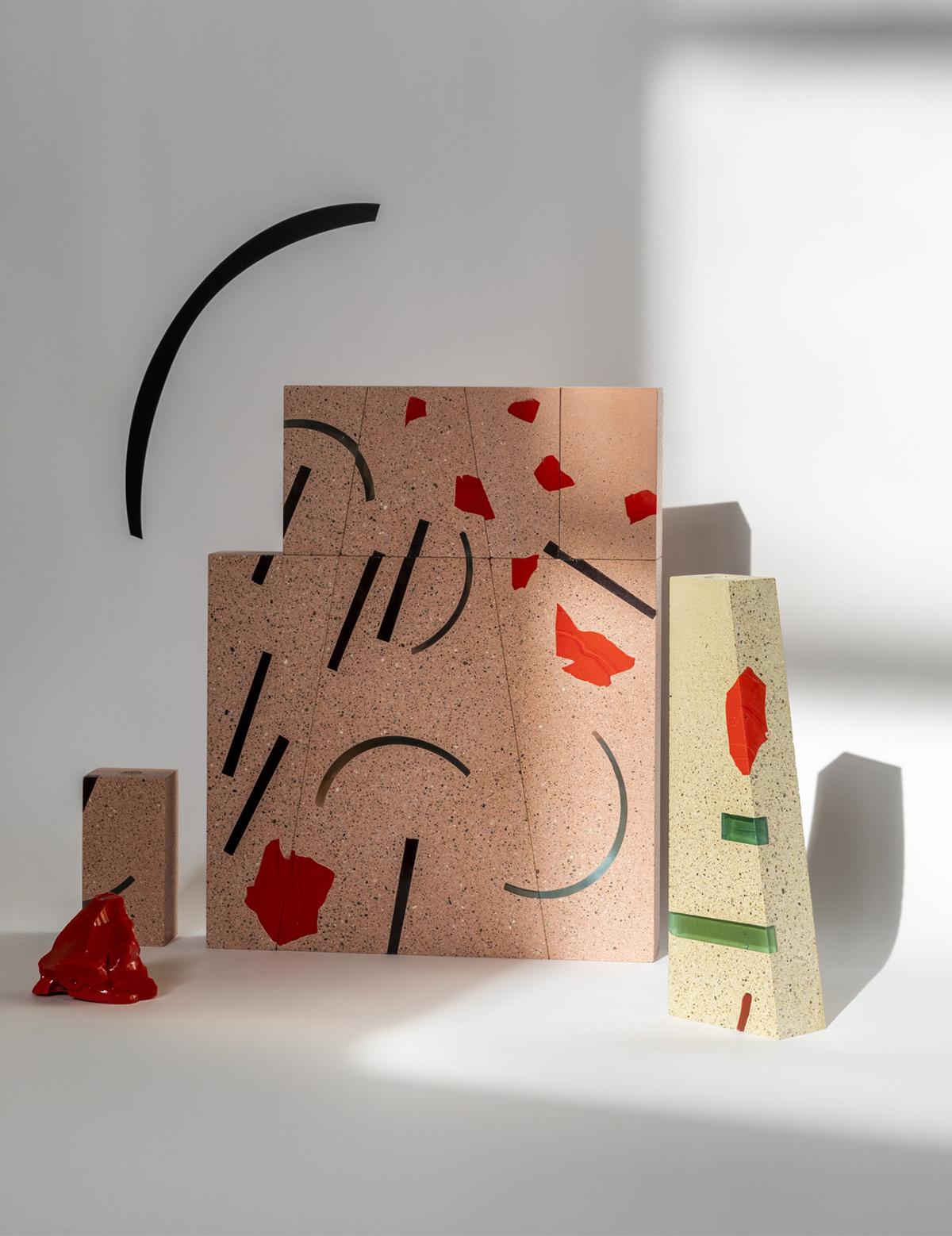 One of the interesting elements of the Edit fair is that it doesn't just cover furniture and objects, but also architectural materials, meaning that there are always some pretty interesting and creative contributions from small-scale producers. One of them is Berlin's Basis Rho, which uses waste glass from artistic production and natural stone granules to create abstract terrazzo-style compositions in concrete, which can then be used as surfaces, flooring, or furniture (which we sell in our 1stDibs shop!)
Medulum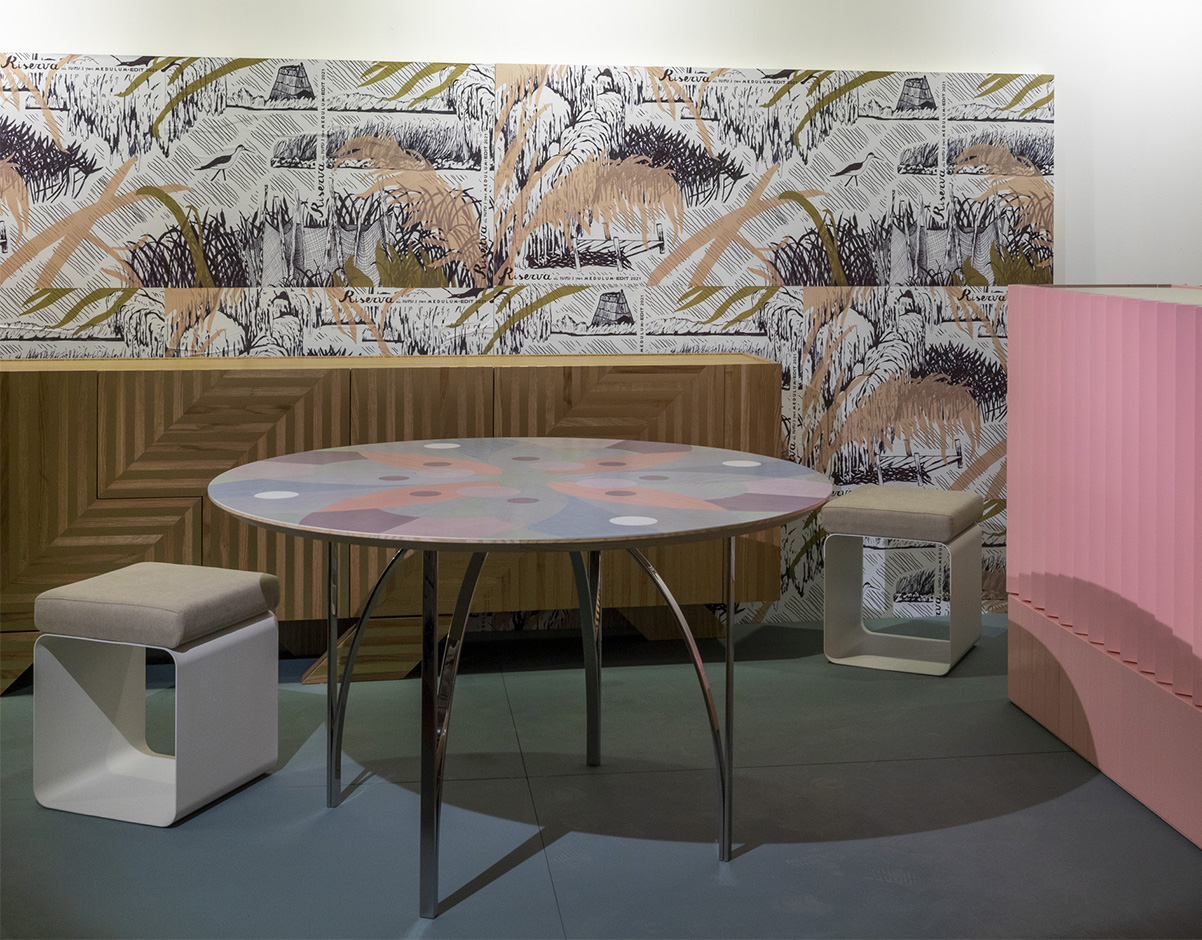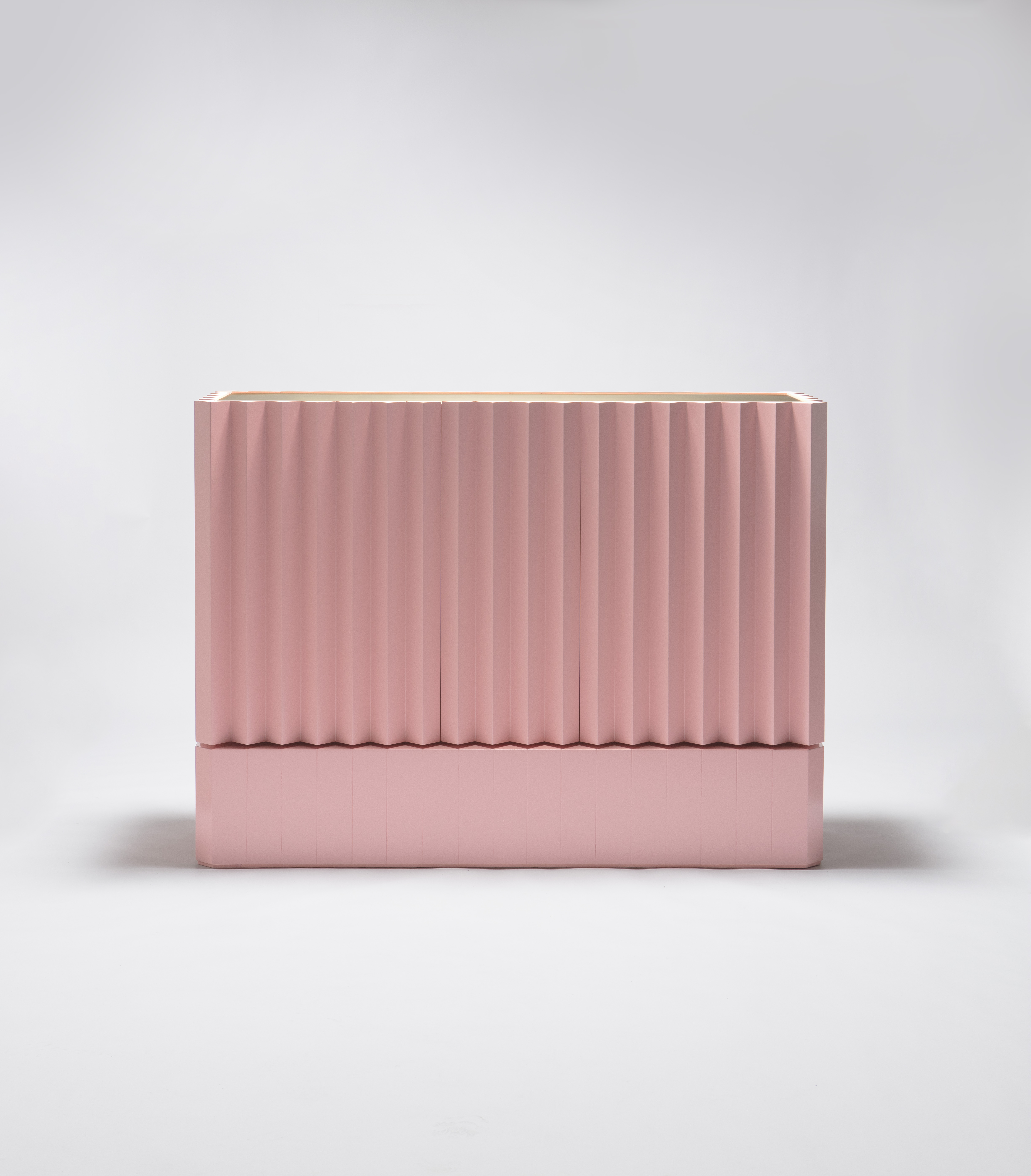 Medulum's Edit Napoli showing was among our favorite at last year's event, and unsurprisingly this year is no different. The Venetian brand collaborated with AccardiBuccheri, Debonademeo Studio, and Serena Confalonieri on new pieces, all of which are constructed by means of Medulum's sophisticated carpentry know-how (the brand is an extension of founder Diego Zanchettin's family's historic woodworking business).