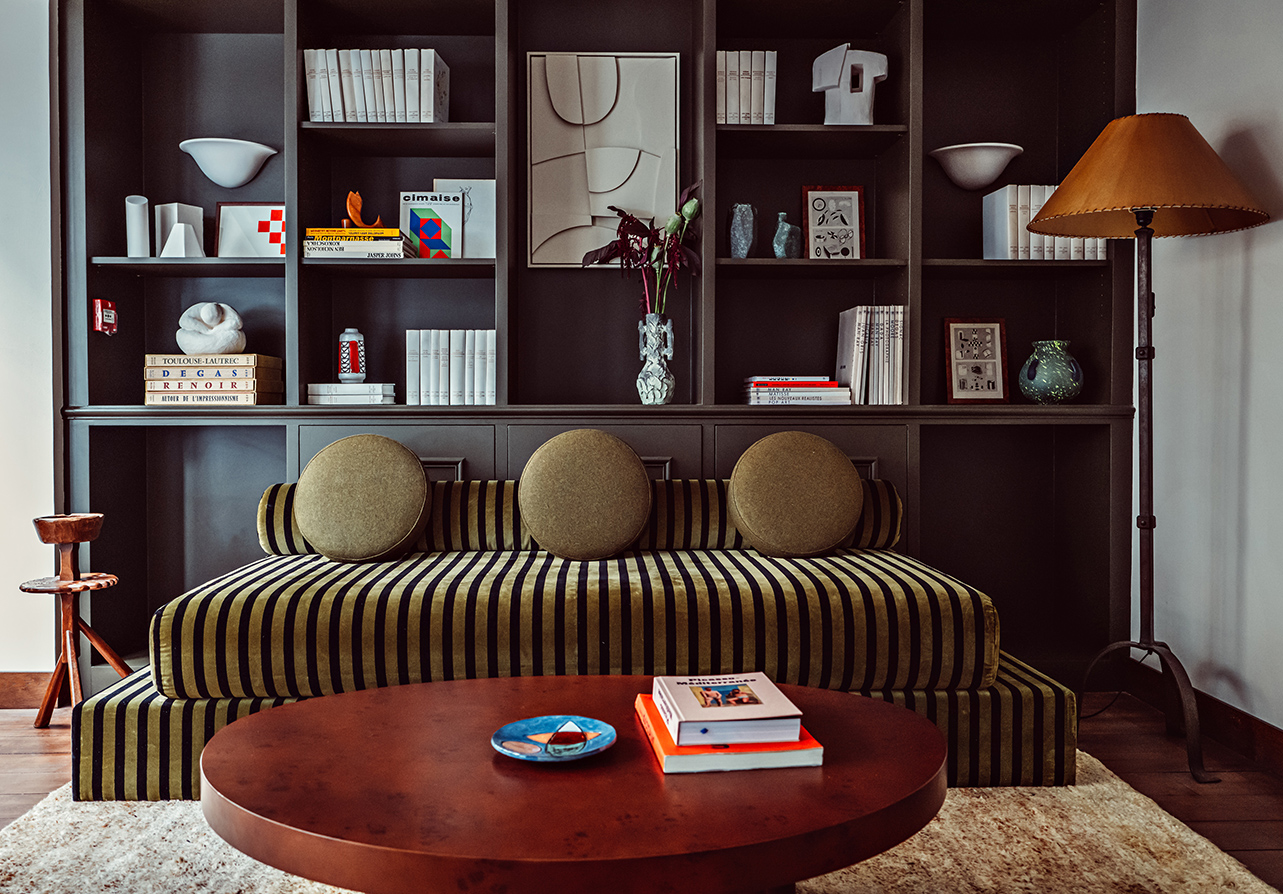 A weekly Saturday recap to share with you our favorite links, discoveries, exhibitions, and more from the past seven days. This week, a pastel dream interior in Madrid, an incredibly chic tortoise-shell cocktail table, and the best soap dish we've found to date, made by Silo Studio for Ensemble in London.
Interiors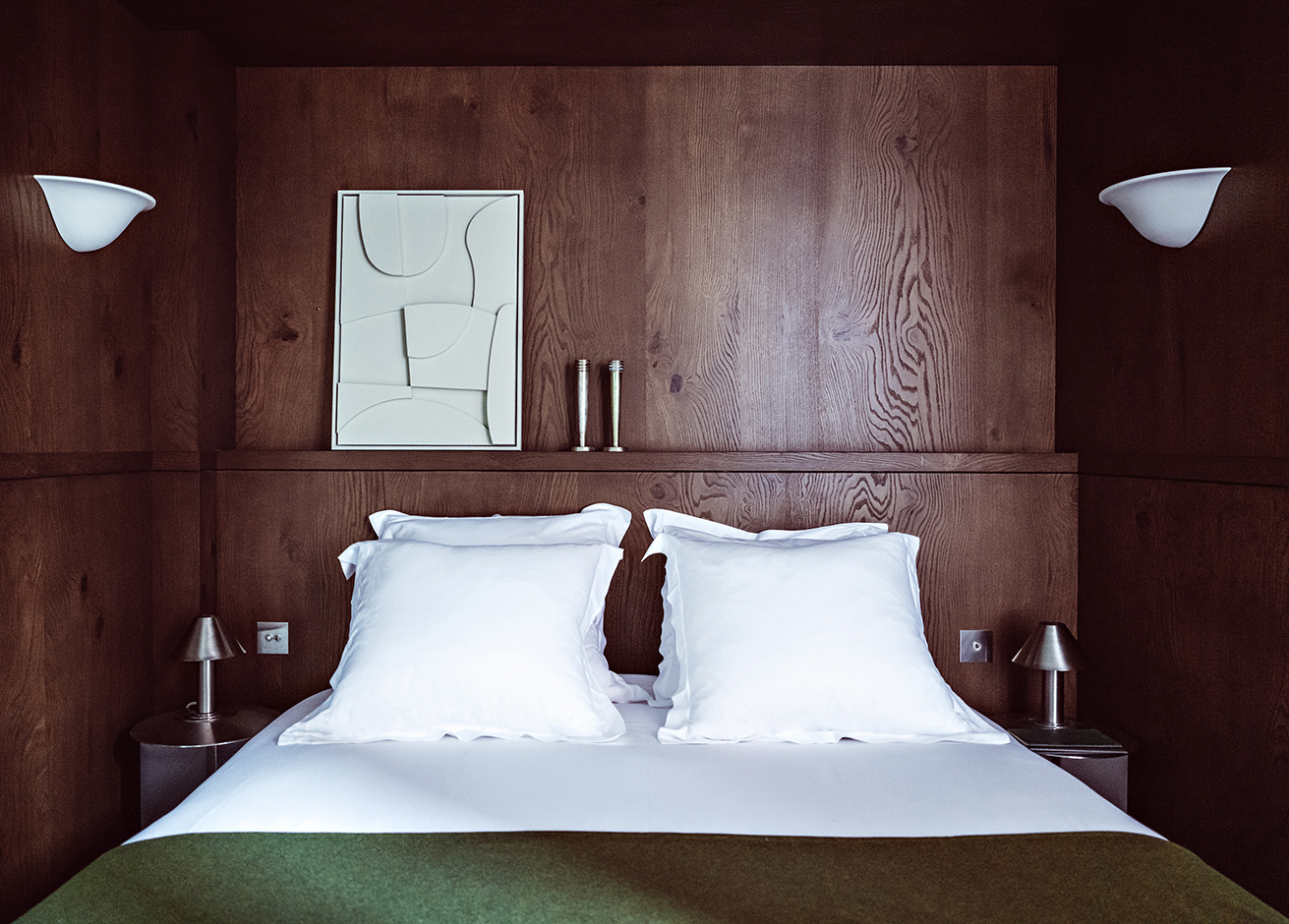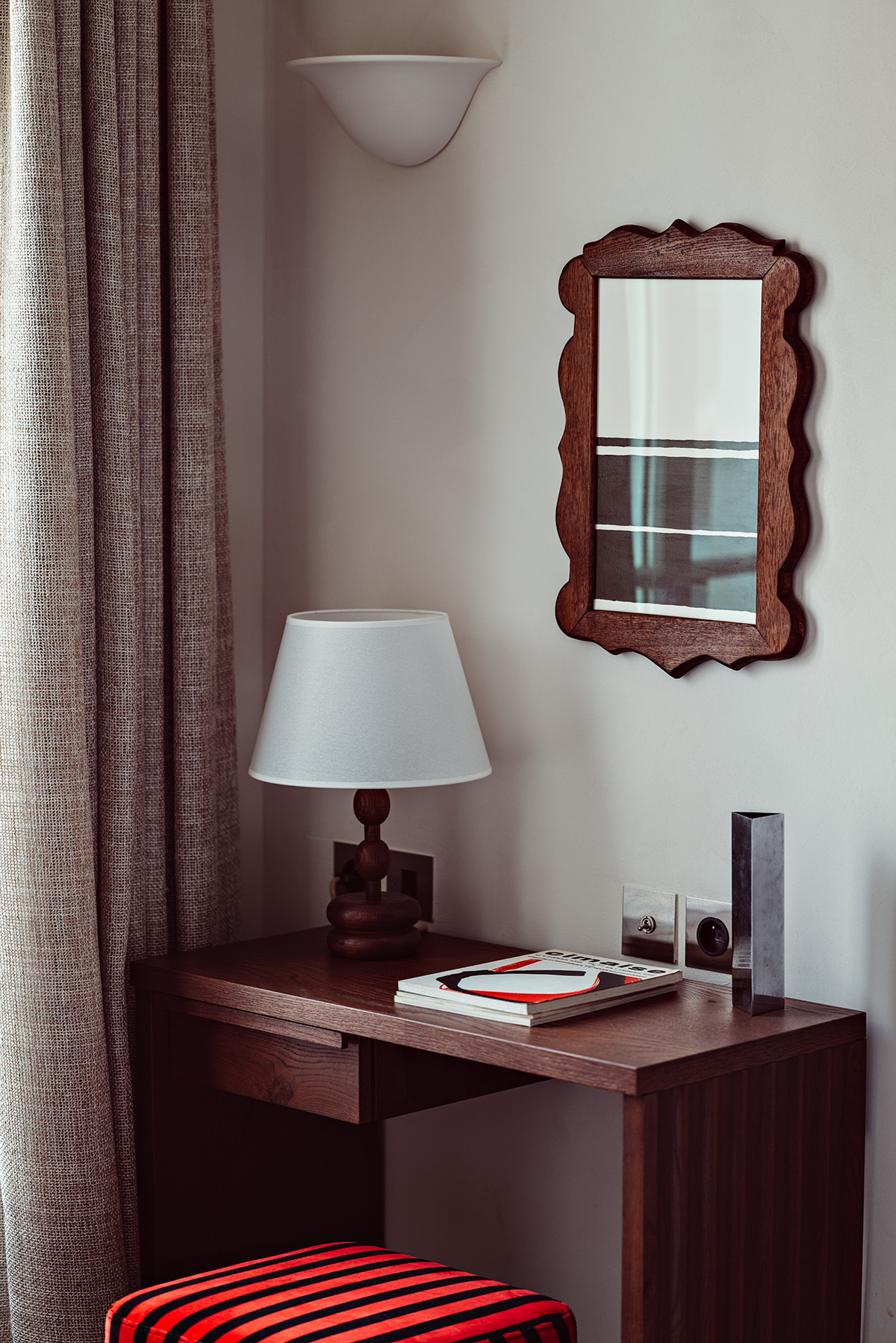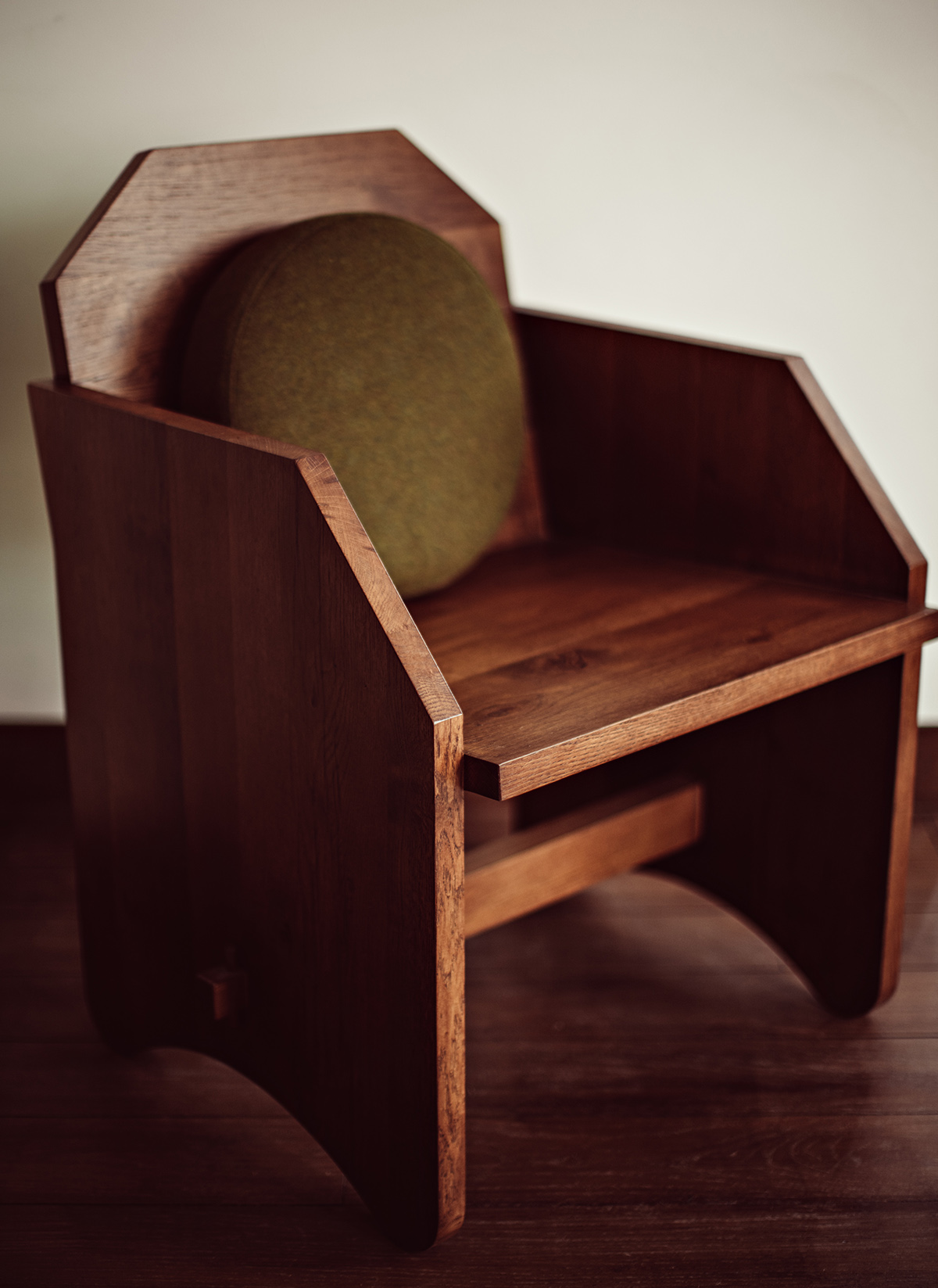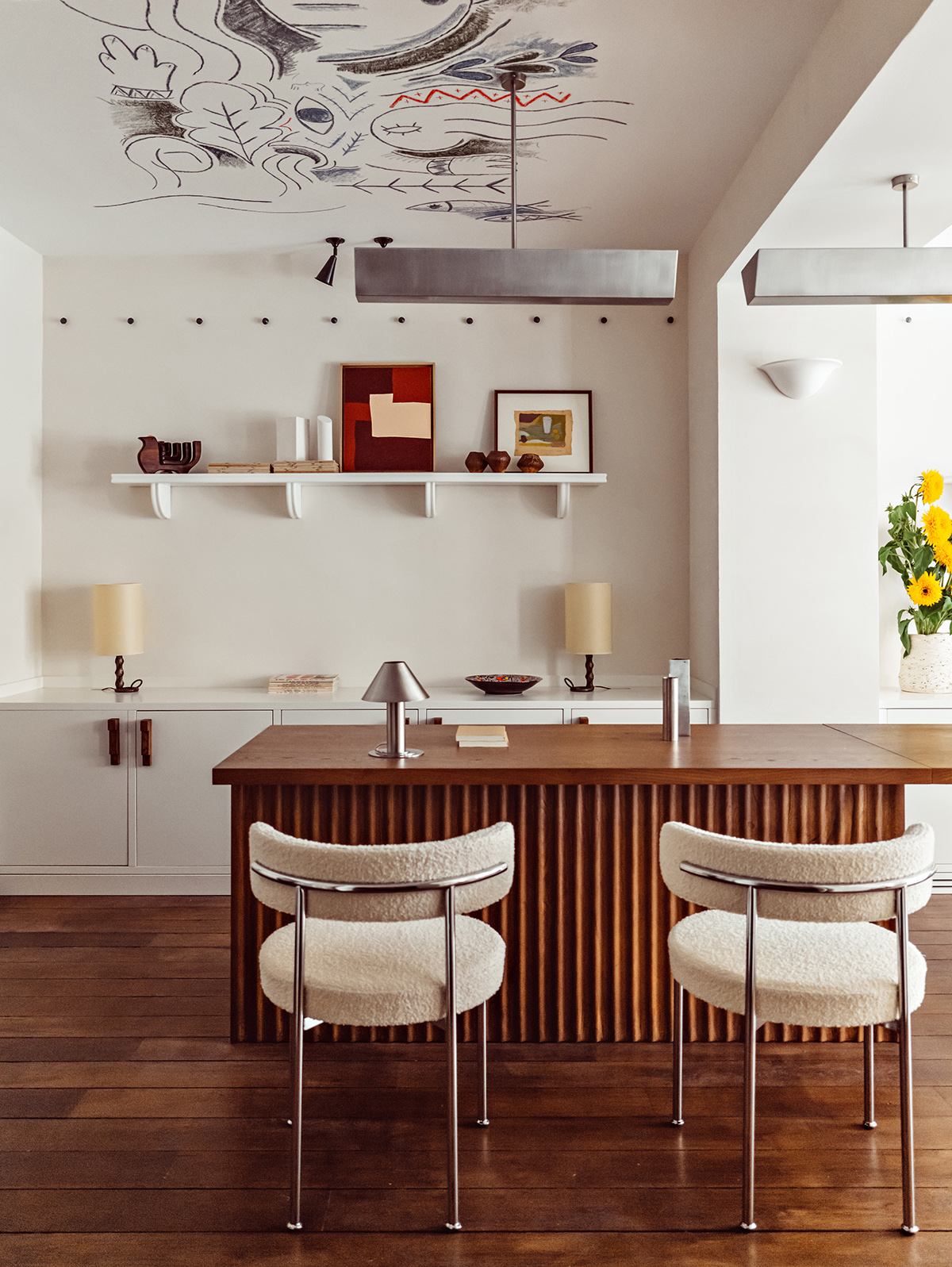 Designer duo Lizée-Hugot's latest interior design project, the Hôtel des Académies et des Arts, takes inspiration from Paris's Belle Époque era. Taking over an 18th-century building near Montparnasse, the 20-room boutique hotel has a stripped-down aesthetic, with hand-plastered walls, custom furniture, a curated collection of paintings, drawings and sketches, as well as murals by French artist Franck Lebraly decorating the ceilings. The hotel also includes an atelier where guests can draw and paint, and hosts regular exhibitions in collaboration with the historical Académie de la Grande Chaumiè across the street.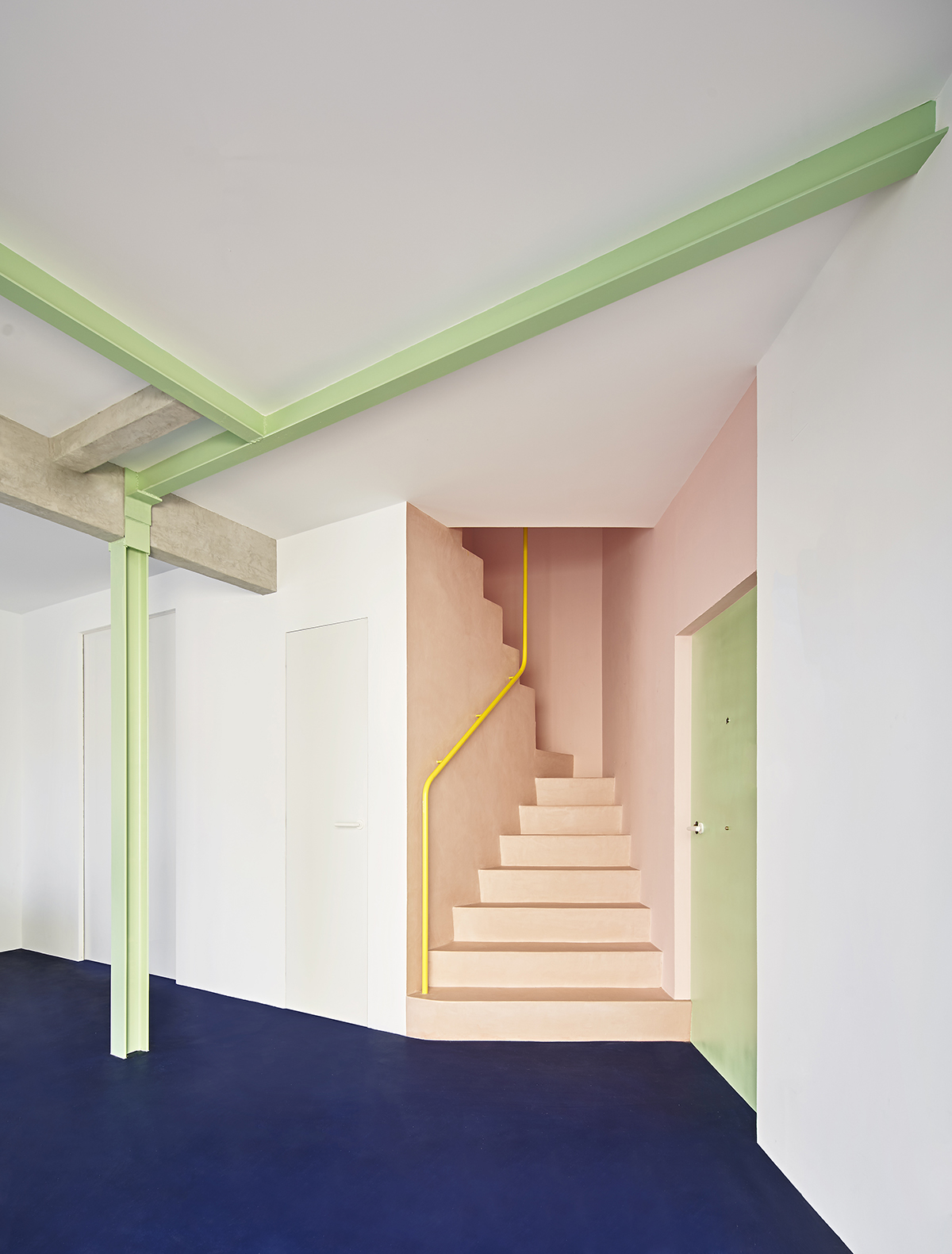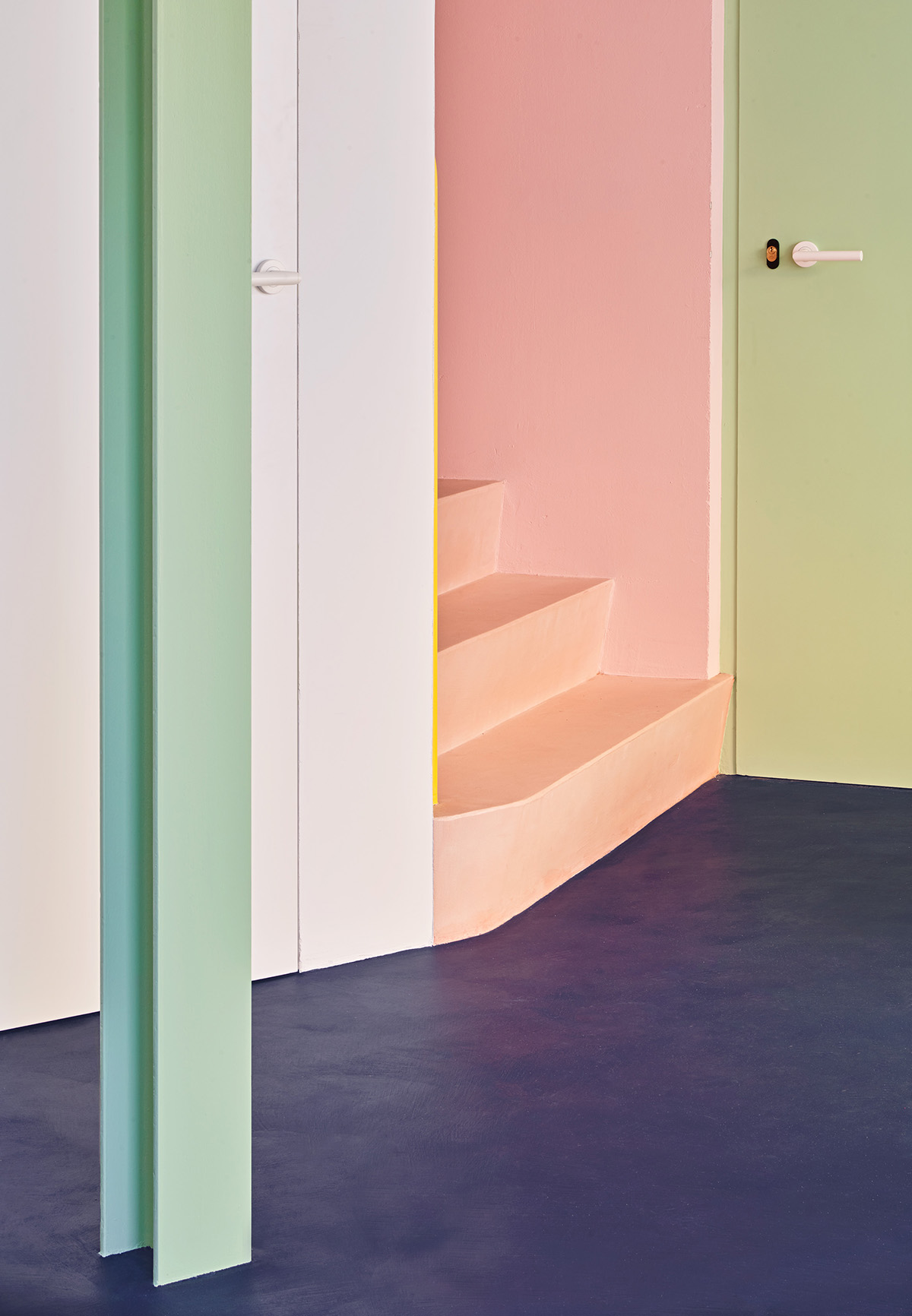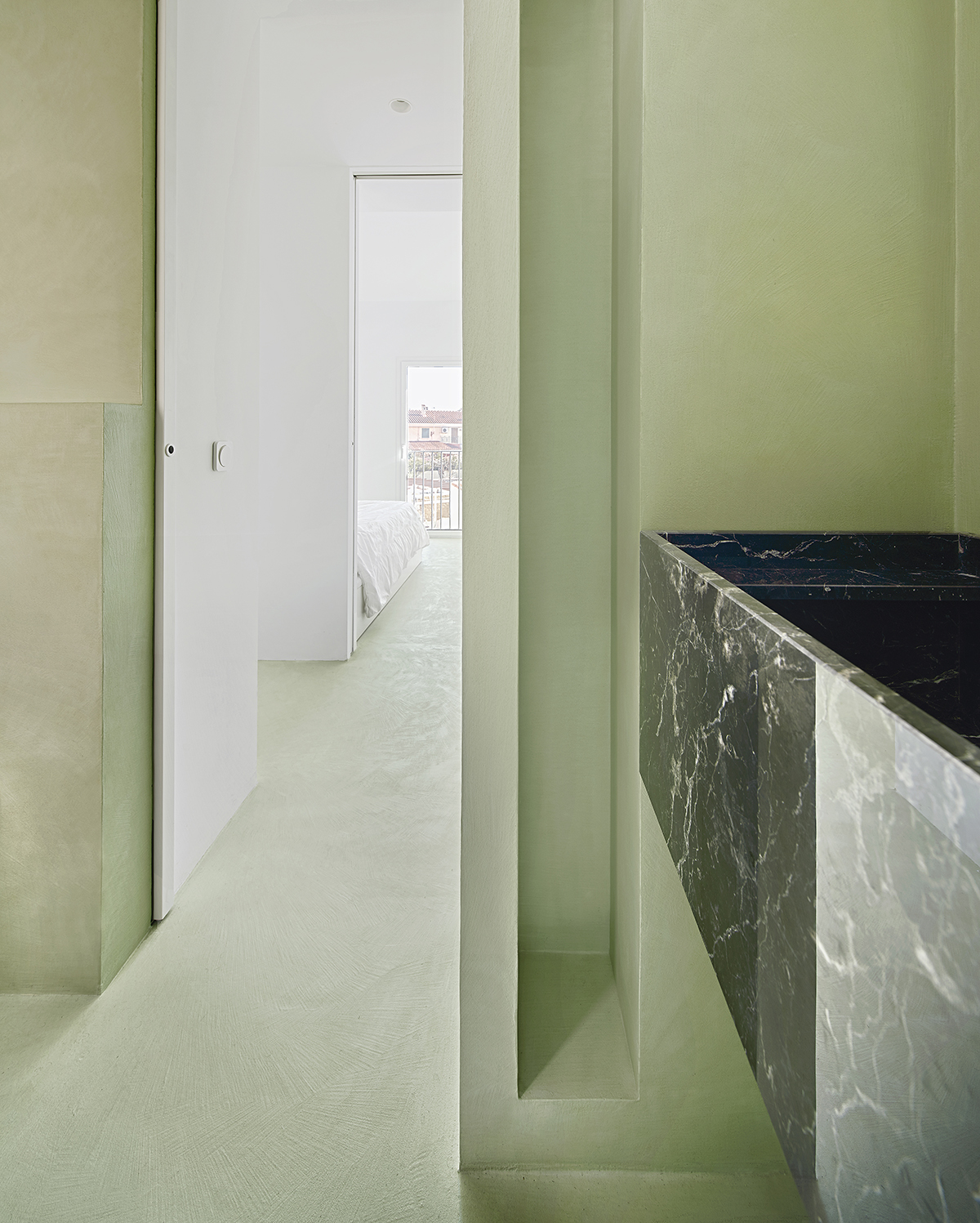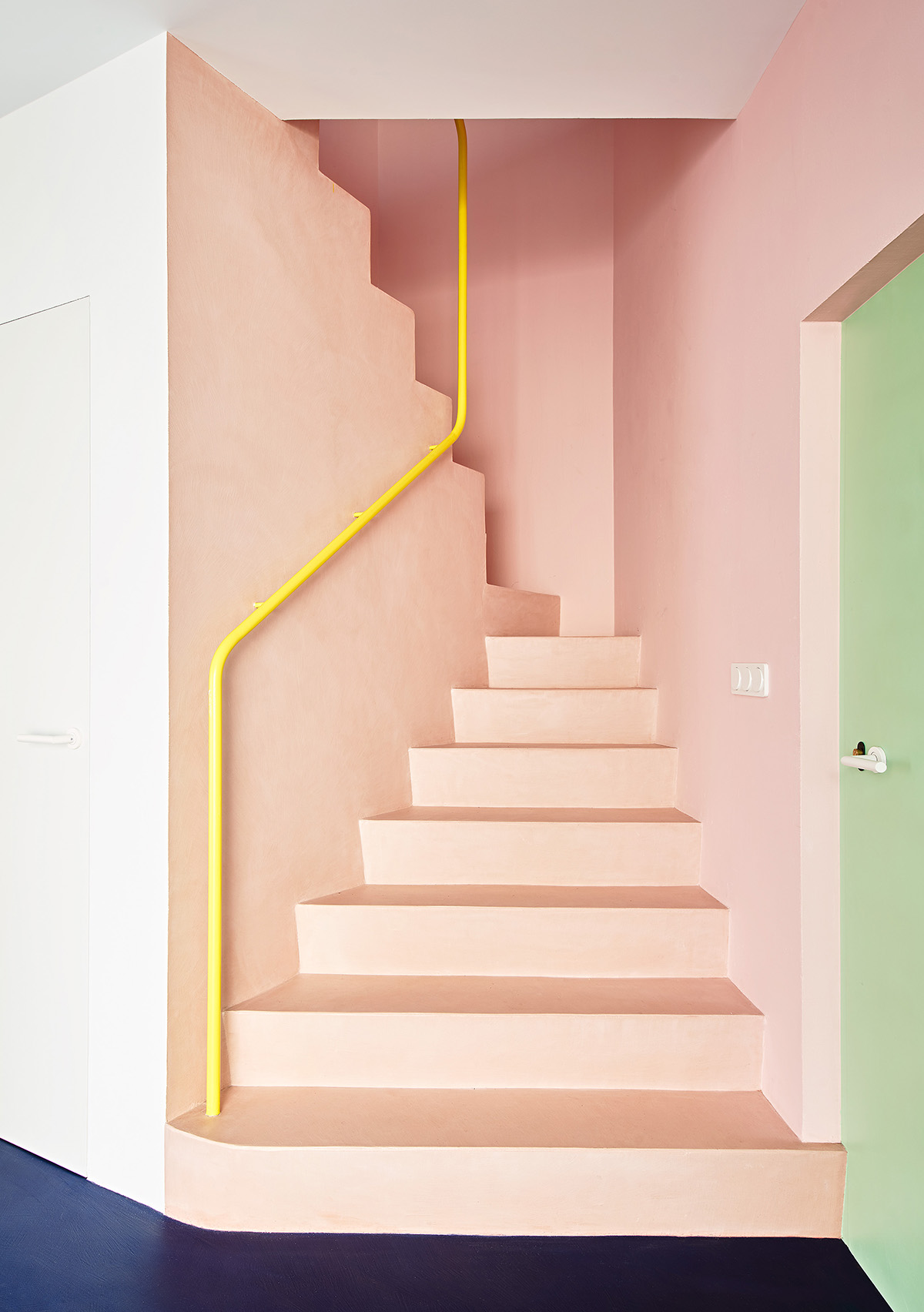 Answering all of your candy-colored interior dreams for 2022, Casa Witiza in Madrid — renovated last year by Beatriz Alés Atelier — focuses on the relationship between space, color, and form. Originally a social housing project built for bigger families, it's now been reconfigured with an open-plan style and interconnecting rooms, with a younger work-from-home market in mind. The architects worked curved elements and a distinctive pastel color scheme into each floor, with mint green and blush pink set against bright bold yellow handrails and midnight blue flooring. The vibe is distinctly minimalist, removing baseboards and adding hidden doorframes, making the house an unobtrusive canvas for artworks or the other decorative items that make a place home.
Discoveries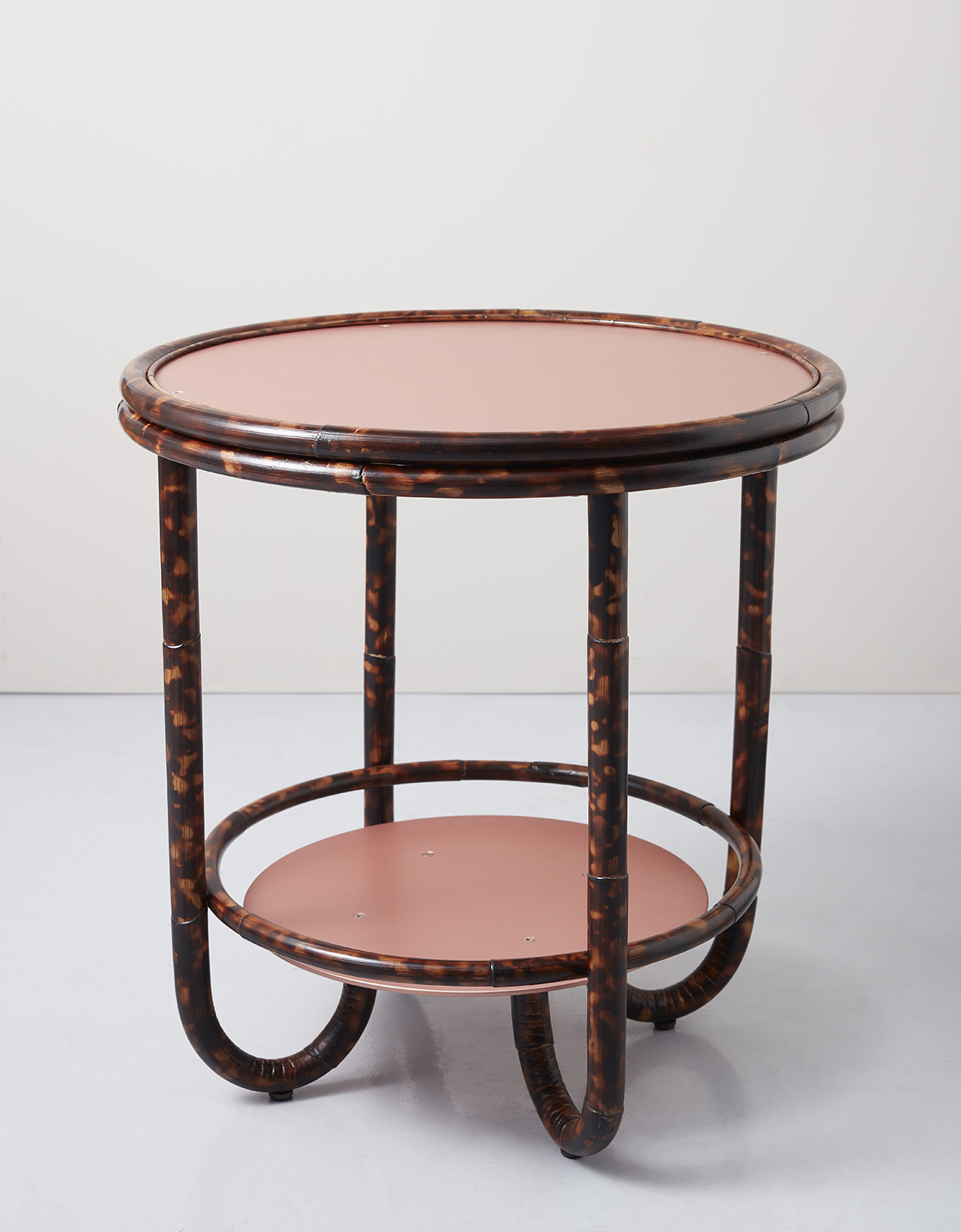 Making your cocktails extra photographable, Tino Seubert's latest design fuses tortoise torched rattan with salmon-colored anodized aluminum. "I've been interested in rattan for quite a while," says the designer. "The way it can be bent with heat and steam while remaining stable is fascinating." An inverted version of his Anodized Wicker collection — where the structure is made from metal and then contrasted with organic seating weaves — this latest design features a frame made from naturally grown and hand-bent rattan poles, while the table surfaces are CNC-machined and industrially anodized.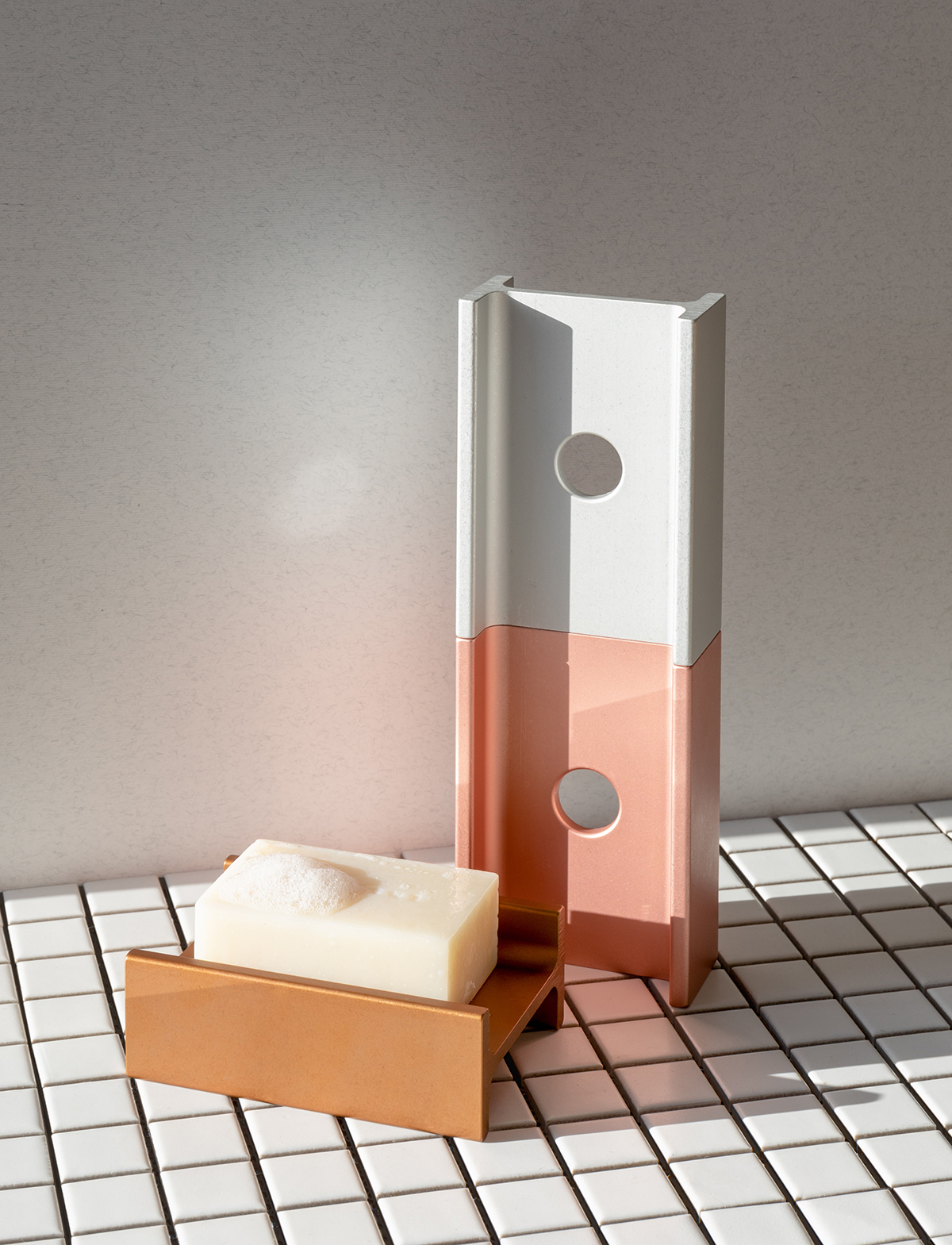 The London-based design label Ensemble recently released a candleholder and soap dish, by Silo Studio, called I-Beam, with a form based on simple construction elements. We're partial to the soap dish, which achieves what weirdly almost no soap dish does — it has a hole to drain the water and it's raised off the edge of the sink or shower to boot! Actually genius.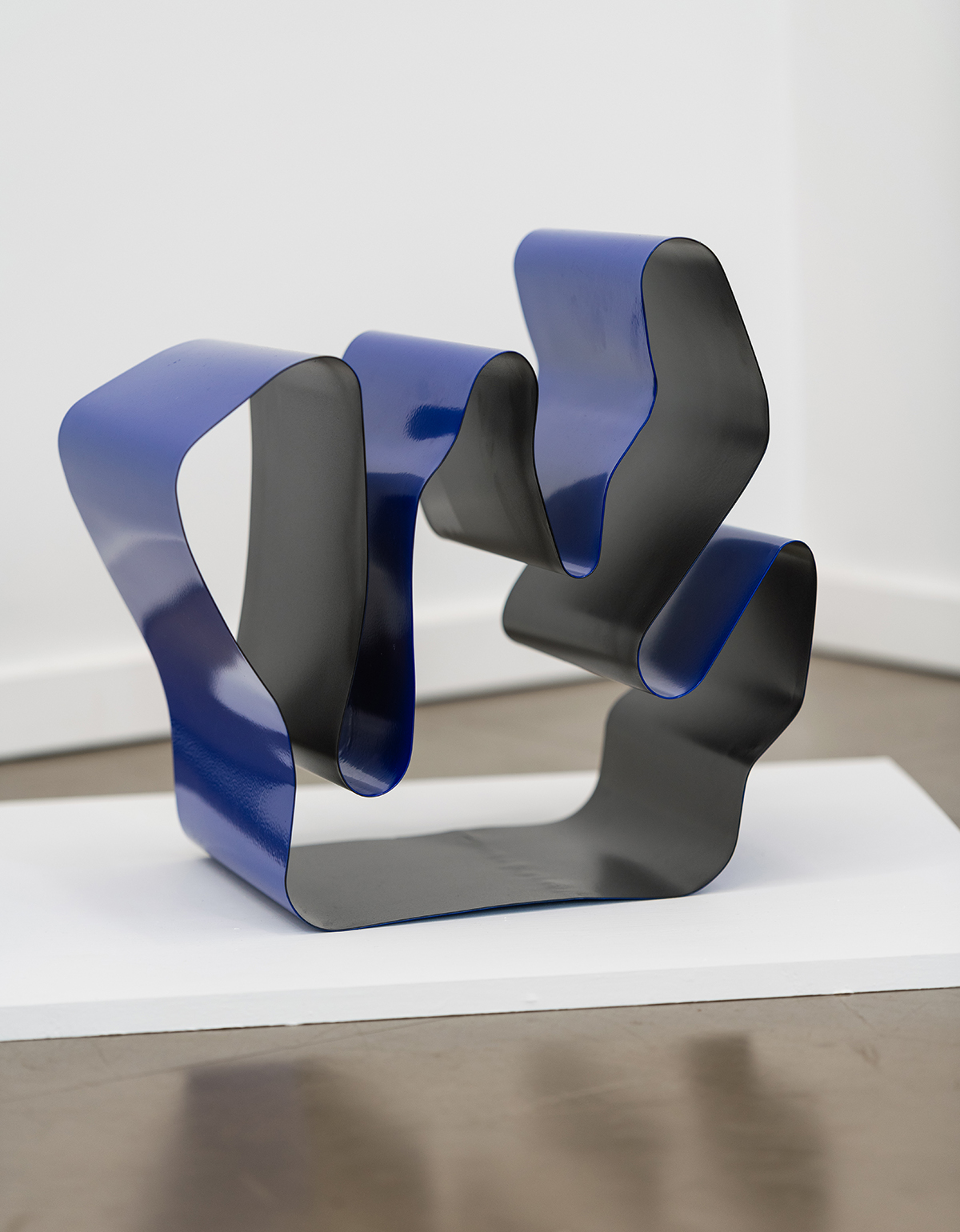 "What's next after the wiggle trend?" Clever asked late last year. One designer predicted that more complex, Burle-Marx–inspired curves would come into vogue, and look no further than Irina Flore's electric blue, laser-cut metal magazine. Flore's design began with an organic line drawing, but in its making it becomes something much more, looking more like a sculptural conversation piece for a Modernist interior than a functional object.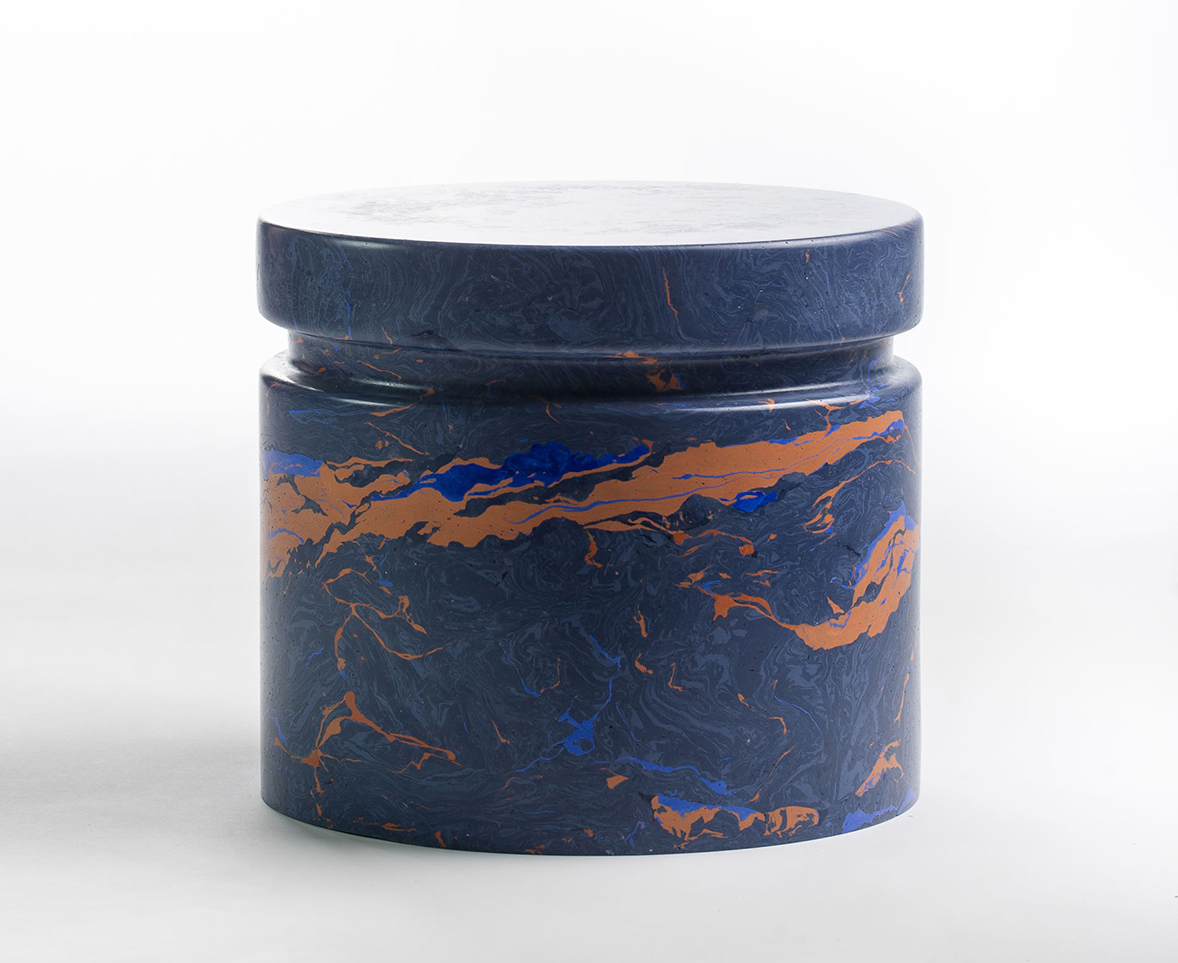 Toronto-based studio Moss and Lam's new offering Playtime, available through Holly Hunt, is a series of geometric abstract forms which can shift to suit a space's changing needs. Each one-of-a-kind piece is handmade using the ancient technique of scagliola — a cast marbleized compound of plaster and pigment. The crisp pillars can be grouped in varying colors, shapes, and sizes. We also like their Tam Tam tables!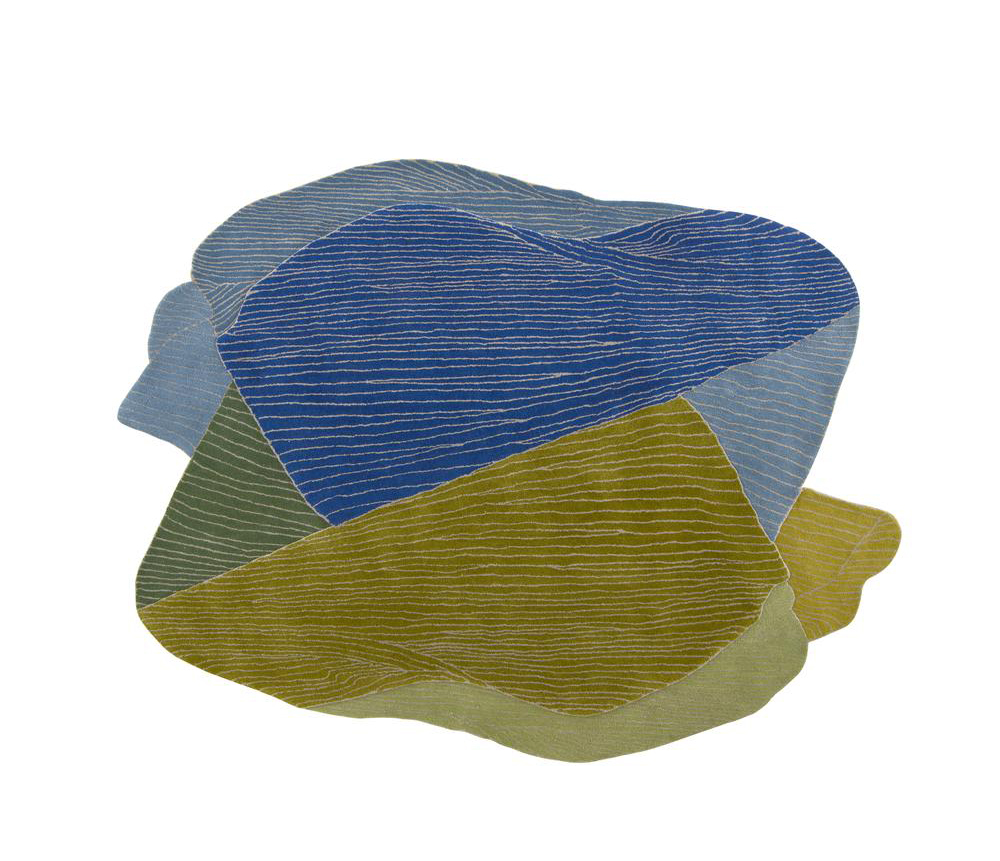 Milan and Tokyo-based design studio Denis Guidone has collaborated with Ligne Roset on two rug designs inspired by the changing seasons. The Natsu rug (above) embodies spring foliage with a blue-green palette inspired by lakes, firs, and snow-capped summits, while Aki's warm reddish-orange hues are reminiscent of autumn leaves.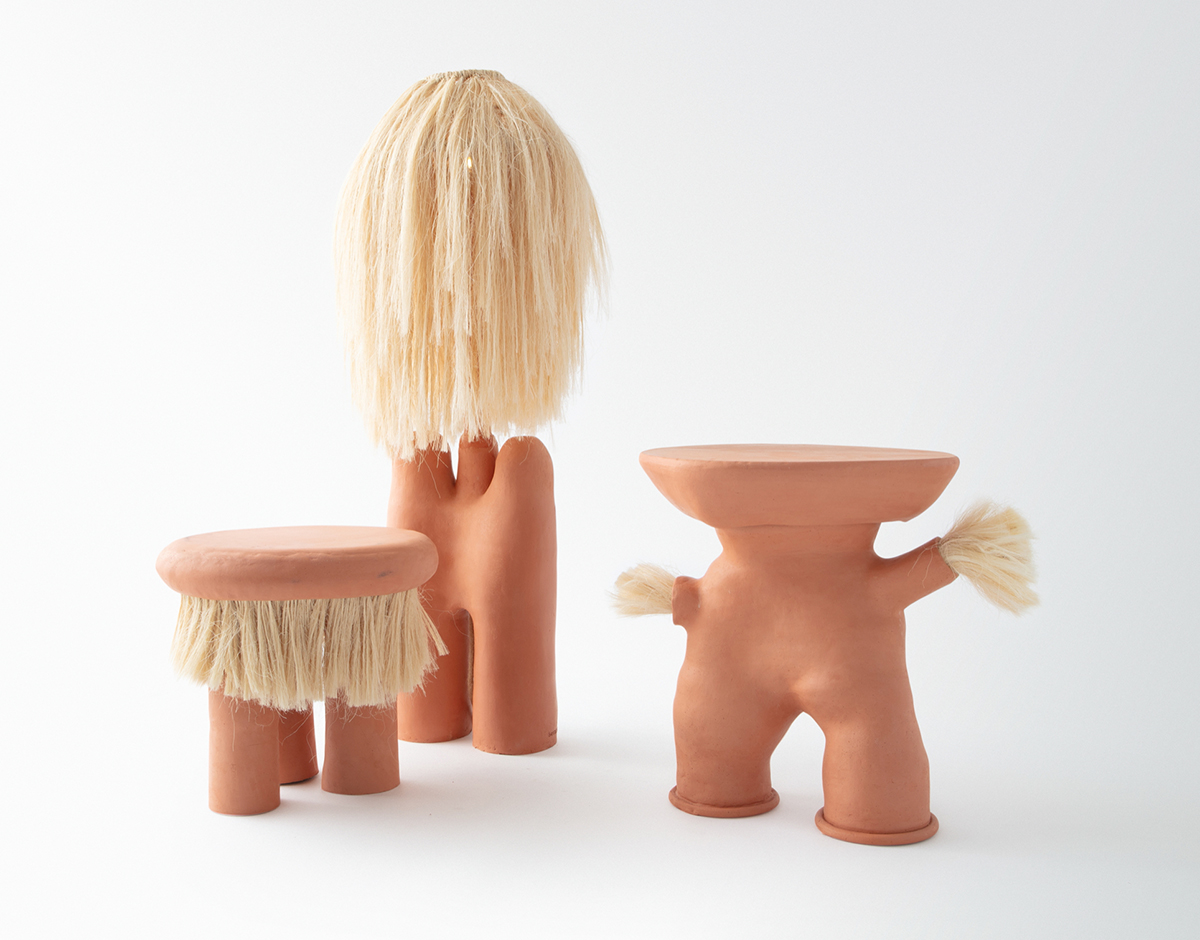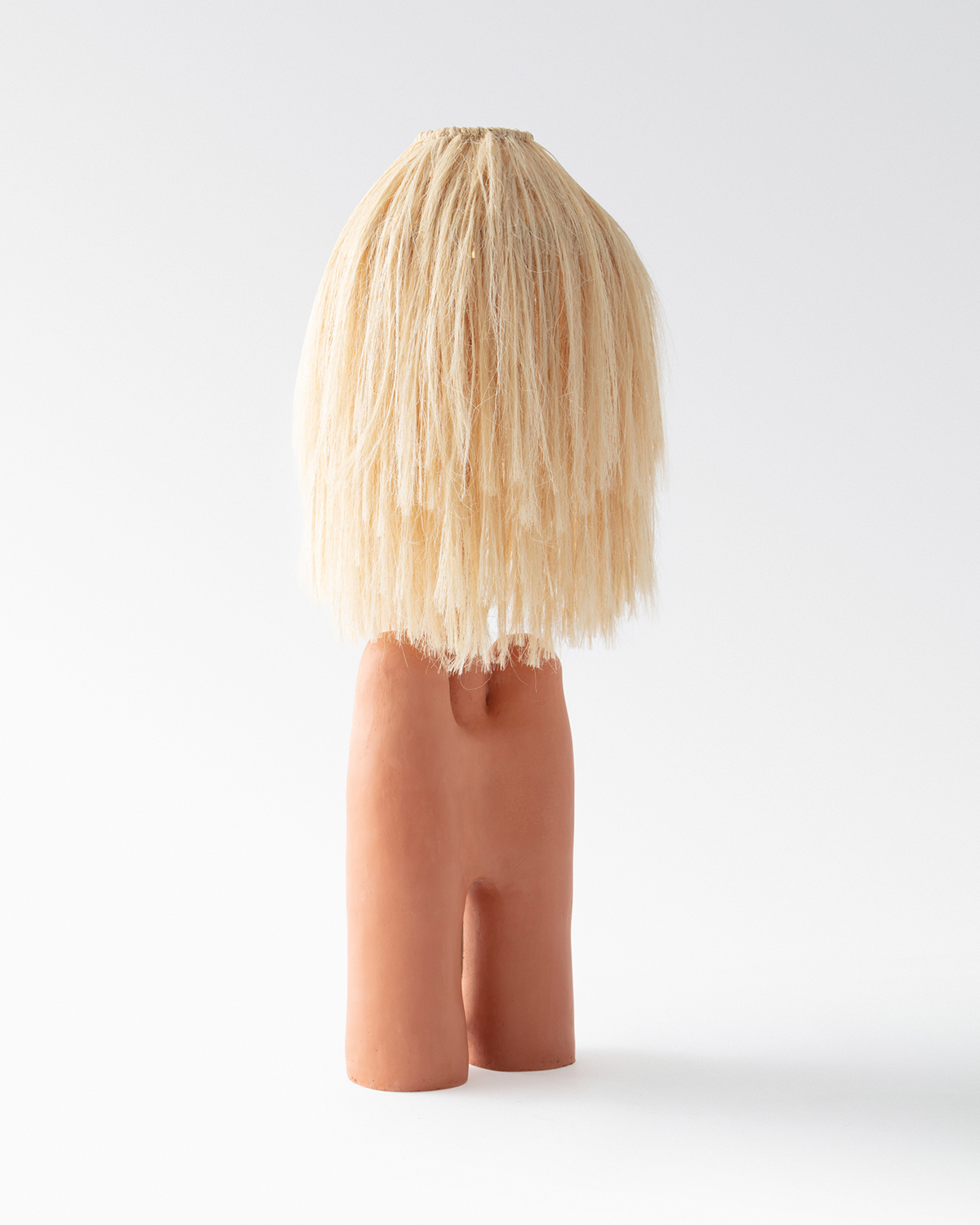 When I first looked at the Ms Broom floor lamp by Lebanon-based designers Sayar Garibeh, made from terracotta and a wig of raffia, it reminded me of the pop star Sia, while their Baby Boy side table resembles an infant taking its first steps, complete with raffia accents for hands. All too cute! Each piece, available through R & Company, is hand-built terracotta with natural fibers, combining humor with traditional craft and a sense of experimentation in regards to form.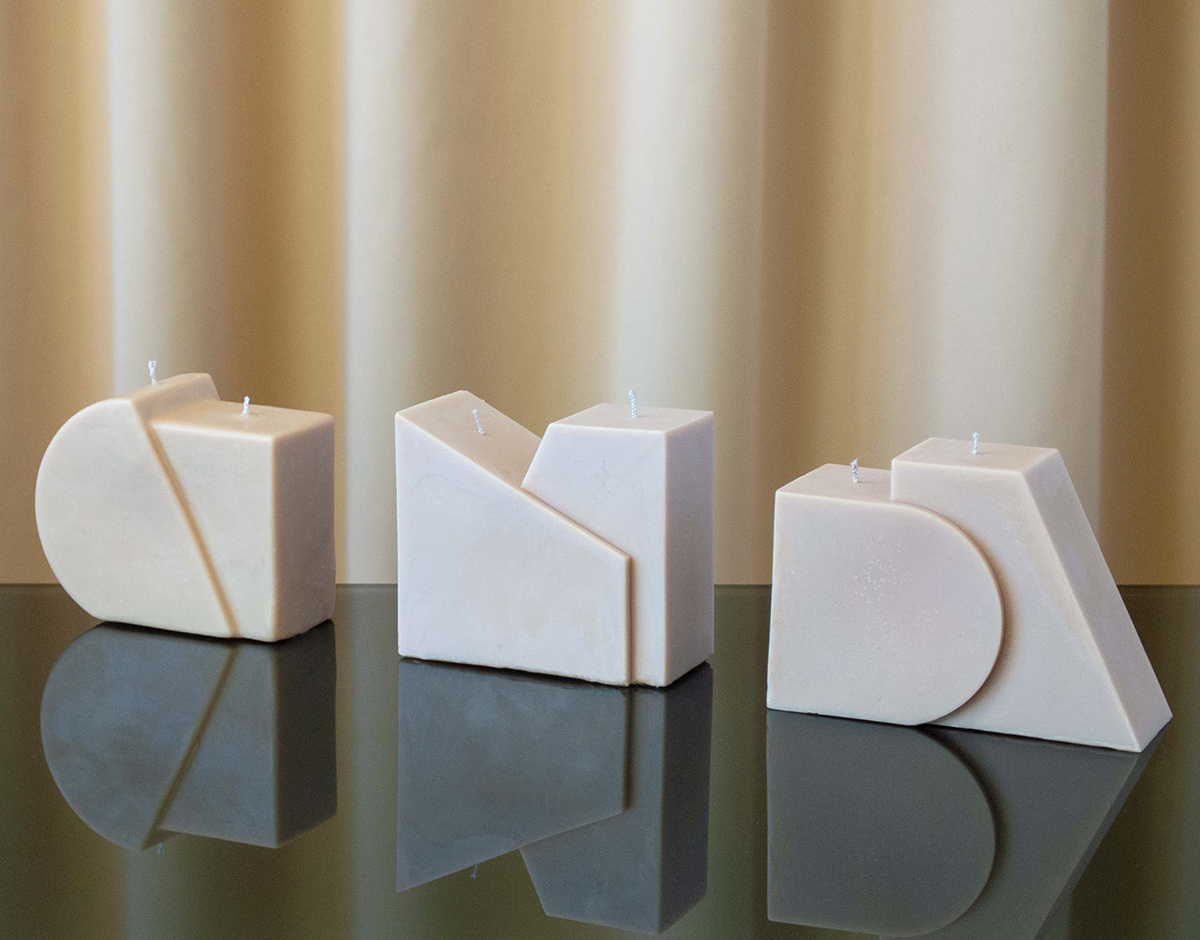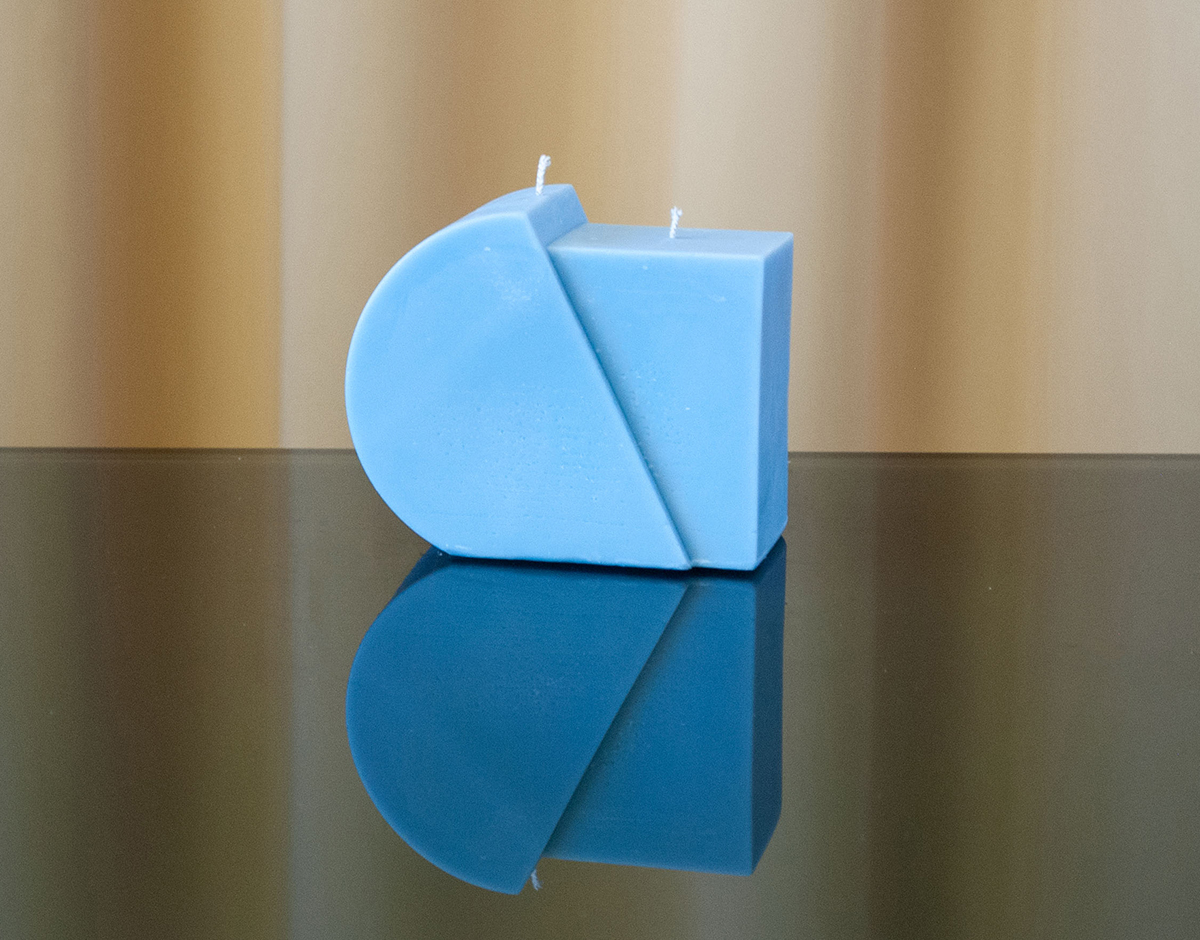 Theodora Alfredsdottir's Intersecting candles are a family of made from soy wax, each consisting of two intersected shapes. The shapes are informed by Theodóra's previous mold studies and celebrate a merger of geometric shapes. Batch no.1 comes in three colors: pastel blue, sand and white. Each shape is available in all three colors, in an edition of 10.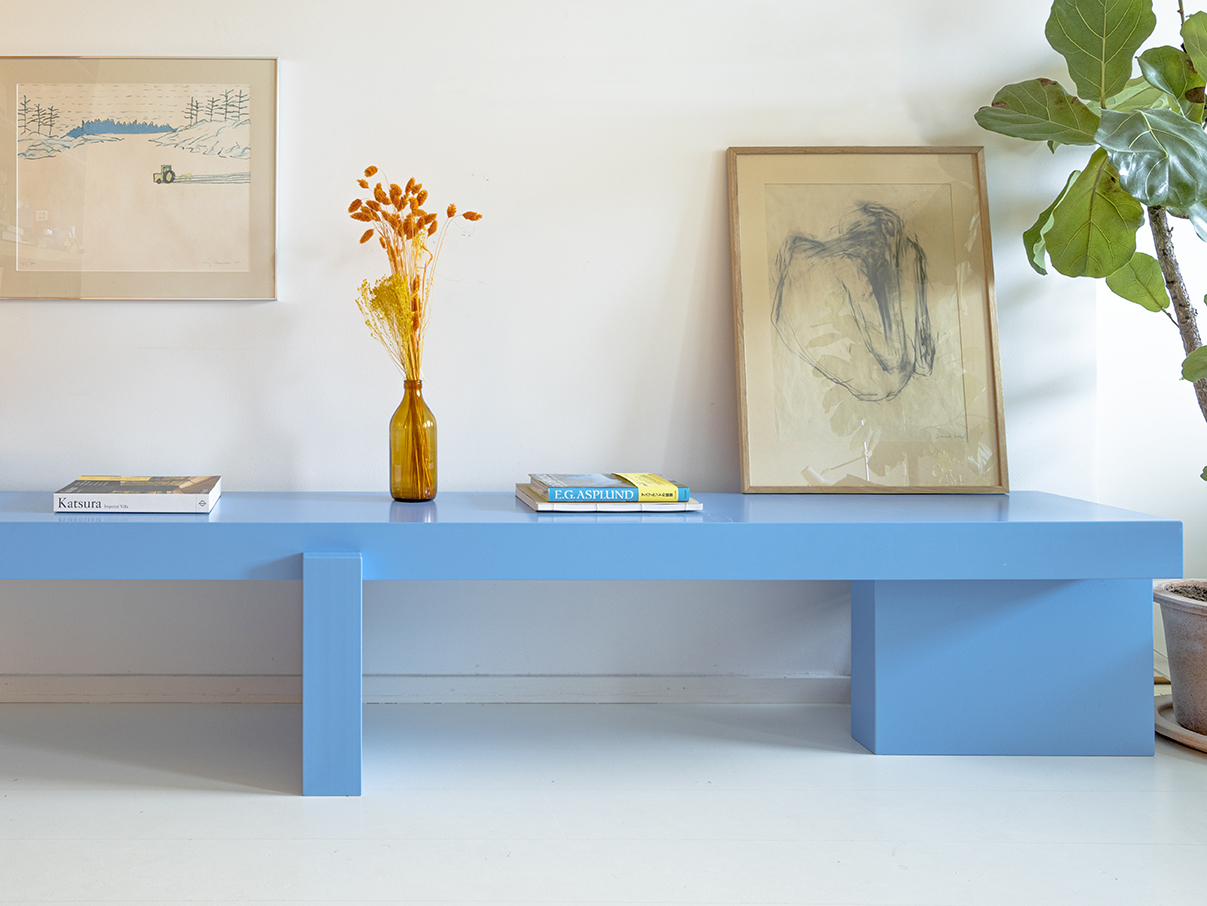 Not resembling any kind of trunked animal at all, the sky blue Elephant sideboard from Stockholm-based Jesper Westblom and Robin Krasse is a playful and durable piece of furniture, based on general principles of architecture and construction. The sideboard consists of four elements: one horizontal as well as three vertical slabs. The placement of the vertical elements provides stability, and allows for light and shadow to vary over the course of the day.
Exhibitions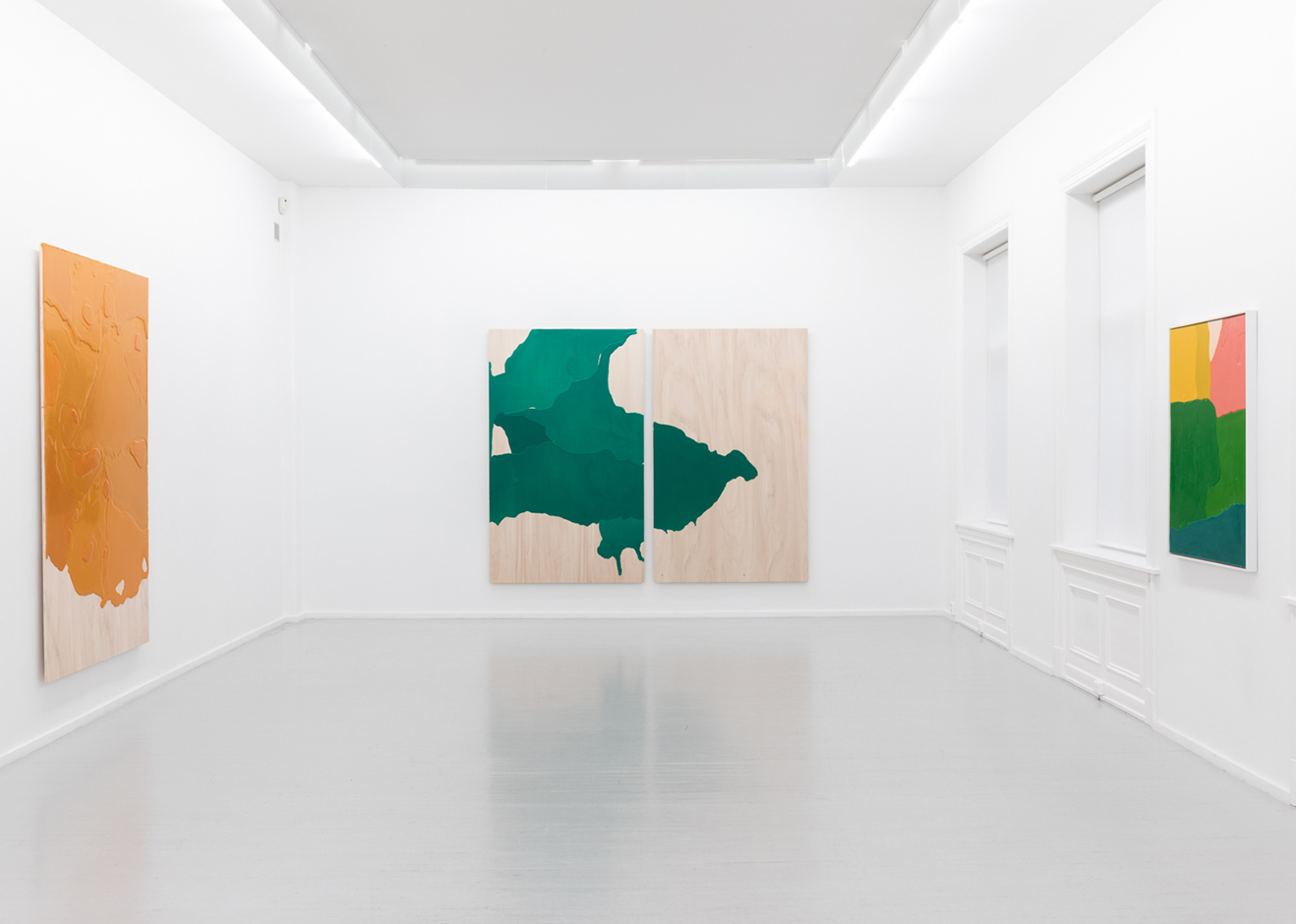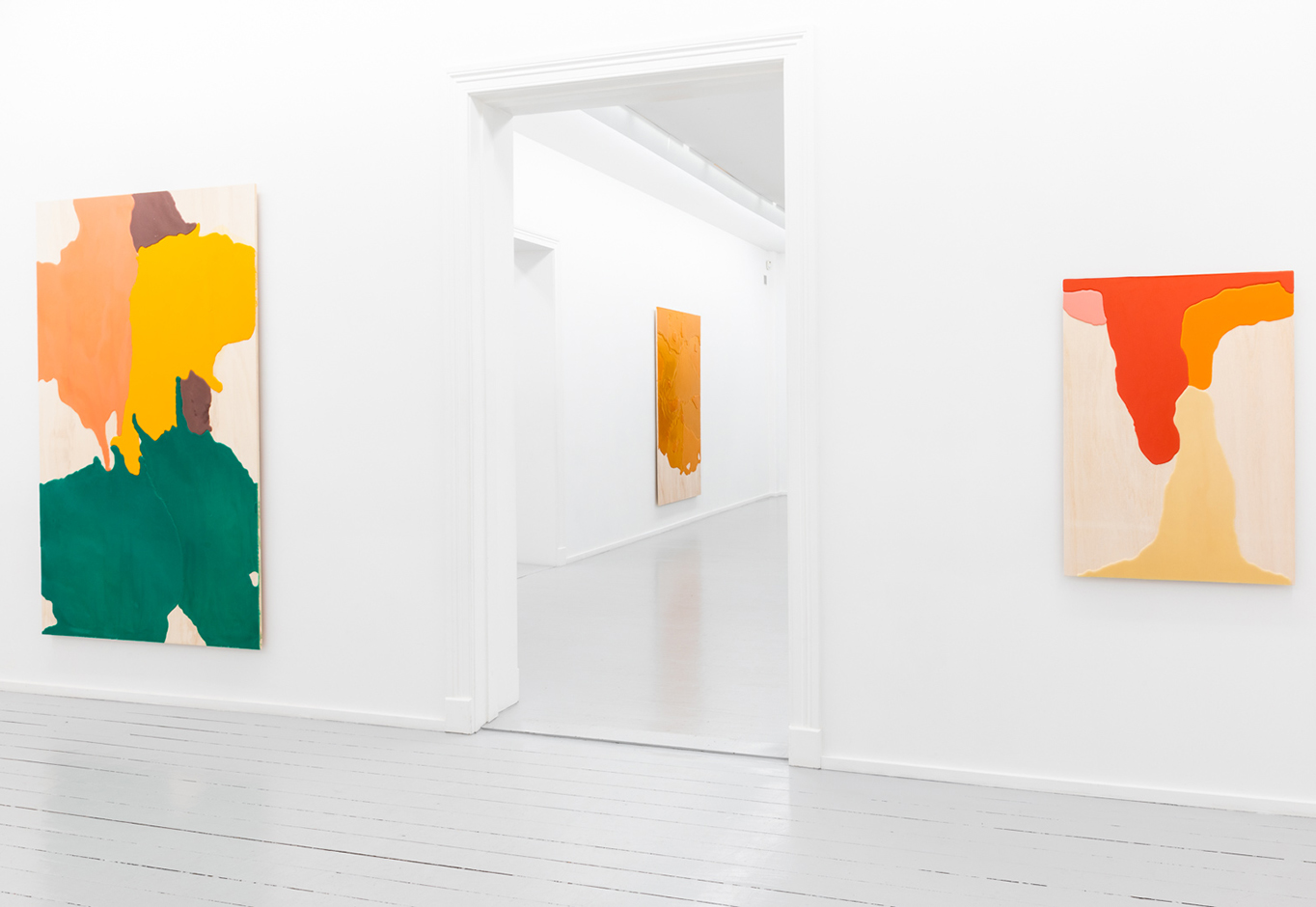 Using beeswax and organic resins mixed with color pigments to create vibrant artworks, Norwegian artist Katrine Giæver continues her practice of sidestepping traditional approaches to painting in her recent exhibition at Galleri Riis Oslo. As the hot wax mixture cools and hardens, it's applied on veneered panels and manipulated until the flow of color comes to rest with curving edges or straight lines.