04.05.22
Theoreme Editions' New Collection Features Mirror, Metallics, and a Hint of Mint
Named after a 1968 movie by Italian director Pier Paolo Pasolini, the Paris-based brand Theoreme Editions describes its curatorial approach as embodying the same "fetish for form" and penchant for storytelling through art as Pasolini's radical film did. After presenting their debut collection of furniture, which we spotted during Milan Design Week in 2019 as well as at the 2020 Collectible Design Fair, founders David Giroire and Jérôme Bazzocchi invited 10 new French designers to collaborate with artisans across Europe. Intended as a continuity of the first, Collection 02 keeps a sculptural and poetic thread running through a range of numbered and limited editions.
Each designer, chosen for their aesthetic and affinity for craft, was given a carte blanche and the same fairly abstract brief: make it sculptural, monolithic, and minimalist. "We curated pieces that are strong enough to live by themselves but would also go together well without 'cannibalizing' each other," says Bazzocchi. "We wanted both the first and second collection to work together in the same way."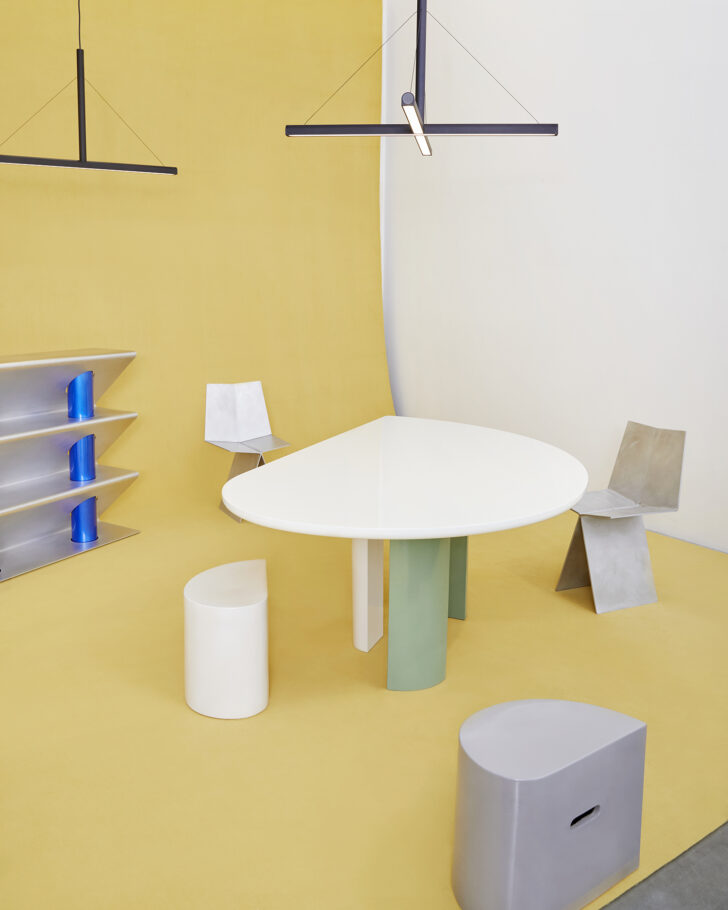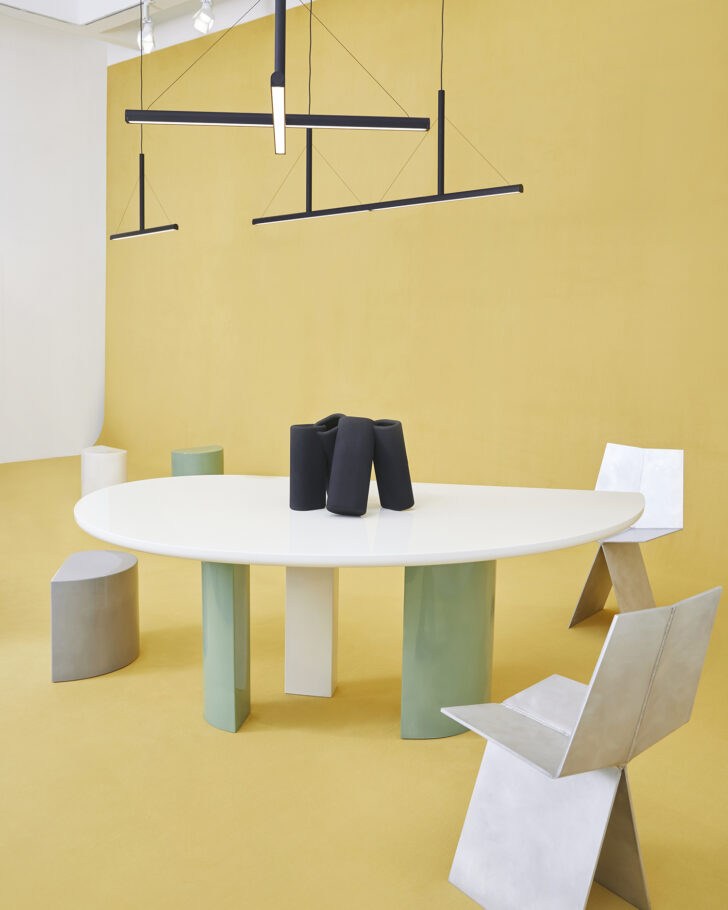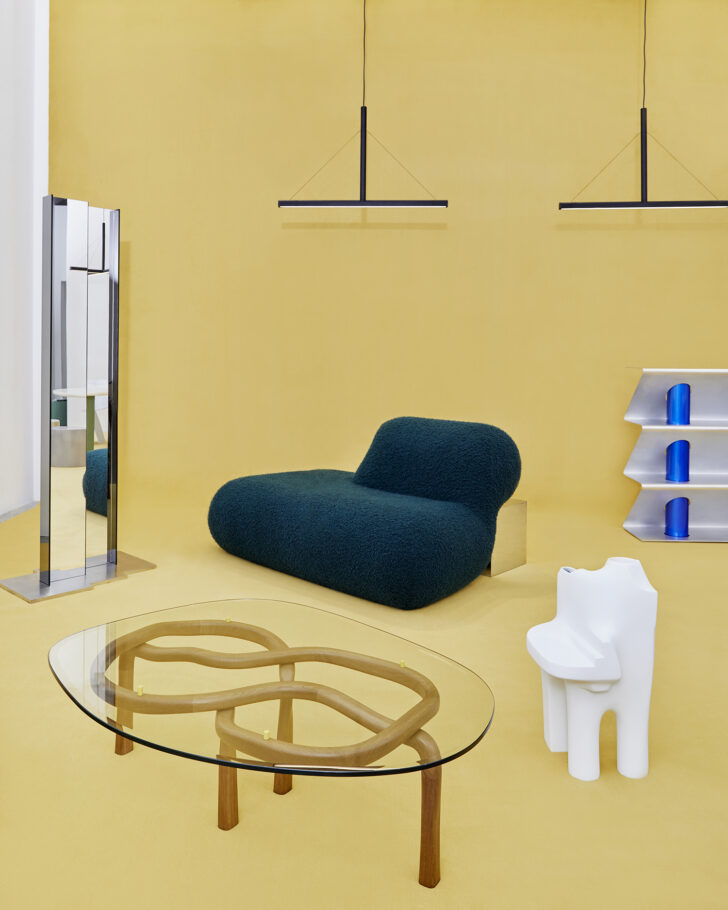 Overall, the new designs have a more industrial look, with metallics and mirrors in place of the softer pastel shades from Collection 01, although hints of these remain. Larger pieces include Adrien Messié's Fibonacci table, which pairs a white-lacquered, tear-shaped wooden top with a minty ceramic base. A ceramic side table that doubles as a stool was also produced to match. Meanwhile, a mirrored cube acts as the heel of Achille Meridienne by POOL, over which a rounded foam cushion covered in dark green bouclé flows to create a seat. 
Several of the designs use metal, nodding to "the industrial era of machines, of mass production and technical reproducibility." They include pendant lamps by SCMP Design Office, with strict geometries of black-coated aluminum bars that contrast with the fluid shapes found elsewhere in the collection. In others, a zig-zagging aluminum sheet punctured by electric blue steel cylinders forms the three-tiered Pleat Console by Victoria Wilmotte, while two sheets of brushed stainless steel are folded into an angular chair by Exercice Studio.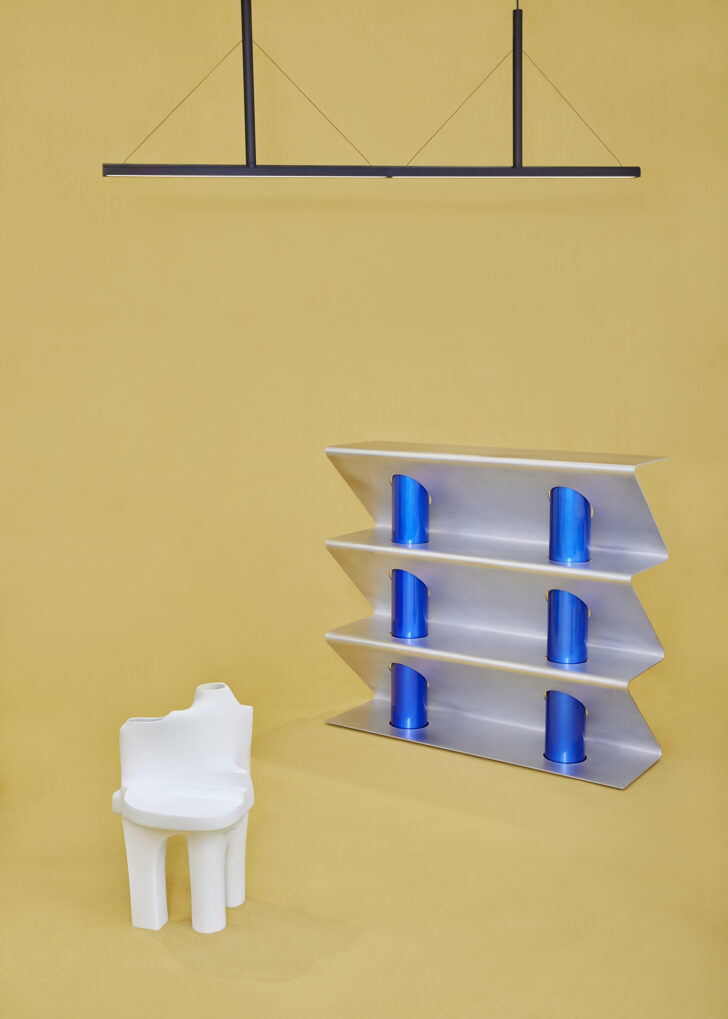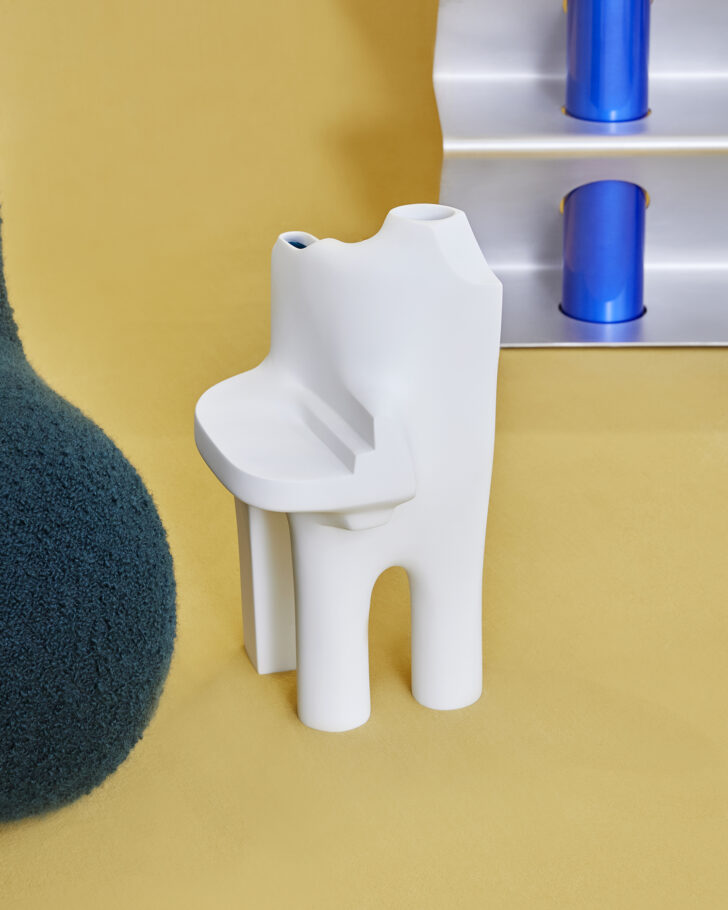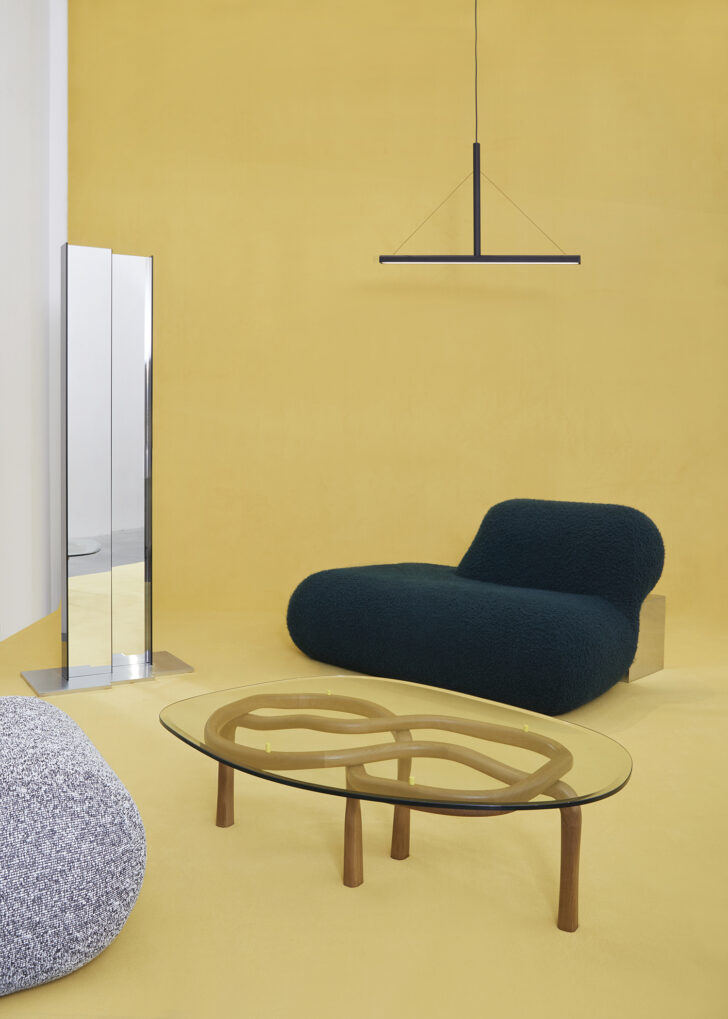 Steel also provides a base for Wendy Andreu's free-standing Maze Mirror, comprising vertical planes of reflective, smoked, and one-way glass that creates moments when a viewer can see through but not be seen. Totally transparent glass tops a coffee table by Hall.Haus, supported by a knot of wooden ropes.
Completing the collection are smaller pieces like a lacquered fiberglass vase by Matéo Garcia, which has a Surrealist shape devised through a combination of 3D scanning and hand sculpting. Services Généraux similarly used new techology to 3D-print a vase in matte black ceramic, which takes the form of an extruded linked chain.
The collection was shown at Paris' Espace Bertrand Grimont for just over a week in March 2022, accompanied by works from artists Clédia Fourniau, Vincent Beaurin, and Justin Morin. This trio's equally experimental explorations with color and materials were selected to complement the furniture, and create more of a "living space" in which visitors could appreciate both. ◆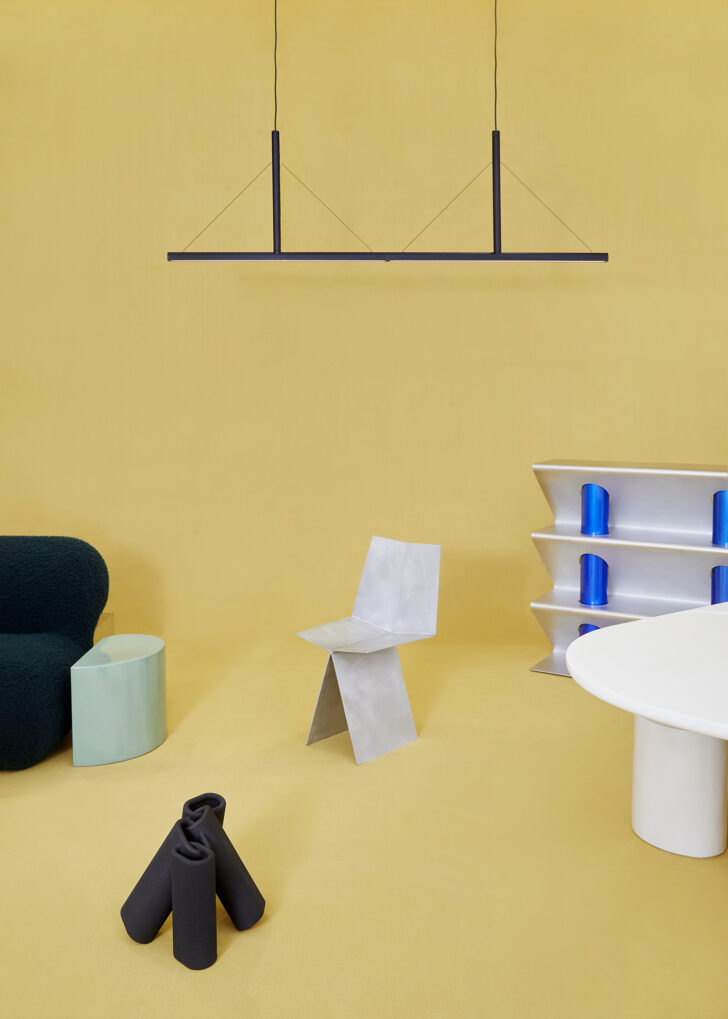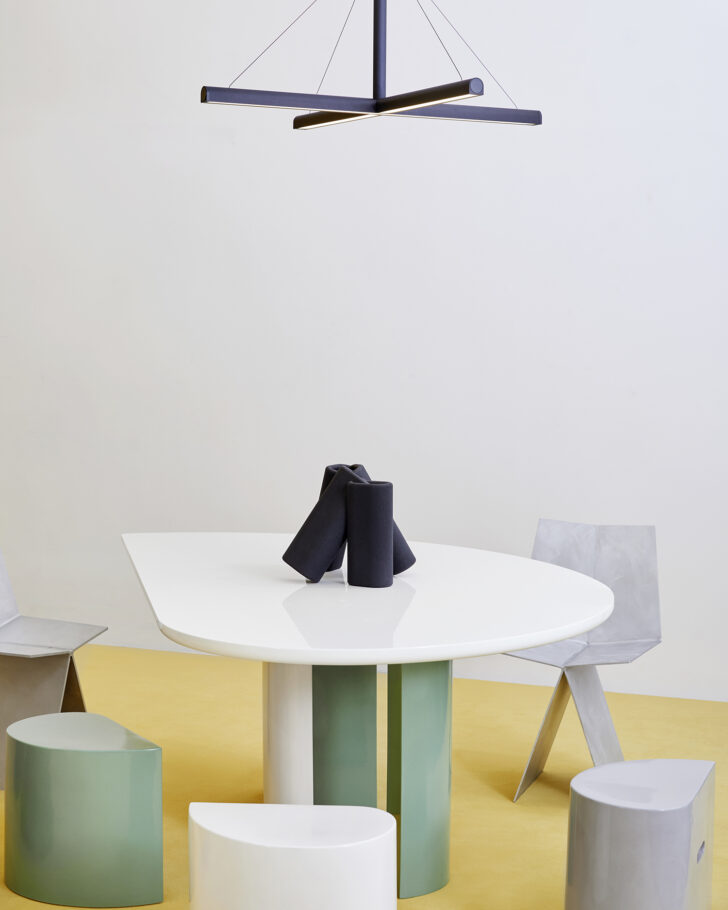 Photos © Valentin Fougeray