05.05.22
Lukas Cober's Practice Grew From Building Surfboards in his Teens
After 2+ years, it's finally what we call "design season" — what with New York Design Week, Salone Del Mobile, 3 Days of Design, and the Collectible Design Fair all happening within the coming weeks. With that in mind, we decided to devote two weeks to one of our favorite subjects, and one of the things we enjoy scouting most during those kinds of fairs: new and emerging talents in furniture, interiors, objects, and more. We hope you enjoy!
From a young age, there was never any doubt in Lukas Cober's mind that he would pursue a career in design. "I have always been into crafts, so for me, it was clear at a very early stage that I would be building things with my hands one way or the other," says the designer, who grew up in Aachen (a small medieval city at the tripoint of Germany, Belgium, and the Netherlands) and later attended the Maastricht Academy of Fine Arts and Design. But Cober inevitably embarked on his current path by pursuing a somewhat surprising endeavor for such a hopelessly landlocked city. "At one point in my late teens, I got heavily into the art of hand-shaping surfboards," he recalls, "which sparked my fascination with functional art and gave me a deep understanding about to approach aesthetics." A tenure working for revered craftsman and designer Valentin Loellmann allowed him to hone his skills further, but the pursuit of the essential was clearly ingrained early on. Even now, that penchant for smooth forms and aerodynamic perfection is legible in his work, which takes the form of round tables with curving S-shaped bases made of hand-layered fiberglass (not unlike how surfboards are made), or pared-back plinth-like pillar tables with round, cloudy glass tops.
One of his latest collections, Kuro, for instance, loosely calls to mind the austereness of Shaker furniture. At first, the benches, tables, consoles and bookcase seem remarkably simple, but the slightly exaggerated proportions and rounded forms give way to an uncannily cartoonish effect. "I am now doing something that might seem very different," he adds, referring to the departure from his early days shaping surfboards. "But the way I approach each work and the way I observe and create shapes from scratch is deeply rooted in that. Seeing objects in shapes became the essence of my work and continues throughout everything I do."
We spoke to Cober about his varied material processes, polishing his skills by working with Loellmann, and the disarming naivety behind his Kuro collection.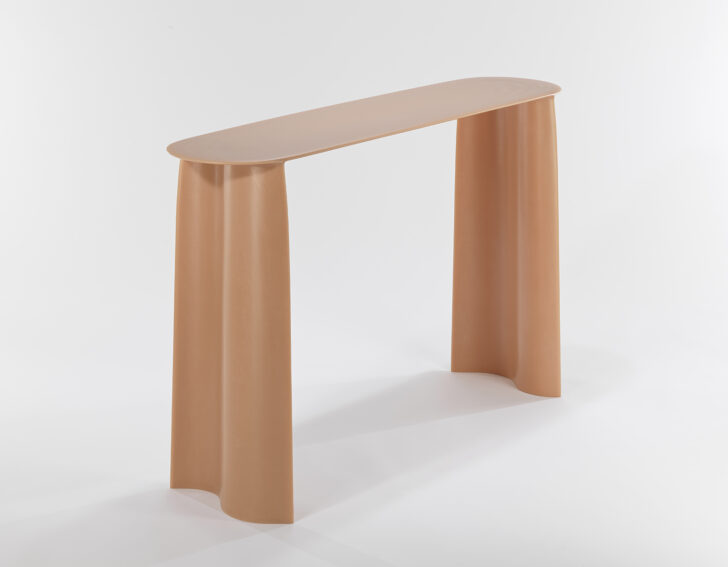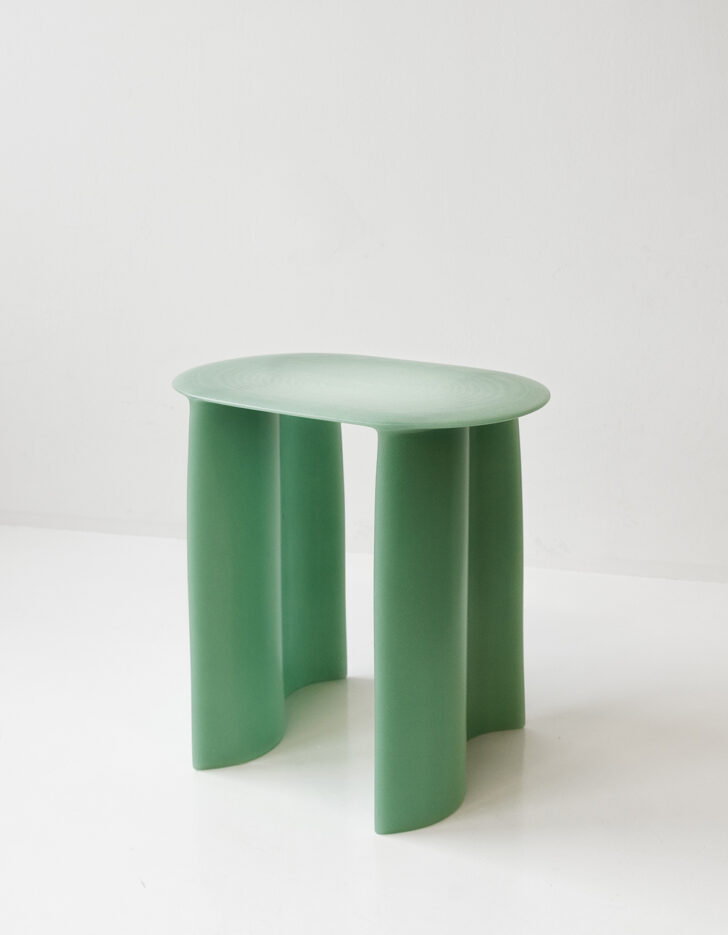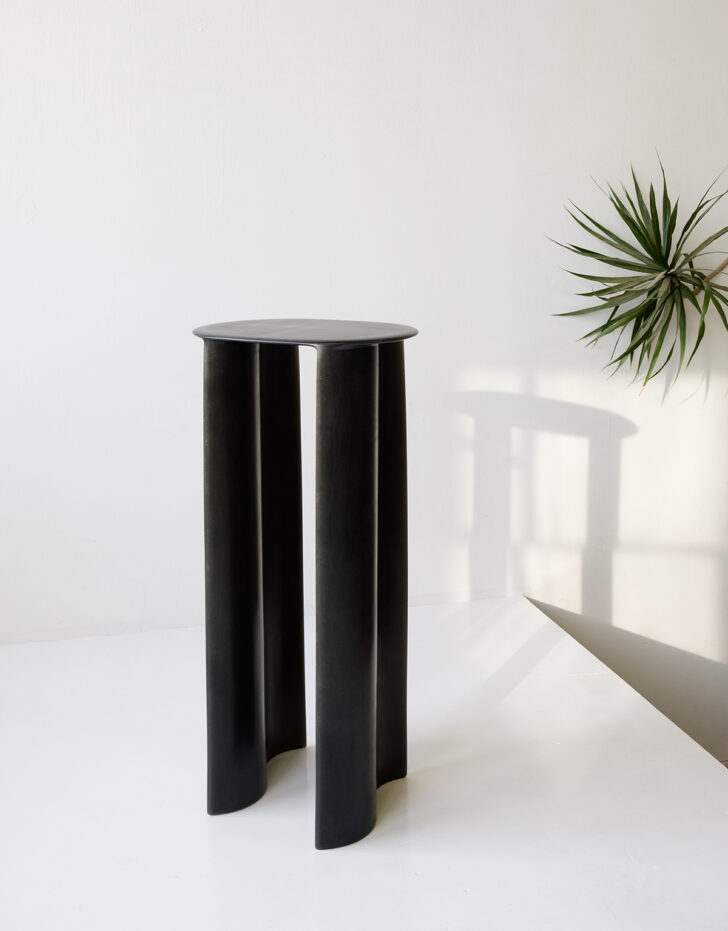 What is your general process of creating one of your pieces from idea to construction?
I really suck at sketching and 3D modeling, so I rarely sketch to visualize ideas — only to try out rough proportions before I start building something. For me, it rather starts with an idea of materiality and a concept of a shape that I then try out directly on the material itself. I combine plates, remove material, reflect, adjust, and move forward. It's a very spontaneous way of sketching directly on the material which results in sensitive shapes with subtle nuances that can never be sketched on paper or built as a 3D model. In the end, each piece I build is only related to my sense of shape and therefore it can only be built by myself. That doesn't mean I'm building the pieces all myself but the production necessarily needs to stay in the studio and the actual process of giving shape to the final product has to be done by me as the artist behind it. I truly believe in that.
You have a really interesting way of working with resin, using layers of fiberglass cloth to build up your pieces. How did you go about developing and perfecting that technique?
Using fiberglass as a material for furniture is not a new thing. It was used by Eames and others as chopped strand mats wetted out into molds to quickly build up strong and durable shapes. However, my approach is a different one. Instead of thick chopped strand mats, I´m working with very thin layers of plain-weave fiberglass cloth that I then layer up into thicker parts. This technique has its origin in the production of fiberglass fins, which are also hand-shaped from a layered fiberglass part to create hydrodynamic foils. In the process of removing material to get to the desired shape, the layers of fiberglass are being used as reference lines to control the flow of the shape in order to get to a symmetrical foil. To some these pieces are just simple objects but I have always been fascinated by the pure beauty of it in both, shape and materiality. That's why I have adapted this concept to my work to create sculptural pieces.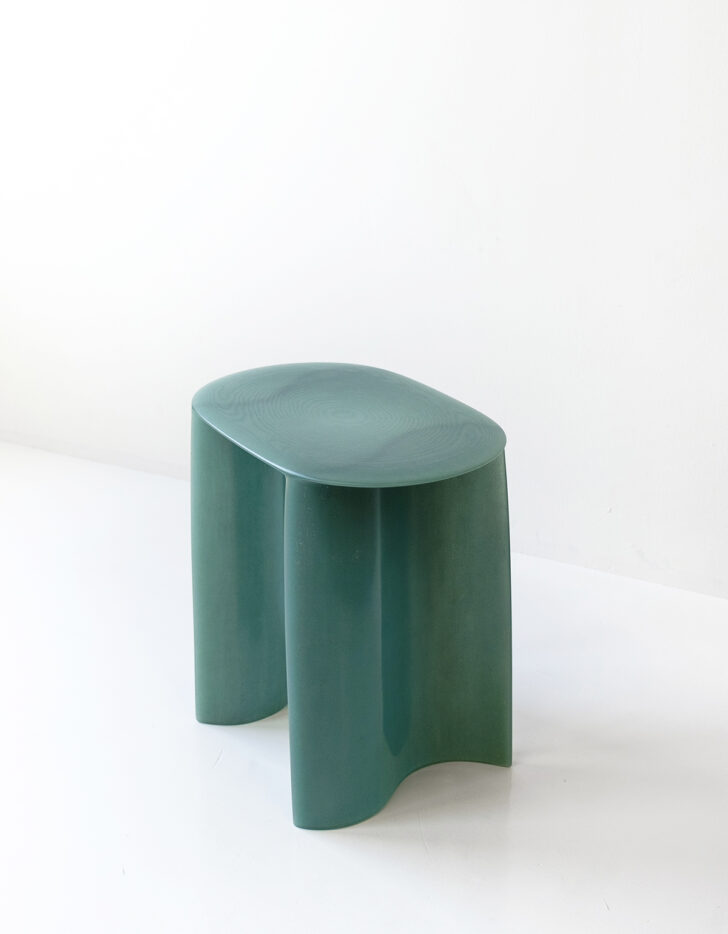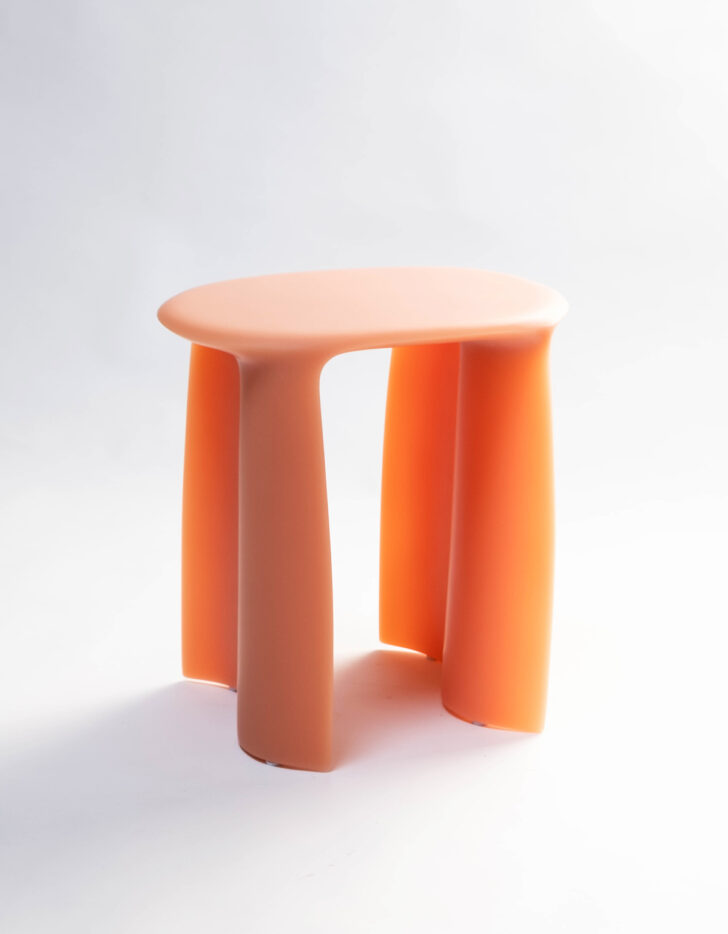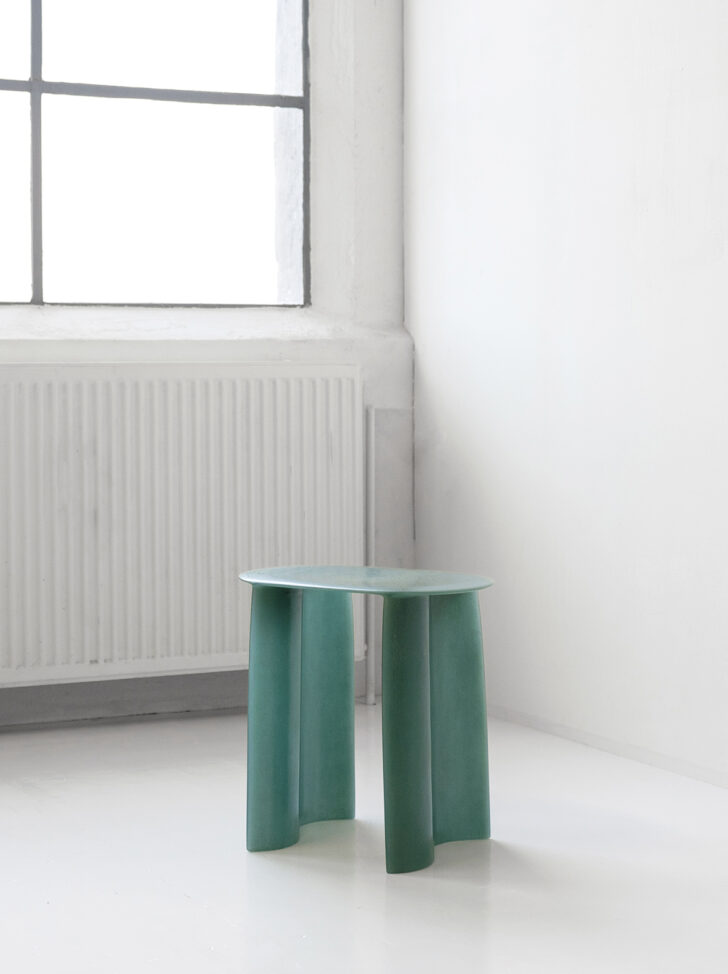 You previously worked with the designer Valentin Loellmann, whose work is very craft-focused and precise. How did that experience influence your current practice?
Working for Valentin for many years laid the foundation. After graduating from the Arts Academy, I had little idea of how to run a studio and I lacked the experience for how to translate and bundle ideas into an authentic artist's identity. Working for another artist you have to adapt to someone else's thoughts and ideas. But the craft aspect was just a very good fit with my own passion for expression through shapes. I was soon responsible for part of the shaping and finishing process which also helped me to polish my own skills.
I think my personal approach to aesthetics is quite different from Valentin's, but helping to create part of his work for many years definitely had some influence on my work today.
Talking about your Kuro collection, below, there is almost a naïvety to the form — the table, bench and bookshelf have simple rounded legs and an otherwise unadorned body. Can you take us through how you develop those forms, as well as the other aspects of that collection?
People might be convinced by the overall image of the work when they see it online but I think it's difficult to understand how a simple and naïve shape like that can have that much character to it. For that collection, I combined very graphic pleasing outlines in wood, from the domed legs to the waisted top and the tapered edged endings. It is a simple combination of curves and flats but it's just right. If I would stop here, it would be just a combination of plates and curves that might be unadorned. But it's about the contrasting organic shape that I give to the material afterward. That idea continues throughout my work. By hand, I try to create the most sensitive details and variety in shape out of the most simple yet applied outlines. Seeing each work as a sculpture, it is about the distribution of thickness of the material and the transition of curves throughout the piece created by hand, which adds a sensitive quality to the piece that can hardly be pictured accurately and can definitely not be copied the same way.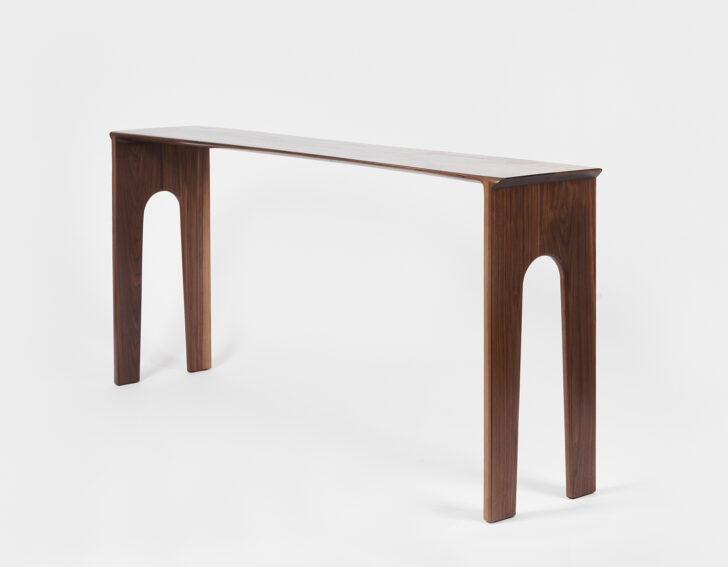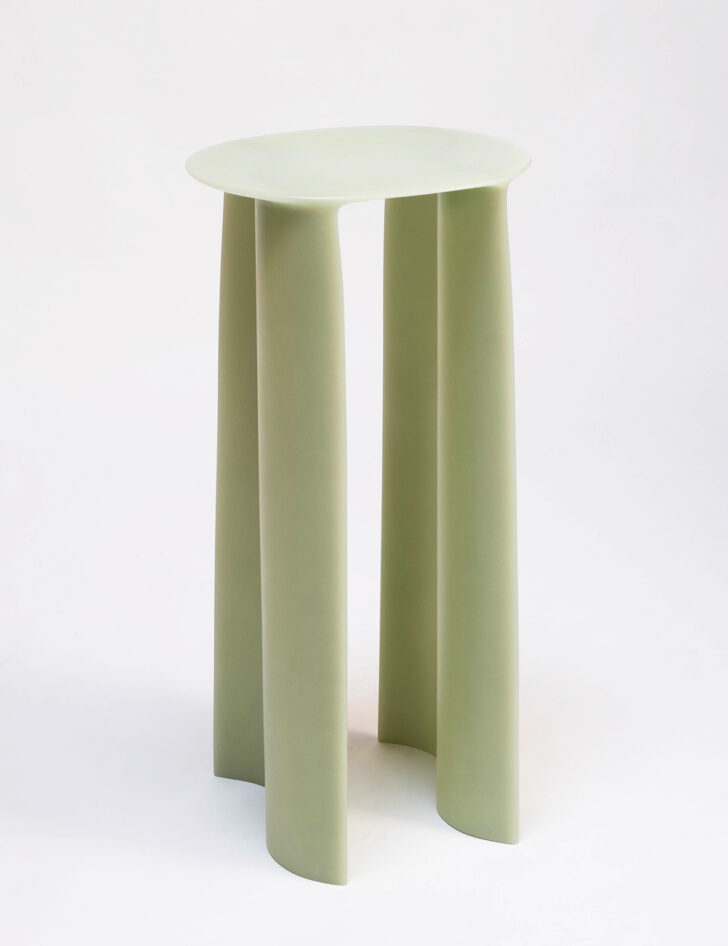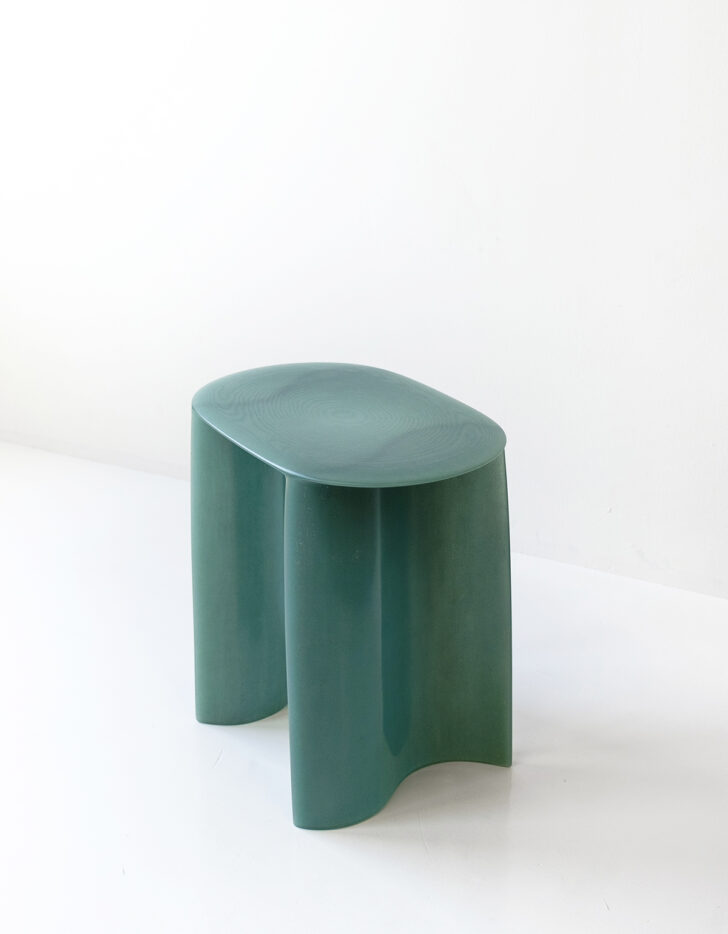 You've written that your Liquid Stool, the purple one shown here, is formed of hand-shaped resin. Can you explain that process?
Resin is widely used by many designers and artists, mostly as a casting material in combination with casting molds to perfectly reproduce a certain object once designed. I try to make pieces from resin that are not a perfect result of a piece once designed on the computer and reproduced with a casting mold. I do use casting molds to get me closer to the piece I want to create but the actual shape is given to the piece by hand and not by the mold. The idea behind the liquid stool is a visually blown-up version of my New Wave fiberglass pieces with different materiality and full transparency. With that image in mind for the first piece, I completely freehand an object from combined solid chunks of resin. The outcome of that is an object that in its details could never be designed on a computer or built as a 3D model. It's an organic sculptural piece.
What do research and experimentation look like for you?
Since my pieces are not produced by other artisans, once designed, my work is never static. The main actor behind the production is myself and therefore it is an ongoing process of change. Since I'm working directly and intuitively with the material the whole process of creating a piece is an ongoing research and experimentation alike. I constantly change and adjust details. I discover and master new things working with the material. Gaining knowledge is opening up new possibilities for new pieces. It's a continuous development. Working in "collections" gives me the opportunity to constantly apply my gained knowledge in material research onto new objects.
What's next for you?
The studio is rapidly growing and with the increasingly high demand for my work, running the production internally became a challenge on its own. So the process of creating new pieces is slower but there are many new ideas I'm working on and many new pieces in the pipeline. Some of them are soon to be released as an extension of my existing collections but some might also have the potential to become a new collection on their own with new materiality.