05.03.22
Rejo Studio's Playful Designs Reference Everything From Their Arab Upbringing to Japanese Anime
After 2+ years, it's finally what we call "design season" — what with New York Design Week, Salone Del Mobile, 3 Days of Design, and the Collectible Design Fair all happening within the coming weeks. With that in mind, we decided to devote two weeks to one of our favorite subjects, and one of the things we enjoy scouting most during those kinds of fairs: new and emerging talents in furniture, interiors, objects, and more. We hope you enjoy!
There's something almost animate about the furniture and lighting designed by Reem Olyan and Jumana Qassem of REJO studio. You can easily imagine these pieces having conversations with each other when you're out of the room. (It makes a lot of sense that the Japanese animator Hayao Miyazaki is an inspiration for the duo.) Olyan and Qassem work in vivid blues, yellows, and reds, or soft browns and mint greens and render their bold, elegant forms in dreamy scenarios. Like the curving, fluffy Marshmallow sofa that lives alongside bright, blocky wooden bookshelves. Or the aptly named Hug sofa, which they came up with in the early days of the pandemic and is meant to feel like a calm, comforting embrace. The corresponding bookcase, resembling a large, wavy mouth, seems happy to store your disorganized volumes without judgement — it's there for you, but not demanding you be orderly. Contrasting with this stylistic playfulness, though, is the seriousness of purpose that these Palestinian designers share.
Olyan and Qassem met in college at the Islamic University of Gaza, where they studied architecture engineering. They graduated in 2013 and worked in architecture for several years but weren't entirely satisfied professionally. "Reem came up with the idea first, we discussed it together and found that we both wanted something different from what we had been working on," they explained over email. "We needed more freedom and art in designing and that is what furniture design granted us." They found themselves "devoting everything" to starting a studio that expresses the atmosphere and influences of the Middle East and the Arab world. "That is what we have always wanted to reflect in our designs, as we barely see any original furniture design in our region."
The pair initially relied on file-sharing, communication apps, and phone calls. "Due to our complicated situation as Palestinians, when we first started REJO, Reem was and still is in Riyadh and Jumana was in the Gaza strip. At the beginning of this year, Jumana moved to Istanbul, so we can meet easily and work together properly for the first time since launching REJO." They showed their first collection at Downtown Editions at Dubai Design Week a few years ago and their pieces are now available to order on 1stDibs.
The perseverance and determination it's taken to get their studio going under challenging circumstances is matched by a lightness and sense of invention that's so visible in their work. Eager to get to know them better, we sent along some questions that they answered jointly.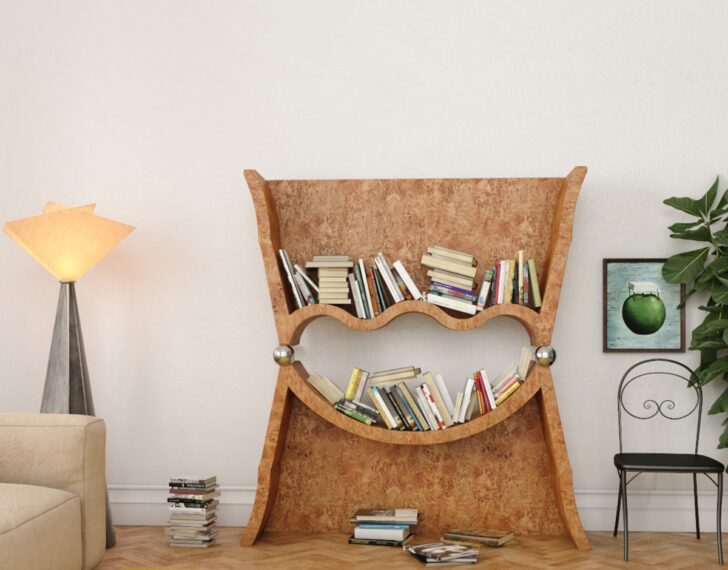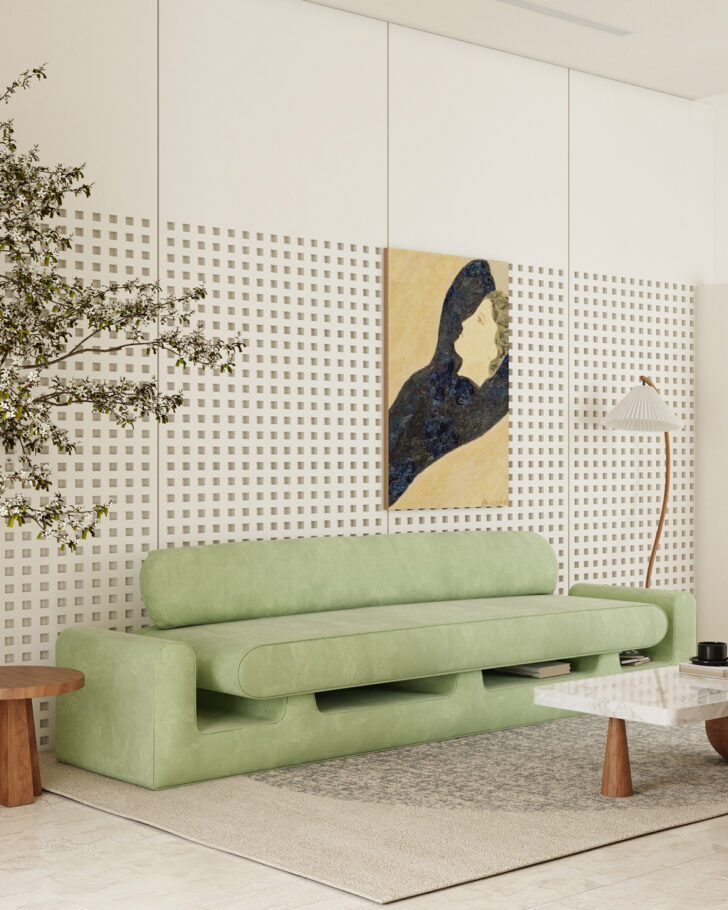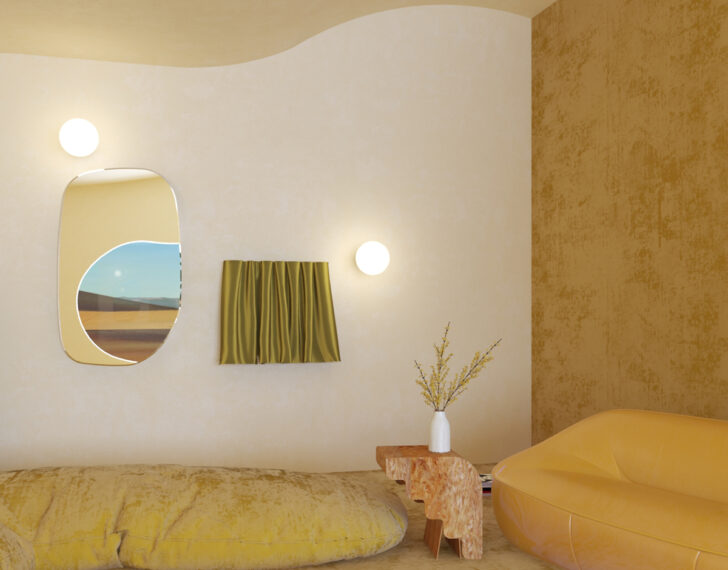 What is your creative process like? Is it collaborative? Or does each one of you come up with specific, individual designs that work together? For example, how did you come up with the Hug sofa?
We tried many things until we found the right way to work together. We first agreed that we both need to design and then discuss the ideas to finally select the best ones, but after a while, we realized this slowed us down. Hand sketching is an important tool in design and extracting the ideas from your head is never easy for someone who's bad at sketching (Jumana), and a piece of cake for a great hand sketcher (Reem).
So yes, it is collaborative work, each one of us has a role, and this is the shape of our team:
Reem is "the creative side" of the design process. She draws the idea when it comes, then discusses it with Jumana, "the technical side," so that she can refine and model the idea. From there we start modeling, changing, and developing the idea into its final form.
For the Hug sofa, to begin with, we designed the Hug collection, a collection that we came up with at a time when our lives changed completely from the pandemic. It was a hard time that made us realize a lot of things. We came up with the sofa first when we started "The Topography of Our Intimate Being" series. We wanted something that holds the room, hugs us, and holds our books, strong enough to represent all of what we have experienced.
I'm curious to know how you both approach materials, composition, and color? Do you do a lot of research or is your approach more instinctive?
We believe that we are driven by our instincts in the design process and feel that if we cannot figure out the shape through our senses and what we feel, we usually drop it and move on to another shape and composition. But we do our research, of course. It's more effective when we do both. It helps us to create a brand-new design.
Color is really important in all our projects. They instill a sense of reassurance and comfort. We enjoy colors and believe that it's an important element of our identity. We can't ignore the fact that "homes full of colors" have always been part of our culture so we love to reflect this aspect in most of the interiors we create for our furniture. You will also notice a lot about our use of velvet in most of our choices, it's a fabric that is connected to our identity, we used to see it in everything around us, dresses, furniture, and curtains.
But we relied more on the research aspect when designing our first collection, the "Travel Collection": We read and searched about a group of countries with different identities, then scaled it down to certain areas with specific practices and local artistic rituals from these places. After this, the process took a more instinctive way when we narrowed it down to India, South Africa, and Yemen and designed a piece from each region that reflects the culture and practice of its people.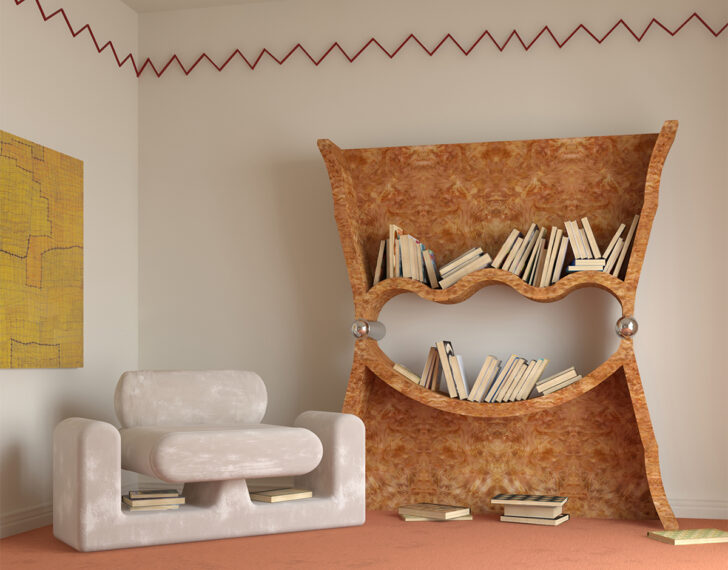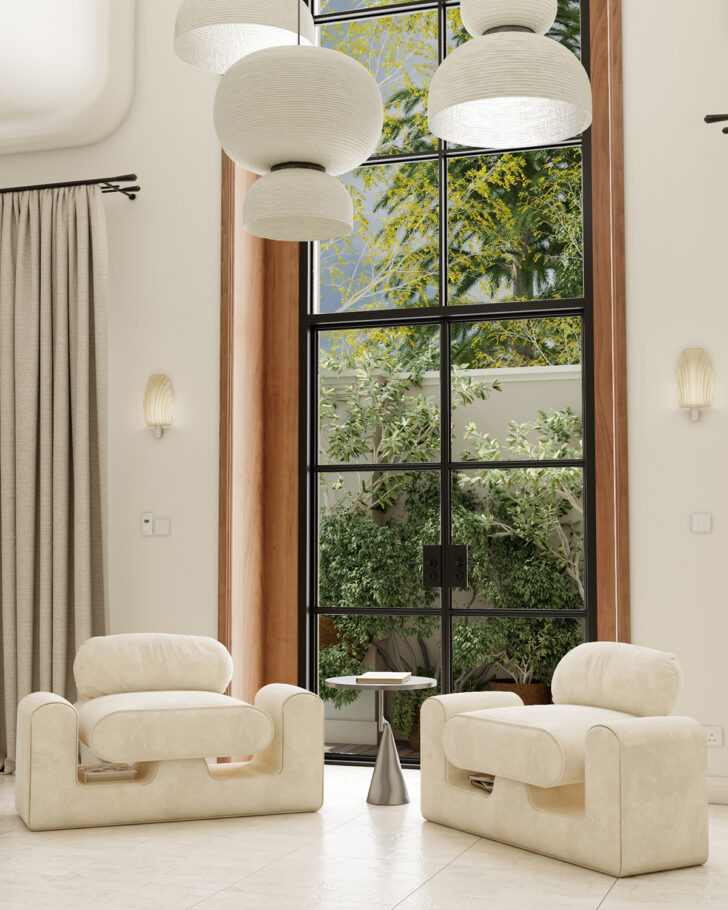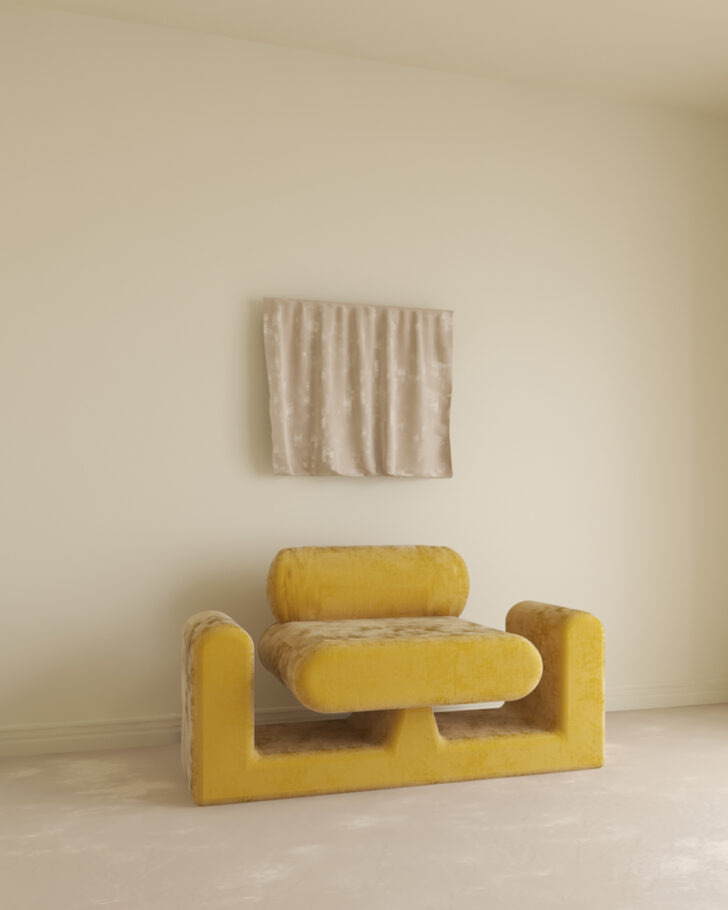 How does your architecture background influence your design sensibility?
It was a beautiful starting point that gave us the architect's eye to see things with a different view. It started by noticing the details in our Arab culture from domes, and triangles on the facades, then being affected by Hassan Fathy architecture [Fathy, a modernist Egyptian architect, championed the use of mud brick over Western building techniques], to finally thinking about how can you bring these elements into the formations that you design?
Architecture also develops your interest in the details of the pieces and the technical aspect, and to study the stability and balance of the pieces. In the Tori Light design, there's a slight approach from the architectural background, in shaping nine geometric pyramids with an odd sequence to form a larger triangle at the endpoint.
What's been influencing your practice lately?
We have been inspired lately by a book called Nishapur: Pottery of the Early Islamic Period by Charles K. Wilkinson and loved all the imaginative animal patterns and the ornament in it.
And other research papers, like "Lighting in the Islamic World." [This paper] describes the sequence and types of lighting from fish-shaped light, and the Hemi Kanadeel [a type of wedding chandelier], all during the Mamluk period in Syria and Egypt.
Reem recently visited an oasis of palm trees in Riyadh. It was a magical experience for her, and she said that being surrounded by these shadows revives a radical connection to this tree from the various stages of our lives.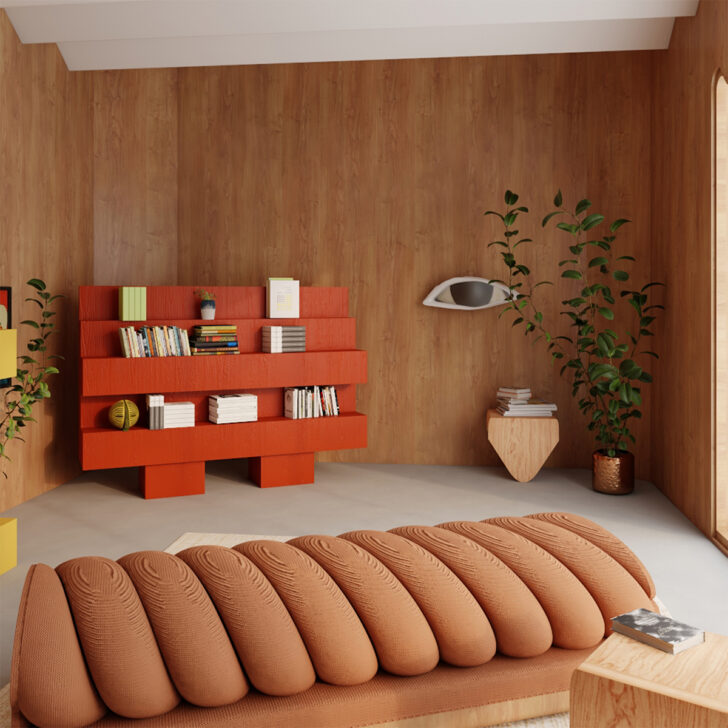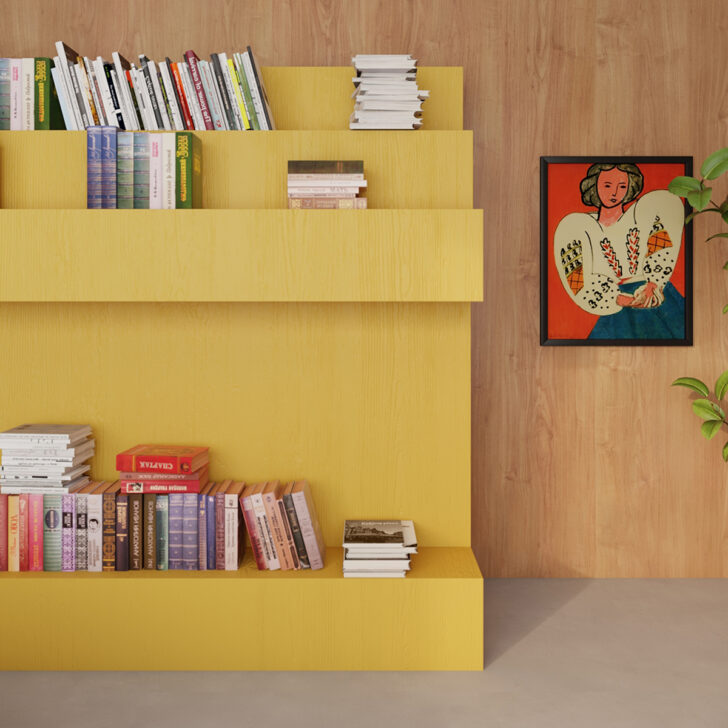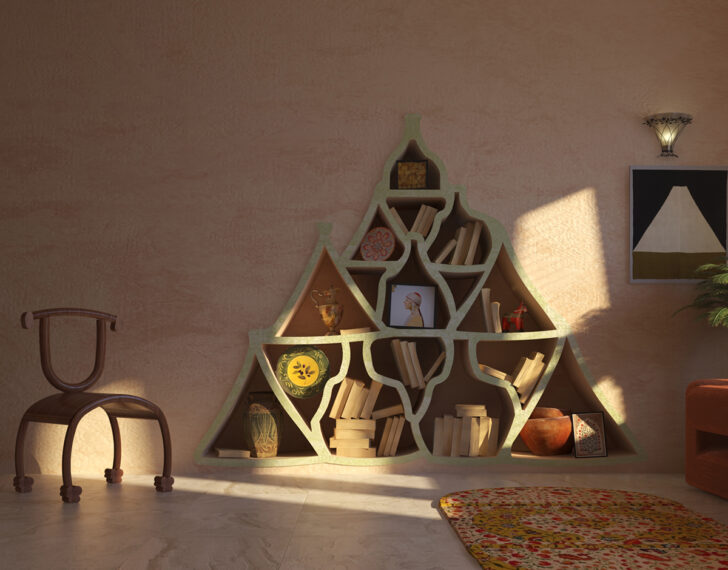 What do you keep around your studio or homes for inspiration?
Books, all kinds of books and novels. The philosophy of Milan Kundera and Dostoevsky has always influenced both of us. The Japanese Studio Ghibli series of films we keep watching over and over and always discover and feel new things. We are fond of collecting photos of our region's traditional costumes and historical items, and we have a great archive, which we swipe around to refresh our insights.
Your work feels wonderfully imaginative. Do you feel like there's a playfulness to your design process?
Yes, of course, both of us love reading novels, we used to exchange books during our time in college together. We think that these readings were present in one way or another in part of our designs and how sometimes we imagine some of these pieces talking to each other and having an interesting discussion of an excerpt from Milan Kundera's novel.
For example, the three-headed chair, the inspiration, and the development of the formation were based on the fictional three-headed character from the movie Spirited Away by the genius Hayao Miyazaki. We found that to reflect on what is going on in our world and what we face in our life that one head is not enough for the troubles of daily life.
We two get bored easily; you will always find us searching for new stuff to see in order to create new things. And there's a saying by [Italian anti-fascist writer and painter] Carlo Levi: "Il futuro ha un cuore antico," which always affects us — that the future has an antique heart. We like to read and look at the history of most of the topics from which we draw inspiration for our work. We do admire the archaeological aspect and add to it our daily life in a little narrative way. To create new things we always have to invoke the old and learn from it.
What's next for REJO? New works on the way?
We are excited to launch our first collection of homewares that includes dinnerware and wall decorations with small lamps. In this collection, we tested the clay material after a long time of research into the types of clay and its origins in Islamic times. We wanted to try something tangible with our own hands, reflecting our local culture through this collection, and taking into account the daily practices of our Arab identity in crafting and formations.