10.27.22
Seven Design Tastemakers on Their Biggest eBay Scores — and Secret Expert Shopping Tips
When I first joined eBay back in 1999, just four years after it was founded, I remember worrying that it spelled the end of vintage shopping; that I'd never score a deal again now that it was so easy for people to figure out what their stuff was worth. Boy, was I wrong. Twenty-three years later, that one small drawback pales in comparison to eBay's positives: the fact that it's created a globally connected network of people who love objects, the fact that it makes the fun of shopping accessible at literally any time of day (or night), and the fact that it's an entirely different kind of shopping than the world knew before — a better kind, where you don't even have to know what you're looking for, but can spend hours going down rabbit holes and discovering new things. We talk at length in our forthcoming book, How to Live With Objects, about the joys of getting lost in that process on your way to building a more personal home, and about how shopping online, even if you don't buy anything, can help you learn about makers and movements as you define or refine your taste. There's really no better place to do that than eBay.
So much so that when we interviewed subjects for our book, eBay came up time and time again in their object-hunting stories — the place where they scored that incredible artisan jug, or the ultimate vintage dining chairs, or the weird piece of pottery that, when randomly stumbled upon in the middle of the night, felt like it somehow found them. To celebrate our love for the endlessly useful platform — which incidentally is also where we shop for everything from high-end fashion to phone chargers — we asked seven tastemakers and shopping experts to share their favorite eBay finds below, as well as their top shopping tips and current favorite saved searches (because as every shopping expert will tell you, you must have saved searches).
Read their stories and tips below, then join us next week, on November 1 at 9am PST / 12pm EST, for a show and tell on Instagram Live where they'll share their finds with us in person. See you then!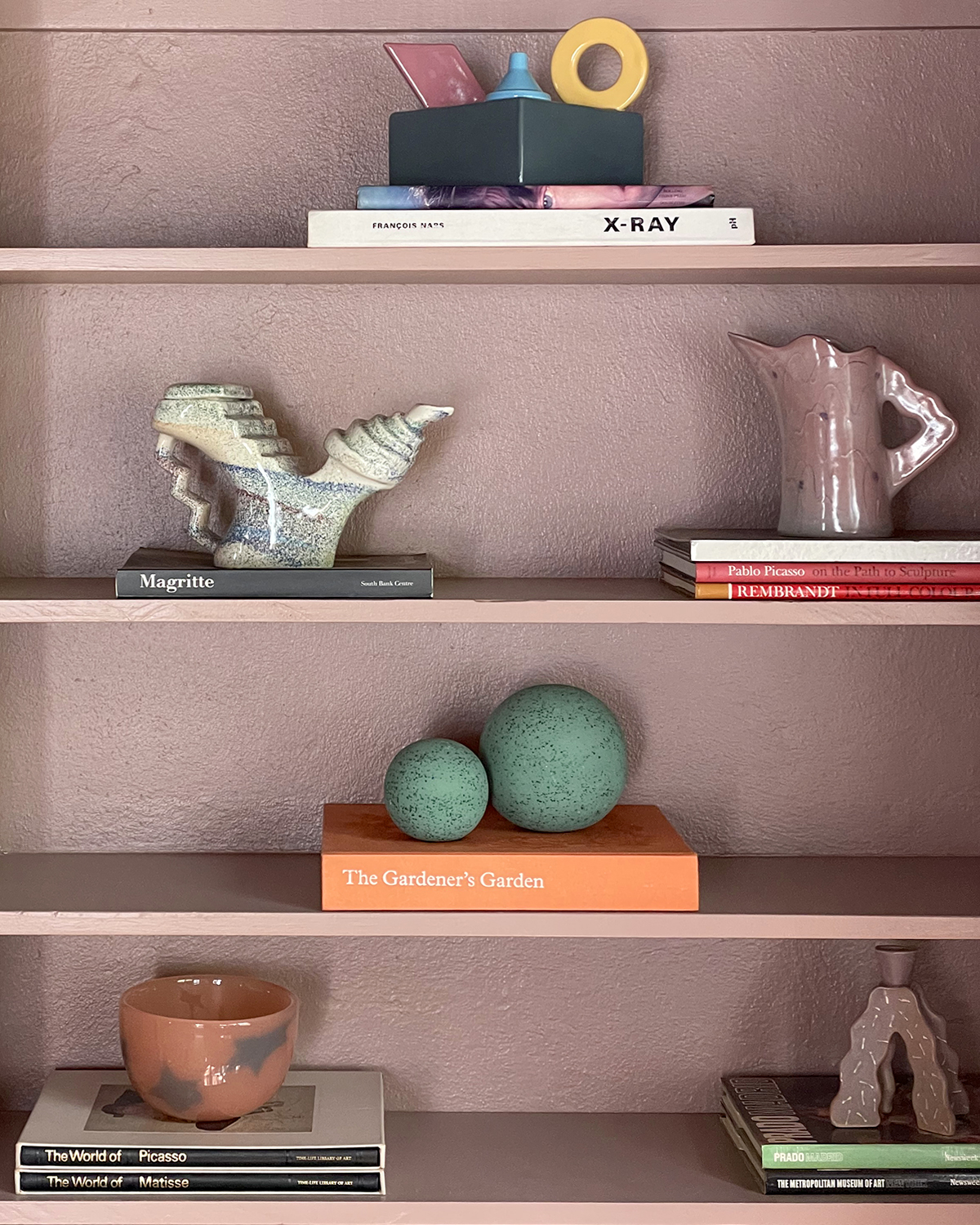 CHARLES NALLE TEAPOT: "I found this airbrush-style teapot while doing an eBay search for weird pottery one night, as you do. It wasn't marked very well, so no one would have found it. It didn't have any identification besides a mysterious 'N' signature on the bottom, but I loved it, and the bidding was at $5, so I got it for maybe $12 with shipping. It arrived, I was obsessed with it, and it kickstarted an idea of collecting teapots, but weird sculptural or artist-made ones. That's now grown into a collection of sculptural pitchers, strange vases, and studio pottery in general.
Sometimes when I find something I get this feeling that it was meant for me — that maybe that's why it was buried on eBay and had the wrong keywords. It's like it was waiting for me, knowing that's the only way I'd be able to afford it. And with this teapot, it felt like I was the only one who could appreciate it, too. I showed it to so many people and they were like, 'Oh, okay, cool.' My mom asked, 'Did someone in high-school art class make that?' For me, a child could have made it, it doesn't matter; it's about how it makes you feel. I've always been fascinated with pieces by no-name people, or art students, where maybe that's the only thing they've ever made. The pieces that don't get any recognition.
That said, I've since discovered that this teapot is by the Florida studio potter Charles Nalle. It's wild. Is it even supposed to be functional? And why did everyone make weird teapots in the '80s? I don't even like tea, which is the funniest part."
FAVORITE SAVED EBAY SEARCHES: Studio pottery, Claudia Reese, Brutalist lamp
TOP EBAY TIPS: "Let yourself go down a rabbit hole of 'more like this' items — that's where I end up finding my best pieces. Don't get discouraged if you aren't seeing anything good. You have to keep digging. It can take hours, but the treasure is there."
Linda and John Meyers, Wary Meyers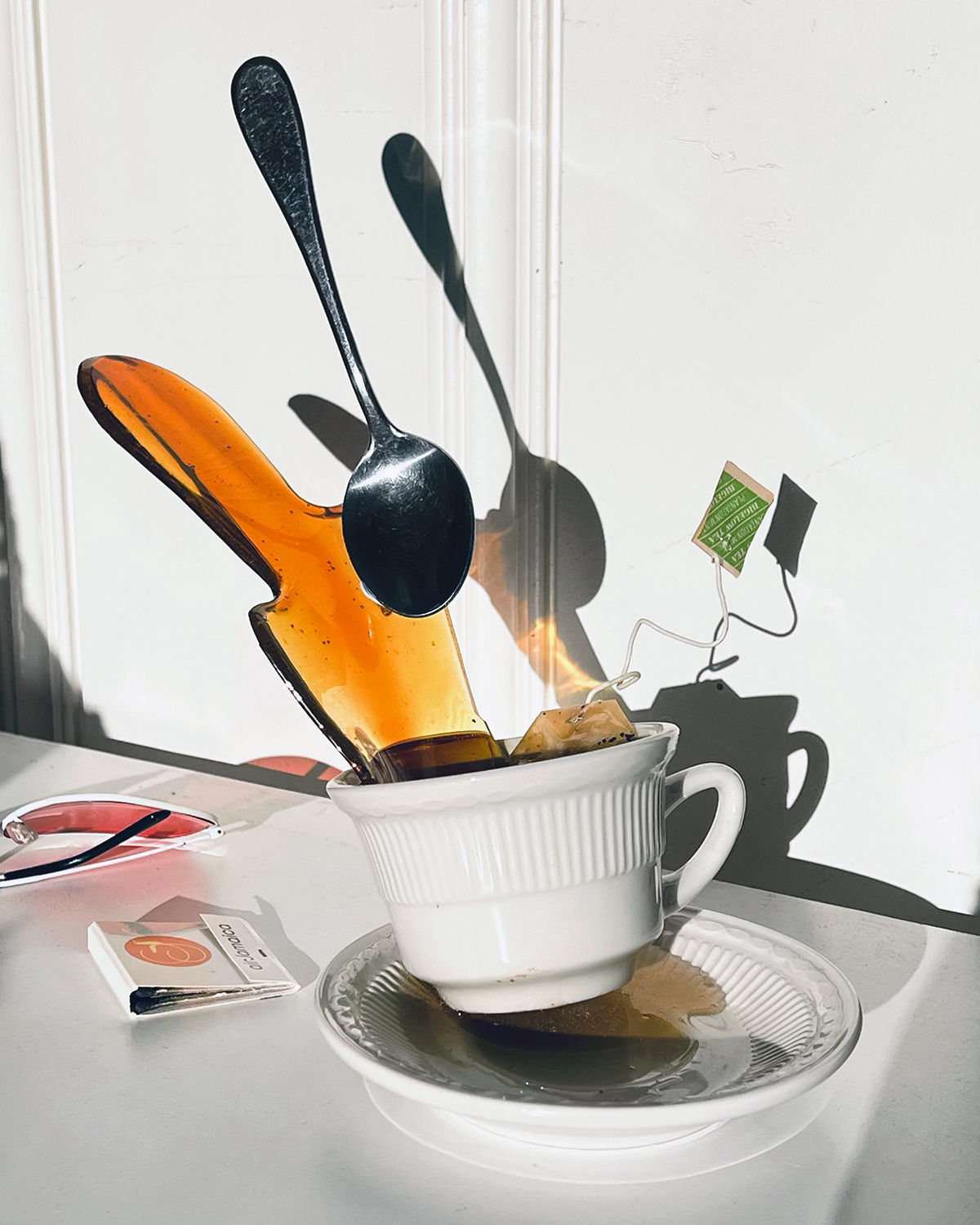 FROZEN MOMENTS TEACUP: "This is a spilling teacup sculpture by Frozen Moments, made in Australia in 1987. I've always had an affinity for fake food and whimsical pop sculptures, and I'd been wanting this one for awhile. I had found a Frozen Moments paintbrush (it looks like an invisible hand was brushing wet paint across the table) at a yard sale years ago and posted it on our Instagram.
After that, I started a Frozen Moments saved search on eBay, but didn't see a teacup for a long time, and for some reason in the meantime the prices started to skyrocket. One time I thought I was in luck but in the last few seconds (of course) the price went up hundreds past my limit (and my limit was $210, which I thought was insane!). But finally a teacup appeared in the middle of the night for a buy it now price of $110, and I immediately clicked BUY! The seller was very apologetic that it didn't have the original spoon, but I really didn't care, as it looks great with or without, and we have spoons here. So yes, it was a deal!"
FAVORITE EBAY SAVED SEARCHES: Vintage Pierre Cardin (in the Collectibles category), International Movie Posters 1970-79 (in the Entertainment Memorabilia category), and vintage suntan lotion
TOP EBAY TIPS: "Have alerts set up! Browse categories, because sometimes people don't write everything they should. If they use a stock picture — say, of a book — always ask for an actual photo. And if you wake up in the middle of the night, always check eBay. :)"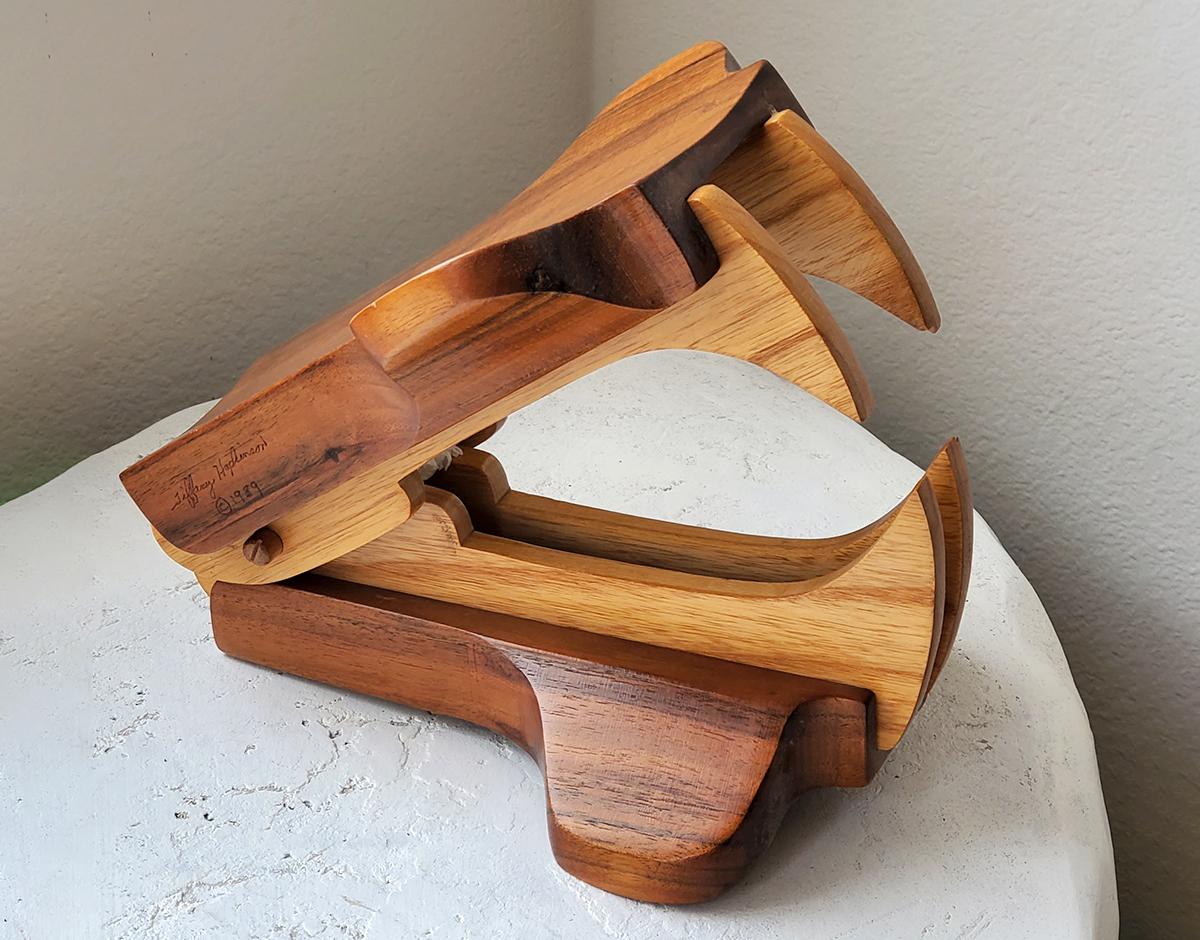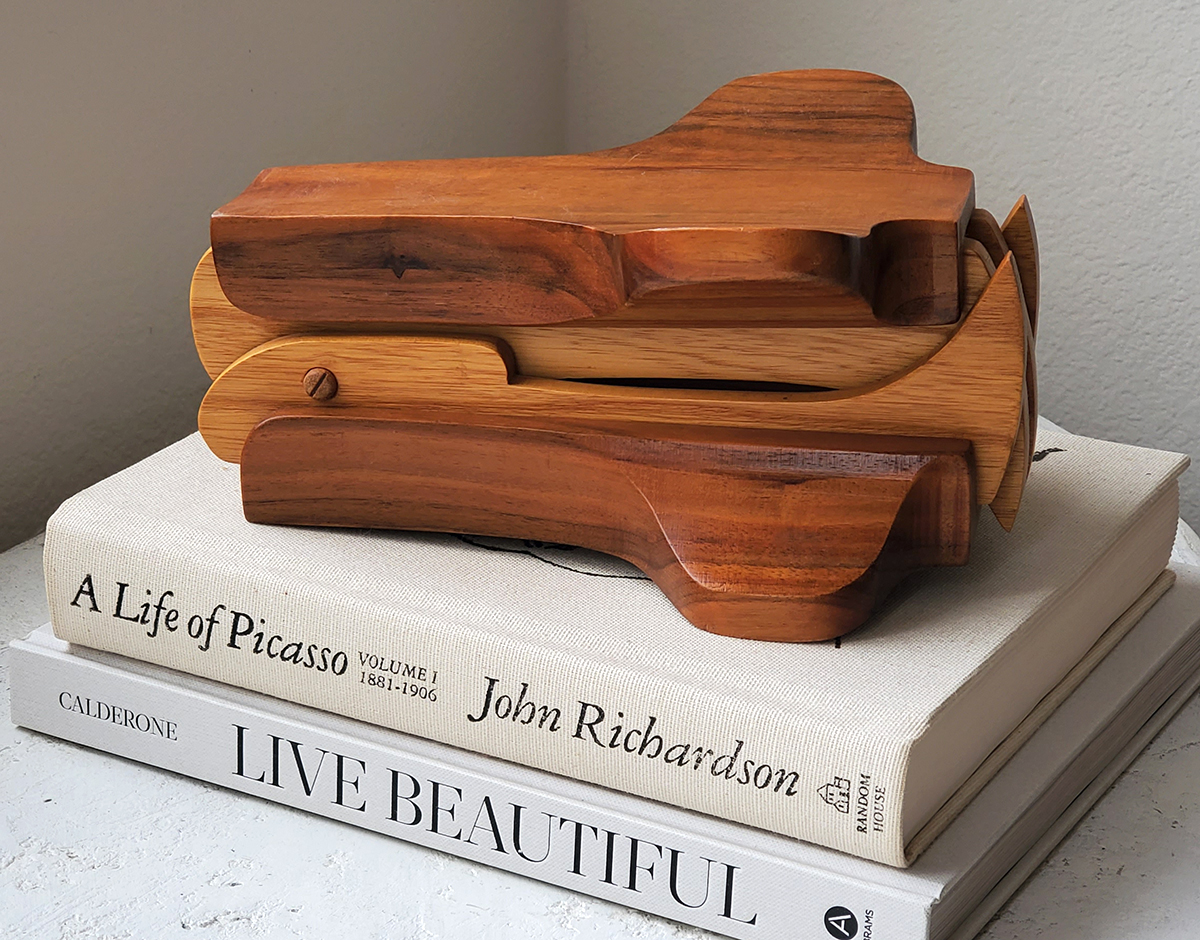 WOODEN STAPLE REMOVER: "Here I bring you the 'Handmade Carved Wooden Sculpture HUGE Staple Remover 1989,' as the eBay listing referred to it. I remember searching something like 'oversized wood kinetic object' — sort of a mishmash of things I was obsessing over — when I found this in early 2021. At the time, I'd just found a massive wooden cabinet with articulating arms, reminiscent of a person. It reminded me of Kelly Wearstler's wooden robot bar. I was looking for more pieces like this to bring to my shop.
I don't know who Tiffany Hopkinson is, but she expertly made and signed this piece in 1989 and now it lives happily in my home (because I could never part with it, after all). There could be some interesting interpretations of the artistic meaning of this sculpture, but woodworker Ross Rider of Rochester, NY, put it best when he said: 'The immortalization of everyday objects.' Rider creates similar pieces in his Larger than Life series, like a massive wooden Zippo lighter. I was exposed to his work by my friend Lauren of LES Collection when we toured the Artisan Works Museum together last year. Personally, I'm just so drawn to pieces with whimsy, and especially ones that are made more luxurious in wood — using wood in a piece that could almost appear too comical in any other material.
I'm not sure what the going rate is on an oversized wooden staple remover — possibly priceless when you know it's one of a kind — but the $50 I spent on this piece felt like a steal."
FAVORITE SAVED EBAY SEARCHES: "I don't have saved searches because the off-the-cuff, randomized search in itself is what makes the eBay shopping experience so fun for me. I type in vague descriptor words in rapid fire to see what I hit, like 'swirly brass vintage' or 'Brutalist chunky.'"
TOP EBAY TIPS: "Sure, you can search eBay for something you've seen before, but my real advice for finding unique objects is to let the app lead you. For example, you search 'oversized ikebana,' you spot a Japanese vase that's kind of cool, you see what else that seller has listed, scroll for a while, and then you see IT — the gorgeous thing you wouldn't have known to look for. That piece and the way it's described fuels your next search, and you're learning all along the way. It's the ultimate treasure hunt."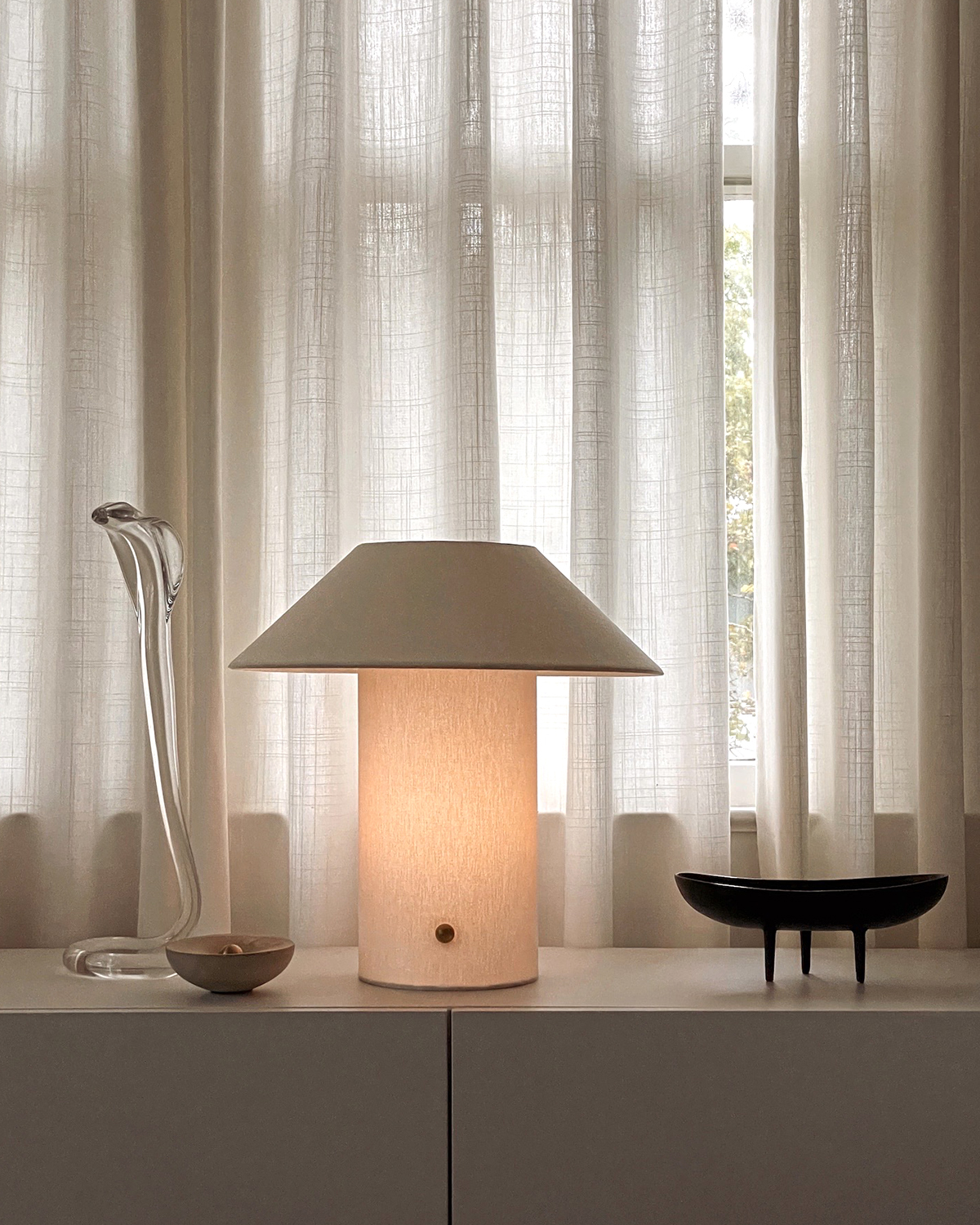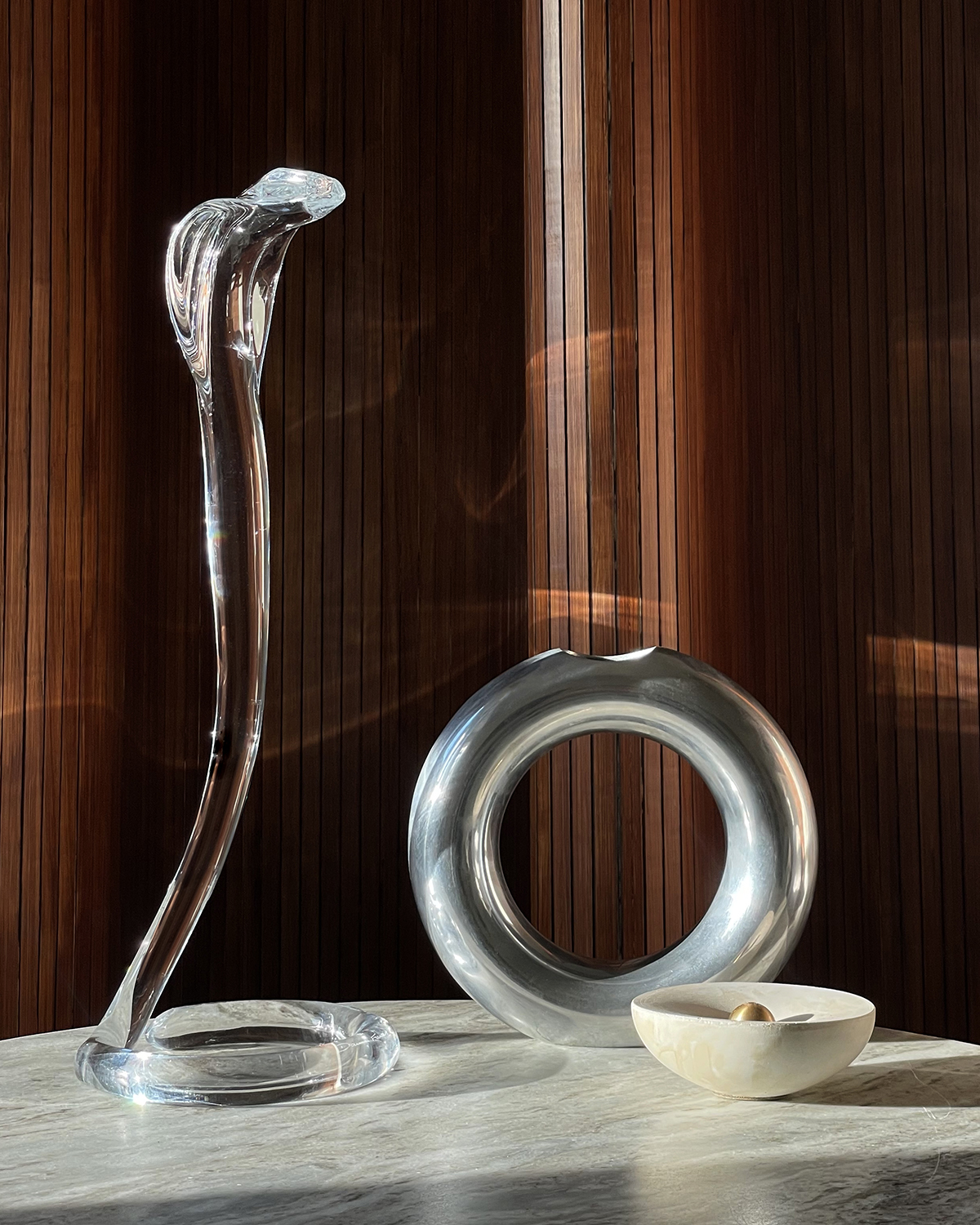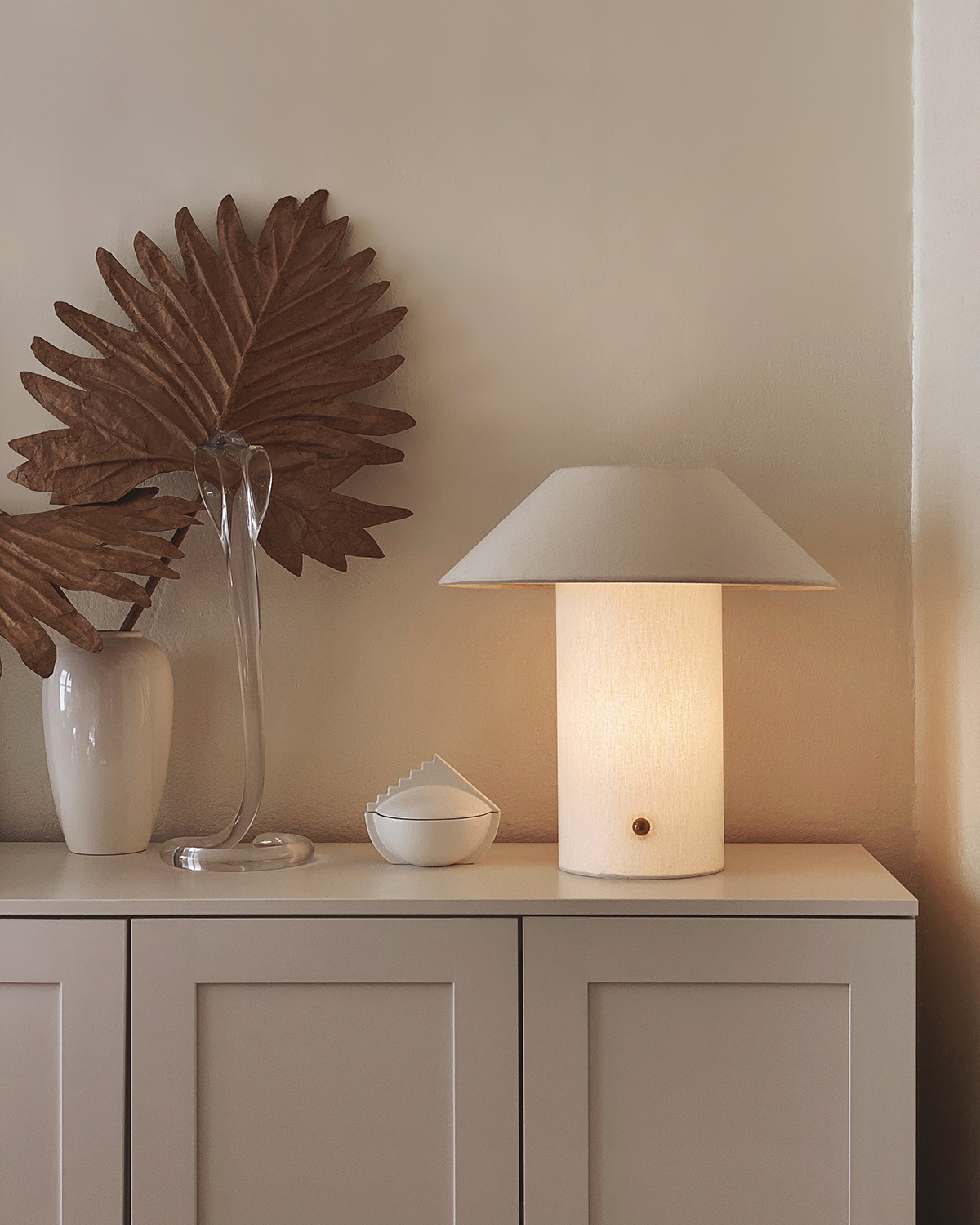 CRYSTAL COBRA: "One of my favorite eBay finds is a Daum France crystal cobra from the late 20th century. I stumbled across the listing for it a few years ago while searching for vintage glass sculptures one night. I generally avoid animal-themed decor or art because it's usually too cutesy for me, but I had to have it. He wasn't a huge bargain at the time, but definitely a good value. It stands about 18″ tall and is made from clear crystal, so it's a subtle statement in a room, but people ALWAYS notice it. I always style it in a room with good light or near a window because it catches the light so beautifully."
FAVORITE SAVED EBAY SEARCHES: Modernist sculpture, vintage vide poche, and mid-century sconce

TOP EBAY TIPS: "Always do a quick search by distance to see what's near you, especially when looking for things like furniture or lighting. There might not be anything at the moment, but it's always worth a check since you don't have to pay for shipping."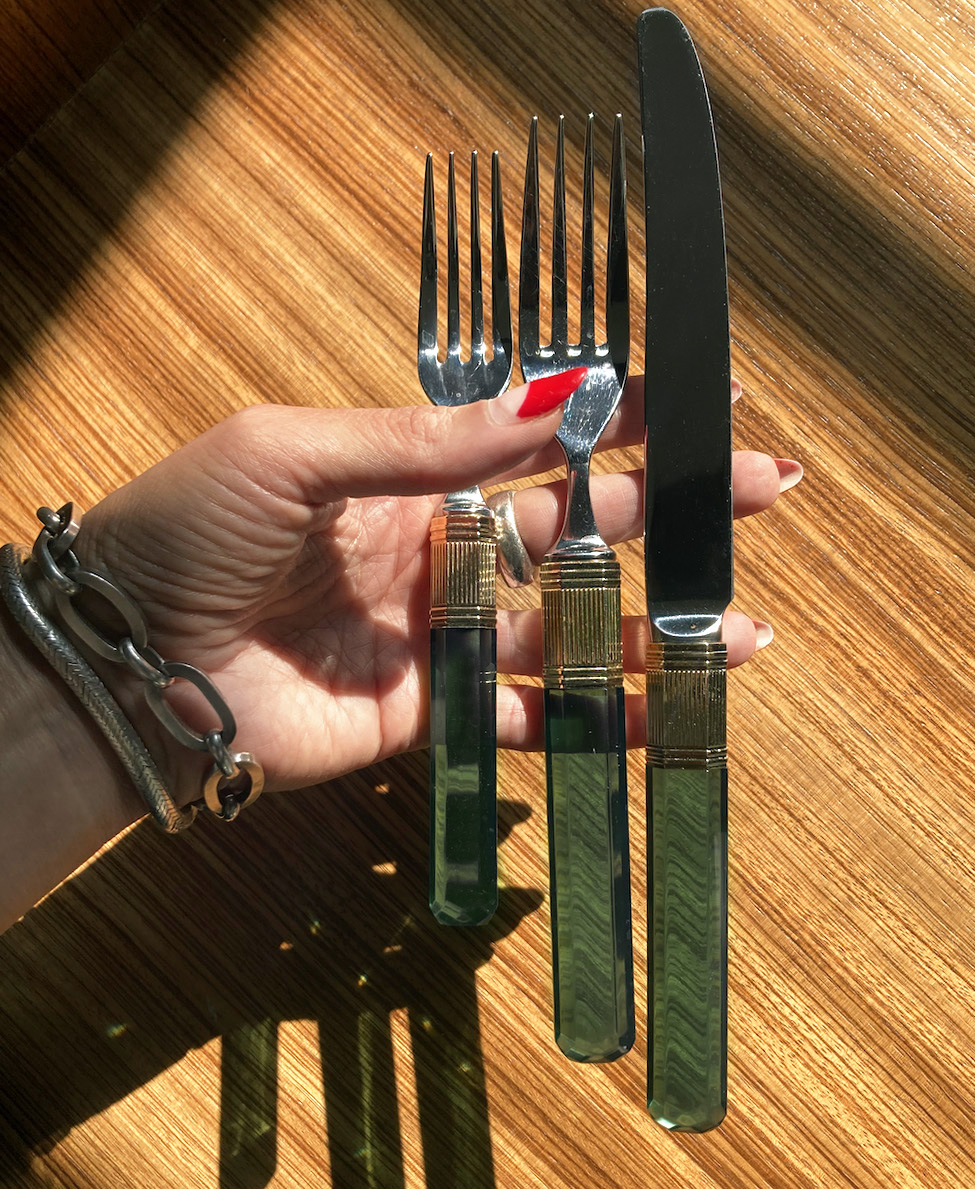 1980S FLATWARE: "I first saw a few pieces of this incredible '80s flatware in Palm Springs. I loved the material mix of silver, gold, and lucite, and just how flashy and over-the-top the design was. But the lucite color of the pieces I saw in person wasn't quite right for me, so I went on eBay to see if other colors had been produced, and fell in love with this emerald color. So far, I've been able to source enough pieces on eBay for 8 table settings. The way the lucite catches light is so fantastic in a low-lit room — it looks almost as if you're eating with jewelry."
FAVORITE SAVED EBAY SEARCHES: "Blanc de Chine fruit — I'm a sucker for any kind of trompe l'oeil food, so I have a real affinity for these porcelain centerpieces, lamps, and small sculptures. Their execution in white porcelain makes them feel so elegant, and they're old-fashioned in a way I really like.
Matsuda pants — Matsuda was a Japanese brand that made some phenomenal suiting for men and women. The pieces are from the '80s/'90s but are very '40s inspired — super high-waisted shapes with really cool detailing. Remember that Dick Tracy movie from the '90s? It's kind of that vibe, but slightly less ridiculous and more wearable.
TOP EBAY TIPS: "Take everything you know about spelling and throw it out the window. I see listings for amazing items that are often misspelled, even when the brand name is presumably printed right there on the item. Say you're looking for a brand name, for example Fornasetti — try searching 'Formasetti' or some other incorrectly spelled version and see what comes up. Perhaps in doing that you stumble across another brand that ends up being super cool, who knows? Another tip is to not use any of the categories that eBay has on the sidebar, just search under 'All.' Not too long ago, I found a pair of 2014 Celine Edge sunglasses for $100 (I see some that resell for about $1,000), listed in the automotive parts section."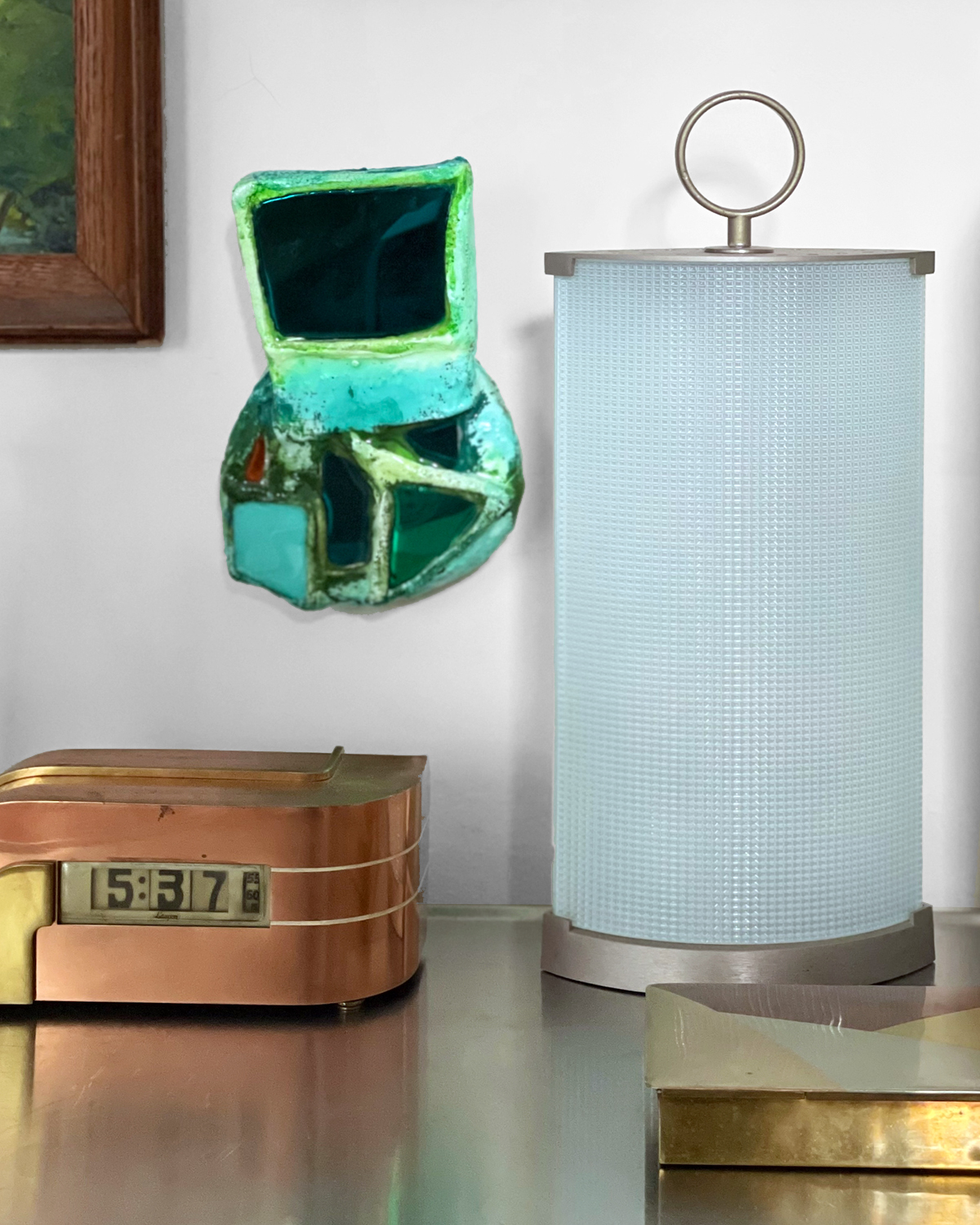 GIO PONTI PIRELLINA LAMP: "Gio Ponti is primarily known for his innovative buildings and expressive chairs. But being a design polymath, he also designed a wide array of objects, including some hard-to-find lighting. One of my favorite designs of his is the Pirellina light, which is based on the diamond plan of his famous Pirelli Tower in Milan. I had a saved search for it on eBay for years, when it was out of production, and one finally showed up — from Oklahoma, of all places. It's composed of two identical curved, textured pieces of glass held in place by a cast-metal base and top, which has a loop handle so it can be carried like an old-fashion lantern. If you've ever seen the Pirelli Tower lit up at night, you'll see why this lamp is a little piece of architecture."
FAVORITE SAVED EBAY SEARCHES: Vintage Italian lamp, Akari paper light, German children knife fork spoon
TOP EBAY TIPS: "If you're getting too many results (or not enough), use the Advanced Search function so you can specify keyword options, filter your results by opting out specific keywords, and also see recent completed auctions to see sold prices."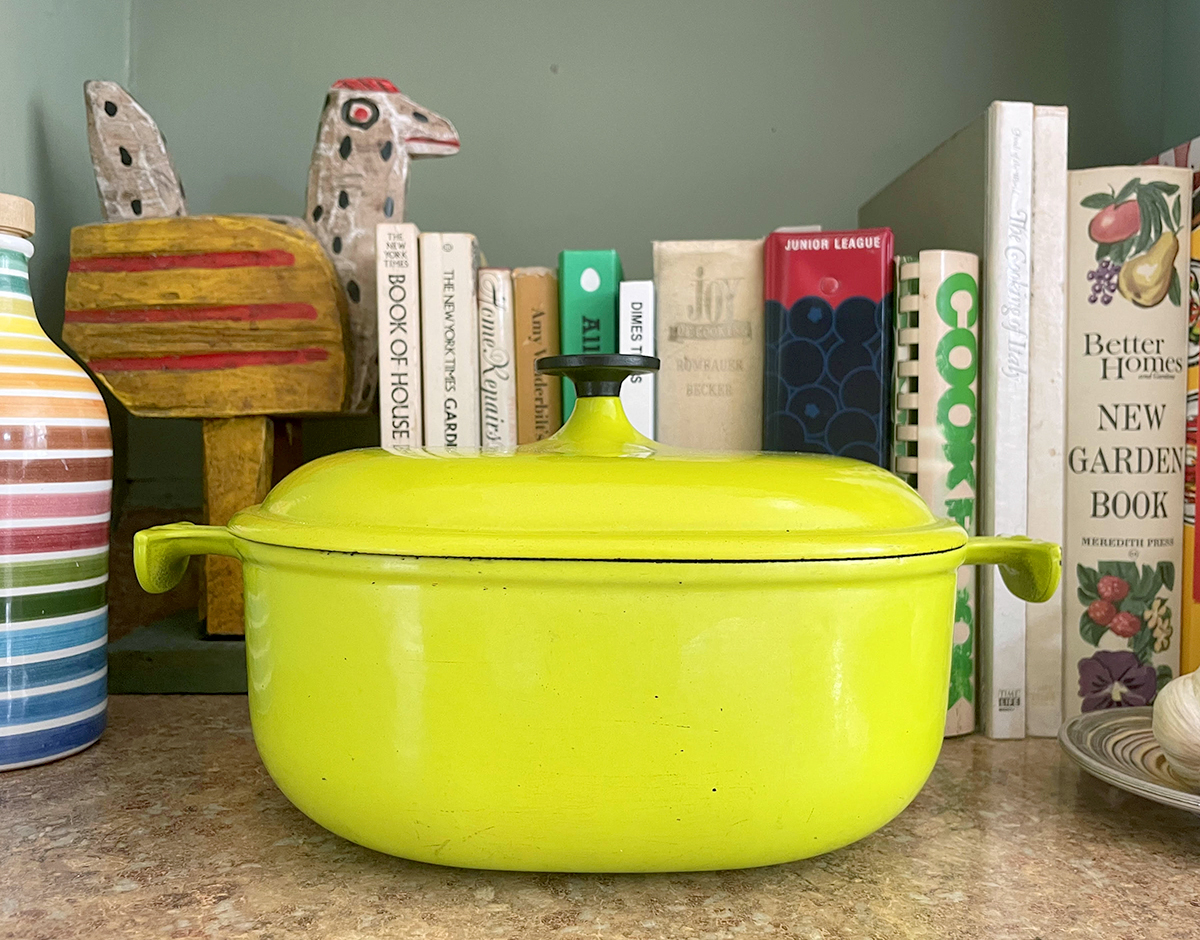 ENZO MARI CASSEROLE: "I'm not exactly an avid home cook, but when I first learned that Enzo Mari designed a line called La Mama for Le Creuset in 1972, I began spelunking for this perfect Dutch oven immediately. I added "enzo mari le creuset" and "le creuset la mama" to my eBay search alerts and scrolled daily in hopes that I'd score a piece in this very elusive acid-green colorway.
The design details of Mari's Le Creuset aren't wildly different from the iconic original, but his updates render a decidedly more elegant cocotte. The T-shaped handles are easier to maneuver — a thoughtful intervention by Mari that considers the moments in between cooking. Mari also omitted surface design on the lid and made it domed. He took the design classic from the French countryside and made it modern.
I finally acquired my dream neon-green Enzo Mari cocotte in 2020 from an eBay seller based in France. After years of searching, bidding, and losing out, I was ready to splurge. But in true eBay miracle fashion, the seller had it listed as 'Achat immédiat,' and I ended up paying just 50 euros for this piece of cookware — and design history. I will now use it to make risotto and boil potatoes forever!"
FAVORITE SAVED EBAY SEARCHES: "I'm still on the hunt for more Enzo Mari Le Creuset, so 'enzo mari le creuset' and 'le creuset la mama' remain on my list. I also have 'isamu noguchi books and magazines' and 'tapio wirkkala.'"
TOP EBAY TIPS: "Keep on browsing!!! Patience and persistence!!! Also, try misspelling words when you search for things." ◆