11.28.22
Kathryn Bentley Hand-Painted Her Restoration Hardware Sofa, and So Can You
We first met Kathryn Bentley several years ago through LA ceramicist Bari Ziperstein — which should have been our first tipoff that here was a kindred spirit. We were longtime devotees of Bentley's jewelry line, Dream Collective, and we loved visiting her erstwhile boutique of the same name in Los Angeles, where she sold wearables and work by an enviable lineup of contemporary designers, including Morgan Peck, Ben Medansky, Peter Shire, Bari Ziperstein, and Waka Waka's Shin Okuda. But perhaps our first understanding of her total aesthetic — and the many ways in which it overlapped with Sight Unseen's — came from a T Magazine profile in 2016, complete with gorgeous Laure Joliet photos of Bentley's former Montecito Heights home. We were, in a word, obsessed — and we were particularly intrigued by the metal sculptures dotting the house, which it turned out her father had designed. When we first began putting together our house tour ideas for How to Live With Objects, Bentley was one of the first people we called.
She lives now in a 1920s Spanish-style home, which she shares with her partner, Jen, and their four-year-old son, Gus. "Before I moved into this house with Jen," says Bentley, "I had always lived in really contemporary spaces. My dad was an architect, and I grew up in houses he built. My last house before this one, in Montecito Heights, was a blank slate—'60s minimal mid-century. So, moving into this 1920s Spanish style, I really had to open my mind. I had to strip down a lot, but also accept the embellishments that come along with that era of architecture. Obviously, I have a more contemporary style and I'm attracted to contemporary furniture more than would be appropriate for this space."
That's an understatement — Bentley has one of the best contemporary object collections we've seen to date, from Roger Herman ceramics, to a Waka Waka coffee table (designer Shin Okuda is a longtime collaborator), to the BZIPPY urn she jokes she wants for her eternal life. You can find Bentley's colorful home — including the incredible Restoration Hardware sofa the hand-painted with sponges — on page 230 of the Sentimental Objects chapter of How to Live With Objects, but we're excerpting some of our favorite images here today.
PHOTOS BY CHARLIE SCHUCK / STYLING BY TESSA WATSON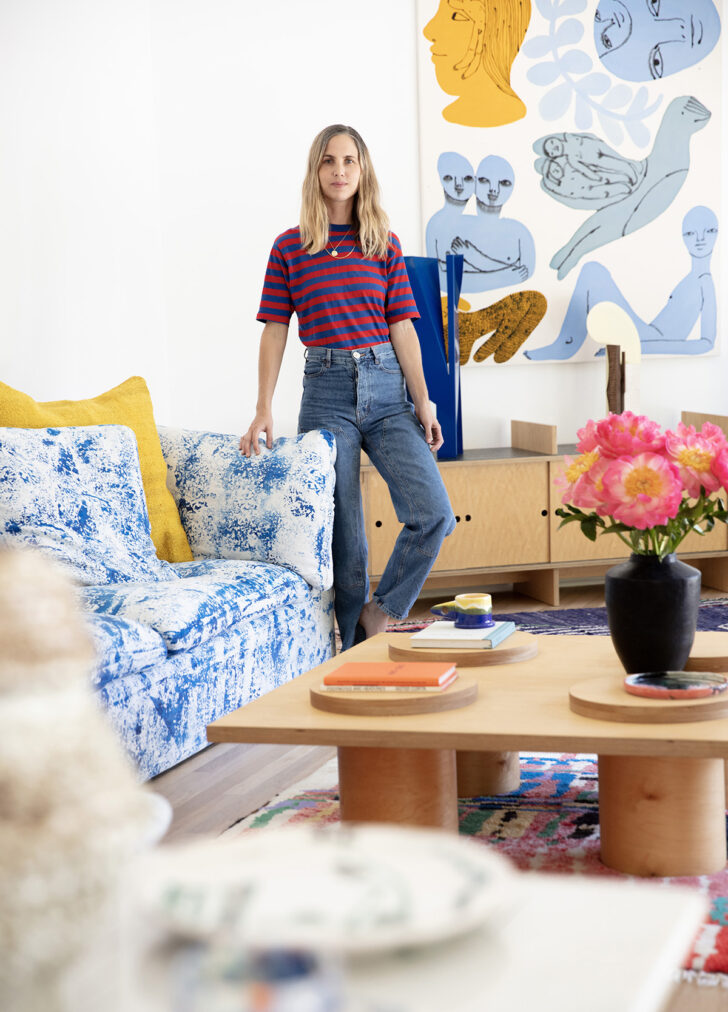 "Our Emma Kohlmann painting, to me, represents our family. It's happy, and just a lighter approach to art than what I normally would want or be attracted to. Less serious. At one point, my four-year-old's drawings were surrounding all of the art on the wall and it actually looked even better—a more casual take on fine art. That painting arrived mid-COVID, when all of a sudden, I had become a teacher and was needing to create activities. I felt like it was nice to be able to have these inspiring pieces around."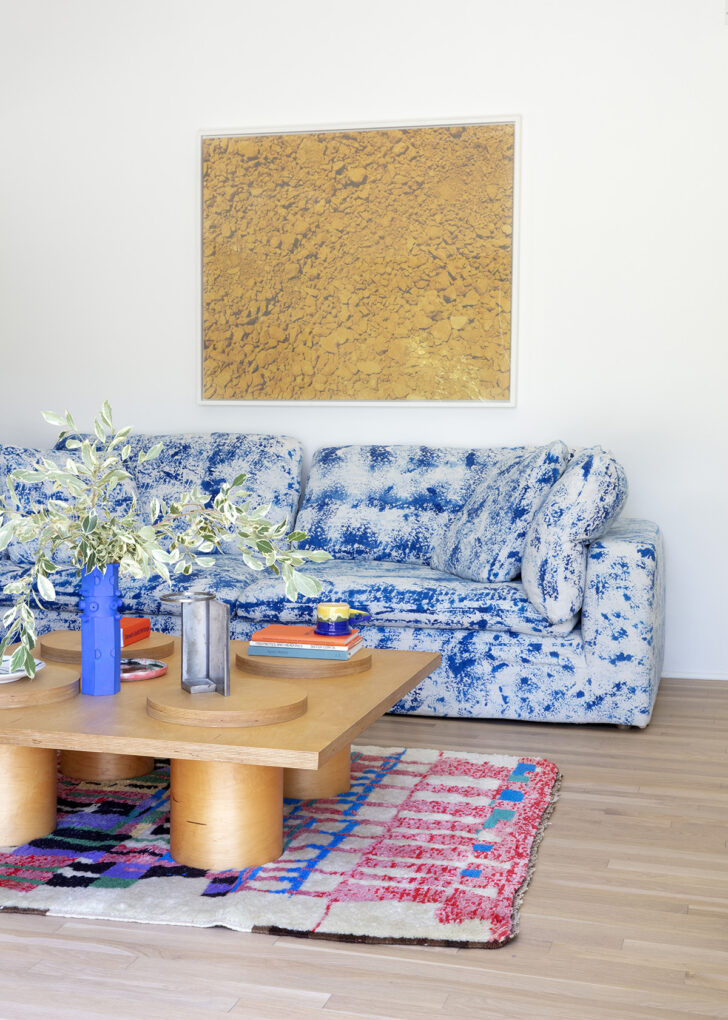 "I got the Restoration Hardware Cloud Sofa after seeing Pamela Shamshiri use it in several of her interiors. It sat there in its pure white canvas form for about a year, and for a while, I just hated it. It didn't feel like me. When I had the Dream Collective shop, I had been doing all of this textile printing—I made pillows and sofa cushions for pieces by Shin from Waka Waka—and finally I was like, I have to do this to my sofa. It could be totally hideous and I might ruin this several-thousand-dollar couch, or it might be great. Over the summer, I went for it. I brought all the cushions to my studio and got the fabric paint and rollers and some loose sponges and went to town. Then I sent it to the dye house to have the dye fixed, and it turned out great. At first I thought it was too much, but I can't imagine having a different couch now."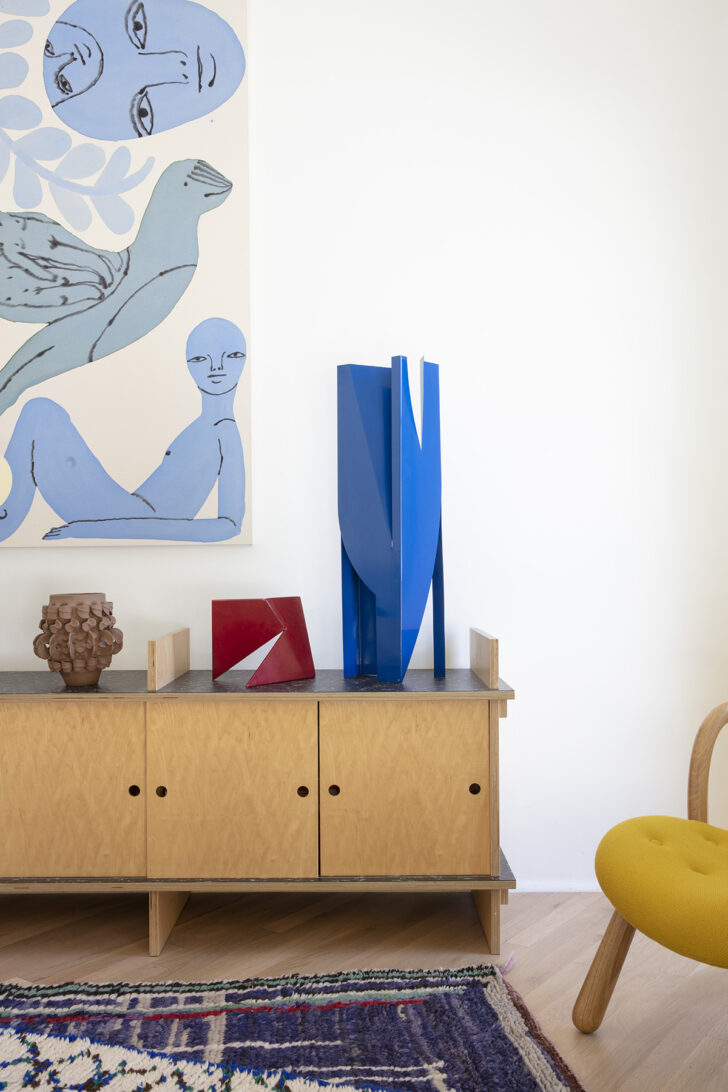 "My dream was to have my dad build a house for me, but having his sculptures is the next best thing. He's eighty years old, and he's always made art alongside his architecture, but he also recently started making these paper maquettes that he turns into sculpture. He sits at his desk and folds beautiful pieces of thick paper, and then he goes down to this sheet metal place in Texas and instructs the guys on how to fold each piece in metal. The first one he gave me was the blue one below. The cream piece on the chest of drawers at right was made specifically to represent our family; he told us this story about how each piece represented me and Jen and Gus. I couldn't live without them. They each hold such a presence for me and it's just nice to have a little piece of him in my house."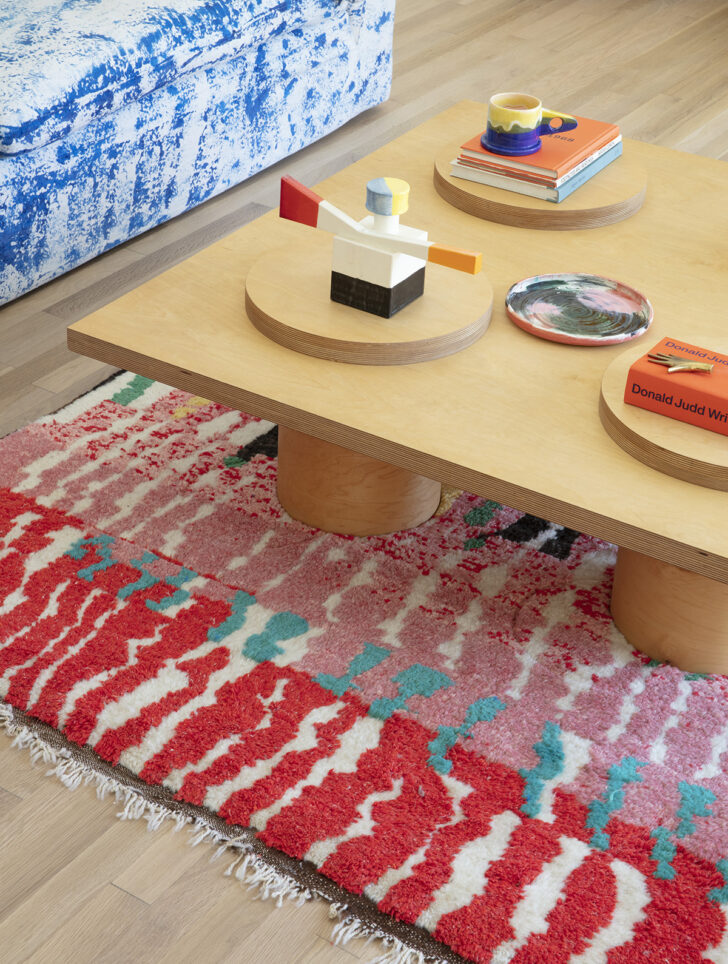 "I don't think I consciously decided that I was only going to have pieces in my home by people I know, but it made sense because I happen to have such talented friends. There was a minute before I had kids where I actually bought several pieces from the gallerist Eve Fowler just because she was cool and part of the queer community. But most of the things in my house are definitely by people I know, like this Peter Shire sculpture. And Shin Okuda from Waka Waka has been a friend of mine since I moved to LA. I'm so glad I held on to at least one piece of his. The coffee table is so playful in that room because it's like a giant Lego. It's usually covered in trains and books."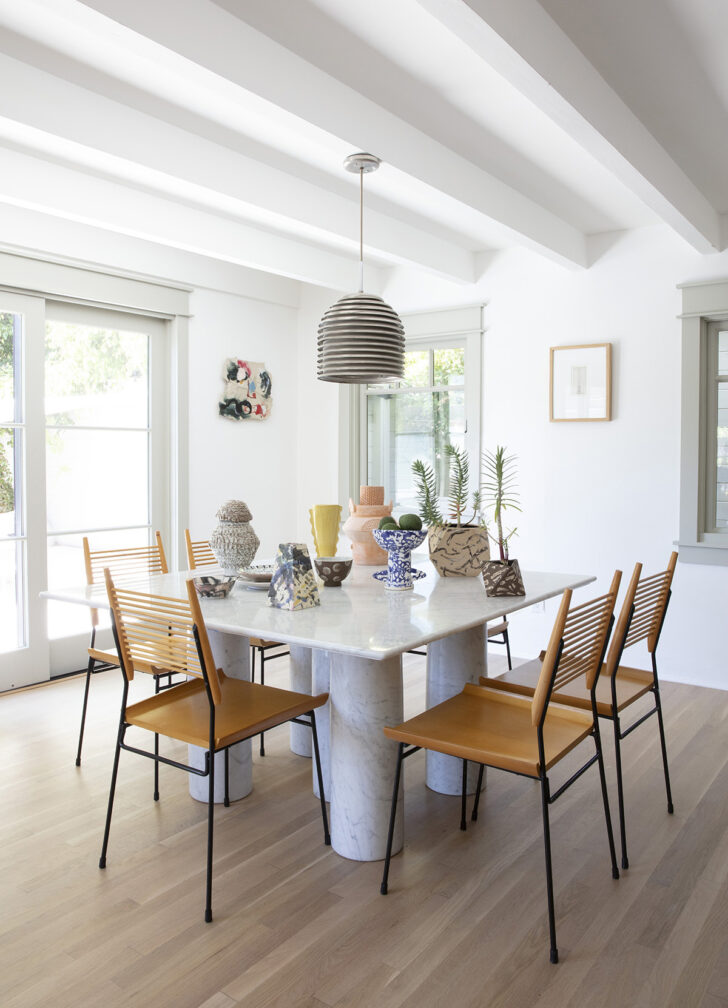 "On the wall in the dining room is a piece by Jennie Jieun Lee, and on the Mario Bellini Colonnato table are pieces by Morgan Peck, Cody Hoyt, Peter Shire, and Bari Ziperstein, among others. Bari and I became super close over the last few years, and I traded a ton of jewelry for her ceramics. She's been something of a mentor to me, in terms of life and art and running a business from the ground up. She gave me that thumbprint piece for my fortieth birthday, which I thought was kind of funny because it's an urn. One day, I'll end up in a Bari Ziperstein, which, in a way, she knew I would want. I don't want to be left in just any old urn! Now I'm prepared to go out in style."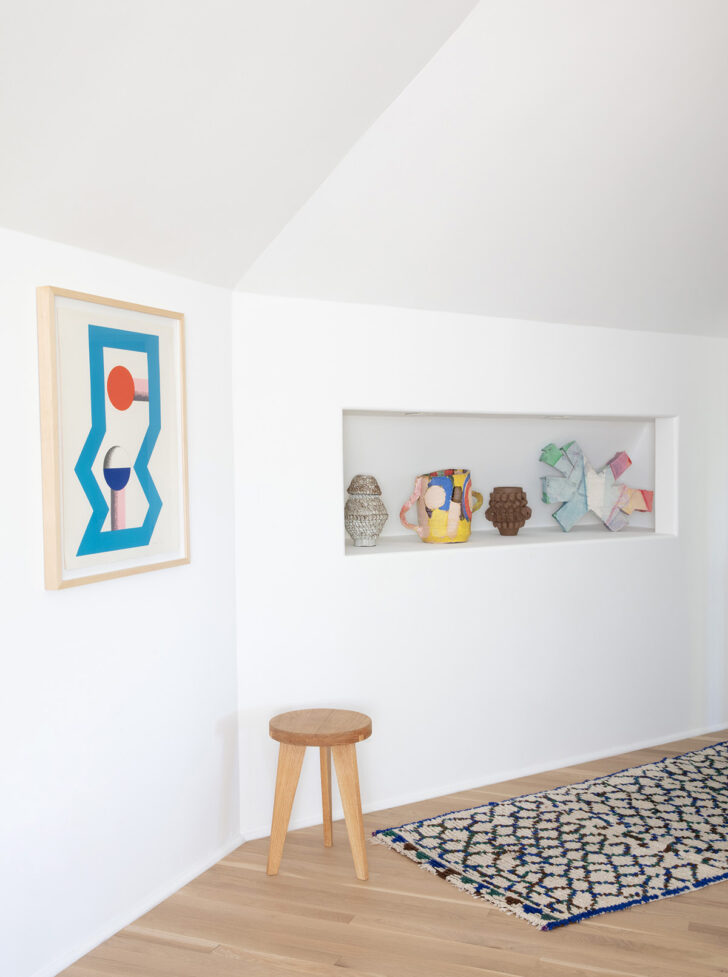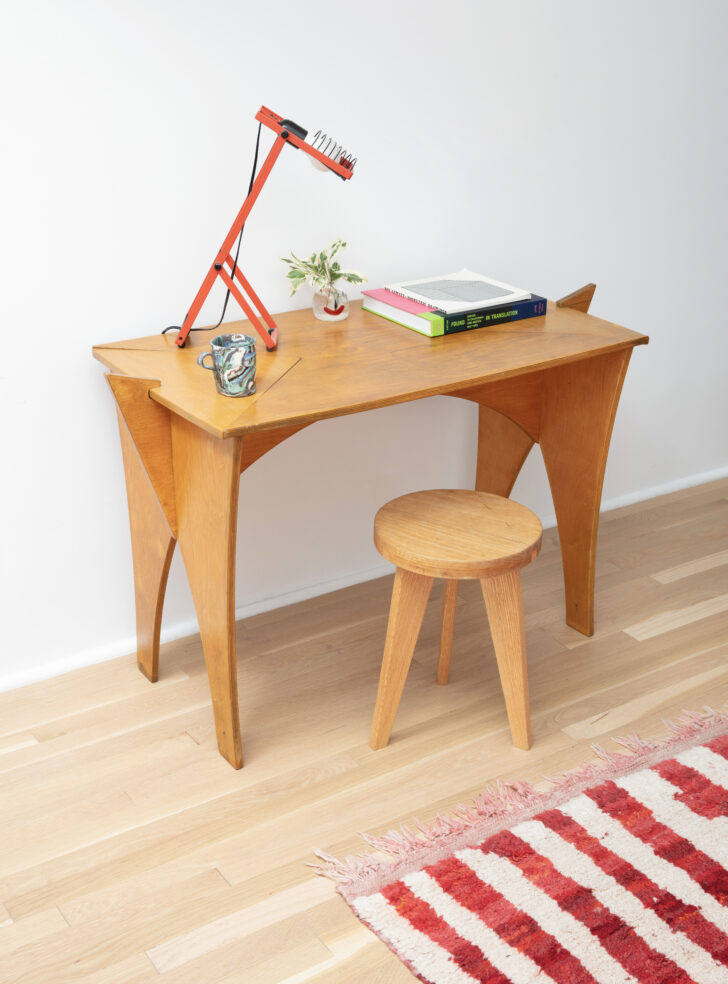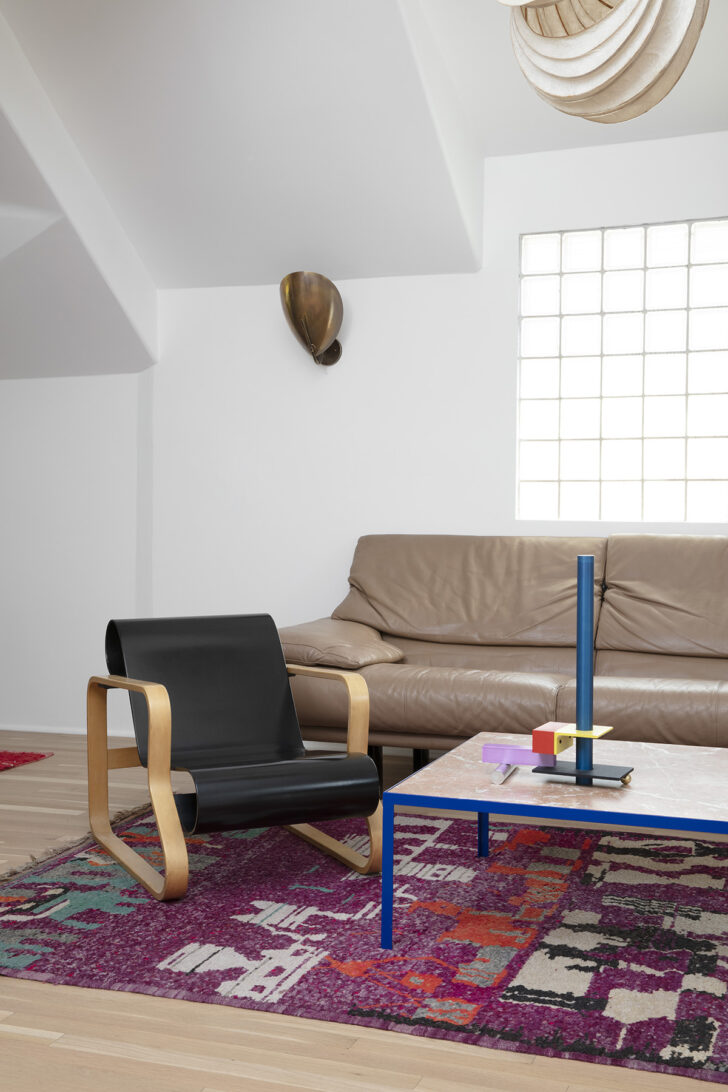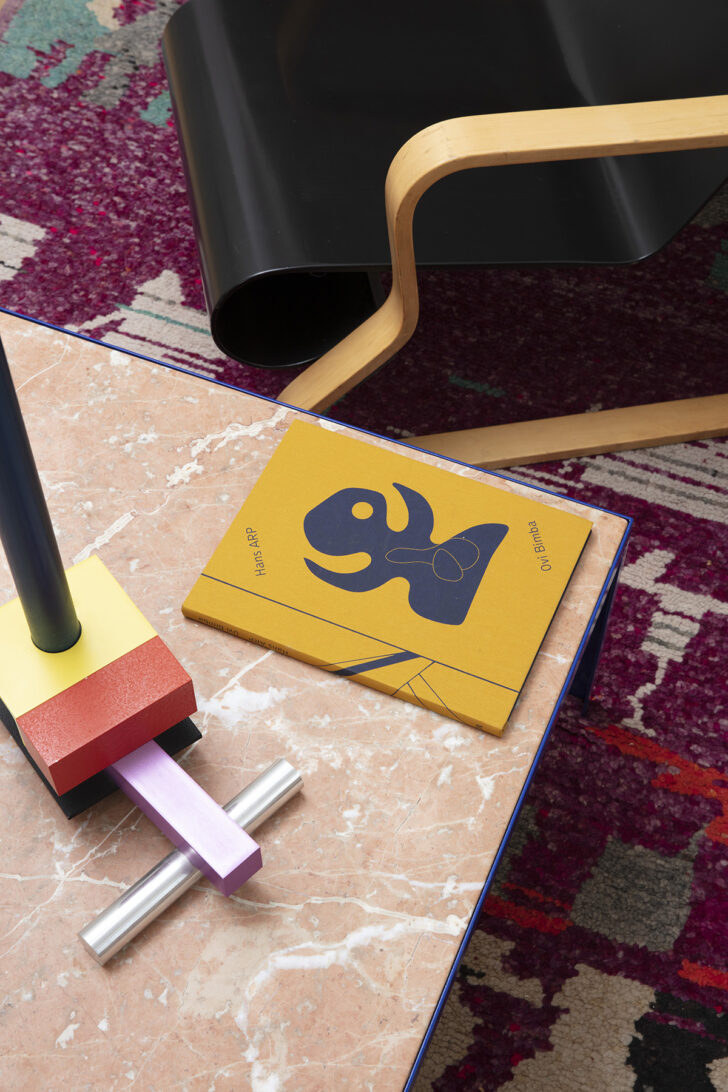 Excerpted from How to Live With Objects, published by Clarkson Potter, 2022