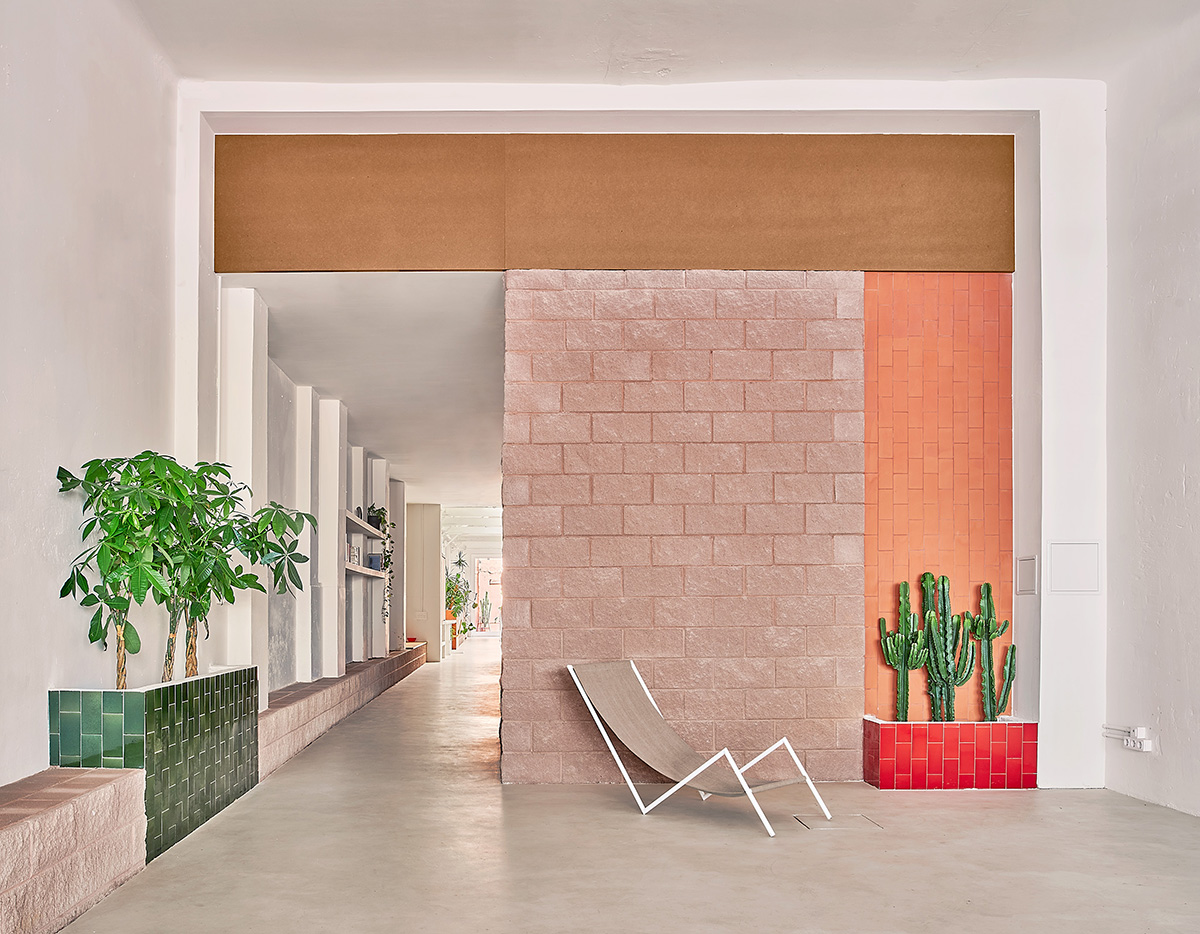 A weekly Saturday recap to share with you our favorite links, discoveries, exhibitions, and more from the past seven days. This week: a moody Swiss ski chalet, a tile-clad workspace in Barcelona, and a preview of three great projects from next week's Maison & Objet fair in Paris. 
Interiors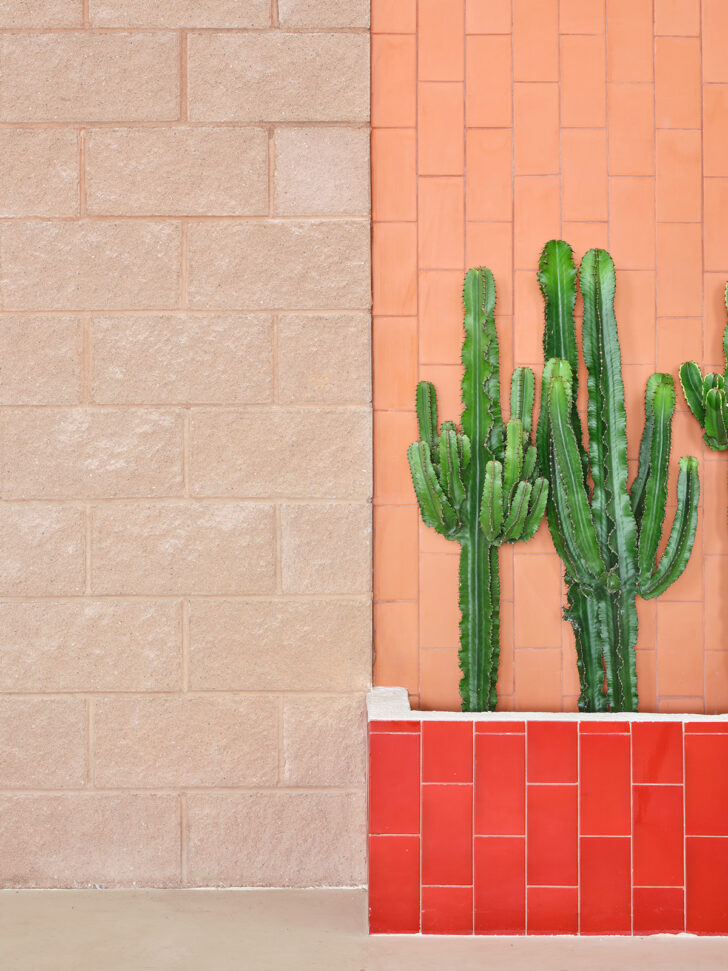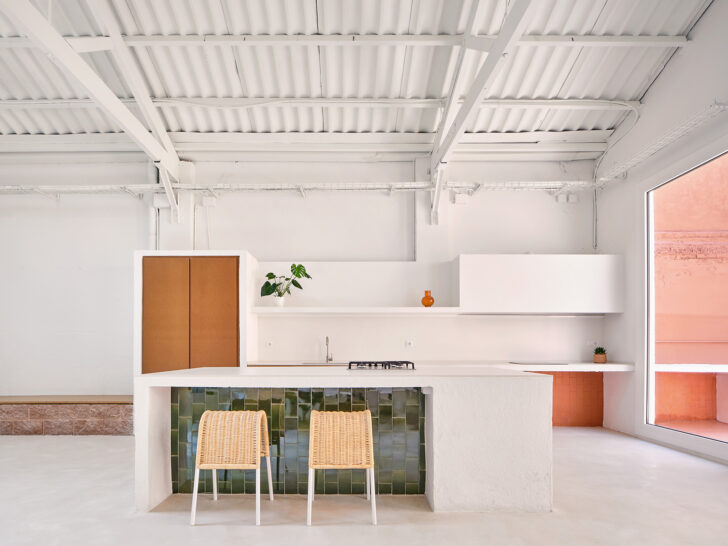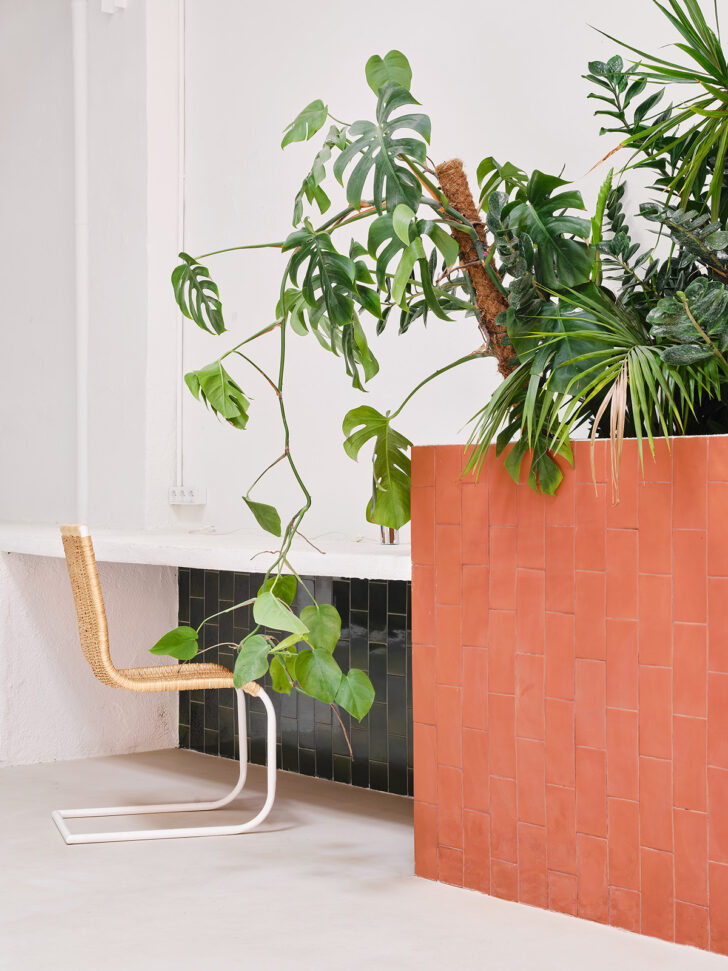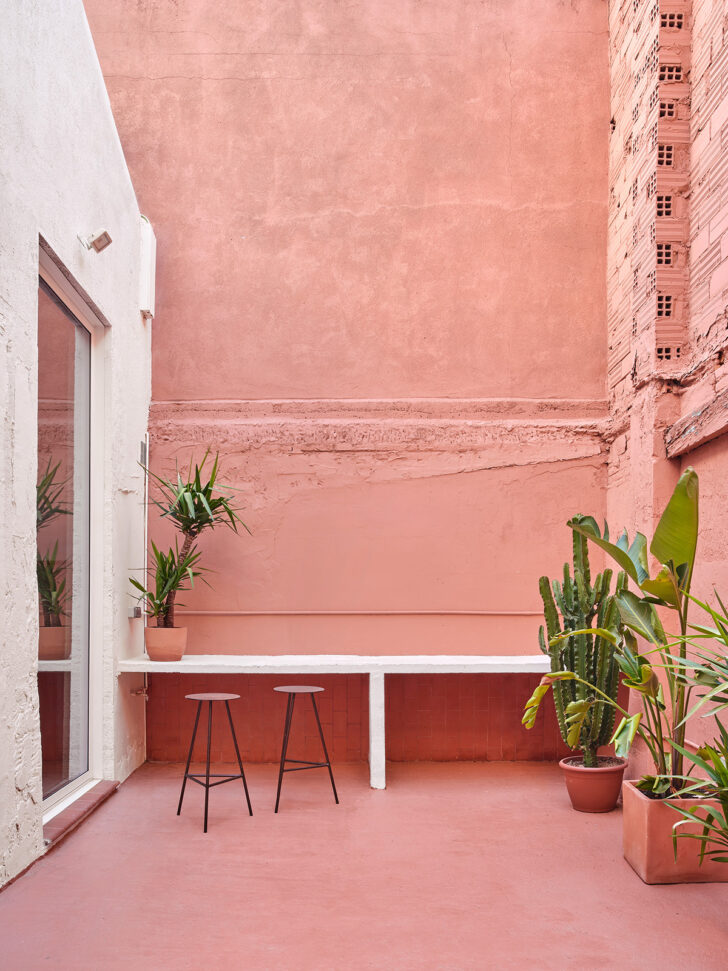 When converting an old store and warehouse into a functional, multipurpose workspace for Codea Studio, a creative agency in the city, Barcelona's Lama Studio needed to make an interior that didn't get much natural light feel airy and bright. So they opened up the back of the building to a restored courtyard painted in a terracotta shade (that kind of reads as Barragan pink to us) and broke up a mostly white background with pockets of color and texture, cladding small areas in traditional Catalan rasilla bricks and green and red glazed ceramic tiles from the town of La Bisbal. Greenery throughout helps bring the outside in, too.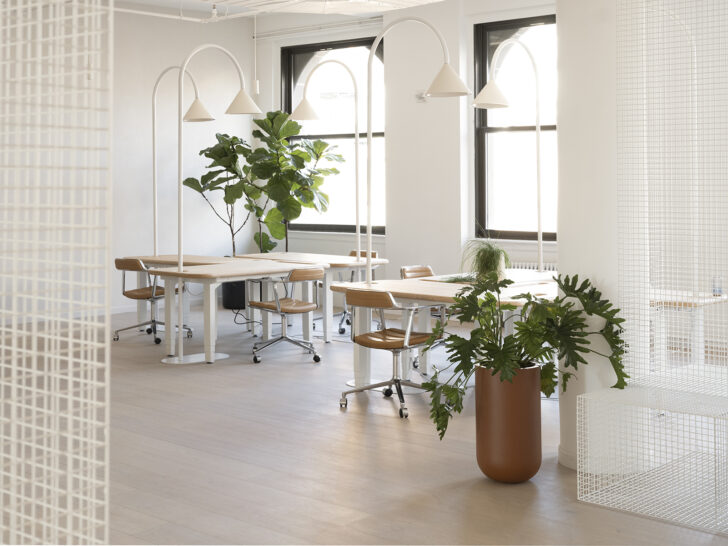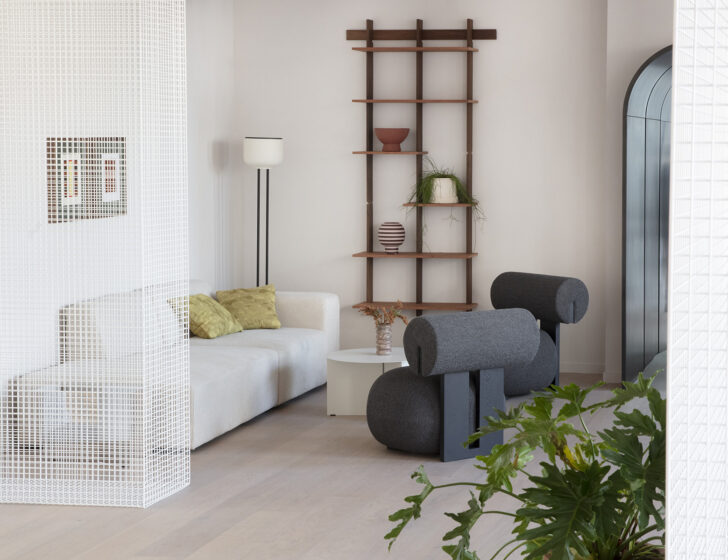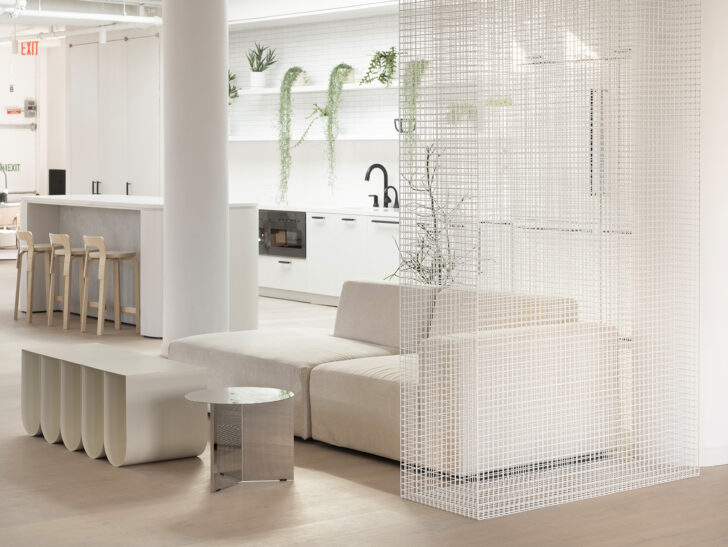 Flexibility in the workplace gets talked about a lot, but Office of Tangible Space, the Brooklyn and San Francisco design studio founded by Michael Yarinsky and Kelley Perumbeti, has taken that imperative literally in their interiors for the ScienceIO global headquarters. Moveable white wire grid dividers help define the healthcare company's new space, while standing desks are outfitted with armatures that hold tall, arcing pendant lamps; the desk height can be adjusted to the individual while the lamp remains in the same place.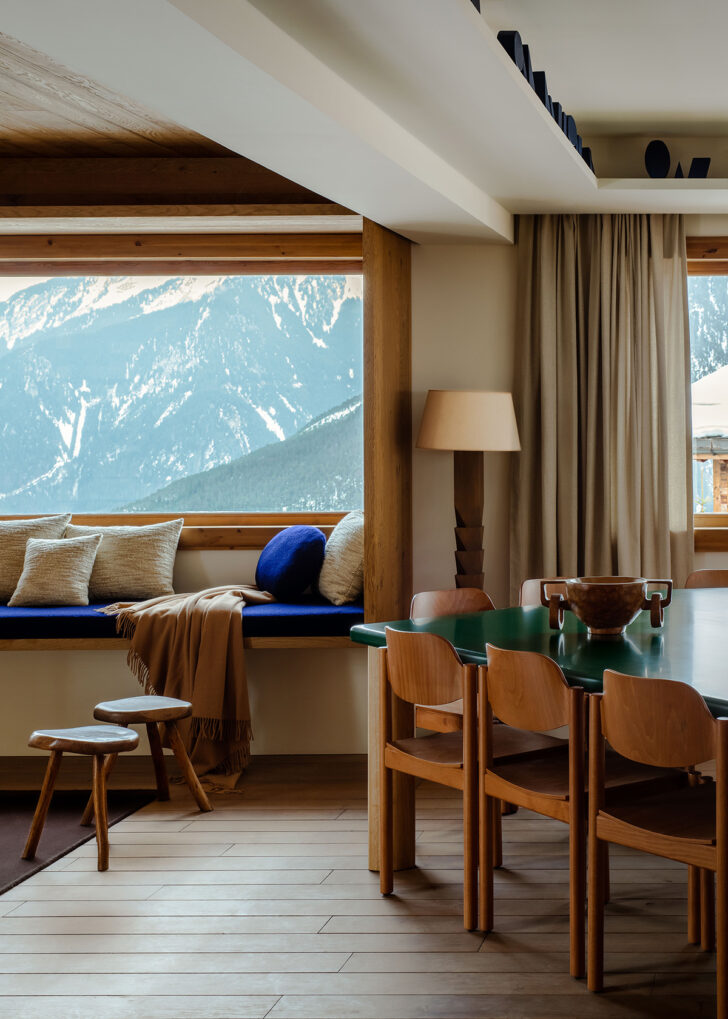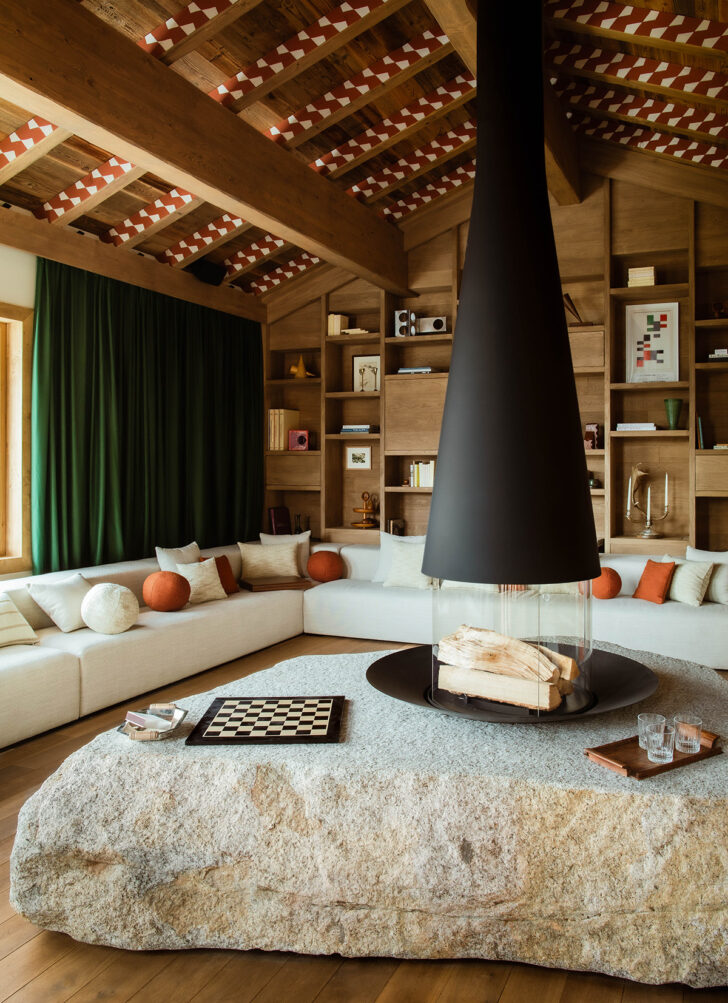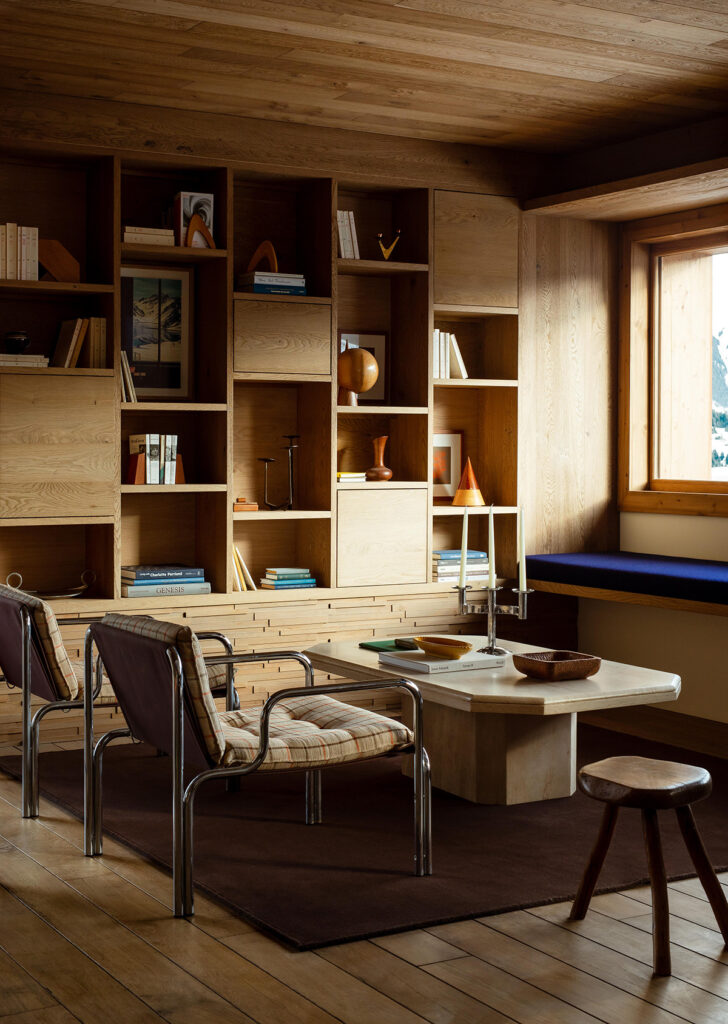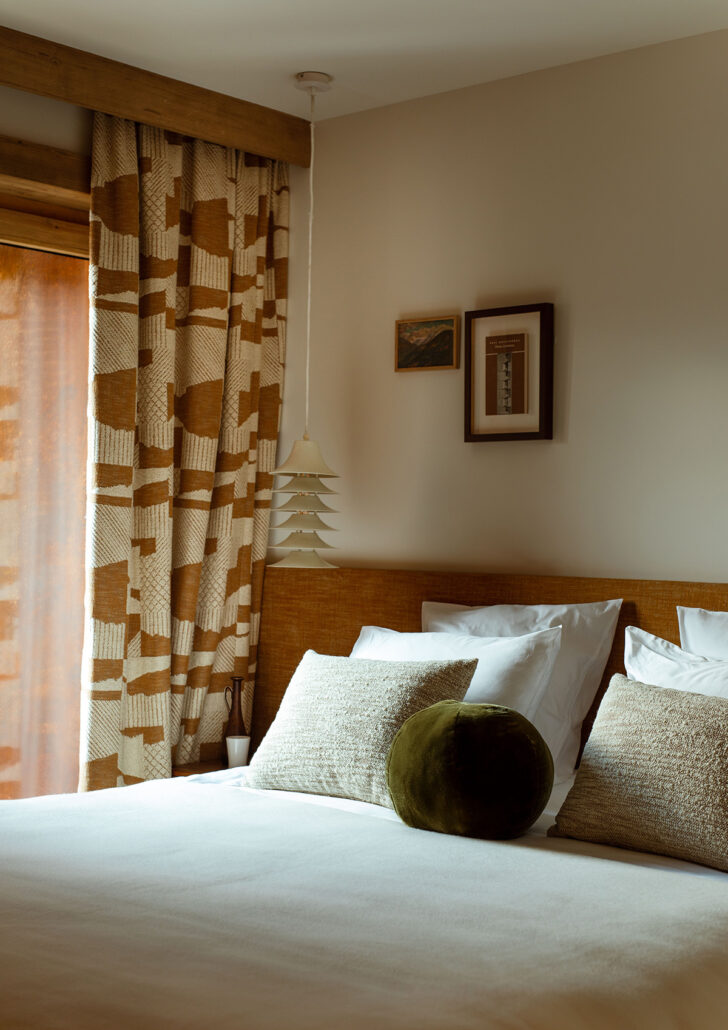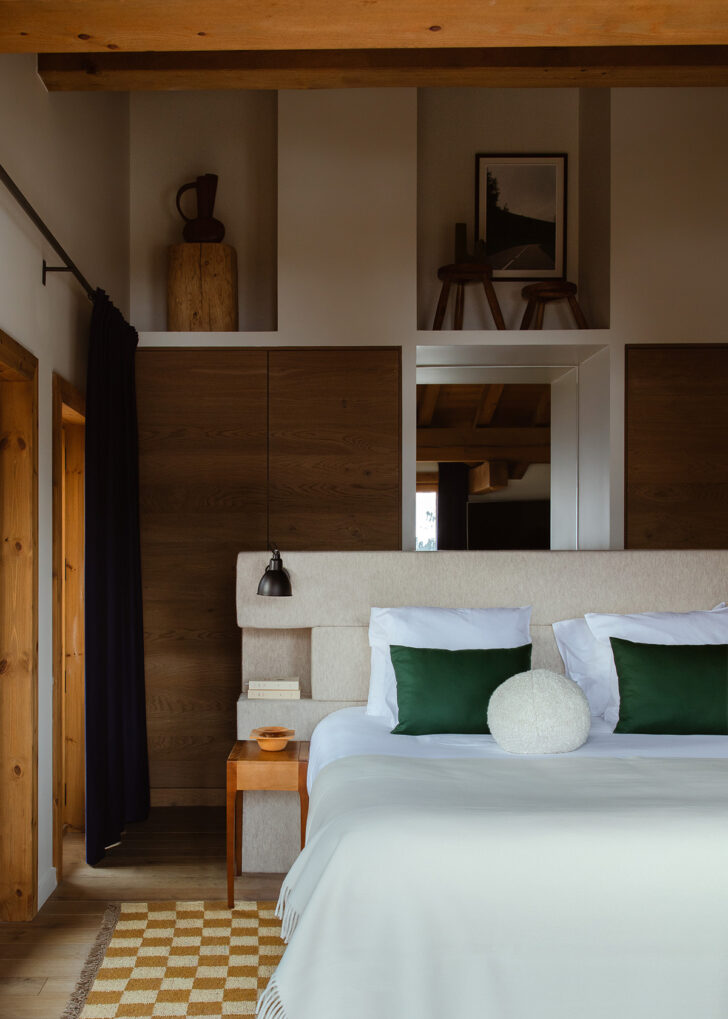 Wishing someone would transport us immediately to Chalet 1550 in Courchevel, France. Not so much for the skiing but for Joséphine Fossey's interior design of this third property from luxury vacation rental outfit Iconic House. Fossey combines an alpine feel with modernist influences such as Henry Jacques Le Même, Charlotte Perriand, and Marcel Breuer to create a cozy, calming, and tranquil space. (That fireplace!) It's a mix of vintage and custom-made furniture, like a carved console by Swedish designer Patrick Kim-Gustafson, who works under the name Ateljé Loupchat, and the lacquered wood dining table by Savoy-based cabinet-maker Sylvain Perrier. The warm, light wood throughout is punctuated with planes of vibrant cobalt blue, emerald green, or burgundy textiles by local upholsterer Atelier des Frères.
Discoveries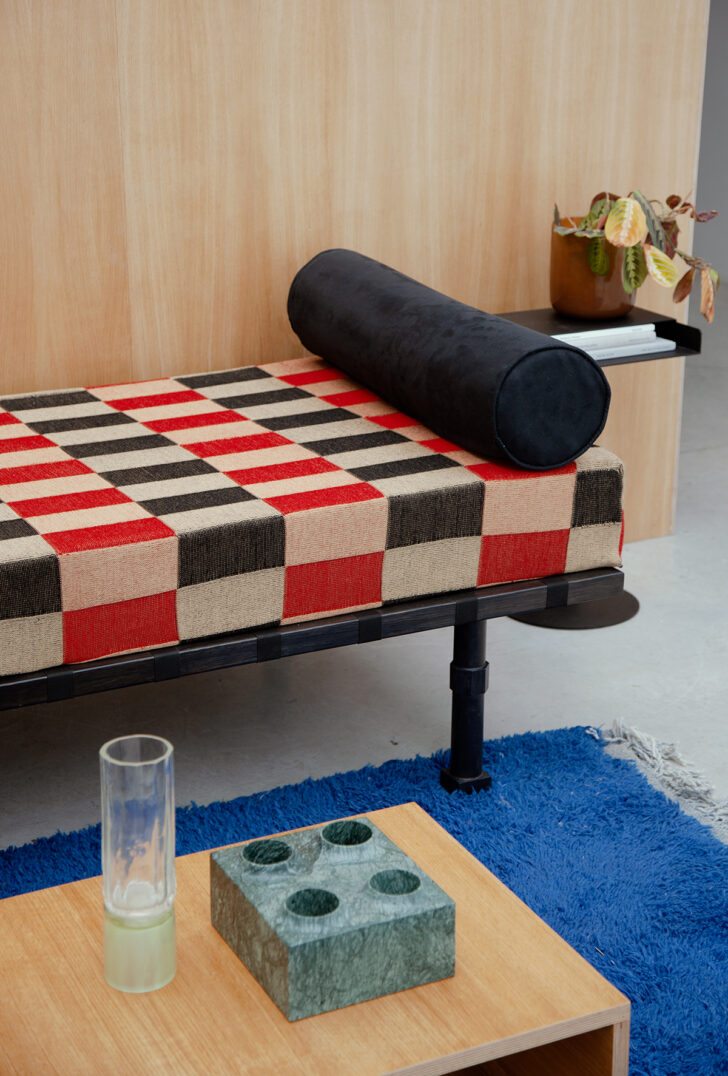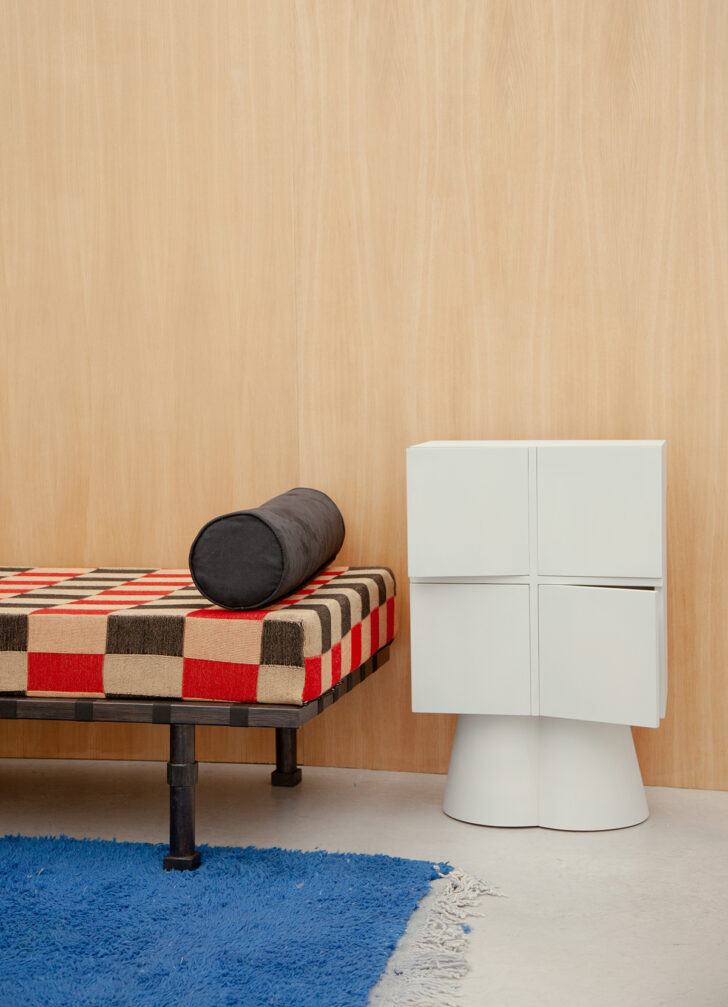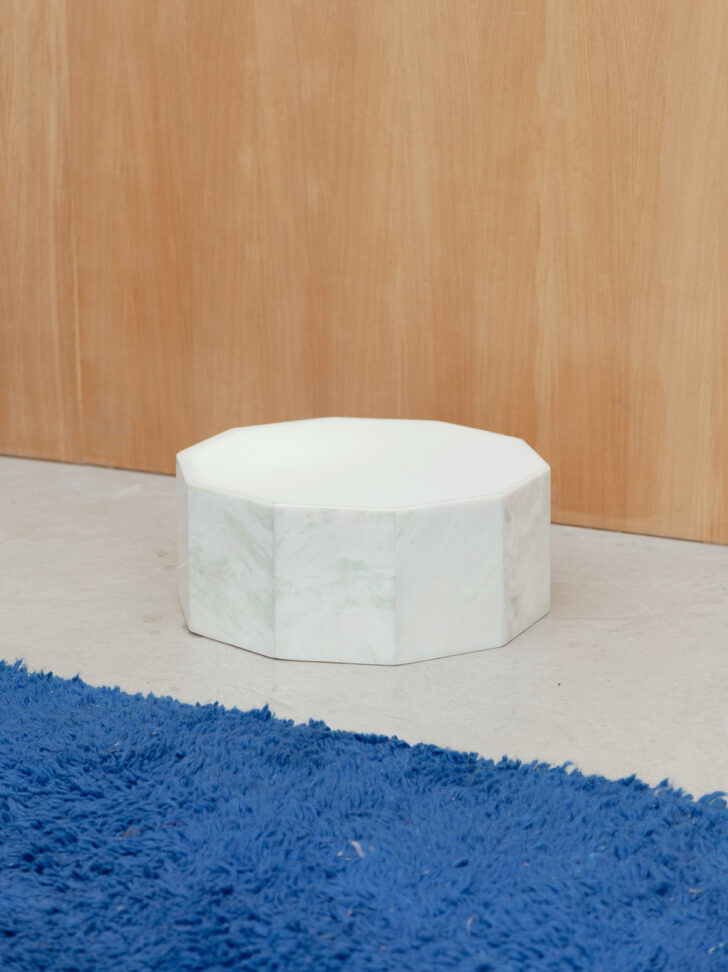 A new collection showing at Maison&Objet next week comes from Miguel Leiro. The Roman triclinium, an ancient banquet hall, serves as an archetype for the Spanish designer, who rooted this work in its forms and functions. The Lectus daybed, in checkered upholstery developed with textile designer Ines Quezada, gets its name from the kind of lounger on which guests would relax in a triclinium. There's also the Reliquary, a tinted pine storage piece, and the Doric Chop lamp, like a slice out of a column you might find at an ancient ruin, this ten-sided onyx and Plexiglas light glows from within, whether it's placed on a table top or the floor.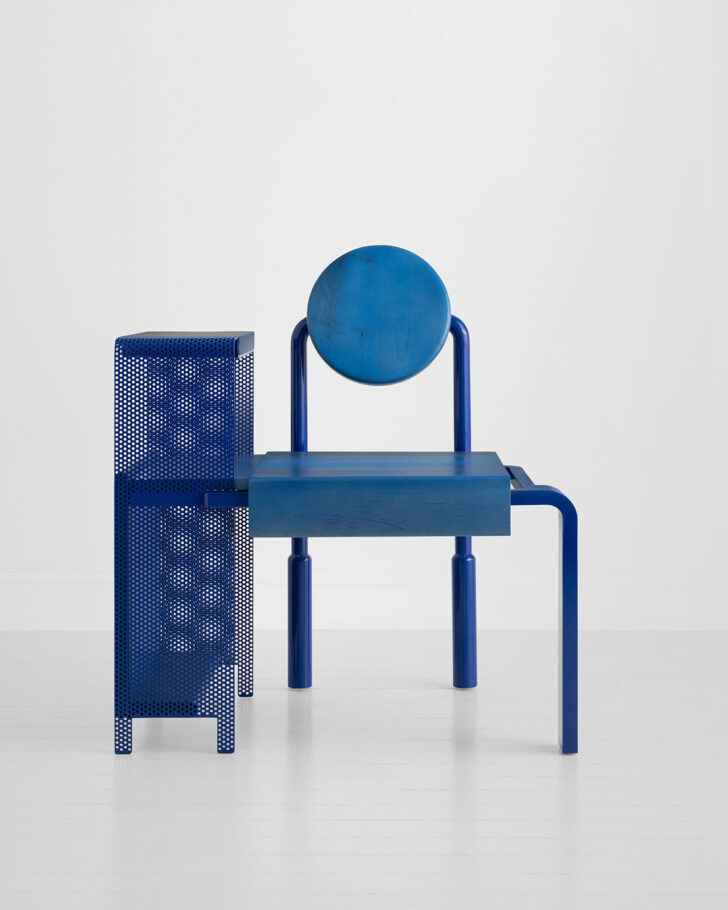 Inspired by architectural forms and machinery, Baltimore-based Malcolm Majer recently created four chairs for the Otras Formas gallery, which opened last year in New York City. Majer's seating includes the stunning blue "telephone chair," made of powder-coated steel, tinted maple, glass, and linoleum and inspired by the spot in which his mom used to write and store her journals. The "valet chair" – which almost looks like it might ask for your coat and whether it can get you anything to drink – is a work of steel, brass, a leather upholstered seat that lifts up for storage, and an arcing rod in the back where you can hang garments.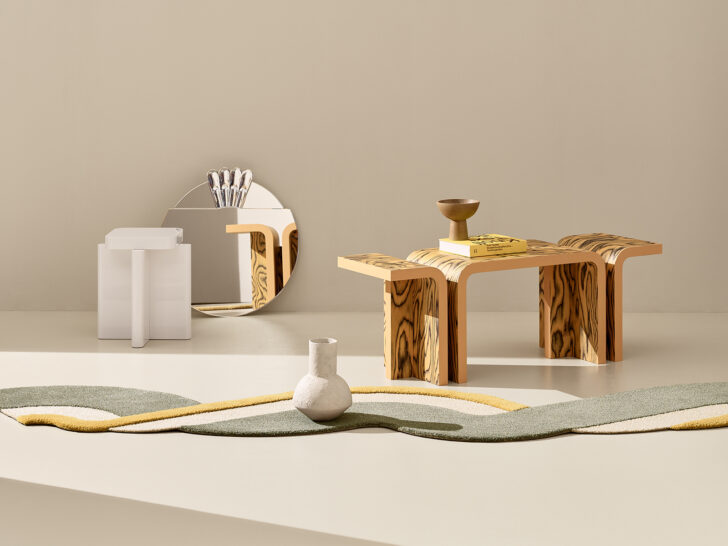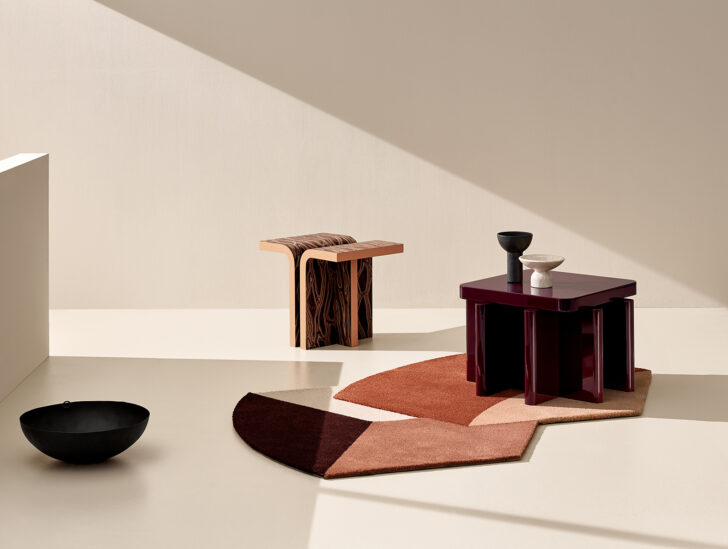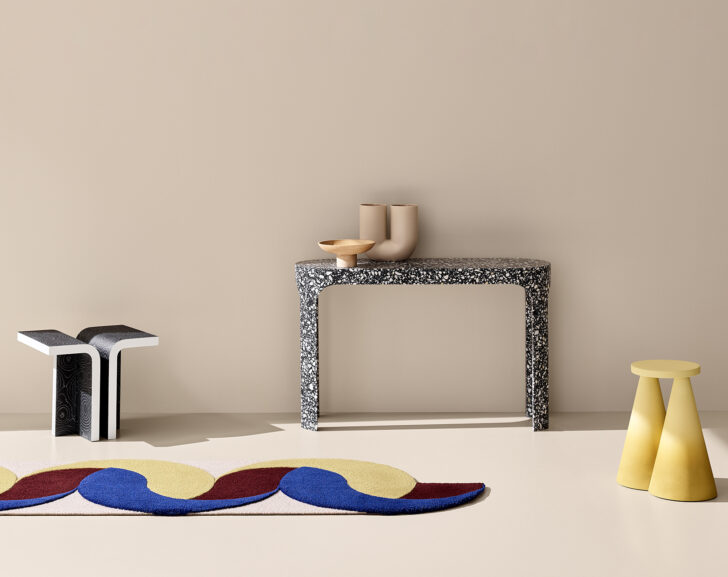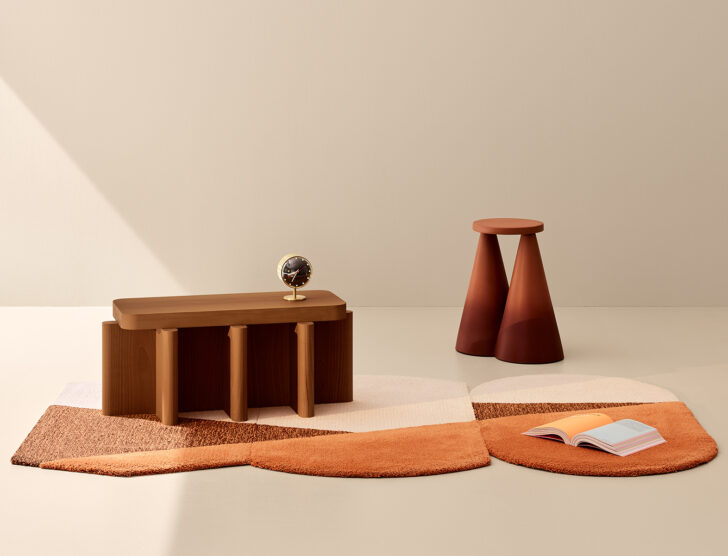 Italian furniture brand Portego is also presenting new collections at Maison&Objet, including cantilevered wooden tables designed by Copenhagen-based Nicolai Kotlarczyk. Also on view from Portego: the Nesso series of graphic rugs – runners and looser shapes in earthy 70s color combos – that play on circular, linking forms, by Swiss designer Seraina Lareida. And the Spina tables by the Milan studio Cara/Davide, which, as their name suggests, evoke a column of vertebrae turned sideways.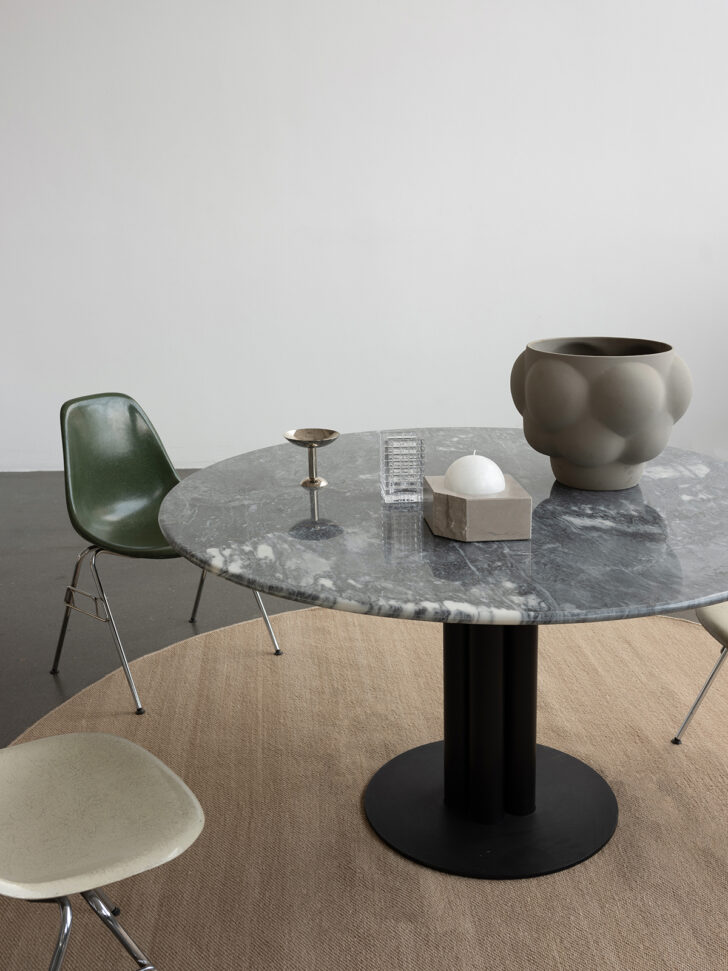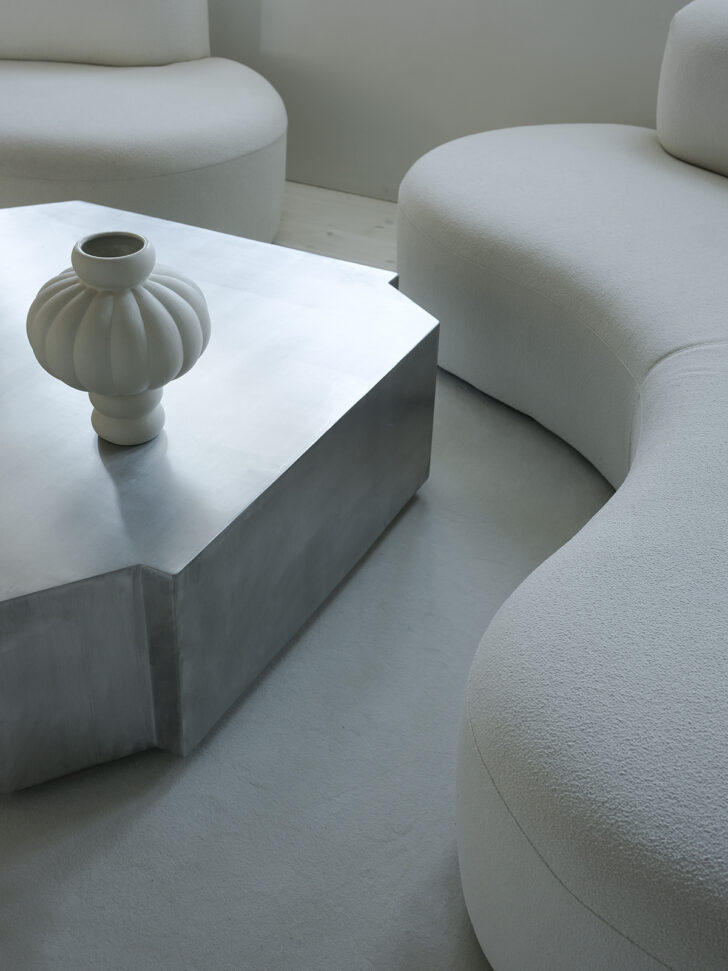 The latest additions in Danish designer Louise Roe's collections may just put you in the mood to entertain, even if you're still recovering from the holidays. There's drinkware in the form of the Bubble Glass series and the new stainless steel Bar Utensils series. She's also added furniture to her Funki series of pots and vases. Brutalist yet elegant, and available in raw iron or aluminum, the square and rectangular coffee tables, a bench, and two stools can serve a variety of purposes. Adding interest and ambience are the sculptural Gallery Object candle holders, which come in a low square version or a taller, rectangular column, each with a craggy, unfinished corner exposing the raw material – either travertine, green marble, or grey marble.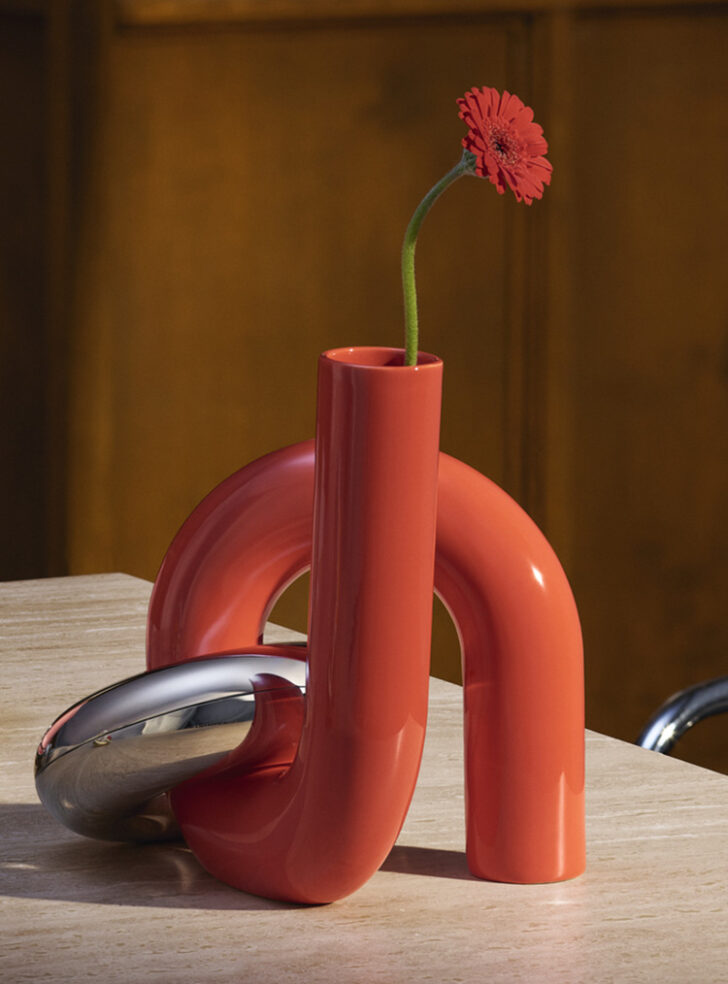 Berlin-based jewelry brand Uncommon Matters recently brought its sculptural and architectural approach and aesthetic to a collaboration with H&M Home. Appropriately billed as "jewelry for your home," the line includes boxes, trays, and stands – large chunky rings and chain links in silver and gold tones are paired with bright colors – to store or display your necklaces, bracelets, and other finery, along with a tubular vase and candleholders.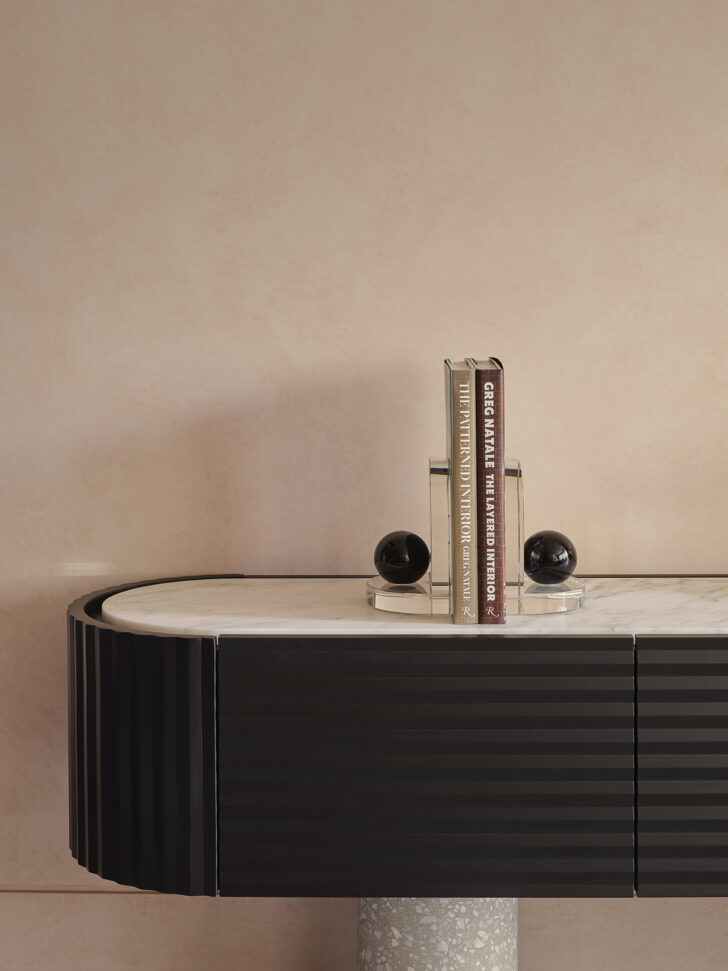 Later this month Australian designer Greg Natale is set to have his first exhibition, Fantaisie, at Maison&Objet. On view will be new ceramics collections, sculptural stone pieces, and additions to his brass accessories and glassware, all of which pay homage to the New Wave music of the late 70s and early 80s. We're especially taken with the Blitz bookends (which references the Blitz kids, who hung out at the London club of the same name). Arched, polished crystal slabs intersect to cradle a black sphere in functional but playfully post-modern piece.