03.15.23
The New Hennepin Made x Victoria Sass Lighting Collection Wants You to Experience the Full Spectrum of Emotion
When two longstanding Minneapolis creative forces — Jackson Schwartz, head of the lighting company Hennepin Made and Victoria Sass, founder of interior design studio Prospect Refuge — team up to create a new lighting collection, you can expect the results to be thoughtful conversation starters. Not simply in the obvious way of getting your attention and eliciting a reaction, of course — though their Ontologia series does just that, with one-of-a-kind, handblown glass globes in various sculptural permutations composed of cords, metal, and mahogany spheres. But there's a deeper form of conversation that Sass envisioned for her first foray into lighting design, and that Schwartz made a reality: a sort of ongoing dialogue, a two-way relationship between the people living with these lights and the lights themselves, which really do seem to have distinct personalities and moods.
"A light doesn't just come out of the box and go up on the wall and then it's done. You've got to wrestle with it a little bit," says Sass. Arrange and rearrange the cords, move the glass forms around, interact with the fixture, change it. This is partly where the name of the collection comes from; ontology is the study of being and existence. Schwartz brings up the field of object-oriented ontology, "which is about how, if we viewed objects as a living form, what would they express and how would we treat them differently? Our whole perception of the world would totally change." Learning how to live with these almost animate pieces is part of the process.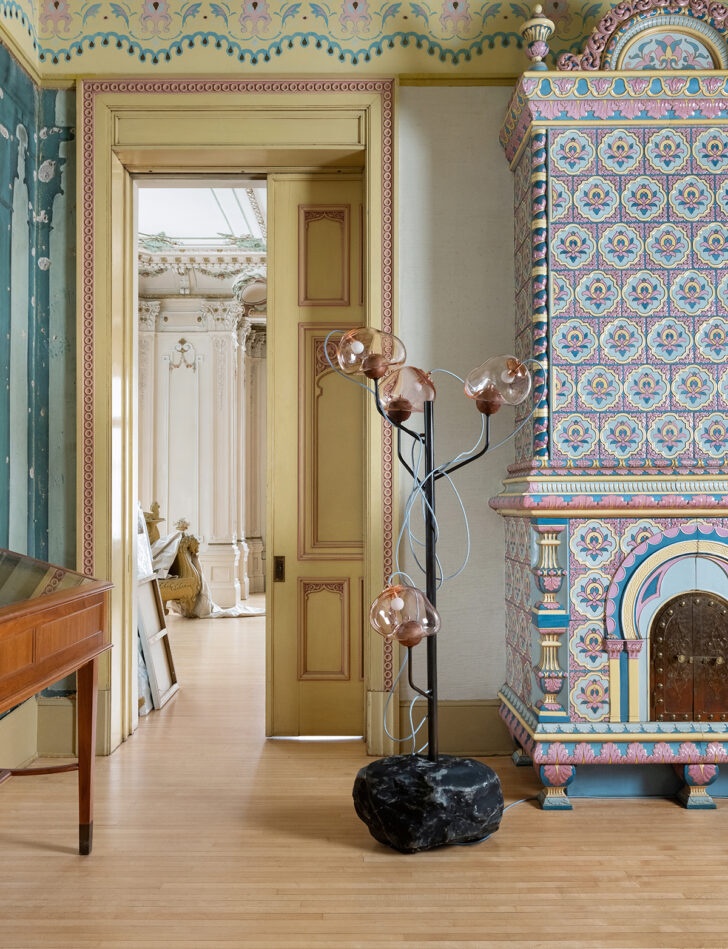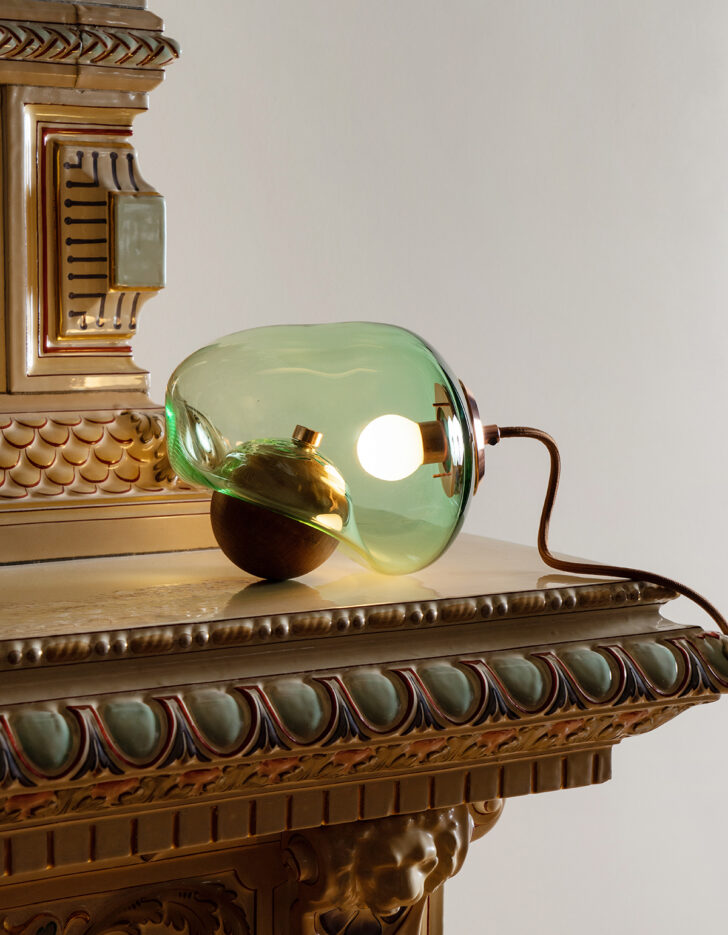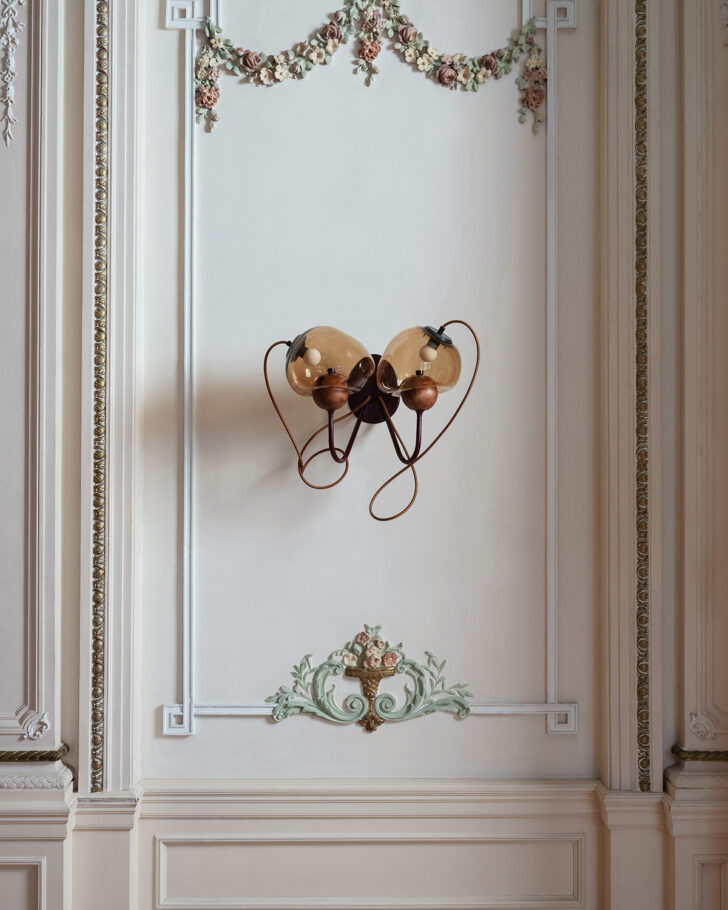 Sass believes it's the pieces that challenge us ­— ­and make us experience the "full spectrum" of emotion ­— that endure. Which discourages disposability, she adds, "by getting people attached to their objects so much so that they pass them on generationally." So, how do you keep people emotionally connected to the things that they're surrounded with?" Her answer: "It's like a partner, in life. If there are no surprises, that's not going to keep you engaged." Like most things worthwhile, connecting with these pieces takes some investment. At the same time, Sass laughs, "I don't want to stress people out." These are also just beautiful lights.
Part of the engagement comes from the initial choices you make in selecting forms and finishes. The collection offers four glass colors and three cord colors as well as three metal finishes – raw, oiled, or oxidized copper, and four powder coatings. And then there are four pieces: a sconce, a floor lamp, a chandelier, and an individual globe table lamp, which Sass has come to refer to as the "baby blob." It goes back to the idea she had in early design talks, that she wanted one light to "almost feel like a child or a pet, something you would pick up and hold and physically nurture as if it were something you were caring for in a really parental way." The blobs from the chandelier can also be lowered and placed on a table for a candlelight effect.
There's an individuality intrinsic to each piece. "Each one is different because the maker's manipulating it," Schwartz says of the glass. The process itself becomes "like a historical memory in the piece. Every one of these pieces is heated and draped over a metal form that is the same size as the wood ball, so depending on how hot it is, how thick or thin the glass is — how the glassblower's essentially feeling that day — it's going to droop more or less" and have a unique shape. Hennepin Made fabricated everything in-house, with the exception of one small electrical component. As Sass says, "they have this amazing ability to do anything."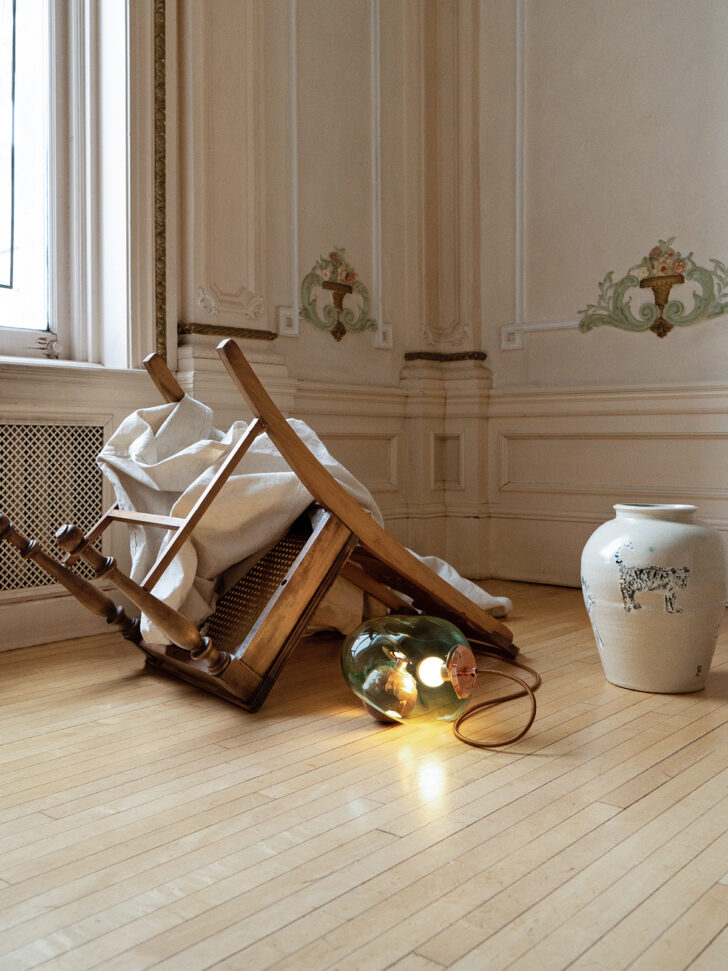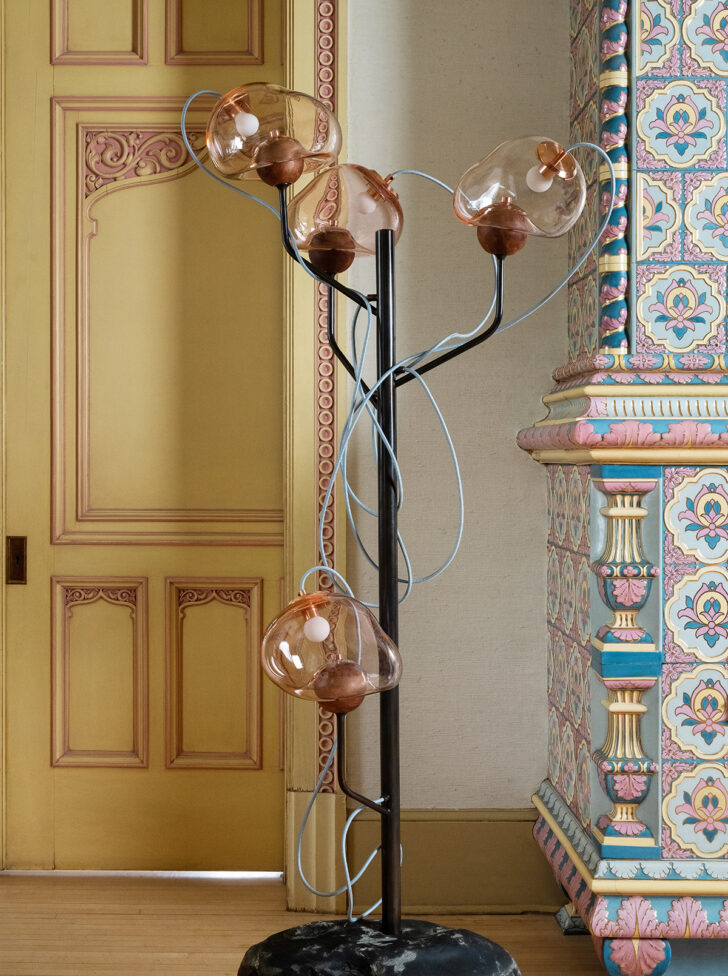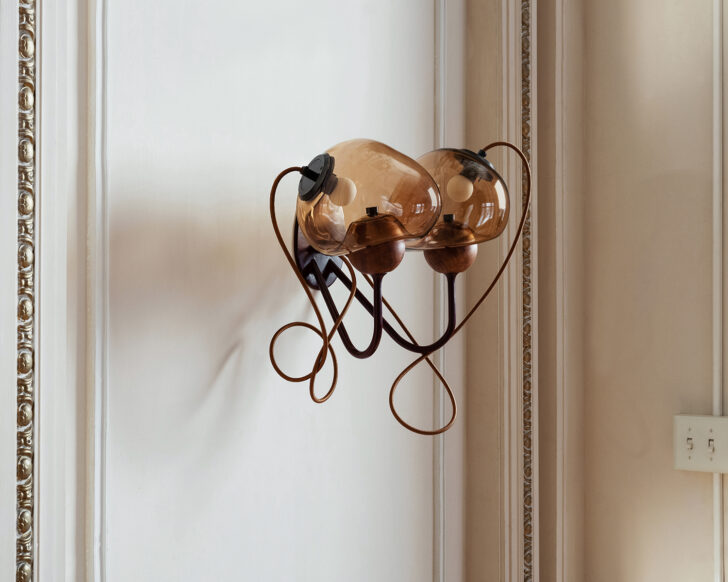 Depending on how you configure them, each light has its own energy and affect. Sass points to a sconce in her studio that's "kind of somber and a bit serious. With the amber glass and dark burgundy, it's clearly autumn and fallen leaves. Whereas our chandelier is very gray-green and lighter, like springtime." The palette reflects the dramatic weather of the Midwest and an attentiveness to the rhythms of seasons that comes from living in the area. The long winters of "deep hibernation," as Sass puts it, and time spent indoors means lighting becomes incredibly important, as does the opportunity to connect with the objects that surround you.
Minneapolis is often likened to Scandinavia in this way, and in keeping with that spirit, Sass and Schwartz set the elemental, organic shapes against the ornate details in the ballroom of the American Swedish Institute in Minneapolis to shoot the collection. For his part, Schwartz sees the collection as an extension of the Twin Cities' history of creating contemporary design and architecture that has a kind of respect for or tie to the past. These lights are "very much statement pieces, as much art as they are a functional object," he says, "but then there's something nostalgic to them." They could be from the '60s or '70s while at the same time, they're forward-looking and risk-taking. Schwartz sees this as characteristic of the region. "There's a group of creatives here who want to represent the Midwest in that way. We want to push aesthetics and push people's expectations a bit," he says. "There is a humility that's also paired with a confidence." Which is an apt way to describe the Ontologia collection itself.