03.16.23
These Mysterious Glass Assemblages, On View at Marta, Were Inspired By Modernist Buildings and Corporate Architecture
Over the years, New York–based designer Jonah Takagi has worked with all kinds of materials, but it's glass that has preoccupied him throughout several summer residencies in the south of France, at the International Glass and Visual Arts Research Center, or CIRVA, in Marseilles. For Takagi, the experience yielded not only an unexpected love for Marseilles but also an ever-evolving series of mesmerizing angular vessels that reference, in their shape and in their texture, the Brutalist architecture of Kenzo Tange or Le Corbusier. Specifically, Takagi was drawn to buildings that use board-formed concrete, or béton brut, a construction method by which the concrete retains the pattern, grain, and imperfections of the structure it's cast in. (We dug deep into this process a few years back). Scaling this method down, in a way, Takagi was able to produce a collection of vases that are visually blocky yet subtle and nuanced; a selection was launched late last year with Hem. But while his eye is still very much on the visual and tactile details of those pieces, Takagi is also seeing the bigger picture in his latest show, "Brut Vessels," on view through April 22 at Marta in Los Angeles.
In their current iteration, the emphasis is less on discrete vessels than on the interplay between sculptural forms. The glass assemblies on display at Marta signal a move towards thinking in a "broader context" as Takagi puts it. The focus is on the collective rather than the individual, on arrangement and interaction. And the pieces from his final stay at CIRVA trade the bright, saturated hues of his previous work for duskier blues, ambers, and greens — colors he associates with Marseille but also with twilight and daybreak, the transitional in-between times when we might not be quite sure what we're seeing or haven't yet adjusted to it. There's something ineffable about the way they combine the crystalline quality of glass with a slightly murkier, mysterious effect. To learn a bit more, we caught up with Takagi over email.
INSTALLATION PHOTOS BY ERIK BENJAMINS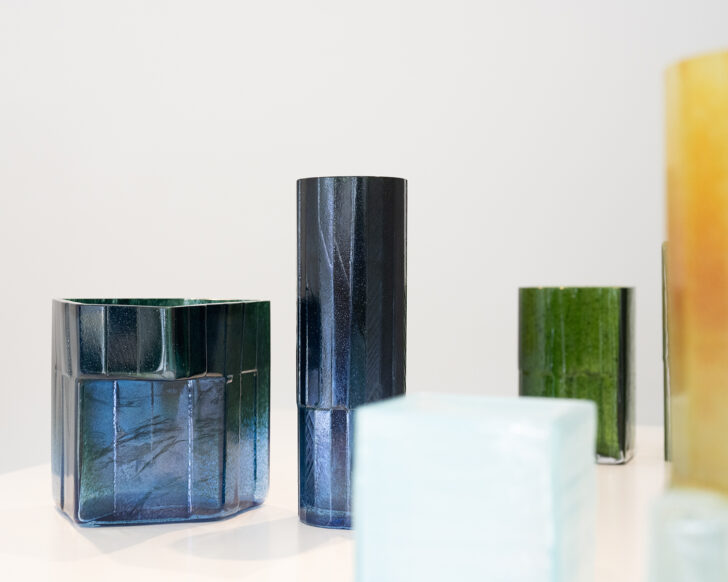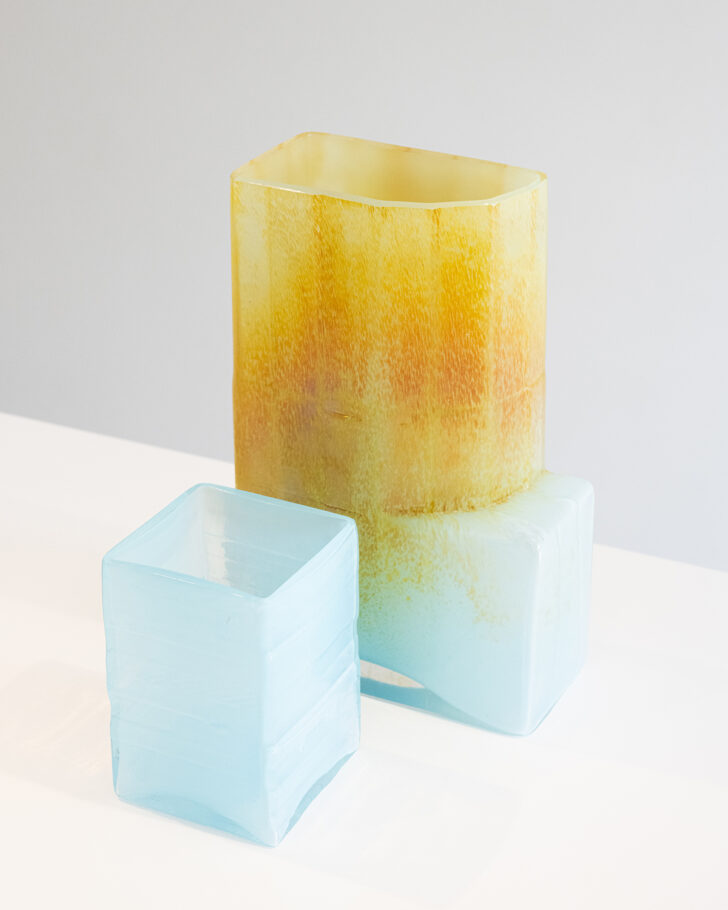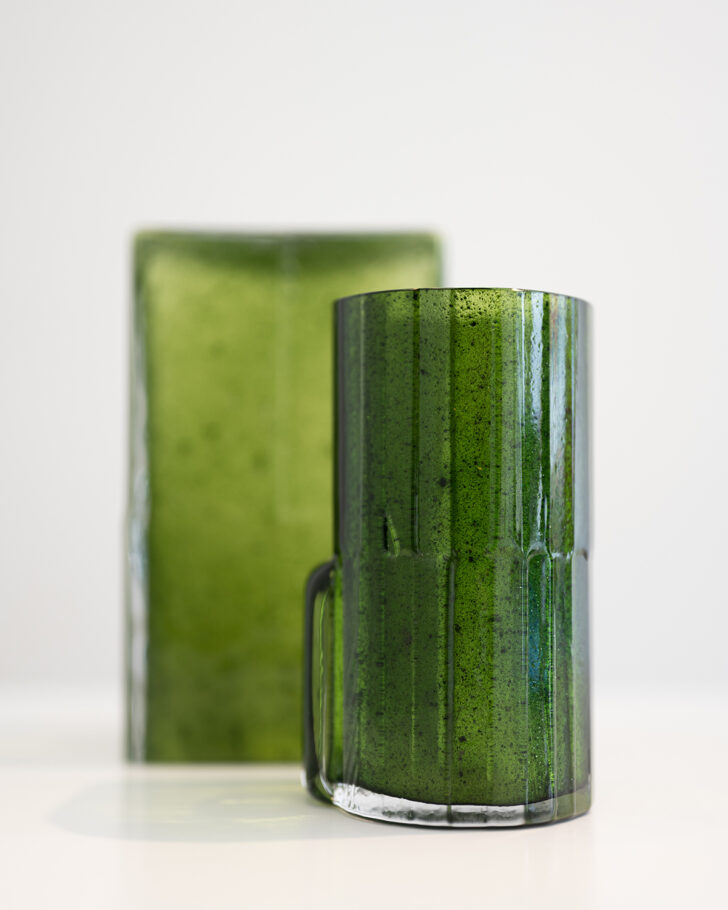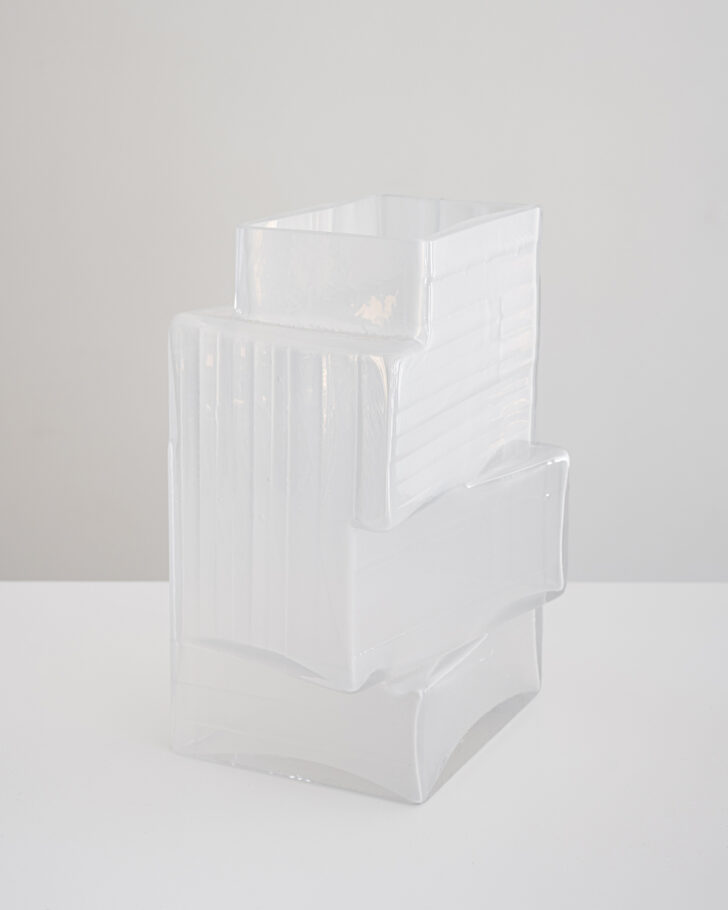 I'm curious about the effect of time on your work and process. These assemblies evolved over the course of four years of summer residencies at CIRVA. How has your increasing familiarity, both with Marseille and CIRVA as well as glass as a material affected your work? And having the time to revise and rework — to really give in to the process of trial and error — has that influenced you as well?
While the arc of the residency was long, spanning almost five years, I view the work developed last summer as distinct from the discrete glass pieces I created in 2019. During my last trip to Marseille, in 2022, I focused on formalizing geometries and developing assemblies that embrace negative space and create interactions among bodies.
My participation in an MIT graduate review led by the architect William O'Brien Jr., for his course titled "On Vessels," enhanced this interest in assemblage. I found the conversations throughout the review to be thought-provoking and ultimately sparked a desire to look beyond the work as a vessel and consider broader contexts, external influences, and formal interplay.
Regarding the length of the residency, I might add that the opportunity for deeper reflection and, occasionally, mid-process post-rationalization has been a total luxury. This has allowed for increased fluency with glass, while making my time with the team at CIRVA much more efficient. That said, there was still a lot of a trial and error. Each piece is unique, and that presents a multitude of challenges for the technicians, as there's no muscle memory acquired by blowing similar forms over and over again. That alone was enough to keep me on my heels, even after several trips to Marseille.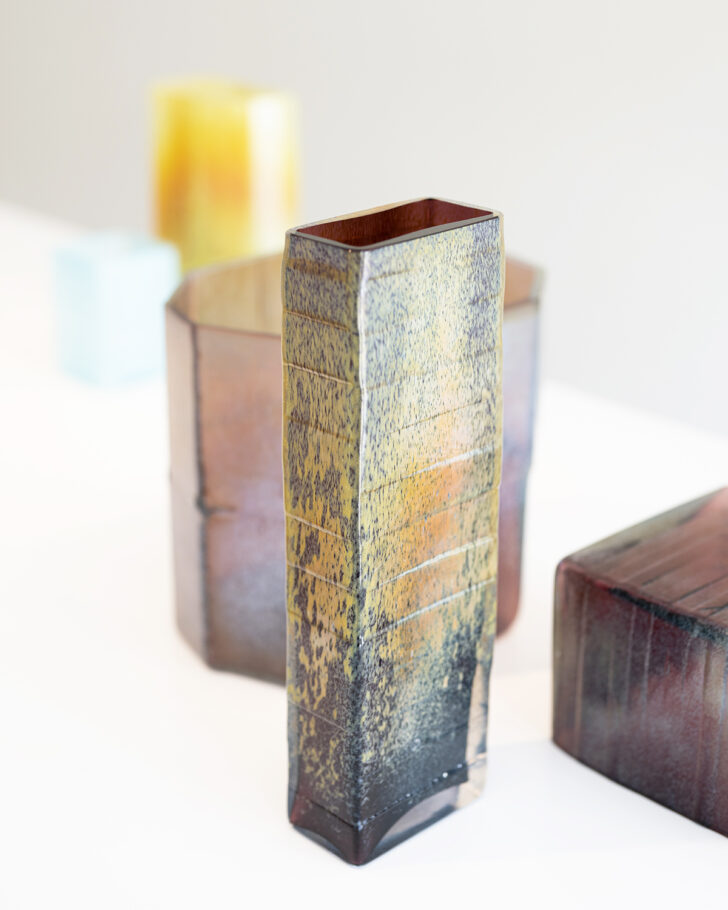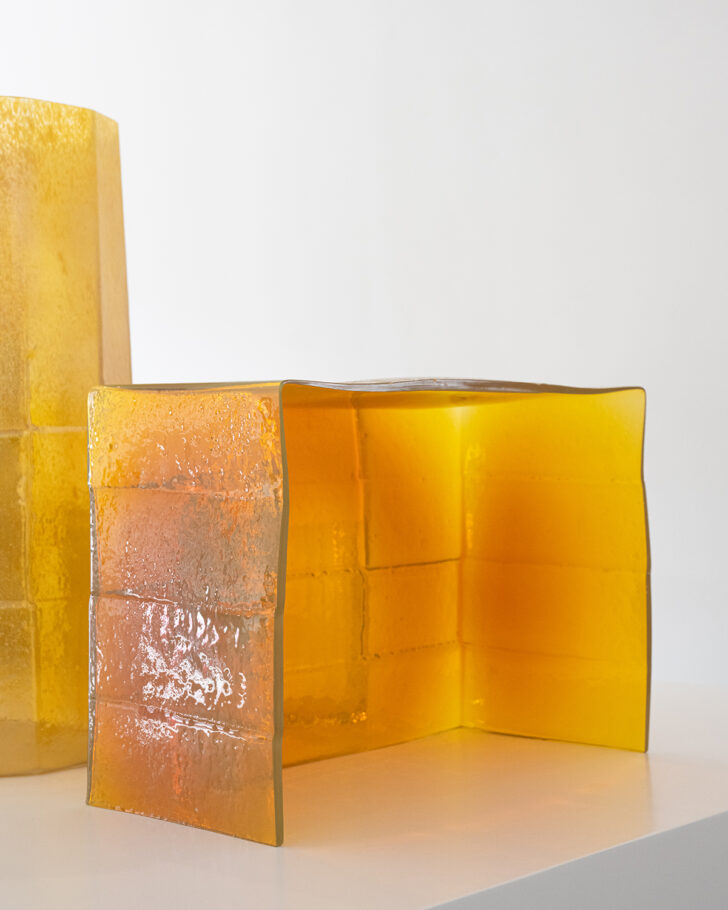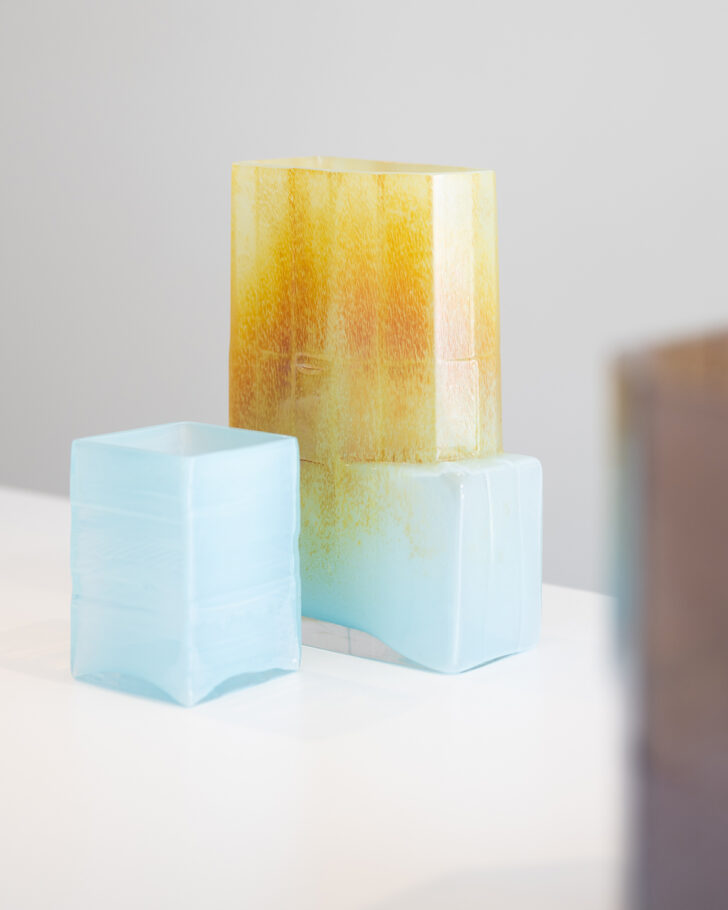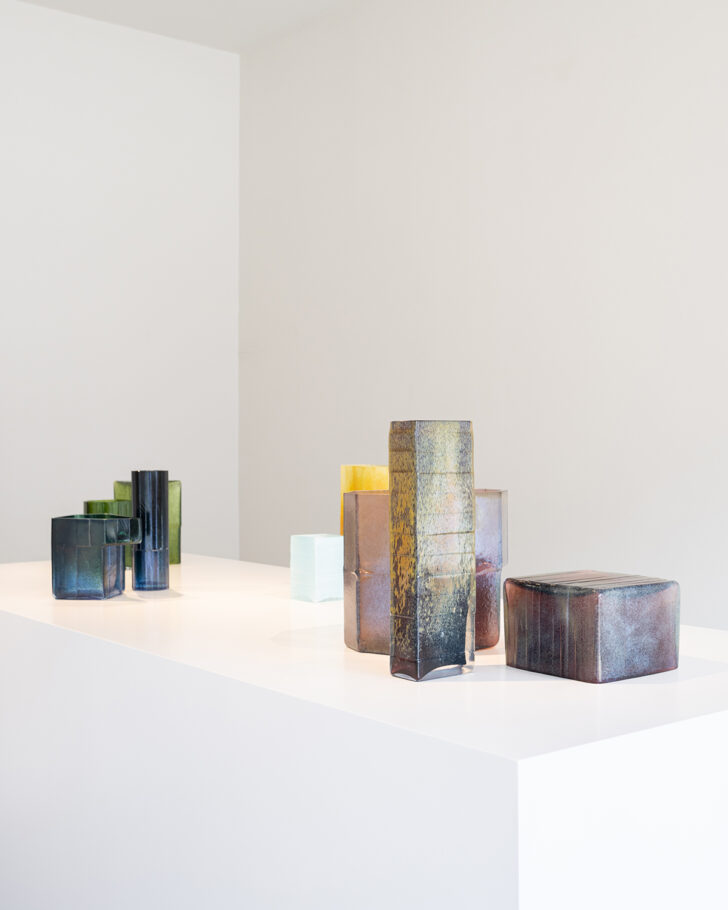 What is it about glass that holds your interest and that you keep returning to? Do you think you'll keep working with this material beyond CIRVA?
Most glass-working processes are extremely labor- and resource-intensive, and this is a natural barrier to the type of experimentation and exploration possible at an institution like CIRVA. As the residency has drawn to a close, it's hard to imagine a context in which I could create glass works with the same "painterly" approach. Of course, there are industrial glass-working processes that interest me — and I look forward to working in that manner — but I imagine that my engagement with the process will look much different.
These colors, the blues and greens and browns and ambers of the sea, are a bit more muted than previous iterations of the Brut series. What drew you to them? 
The colors in the most recent work on view at Marta were intended to reflect the colors of Marseille while evoking interstitial moments, that skewed toward dusk or dawn, when your rods and cones are misfiring. More subtle, muted, and blurry than my previous work.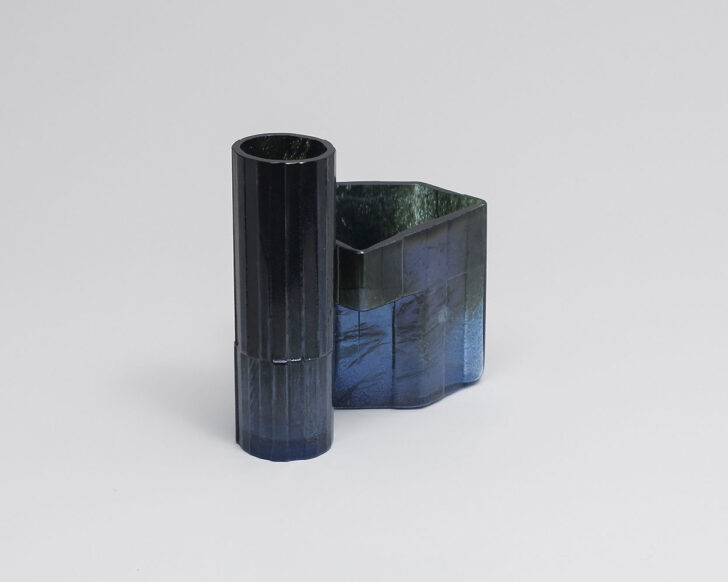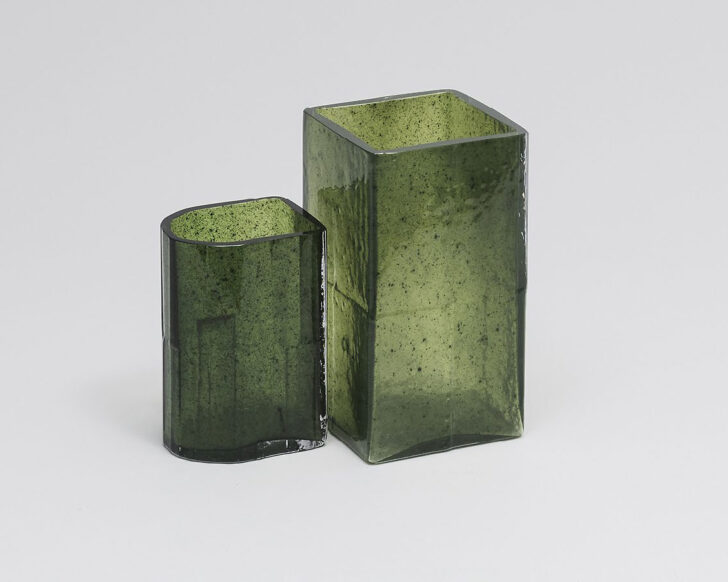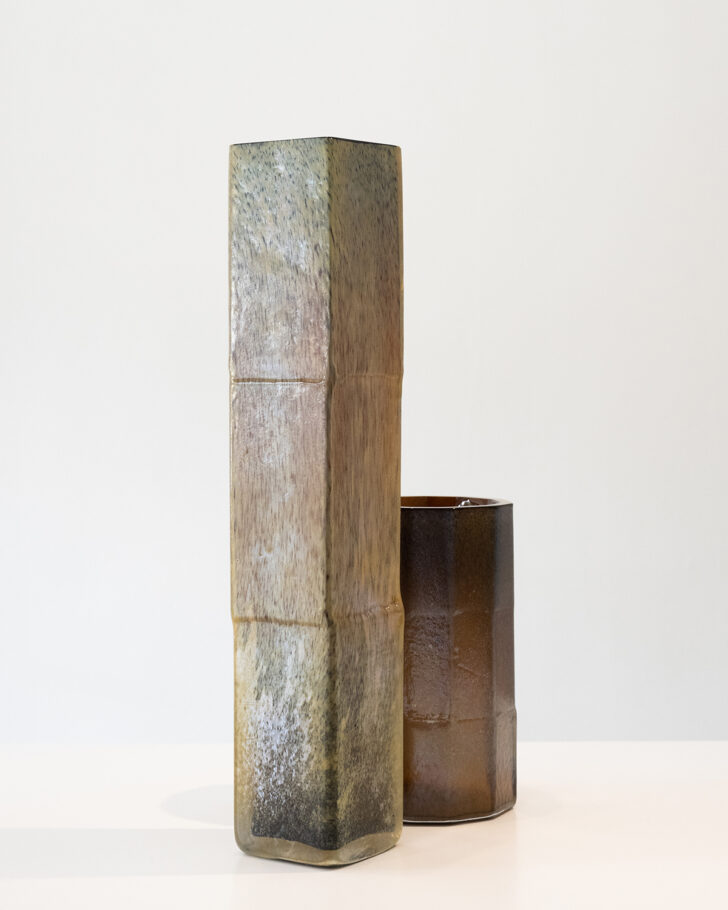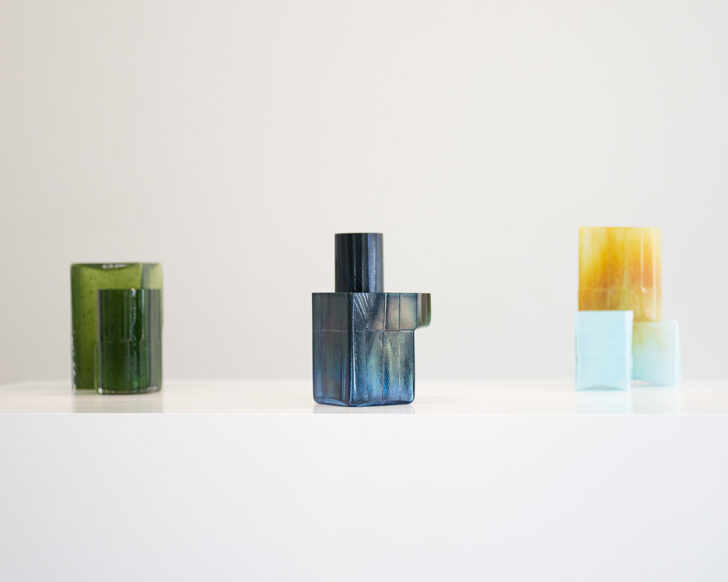 I read that these vignettes reflect your interest in suburban corporate architecture. Like office parks? And were you thinking of American suburbs or those in France?
I read a brief article from PIN-UP magazine about mirrored facades that got me thinking broadly about American corporate architecture, such as works by John Portman and Kevin Roche. But more specifically, I became fixated on the way in which these buildings mirror their surroundings.
There are a couple specific buildings — one mirrored, and one not — that come to mind. One is the Westin Bonaventure hotel in downtown Los Angeles by Portman, and the other is an aluminum-clad residence by Stanley Tigerman, sited in the suburbs just north of Chicago. I came across the home on the firm's website, and was intrigued by it formally, but more specifically by the fact that it was computer-controlled and there were robots! "An uneasy merging of the well-known machine aesthetic with off-the-shelf components, this all-computerized house hoses down unwelcome guests who do not properly identify themselves. Programmed to have a remote-controlled robot laundry cart moving along a prescribed radio-monitored path, the entire system de-programs with suburban voltage irregularity." I knew the Tigerman house was in the town of Glencoe but had no specifics regarding its whereabouts. It took some enthusiastic architecture fan friends and some amateur sleuthing culminating in low-grade trespassing, but we ended up finding it at the end of dead-end road shrouded in trees on the shore of Lake Michigan.
In any case, these types of interaction inspired me to envision what lay just beyond the work and how it might allude to a broader context.
In terms of the fabrication process, you continued to use stacked kiln bricks to cast the glass shapes. Is that unusual?
I would say it's a bit unusual in terms of glass fabrication, but the approach is analogous to the board-formed concrete so common in Modernist architecture — consider Tange, Le Corbusier, Wright, etc. Aside from the connection to this construction technique, the idea of creating singular, labor-intensive, improvised molds was my way of establishing a deeper connection with the artists and technicians and making the process a bit more painterly.
"Brut Vessels" is on view at Marta Gallery in Los Angeles through April 22.