09.05.19
In a New Collection, Jonah Takagi Reimagines French Brutalism in Shimmering, Colored Glass
Jonah Takagi has always been inspired by architecture. His first foray into the design world, nearly a decade ago, included furniture inspired by Tinkertoys, and an early series of tables for Matter employed architectural elements in miniature, like I-beams, columns, and trusses. "My dad's an architect, and it was something I considered pursuing," Takagi says. "Now I make things that go inside buildings." It makes sense, then, that Takagi's latest collection — a series of stepped, angular glass vessels in deeply saturated or disco iridescent hues — would be inspired by one of architecture's most recognizable structures: Le Corbusier's Brutalist 1952 Unité d'Habitation housing complex in Marseilles, France.
Takagi's Brut Vessels — which he developed over the course of three residencies at CIRVA, the French glassmaking research center — were named for "béton brut," a French term used to describe concrete that's been left unfinished after it's cast, and that still bears the imprint of any patterns or seams. In Takagi's vessels, it refers to the faint "board-formed" texture that's imprinted upon the glass by one-off molds built from stacked ceramic kiln shelf material. The works — which are on view this Paris Design Week at Galerie Joseph, in an American design show organized by Gallery Triode, Wanted Design, and Maison et Object — represent a new, more sculptural direction for Takagi's work; they're also one of the best, most drool-inducing instances of colored glass we've seen since the trend took hold. We recently caught up with the designer to find out more.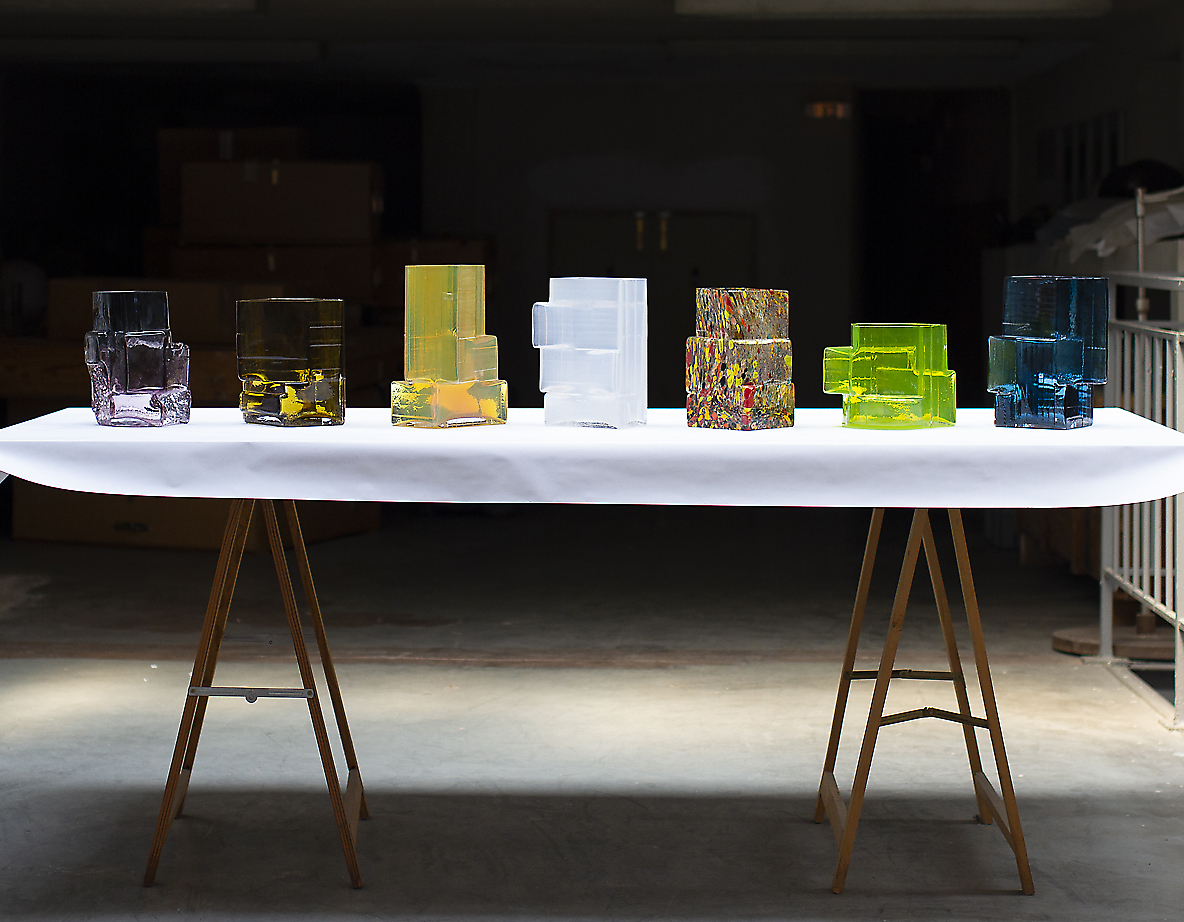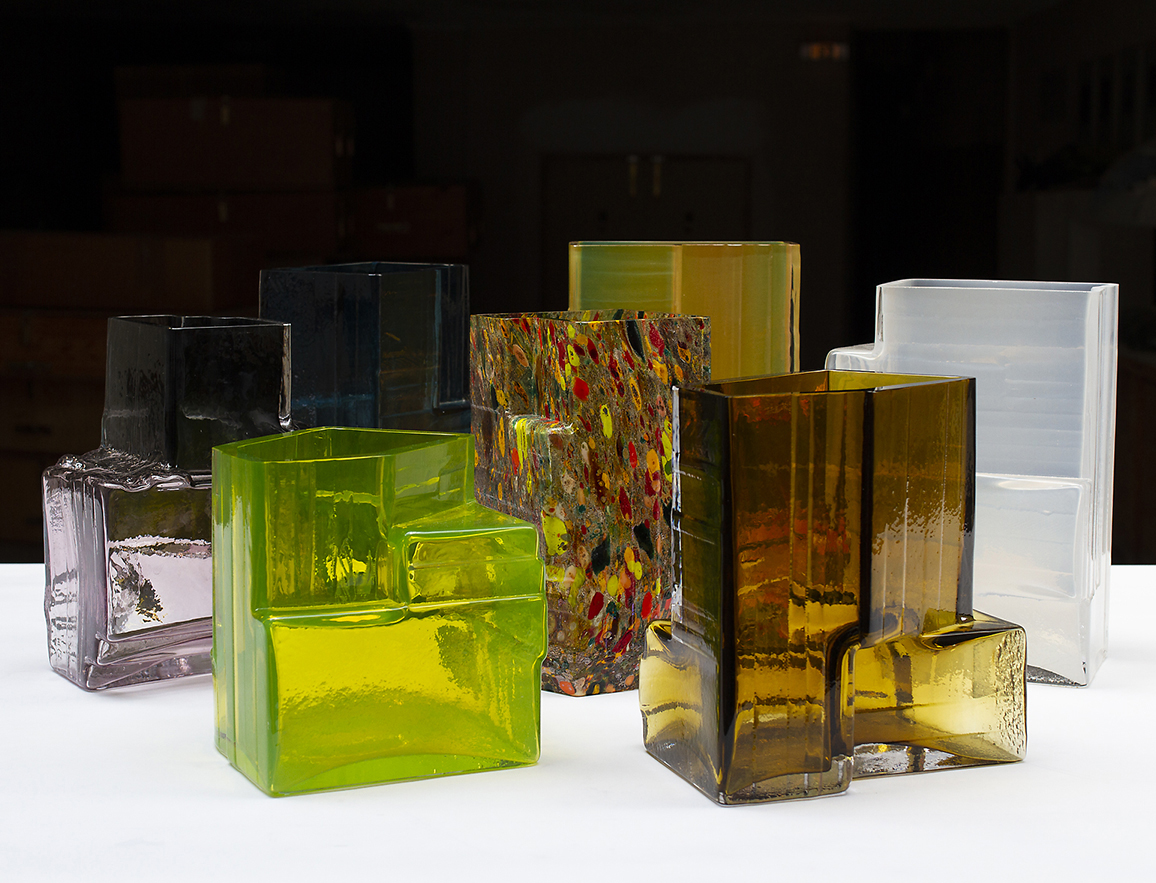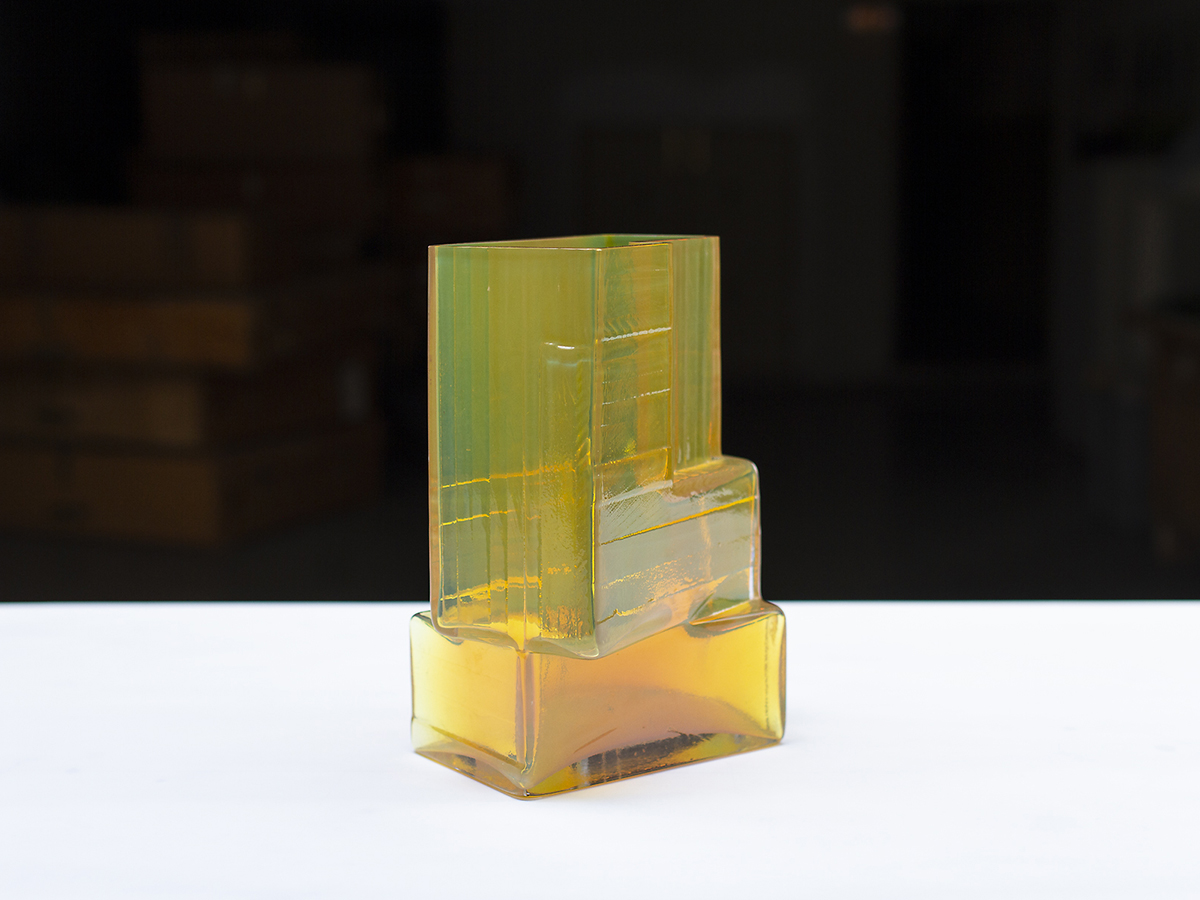 These vessels came about over the course of a few summer residencies at CIRVA. Can you tell me a little bit about how you first became involved with them?
CIRVA's been around for 30 or 40 years, and they have these project-oriented residences where they invite industrial designers or fine artists — the goal is to get people with no experience with glass into the workshop. I got involved through a cultural exchange with Wanted Design, where they paired American designers with French fabricators — in my case, CIRVA. I went for a week in 2016, and on my first day there, the director said, "I don't think this is gonna be enough time." You get there, you're on your heels, there's a language barrier. You start blowing maybe at the end of the first day and you can't see what you've made until the second day; the stuff you make on the second day, you can't see until the third day, and all of a sudden that five-day stretch is over.
In the workshop, there are four or five technicians — two or three glass blowers, another technician focused on mold-making and slumping — things like that. Having never worked in a glass shop before, it's a lot to take in and it feels kind of dangerous. At first, I felt very much like an outsider. The technicians have this hive mind, and I was like, 'How do I break through and feel like I'm a part of this process instead of drawing something on paper and having them execute it?' Because I can do that at home.
So I made some things during that first residency for an exhibition in New York — vessels and lights that don't have much to do with what I'm doing now — that luckily led to something longer term. I got along well with the technicians and they invited me back for a longer stretch during the summer of 2017, and then again in July of 2019.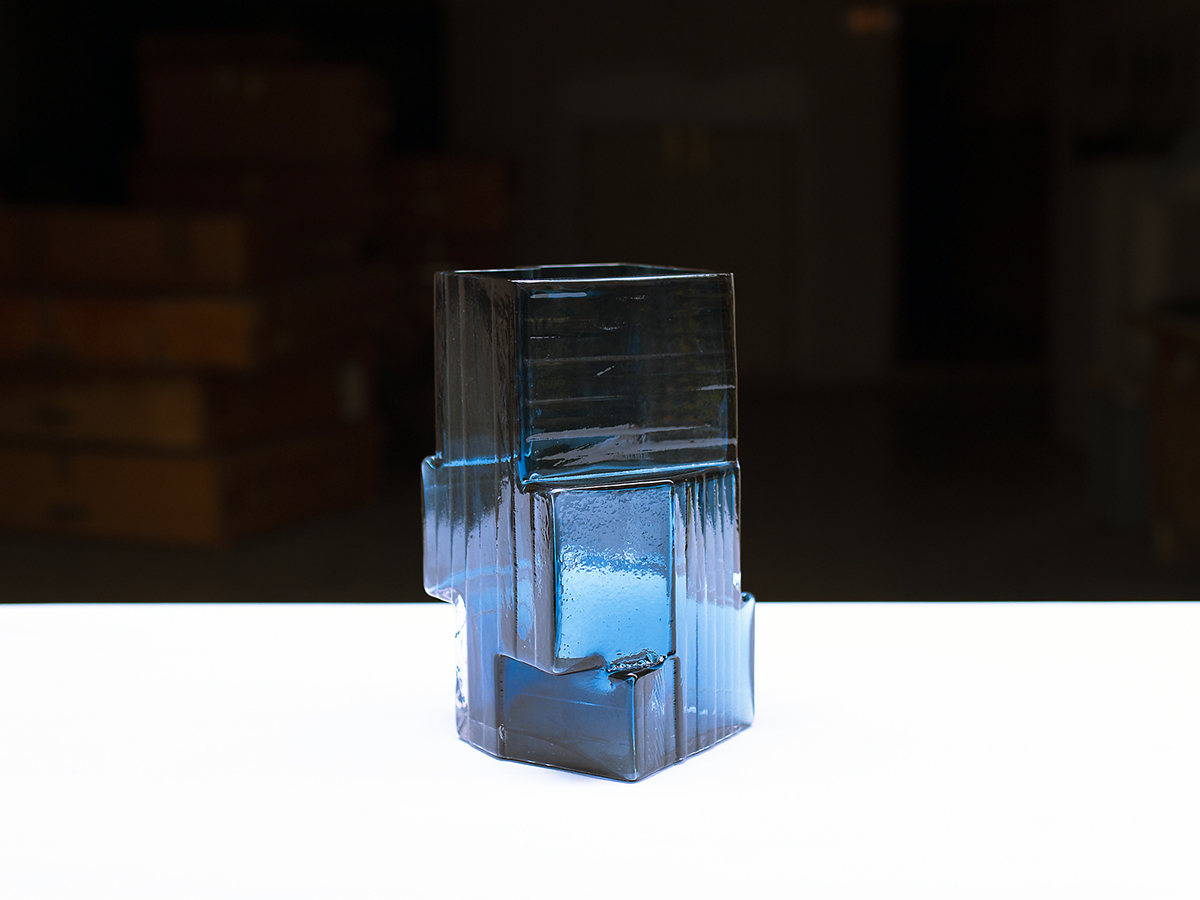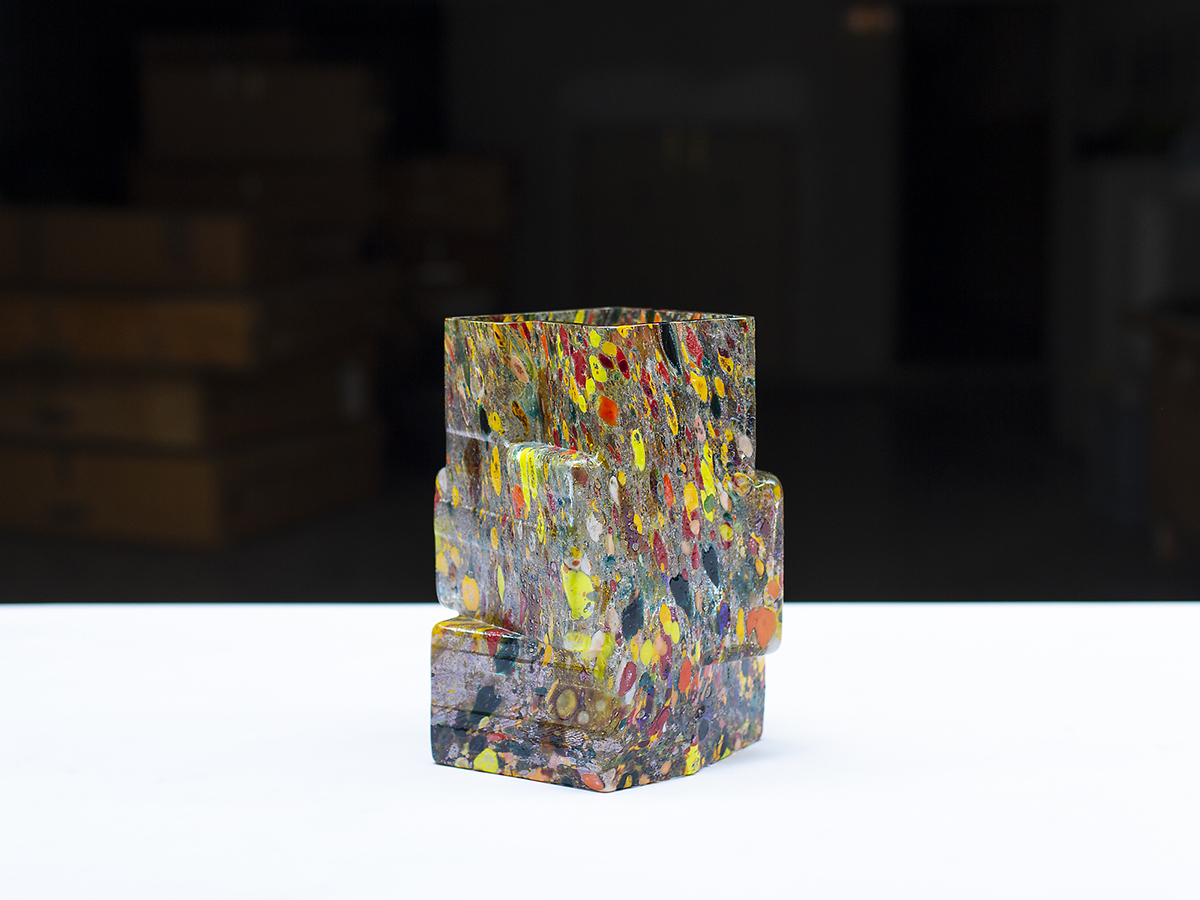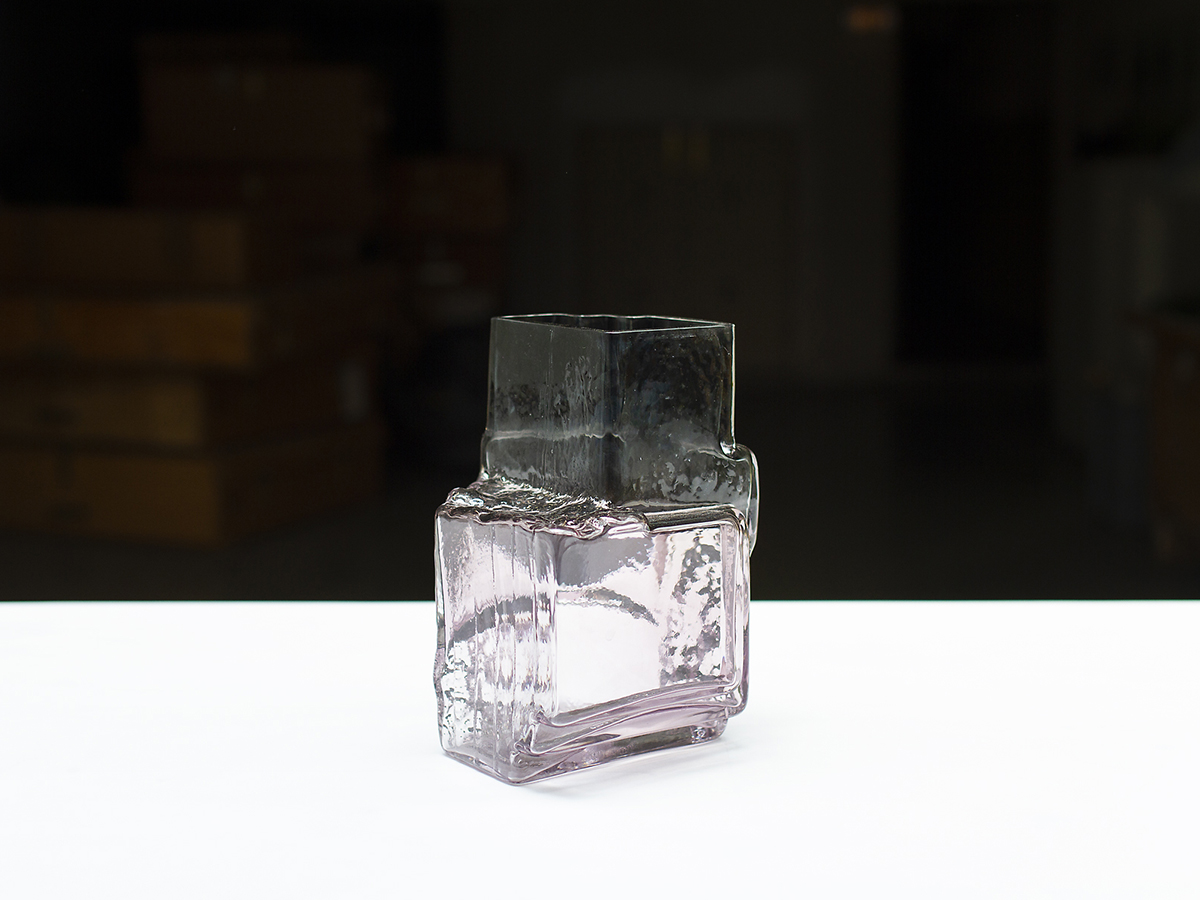 How did the idea occur to you to try and mimic that kind of béton brut surface treatment?
CIRVA's located in Marseilles which, if you've never been, is an amazing place that I kind of fell in love with. It's not for everybody; when you close your eyes and imagine France, it's not exactly what you picture. But I have a general interest in architecture, and when I was first exploring Marseilles, I paid a visit to Le Corbusier's Unité d'Habitation, which of course is a great example of a building made from board-formed concrete, or béton brut. And just generally the textures throughout Marseilles — I mean, I'm not a historian by any means, but like any European city, there are layers upon layers from cultures that were there before, and a rich sort of texture everywhere.
Were there other ideas that you tried out and rejected? Or did you need to finalize a concept before starting because glass is so trial and error already? 
When I went back to CIRVA the second time, I had this idea of doing an installation mixing colors of glass but it didn't work out. Then I explored making this sort of glass foam, but that fizzled too. I guess the current collection started with me making a little test using scrap material, clamping together shards of ceramic brick — the kind of refractory brick that they use to make kiln shelves. I wanted to see what would happen if I made a mold from those and blew glass into it. It was a tiny sample, about the size of a softball, but it was really interesting to me.
At that point, I started making a connection between making molds with this dimensional material and the board-formed concrete that you see in Brutalist buildings and architecture in general. I raided the scrap bin full of shards and pieces of brick and shelving materials and made these improvised molds. It took about two hours to make one mold. They were all different, and they were all cobbled together and clamped in a really awkward way. During the summer in Marseilles, it's really hot so they start earlier than normal and they stop at about 3PM. So I got about two or three molds done per day.
At first, there was a super high rate of failure. It's partly that I didn't construct the molds properly to withstand the pressures of blown glass. It seems like you're just blowing a balloon into something; how strong does it have to be? But the amount of pressure exerted on the inside of the mold is really intense. The molds would open up, the glass would push out through any void, and it would crack.
But it was also that each mold was different and unique. If a glass-blower is blowing into the same exact mold, after the first couple of tries, they'll know how much glass to pick up, how hot it needs to be, whether to pre-heat the mold. It's very repeatable. But because each of the molds I was making was slightly different — different undercuts, different volumes — it was difficult for them to figure out. With each mold, it was like the first time every time.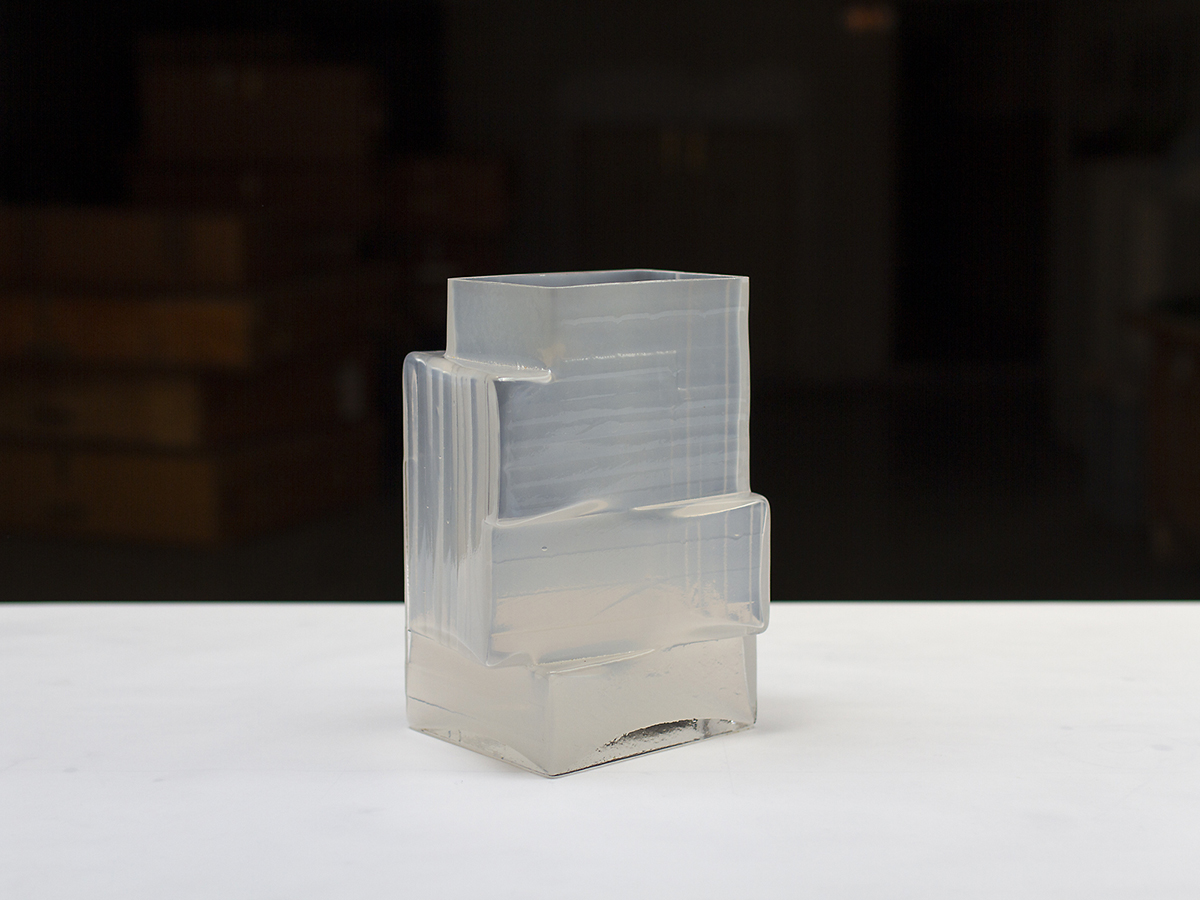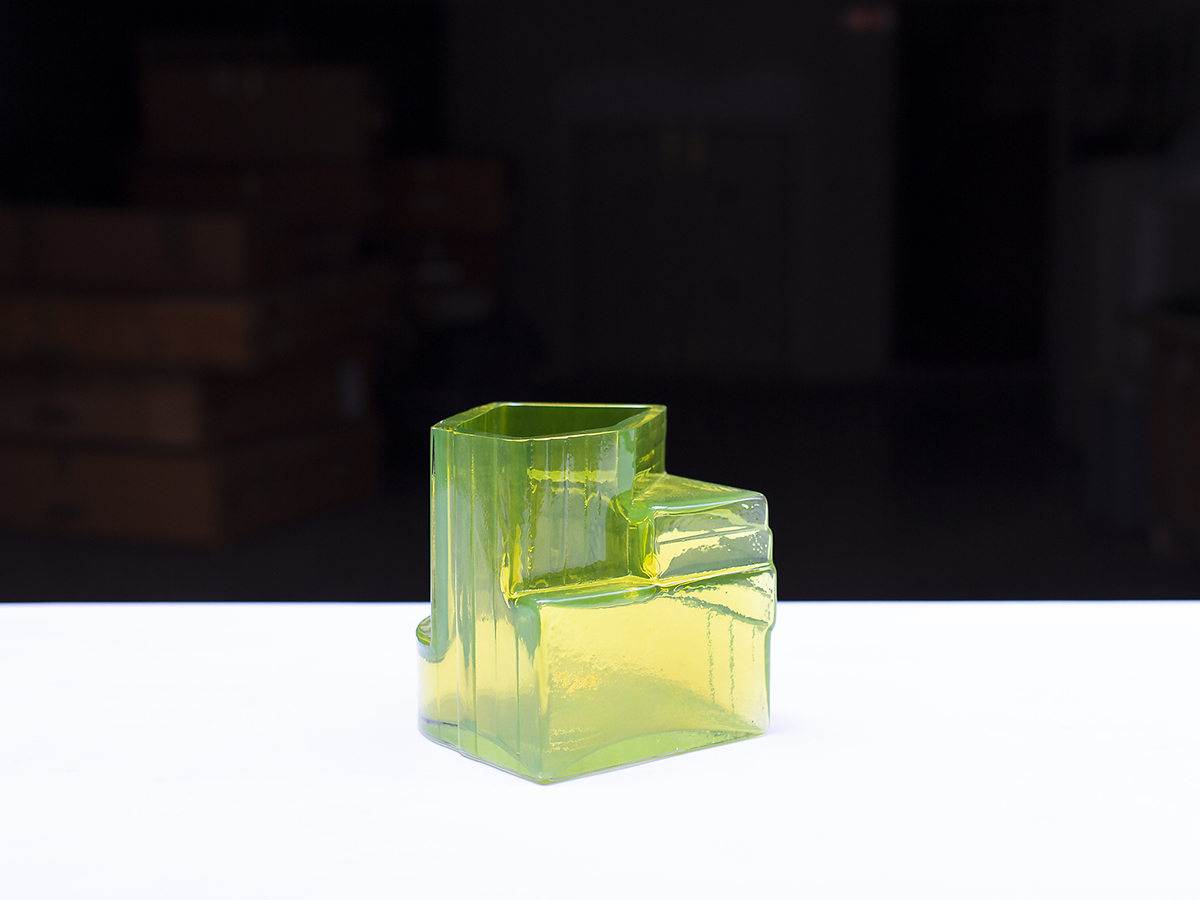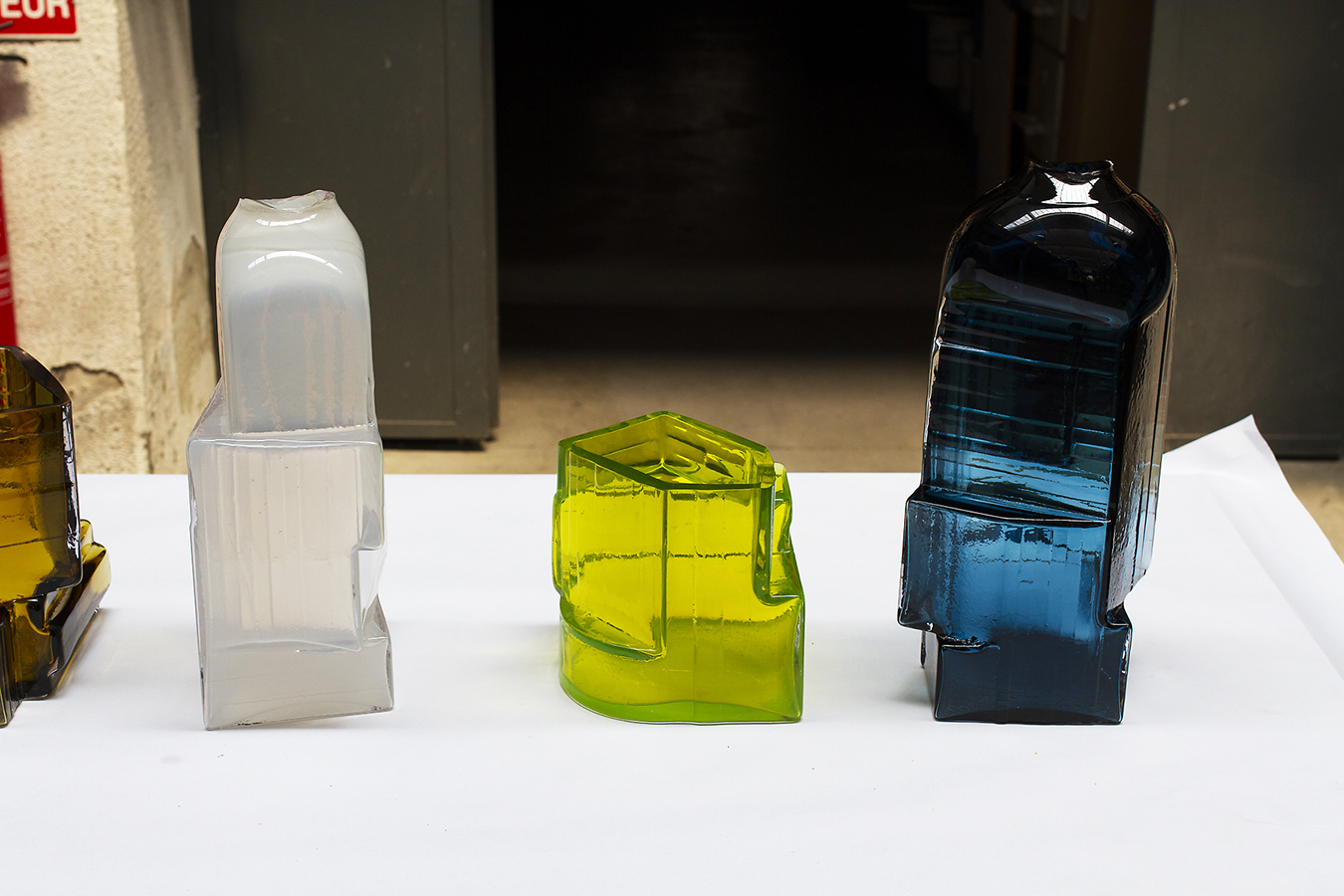 You can see in the pictures below that the molds from 2017 are a little more messy and unformed, and that the newer molds are quite strict. How did you make that leap?
On my last day there in 2017, I was looking at ways to make the molds easier to assemble. I wanted to make them almost modular so I could construct them faster and more reliably. I was working with an underlying grid and it worked really well, but it also had this intense Mindcraft vibe. It was promising enough, though, that CIRVA was entertaining the idea of bringing me back. Fast forward to 2019, I reached out, and told them I had some ideas that I wanted to try out and that I thought I could get it done in a week. In the lead-up, I did a bunch of research into ceramic kiln shelf material and sourced a bunch of different thicknesses that would play well together. When I arrived at CIRVA, I had the technicians cut it into 15 or 20 stock shapes — squares, rectangles, triangles, half-rounds. The molds were a lot easier to assemble because everything sort of nested and stacked in a really logical way. Unlike the cube-based Mindcraft approach, it allowed me to build in some irregularities.
Instead of two to three molds a day I was able to make five. There was a big learning curve on the first handful of molds, but by the last couple of days they were all keepers. With this more regular system, I could spend more time getting into the more nuanced part of the mold. At first it was about constructing these architectural volumes. But with the different thicknesses of material and the prescribed shapes, I could really get into the texture — how these stacked shelves could imprint in the glass itself.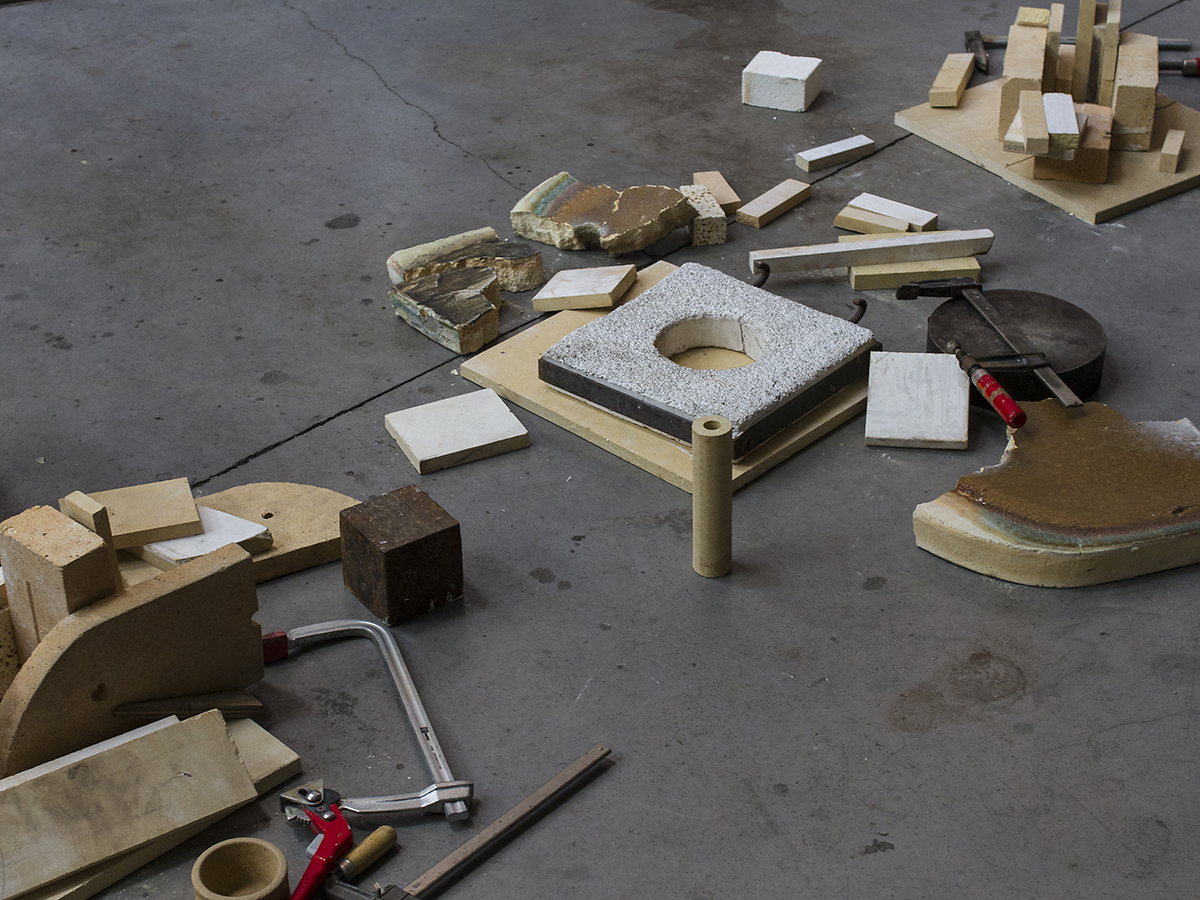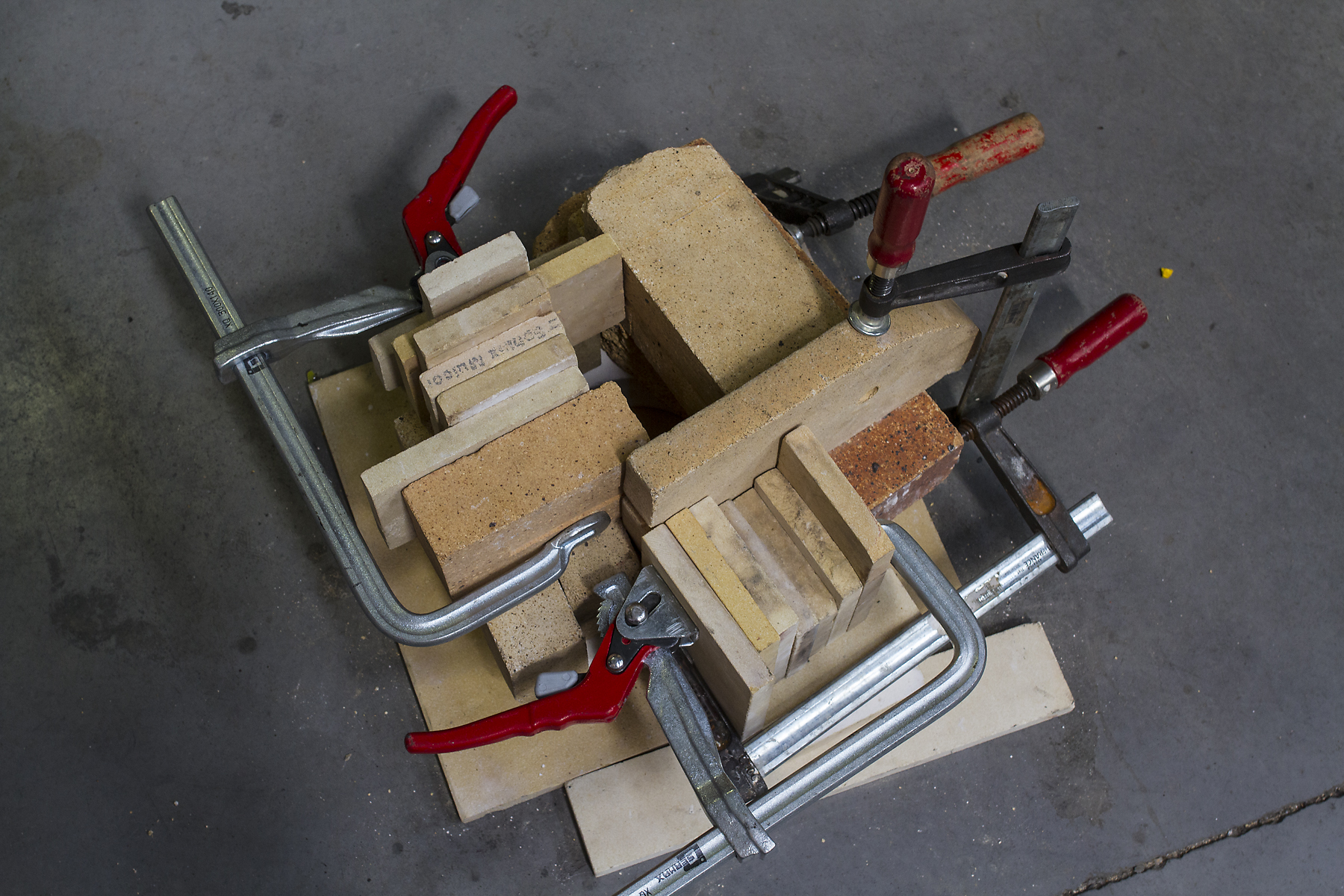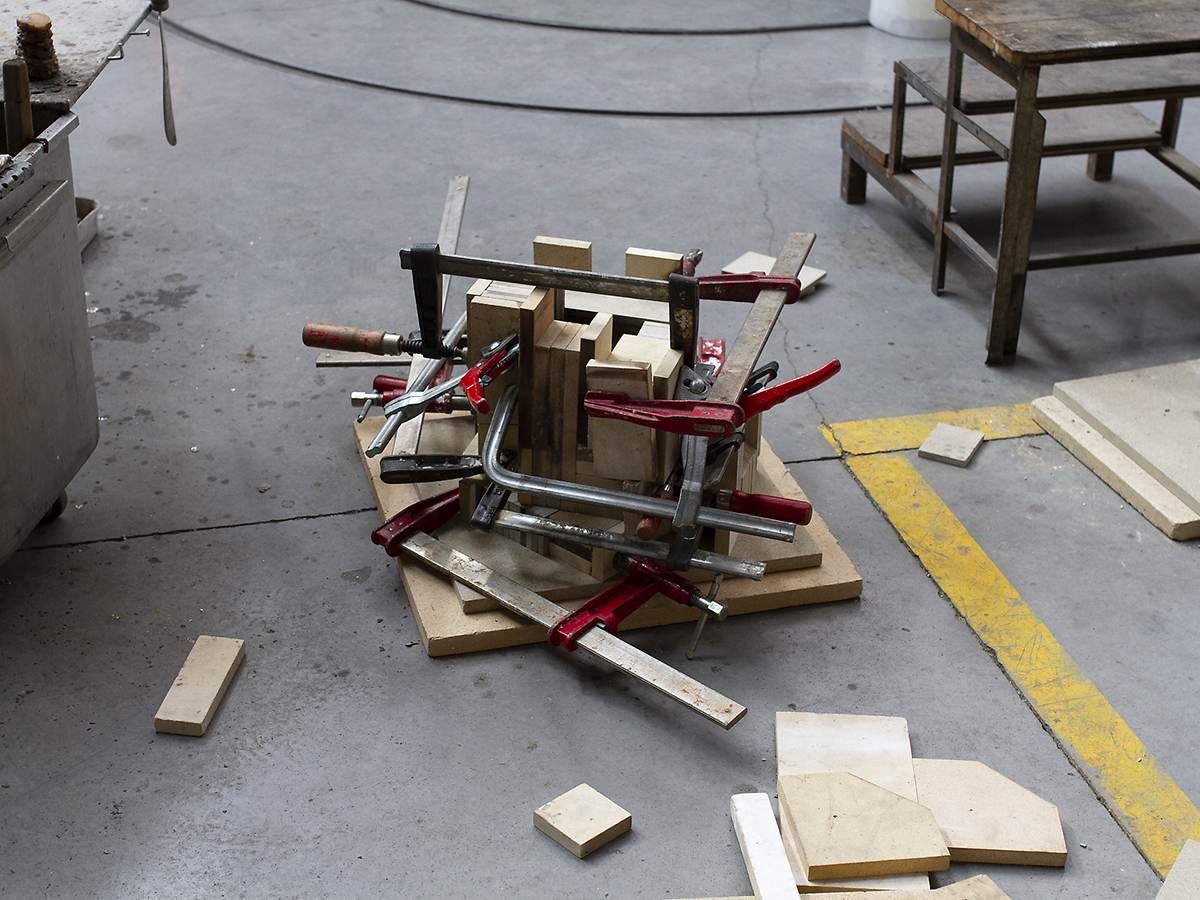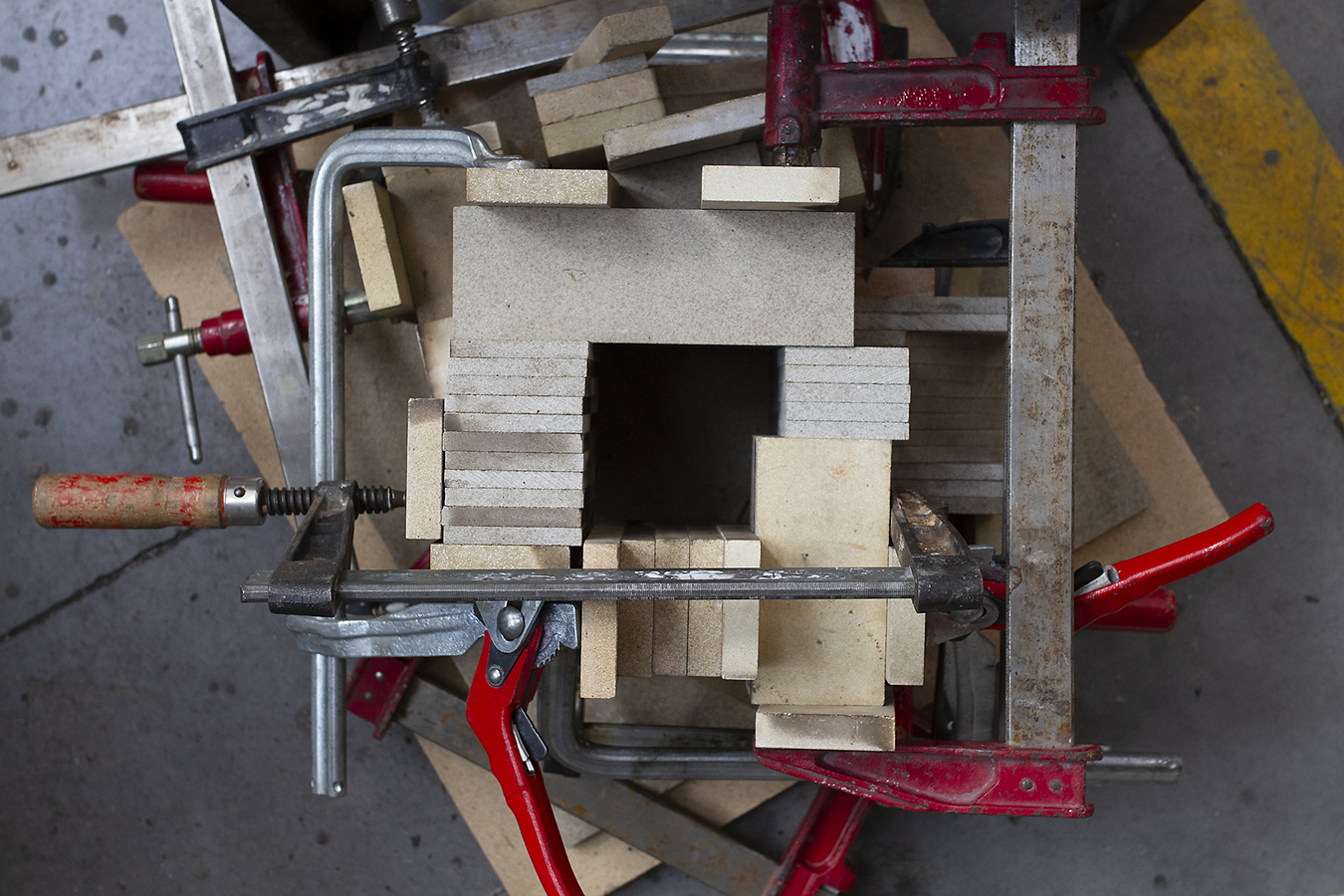 One of the more striking things about this collection is the color palette. I feel like every time you posted a new vessel on Instagram this summer, everyone immediately leapt up and was like, 'Ooh, I want that one.'"
Color is something that for me never got easier. There's a wall at CIRVA with all the different colors that they have, and you can look at these globes and say, oh it would be cool if this one was blue or pink or translucent brown. But there's so much that determines the intensity of the color if it's opaque or the density of color if it's translucent. You can estimate that the finished piece will be the size of a basketball but then picking the amount of color before you've made the mold, or before the technicians determine how much glass they're going to take up — the color can be less or more intense depending on how much the glass has to stretch or deform. For the orangish iridescent piece, I'm pretty sure that was supposed to be like an amber BluBlocker sunglasses tint. I think they overheated the color before they applied it to the clear glass. It was a total happy accident. But yeah, I did my best in terms of picking out a nice palette.
In 2017, you made a bunch of pieces that had a more aggregate quality to them, but the newer works are primarily solids. Was there a reason you phased out the speckles?
Those pieces were an approximation of stuff I'd see walking around the old parts of Marseilles, where there are bricks and stone and pieces of coral all jammed together. I was trying to find a way to capture that feeling in glass. But as I lived with the speckled pieces I brought home — it's kind of like dazzle camouflage. You lose a lot of the subtlety, and you can't really tell what's going on. I think those pieces are really striking and I enjoy them; you turn them over and over in your hand and you can't stop looking at them. But when I went back to CIRVA in 2019, I was making molds that had a more refined surface texture — almost like a lenticular, prismatic, diffuser kind of vibe. Adding another surface treatment, you lost a little bit of that. The texture of the molds was subtle enough that a clear translucent glass was more effective.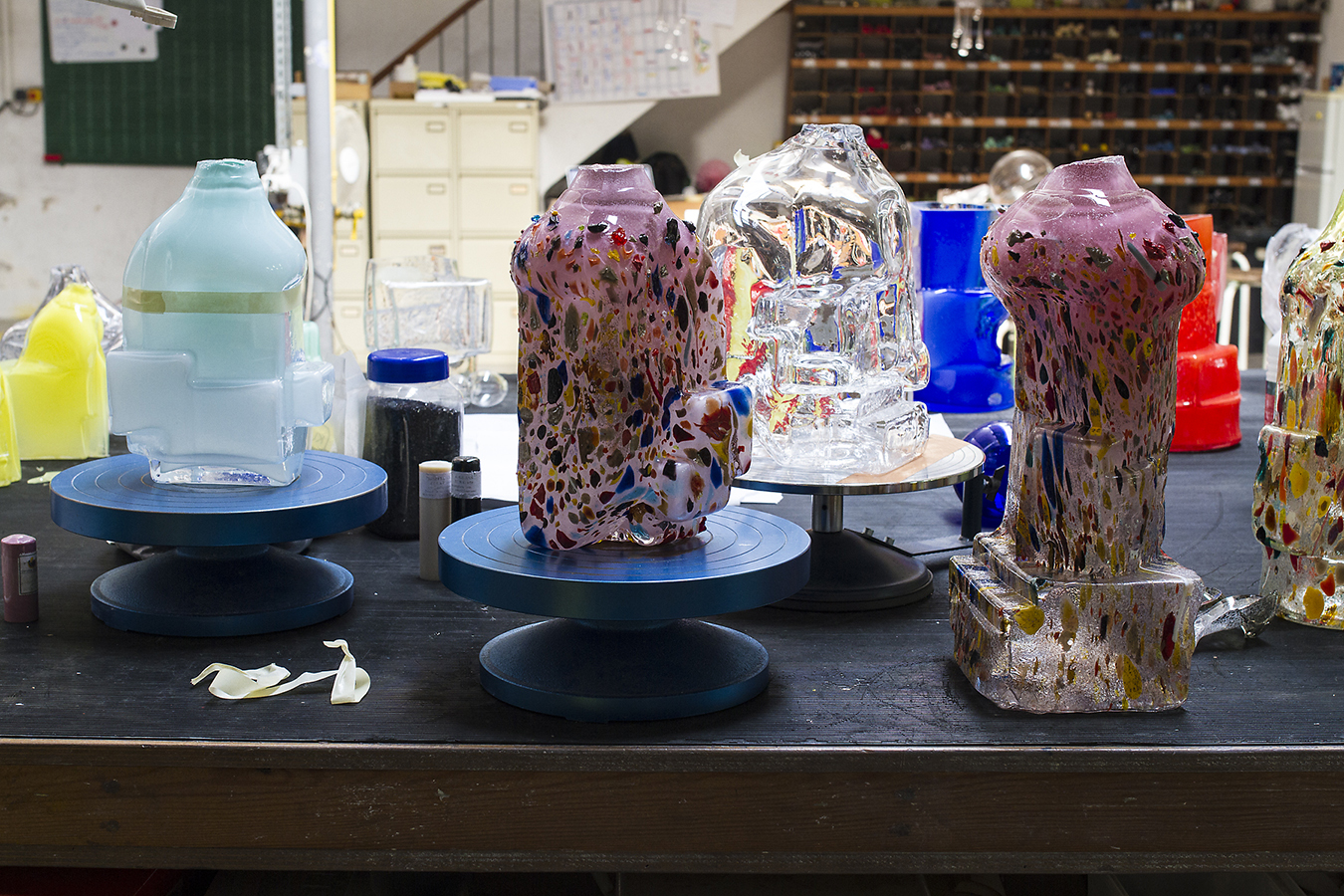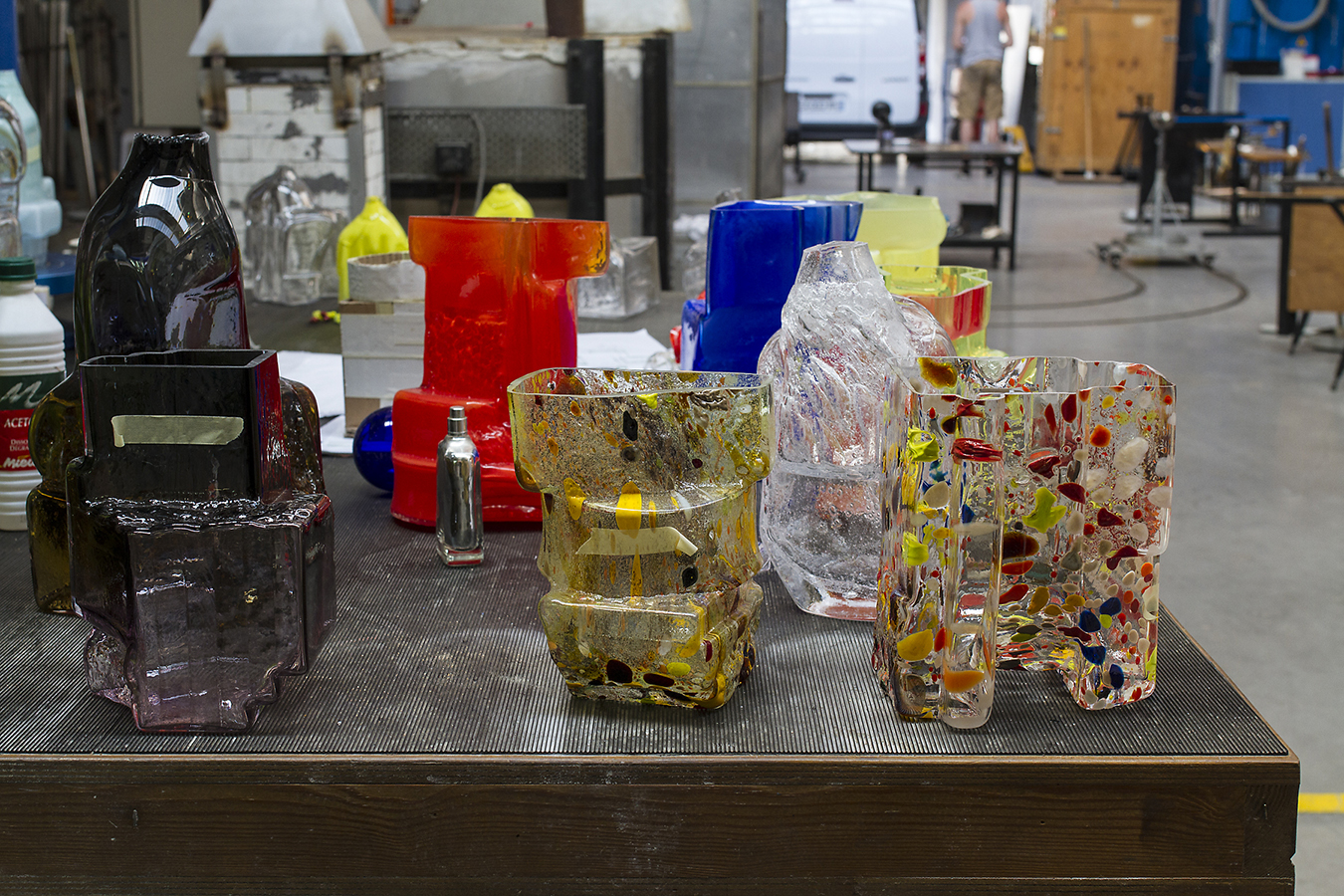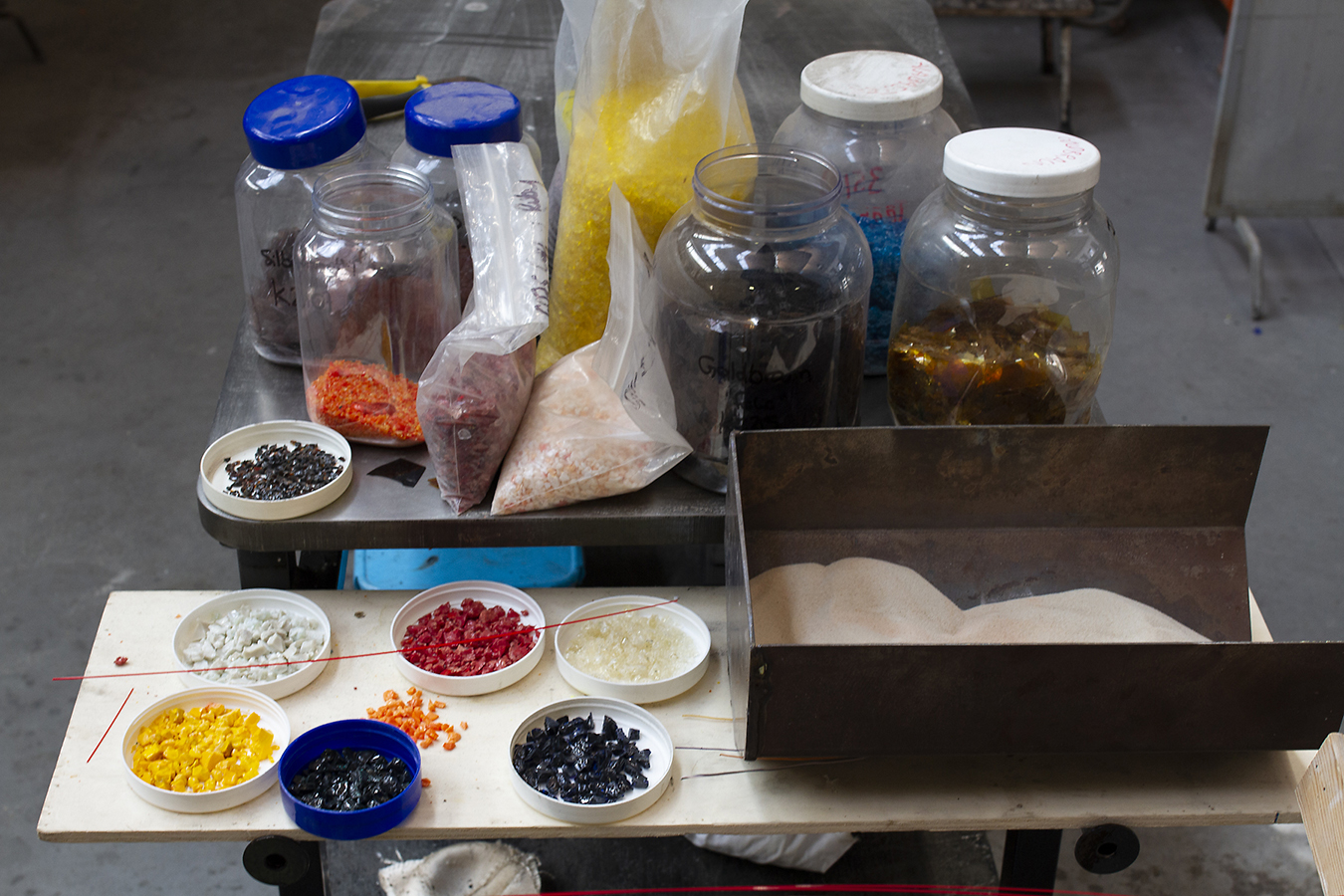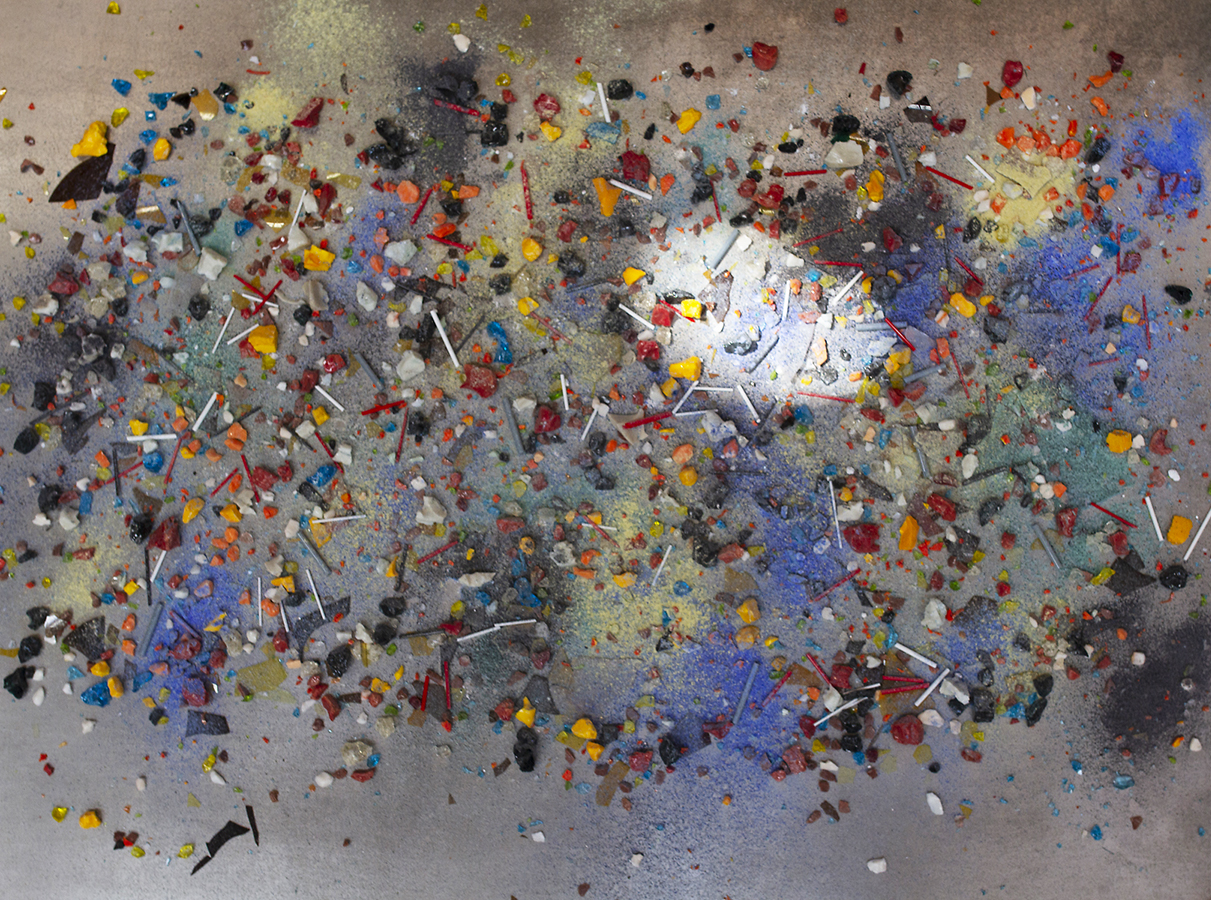 This collection is definitely a departure from your more recent work, which has tended to be more rigorous and client-based. Do you think that it represents a new direction for your practice?
It's been almost exactly 10 years since I founded my studio. During that time, there have been a handful of projects that stand out; they are all a little less commercial where I wasn't designing for a client, I was designing for myself. I did an installation for Artsy at Collective Design; in 2017, I did a piece for Matylda Krzykowski's show at Chamber Gallery, which was pretty liberating; and not long after that was the second time I was at CIRVA, creating these molds. Those three projects were so much different from how I normally work.
Last summer, I made a record with the band Ex Hex. It was professionally irresponsible design-wise because there was like a year and a half where I didn't really answer emails, I just worked on this record and made virtually nothing from it. But I wouldn't trade it for anything. It seemed really pure and innocent and made me feel really good. With design work, you have some clients who are great and you can work with them and it's really collaborative. But generally, it's a bit of a hustle. You're designing stuff on spec, trying to imagine what a client might like. Day in and day out, that can be a little bit soul-sucking. People have asked me, 'How much do those vases cost?' I mean, I have no idea. There's no market for my work with this collectible, one-off stuff. But it's something I'd like to explore more as I move into my second decade of jonahtakagi.com.