10.12.23
Where Are All the Cool, Designer-Made Beds? Here Are 48 Options to Kickstart Your Search
The first bed I can ever remember coveting was the Companions bed, designed by Ilse Crawford for De La Espada. It's objectively an extremely nice bed, made from hand-turned wood spindles that wrap around the corners of the headboard, cocoon-like. Looking back on it, Companions wasn't necessarily the ne plus ultra of my personal style; it was simply the only bed I could find that wasn't — like the Malm bed by Ikea or Blu Dot's Nook bed — totally overexposed in the early 2010s. The owners of the Canadian design shop Mjolk, writing on their blog back in 2015, alluded to a similar scarcity: "For the first five years of having our store, we never offered beds," they wrote. "It seemed like our small showroom wouldn't be able to display such a large item, and we ourselves didn't own a bed frame. When people came to us looking for the perfect bed, we would say, well… we don't sell beds, but the nicest one we have seen is the Companions bed by StudioIlse for De La Espada."
The second bed I remember coveting is the bed I ended up buying many years later, after I had befriended its designers: Kalon's Simple Bed, which comes in walnut and ash and stands on pretty, rounded brass feet. That one was designed in 2016, and at that point, the bed landscape was still pretty bleak — so much so that when Kalon's husband-and-wife founders moved from Berlin to Los Angeles, they needed to build a bed for themselves rather than purchasing one.
The turning point for beds may have come on the heels of two events at two opposite sides of the spectrum: the relatively affordable, flat-pack Floyd platform bed coming to prominence, and Mark Grattan debuting the first iteration of his Docked en Rio bed, an extremely sexy, extremely expensive design made first in channel-tufted cotton and walnut and now in mirror-polished stainless steel and velvet. (I can confidently say that one is at the top of nearly every design editor's wish list.) Since then, the market has exploded considerably at all price points, but it's still tiny compared to other furniture items, and I still hear people wondering why it's impossible to find a nice bed if you don't want to purchase from a big-box store. (To be fair, the big-box options have gotten better as well, and we'll be including some in this round-up.) Buying vintage is of course an option, but if you prefer a king-sized bed like me, the pickings can be slim. That's why, when you see beautiful bedrooms by interior designers in shelter magazines, the bed is often custom made: Think Sam Stewart's sloping Hug Bed with integrated lights and nightstands for Raquel Cayre, or Darren Jett's Verde marble slab.
It's easy to understand why beds aren't a typology that's attempted by most designers; there are pain points at nearly every step in the process. Beds are hard to ship, they're hard to store, and they're limited in their form. "Unlike chairs, coffee tables, and sofas, the shape of a bed is mostly limited by the shape of a mattress," says designer Lauren Jennings of Studio Lo, who responded to a query I put out on Instagram.  "And with other objects, you come directly into contact with the piece, but with a bed, the user consistently touches the mattress as the main experience." Plus, beds are expensive, big-ticket items that only get purchased once in a blue moon.
Luckily, we're sensing a shift in the cosmos. Earlier this year, we were introduced to the Copenhagen-based brand ReFramed, whose colorful, easy-to-ship frame is made from 82% post-consumer recycled aluminum and comes with the option to purchase matching headboards and bedside tables; they'll start shipping to the US later this year. And one of our favorite emerging designers, Ben Willett, says he has at least four bed designs in the works. Until then, whether you're spec'ing for a project or buying for your own home, here are 48 options to kickstart your search. Prices are for queen-sized bed unless otherwise stated.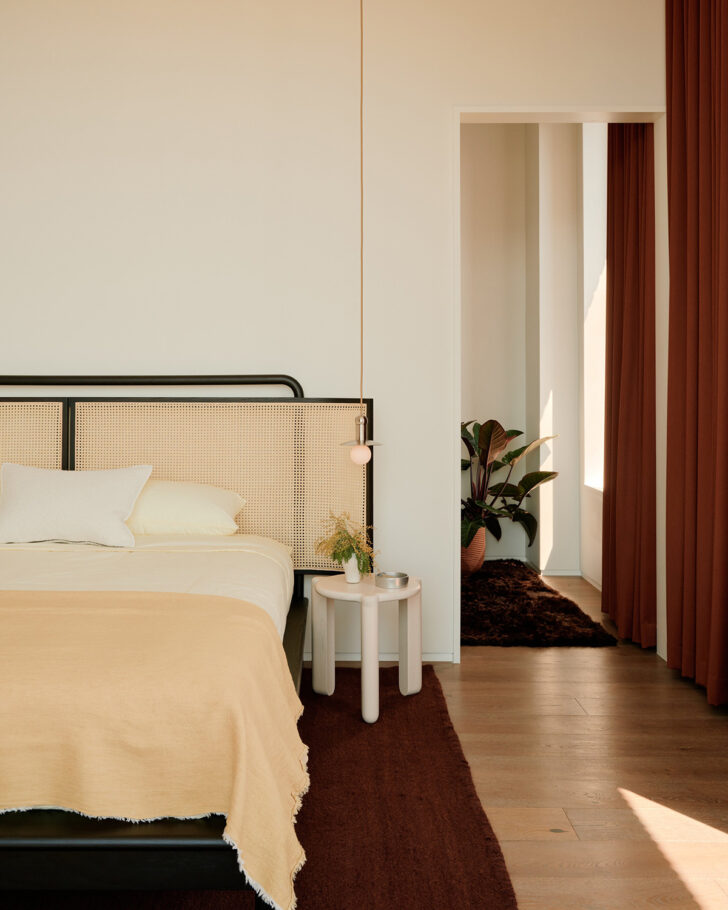 Mae Bed by Adam Rogers for Radnor, starting at $11,600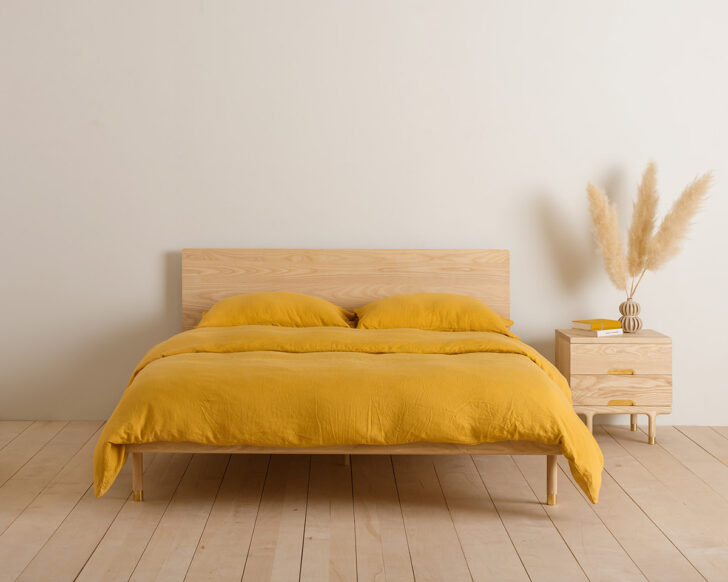 Simple Bed by Kalon Studios, starting at $3,250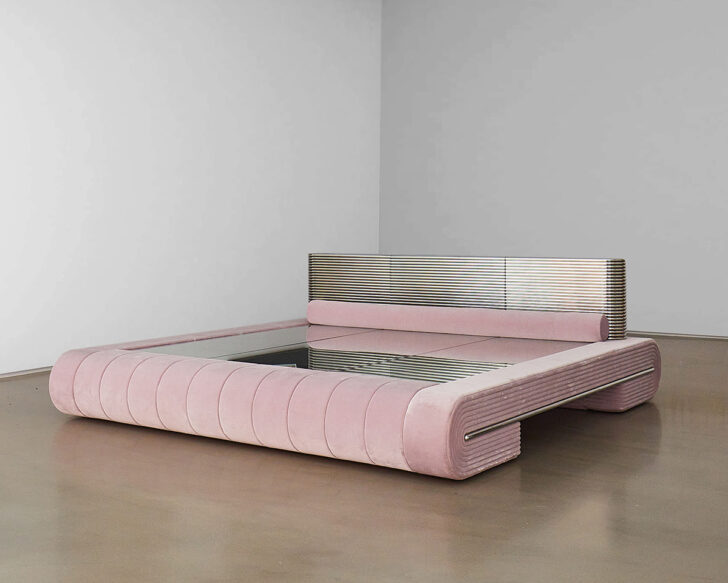 Docked En Rio Bed by Mark Grattan for Cristina Grajales, inquire for price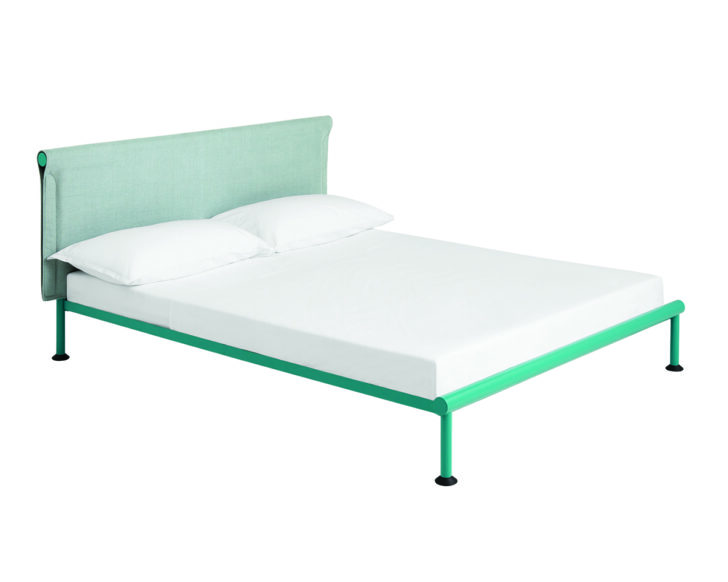 Tamato Bed by Shane Schneck for Hay, $1,197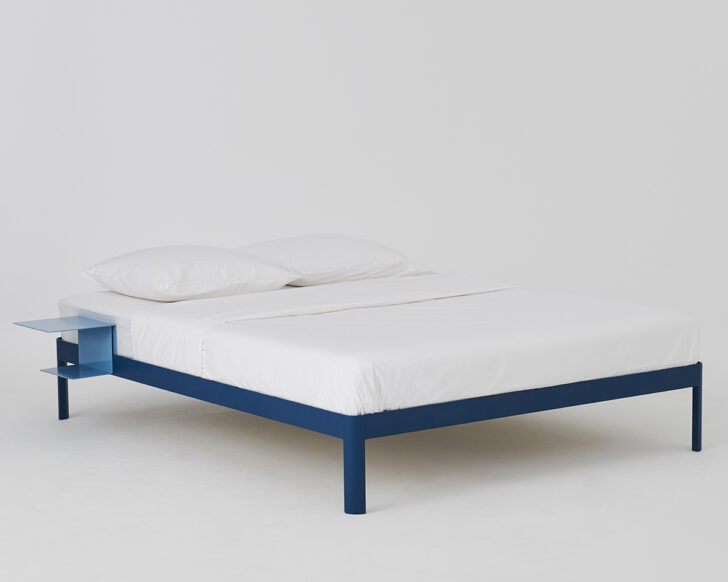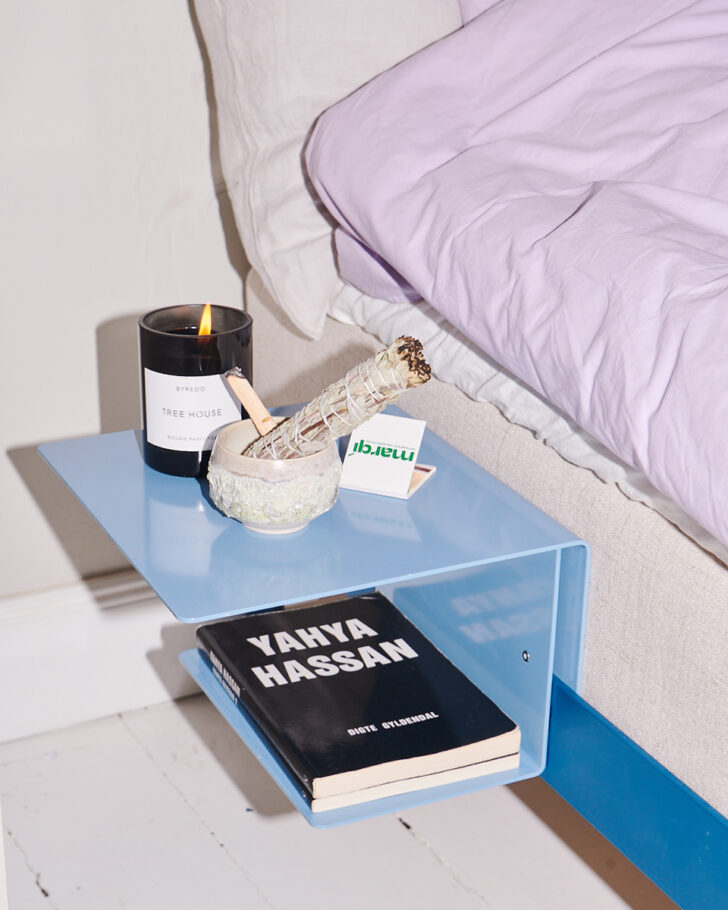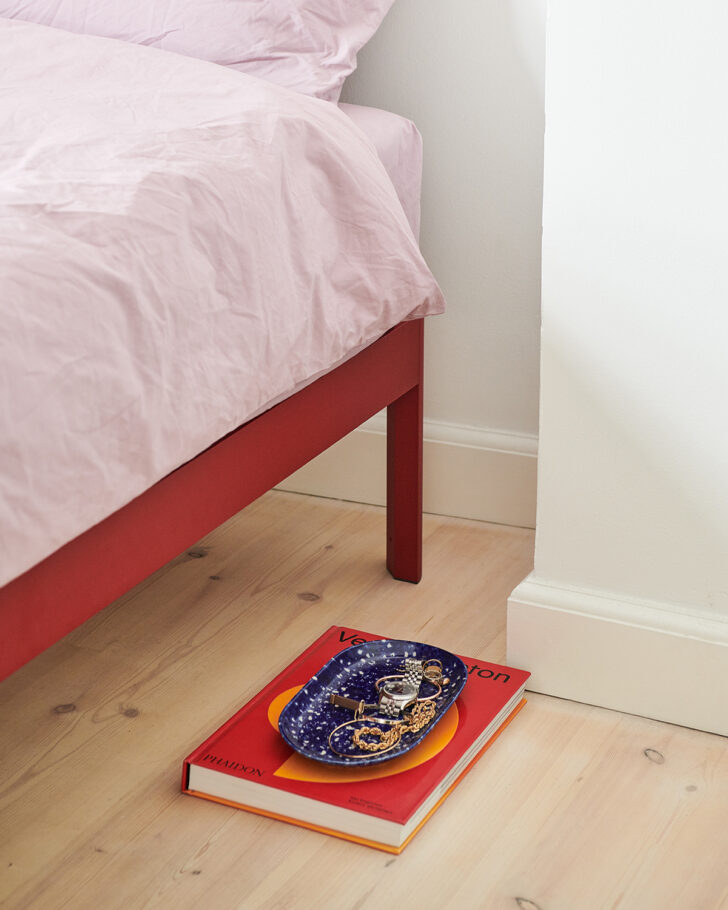 ReFramed bed by Tim Rundle, starting at $1,475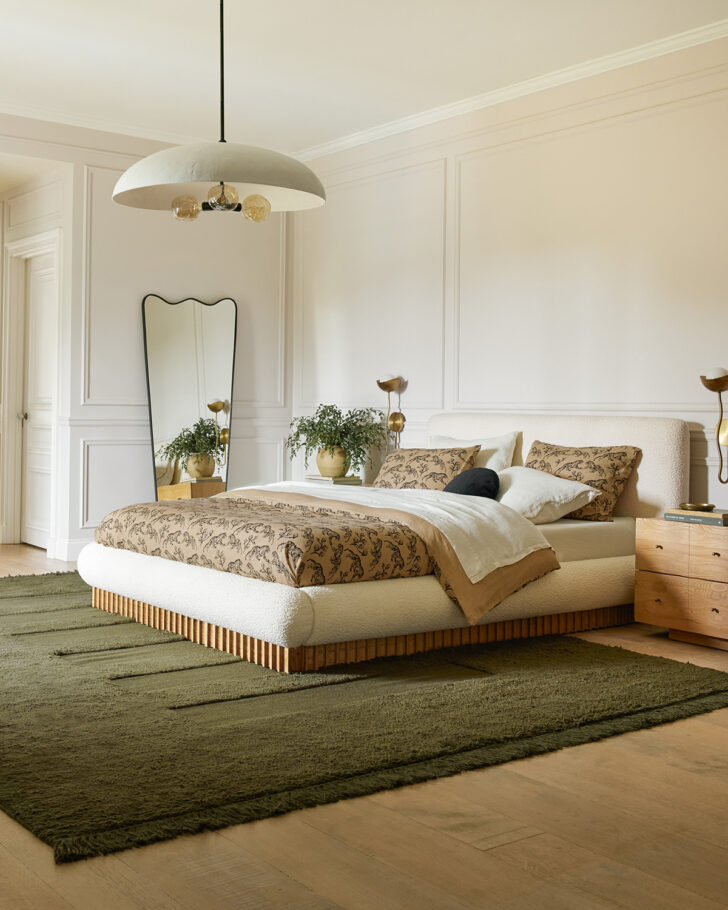 Billow Bed by Sarah Sherman Samuel for Lulu & Georgia, $2,498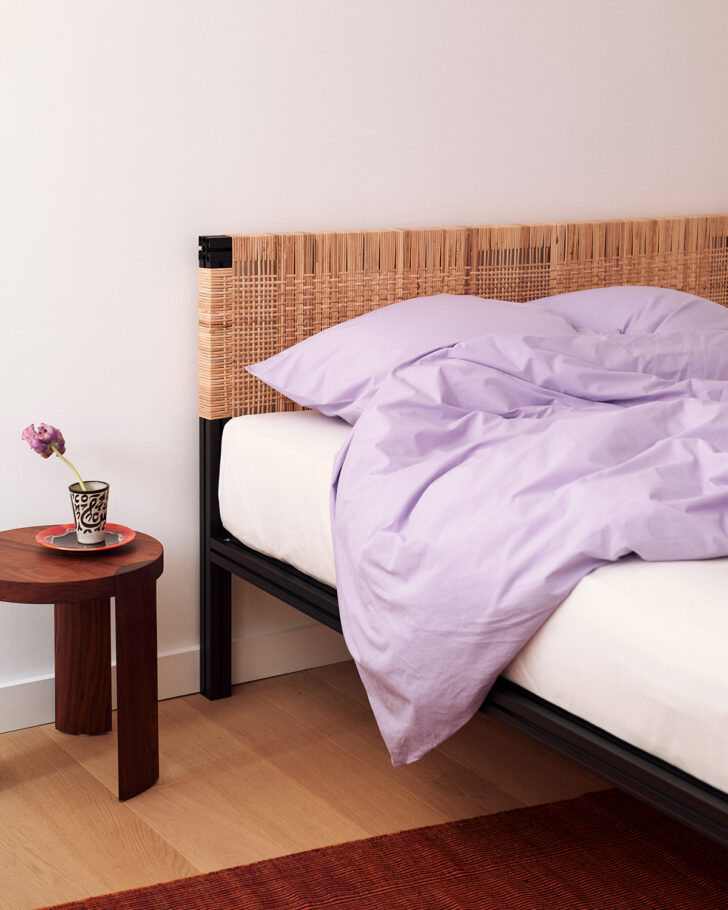 Anodised Wicker bed by Tino Seubert, inquire for price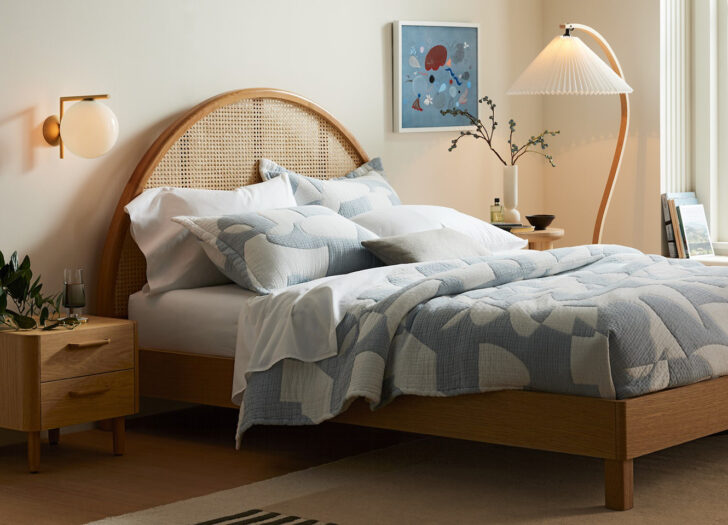 Palm Bed by Design Within Reach, $3,995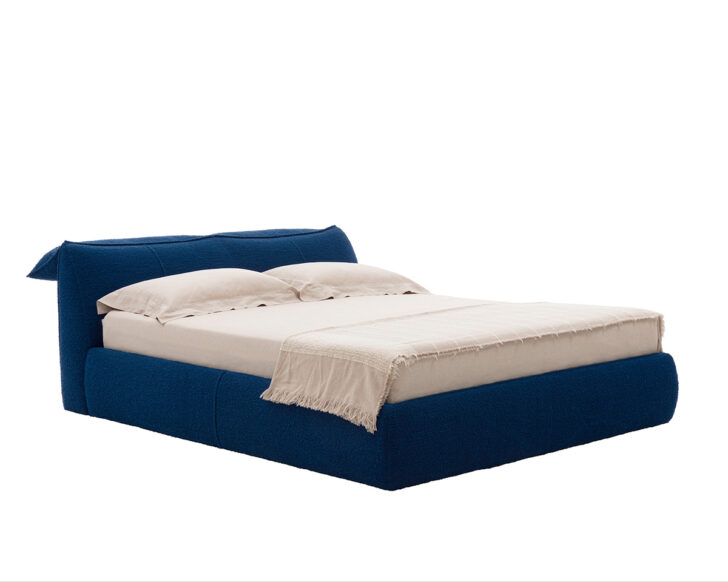 Bamboletto Bed by Mario Bellini for B&B Italia, $9,914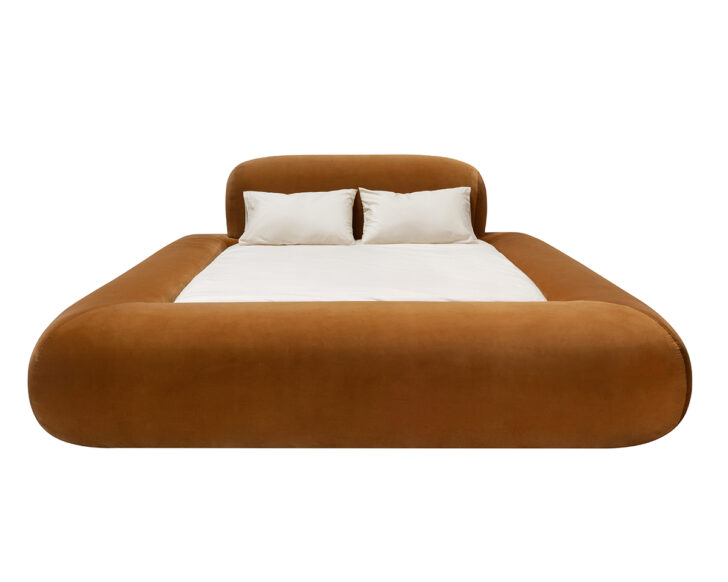 FKA Bed by Willo Perron, inquire for price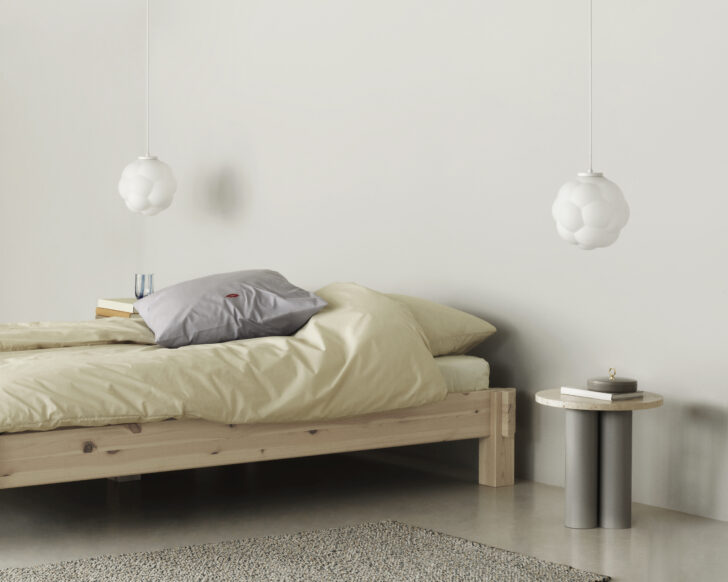 Notch Bed Frame by Simon Legald for Normann Copenhagen, $795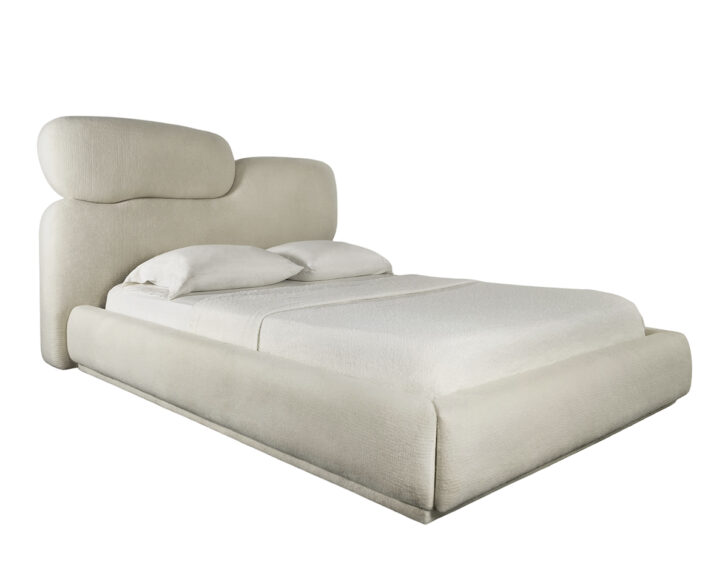 Sheep Bed by Studio Ahead, $22,200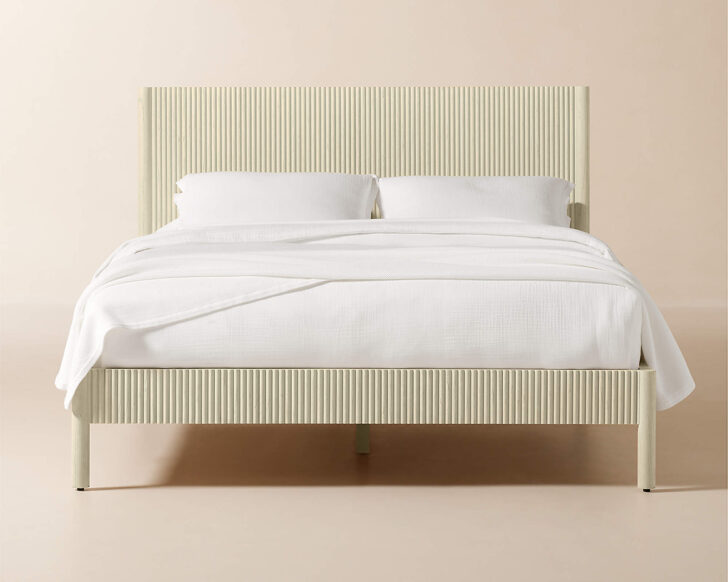 Siro Bed by Mermelada Estudio for CB2, $1,699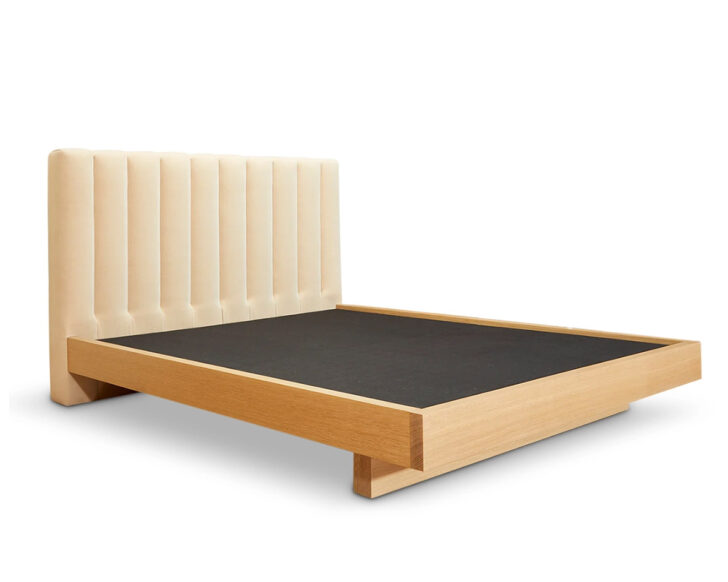 Capitan Bed by Lawson-Fenning, $5,875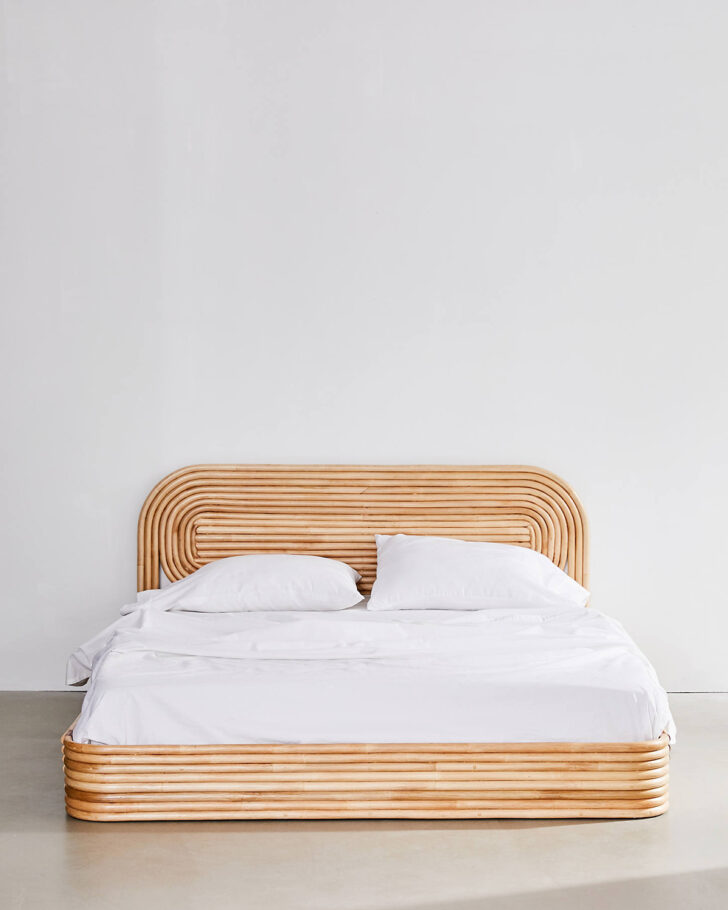 Ria Rattan Bed by Urban Outfitters, $1,399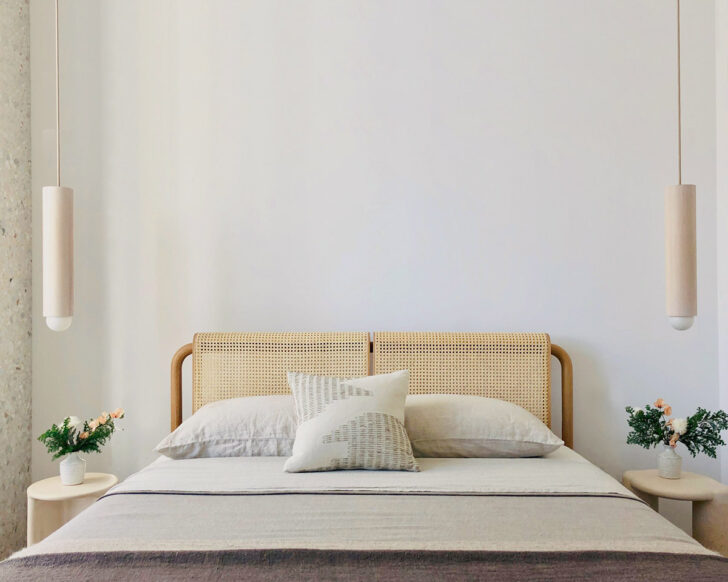 Marilyn Bed by Adam Rogers for Radnor Made, starting at $11,000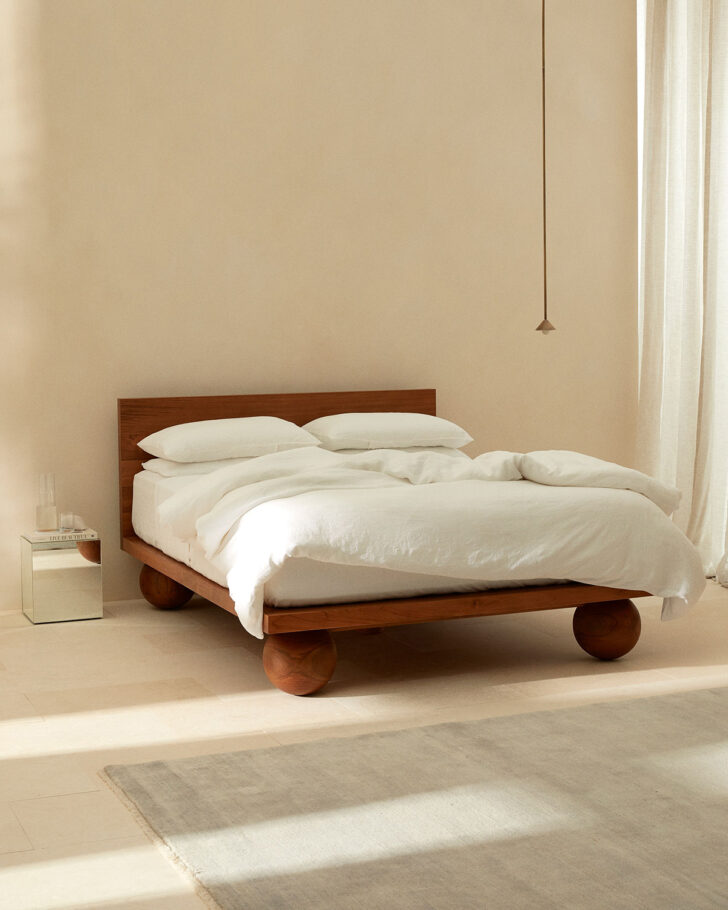 Yoko Bed by Sarah Ellison for Design Within Reach, $5,045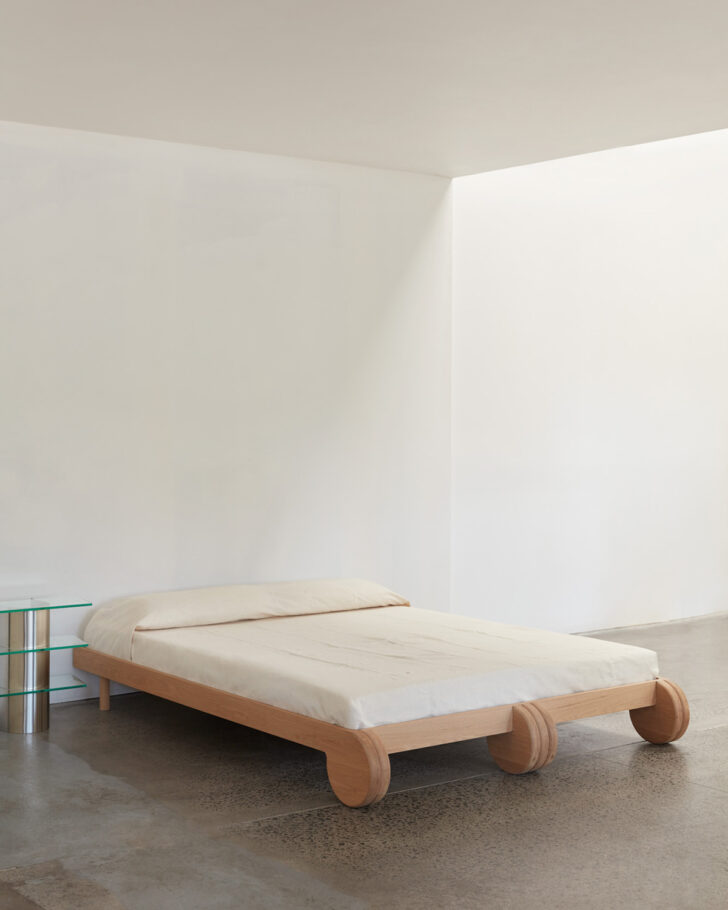 Roll-On Bed by Olivia Bossy, inquire for price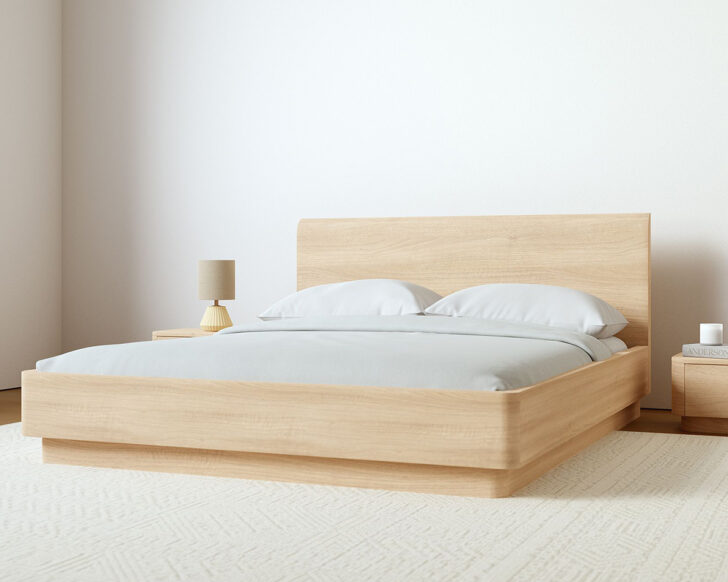 Pedestal Bed by West Elm, $1,848.75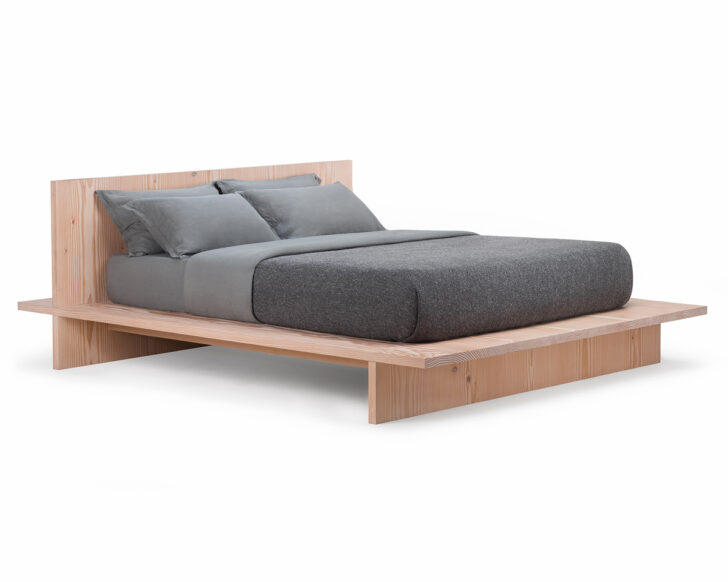 Bed One by Manuel Aires Mateus for De La Espada, starting at $25,865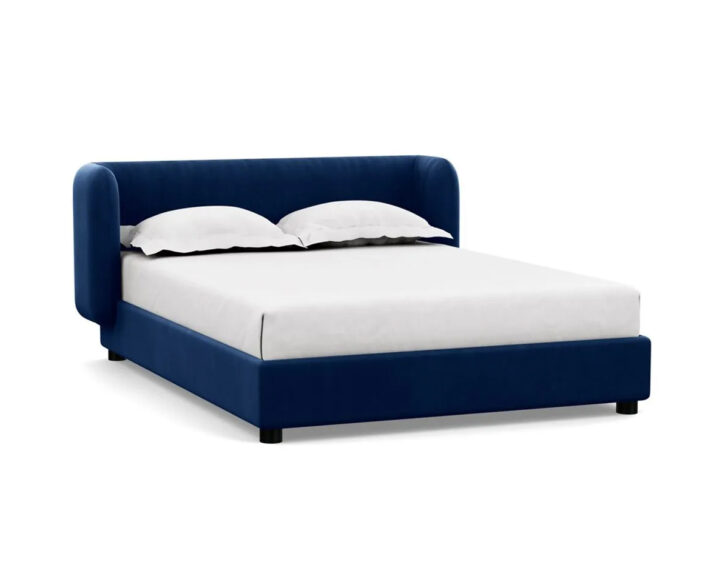 Group Bed by Philippe Malouin for SCP, starting at $7,060 for a queen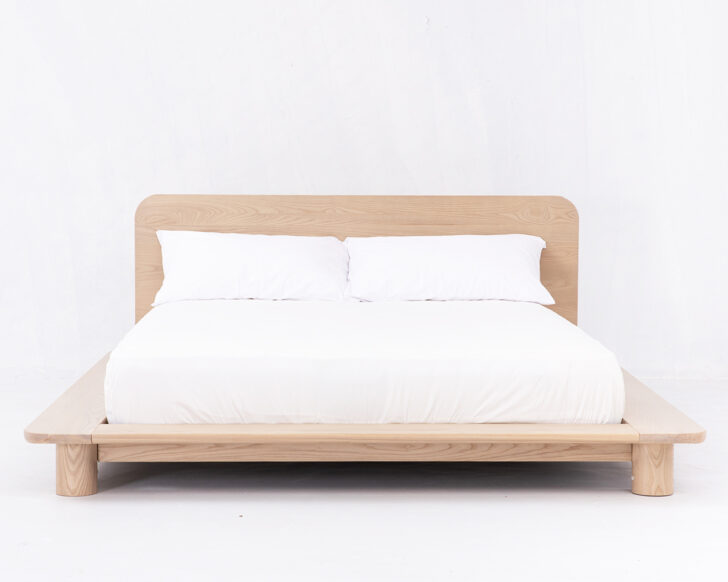 Kiral Bed by Sun at Six, $2,900 for a queen
Smilow Floating Platform Bed with Headboard, $8,000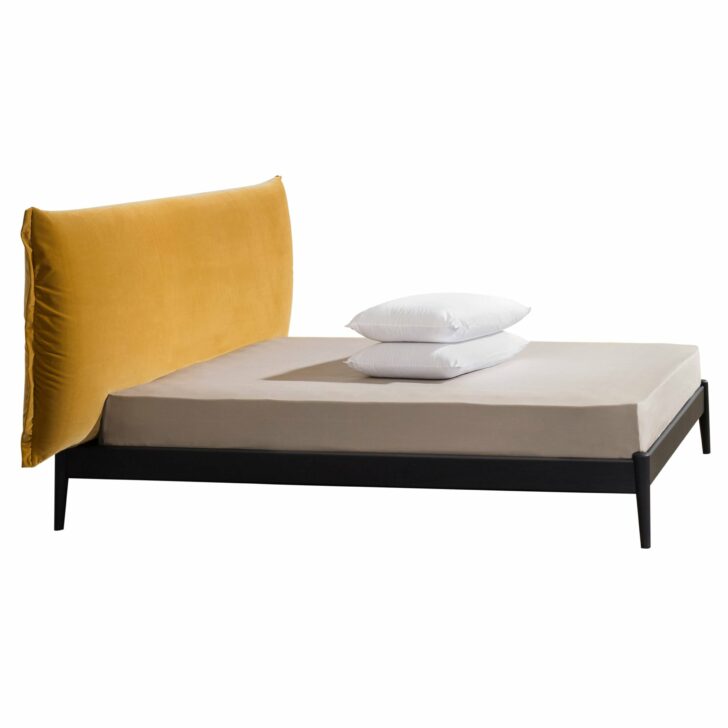 Shiko Wonder Bed by Miniforms x E-ggs, starting at $5,559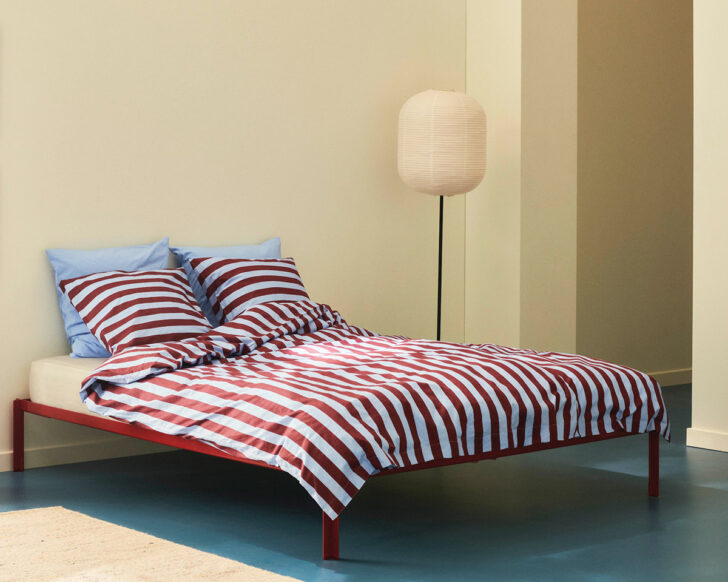 Connect Bed by Hay, $537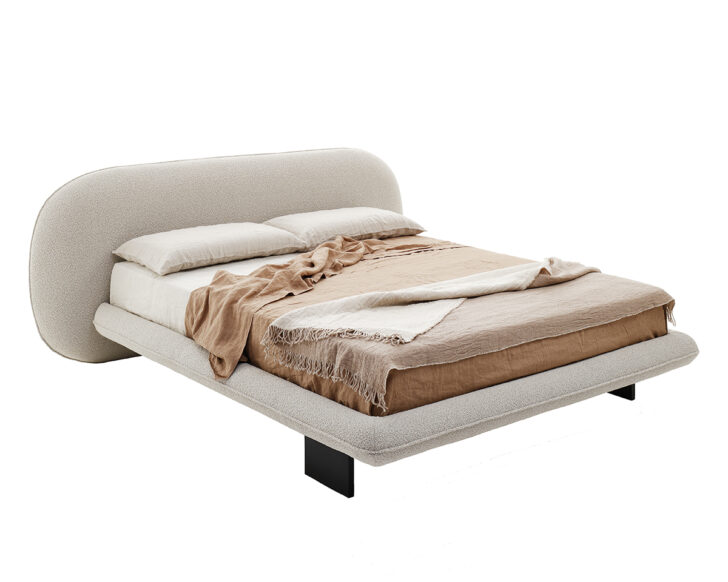 Wabi Bed by Alain Gilles for Saba, inquire for price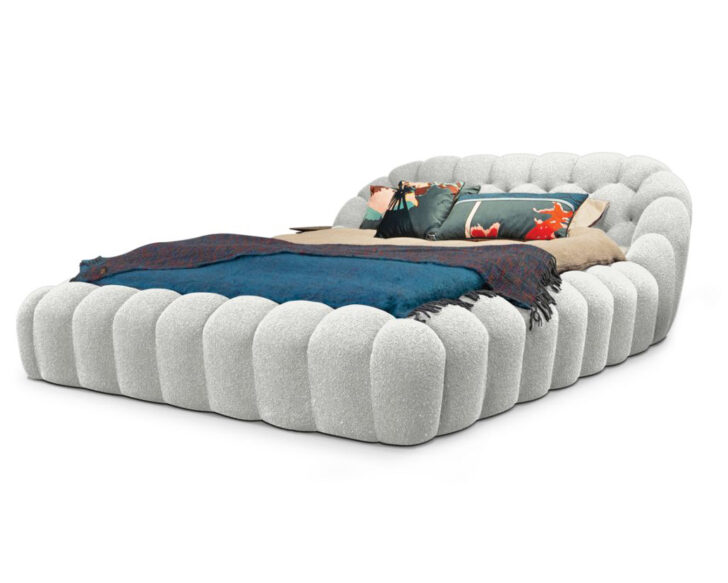 Bubble Bed by Sacha Lakic for Roche Bobois, $9,990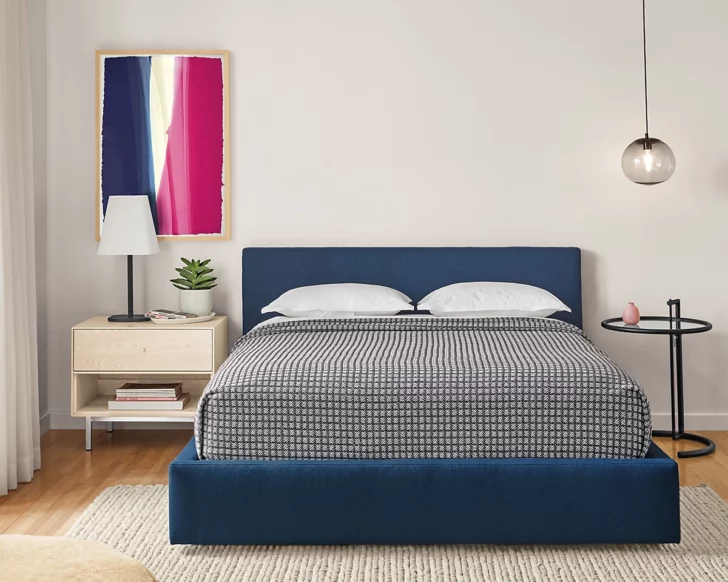 Wyatt Bed by Room & Board, $1,899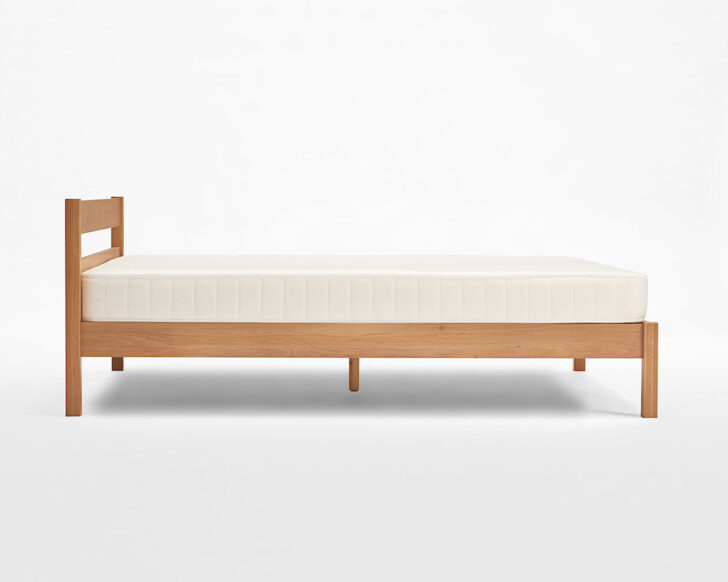 Wooden Bed by Muji, $400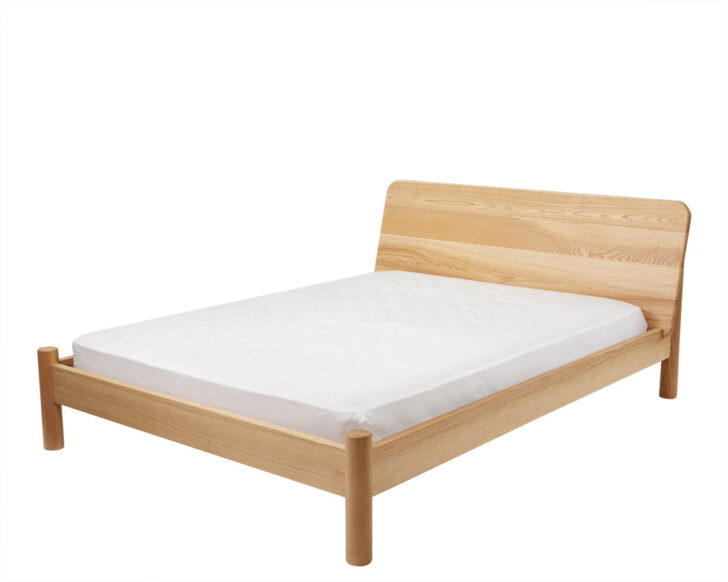 Milk Bed by Mash Studios, $1,625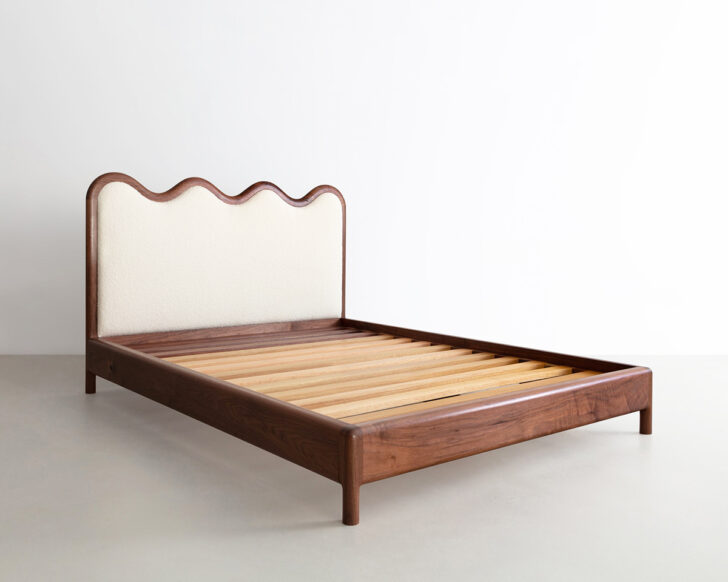 Squiggle Bed by Chris Miano, $32,890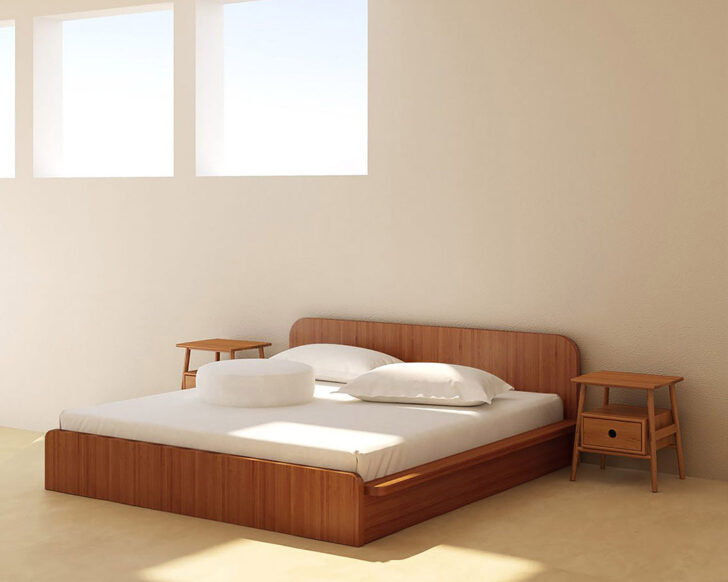 Noura Bed by Sun At Six, $2,600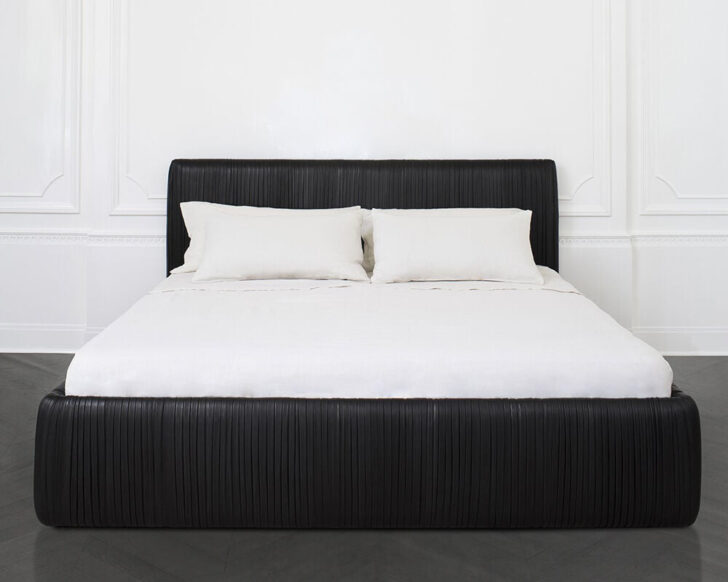 Souffle Bed by Kelly Wearstler, $19,900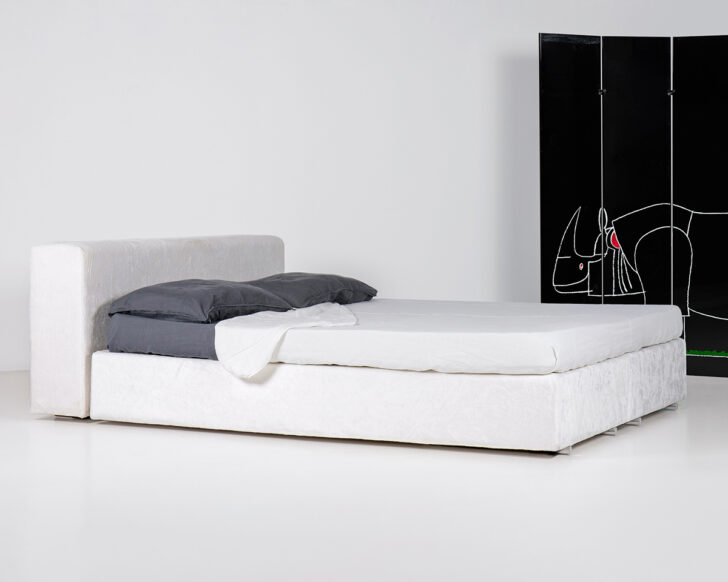 Marcel Bed by Kazuhide Takahama, inquire for price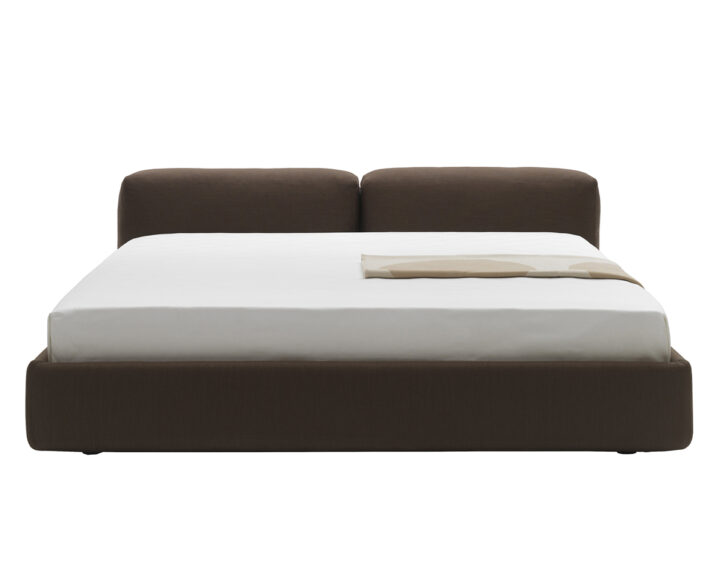 Superoblong Bed by Jasper Morrison for Cappellini, inquire for price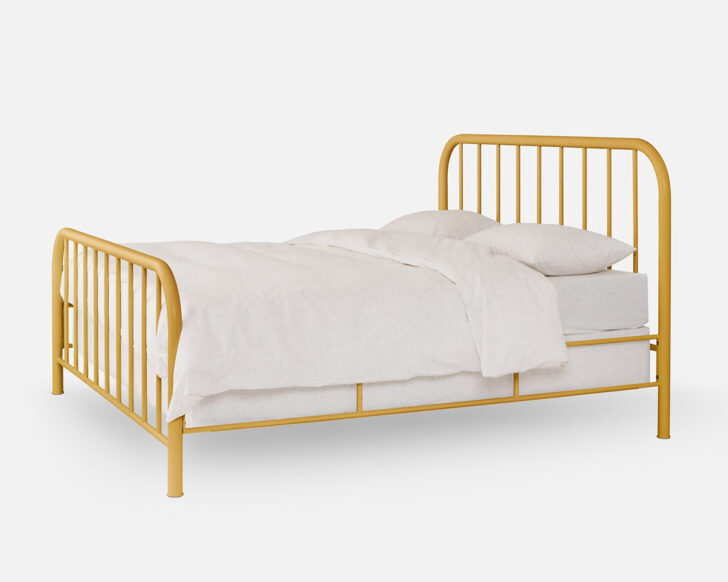 Hamilton Bed by Schoolhouse, $1,499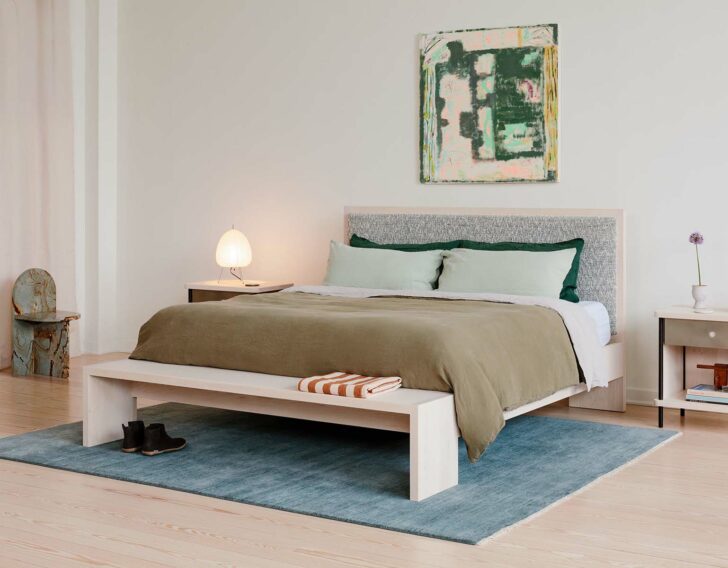 Planar Bed by Fort Standard, $18,500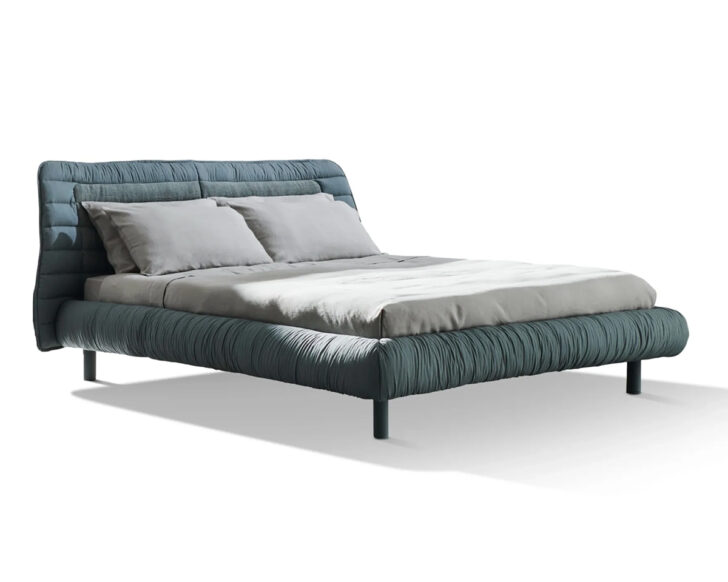 Plumeau Bed by Cristina Celestino for Gervasoni, $8,824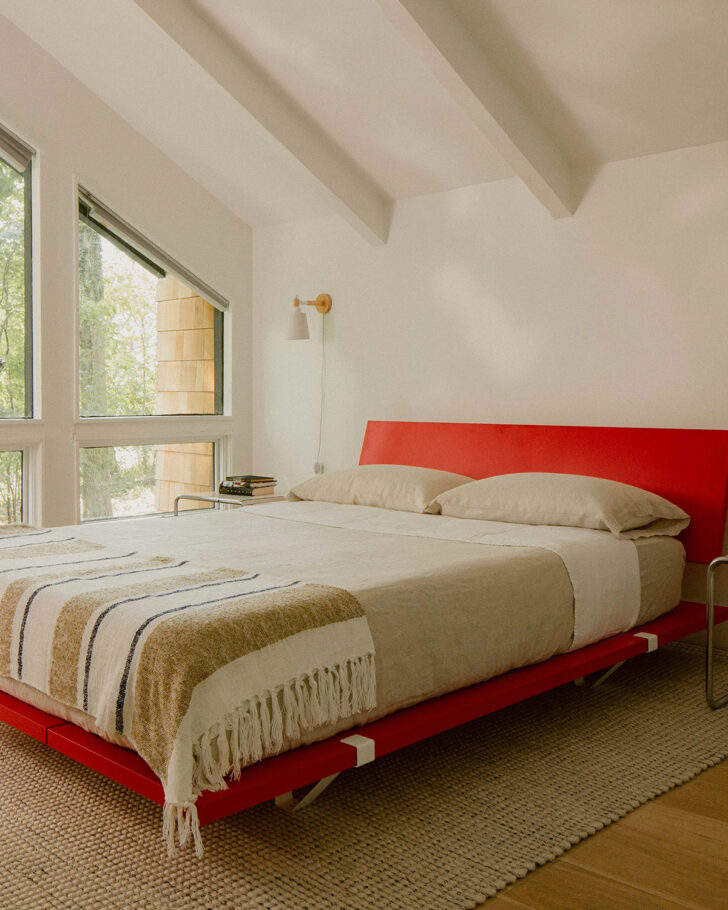 The Bed Frame With Headboard by Floyd, $1,300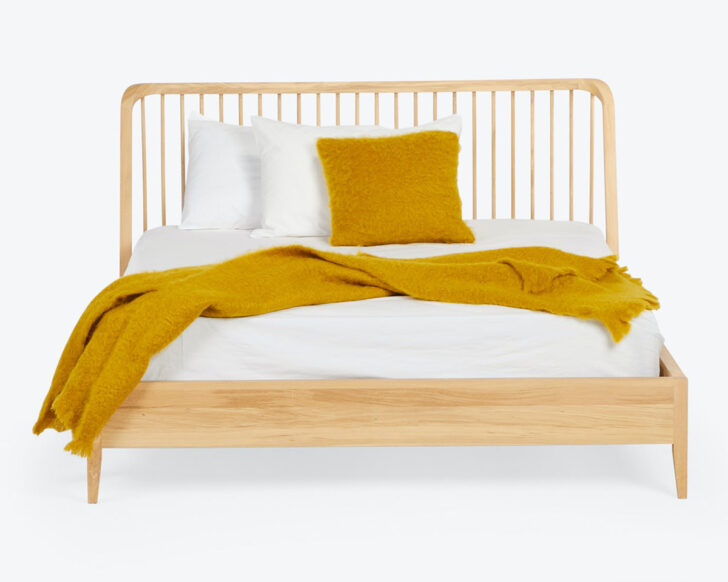 Spindle Bed by Ethnicraft, $3,399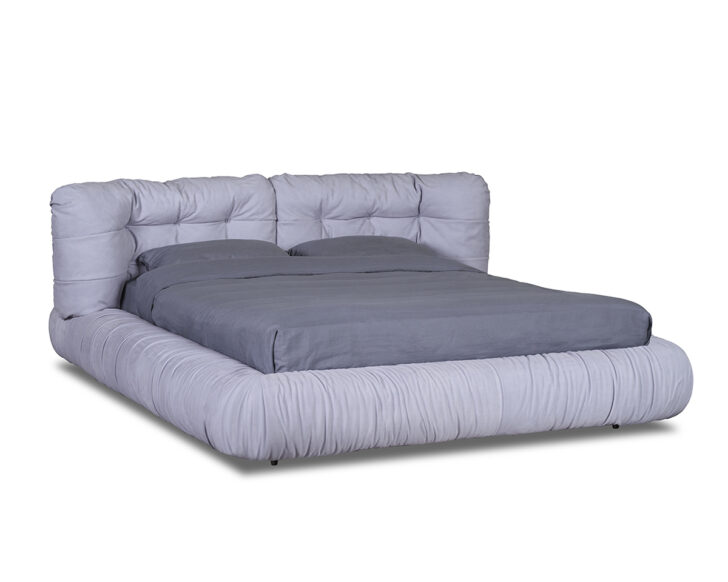 Milano Bed by Paola Navone for Baxter, inquire for price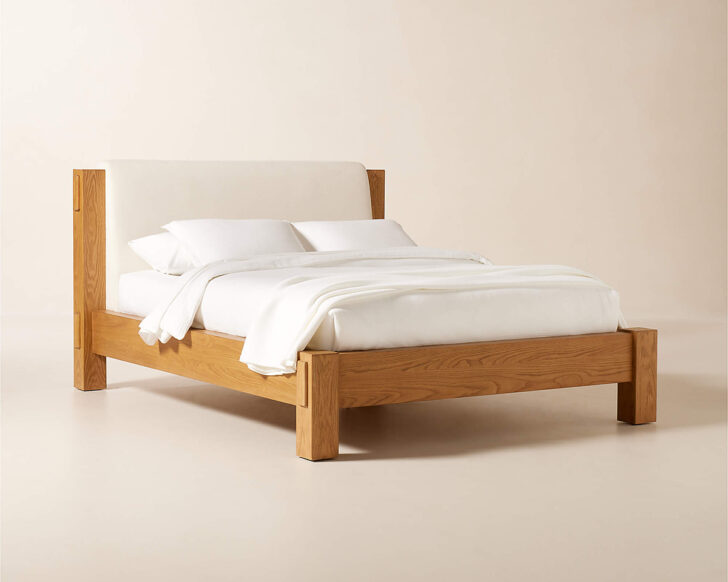 Turnbull Bed by VUUE for CB2, $1,699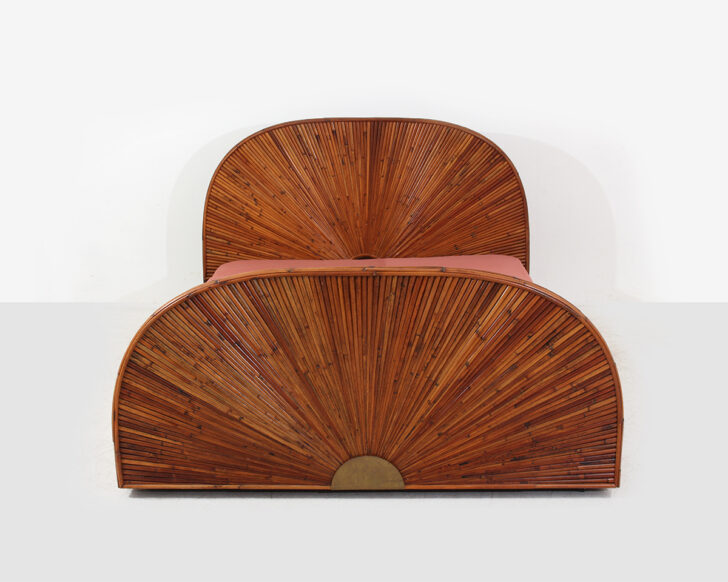 Bed On Wheels by Gabriella Crespi, inquire for price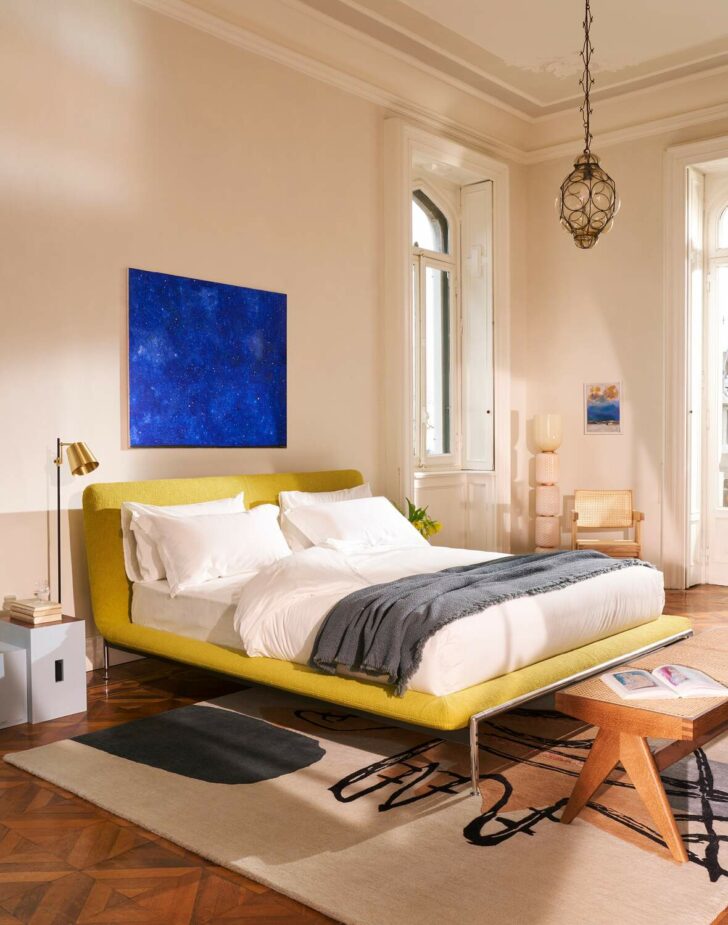 Esosoft Bed by Antonio Citterio for Cassina, inquire for price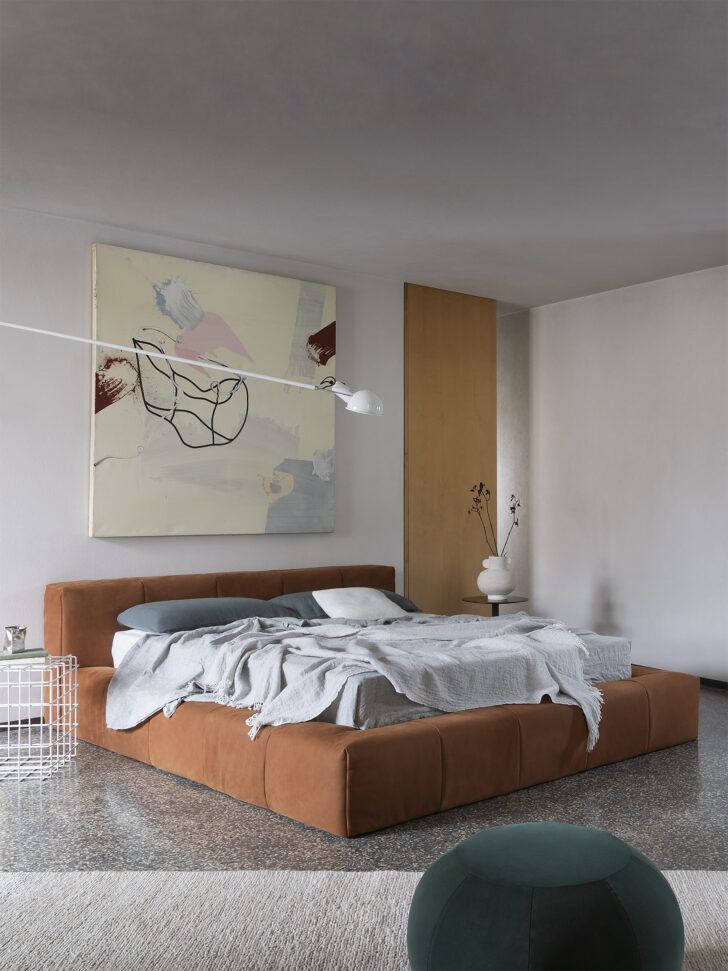 Letto Pixel Box Large by Sergio Bicego for Saba, inquire for price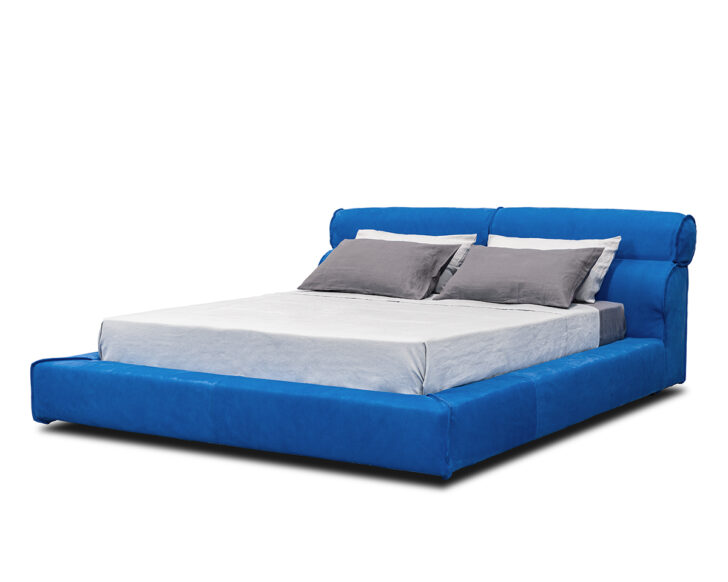 Miami Soft Bed by Paola Navone for Baxter, inquire for price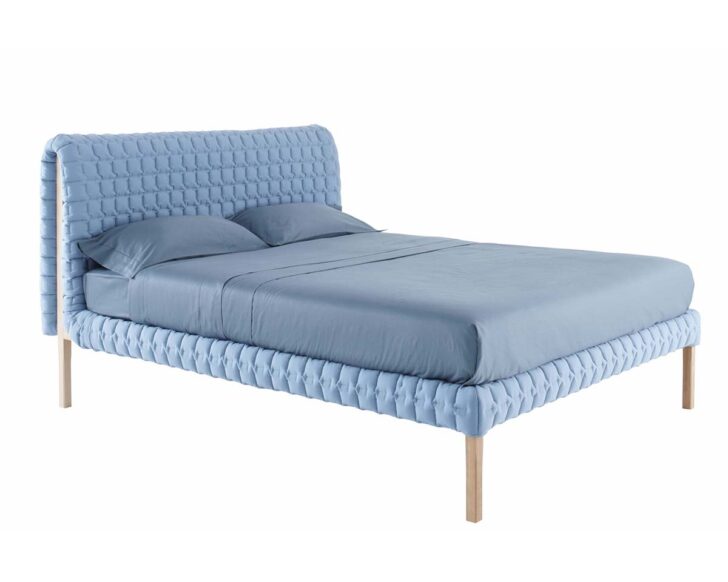 Ruché Bed by Inga Sempé for Ligne Roset, inquire for price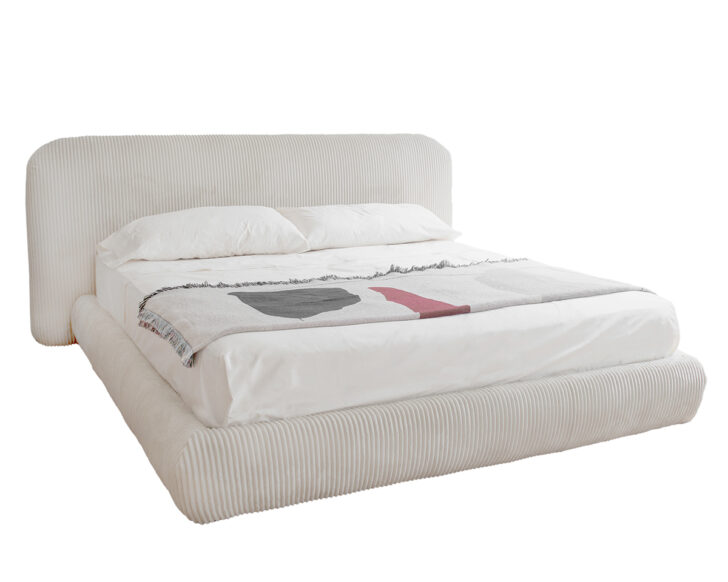 Corduroy Bed by Will Choui, inquire for price