05.06.13
Poetic Lab & Studio Shikai, Designers
As anyone who's spent even a passing amount of time with us knows, one of our favorite games is playing "spot the next design star." There are lots of places to look, of course — our most recent obsession being the treasure trove that is Instagram — but the granddaddy of them all is Salone Satellite, the young designers showcase that sets up shop on the edge of Milan's fairgrounds each year. Before blogs, before ICFF Studio, before the London Design Festival even existed, there was Satellite, which in the past has been a launching pad for designers like Front, Nendo, Paul Loebach, Jonah Takagi, and Matali Crasset, to name a few.
Which is all a long way of saying we're always excited to see what that part of the fair has to offer. In the past, Satellite has introduced us to Ana Kras — whose knitted Bonbons we featured long before she became a rockstar-dating, Everlane-modeling everygirl — and our now longtime friend and collaborator Nicolas Bellavance-Lecompte of Samare and Oeuffice.
This year, there was plenty to file away for future fodder, but we couldn't wait to share one of our favorite projects (which also walked away with one of the fair's official awards). Called Ripple, it was a dimpled glass lampshade that, when rotated, cast a gently undulating shadow. (Check out the video here.) The piece was a collaboration between two Taiwanese-born, London-based Royal College of Art graduates — ShiKai Tseng of Studio ShiKai, and Hahnsi Chen of Poetic Lab. Explains Chen: "The collaboration actually started from a small gathering with friends. ShiKai mentioned he is thinking of a project related to rippling water and light projection. Coincidentally I also had an idea in mind about the light pattern from handmade glass. These two related ideas somehow combined into one interesting project. With this starting point we decide to have a show at Salone Satellite, with a theme called Beyond Object, where we had both new and old projects related to this topic." Since good things are clearly on the horizon for these two, we decided to get to know them a little bit better.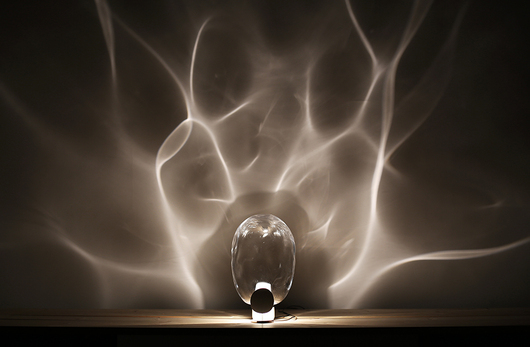 1. Describe your most recent project and how it was made:
"We love nature and all its phenomena. We're fascinated by the refraction and reflection of water we see under the sea, or on the ceiling of a pool house. The light goes through the surface of the moving water, projecting a beautiful pattern composed of sharp light lines. We wanted to recreate this amazing beauty through our design, and bring this relaxing atmosphere into people's homes."
"Ripple is a project studying the beauty of glass. A focused beam of light projected through a gently rotating mouth-blown glass dome creates shadow and light in an ever-changing pattern, where the aesthetic goes beyond the material itself."
"The process of making this project includes both traditional glassblowing skills and modern engineering. We found that the beauty of glass lies in the uneven surface that results from the mouth-blowing process. The dome also exists within an uncertainty: glass-blowing freezes the material in time, but the elegant rotating movement brings it back to life."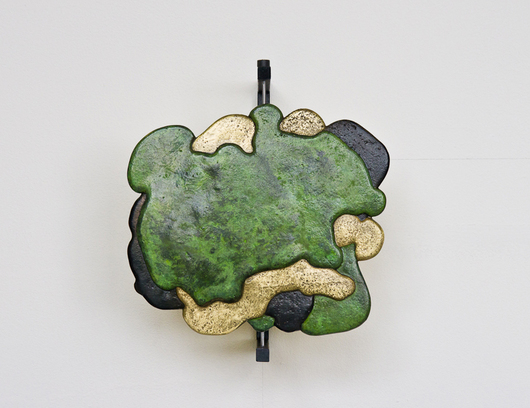 2. Describe your next project and how you're currently making it:
ShiKai Tseng: "My next project is Bronze China, which I've been working on for a year already. It's a collection of objects in partnership with craftsmen from the small Chinese village of Henan, YanJian, who are traditionally devoted to manufacturing bronze replicas of ancient artifacts for the souvenir market. The Bronze China project aims to produce innovative designs using traditional local techniques for a diversified market, with the hope of promoting the craftsmanship and production skills of a rural community. The collection so far includes a lampshade, a mirror, a doorstop, and a cloud patent plate. The first collection of Bronze China will be finished in the middle of June. At that time, I will launch a film about the story of YanJian, and the documentary of its working process."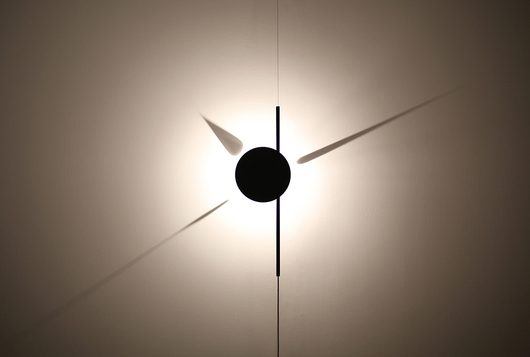 Hanhsi Chen: "The Shadow Clock is a project I've been working on for three years, with countless prototypes. The idea behind it is to explore the metaphysical connection between shadows and the conception of time. Time as described here is more than a measurement of the day, but an intimate human perception. By replacing normal mechanical clock hands with three different shaped "shadow beams," the movement of time passing becomes more emotional and poetic. The challenge of this project, however, lies in how to make an object rather than an installation. The current prototype I'm working on is the fifth version of the design, and it reduces the construction to its essence. A discussion with the manufacturer is in progress and I'm hoping to produce it by the end of this year."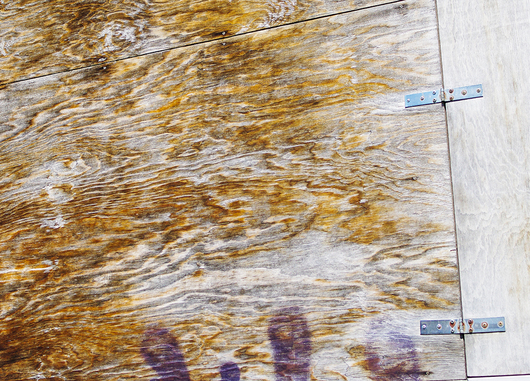 3. Tell us one thing that's been inspiring you lately and why:
Tseng: "A few weeks ago, I had a day off from our show in Milan. I walked down Via Ventura in Milan, and I found these beautiful wood panels, which are used to cover windows. They were properly weathered already; you can easily see how time leaves its mark on them, and make them become a sort of natural engraving. I've been inspired by this kind of natural process a lot."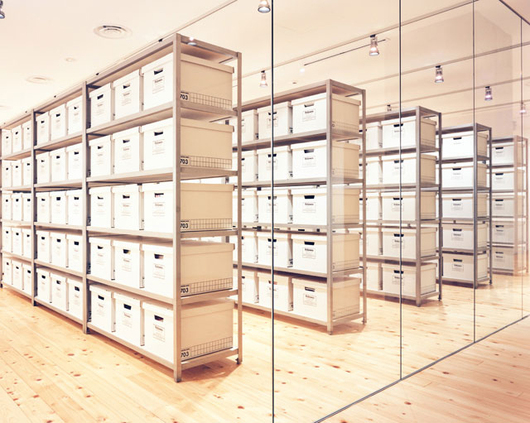 Chen: "I regard my work as a combination of logical thinking and emotional sensation, hence my inspiration sometimes comes from those poetic moments, whereas other times it can be more than rational. Recently I'm more into the idea of organizing things. The inspiration comes from Kashiwa Sato's book Ultimate Method for Reaching the Essentials. It's a book make you rethink how you can "re-arrange" your surroundings — from your physical environment to your inner methodology. His vision hints at the endless potential for a better work and life equilibrium. The image below is a photo of Kashiwa Sato's office archive area where the typically messy studio scene is replaced with a well-organized office archiving system."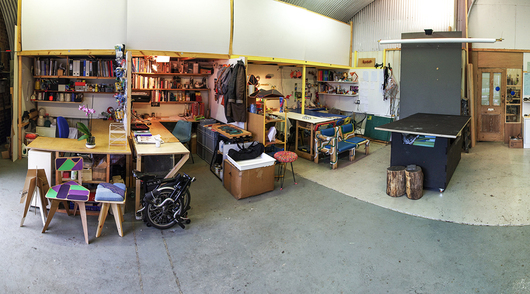 4. Show us your studio space and tell us what you like about it:
Tseng: "I've shared a studio with five other designers under a railway arch in East London for two years. We studied together at the Royal College of Art and now work together, eat together, and have fun together almost everyday. Els Woldhek and Georgi Manassiev's Odd Matter Studio focus on material driven experimental and conceptual design. Merel Karhof uses wind power to make textile and furnitures. Oscar Lhermitte has huge interest in astronomy and he also runs a company called Sidekick, which helps people launch successful campaigns. Yoav Reches is our mentor, he knows everything; he is head of the design department for FormLab, a pioneering 3D printing company in Boston. I love to work with them, and I love the space and atmosphere we've built up together!"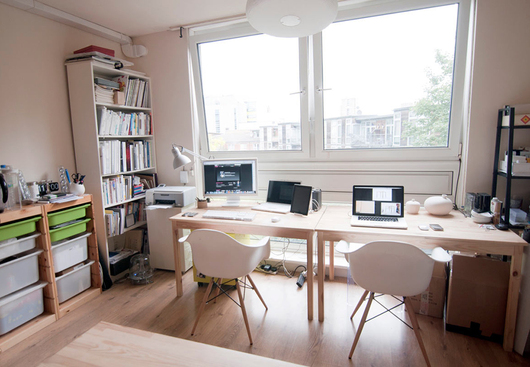 Chen: "The studio space I'm currently working in is the living room of my flat. There are four big tables there, and my flatmates — who are also designers — sometimes work in the space as well. A space like this integrates my work and my life, and I love it! I can wake up at 8 AM, start working immediately without any trouble commute to the studio. I can prepare some nice Taiwanese food I learned from my Mom for lunch, as the kitchen is just two steps away. Even if I stay late until mid-night, the bed and shower are just upstairs. It does take a lot of self-discipline to make a nice balance, but I think I'm getting better at that."