11.05.13
Andy Rementer's People Blocks
One of the only things that bummed us out about doing a printed edition last year was that it was, in the end, an edition — only 400 of you (give or take a few) ever read the stories housed within its covers. Take Andy Rementer's Inventory story, for which the Philadelphia-based illustrator styled and photographed his own creative influences, which ran from vintage lettering manuals to Italo comics. It was one of our favorite stories we've ever published.
But the good thing about creative people is that they tend to keep creating awesomely publishable things, so today we bring you Rementer's latest: interchangeable "People Blocks," created in collaboration with the Belgium-based object editors Case Studyo. The wooden sculptures, available in an edition of 12, feature four characters — Antoine, Fabienne, Jean and François — whose stackable pieces can be taken apart and reassembled to create more abstract sculptures. It's the first time Rementer has taken his work into three dimensions, and we recently caught up with him to chat about the transition.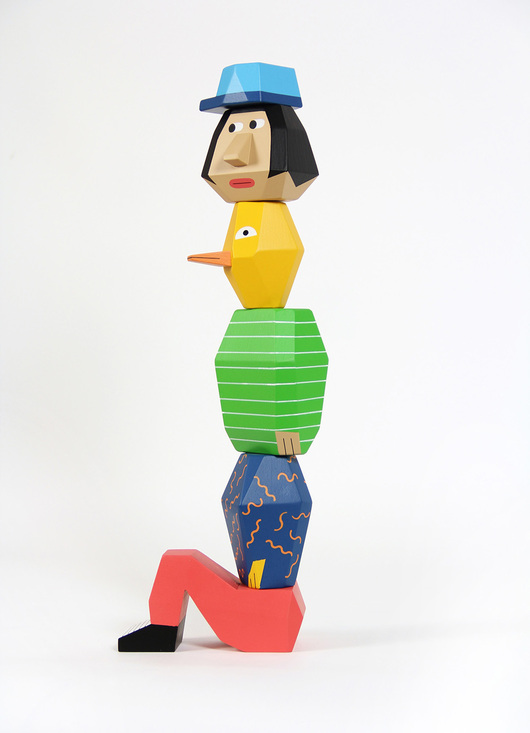 How did the collaboration come about?
Well it starts with Case Studyo, which was originally called Toykyo. The company began by doing collaborations with artists — limited edition prints, t-shirt designs — and then they started getting into 3D. I was really struck by a lot of the collaborations they were making, especially in porcelain. They'd collaborated with artists I admire like Parra, Steven Harrington, and Todd James, and these were unique pieces that went beyond the typical artist series. It really felt like there was something happening between two these two entities, not just attaching someone's name to something. I got in touch and asked if there was any way they'd like to collaborate.
When I contacted them they were making transition from Toykyo, which was more artists' objects to Case Studyo, which is more about objects for the home — things that have some kind of actual function. I started out pitching porcelain sculptures, or maybe something in bronze. We went back and forth for a while until we finally began talking about doing something in wood. I started looking at some vintage toys that I liked, and I wanted to do something for sure with characters. We looked at the idea of balancing blocks, but if we were going to have characters, we didn't want them to fall over. So we found a way to do this where the pieces actually plug into each other there is some stability there.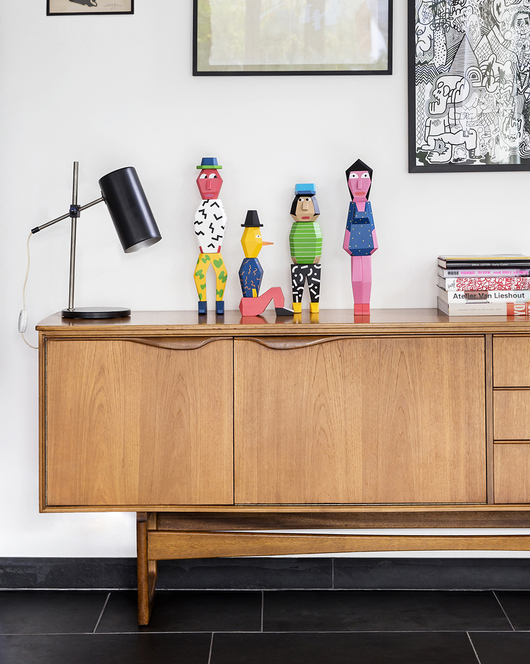 Was this something you'd wanted to do for a long time, to bring your drawings into three dimensions?
Any illustrator who draws characters envisions them taking on some physical form. It was a breakthrough for me even to add motion to my drawings but I still wanted to take it to that next level. With the People Blocks, there is this element of interaction. If you buy one, you can change some parts but the real fun comes if you buy 2 or more. Like the one guy Jean who has the blue hat, you can plug his head into his legs, or whatever. Fabienne, the girl, is the most difficult to work with on her own because her legs are so specific.
Was there any product you looked to for inspiration in creating the aesthetic? They're so Memphis.
It's an extension of my visual world. I really love bright colors, 80s color palettes, patterns — that comes through my work naturally. Typically if you look at my work, you might not see it as so geometric or hard-edged. So it was cool to really use the medium to create these characters instead of literally trying to recreate my drawings. I like the idea of considering the material. The way they're cut, you can see it in the forms of the characters — you can tell the underlying material or process.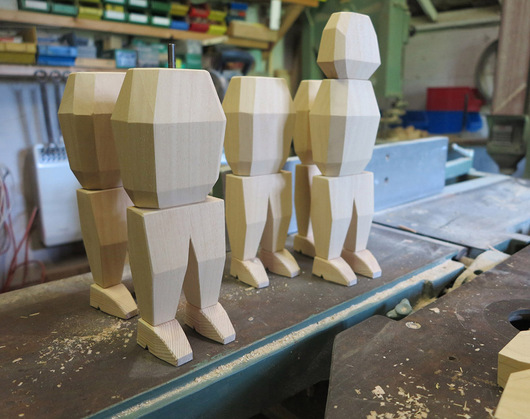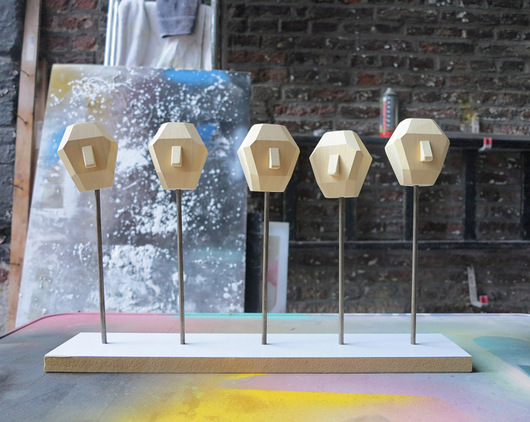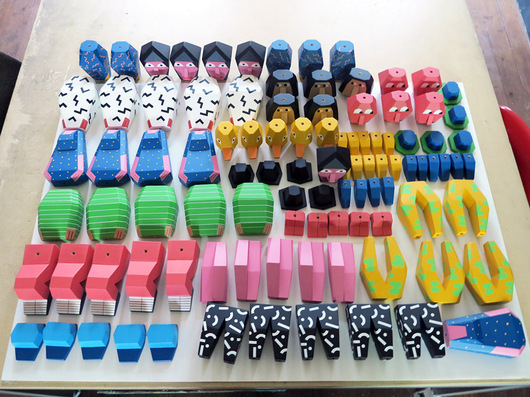 How big a role did Case Studyo play in the collaboration?
They gave me a lot of freedom in terms of the look and the colors. But they played a huge role in the process all along. Originally the plan was to do something much more mass produced and smaller. But it turned out the style we were going for with all of these intricate cuts was proving to be difficult. They did a quick test of enlarging a few of my sketches, from 6 inches to what they are now, like 12 or 13 inches. The new ones had such a great presence in the room; set next to objects, they really work. It was a pleasant surprise, though it did mean this was going to limit the production. These things are completely hand-done from start to finish. There's a guy in the wood shop cutting each piece, there's the painter who does the work and decals using stencils I've created.
The other thing I should mention is that not only was it a collaboration with Case Studyo but also with my partner, Margherita Urbani. She has a background in industrial design and I don't. I have a very flat perspective based on my illustration style and the limits of my brain. She was able to actually render these out into three dimensions and communicate that to Case Studyo. We didn't use any software or anything like that, she has the training to look at object from all sides and perspectives and hand draw that out.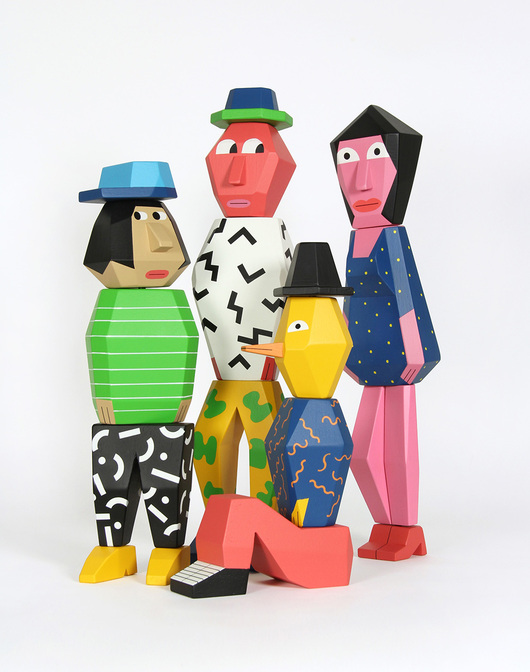 How did you name each character? Do you have a narrative for each of them in your own head?
The names are all based on French new-wave film characters. There's something about the color palette that echoes some of the colors used in Godard films. Also if you look at them, they're not sure. They're looking here, they're looking there; there is a story between the characters. Is the red-faced man looking at the girl? There's something insecure about the characters, and that's an element of my work — perhaps it's just the isolation of urban life coming through.