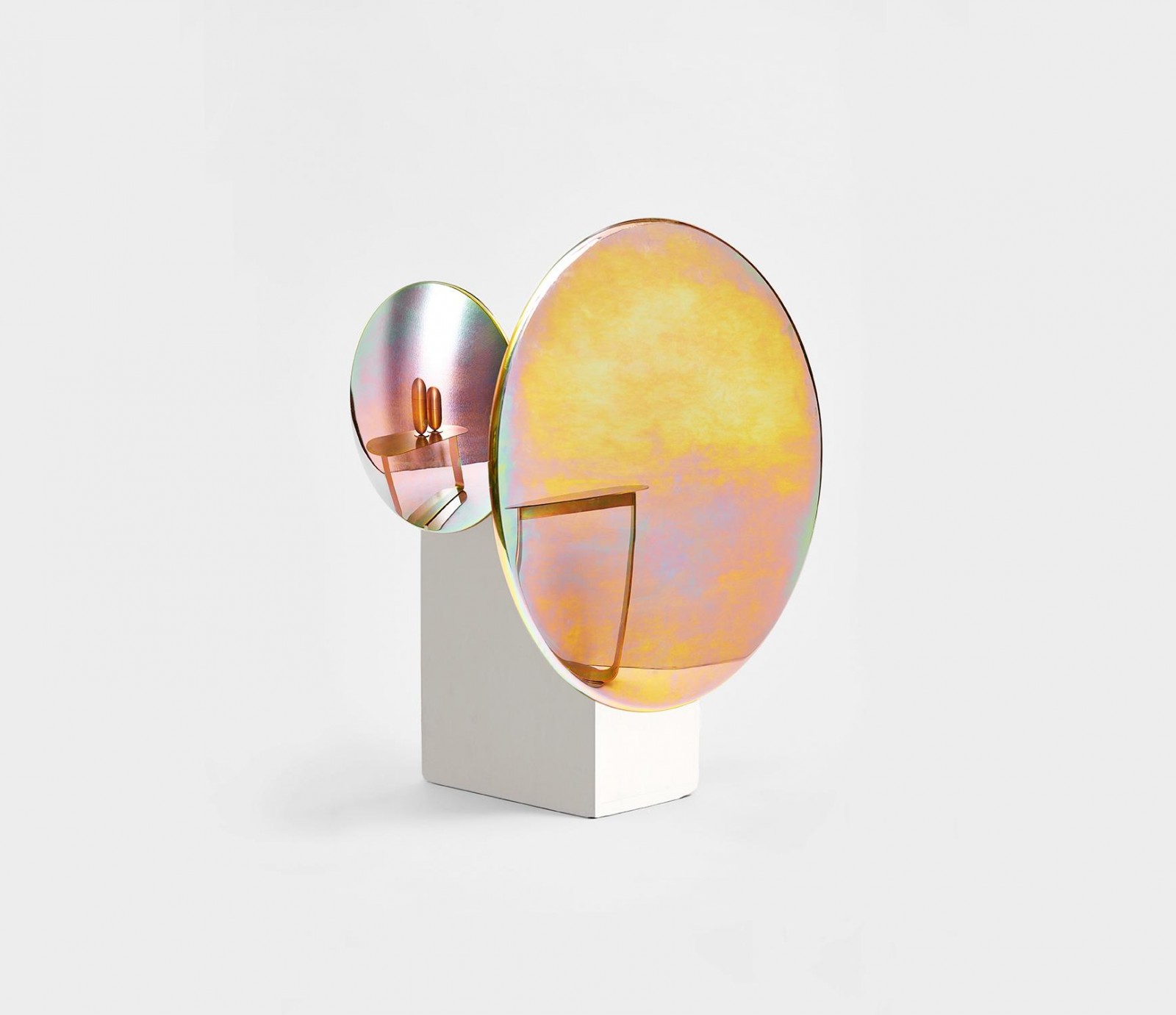 A weekly Saturday recap to share with you our favorite links, discoveries, exhibitions, and more from the past seven days. This week was all about color treatments: chemically chromated mirrors, ombre lampshades, colored smoke, brushstrokes, glazes, and good old-fashioned paint daubs.

Discoveries

Proof positive that New York Design Week got real big, real fast this year: We somehow missed the showcase — barely a block from our OFFSITE HQ — of the Norwegian-born, Brooklyn-based Everything Elevated's debut collection, the Passivation Project. In it, the duo explored the chemical process of passivation, a technique that's often employed to prevent the corrosion of metal. In this case, the steel and aluminum tables, mirrors and accessories push the boundaries of the technique, creating a beautifully chromated color modulation.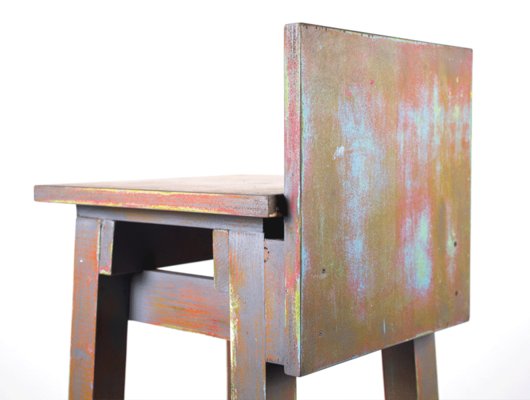 Another piece with a surface treatment we love: Barcelona-based designer Cristian Montesinos's Entropia chair, which is overlain with a series of painted layers until the appropriate texture is achieved. "Using this technique, the product can be anticipated but the final result cannot be predicted exactly."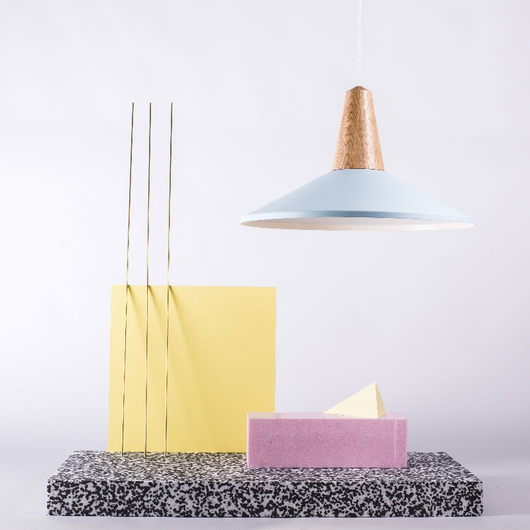 The best inbox surprise this week: These styled images from German brand Schneid, whose name was inspired by the German expression for "being bold." Their Eikon light, shown here, is available in different wood finishes and, more importantly, different shade treatments like this chic coral color fade.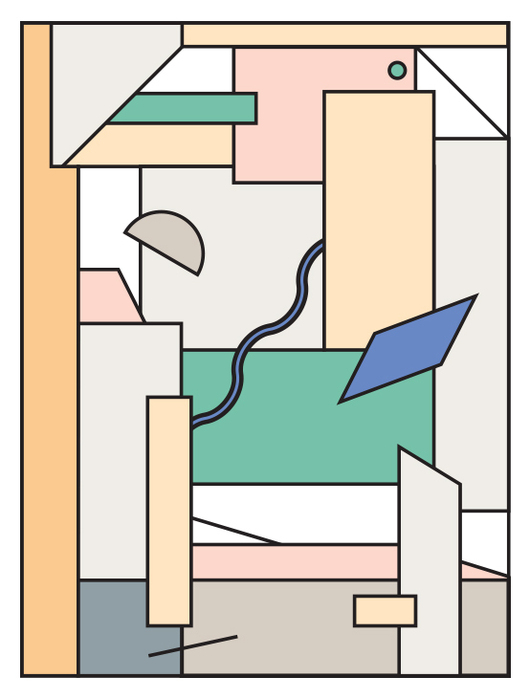 We're gonna be on a Norway kick for a while here, what with Monica's recap of her incredible trip to Oslo and its environs coming up next week. (I mean, have you seen the Instagrams?) Our latest obsession? Hans Christian Øren, the illustrator behind Oslo-based Oh Yeah Studio, and the creator of the killer poster shown here. And it's for sale!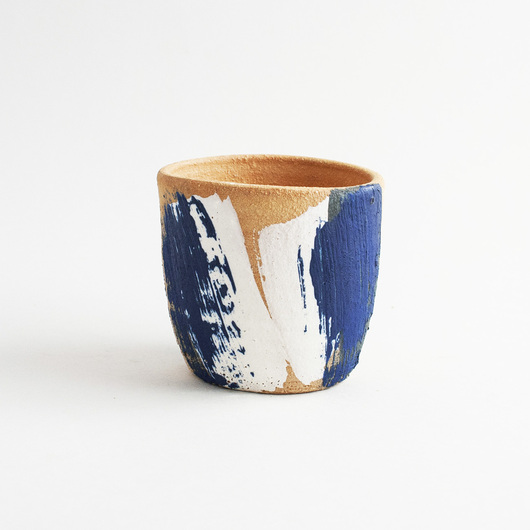 Technically an Instagram find, we were introduced this week to the ceramics of Romy Northover, who with Shino Takeda runs the online shop — and sometime supper club — Katakana NY. We love the Céline-esque brushstrokes on this mini planter.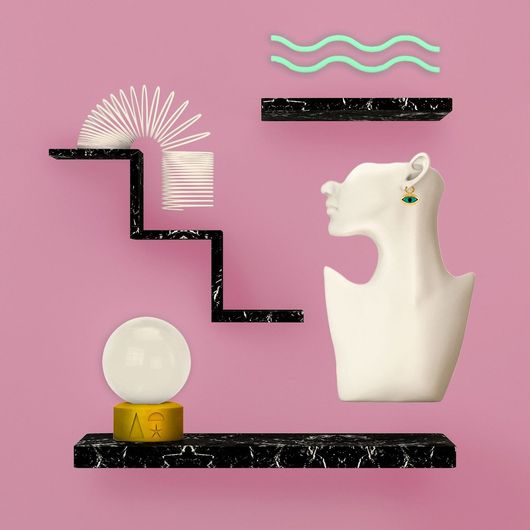 Album art is slowly and sadly becoming marginalized the deeper we get into cloud-based music. But props to those who are keeping it alive, like the Los Angeles–based, Buenos Aires–born artist Pilar Zeta, whose mystical assemblages adorn the album covers of Ultramajic, a conceptual label she founded with collaborator Jimmy Edgar comprising music, photography, art, 3D video, objects, and immersive multisensory installations.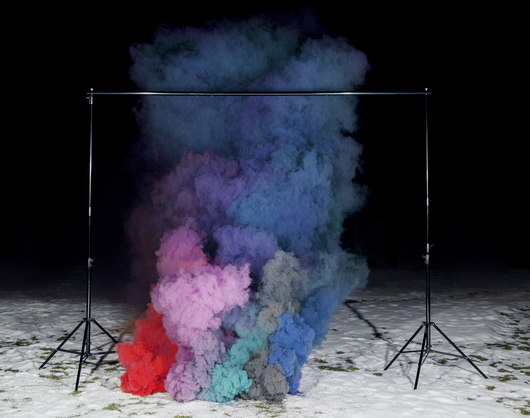 This week we featured knockout graduate projects from London's Royal College of Art. But let's not forget the incredible talents a bit closer to home! This gorgeous photo was part of the thesis presentation by School of the Art Institute of Chicago photography grad Hyounsang Yoo, who used colored smoke that mimics the nine cartridges of an Epson Stylus Pro 11880 printer.
Exhibitions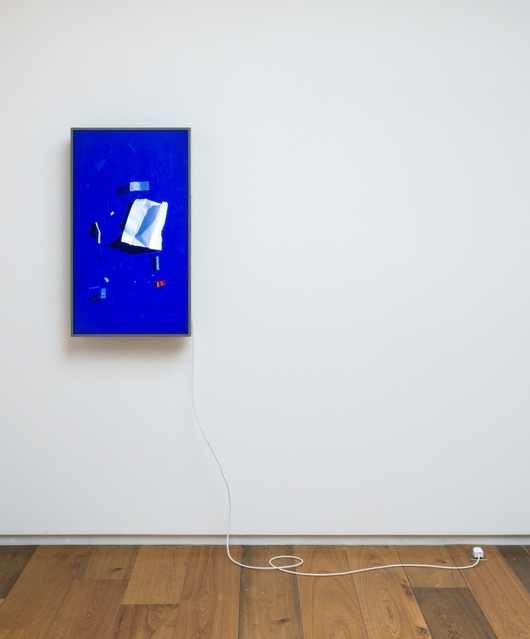 If you're in Toronto, go see Owen Kydd's solo exhibition at Cooper Cole, where you'll be able to view the Los Angeles–based artists "durational photographs" — slow-moving video pieces that run four to six minutes and explore the space between still photography and cinema. Crane TV describes them thusly: "Working in his studio, Kydd composes still lives as static images, and after he records them, their temporality is revealed only in subtle disruptions: a breeze catching gauzy materials, passing light, and so on."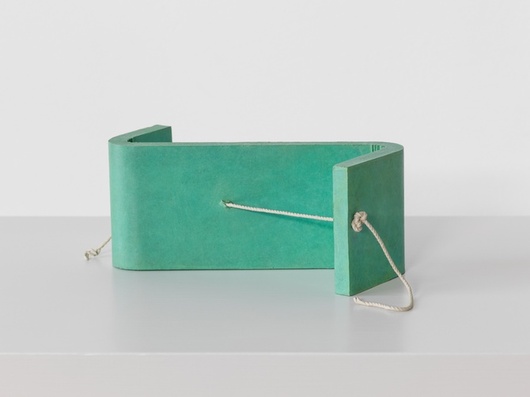 We first featured the work of Ricky Swallow (above) in our Whitney Biennial roundup. Now, the Australian artist is featured in another biennial: Made in LA, the Hammer Museum's showcase of 35 emerging or under-represented Los Angeles–based artists. On until September 7.
Links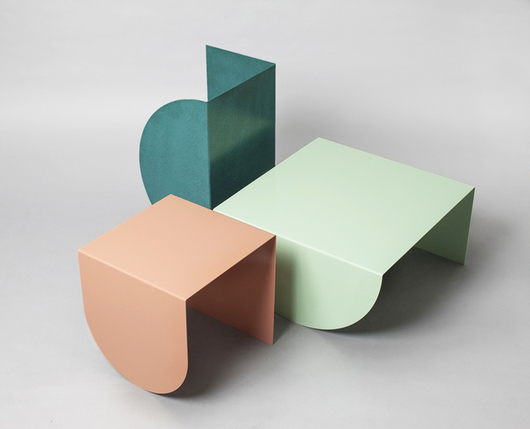 One of the best things we saw this week came courtesy of MocoLoco, who featured this perfectly hued side table collection by Dávid Tarcali, of the Budapest-based Studio Nomad. Called 3Legs, each table in the collection is formed from a single sheet of folded 3mm steel — curved on one side and flat on the other — that has the appearance of  abstract sculpture.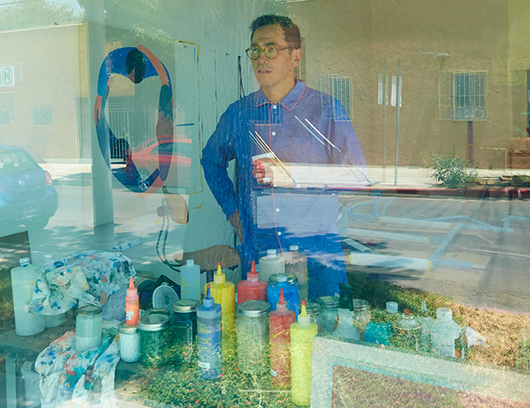 We've featured it once before, but the Sleepy Jones newsletter keeps killing it — this week's Sunday Side Up interview featured one of our favorites, LA artist Geoff McFetridge, who designed the pajama brand's furry sheep logo. "Traveling often with his family, Geoff has learned to embrace the constraints of time and setting when it comes to making art," the interview reads. "'I remember sitting in a sundae parlor in Disneyland with my family, drawing at one of the tables while a ragtime piano performance was going on.'" Do yourselves a favor and sign up now!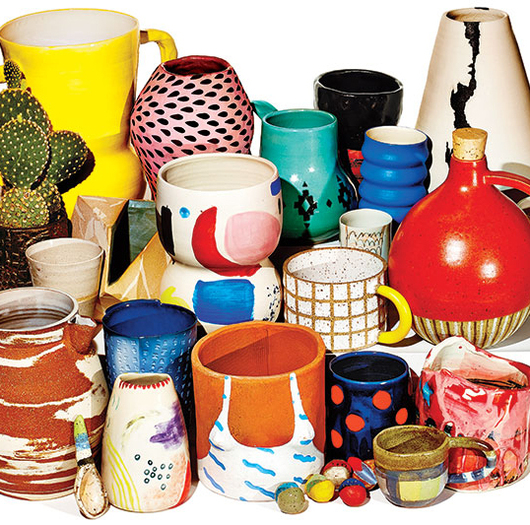 This week, the Brooklyn ceramics scene was codified in New York magazine's "Everything Guide to Urban Claymaking." In addition to rounding up some of our favorite practitioners — from Shino Takeda to Helen Levi to Josephine Heilpern and Jennie Jieun Lee — the guide also traces connections between those designers, lists the best places in the borough to launch your own pottery career, and shouts out to our own I'm Revolting Ceramics Shop in their exhaustive list, "A Year and a Half in High-Art Ceramics."
Instagrams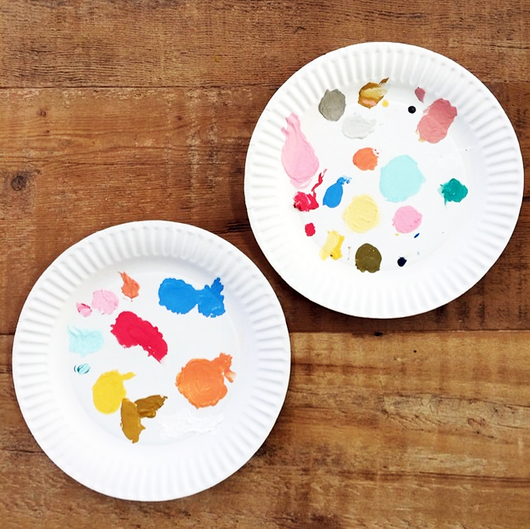 Lots of great stuff in Instagramland this week, but much of is was from Art Basel and Design Miami, which we'll be covering more in-depth next week. For now, we'll leave you of this ultra-cheerful modern-day palette from Philadelphia-based illustrator (and frequent Andy Rementer collaborator) Margherita Urbani. Something about this makes us soo happy. Happy weekend!