08.11.14
Strange Plants by Zio Baritaux
We've all been thinking it, but the Los Angeles writer and publisher Zio Baritaux finally did it — put together a project capturing the prevalence of plants in contemporary art these days. Her new book Strange Plants contains interviews with ten artists of varying mediums who focus on flora in their work — three of which we've excerpted below — plus selections from the portfolios of 15 more, including an interlude featuring tattoo artists. Baritaux says she was inspired to create the book not necessarily by the trend she was witnessing in the art world, but by the elaborate gardens full of koi ponds and topiaries that her mother grew when she was a child. "I didn't really appreciate these gardens until I was an adult, living in an apartment in L.A. with no outdoor space or plants to call my own," Baritaux says. "There were plants throughout the neighborhood, like night-blooming jasmine and overgrown bougainvillea, but it wasn't the same. I wanted to experience them. So I brought plants inside my apartment — a hanging terrarium, a potted cactus, and so on. These plants brought back memories and inspired me, just like the art I had hanging on the walls. So it seemed natural to create a book that combined the two." Check out some of the works featured in the book below, then scroll down to learn how to pick up a copy of your own.
Paul Wackers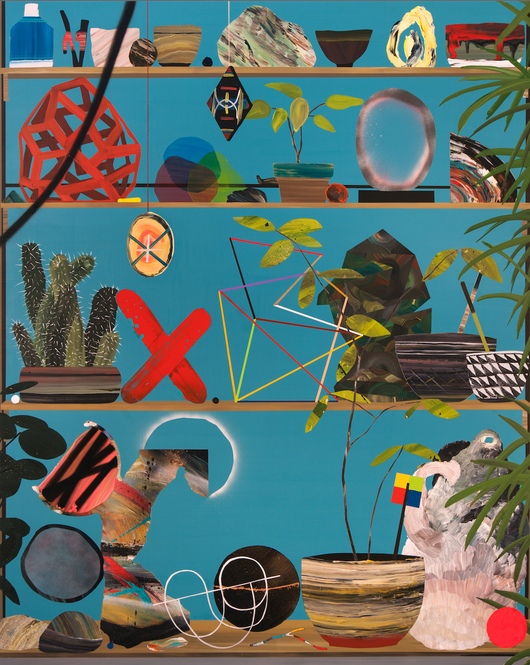 Do you have a garden or plant collection at your home or studio in New York?
"In my studio I have a lot of plants, maybe 30 or so of varying sizes. I think they help to bring some calmness to the air somehow. They are great things to space out on. They make for some interesting shapes and lines if you start looking at them without looking at them, if that makes sense. I also think they are really welcoming; when people come over to the studio for the first time they often say that 'it feels great in here.' I don't know if it's the plants or something else, but I assume it's not the temperature since I don't have heat or good AC."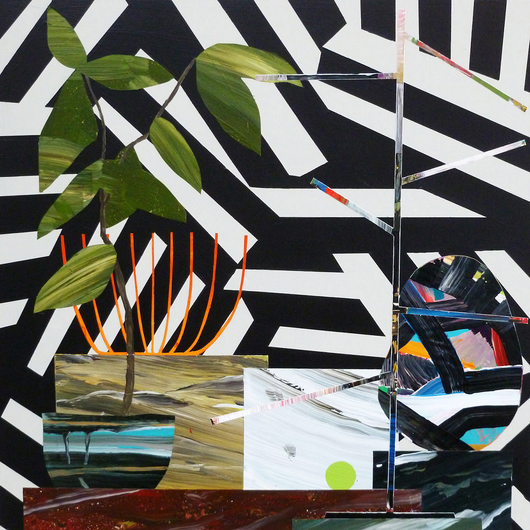 What is your favorite plant and why?

"That's a tough question — I have some strong connections to a few of my plants. Like I have a lemon tree that I grew from a seed that came from a lemon from my buddy Orion Shepard's parent's backyard. It's a pretty funny little guy, kind of like the Charlie Brown Christmas tree of lemon trees. I have used it in a few paintings.
 I also have a few bromeliads that I got from this guy Jack Halpern. He had the most amazing mineral collection and orchids. He let us into his home to see the beautiful things he has collected throughout his life. He was kind enough to let us take some cuttings from the massive bromeliad he had growing in his backyard. Then there is my dinner-plate aralia, which I have painted a few times. It has these round leaves that make it almost seem fake. I would also have to add my pencil cactus and fiddle-leaf fig. The list really does not end —
 I have too many favorites and little stories and associations with almost all of them. Taking care of them and paying attention to them it's hard not to get attached."
Stephen Eichhorn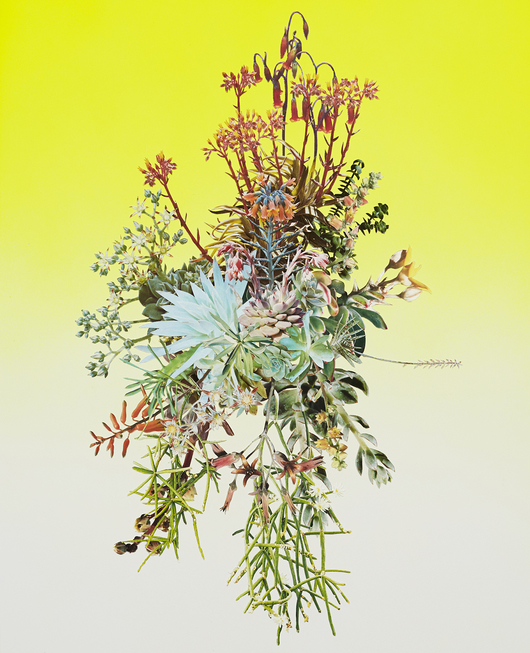 Why do you choose specific plants over others?

"I use specific plants for different reasons. Sometimes it's less about the specific
plant and more about the formal qualities
 of the image. I do have an affinity for staghorn ferns, cacti and orchids. I tend
 to create a set of rules for myself and
work within my self-imposed limitations.
This can mean I only cut out orchids for
 eight hours straight, or that I am looking for warm-tone round cacti that may or may
not ever actually be made into a collage."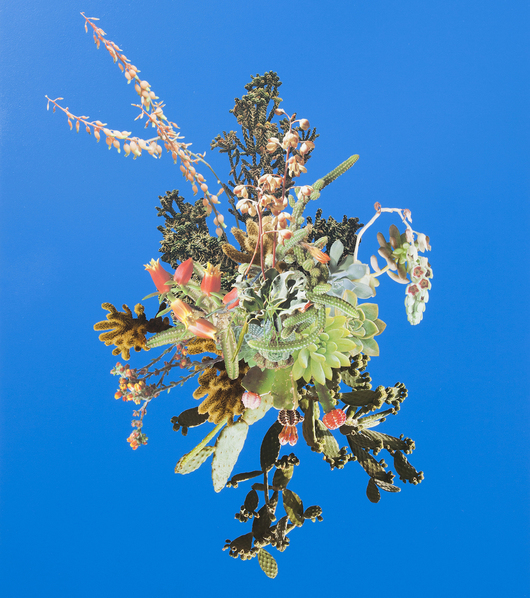 You said in another interview that through gathering things for your collages, you've been able to develop mythologies, rituals and histories surrounding the types of flora or foliage. Can you explain what that means?
"This is very loose and falls back on my rule-making. Most of my work is very repetitive, both in the making process and in the subject matter. While I acknowledge the ritualistic importance of plants, I am more so creating my own narratives and mythologies as part of the process. In a lot of ways, it has to do with how I break down the imagery and recontextualize the source matter. This can be formal, like the call-and-response approach of collage making with two disparate found images (cats and plants) or more nebulous and cosmic, like assigning a narrative for a larger body of work, like a cult of plants."
Kwangho Lee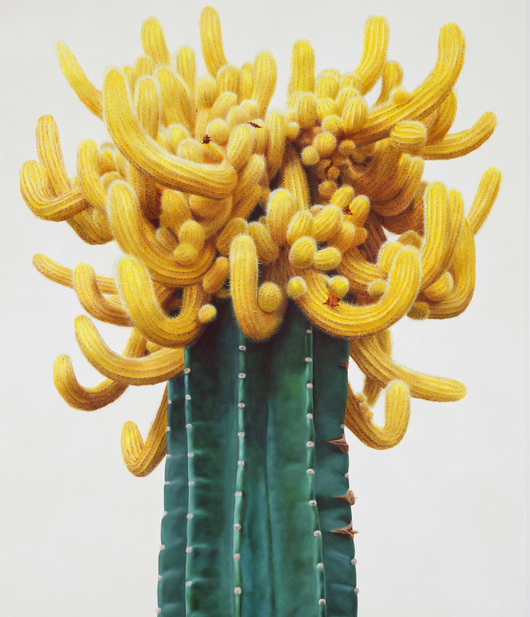 Why cactuses?
"I thought of cactuses inadvertently as the material to express texture when my Inter-View series was coming to an end in 2006. I expose my interest in the surface of the object in both. It is to make the texture that my eyes see magnified. I draw as if I am caressing the object. The cactus series is a good material to express various drawing skills of oil painting that I acquired through the Inter-View series. The work method is similar as well. The method of locating the object in white space and the drawing skills such as direct oil painting, single layer, and one touch are very similar."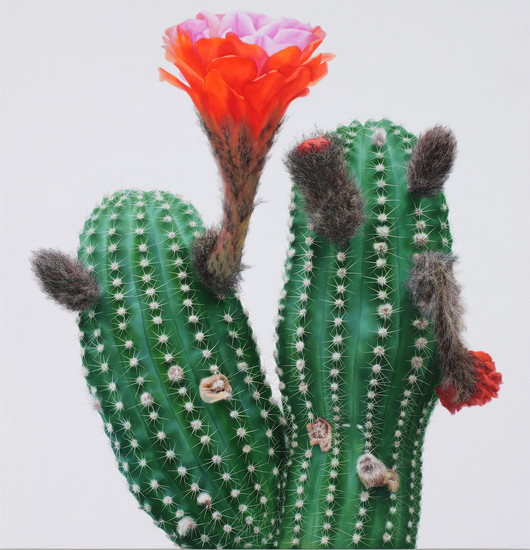 Do you keep cactuses in your home or studio?
"I took care of a number of cactuses, but they all died due to my laziness."
Read and see much more from these artists — as well as 22 others — by picking up Strange Plants by Zio Baritaux of Zioxla publishing, who gave us permission to excerpt the text and images above. The book is sold out online but may be available from these stockists.