11.26.14
Color Palette, From PIN–UP #17
When PIN–UP editor Felix Burrichter asked me to put together a product-driven color story for the magazine's new fall issue, which just came out last week, I said yes without hesitation — then secretly panicked later. It turns out that defining yourself by a single hue can be strangely intimidating. After thinking about it for ages, I resolved not to think at all, resorting to an idea that's been kicking around Sight Unseen's Pinterest feed for months now: electric blue, reimagined for the magazine as the more whimsical-sounding "sapphire." I rounded up 14 of our favorite examples, which PIN–UP contributor Fausto Fantinuoli turned into the gorgeous illustration pictured above, along with the selections of Ambra Medda (dolphin), Tauba Auerbach (vermillion), and Paloma Powers (blush). Burrichter was kind enough to let us share the full story here, though it's much more impressive when viewed across four massive spreads in the print issue, so make sure to pick up a copy of the issue — which also includes features on Mario Botta, Sou Fujimoto, and Norwegian design — at PIN–UP's website!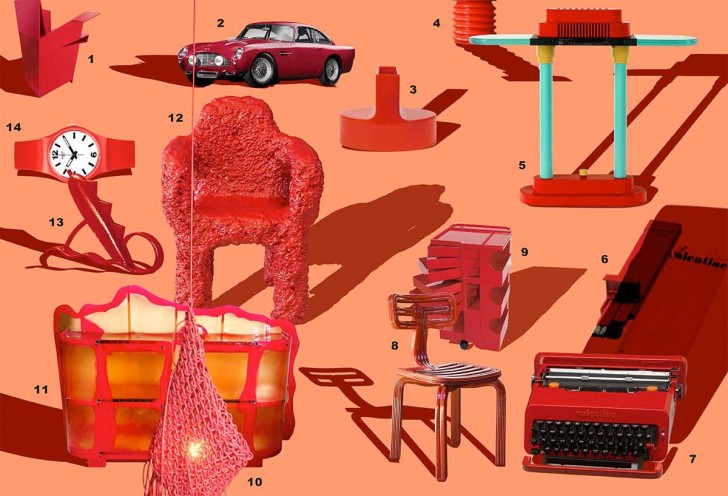 Tauba Auerbach / Vermillion
"I like vermillion because it's assertive, bold, and specific." —Tauba Auerbach, artist
1. Robert Whitton, cR-1a chair (2012); metal. Available through Robert Whitton.
2. Aston Martin 1959 DB4 GT (1958).
3. Ettore Sottsass, Fischietto ceramic (1962); ceramic. Available through Jochum Rodgers. hpjochum.de
4. Massimo Vignelli, Nuts & Bolts (1968); plastic. Available through Etsy.
5. Robert Sonneman, table lamp for George Kovacs (c. 1980); mixed materials. Available through S. Julian.
6. Miquelrius, Flexible Notebook (2014); FSC paper. Available through Miquelrius.
7. Ettore Sottsass, Valentine typewriter (1969); plastic, rubber, metal. Available through Etsy.
8 Dirk Vander Kooij, Chubby chair (2013); recycled polystyrene. Available through Dirk Vander Kooij.
9. Joe Colombo, Boby B32 trolley storage unit (1970); injection-molded ABS plastic. Available through B-Line.
10. Kwangho Lee, Knot – Beyond the Inevitable lamp (2008); electric wire, handmade socket, lightbulb. Available through Kwangho Lee.
11. Gaetano Pesce, Nobody's Perfect sideboard (2002); polyurethane resin, steel. Available through JF Chen.
12. Max Lamb, Red Poly chair (2009); plastic-coated polystyrene. Available through Gallery Fumi.
13. Mattheo Thun, Memphis Design ceramics (1980); ceramic. Available through Renate Janner.
14 Swatch, Red Pass GR162 (2014); plastic, silicone, quartz. Available through Swatch.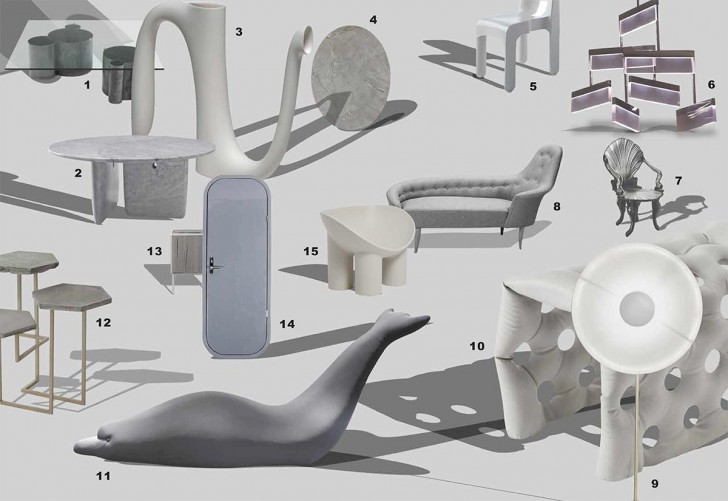 Ambra Medda / Dolphin
"The color of dolphins is magical because it's full of movement, it changes with the light. White, gray, and shimmering blue — all in one." — Ambra Medda, co-founder and creative director of L'ArcoBaleno
1. Arik Levy, Tube coffee table (2008); marble. Available through Living Divani.
2. Barber Osgerby, Tobi-Ishi table (2012); Statuarietto marble. Available through B&B Italia.
3. Aldo Bakker, alinetoB (2013); porcelain. Available through Gallery Libby Sellers.
4. Peter Marigold, Wooden Table (2013); wood. Available through Gallery Libby Sellers.
5. Joe Colombo, Universale chair (1978); molded plastic. Available through Kartell.
6. Johanna Grawunder, Cherry Blossom light (2007); stainless steel, colored acrylic
sheets, LEDs. Available through Galleria O.
7. Michael von Jabowski, Grotto chair (2007); hand-carved wood, poliment silver. Available through Moss Bureau.
8. Kerstin Holmqvist Hörlin, Lustgården Canapé (1958); birch wood, grey linen. Available through Jacksons Gallery.
9. Alberto Biagetti, Parabola lamp (2014); copper, brass. Available through Galerie Italienne.
10. Remy & Veenhuizen, Soft Concrete U-Bench (2013); concrete, reinforced steel. Available through Industry Gallery.
11. Visionnaire, Arione Dolphin Chaise Lounge (2013); polyurethane, wood. Available through Visionnaire.
12. Alberto Biagetti, Table de Milan no. 1 (2014); floor tiles, brass. Available through L'arcoBaleno.
13. Breg Hanssen, Framed Cabinet (2011); newspaper, wood. Available through 19 Greek Street Gallery.
14. Charlotte Perriand, commissioned doors (1960s); metal. Available through Johnson Trading Gallery.
15. Faye Toogood, Roly Poly chair (2014); fiberglass. Available through Studio Toogood.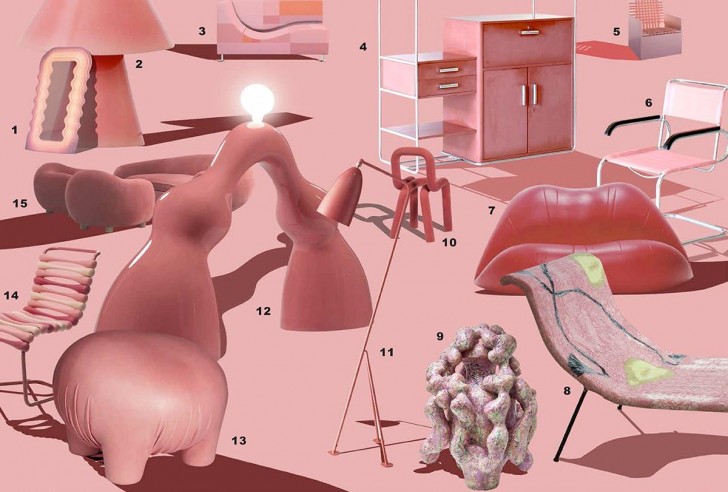 Paloma Powers / Blush
"Blush is the impact site of virtue and vice, hard and soft, romance and violence. and I adore colors that are also verbs." — Paloma Powers, founder and CEO of the artist agency Paloma Powers Inc.
1. Ettore Sottsass, Ultrafragola mirror (1970); opaline plastic, mirror, pink neon light. Available through L'arcoBaleno.
2. Jos Devriendt, Day & night no 7 (2013); ceramic, tin rose glaze. Available through Pierre Marie Giraud.
3. Jasper Morrison, Three Sofa De Luxe (1992); available through Cappellini. Upholstered in Blocks fabric by Scholten & Baijings (2014); available through Maharam.
4. Bruno Weil, B290 cabinet (1932); lacquered block board, chrome-plated tubular steel. Available through Zeitlos-Berlin.
5. Mary Heilmann, Clubchair 46 (2008); painted wood, nylon webbing. Available through 303 Gallery.
6. Marcel Breuer, B55 cantilever chair (1932); chrome plated tubular steel, lacquered wood, iron thread. Available through L'arcoBaleno.
7. Salvador Dali, Dalilips sofa (1972); polyethylene. Available through BD Barcelona.
8. Franz West, Nannerl (2006); metal, coco mat, carpet. Legal successor of the artist.
9. Morten Lobner Espersen, Horror Vacui #1702 Vase (2013); ceramic. Available through Jason Jacques Gallery.
10. Big-Game, Bold chaise (2009); steel, polyurethane foam, removable textile cover. Available through Moustache.
11. Greta Magnusson, Grossman Gräshoppa lamp (1948); steel, aluminum. Available through Gubi at Matter.
12. Wendell Castle, Pinkie floor lamp (1969); custom auto body paint, gel-coated fiberglass-reinforced plastic, lightbulb. Available through R & Company.
13. Front, Anomaly Pouf (2013); leather, wood. Available through Moroso.
14. Karim Rashid, Bounce chair (2014); metallic tube, polymer foam. Available through Gufram.
15. Jean Royère, Ours Polaire sofa and chairs (1952); wool upholstery. Available through Galerie Patrick Seguin.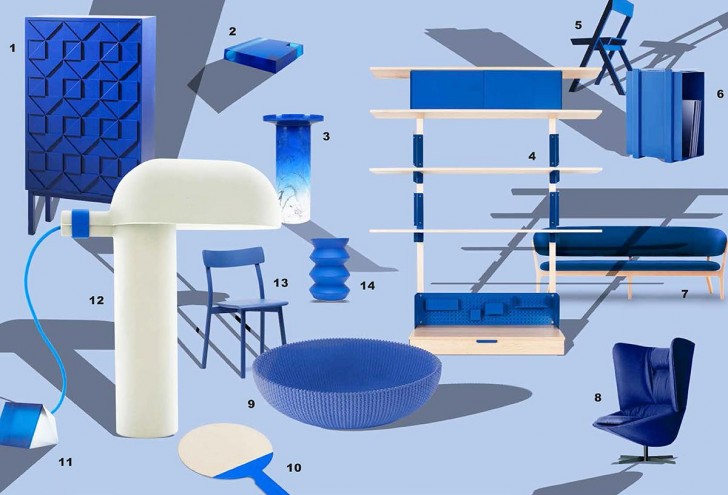 Monica Khemsurov / Sapphire
"Statistically speaking, blue is the world's most popular color, associated with feelings of calm and stability. But in design and interiors, amidst the safety of all those beiges and neutrals, it's got a more rebellious vibe. I grew up in a beige house. Never again." — Monica Khemsurov, design writer, curator, and co-founder of Sight Unseen
1. A2, Collect 2011 cabinet (2011); wood. Available through Son & Dotter.
2 Faye Toogood, Element Table (2011); resin. available through Studio Toogood.
3 Nick Ross, White Lies table (2013); bianco carrara marble, transparent spray paint. Available through Nick Ross.
4 Henry Julier, Bookcase (2014); maple, steel. Available through Matter.
5 Michael Schoner, Brett Baguette (2012); wood. Available through Michael Schoner.
6 Henriette W. Leth, Color Box (2012); powder-coated steel. Available through Normann Copenhagen.
7 Naoto Fukasawa, Roundish sofa (2014); beech, fabric, urethane finish. Available through Maruni.
8 Luca Nichetto, Ladle Medium (2014); metal structure, moulded polyurethane foam, polyester slip cover. Available through Arflex.
9 Luca Galbusera, La Trama el'Orditio (2014); cement. Available through Alessi.
10 Joseph Guerra and Sina Sohrab, Utility Mirror (2012); stainless steel, rubber. Available through Visibilty.
11 Phillip Low, Black/blue Sculpture No.10 (2013); perspex, acrylic. Available through Totokaelo.
12 Benjamin Hubert, Container Lamp (2013); slip-cast ceramic, silicon. Available through Ligne Roset.
13 Leon Ransmeier, Chiaro chair (2014); wood. Available through Mattiazzi.
14 Cassie Griffin, ceramics (2014); ceramic, paint. Available through Cassie Griffin.