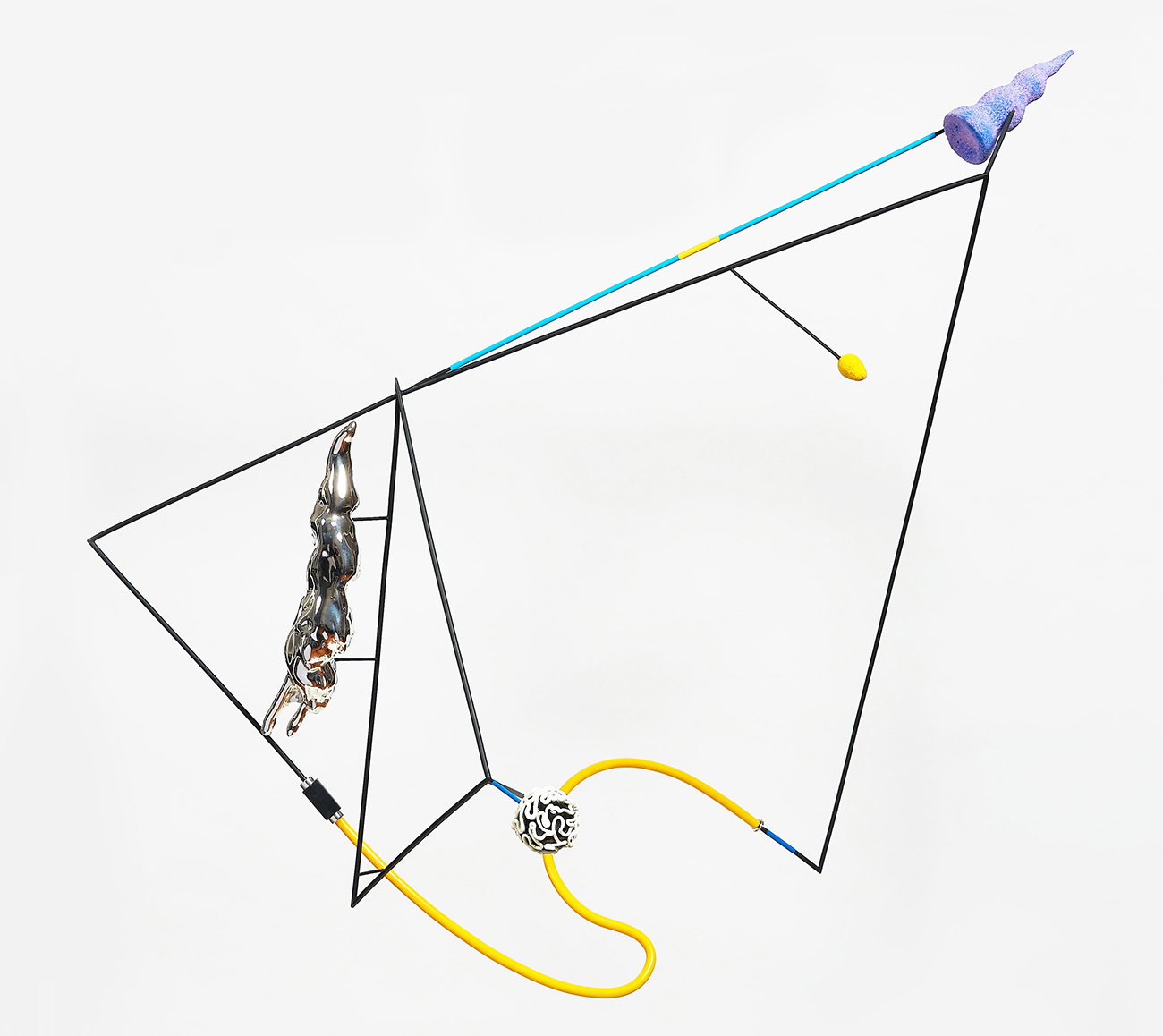 A weekly Saturday recap to share with you our favorite links, discoveries, exhibitions, and more from the past seven days. This week was all about designers doing mesmerizing things with very simple shapes: from Nendo's new color-gradient cube tables to a series of interactive geometric projections to the London grad who's pushing the boundaries of jewelry with his mixed-material compositions (pictured).
Discoveries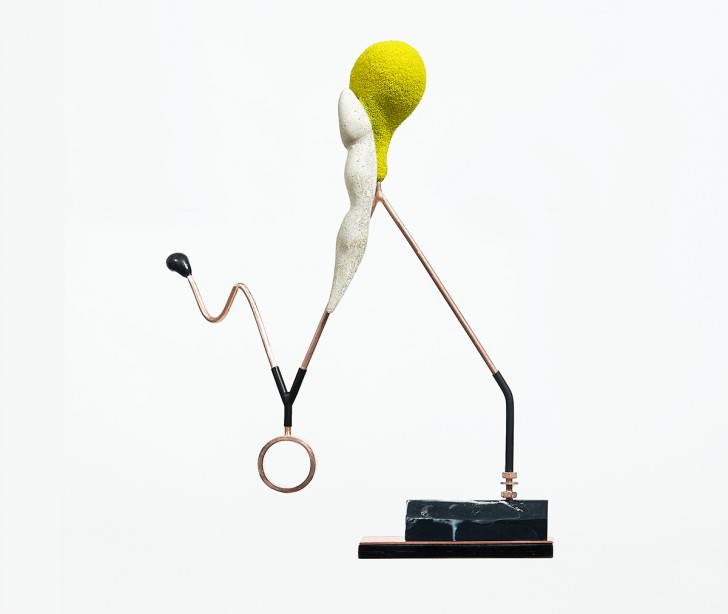 When we first saw the two creations above, we figured they were tabletop sculptures, created by an artist — in fact, they were submitted this week recent London College of Fashion graduate Vann Kwok, who designed them as wearable objects for his thesis project, Out of Flux. Click here to see photos of them on a model; the top image is a body piece and the bottom is an elaborate ring.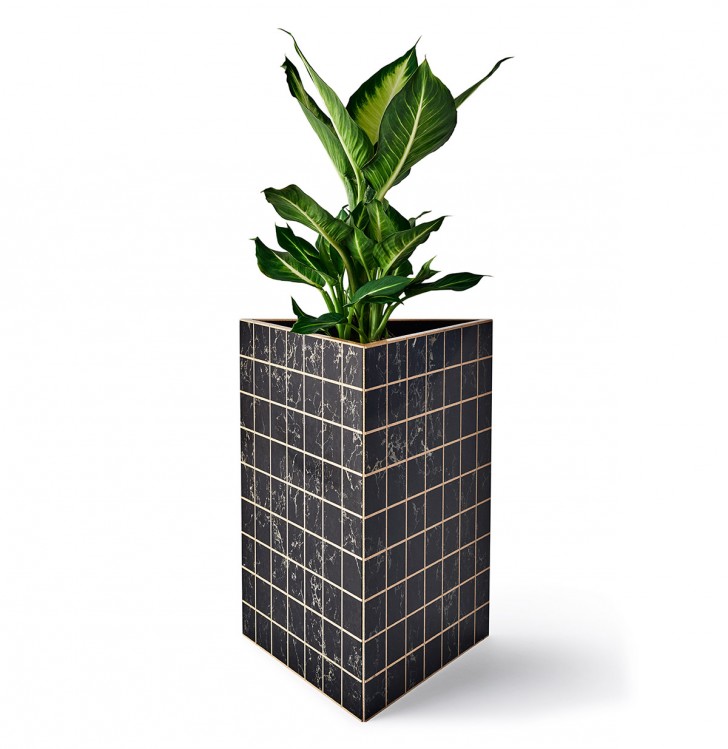 Only a week to go until we leave for the Milan Furniture Fair! One of the collections we're looking forward to seeing isn't "furniture" per se though — it's Philippe Malouin's series of planters for Caesarstone, a company that makes engineered quartz. We love the gridded triangular one above, but Malouin played with lots of different techniques and surface finishes in the series, published on Dezeen earlier this week.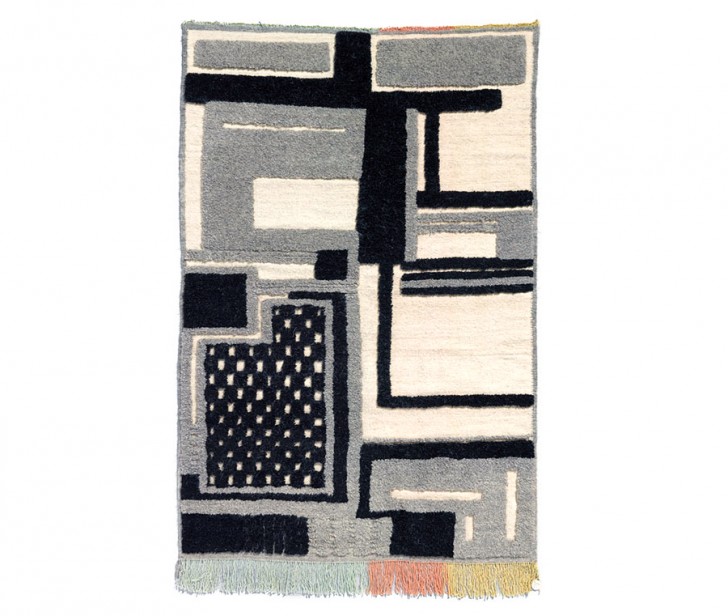 Our associate editor Ryland turned us on this week to the work of Swiss textile artist Salome Baumlin, and we're realizing now we probably gravitated towards the rug above because of its resemblance to a floorplan, something we've been dealing with a lot for the past two weeks as our 2015 Sight Unseen OFFSITE show comes together. Little bit of a Bauhaus vibe too.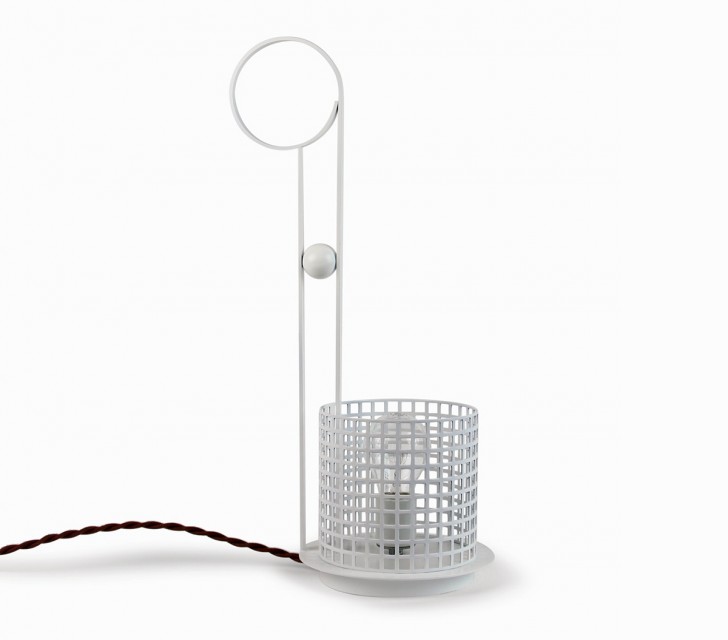 In last week's Saturday Selects we linked to ex-Vena Cava designer Sophie Buhai's new jewelry collection and associated online shop, which mixes in works by other designers and vintage pieces like the Nathalie du Pasquier napkin rings we featured. But on closer inspection we also spotted this amazing, Josef Hoffmann–esque lamp by Studio Spruzzi, the enigmatic furniture/lighting project by L.A. sculptor Matt Paweski and his partner, filmmaker Gillian Garcia. Now at the top of our wish list.

The green ombre fade on the surface of this fiberglass-reinforced resin table is actually hand-painted, line by line, by Austrian designer Philipp Aduatz. It's from 2014, but we missed it the first time around and thought it was too pretty not to call out now. Aduatz has a time-lapse video of its creation on his site — click here.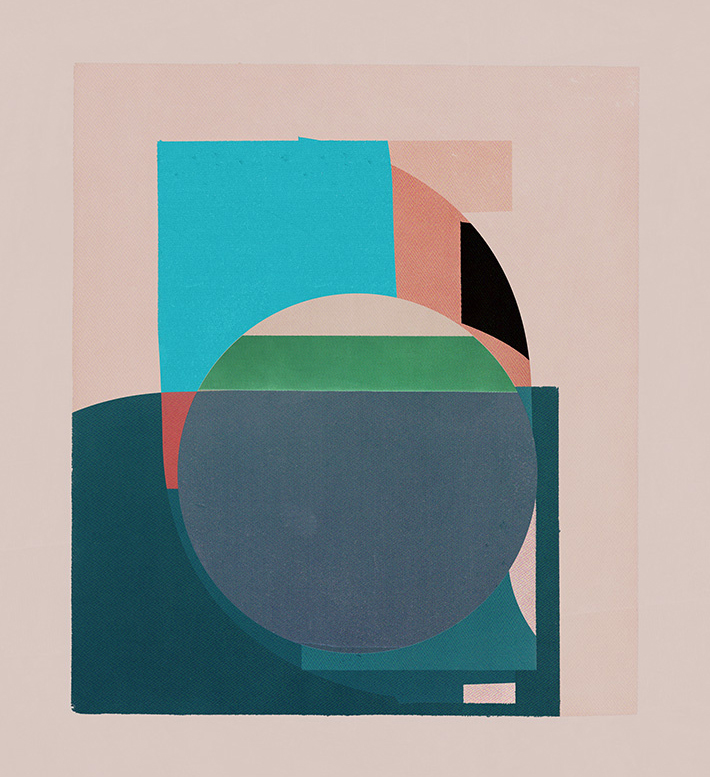 A recent print by the Spanish artist and illustrator Jesús Perea, made in a limited edition of 20. It may be available in Perea's online shop, but we're not sure, because it's 67 pages long — the guy is prolific, that's for sure.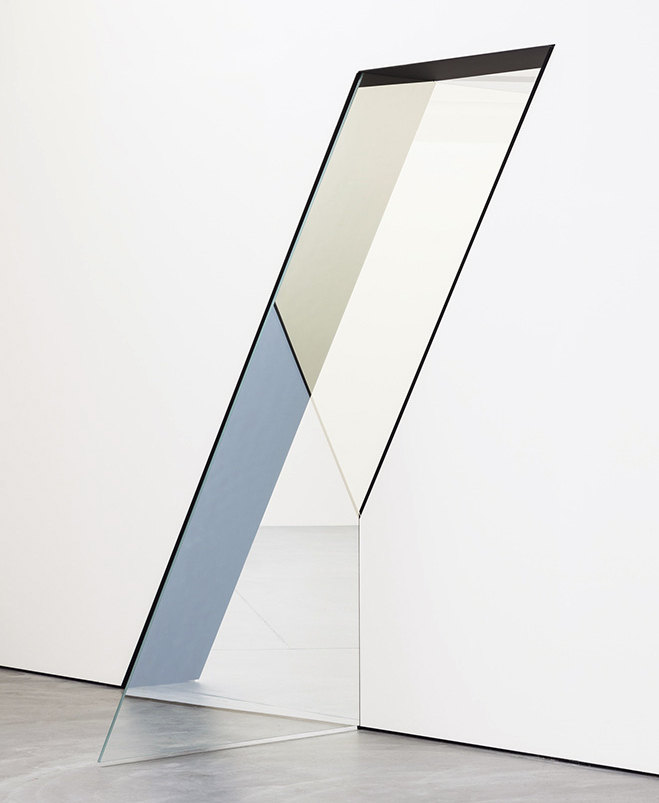 The architectural interventions of artist Sarah Oppenheimer — who makes geometric cuts into gallery and museum walls and then inserts planes of tinted glass — caught our eye this week, possibly because they remind us a tiny bit of the trapezoidal windows of the old Whitney, which we found ourselves mourning hard this week when someone brought up the museum's disappointing new building (cry). Some of Oppenheimer's pieces involve not just glass but mirrors too, distorting spatial points of view and creating lovely optical illusions.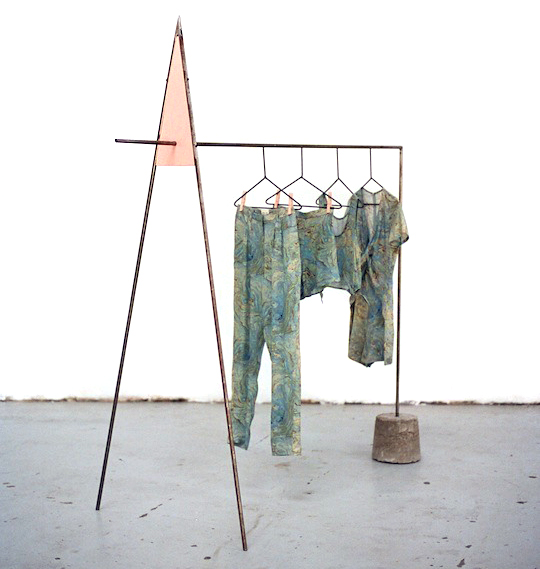 Another artist whose design-related ideas we fell for this week is Cristian Herrera Dalmau; we don't know much about him but we like that amidst the conceptual videos and photographs on his site are nicely composed coat racks and coffee tables.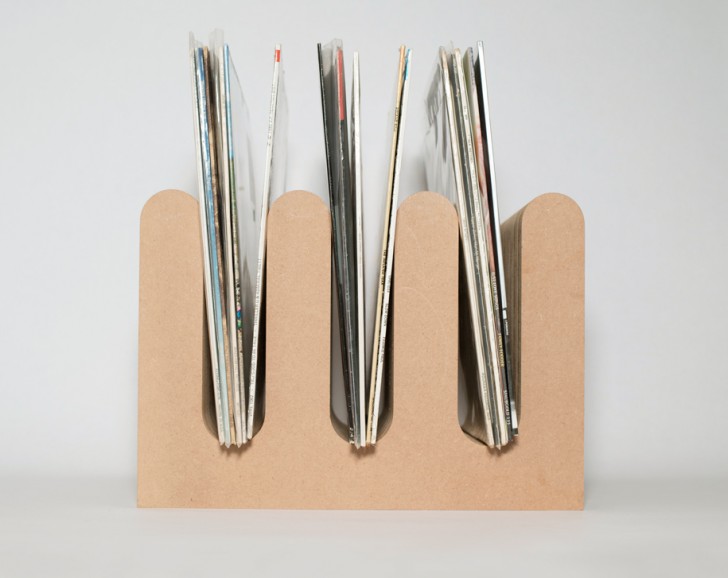 We've known Bailey Salisbury for awhile via her role in the communications department at textile maker Maharam. We always knew she did her own creative work on the side, too, but weren't aware of its breadth before we got a peek at her new personal website, which features projects like a leather balance ball, a Uhaul-inspired blanket, and this simple but smart Waveform record holder.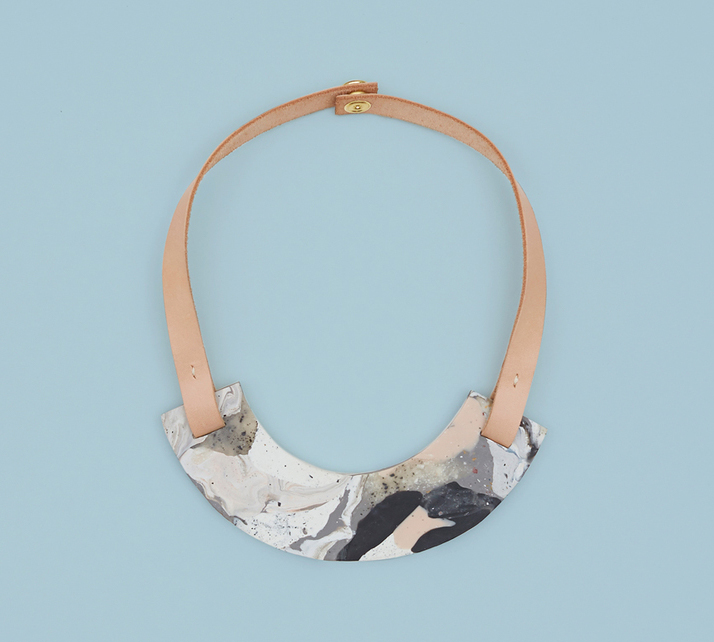 The Singaporean jewelry studio Thing In Itself recently submitted its new line of marbled polymer jewelry — we thought this Arc necklace was particularly nicely executed. It's about $130 and ships internationally; check it out here.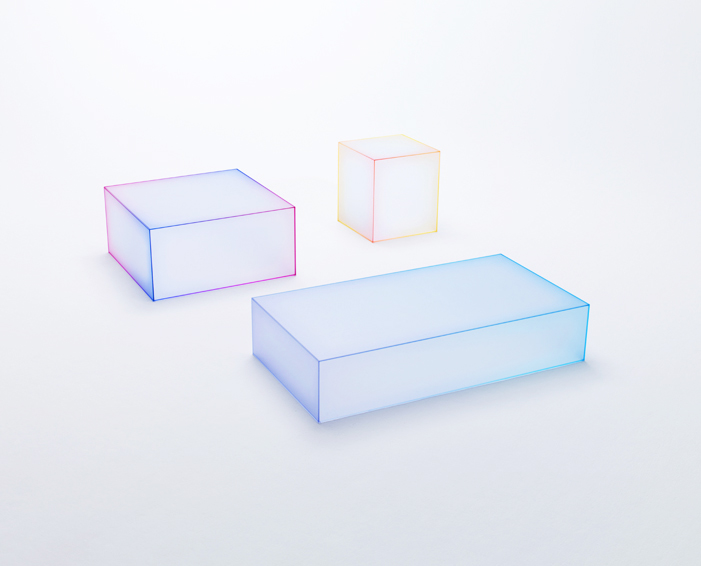 Most of the time, when we get press releases from the Japanese studio Nendo, our eyes glaze over — they just put out so many (too many?) projects, and yet the big design blogs never fail to publish every single one of them moments after said releases arrive. We made an exception, though, for these frosted-glass tables for Glas Italia that have colored gradients printed on the insides of their seams, for obvious reasons — #sosightunseen.
Exhibitions
Interior designer and obsessive collector Jim Walrod — who has a major fondness for Italian design from the '60s and '70s — has somehow managed to part with more than 35 lamps form his personal stash, and the finds are all currently on view at Patrick Parrish gallery in New York. The show, "Rad Light," is on view through April 20, but you can see all its gems now on Artsy, including the Michele de Lucchi confection above.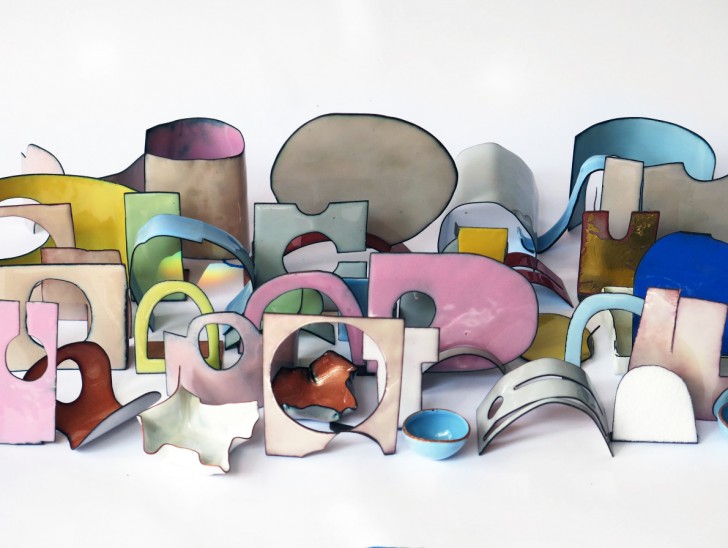 Instagram clued us in to a new show of artist Tessy King's work at Ogaard in Oakland, which opened March 28. We're not sure how long it's on view, but it features her latest enameled copper forms, which she was just starting to experiment back when we featured her on our site in the fall. They're pretty wonderful, no?
Links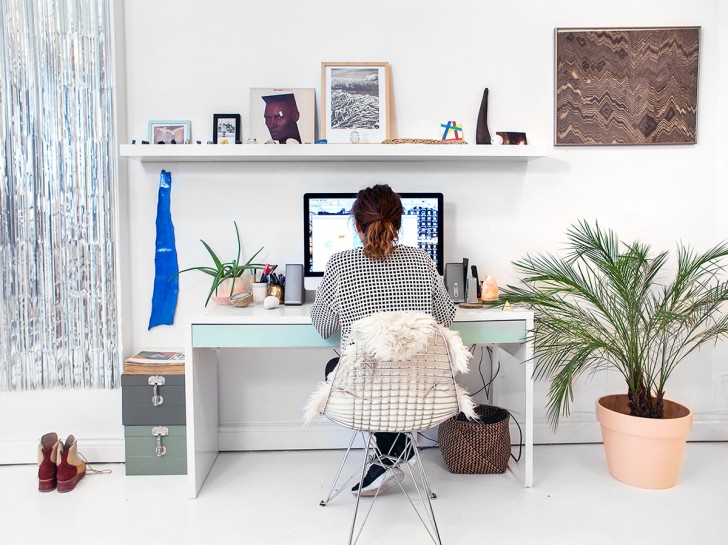 So the Ampersand is a little funny slash uncomfortable to explain — it's meant to be the cool editorial arm of Lou & Grey, which is meant to be the cool clothing arm of Anne Taylor LOFT — but despite its wonky pedigree, it's building up some nice content, like a survey of Ana Kras's favorite objects and a studio visit with Brooklyn designer Julie Thevenot, pictured above.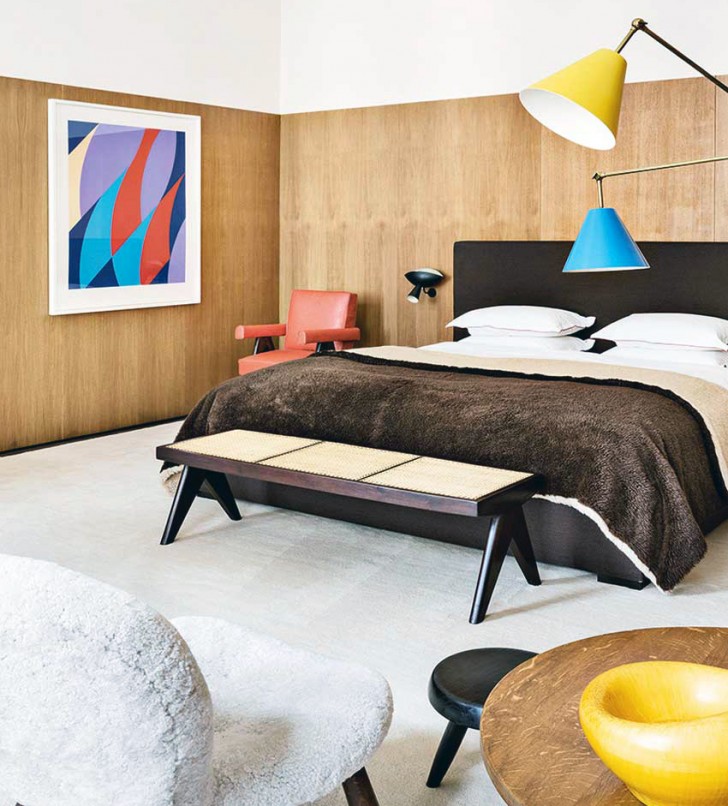 Last week the blog Yellowtrace published some seriously envy inducing photos of an apartment owned by Emmanuel de Bayser, who founded the Berlin clothing store The Corner. It's packed to the gills with Prouves — who knew fashion retailing could be so lucrative? (We're pretty sure it can't be.)
GIFs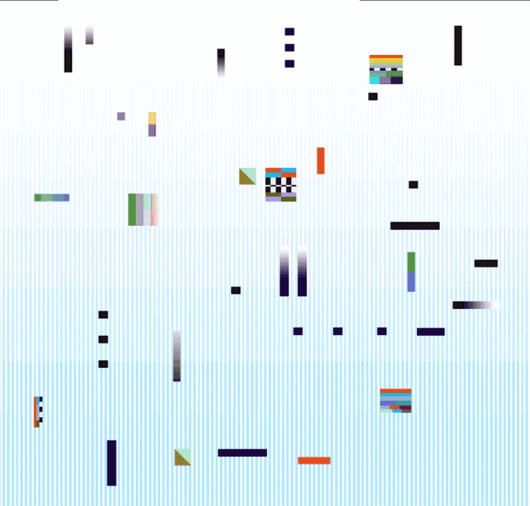 It was a good week for animated GIFs this week — and we don't mean the cheesy pop-culture kind. We spotted this gem by Hvass & Hannibal illustrating a story in the New York Times about genetic scientists who have partnered with a conceptual artist to help them conjure new ways to visually present their data.

And this GIF was one of several featured in a story on Designboom about a series of interactive projections created by Brooklyn installation artist Aakash Nihalani, best known for his once-ubiquitous geometric tape graffiti.