05.29.15
Curse The Darkness by The American Design Club With Roll & Hill
When the American Design Club first started back in 2008, the idea was to find new ways to gain exposure for emerging talents in the U.S. scene, a goal pursued primarily via juried exhibitions — and a goal that happened to dovetail perfectly with Sight Unseen's vision for a New York design week event that would put the spotlight on exactly the kind of emerging voices the AmDC comprised. In 2011, the second year of our Noho Design District show (the precursor to Sight Unseen OFFSITE), we hosted the club's fifth exhibition, and last month we were thrilled to host its 12th. Called "Curse the Darkness" and presented in partnership with the lighting brand Roll & Hill, the show invited designers to submit "objects that can hold a candle and light up a room," with the twist that all submissions would be considered for potential production by Roll & Hill's team.
AmDC founder Kiel Mead gave us some background on the project: "Roll & Hill wanted to add some candle holders to their collection, and they turned to us because of our vast network of designers and our history producing concept shows," he says. "We brainstormed themes that would help bring in a variety of choice from both established designers and emerging talent. Curse The Darkness is a phrase from a quote about hope made famous by John F. Kennedy, Peter Benenson, and Eleanor Roosevelt, to name a few: 'It is better to light a candle than to curse the darkness.'" We featured an overall shot of AmDC's installation, which was coated in candle wax donated by Joya Studio, in our coverage of Sight Unseen OFFSITE last week, but we were so impressed with the individual submissions — and by the number of designers that were new even to us — that we decided to call out 15 of our favorites here, including the winning entries selected by AmDC's jury.
(Pictured at top) BEST IN SHOW: Brace by Daniel Ballou, with heavy copper wedges that slide down to grip candles of variable size and shape.
PHOTOS BY KENDALL MILLS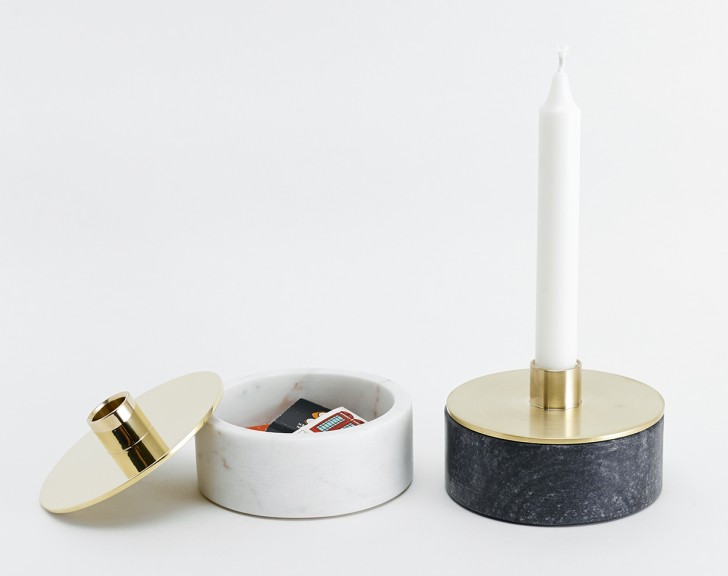 RUNNER UP: Cache by James Ian Killinger, whose stone bases reveal a hidden compartment for storing matches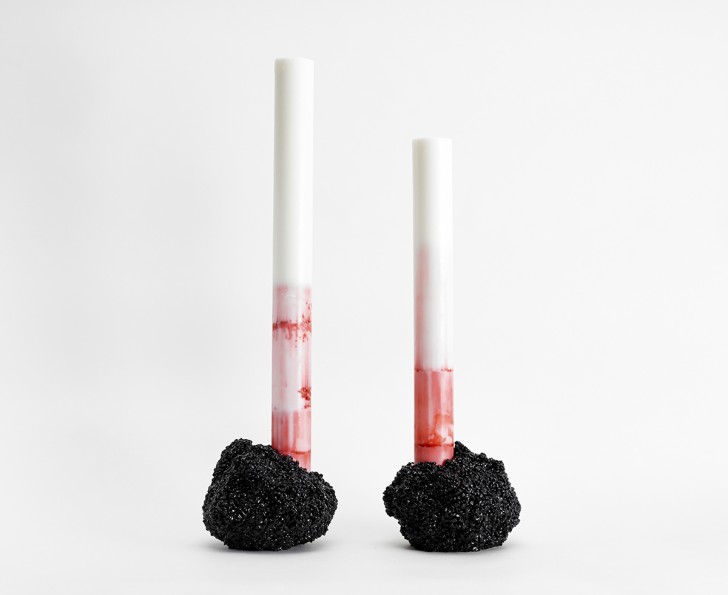 HONORABLE MENTION 1: Phalt Candlesticks by Zero-Craft Corp., which combine bases made from a cast gravel-and-resin mixture with one-of-a-kind pigment-dyed parafin candles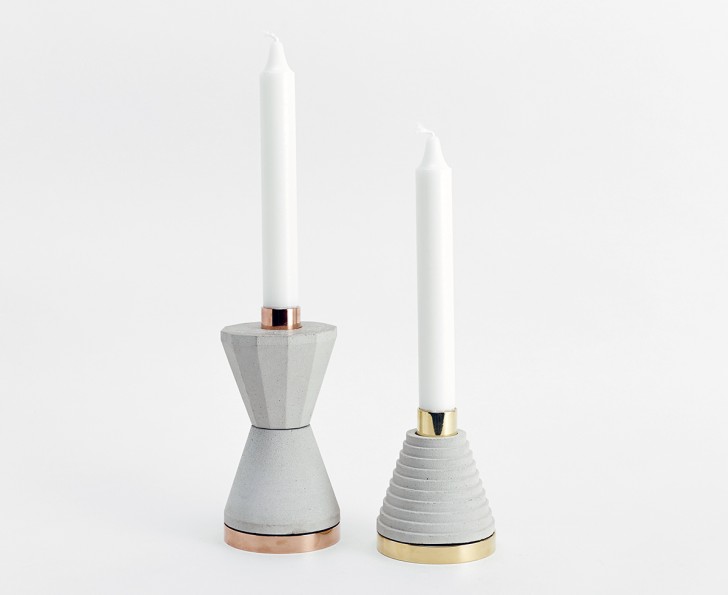 HONORABLE MENTION 2: Fragment Candlesticks by FORM FWRD, consisting of modular, stackable concrete cones in various stages of pixellation or "fragmentation"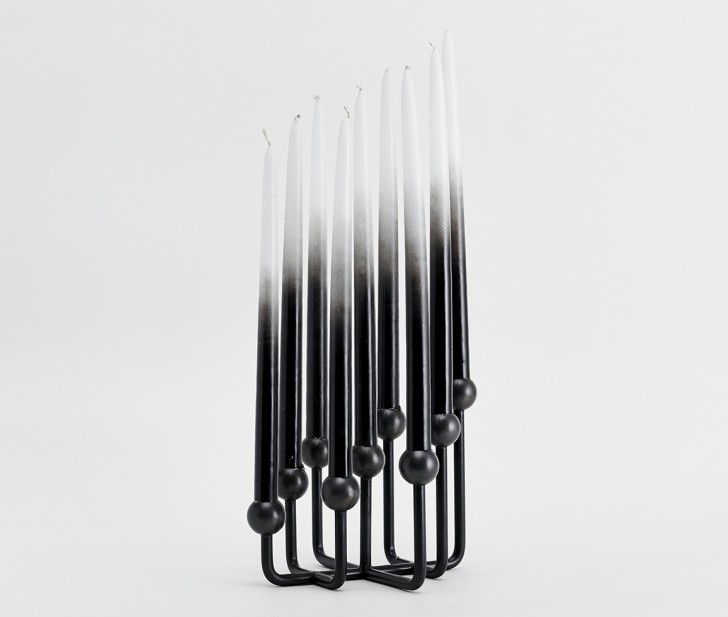 Constellation by William Lee, a dense candelabra inspired by the night sky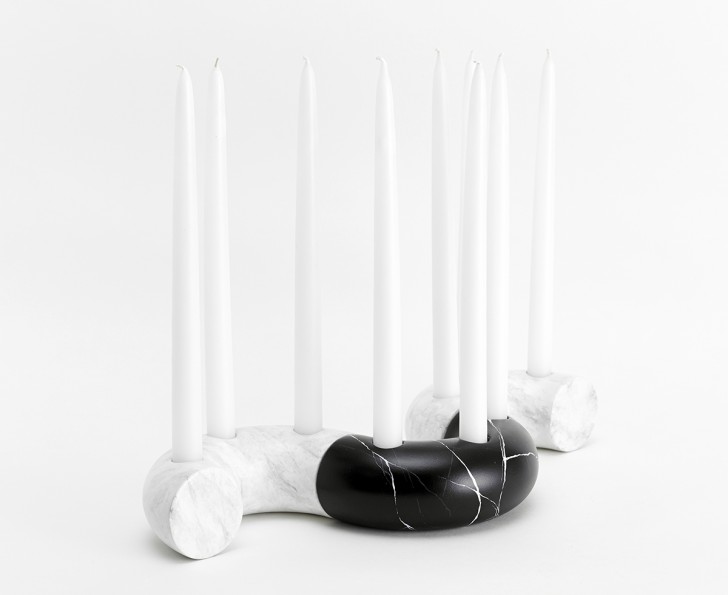 Donut by Cofield, three semi-circles that could potentially be made in marble, but that in the case of this prototype is actually wood meticulously painted to look like marble

Horn by Tom Will Make, a wiggle of bent steel whose kink works as a handle for nighttime explorations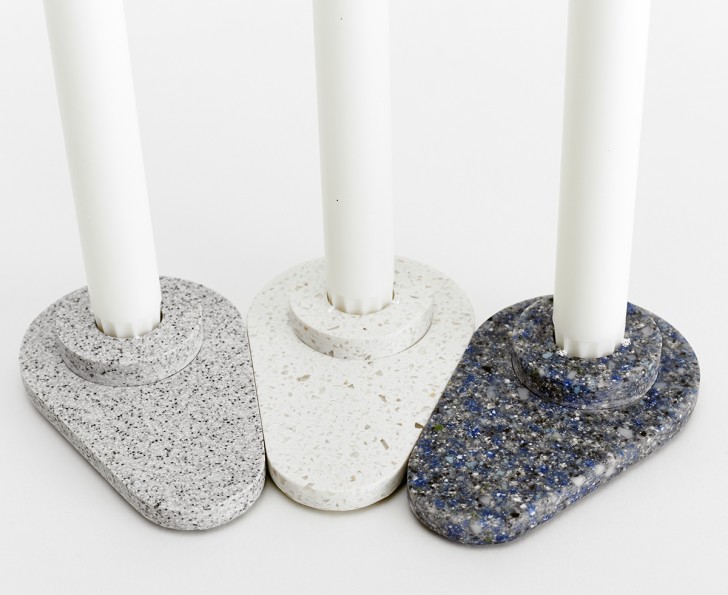 Grip Candle Holder by Char Kennedy, made from Corian with a surface for catching wax or resting matches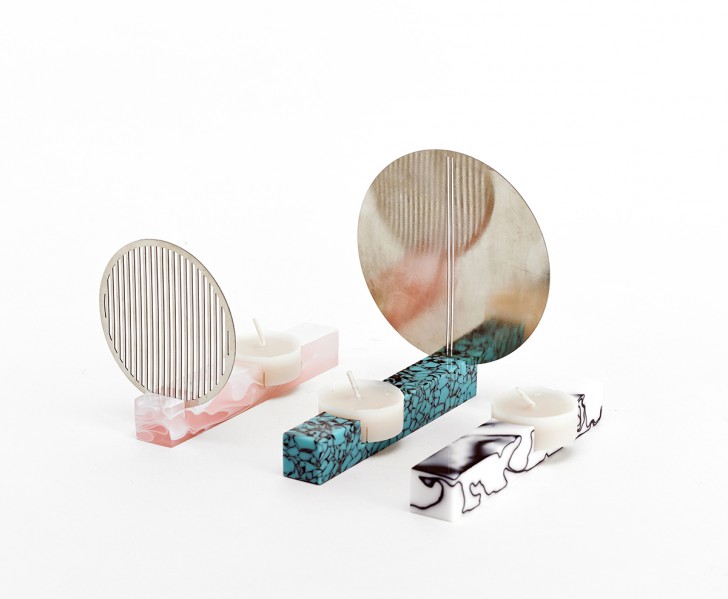 Untitled Tea Lights by Sophia Thomas, with cast acrylic bases and interchangeable metal screens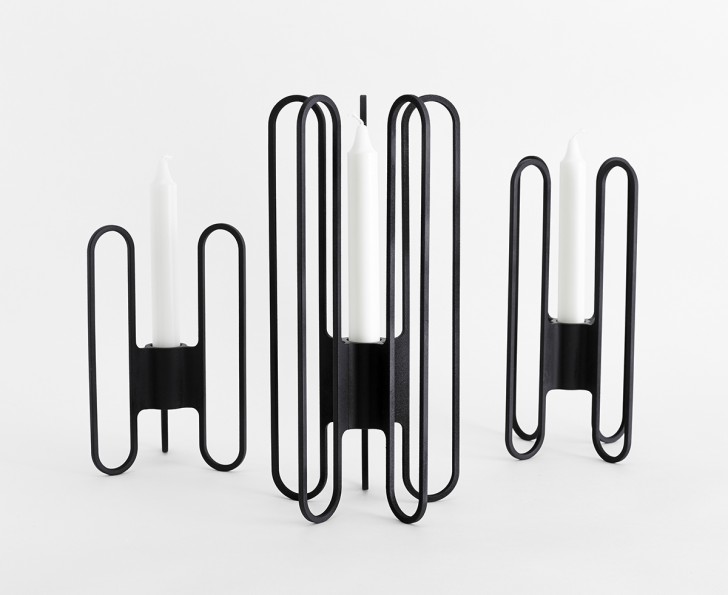 Axis by Henry Julier, which can be flipped upside down to accommodate various candle heights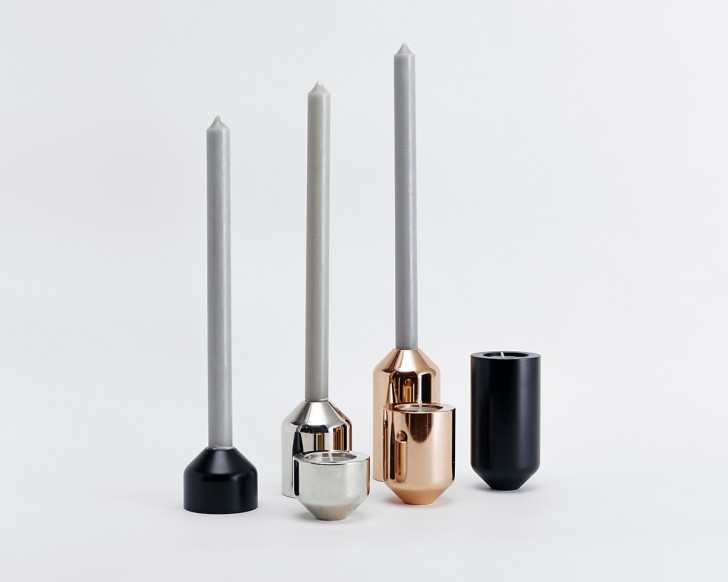 Janus by Joe Doucet, which can also be flipped upside down to hold either a taper or a tea light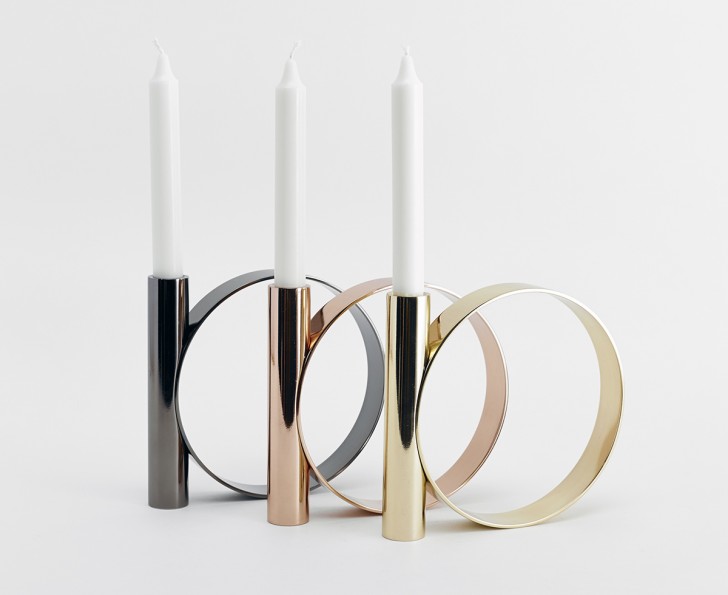 Ring by Bower, a play on the classic candle holder form in which the finger ring has been blown up to exaggerated proportions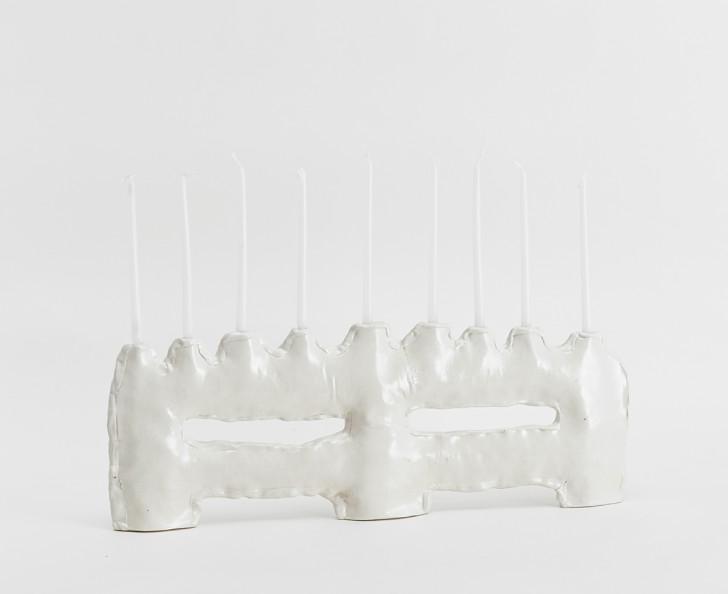 Menorah by Lauren Grand Lubell, made from hand-formed porcelain and Hannukah-ready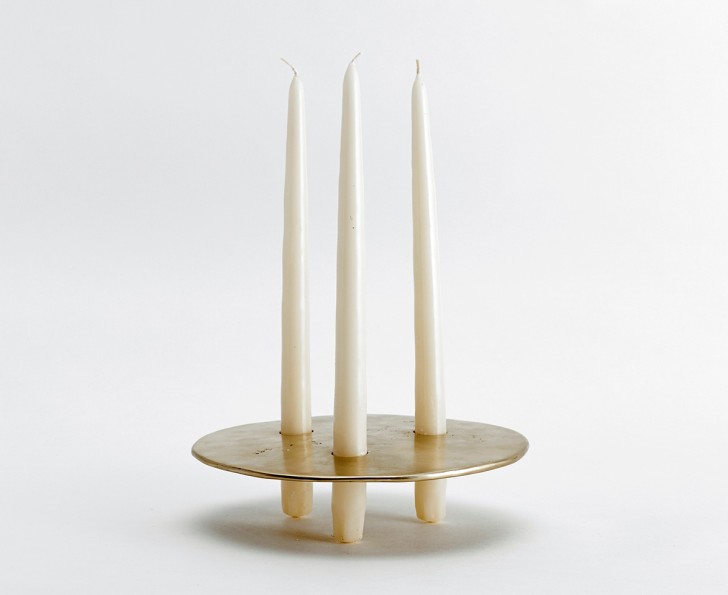 Aria by Bradley Bowers, a simple polished-brass disc held aloft by the candles it showcases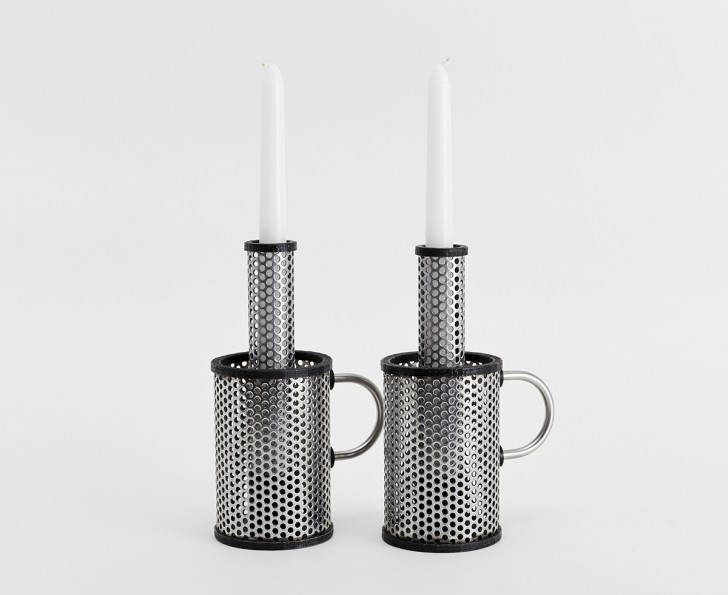 Baffle Candle Cup by Kora Monigle, made from motorcycle exhaust baffles and stainless steel handles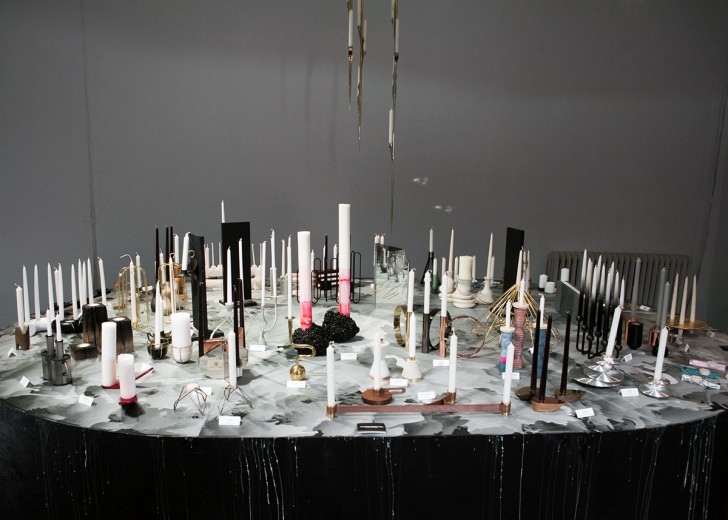 The show's presentation at Sight Unseen OFFSITE, where the candlesticks were displayed atop a large platform coated entirely in melted Joya Studio candle wax.