01.06.16
Wesley Walters' Perfect Mix of Scandinavian-Japanese Influences
Though Wesley Walters grew up in the Bay Area — and studied East Asian languages as an undergrad at UC-Berkeley — his work has the restrained, pared-back vernacular that comes from years spent studying and living in Japan and, more recently, Finland. It was in Japan, where he spent time in an exchange program, that his interest in design first piqued. Being so far from home heightened his awareness, making the rigorous Japanese approach to aesthetics more pronounced; his eyes were wide open.
A strange turn of events set him further on the road to design. While traveling through China, he ended up working as a translator for the production crew on the Quentin Tarentino movie Kill Bill, which was filming in Beijing. Walter's fluency in Japanese eased communications between Tarantino and the production team and ingratiated him to the set builders. He cut a deal to work with the builders on their next feature in Japan.
Years passed, but a career in design was the goal so he enrolled in a Master's program at Tokyo's Tama Art University in 2009. Wanting to learn more about the making process, Walters started a second Master's at Helsinki's famed Aalto school in 2012, where he now spends time in the woodwork and ceramics workshops, perfecting his craft and honing his reductive and essential design approach.
Currently living and working in Helsinki, Walters is considering his next move — staying in Northern Europe, working in Japan, or returning to the West Coast, which he says is still home. Though his aesthetic is authentic mix of Scandinavian and Japanese design languages, he'd be interested to see how the California environment and culture could have a place in his work. We recently caught up with Walters as he was preparing an exhibition on the other side of the world.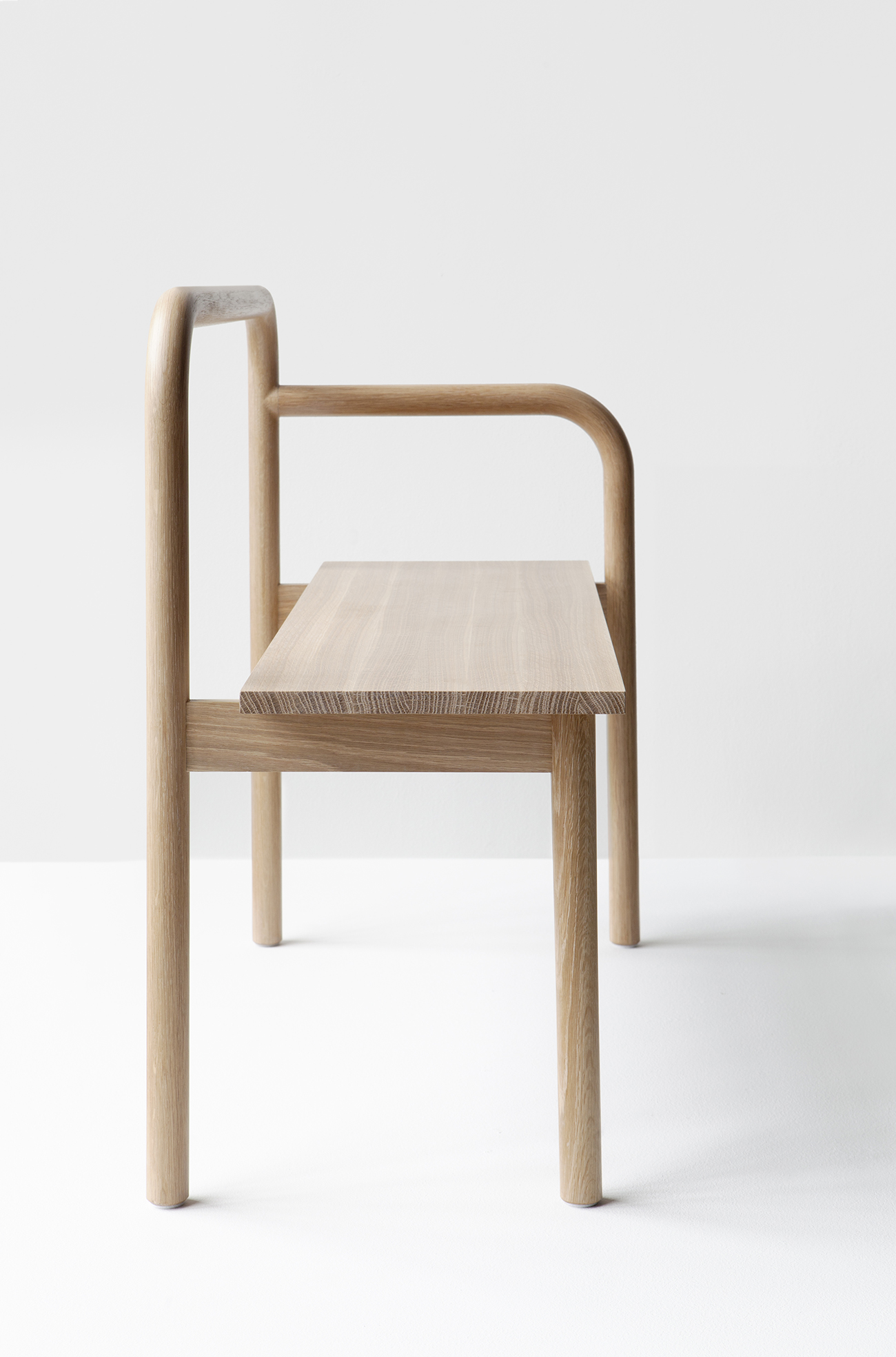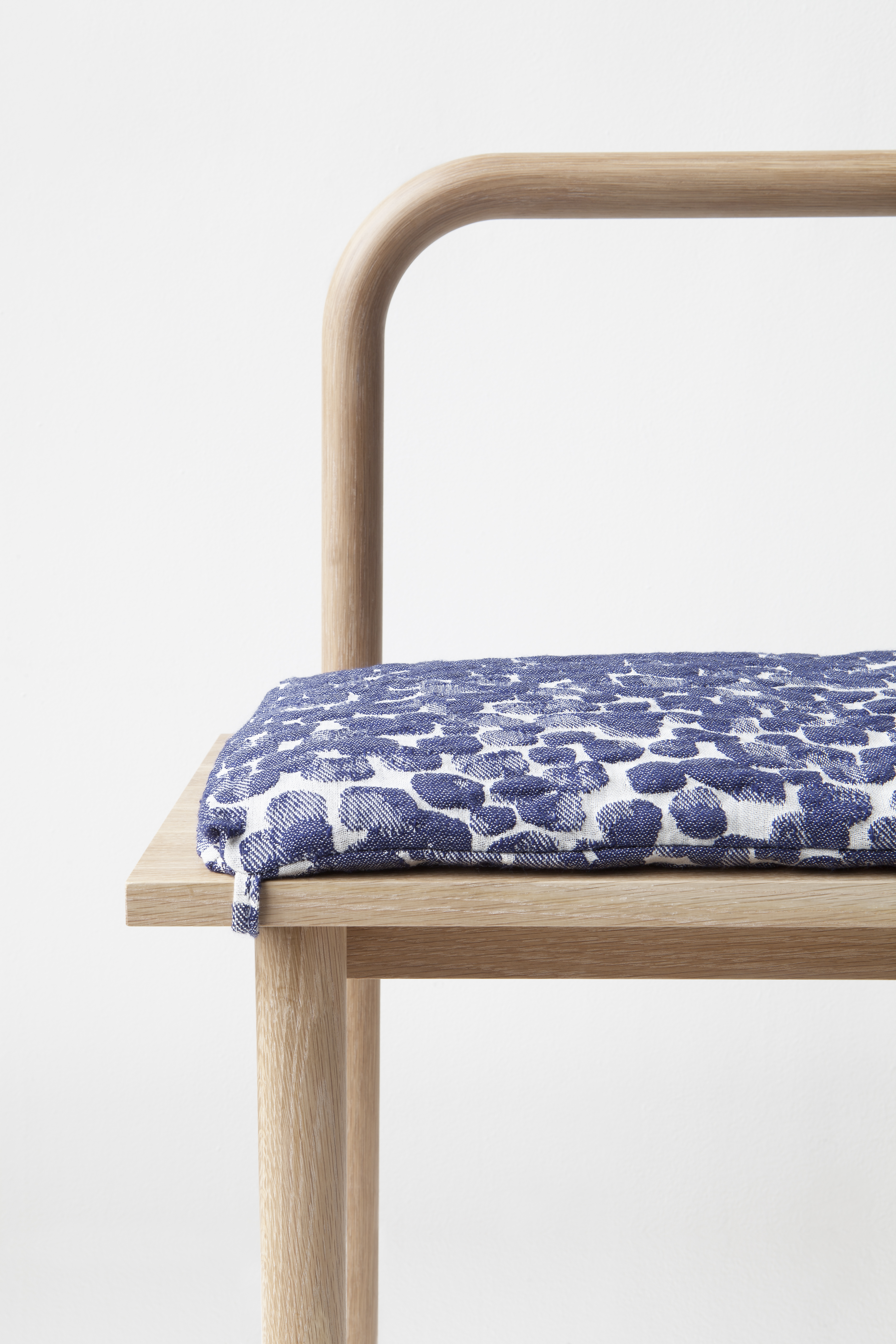 Describe your most recent project and how it was made.
I recently finished a piece of furniture for an exhibition of Finnish design that was shown at Design Week Mexico this fall. The prompt was to combine Finnish aesthetics with inspiration from Mexican culture. It was an interesting challenge, as none of the participating designers had ever been to Mexico, and Finland is, in geographic and cultural terms, extremely far away! I made an oak bench that took inspiration from the metal cylindrical handrails that can be found on 1930s and 1940s-era factories and residential buildings in Helsinki.
Making the piece was painstaking work. A friend helped me cut oak planks into two-millimeter strips, then sanded them to 1.5 millimeters. I layered, glued and bent and clamped the pieces around a jig roughly the size of myself (I am XXX)! I collaborated with Salla Luhtasela and Kajsa Hytönen, who made a textile seat that has a 3D surface, which resembles the texture of blue corn, which of course is significant to Mexican culture.
Describe your next project and how you're currently making it.
My next project will be my first furniture commission in Japan. The client is having a new home built for his family that will also house his osteopathy practice. It has been interesting having meetings with him as he has a deep knowledge of the human body and is more interested in the function of furniture than its form; in most cases the opposite is true. I am making a large dining table and chairs of varying sizes that will fit each family member. It will be modular and I want to limit too many changes to design elements and the dimensions.
I will be traveling to Japan with the finished parts and glue, to sand and finish it in the Japanese countryside. This might seem a logistical hassle, but the plan will allow me to see the pieces in situ, and provide an excuse for a vacation after six months of fast and hard work.
Tell us one thing that's been inspiring you lately and why.
Metal machinery parts and curved metal handrails. I often sketch and photograph abandoned steel machinery found here in Helsinki. These structures have a peculiar balance in their utilitarian forms that is heightened by the mystery of their intended function.
Paired with the patina of metal and decades of chipping paint, these structures take on the sculptural quality of forgotten monuments. I guess it's the way these pieces curve in space and the quality of things long abandoned that inspired me to catalog. These structures have been a major influence in the forms I work in, despite working with porcelain and wood rather than metal.
Show us your studio and tell us what you like about it.
I have access to a small, shared studio, but I find myself most often returning to the massive workshop in the basement of Aalto University, where I am completing my MA while pursuing professional projects. The workshop has double-height ceilings and daylight filters down from all sides. The building was built in 1873 to house the Arabia ceramics company and the far side of the building is still producing porcelain tableware 150 years later. The workshop provides not only access to machinery, but also to the expertise of a group of very talented craftspeople.
When I start a new piece I first gather information and usually sketch some rough ideas in a cafe. As soon as I have the outline of my concept I begin working with full-scale prototype in the workshop, cutting and sanding and screwing pieces together until I have a rudimentary model. From there I go back to the computer and model until I have rational joints and dimensions. I try to keep away from 3-D modeling software and develop my idea with my hands and eyes for as long as possible, allowing the material to lead the process. I know it is a luxury to be able to work this way, but the end result comes out substantially different than if I didn't have the time or means to build my own prototypes.