01.03.17
An Emerging Norwegian Design Duo, Inspired by the Scandinavian Winter
While others may bemoan this season's ever-wintery temperatures, young Norwegian design studio Domaas/Høgh look to the colder skies as an excuse to imbue their work with a bit of coziness. "This might sound like a cliché, but seasonal change is not something that passes us by without notice," note the duo, when asked what's been inspiring them of late. In truth, that awareness seems to be instinctive to Norwegian designers as a whole, what with their talent for conjuring warm interiors earmarked by clean forms and harmonious color palettes.
Ane Domaas and Kathrine Høgh met while studying together in the Product Design Masters course at Oslo and Akershus University College of Applied Sciences. Despite a similar education, the duo admit to having very different personalities. "To have a partner who challenges you to think and to communicate your ideas is very valuable," they say — which might also explain how their products can juxtapose playful compositions and color palettes, but all the while remain crucially functional. Iben, their adaptable bench-cum-table and stool evokes a clean simplicity, while Una, their colourful, layered-glass lamp — another well-received product shown during this year's London Design Festival — takes playful inspiration from the shape of a hot air balloon.
Their latest work revolves around clay and the process of developing porcelain glazes, which they do in a workshop that's conveniently located below their studio. It's a more time-consuming, but soothing, activity they're currently relishing. "You have to slow down when working with clay; you get more connected and attached to it," confesses Domaas. We recently talked to the duo about their latest work and the cold, ever-rich stimulus of the Norwegian landscape.
Describe your most recent project and how it was made.
Our most recent projects were shown at the London Design Festival as part of the 100% Norway exhibition in September and Salone Satellite in Milan in April. In London we showed our glass lamp Una, our bench/table Iben and the Folded set of metal trays and storage boxes.
Of all the products we have shown this year, the Una lamp received most attention. Una started as an exploration through sketches on a balloon shape and evolved over time into the shape it has today. The lamp takes cues from the colors and shapes found in the work of Norwegian goldsmith Jacob Prytz, and evolved into something that we believe is a mixture of lamp and sculpture.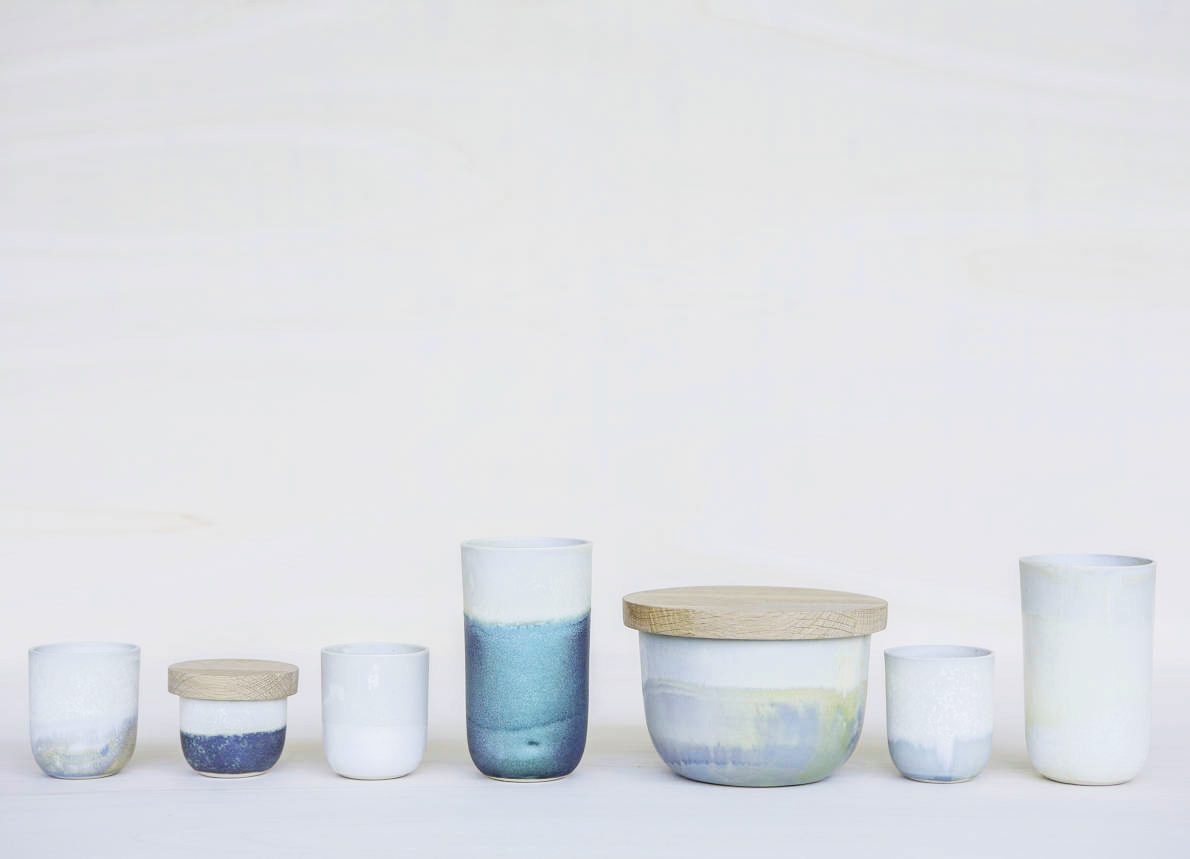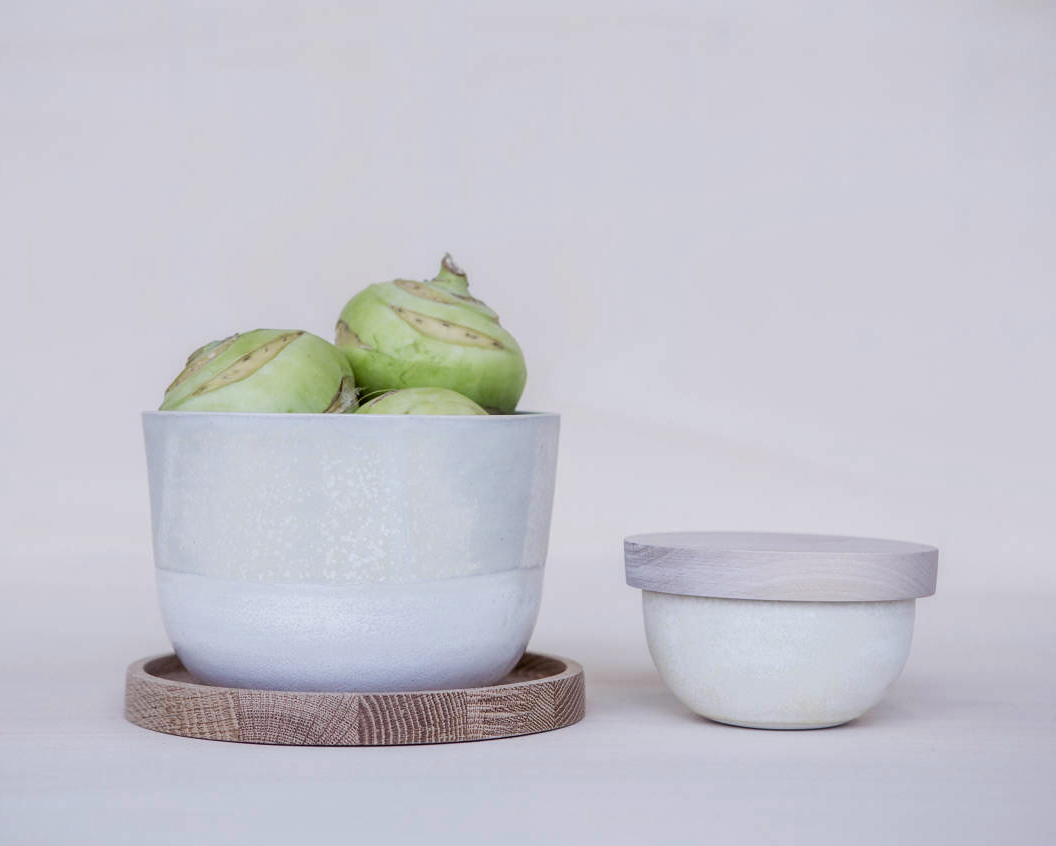 Describe your next project and how you're currently making it.
Now we are working with some porcelain vases in different shapes that we started before the summer. It is, in a way, a continuation of a previous project we've been working on, a series of bowls and cups called Taake (above). We wanted to develop this idea further and work with larger shapes and surfaces, but with the new vases we wish to explore the season winter in the glaze; experimenting more with different glazes and techniques.
We want to create an interesting expression in the glaze so when you get a closer look you can see all the exciting details happening. The shapes we achieve by turning a plaster mold on a lathe, before creating another mold from this shape with which we slip cast with porcelain.
The process of glazing is also very exciting. For us it is maybe the most exciting part of making porcelain products. So much can happen in the kiln and it can be difficult to control. We like this as well, but it can also be frustrating when you have a result that you might not be able to recreate. The result may not be satisfying at first, but after taking a closer look it may be interesting after all. So all in all it is more a trial-and-error kind of process, but it's very rewarding and we like that each piece is unique.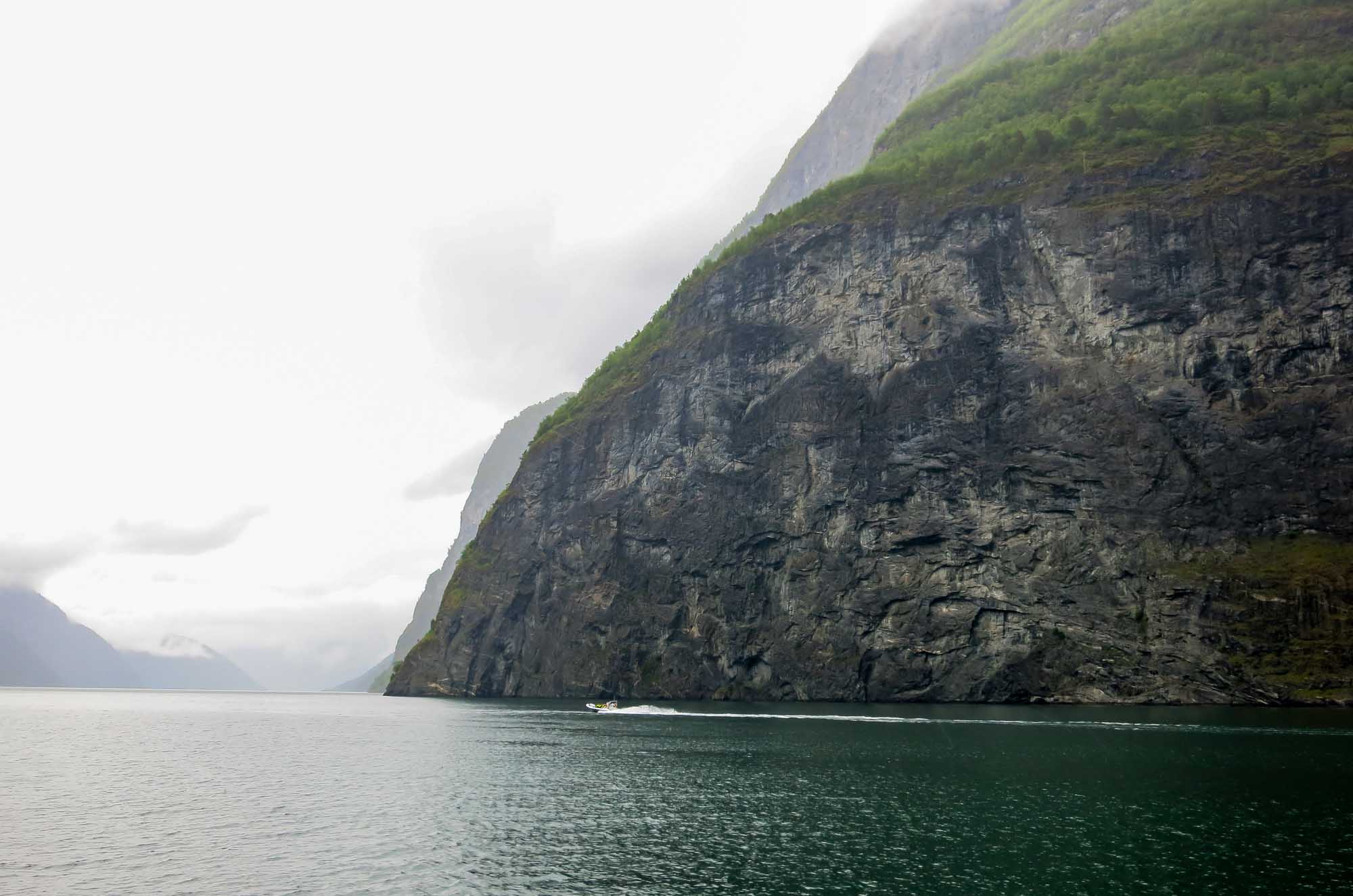 Tell us one thing that's been inspiring you lately and why
The weather is definitely a source of inspiration. Right now it's getting colder, and the light and colors outside are changing. A picture of the fog in Tjura inspired the idea behind the glaze for Taake — the name Taake means 'fog' in Norwegian and we wanted to recreate that landscape.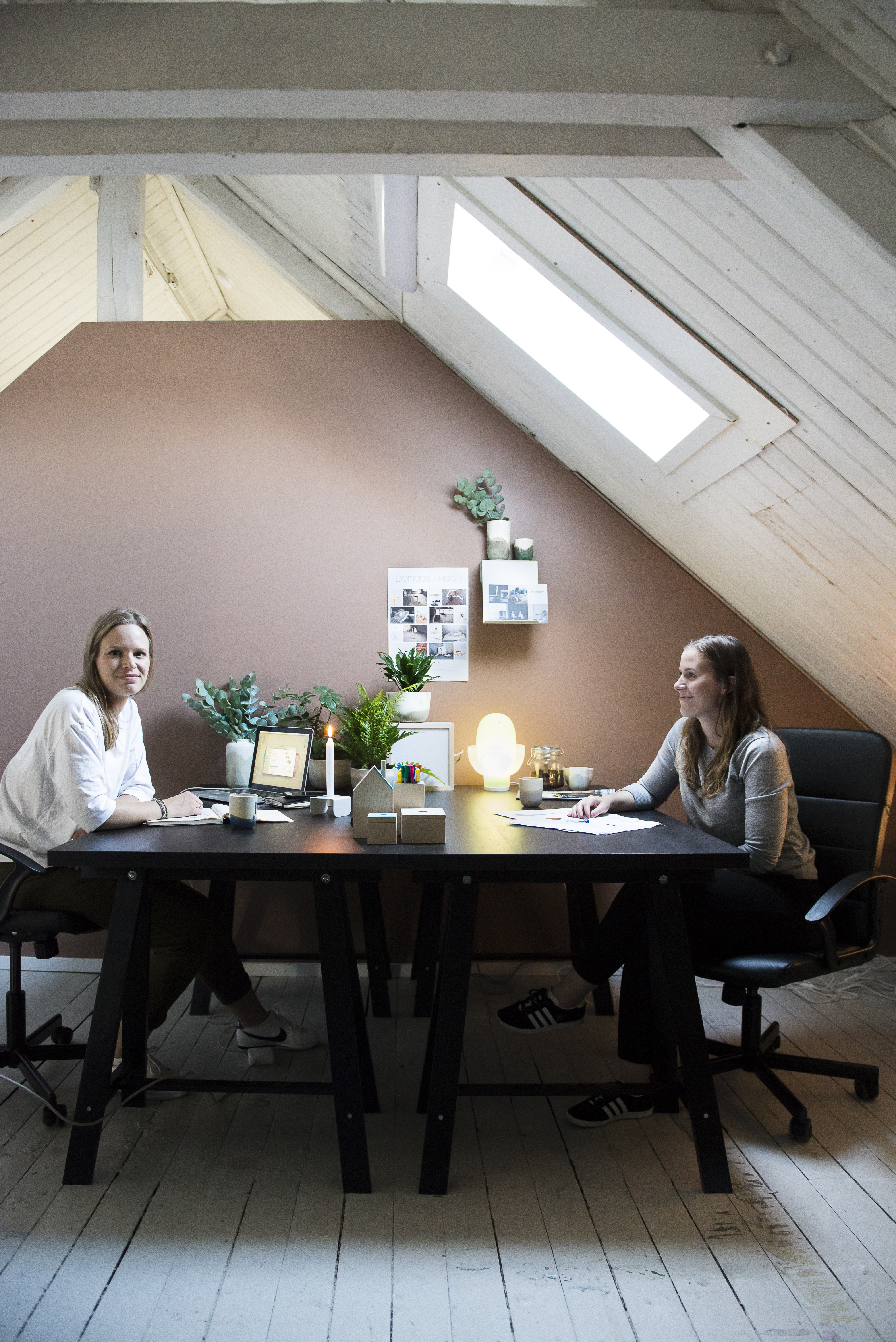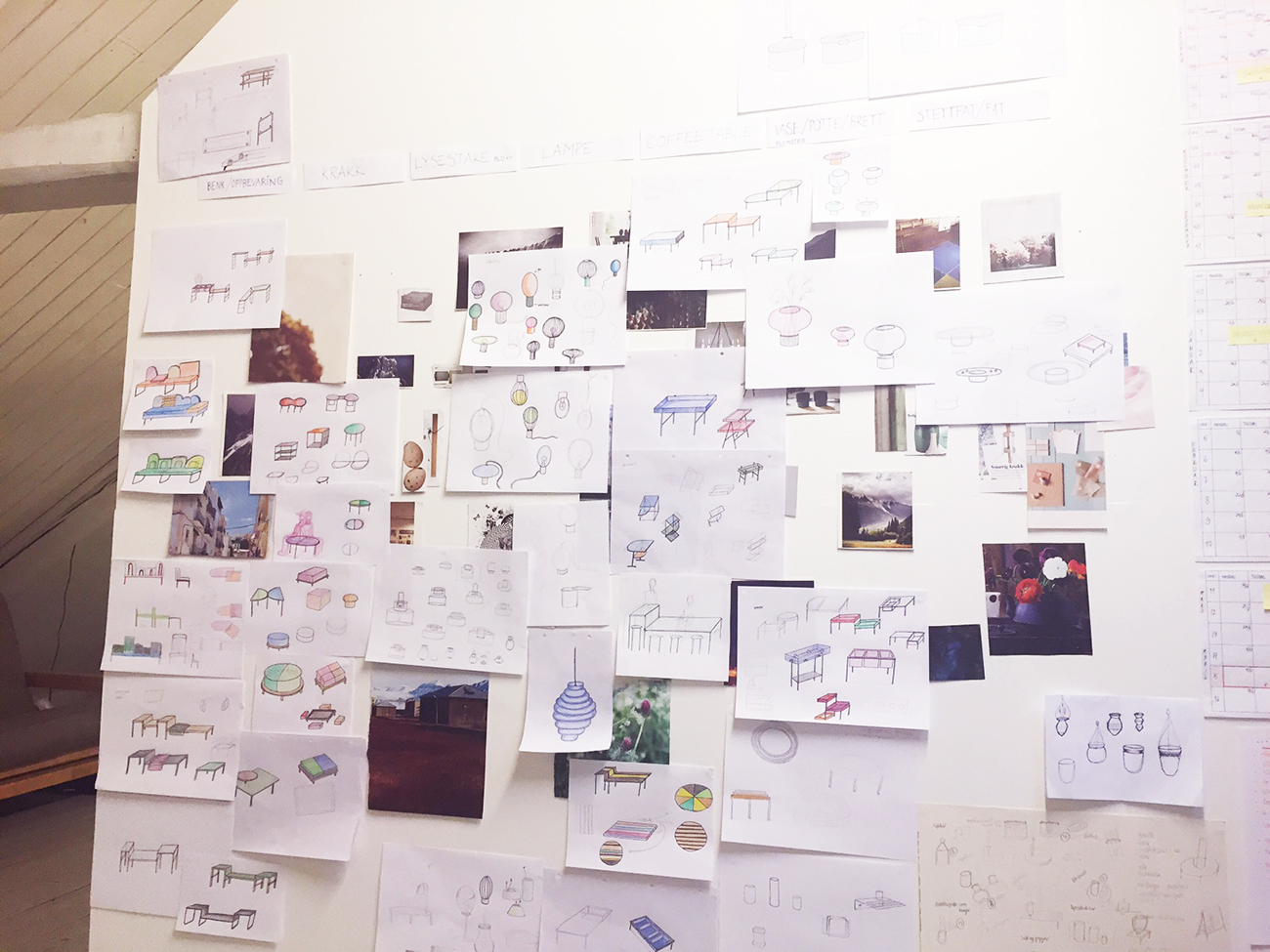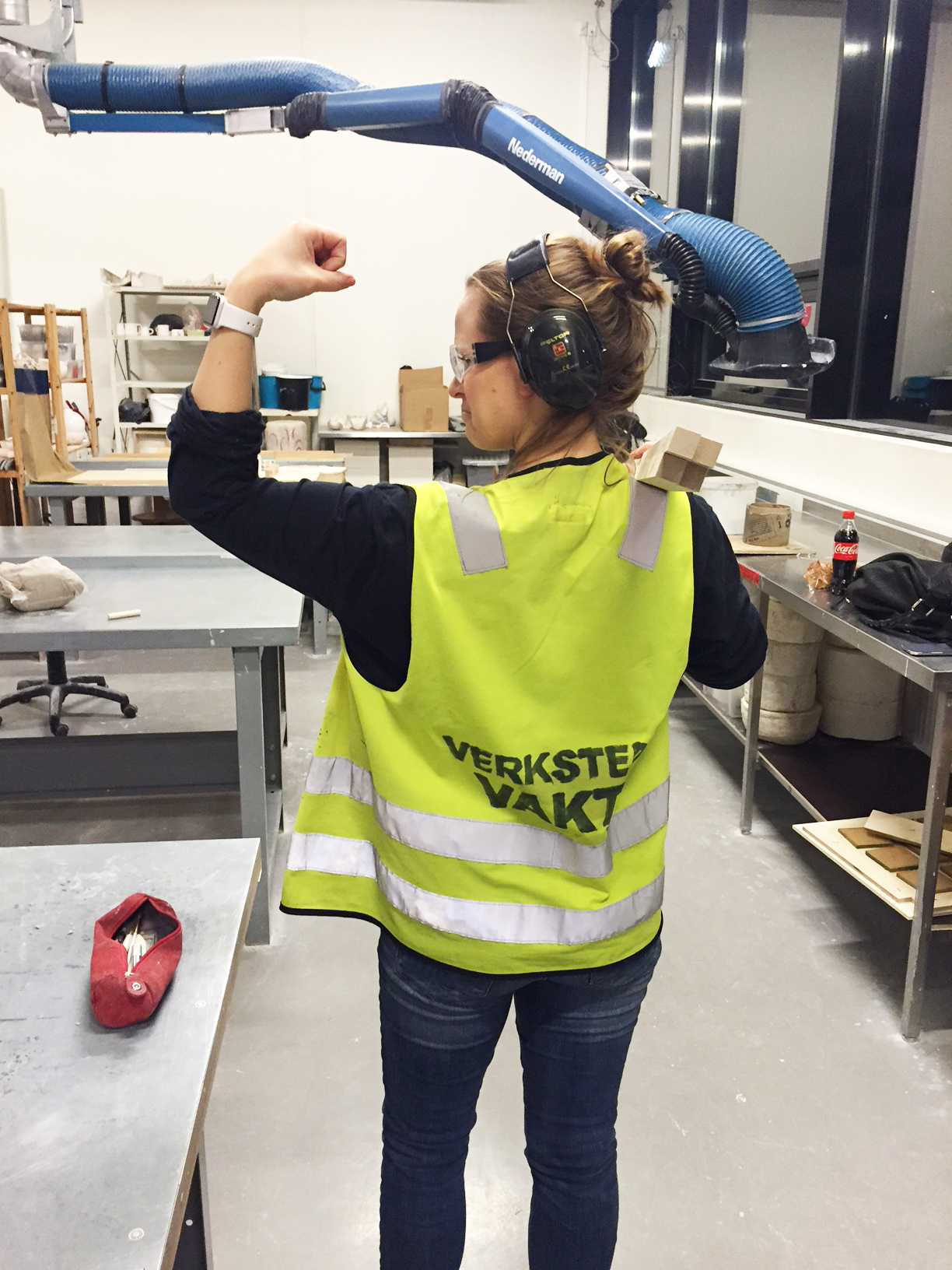 Show us your studio and tell us what you like about it.
We rent a part of a loft above a small workshop in the middle of Oslo, Norway. It's a very charming and pleasant place to work, but it gets a little hot in the summer and a little cold in winter. We need to invest in some blankets we can wrap around us soon — perhaps we could make textile design our next plan! But even with the weather changes we are very happy here and love all the strange nooks and crannies that follow an old building. If we need a break from work we can go out a little secret door onto the roof of our studio and enjoy a wonderful view over Oslo's rooftops.