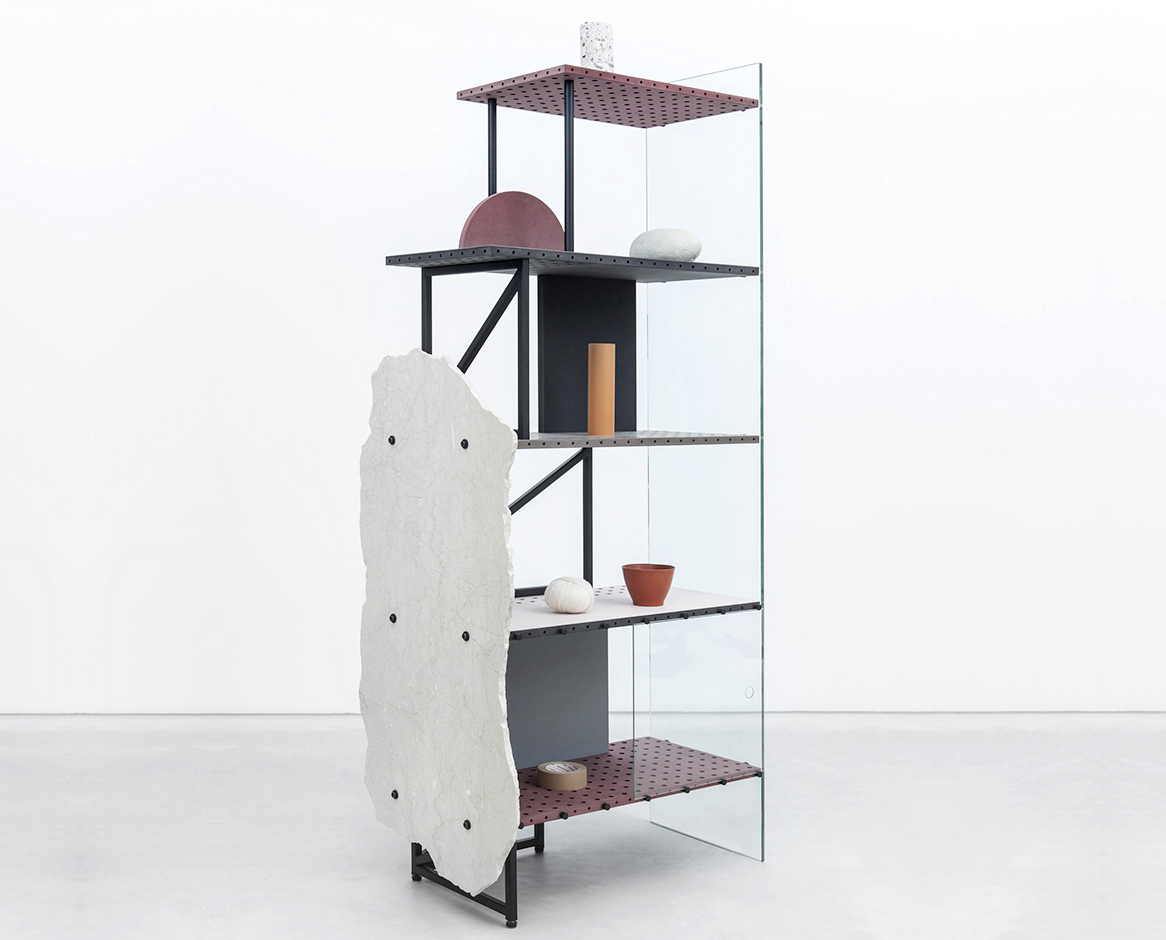 A weekly Saturday recap to share with you our favorite links, discoveries, exhibitions, and more from the past seven days. This week: a highlight from our new vintage-only Instagram, an epic pink kitchen with terrazzo countertops, and a shelving unit (above) that reaffirms our love for an up-and-coming Dutch designer.
Exhibitions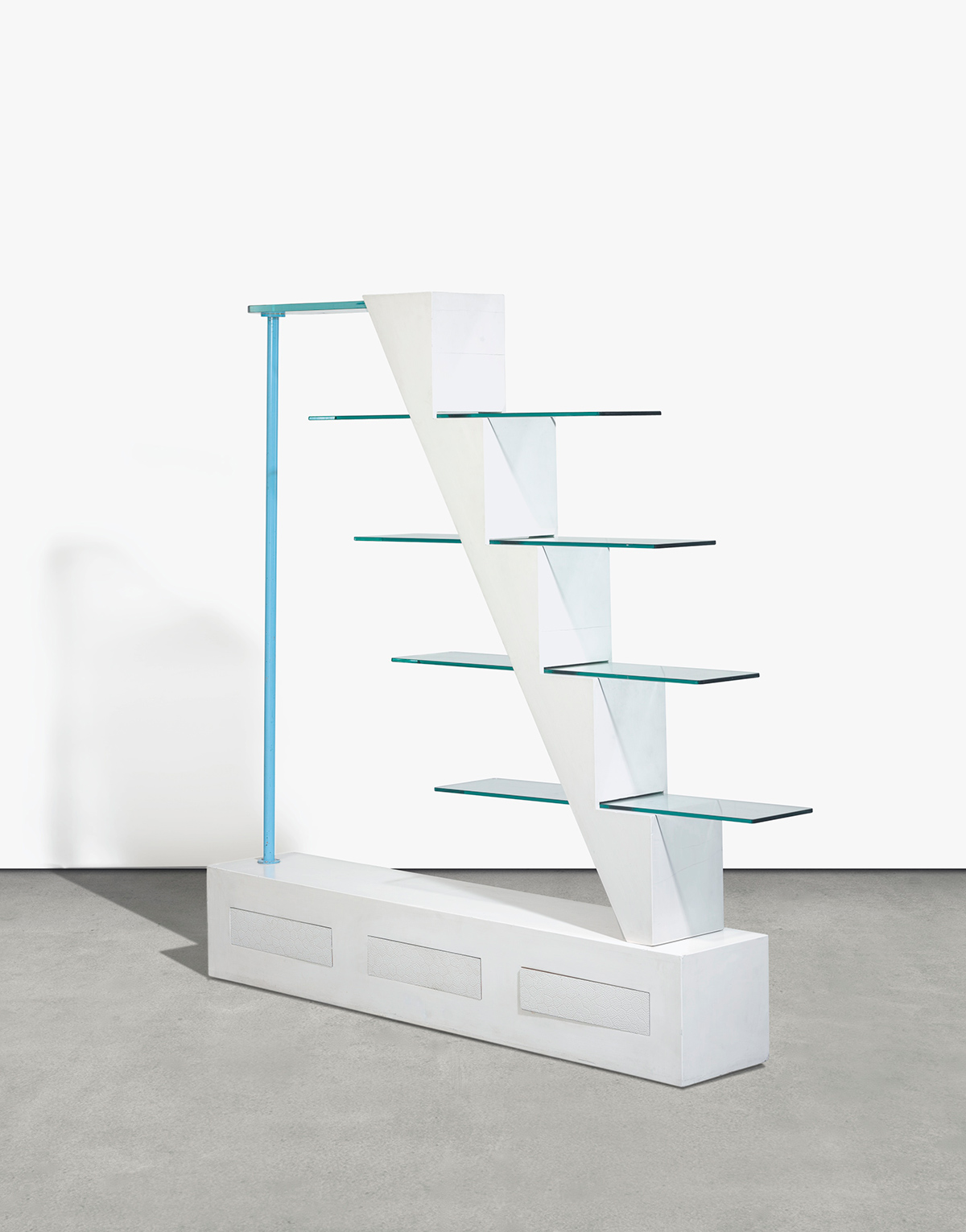 New York design gallery Friedman Benda is launching their second-annual guest-curated exhibition this Tuesday, called Static — conceived by the former MAD museum director Glenn Adamson, it's focused on the design of the 1980s, "an era of comprehensive breakdown in established historical trajectories (and) a time of extreme proclamations." Aside from a speckled Sottsass cabinet, the show isn't as Memphis-y as you might expect, with lots of organic forms and Gaetano Pesce chairs, but we couldn't help but single out this amazing 1979 Adalberto Librera bookcase by Andrea Branzi for Studio Alchimia.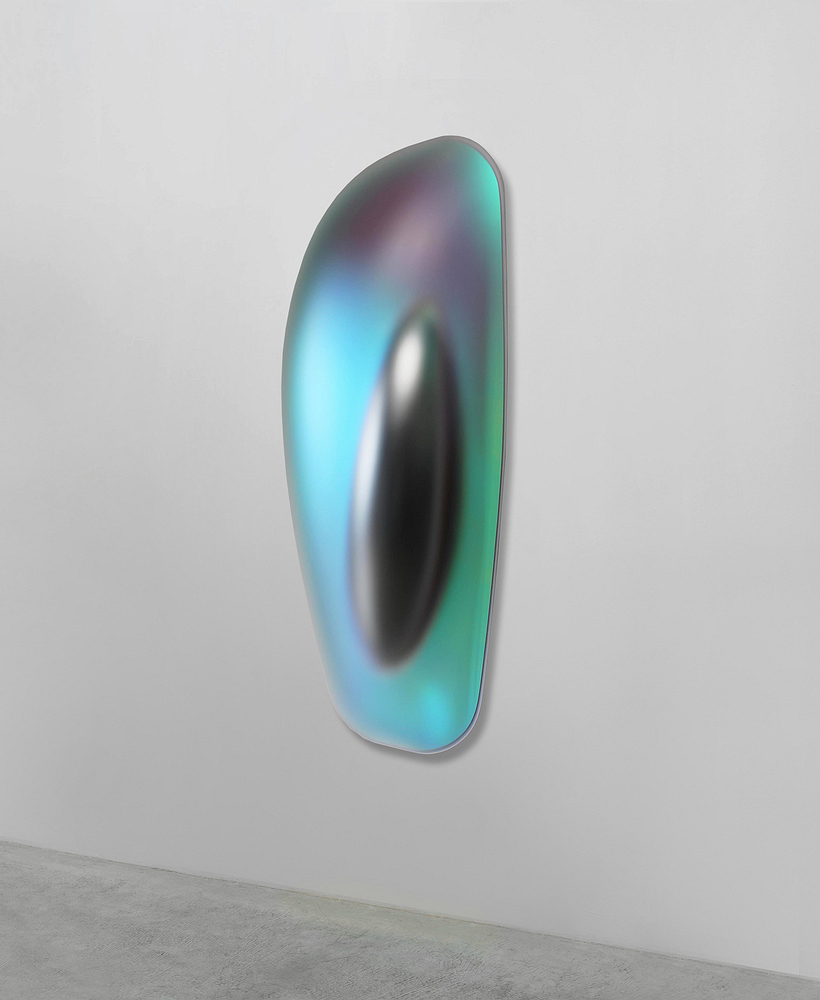 We've featured similar works by Los Angeles artist (and California Light and Space enthusiast) Gisela Colon before, but the new iridescent wall works she's exhibiting at her solo show at Diane Rosenstein, which opens tonight, are especially amazing.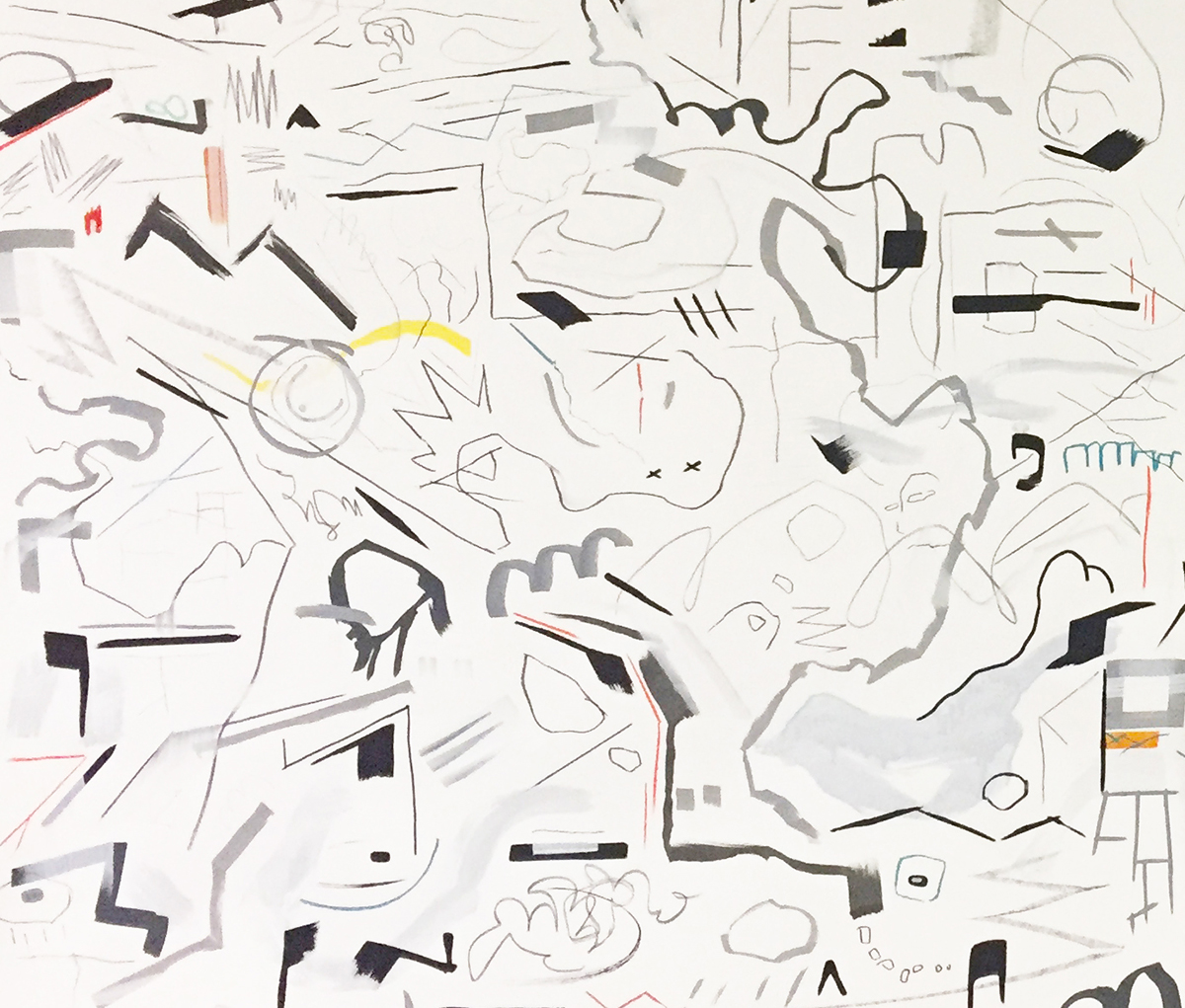 Digging the detailed painting/drawings of Matthew Kirk — who says he's influenced by Navajo rugs and architecture, among others — which are currently on view at Four A. M. gallery in New York.
Discoveries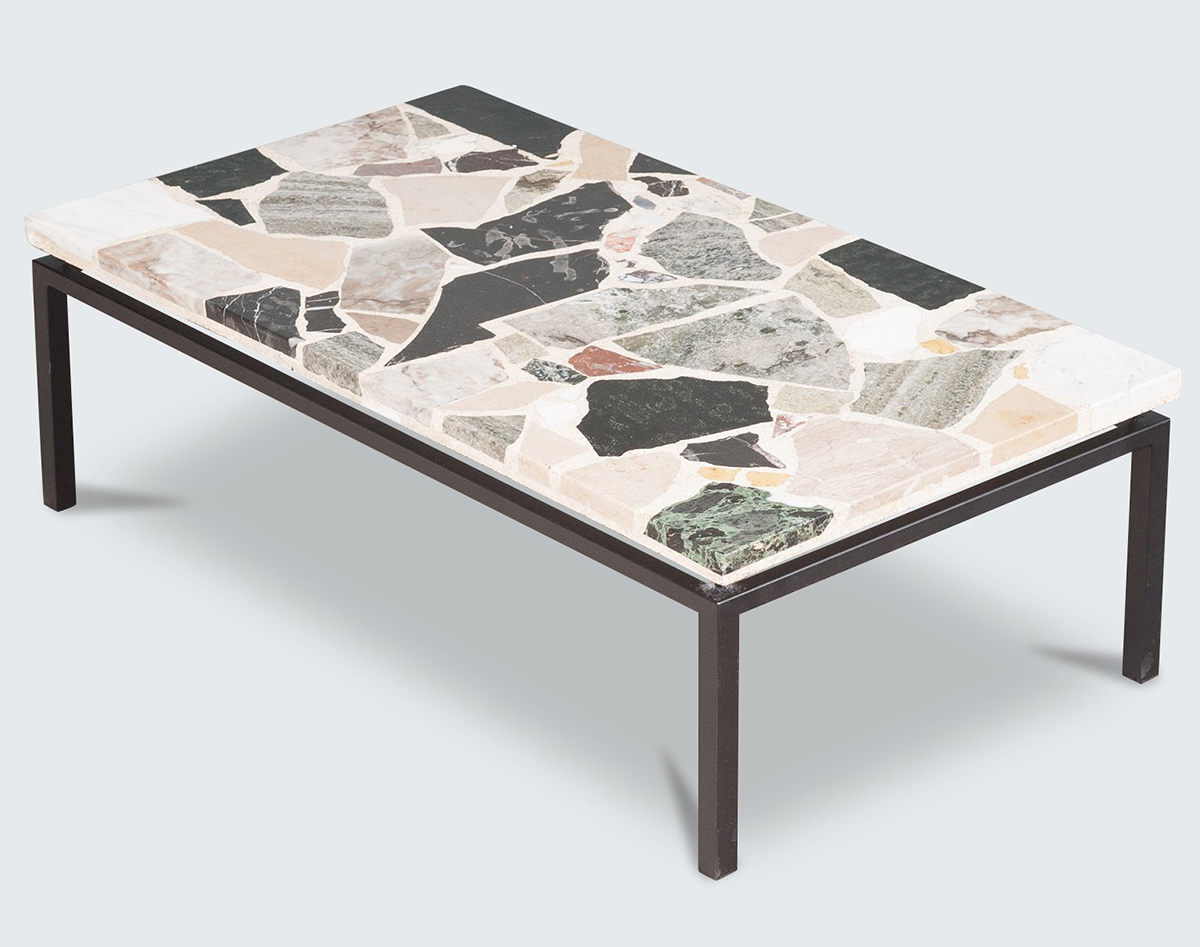 In the midst of our endless eBay, Etsy, and 1stdibs searches, both personal and professional, we're constantly uncovering vintage gems, then emailing them to each other with subject lines like "OMGGGG" and "!!!!!" This week we figured, why not share that enthusiasm with the world? We've just launched the Instagram @sightunseenvintage, where we're posting finds like the 1960s Dutch terrazzo coffee table above, and we hope you'll follow along.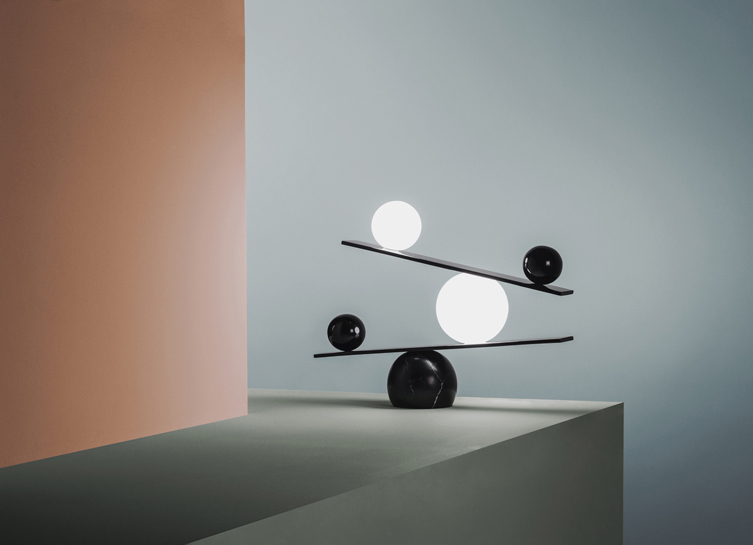 Victor Castanera's Balance Lamp for Oblure, which is debuting at Maison et Objet this month, is a strange hybrid between the simplicity of Michael Anastassiades, the palette of Lee Broom, and the humor of Moooi. But it kind of works, right?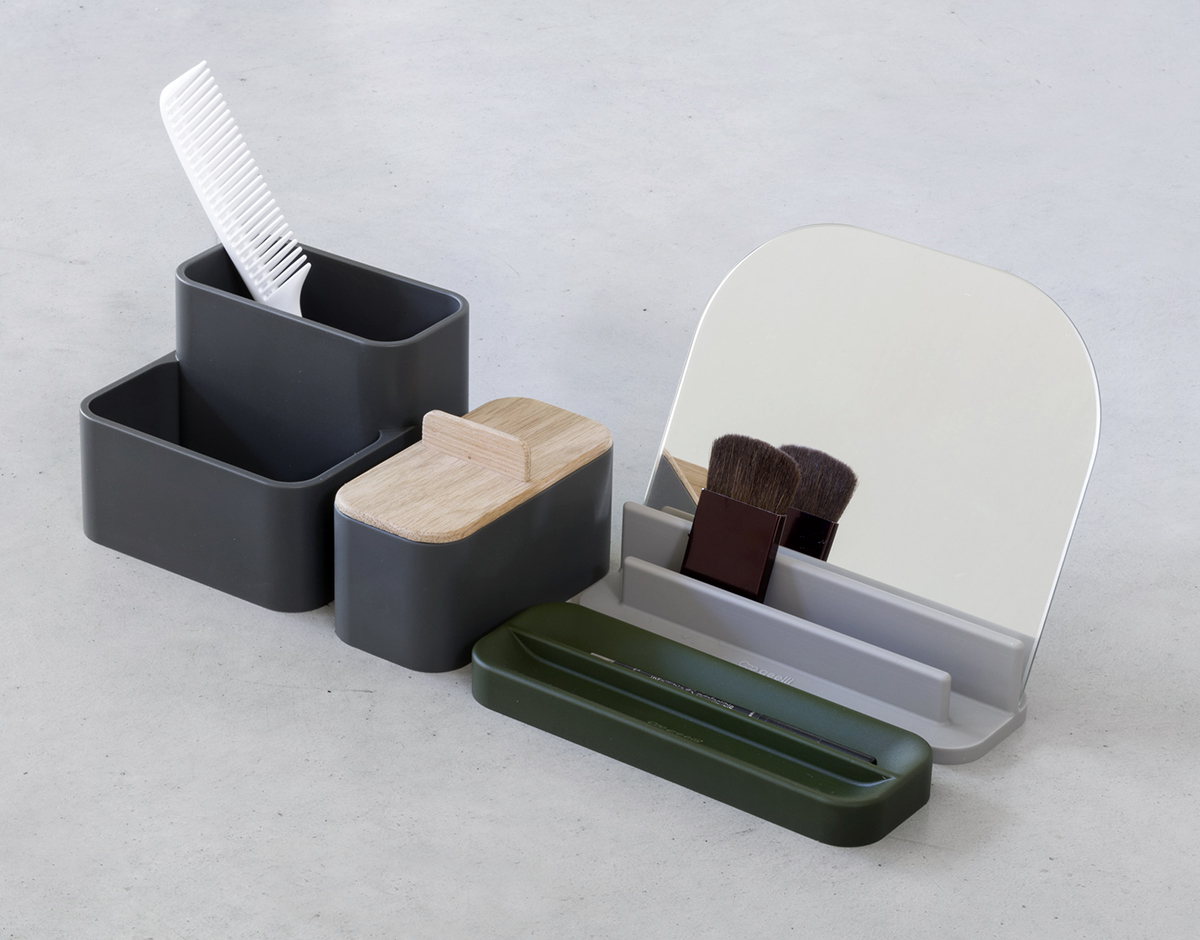 Finding some winter color inspo in the Landscape bathroom / bedroom / desk organizer by Eli Gutierrez, a Spanish designer who works between Paris and Valencia.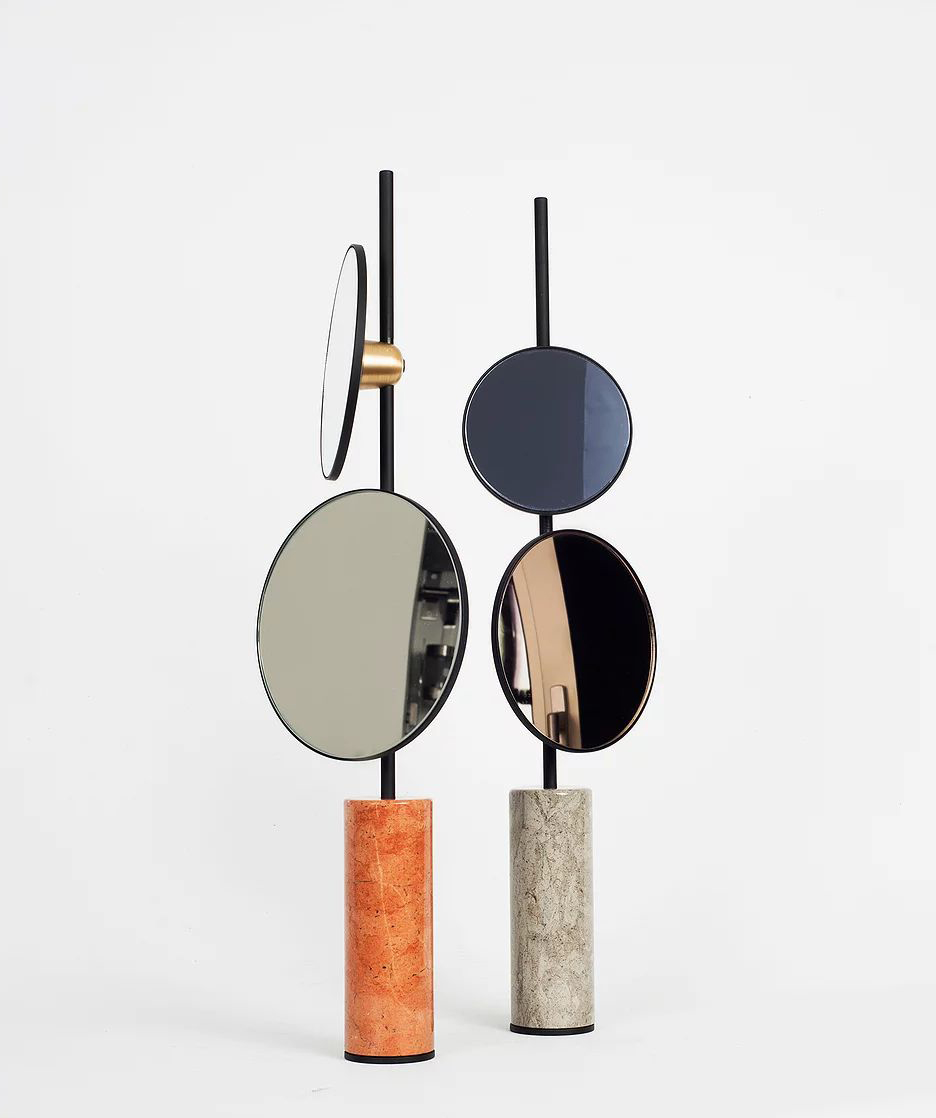 Most days one view of ourselves in the mirror is about all we can handle, but Nir Meiri's mirrors nonetheless provide two. We'd probably aim one at us and one at some trees outside, for a more meditative morning routine.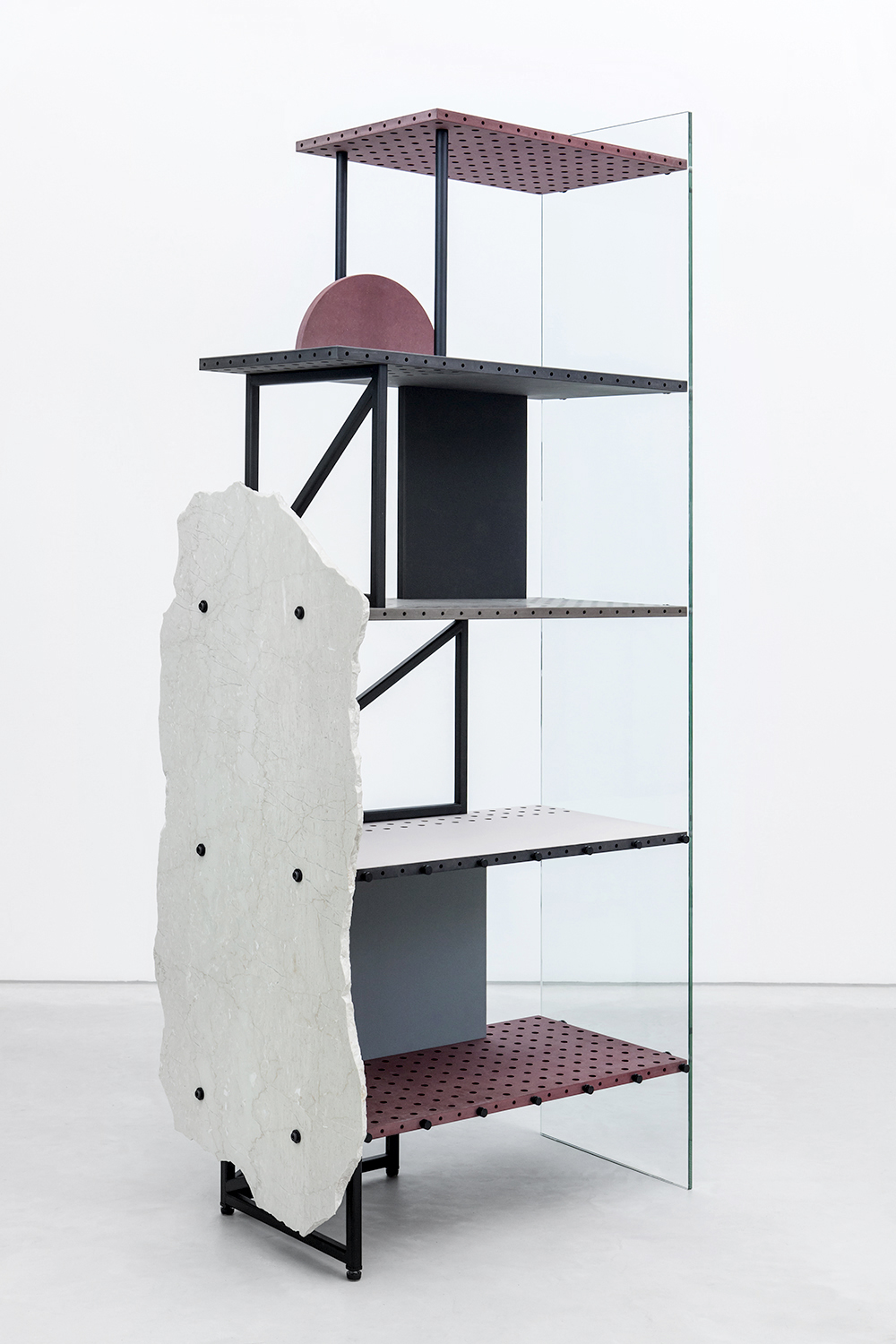 Considering the work she showed in 2016, Meike Meijer is fast becoming one of our favorite female European designers — how good are these reconfigurable Material Depot shelves? To make them, Meijer combined lineoleum and particle board panels from Forbo with a frame based on the open-source construction system OpenStructures. Oh, and some sort of amazing stone slab on the side.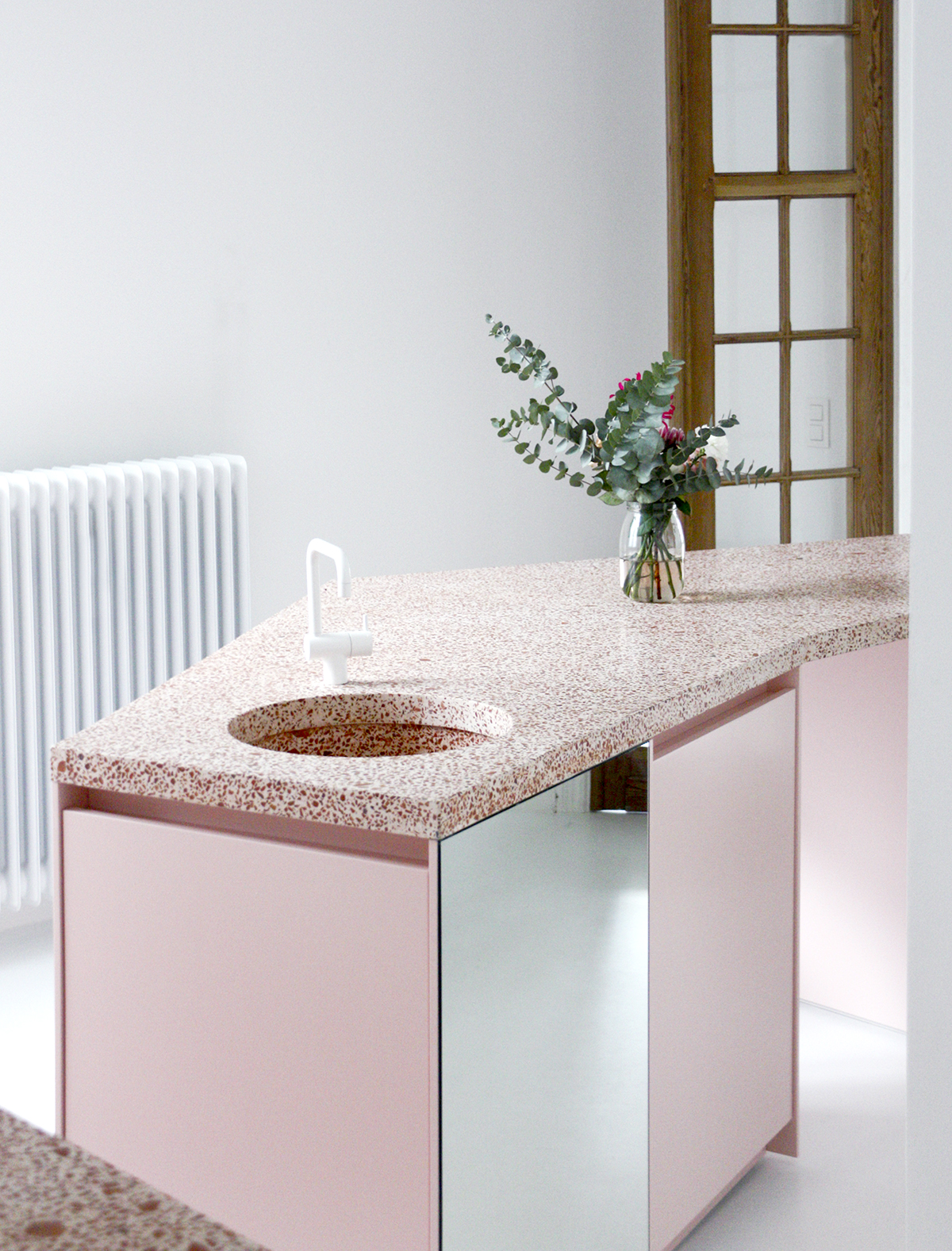 Speaking of terrazzo, this week we received this pink kitchen with speckled countertops in our inbox, courtesy of Atelier Dialect in Belgium, whose interior for the Antwerp store Step By Step we featured awhile back. Bonus points for the white faucet and range.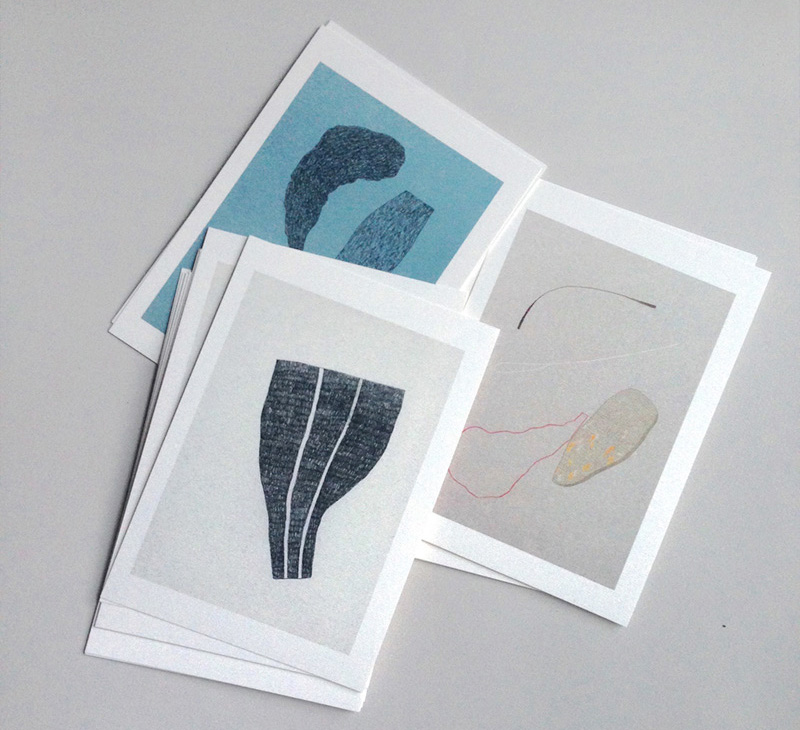 Mater Pingo, the French studio of Alma Charry and Joanna Martins, recently released a set of limited-edition 18-Euro prints by Charry in their online shop. Sure, the holidays are over, but that's kind of all the more reason to #treatyoself.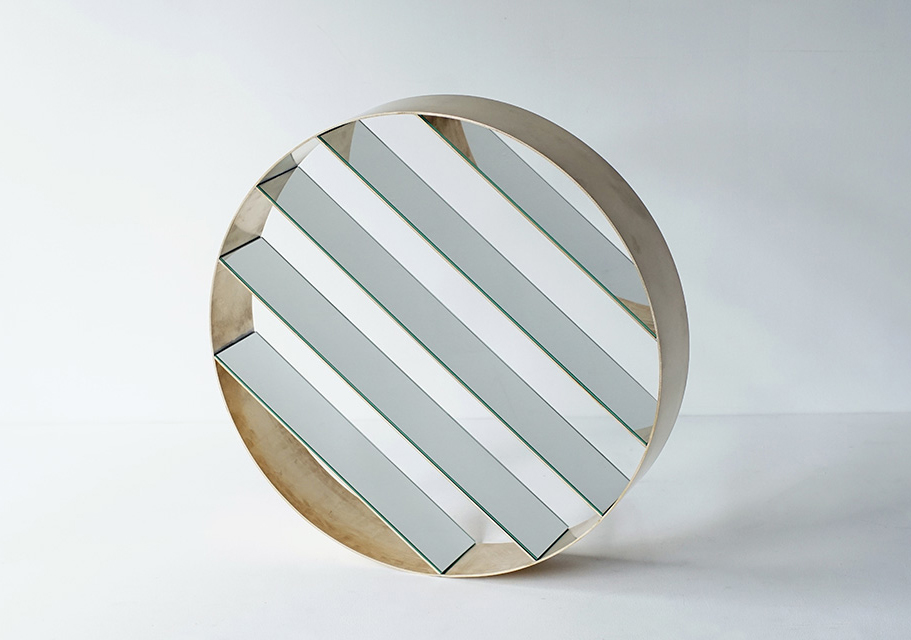 Beautiful — if not functional — new brass mirrors by the Japanese designers at Studio Note. This round version is one of three in a series that also includes a square and triangle.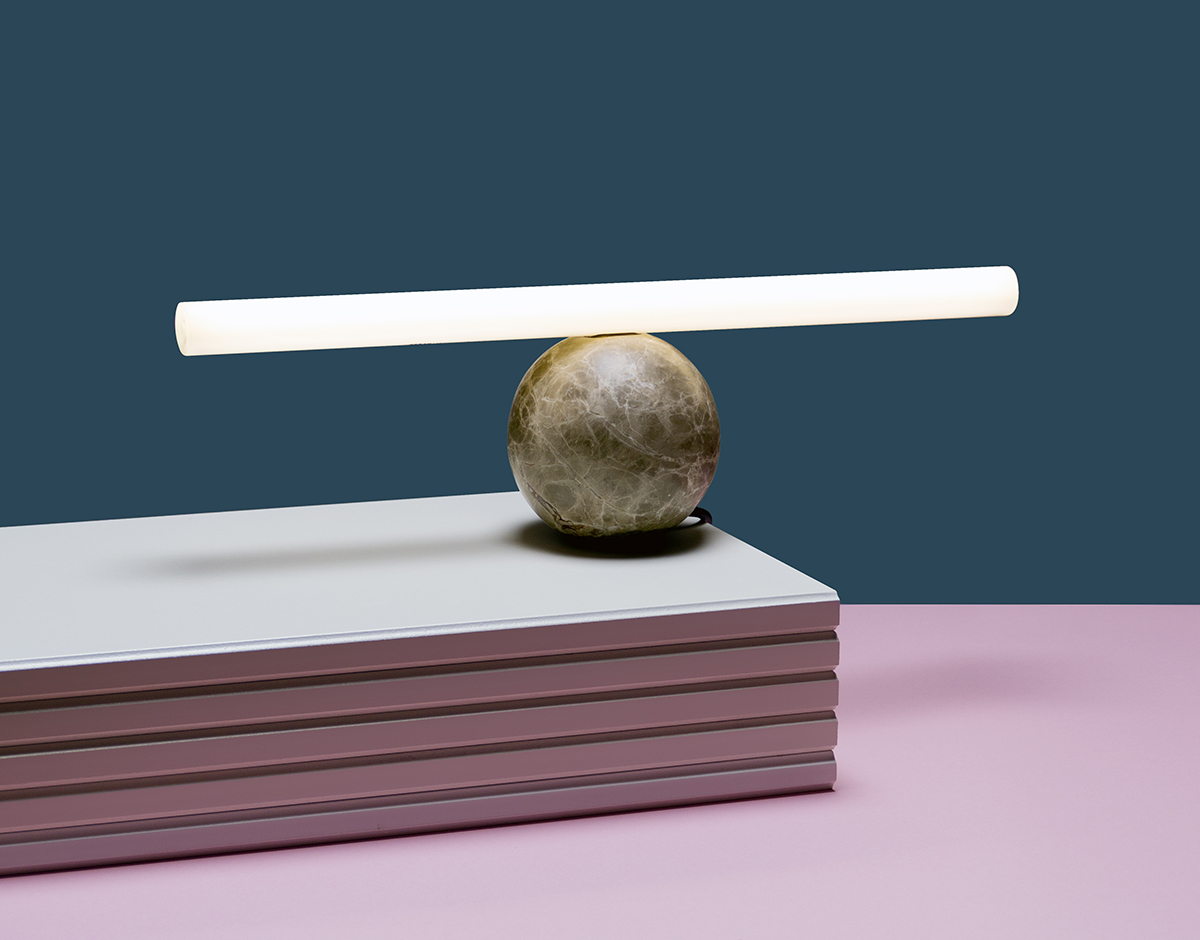 If you're an independent creative and you'll be in Los Angeles on February 4, come join me for a PR workshop at The Line Hotel, organized by the folks at Poketo! I'll be teaming up with Gillian Sturtevant of the top design PR firm Camron to spend three hours teaching a small group everything there is to know about getting press. Register here for $95, and you'll learn how to tell your story in a compelling way, how magazines decide what to publish, how to avoid the biggest mistakes people make when approaching the media, and the exact steps you should take when you're ready to go out there and get people's attention. (Plus, how to take amazing press photos like the one above, from Bloc Studios.)
Links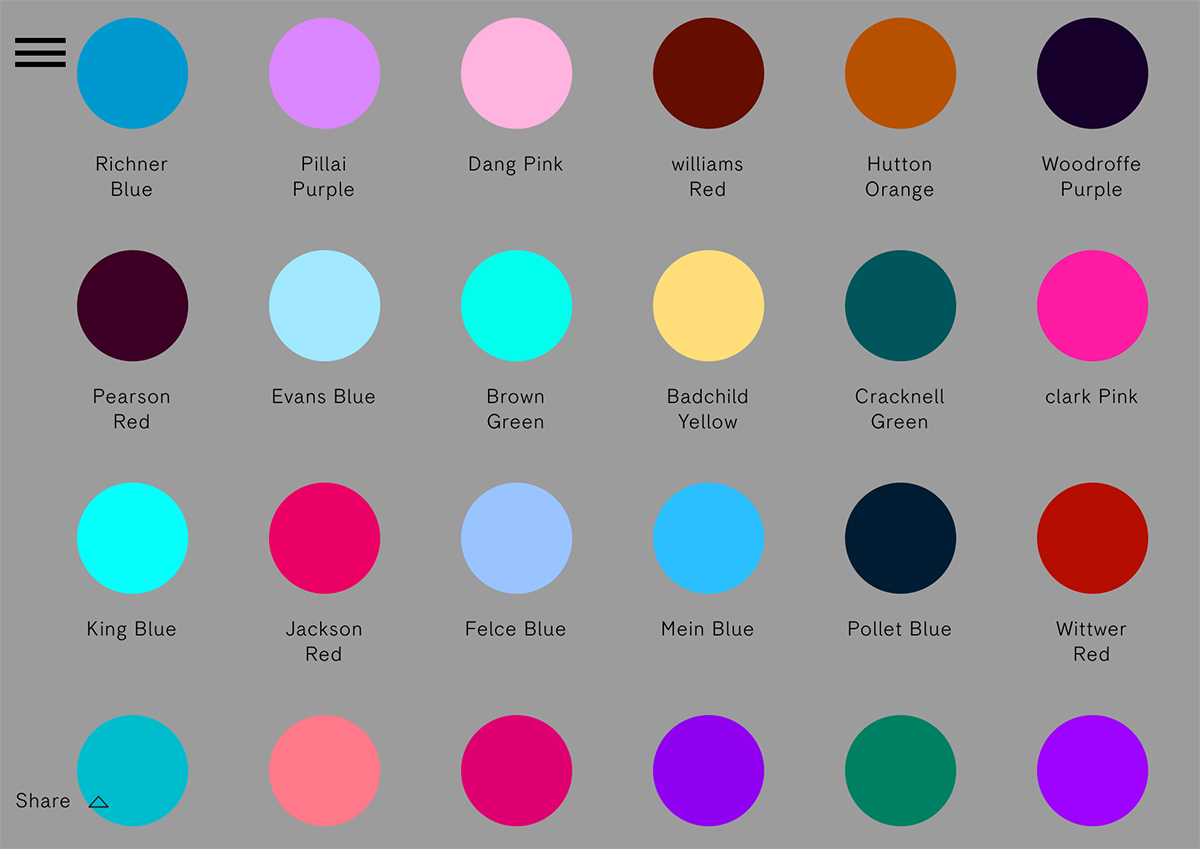 We wasted an embarrassing amount of time this week playing with this interactive color picker, which lets you find your favorite color and post it for the world to see. It's a marketing project by paper company G.F. Smith, but if you're a designer, it's also a legitimately interesting exercise in self-discovery.