08.29.17
The Berlin Illustrator Whose Beachy-Hued Drawings Have Us Feeling the End of Summer
Jonathan Niclaus is an illustrator and art director whose work nods to the periods and places that inspire him. Think the French Riviera on the cusp of the 1980's, sun-bleached sand and leathery skin, sparkling teal waters and an effervescent pink coastline. The Berlin illustrator's work is dreamy, yes, but aggressively visceral. "I have moved away from perfection," he tells us. "Imperfect forms and 'mistakes' help me conjure an artisanal feel in the final piece, though my main focus lies in color. It's always my first approach and what informs the final product."
In his work, Niclaus is often looking back on an imagined past, one that exists mainly in advertisements and promotions, in posters and other graphic ephemera. Drawing inspiration from the organic shapes of Palais Bullies architect Antti Lovag for a Say Hi To magazine commission resulted in a series of beachy-hued abstract renderings in which the domed structures became, at least in one instance, a hardened nipple peaking out (pun intended) from a mountain of bosoms. His location-based narrative work for LOST iN magazine references an archival design language that feels decidedly retro, but in a pleasingly contemporary context. Recently, Niclaus collaborated with Slowdown Studio on a pair of blankets — available for sale in the Sight Unseen Shop — marking the illustrator's first foray into textiles. "I was so psyched when I held the finished products in my hands. I could see the shapes transform as the blankets moved, showing endless variations and forms of the same illustration." We spoke with Niclaus about his process and inspirations, and what the future holds for someone so firmly rooted in the past.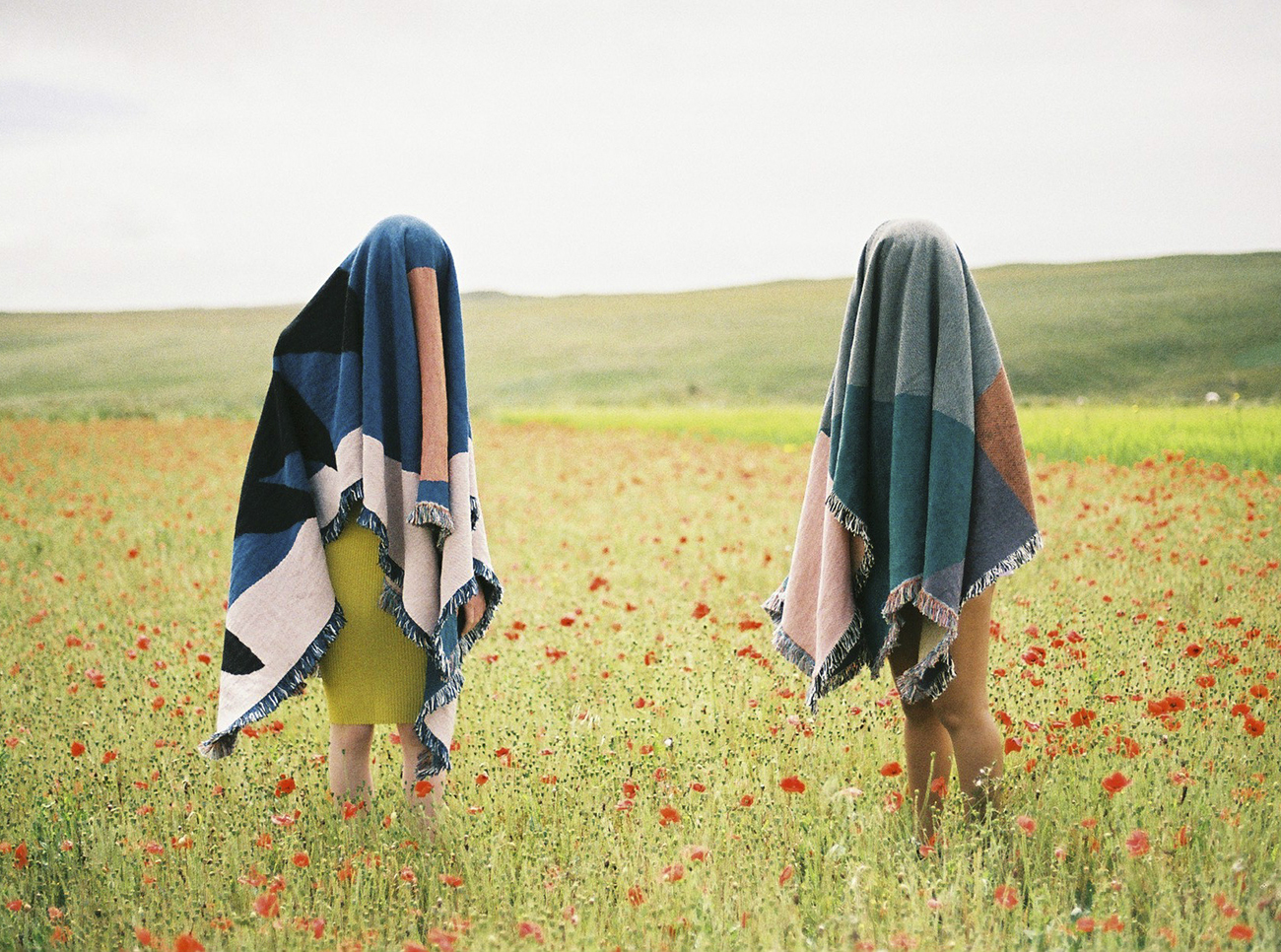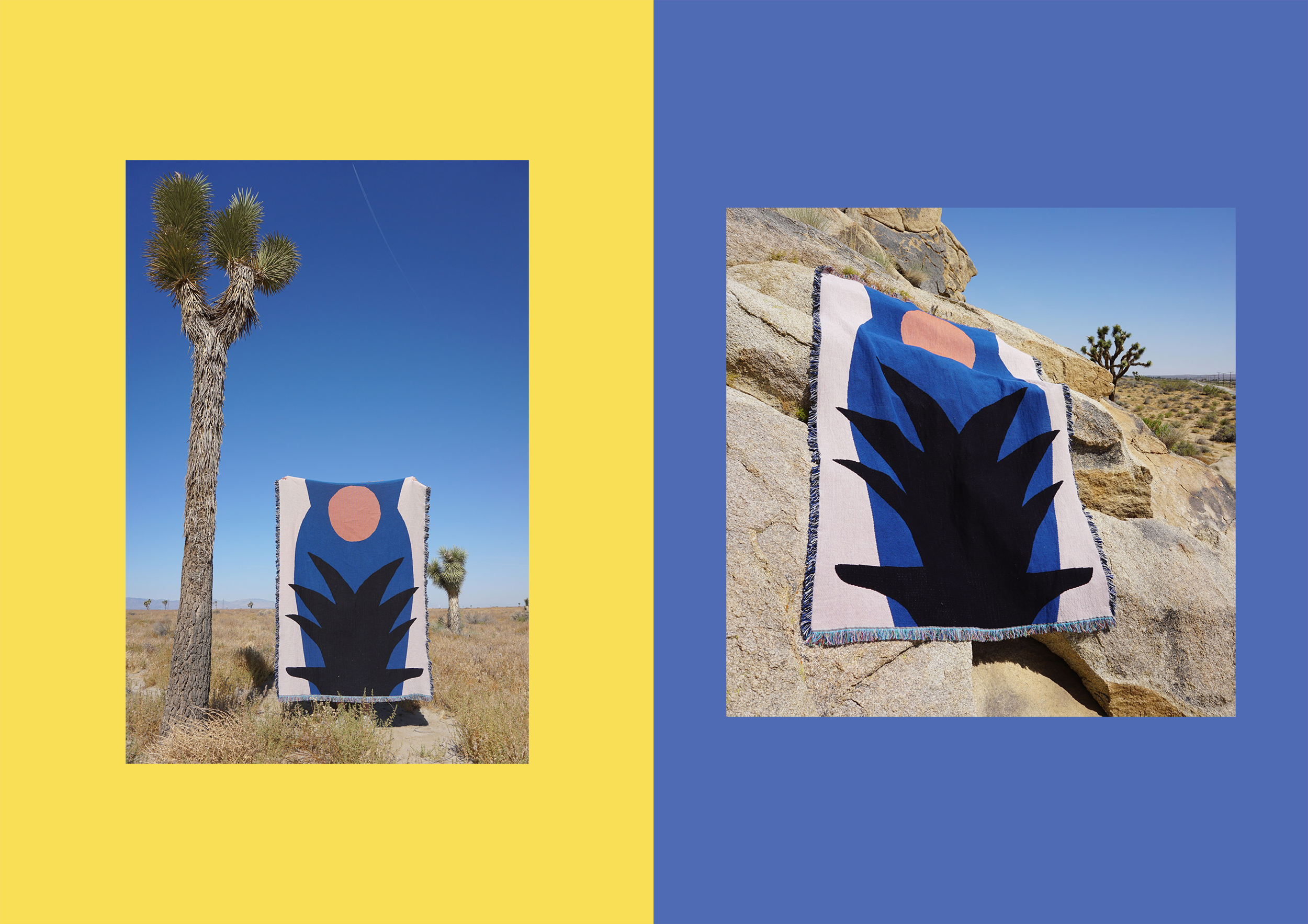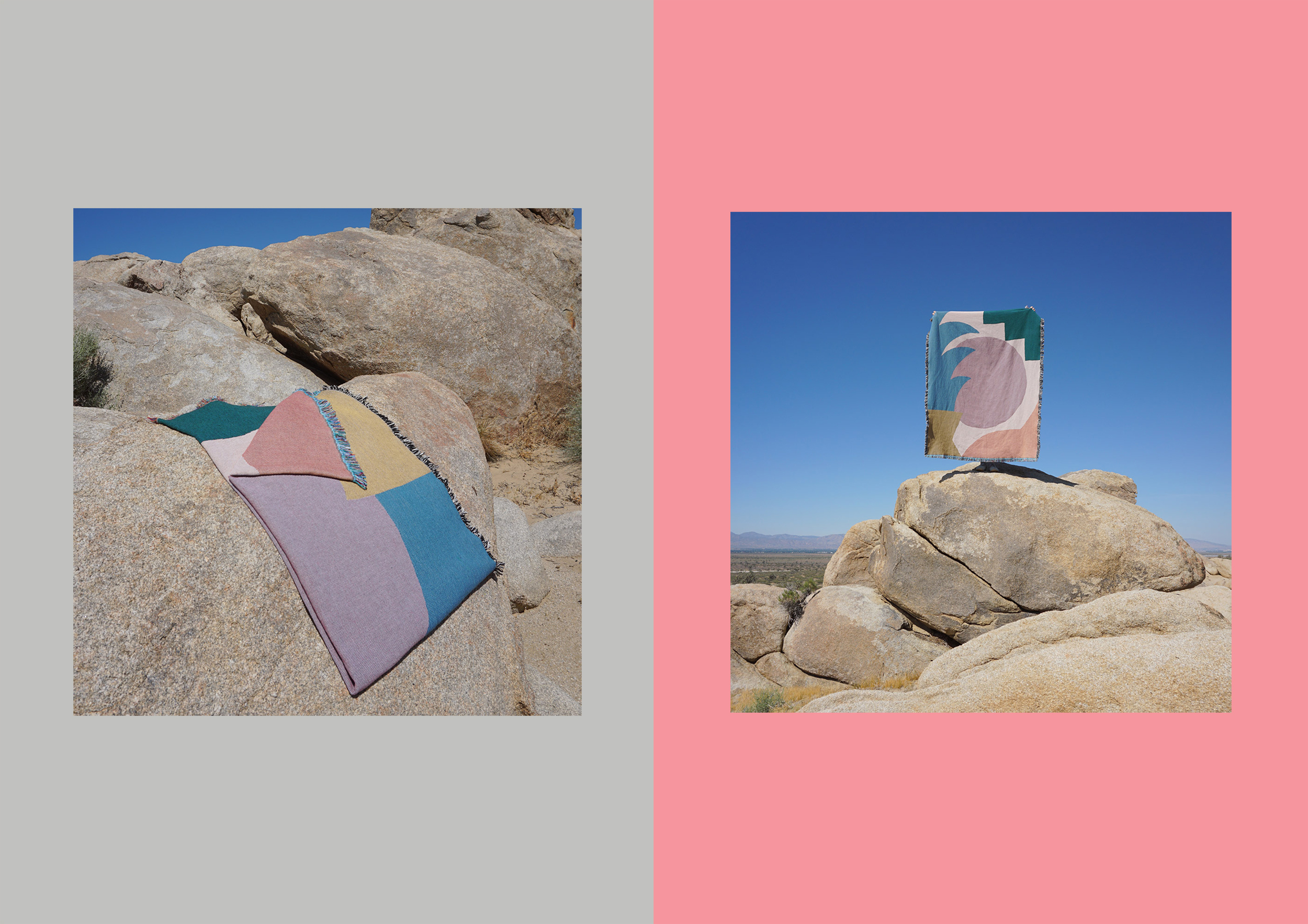 Top image © Pia Schiele
Describe your most recent project and how it was made.
It's always amazing when people reach out to you, especially artists or companies that you already admire. I am always combing through Instagram to find inspiration and to see what kind of fantastic projects others are getting up to. One account I always go back to is Slowdown Studio. They collaborate with designers and illustrators worldwide to create gorgeous woven blankets. So I was over the moon when they got in touch. They asked me to do two blankets. I have made designs for lots of surfaces, but a blanket was a new one! I was fascinated by the idea that the designs would be a moving surface coming to life. It's kind of like adding a third dimension to a two-dimensional painting. So I used a graphic collage kind of approach to fit the medium.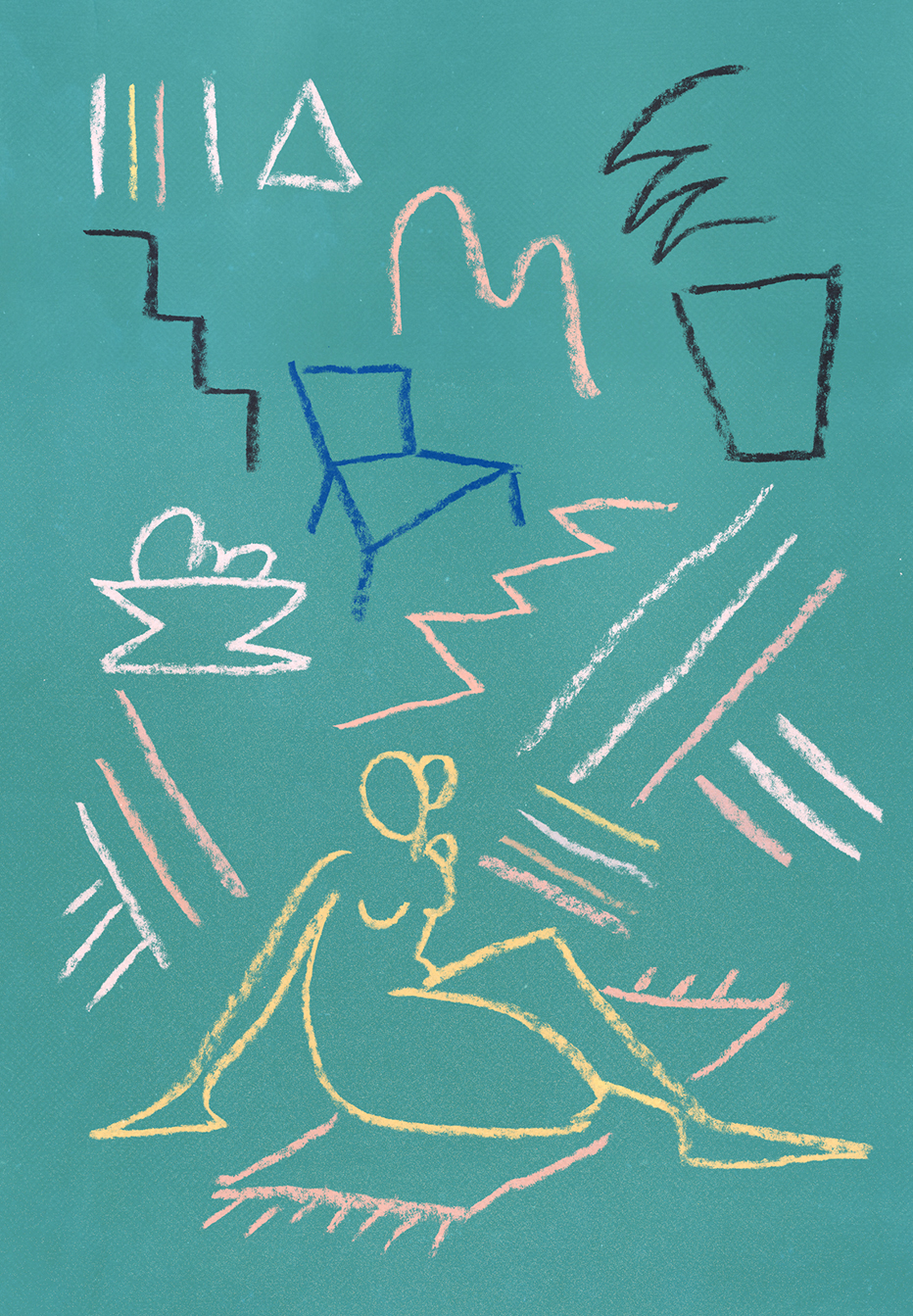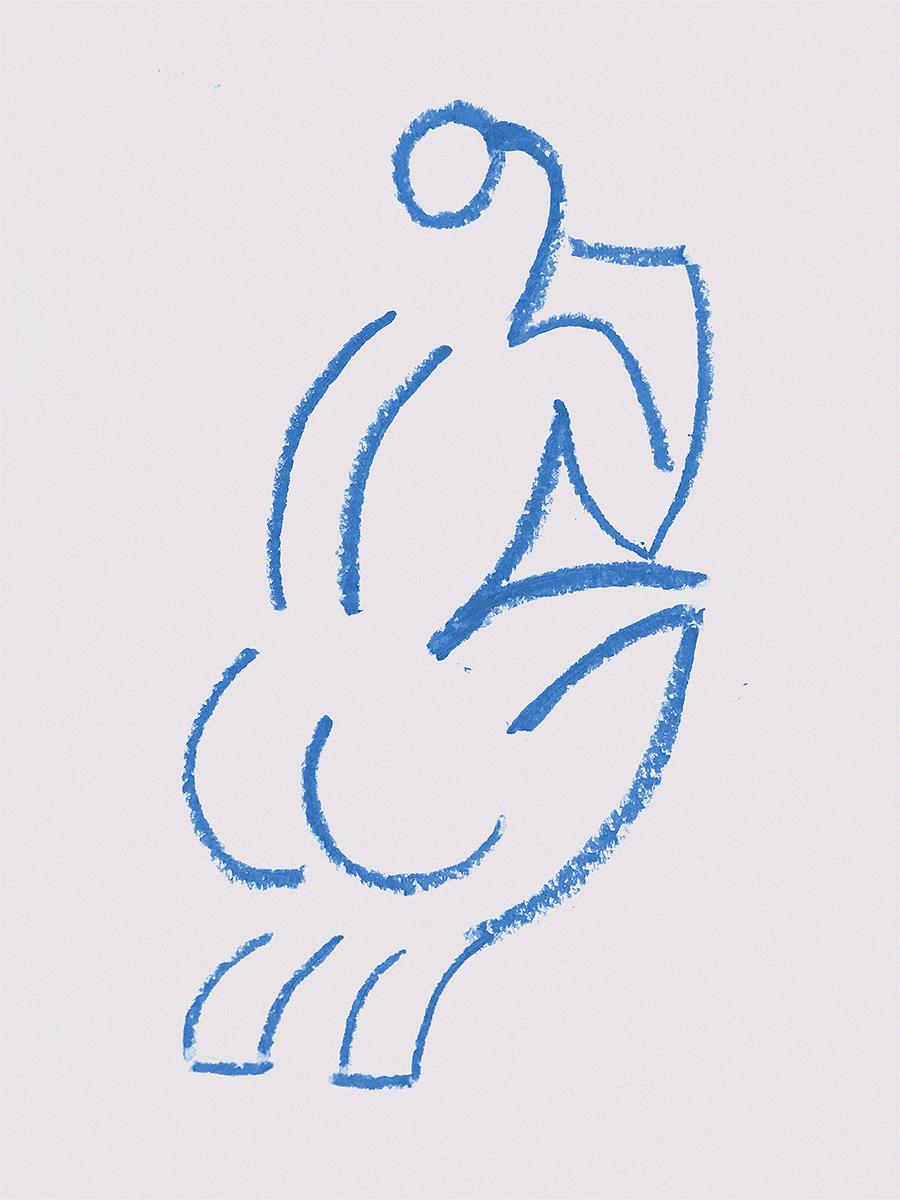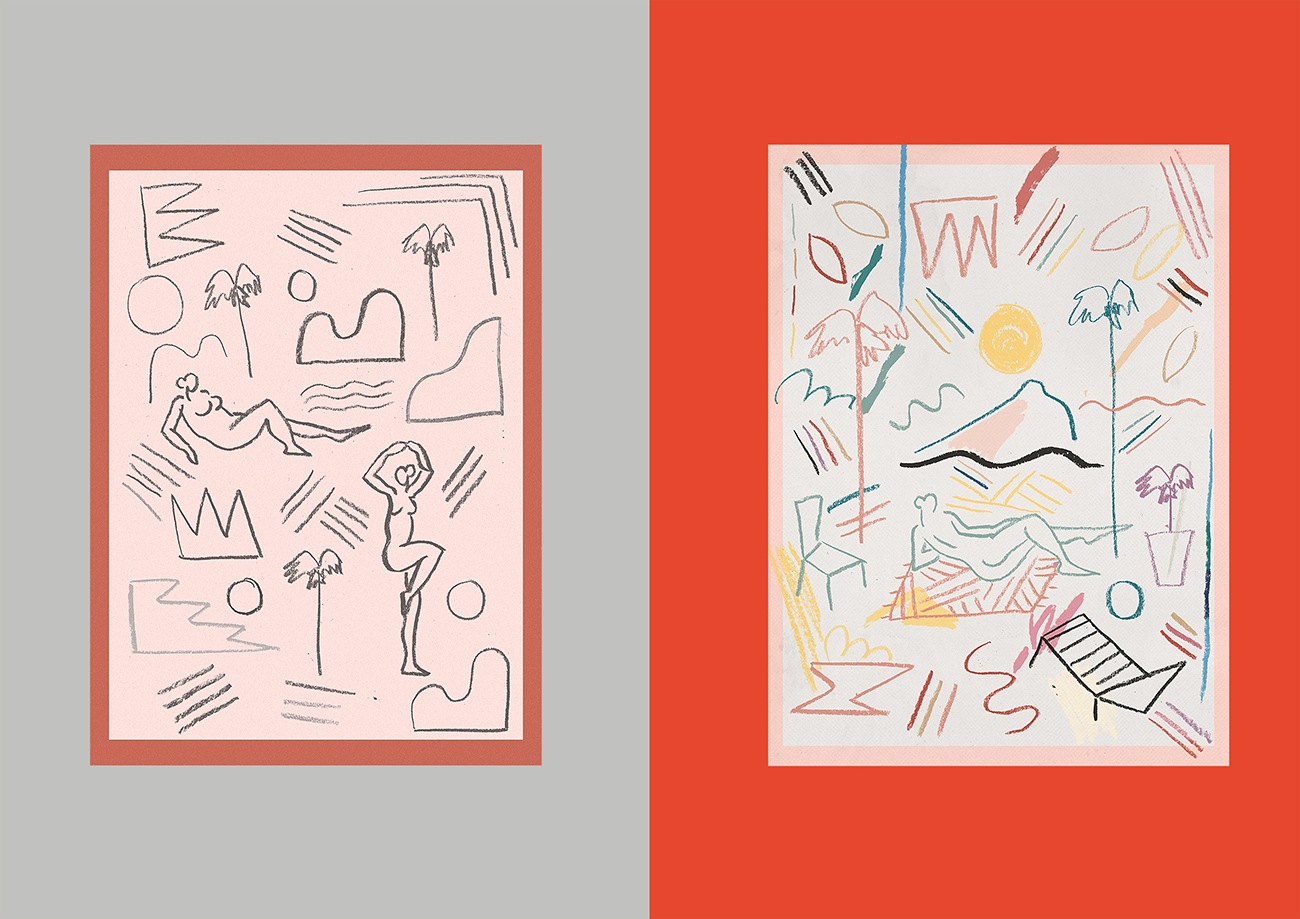 Describe your next project and how you're currently making it.
I'm currently really excited about a collaboration with Wrap Magazine on wrapping paper designs. My intention is to do a series of life drawings with crayon on paper. I've always loved life drawing, which is a way of studying and simplifying the human body. I attend courses as often as possible because there's always room to grow and learn. I am planning to scan in my crayon drawings and arrange them in Photoshop for the final composition. Another project I'm currently busy with is working on beer labels for the Canada-based brewery Burdock. This is an ongoing project, as they are continuously coming up with new flavors. It's a pleasurable challenge trying to match the flavor with an abstract, very graphic image. Sadly I don't get to taste the beer, as it's a bit hard to send them to Germany. That means I'm going on very detailed descriptions of the flavors from the boys. I'm really keen to try the beer at some point to see if my graphic representations fit. One other area I'm exploring is painting on ceramics, though I don't want to say too much about that at the moment.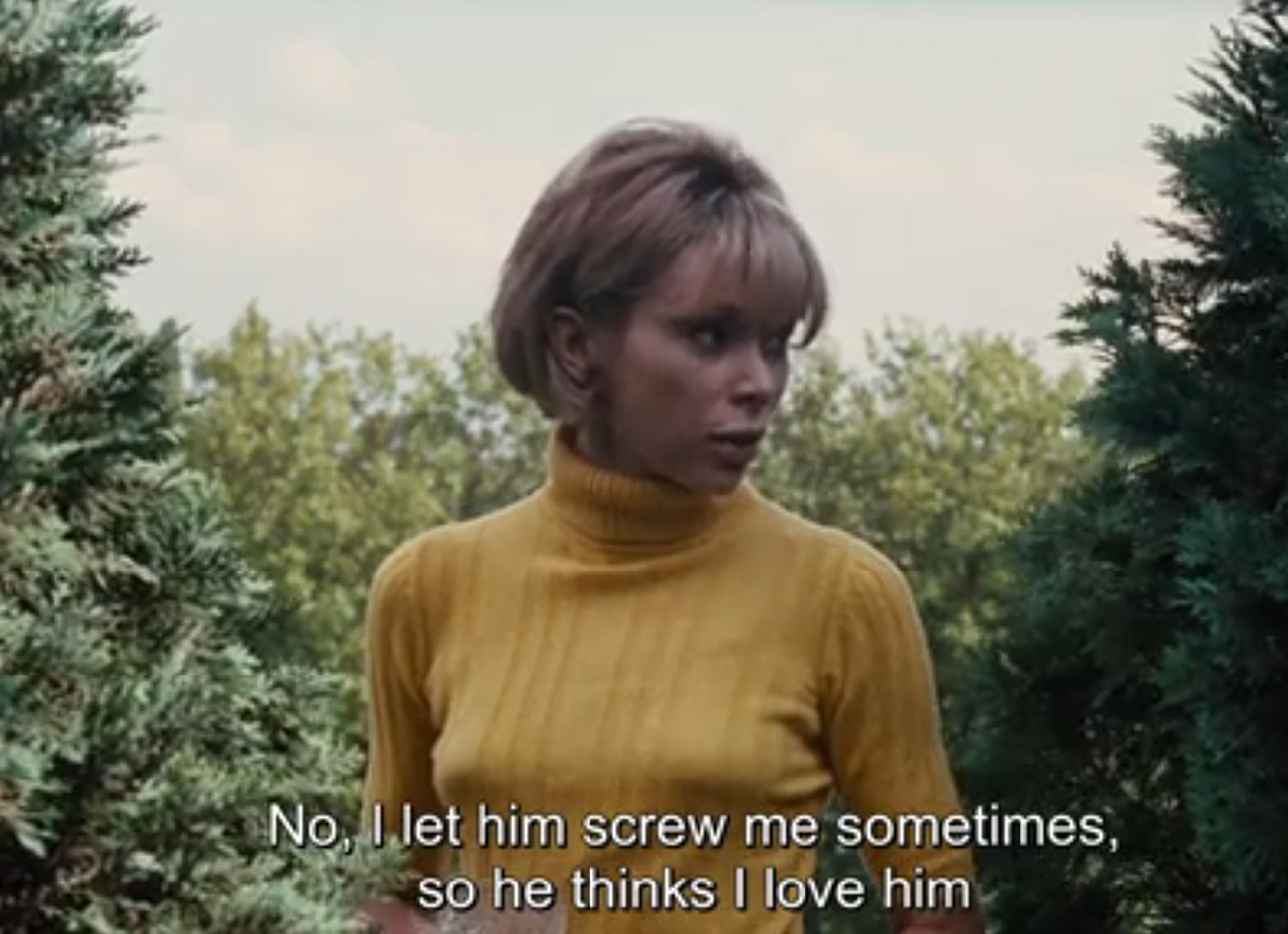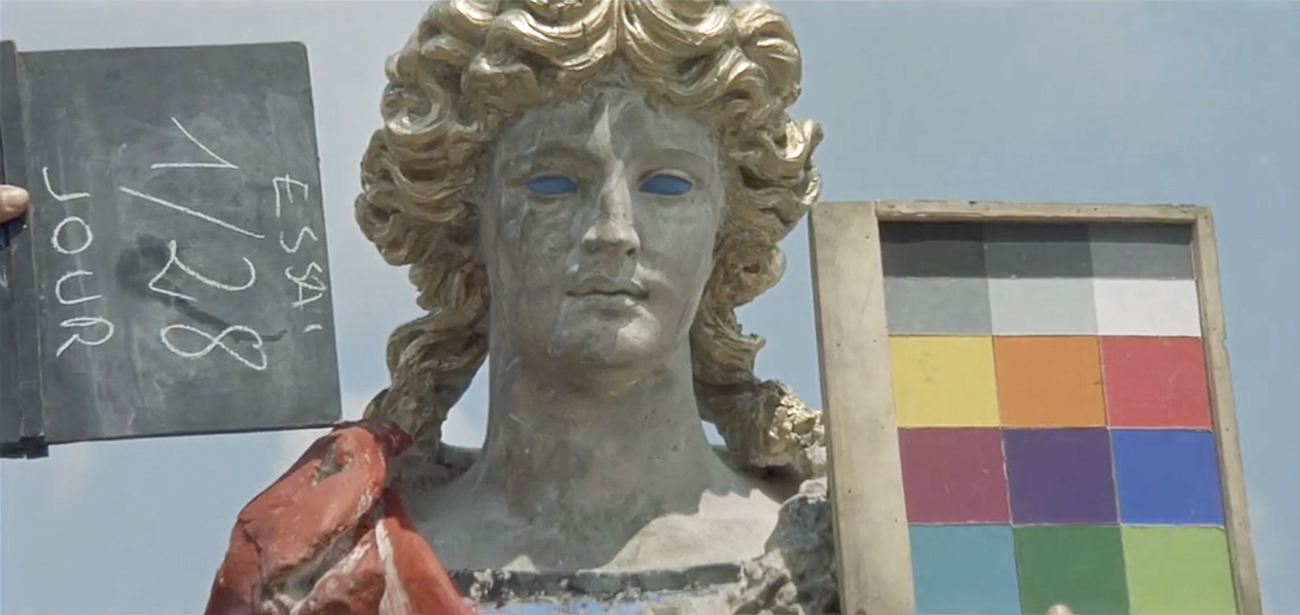 Tell us one thing that's been inspiring you lately and why.
At the moment, I've been watching a lot of cinema from the French Nouvelle Vague. I love the aesthetic of 1970s and '80s movies, especially in terms of color grading and fashion. Godard's "Le Mepris" or Éric Rohmer's "Le Genou de Claire," for example, set the right vibes. Most of my work is very intuitive, therefore music remains my biggest inspiration. It influences my work so much. A track can suddenly completely change my workflow or initial idea. Therefore I never know how a drawing will end up — that's what I love the most about creating it. I turn to a massively diverse range of musical sources: everything from Balearic sounds to psychedelic rock; cosmic disco and spaghetti western could give me the right feeling.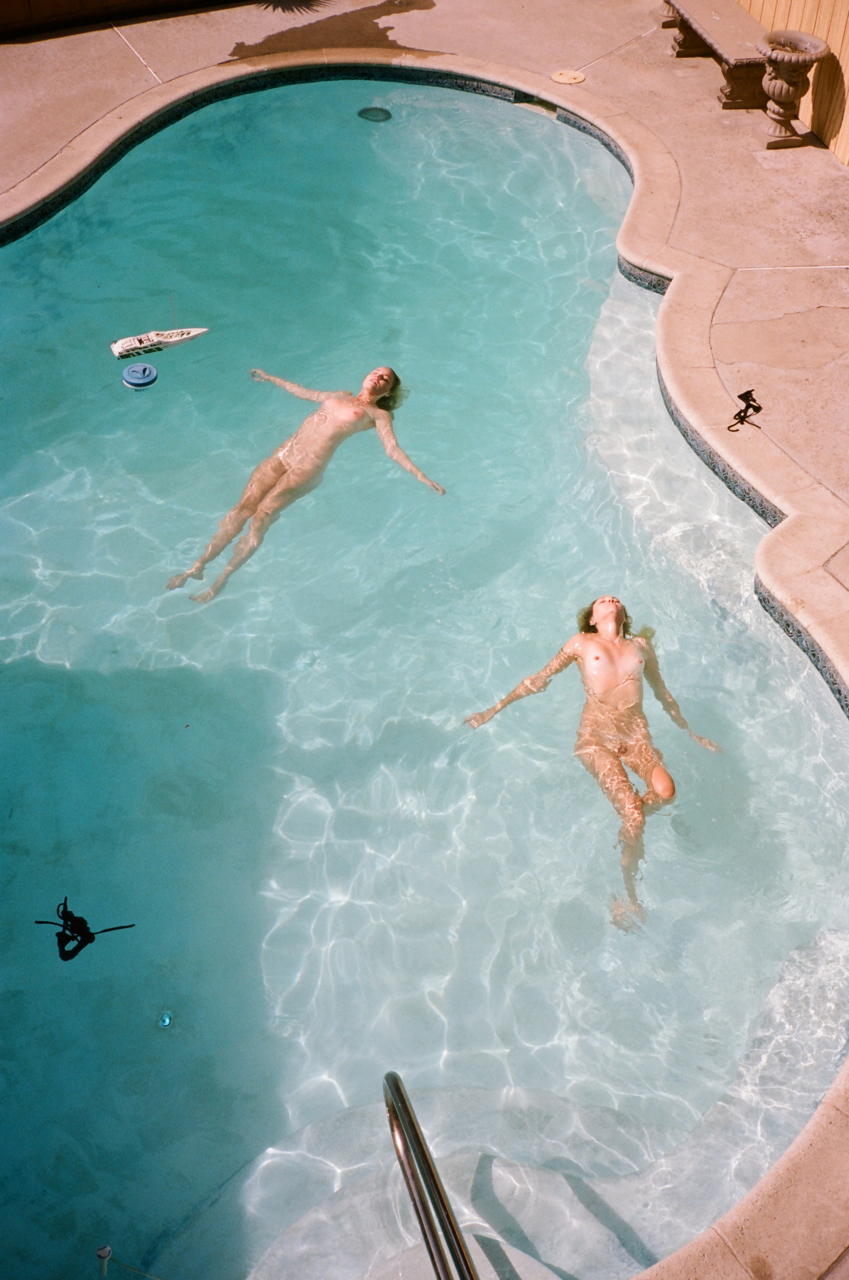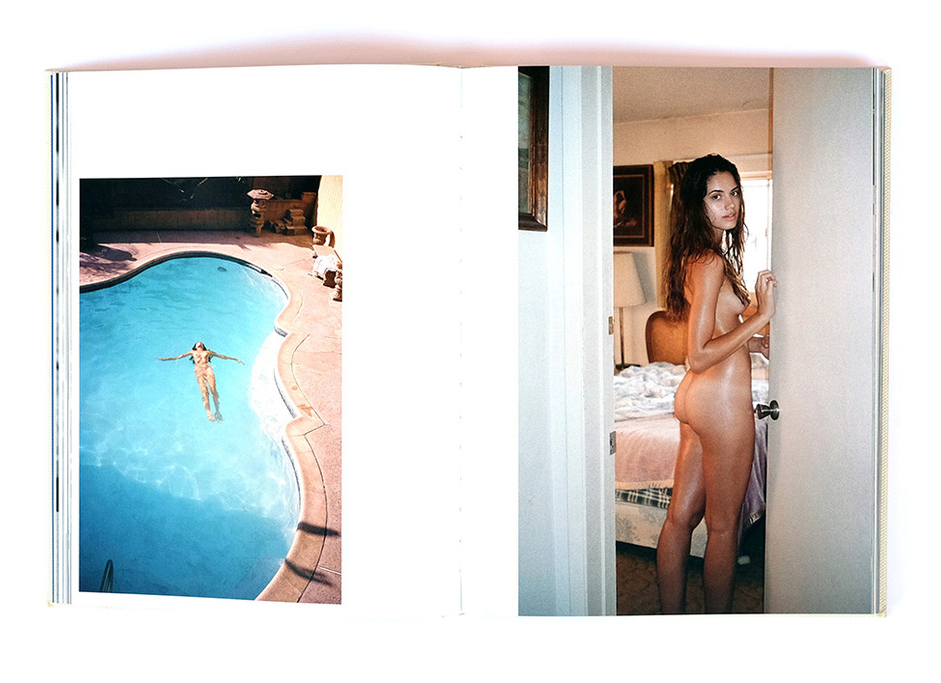 What's your favorite piece of art or design from the last ten years and why?
It's hard to tell as there's been a lot of great art in the last 10 years. In photography I especially admire Henrik Purienne's work. His books are filled with snapshots and portraits of women combined with a very nice typographic layout. His pictures are really sensual and smell like the 1970s spirit. The colors, compositions, and model combinations complement each other perfectly.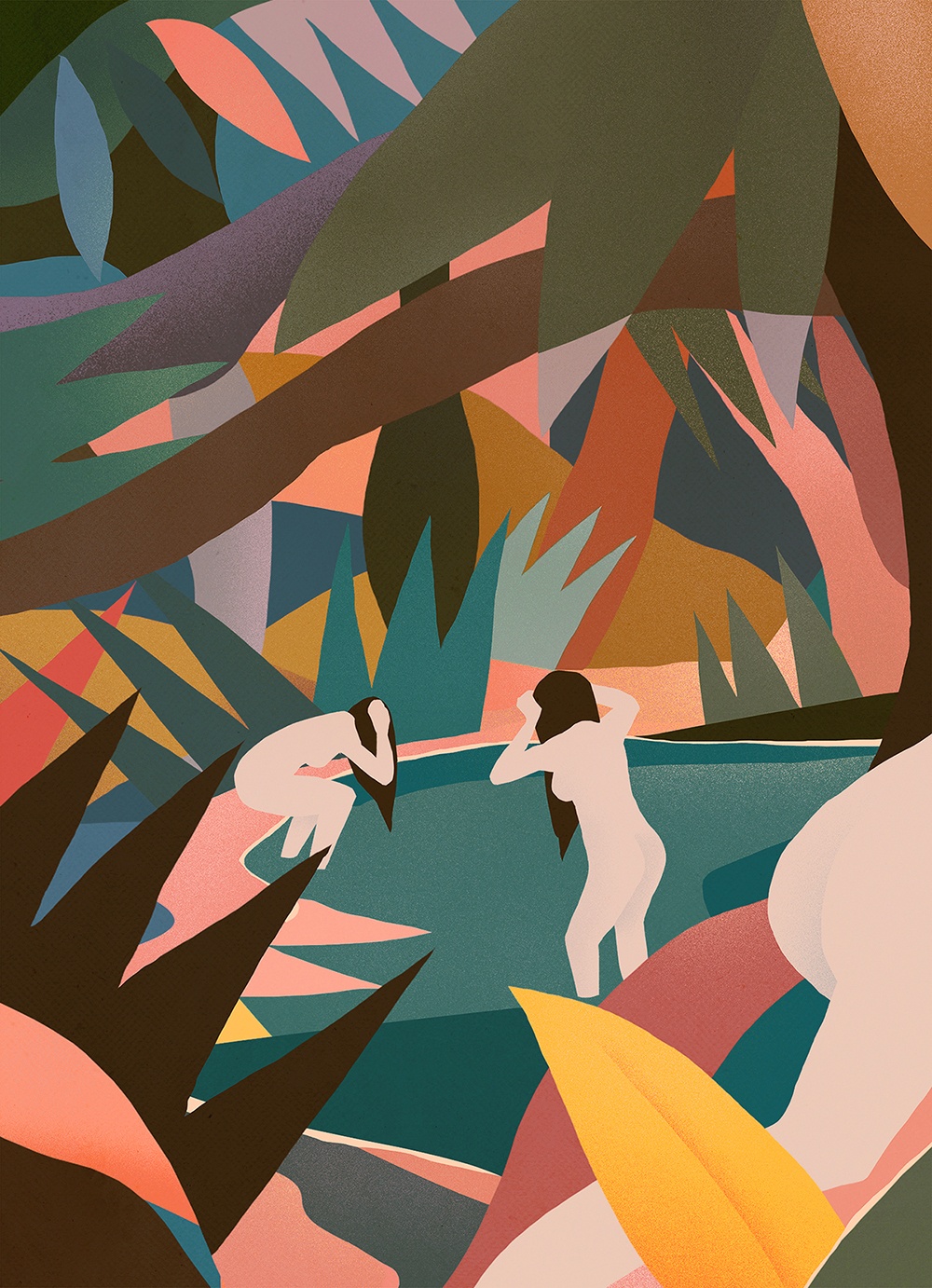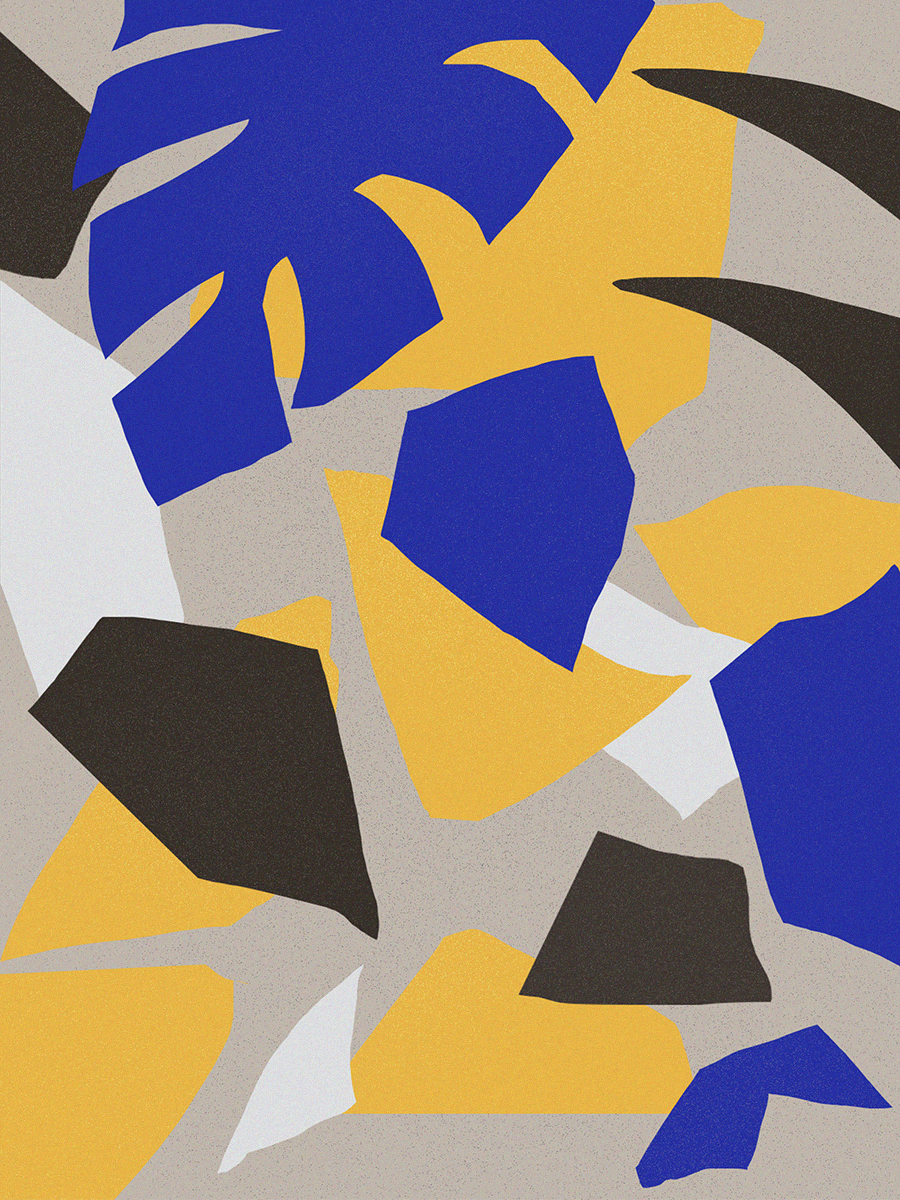 Can you tell us a little bit about how your career got started?
My world was always what I could create by drawing. Perhaps it was my way of interpreting the many intense sensations you experience when growing up, but can't explain. As a kid I could spend hours drawing on my own, or even staring at other people drawing. When I got older I was aware of parties going on, and even when I couldn't get into them myself, I somehow ended up creating flyers for them. For me it was an adventure, even without going there. I would try to create a special world with the flyers that was probably more stylish and glamorous than the reality!
After finishing school, I did an internship at the creative agency Parasol Island, based in my hometown of Düsseldorf. I was initially only there for six months and was planning to go to university, but the experience of jumping straight into the professional world was so successful that I didn't continue my education. In fact, I ended up staying there for four years. My skills have been shaped there a lot, especially by the creative director Charles Bals, who has been my mentor and one of my best friends since then.
I wanted to get out of Germany and experience new sights, sounds and colors. So I went to Brighton in the UK to work for the design studio Ilovedust. There, I got to work for a lot of big clients such as Nike, Red Bull, Disney etc. which also helped me a lot to find my own way and style of working.
After I'd stayed in the beachside town for some time I moved back to Germany where I continued working for Ilovedust. Back in Berlin I was able to work on a beautiful series of printed city guides, "Lost In", as art director and illustrator. Now I feel like expanding in all directions to see what incredible visual landscapes I can inhabit. I am very curious to explore all sorts of media and industries. Maybe next year I'll be doing furniture, or ceramics — who knows. I am very excited about what the future holds.