08.22.19
In Los Angeles — Appropriately — a Furniture Maker Toeing the Line Between Fantasy and Reality
Leonard Cordell Bessemer was once a software salesman. At various other times, he's worked as a wedding videographer, a server, a carpenter, a librarian's aide, and an assistant to the Berlin-based sculptor David Thorpe. "I think I was also one of the first Uber drivers in San Luis Obispo," he adds.
These days, however, Bessemer is perhaps best known for the furniture he designs and produces from his studio in the Lincoln Heights neighborhood of Los Angeles, under the name Objects for Objects. "I moved to LA to build out my friend Ali Golden's second retail location in 2015," he explains. "From that came more build-outs and custom jobs, and I've been working ever since. The build-outs allowed me to get a shop space and start developing my own furniture designs."
Though his interest in furniture dates back to his years as a studio art major in college, Bessemer's practice is primarily self-taught and guided by a willingness to defy industry standards. His use of electric color and bold silhouettes lend a distinctive animated quality to his work, which most recently has included four exclusive pieces for UO x Clever, a collaboration between Urban Outfitters and Architectural Digest's digital vertical, Clever. 
Cartoons, fittingly, are among the designer's longest-standing creative influences: A short story he wrote as a child, titled "The Simpsons and Me," made it into the library of his Central Valley elementary school; at the time of our interview, he was in the process of developing chairs inspired in part by The Flintstones's Barney Rubble. "A theme in a lot of my work is the struggle between fantasy and reality," he says. "It's about bringing aspects of fantasy into our everyday reality — not to change what exists around us, but to hopefully make us appreciate it a little more."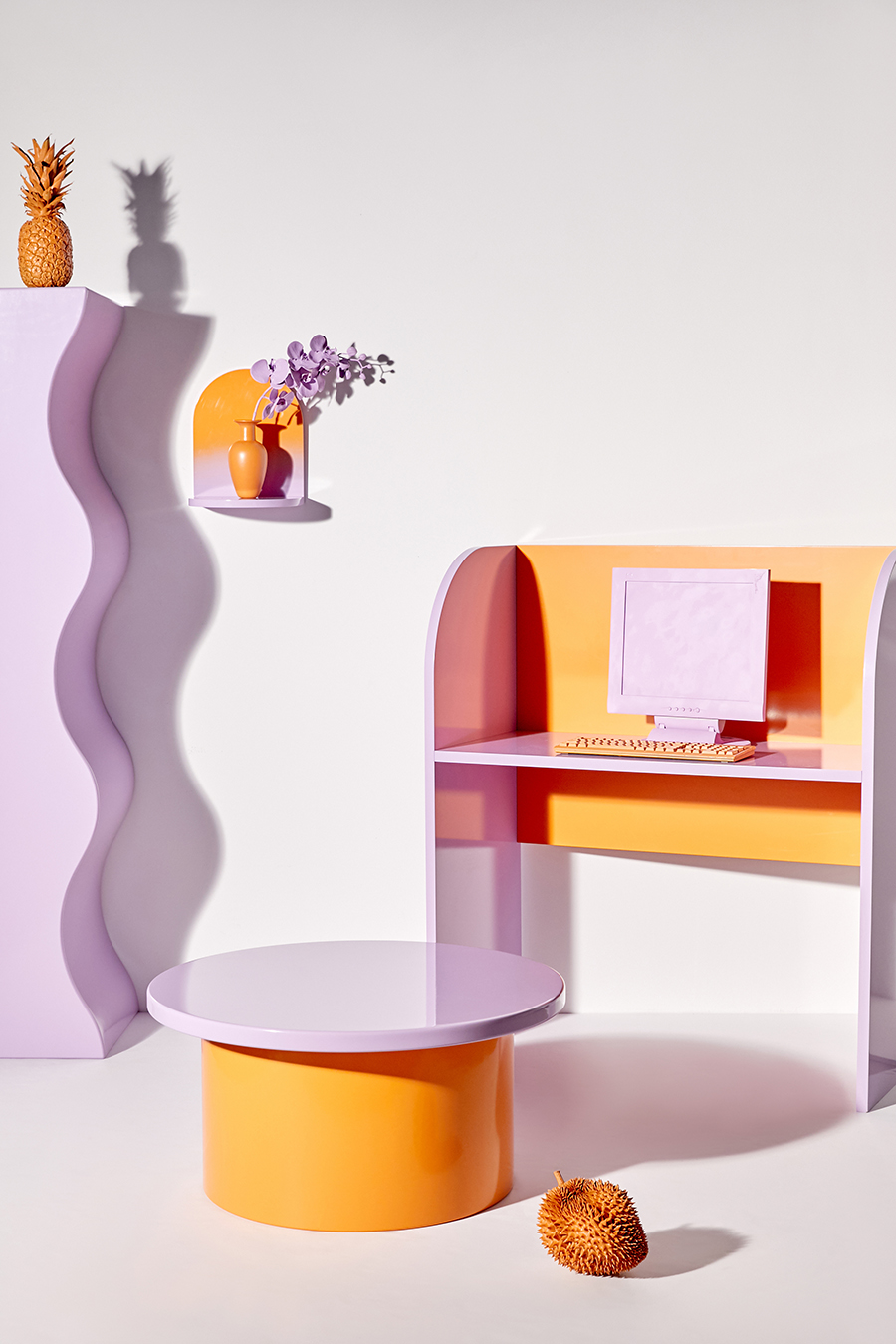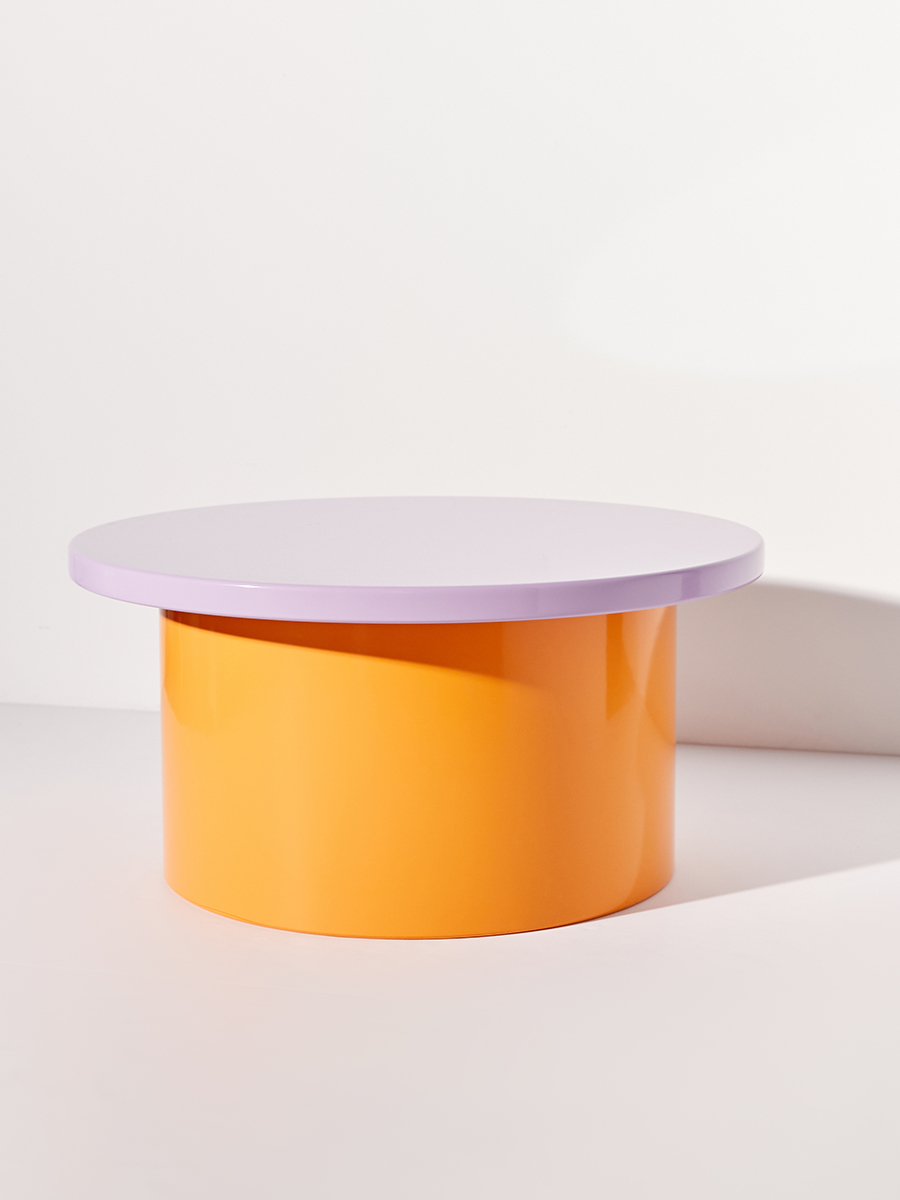 Let's start from the beginning: Were you a creative kid?
I had a pretty active imagination, and I was always drawing or making things. I wrote a lot. I was the kid in school who was really good at drawing Bart Simpson or Aladdin. I was also not the most social person, so I gravitated toward things I could do by myself. 
But growing up in Merced, California, I didn't know it was possible to do certain things as a job. I didn't know you could be a furniture designer. I got out of high school and I thought, "I guess I'll be an engineer because I'm good at math and science." But from there, I discovered lots of other options. Suddenly I realized, "Oh, I can kind of do anything."
In college, you briefly entered the school's architecture program. What influenced your decision to focus on other pursuits, namely furniture design?
It turned out I wasn't into building buildings or designing structures. I was more into the objects that went into those structures. I figured I could continue on in the architecture program and eventually end up making furniture, but my professors were telling me that there were other ways to pursue furniture design that would take less time. I finally ended with a degree in studio art, focusing mainly on video work and sculpture. At the time, I imagined I'd become an artist or a professor.
What led you back to furniture?
After college, I worked in about every sector possible. But I eventually started doing custom fabrication work, which involved people coming to me with projects ranging from single jewelry cases to entire retail store build-outs. Often they didn't have shop drawings, or any drawings at all beyond rudimentary sketches.  So they'd get a two-for-one deal. Not only would I build whatever they wanted, I'd also end up designing it. Doing custom projects was a great way to learn, and the challenges were exciting, but it was ultimately exhausting.
I started to develop my own products in order to escape the vicious project-based business model. Most of my first designs were things that I personally wanted or thought should exist in the world. I would work on them between projects using scraps and leftovers from the previous project.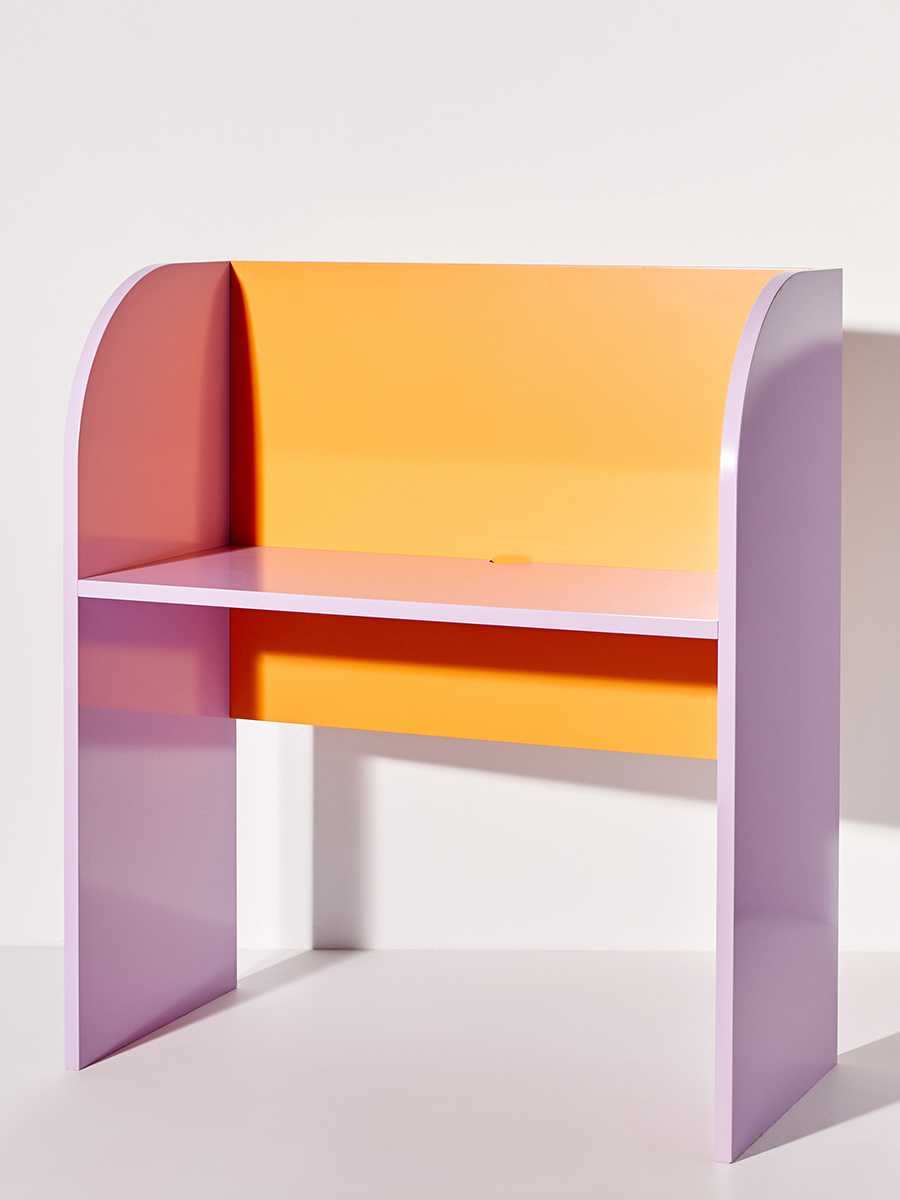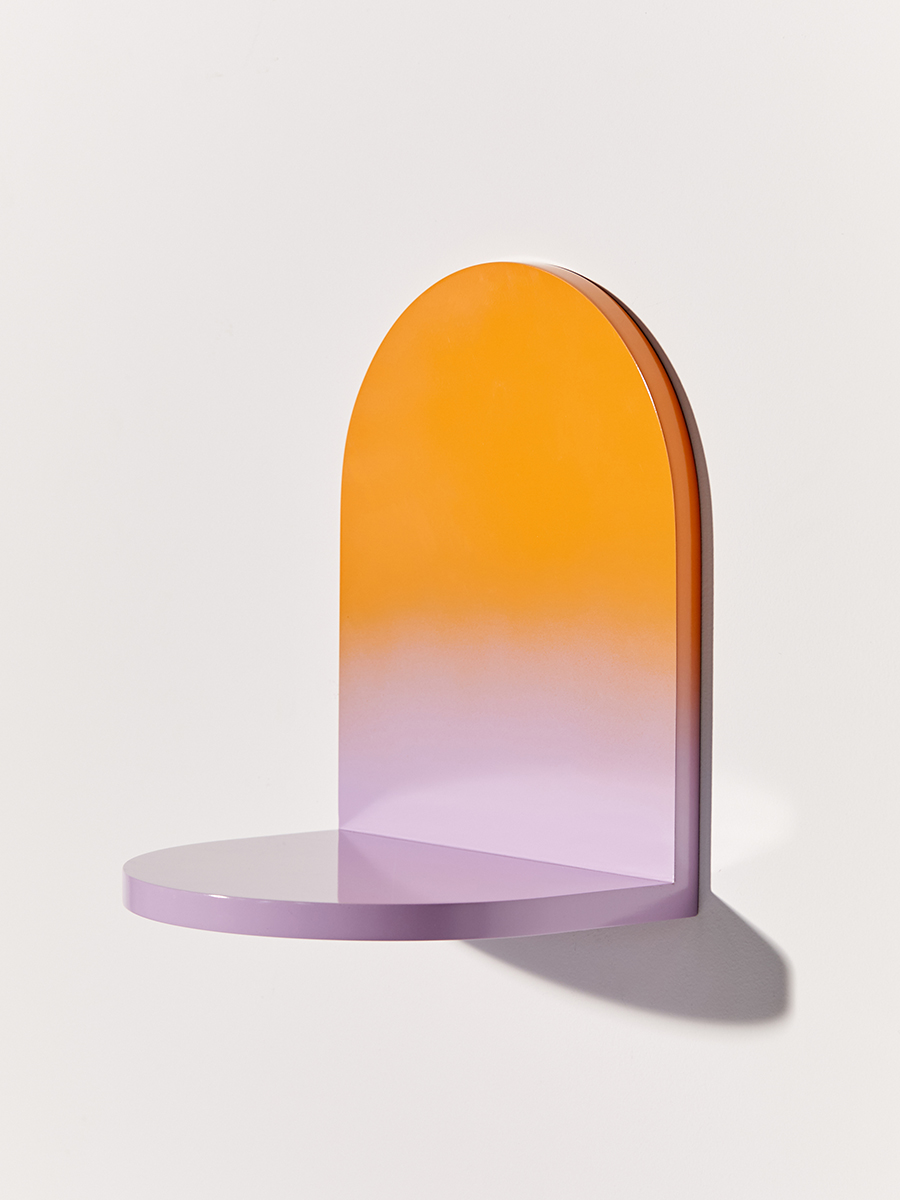 Much of what you're doing in the furniture world, then, you've learned along the way. How has the experience of being self-taught influenced your work? 
It's allowed me to do things that others wouldn't do, and to make pieces that would either be cost-prohibitive or that other fabricators might turn down. My methods might be a little unorthodox, but that allows me to play more, and leads me to different solutions that I might not have come to if I were doing things by the book.
I don't worry about failure anymore. I just keep doing. That has given me vast insight into materials and processes. It's also made me very independent, almost to a fault. I'm reaching the point where I need to be asking for help more often. 
Your website includes the lines, "Buy less, pay more, be patient." How does this philosophy apply to your practice? 
I'm not necessarily an eco-warrior — my business isn't based off of saving the planet — but I do think there are ways to live that are better for us and the planet. It's important to change the way we consume, not just what we consume. It doesn't matter how eco-friendly your product is if you're still producing and selling millions of them. That isn't sustainable. If I can limit my production, keep quality high, and create something that is appreciated, that's my form of sustainability. If you're willing to wait 5-8 weeks, you probably really want something. If you're willing to pay a premium for it, you likely won't throw it out and replace it.
You describe your work as "almost perfectly handmade." Tell us more about where that phrase comes from.
To do what I'm doing, in a non-factory setting, is really hard. When you're only making a few objects in a small shop, it's very difficult to replicate a finish you'd find from a factory with assembly lines and machines. I definitely strive for perfection, but also understand that I'm not a machine. The phrase is meant to instill a little wabi-sabi quality to the work, where the so-called flaws or signs of the maker aren't meant to detract, but act like a signature of the human hand.  
There's also the ambiguity of the saying, "almost perfectly handmade." The "almost" relates to "perfectly," but also to the "handmade" aspect of the work. I'm not opposed to CNC machines or any other machine or factory process, but currently the best means for production are my own two hands.
Tell us about your recent collaboration with Urban Outfitters and Clever. What drew you to the look and feel of the pieces you created?
Urban Outfitters Home was great. They encouraged me to just do what I do. So I took several pieces I'd been working on and produced them in colors exclusively for Urban. I was pleasantly surprised that they were willing to take a chance on such playful pieces at a higher price point. It was a bit of a gamble, but most everything sold out within the week. 
The collection was based around creating almost cartoon- and candy-like pieces. I was trying to create an instant intimacy with them through desire, which in turn gives them their own identity, presence, and power. It was about using beauty, in a way, to encourage instant connections with things, even if you know nothing about them.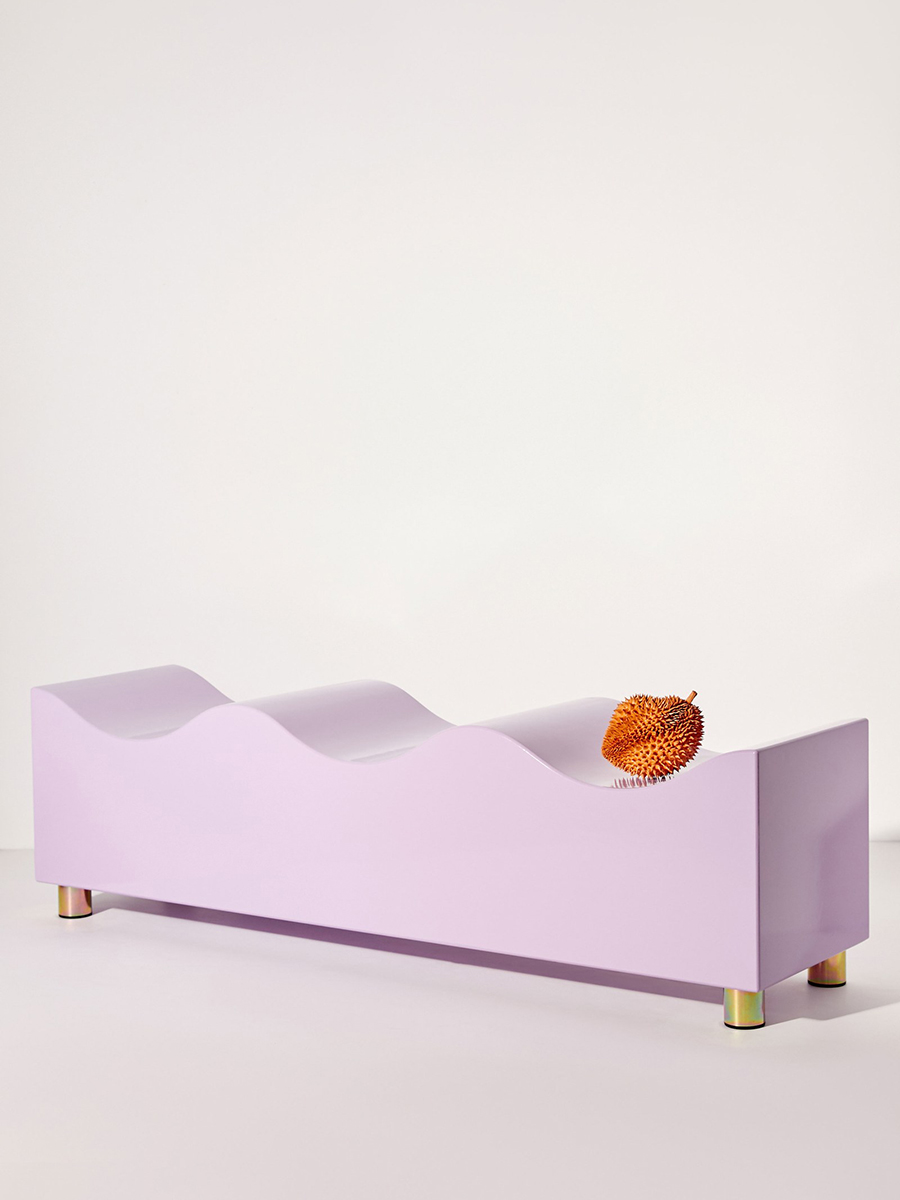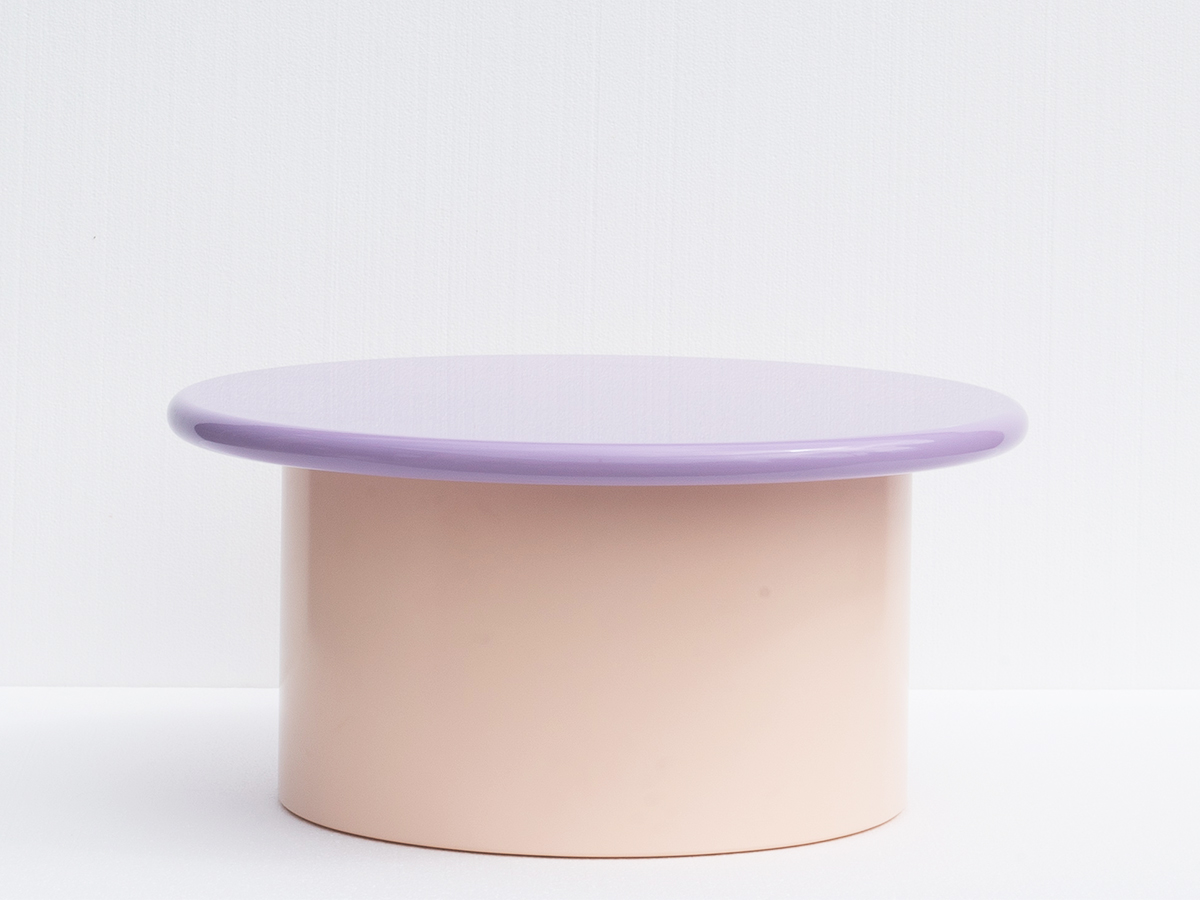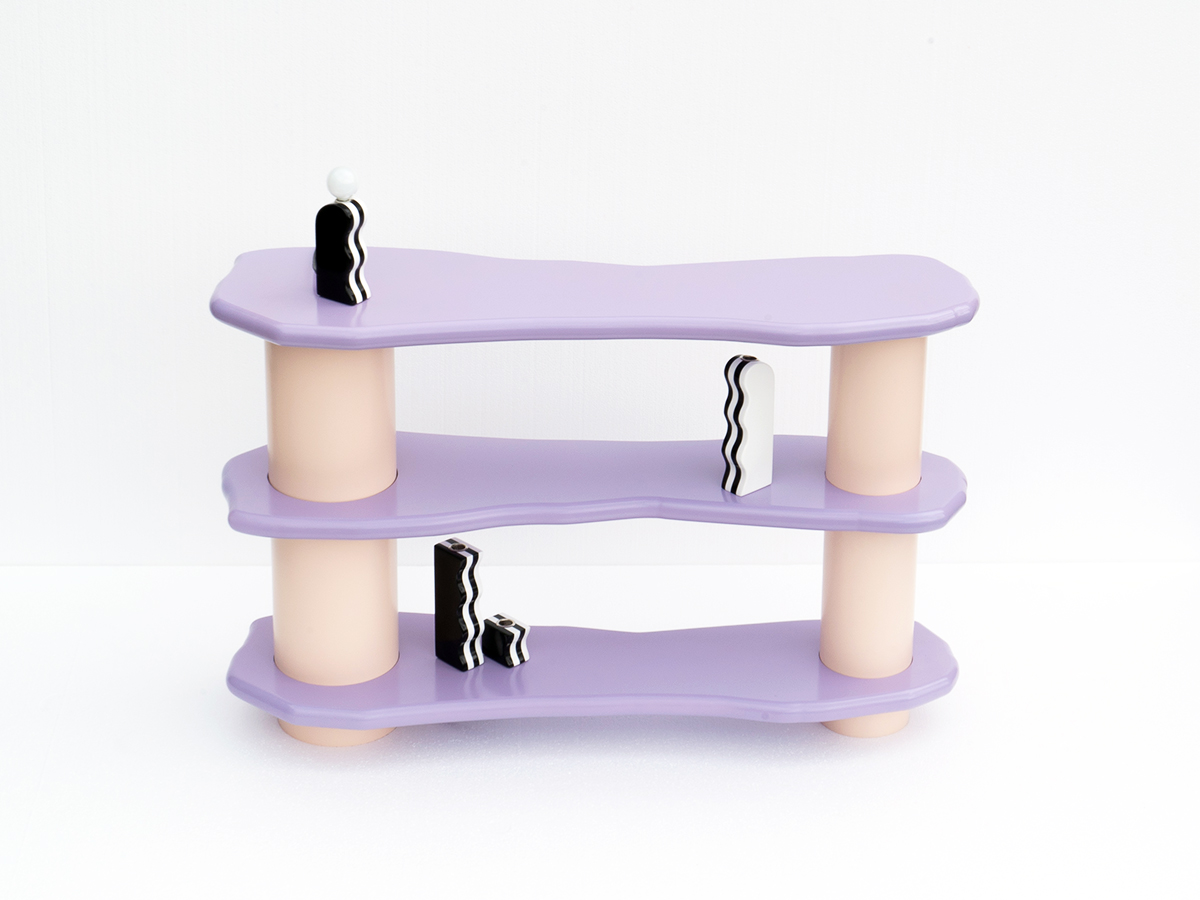 You've dabbled in many different fields over the course of your career. Do you think you'll stick with furniture design long-term?
For the past few years, I've been occupying this weird space, as part-contractor, part-fabricator, part-designer. But as long as people will pay me to make and produce pieces, I feel lucky to be able to provide that service. I'm too old to shift directions anymore. I've done that enough times to know that no matter what path you take, it's going to be hard. There are going to be portions of whatever you're doing that you will not enjoy. But so long as you can put your head down and do what you need to do without getting discouraged — and so long as you feel good about what you're creating — then you're good to go.
Is there a specific piece of furniture you'd love to try to make? And do you have a favorite of the pieces you've made thus far?
I'd love to make a recliner, just to see if it is possible to make one that isn't awful. I'd also like to do more upholstered pieces, but I don't want to learn another trade. I think I'll let an expert handle the actual fabrication.
My striped lamp is my favorite piece I've made so far. It feels like a friend. It gives me a warm feeling every time I look at it. 
Was it a conscious decision to create something that conjured that feeling? Is there an object or a piece of furniture from your past that made you feel a similar way? 
When I was younger, we moved between my mom and my dad's house every week, and we would take all of our stuff with us each time. So maybe it's a lack of that that's been more significant to me. But thinking back, there have been objects I've had connections with beyond their simply serving a practical purpose, and that's something I strive for with all my pieces. I want them to evoke a feeling or emotion, and to have an identity and a presence all their own. Almost like they're cohabitants in your space, and not just there to serve a function.