09.10.19
This Former Acne Accessories Designer Wants to Change the World, One Hemp Vessel At a Time
Yasmin Bawa wants to tell you about hemp. That it's the strongest natural fiber in the world. That it's flame retardant. That it has been used, for years, by the German auto industry in lieu of fiberglass to make car bodies. That it needs a fraction of the water to grow compared to cotton, that it doesn't require harsh pesticides, and that it helps to filter contaminants from the soil where it's planted. That it doesn't make any sense that more designers and builders haven't adopted this historically ignored wonder material. That it is still, somehow, illegal in Japan. That it has nothing to do with weed.
When she's not proselytizing the benefits of building with hemp, Bawa is taking up real estate on your Instagram Explore page. Since debuting her twisting, monolithic plant pots and furniture two years ago, she has partnered with the Soho House and designed window installations as far away as Australia. To mold by hand her instantly recognizable, multi-faceted, ultra-colorful shapes, she works with Hempcrete, a sustainable mix of hemp fibers, lime, and plaster that's light-as-a-feather but with the sculptural flexibility of clay. An otherwise industrial bio-composite material generally used in sustainable home building, scaled down to the realm of object design.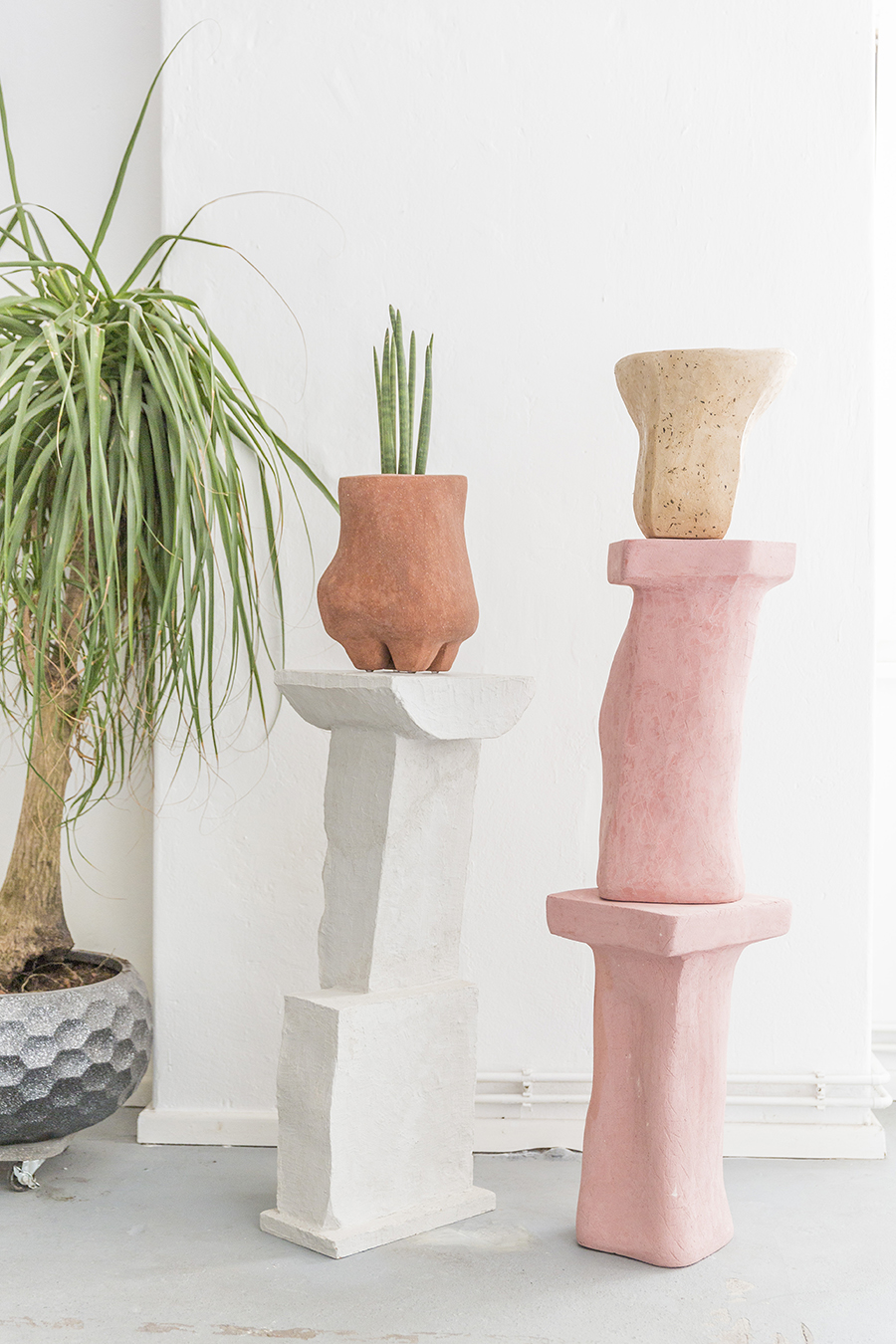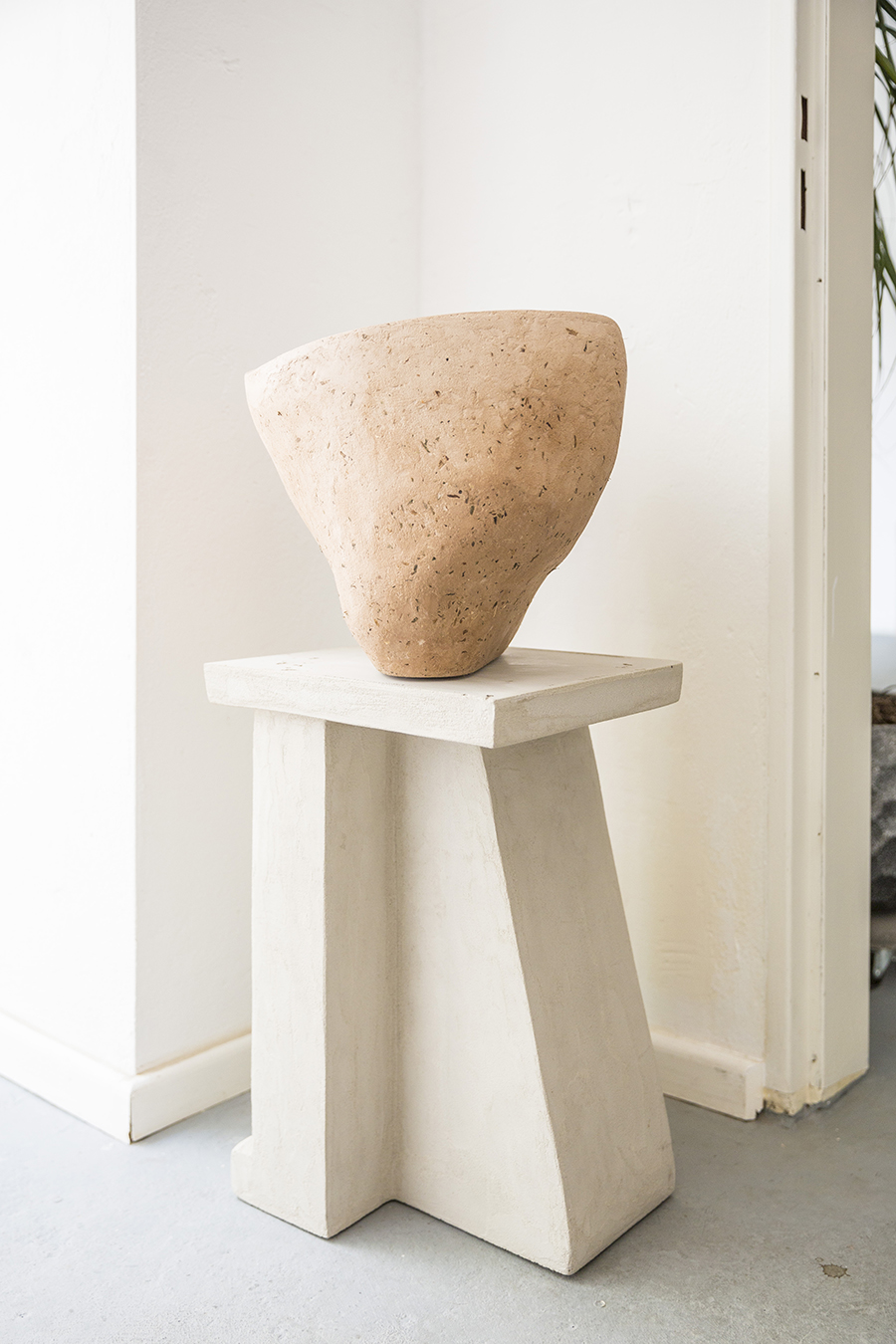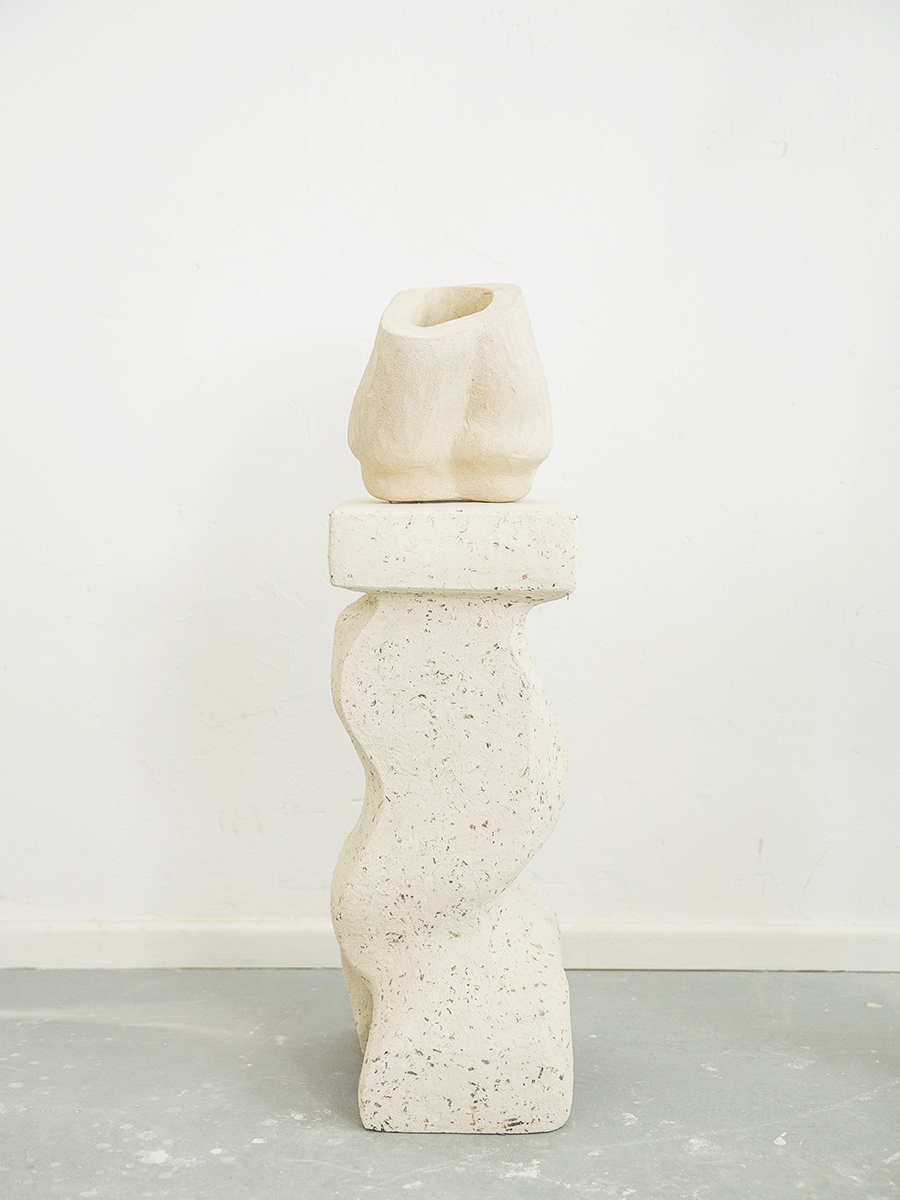 When we visit her in her sunny Kreuzberg workshop in Berlin this summer, she greets us with a plate of flaky pastries and hot coffee from the bustling Market Hall just across the street. Her space is sparse and airy and opens up onto a small plant-filled courtyard scorched by the midsummer sun. At the moment, it's scattered with pieces in varying stages of completion, as if a grand Victorian sculpture hall had been reimagined as a concrete-floored industrial loft.
As we settle in to chat about her practice and see her process in action, she mentions that she's just chopped off her thick brown curls into a Mia Farrow-like crop — a tactical move for a three-month-long residency in Japan she's embarking on in a few days. Set in the countryside beyond Tokyo, she plans on learning about traditional craft and exploring new materials, like the construction potential of seaweed. "I might research building with seaweed as a waste material," she tells us, clutching her work-stained collection of spackling tools like a bouquet of daisies. "In Japan, there is a 1000-year-old tradition of plastering with lime, hemp fiber, and seaweed glue. But it smells terrible, the entire studio turns into a fish market." But for now, likely to the relief of her studio-mate, she's still firmly on team hemp.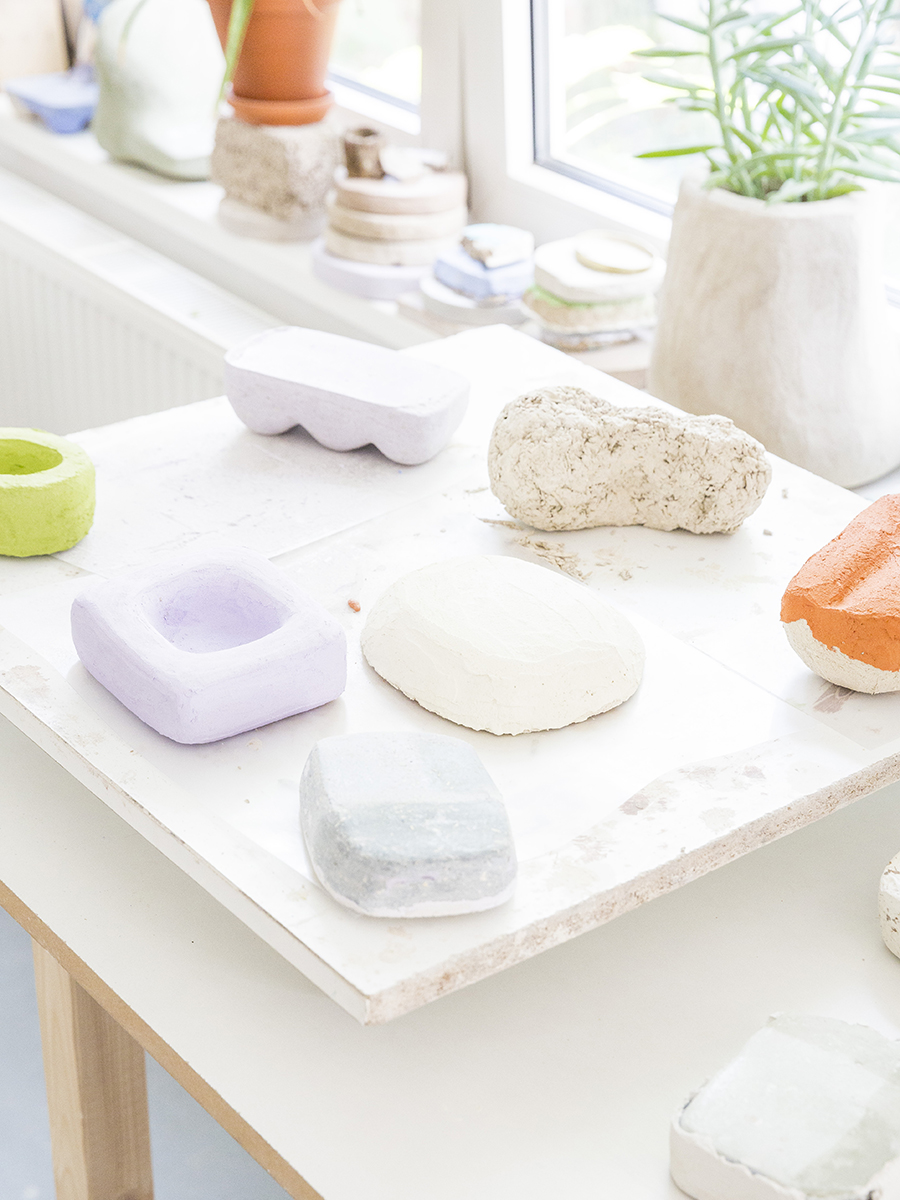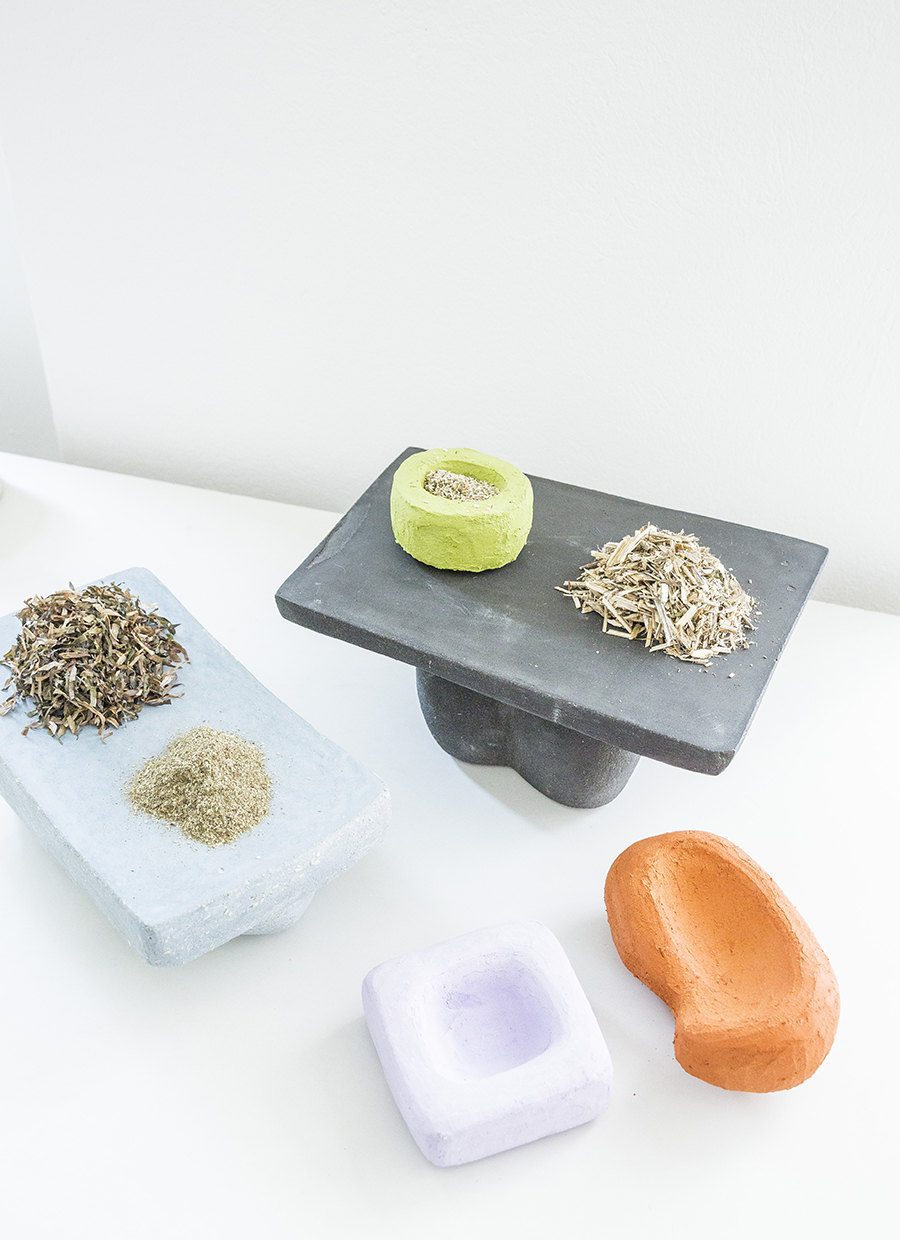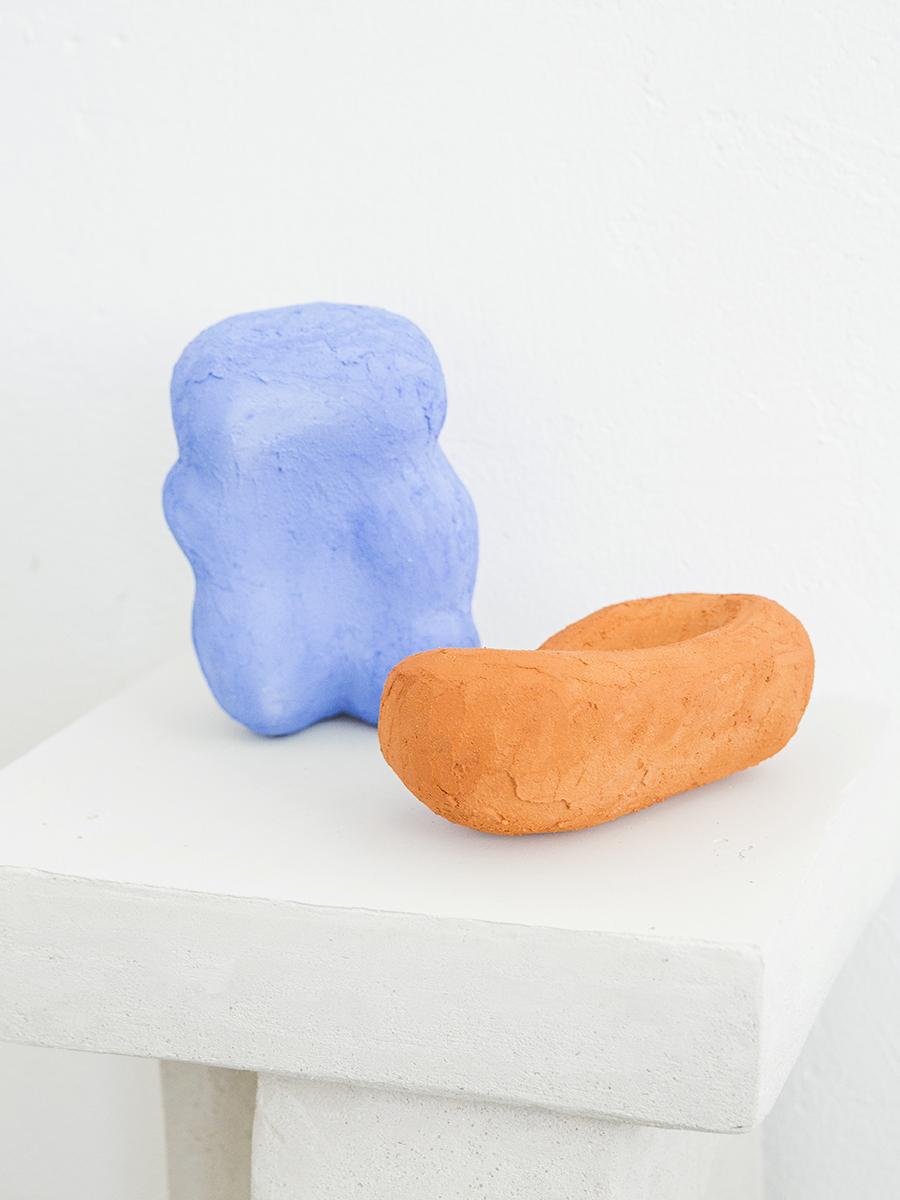 In a previous life, Bawa — who grew up between California and Edinburgh and studied textile design in London — worked as an accessories designer dreaming up footwear at Acne Studios in Stockholm. After three years, she eventually decamped to Berlin when she realized the relentless pace of the fashion world would never suit her measured, careful approach. When she originally pivoted to object design, her material of choice was concrete, but its toxicity turned her off: "toxicity for myself," she explains, sifting through a pile of coarse hemp fibers in her studio's industrial sink, "but also for the environment." In search of a sustainable solution, Bawa turned to the internet to find an alternative with less of an environmental cost. There, she stumbled upon a community of Hempcrete builders and her mind was, admittedly, blown.
"I had seen natural building methods, but never this," Bawa describes wide-eyed of the material revelation, "I was like: This is it. It was a light bulb. I was researching it and I couldn't stop talking about it. Even though I hadn't touched hemp or seen it, I knew it would work. I even had a friend's 30th birthday party where I got drunk and was telling everybody how I'm going to make all of my stuff out of hemp. And then I woke up the next morning going: oh my God, I have to do this now. Like, I have to do this now."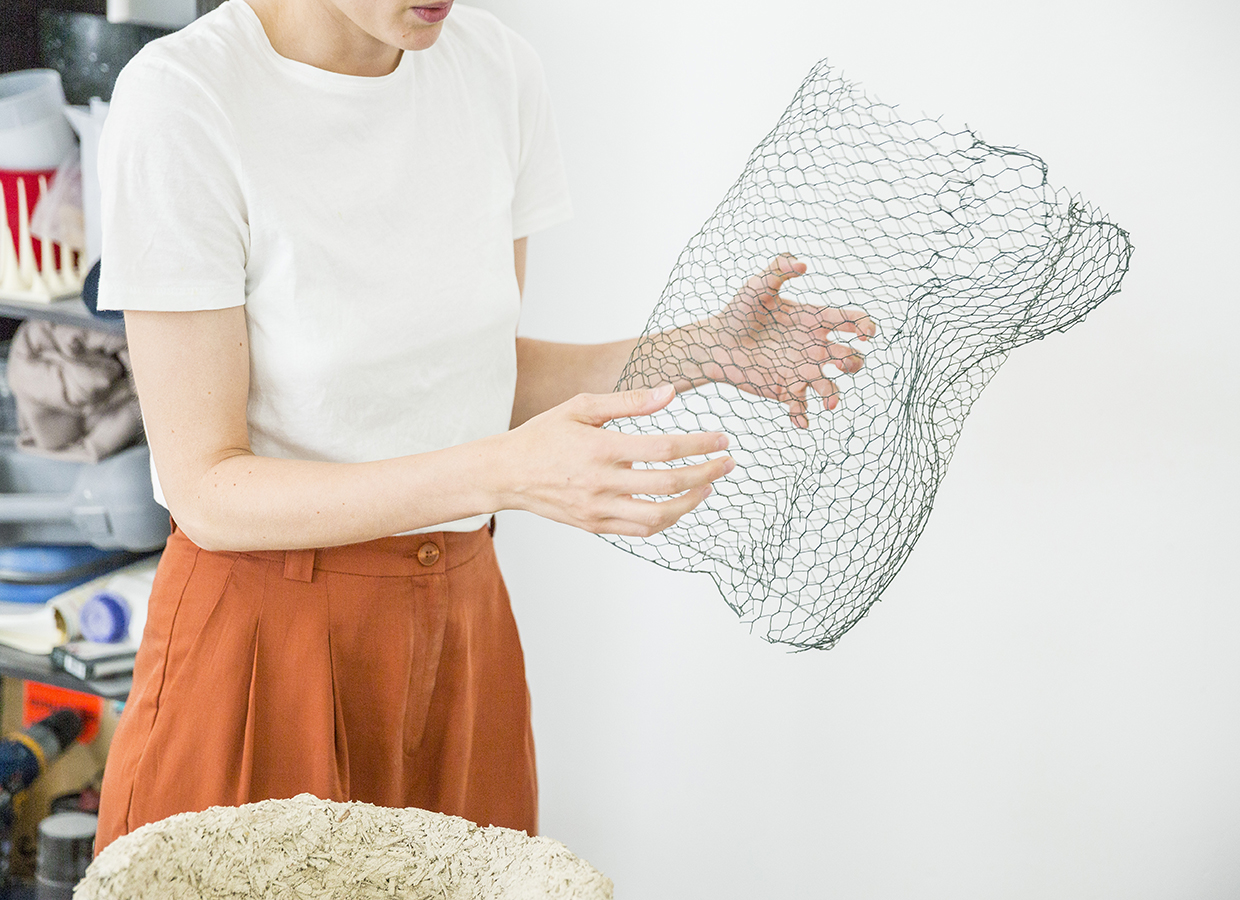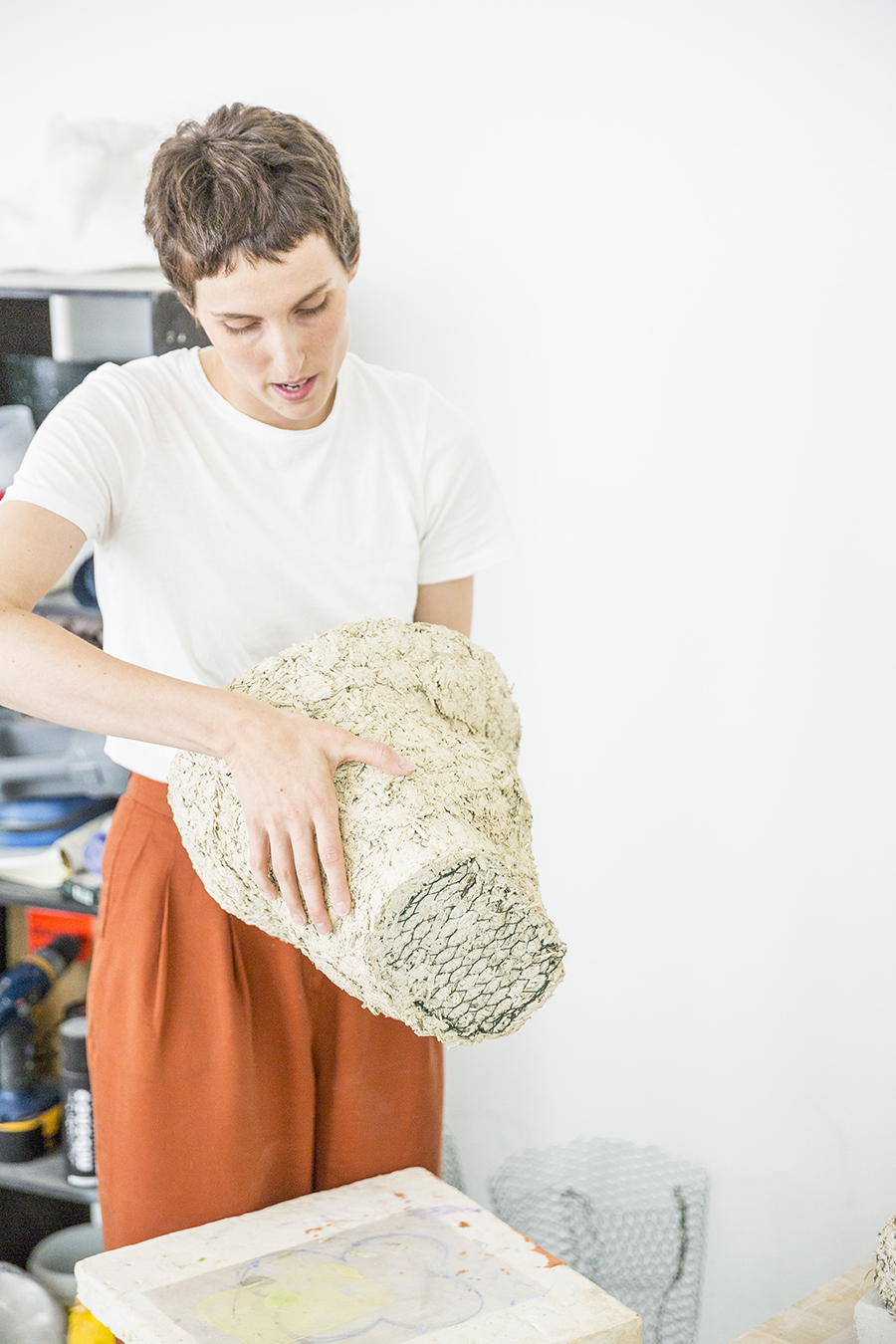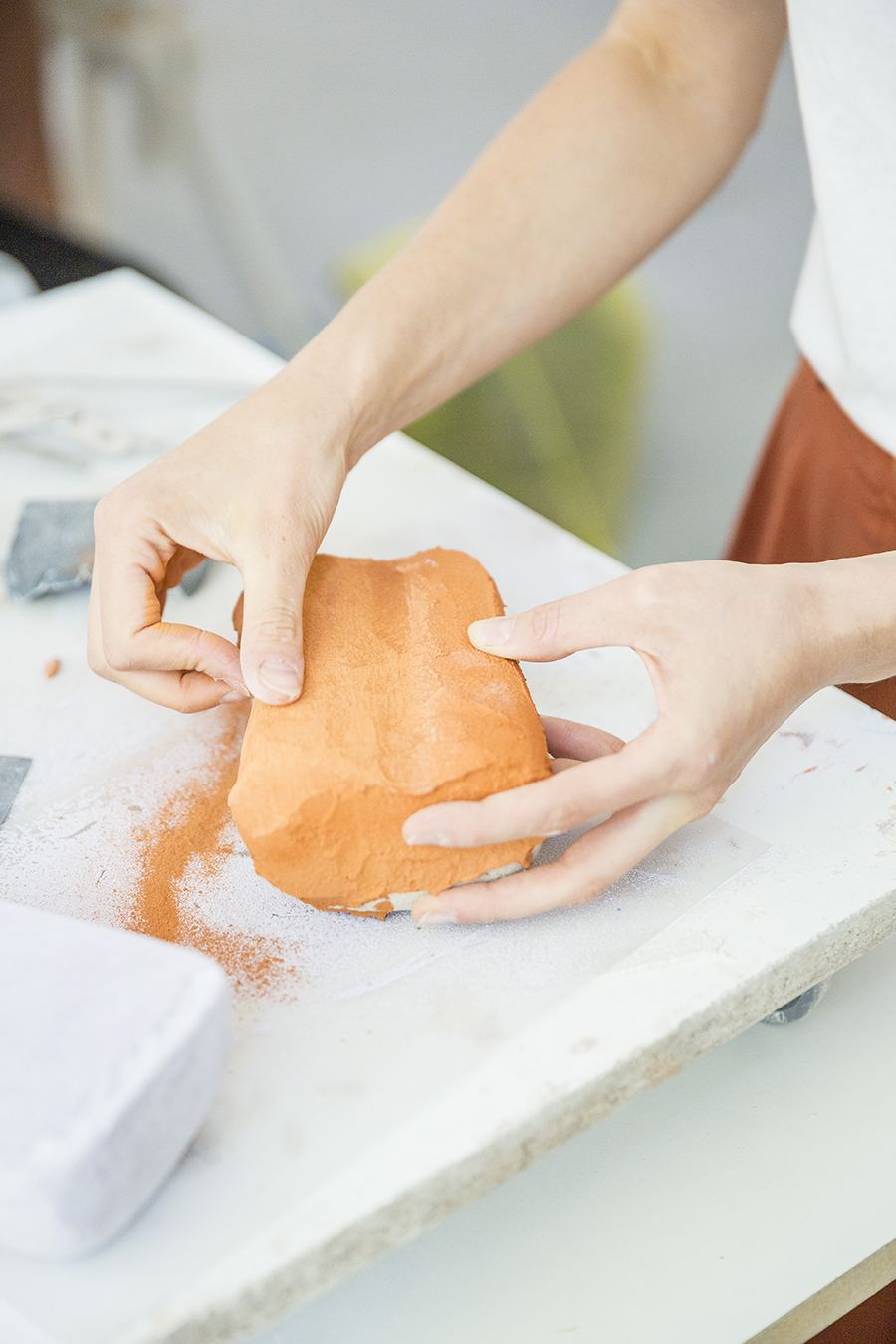 Spurred on by her bleary-eyed pronouncements and a deeply felt instinct about the material's potential for her practice, Bawa beelined straight to a local hemp farm to pick up supplies. She then proceeded to acquire her Hempcrete-building knowledge the way most of us who came of age online gather new skills: Youtube. "I learned everything I know on Youtube," she explains matter-of-factly. For the first few months she, "experimented like crazy," working on prototypes on her bedroom floor before settling on her current Hempcrete "recipe."
That recipe involves mixing hemp fibers — which resemble the kind of coarsely shredded mulch used to line the bottom of a rabbit's cage — with lime, plaster and a bit of water, resulting in a thick, gritty paste. From there, she forms each piece by hand, pausing with each layer to let it air dry. "Because of the drying time you're always seeing the piece from different angles, so you can search from all sides where you want to develop the shape," she describes of the time-consuming process, which can take up to a month to finish depending on the weather. "I work really intuitively," she continues, "the process dictates the shape."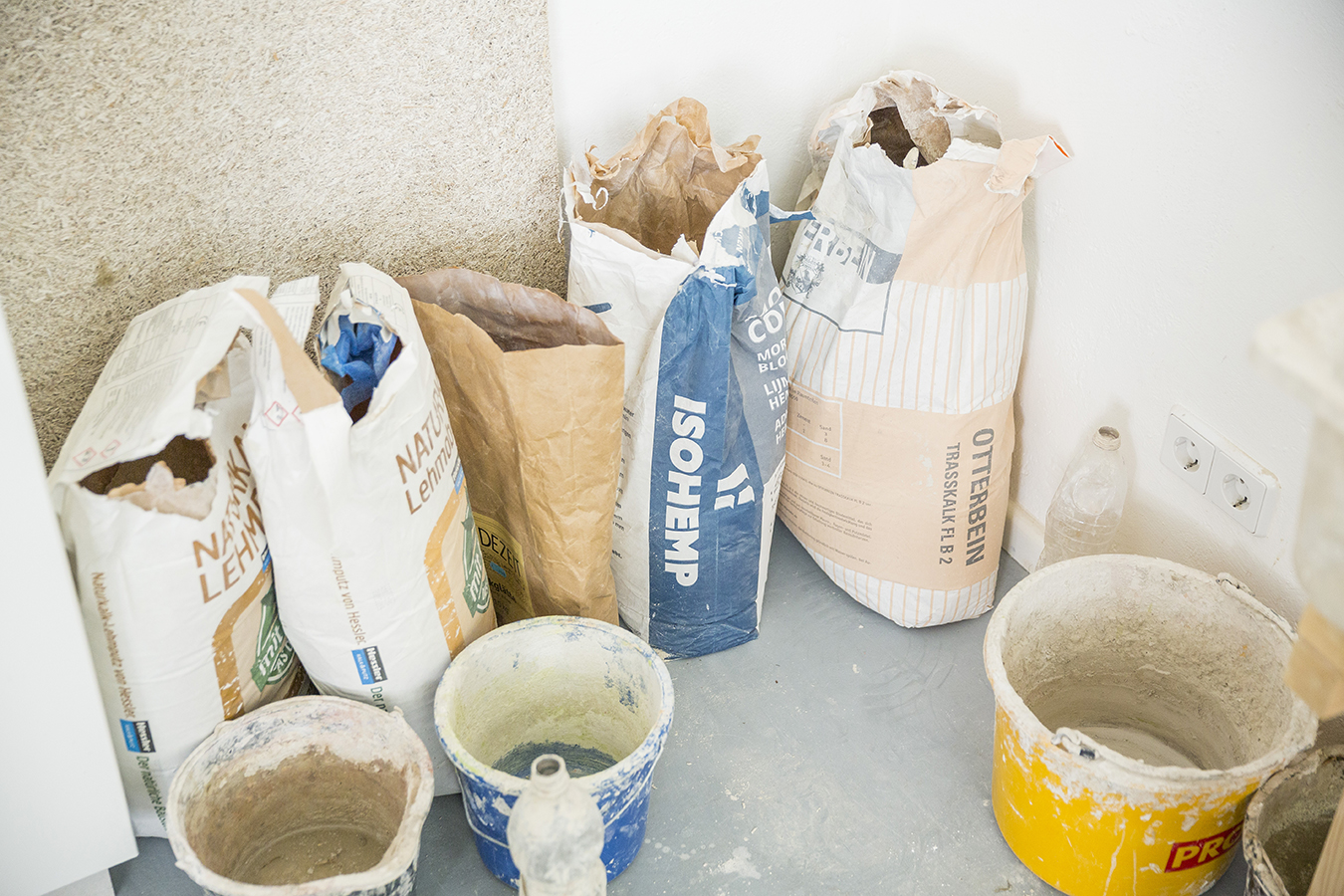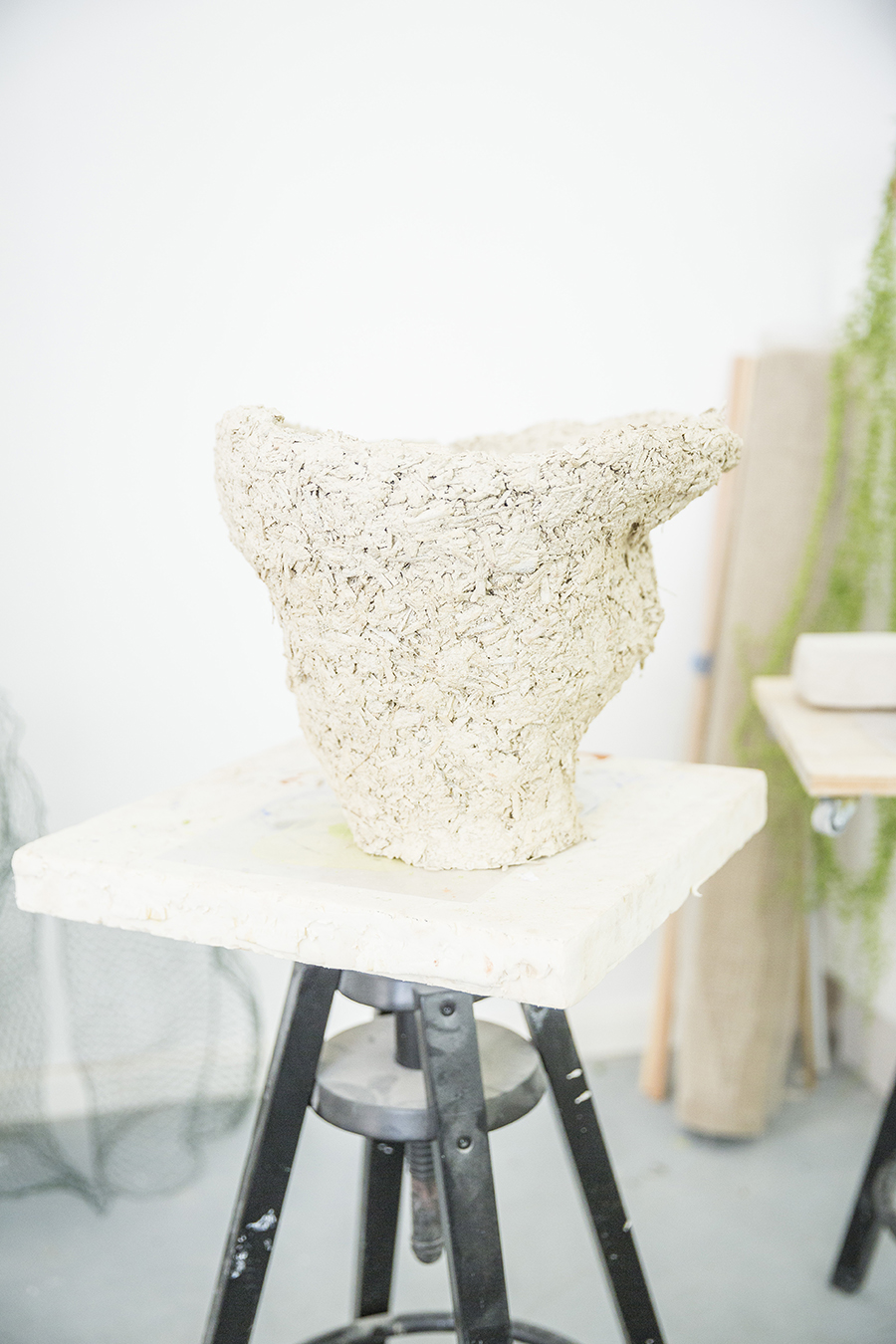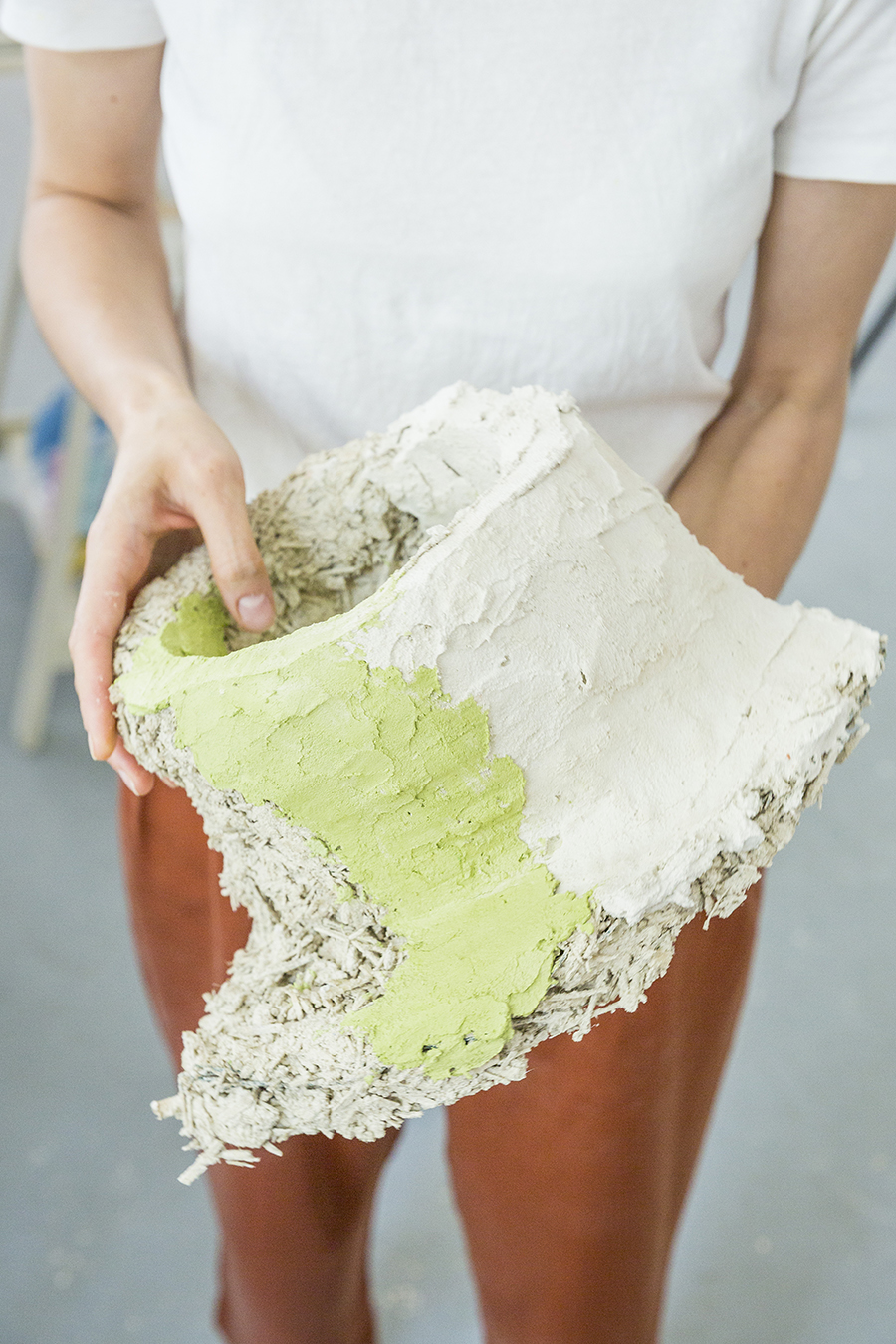 Once built and completely dry Bawa coats the surface with a finer paste, often mixed with the natural colorants that give her work its telltale muted vibrant tones. This is where the real elbow grease comes in: She then painstakingly waterproofs each piece using the Moroccan building technique of Tadelakt — a traditional plastering system that dates back thousands of years — which requires her to coat the surface with olive soap and polish it in its entirety with a flat-faced stone. Hers was found in a riverbed close to where she grew up in California, preferring it to the professional versions you can buy online. "I always pick up stones, but I never have anything to do with them," she jokes, weighing her favorite tool, a small brown-toned disc, in the palm of her hand, "but I was finally able to use that random pile of stones I brought back."
To construct larger pieces with a bit more speed, she uses pre-made Hempcrete bricks typically employed to build habitable structures. For an upcoming collaboration with London-based dellostudio to design and build the entranceway and cafe for next year's Collectible fair in Brussels, she struck up a deal with a local producer who agreed to provide misshapen waste bricks that would otherwise be binned or scrapped. This aligned with Bawa's vision to keep the temporary project as sustainable as possible: Once used, Hempcrete can be shredded and incorporated into future batches.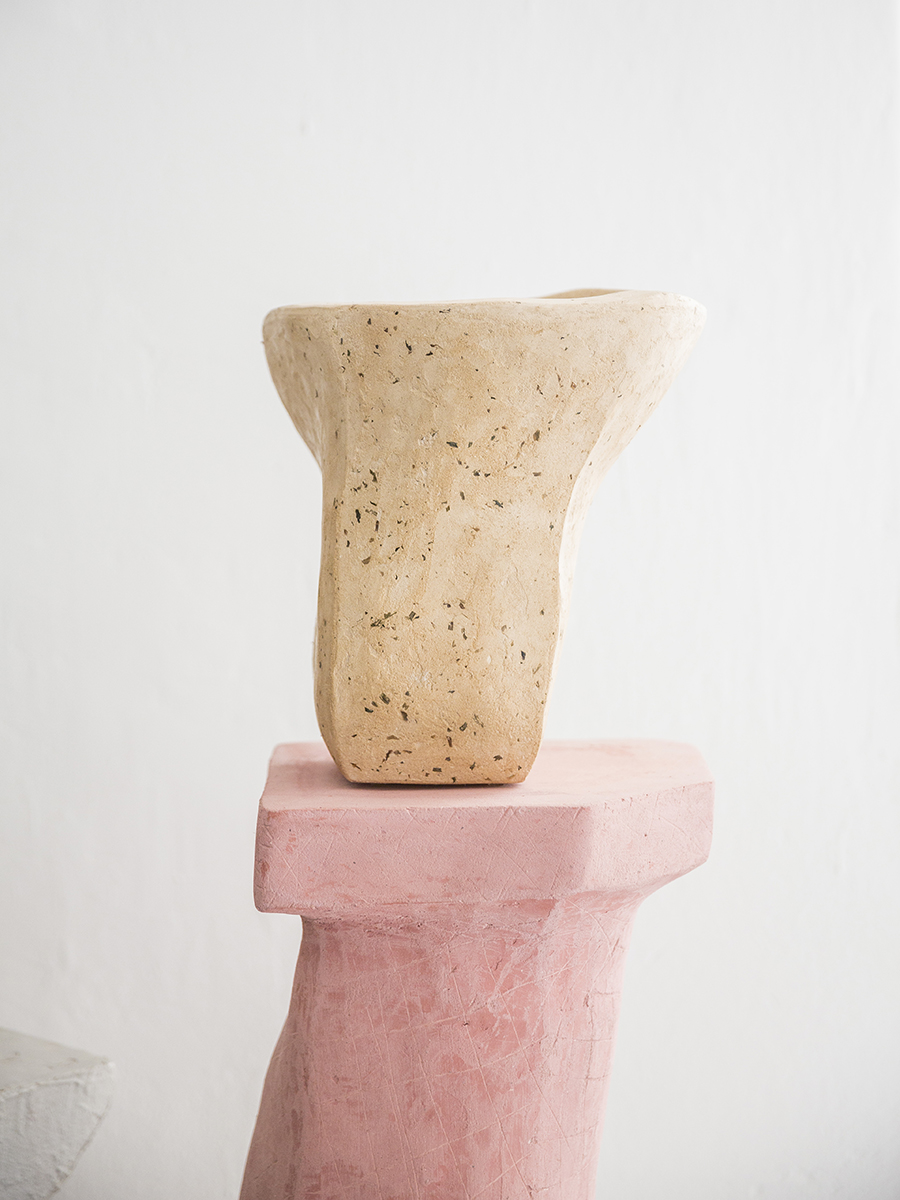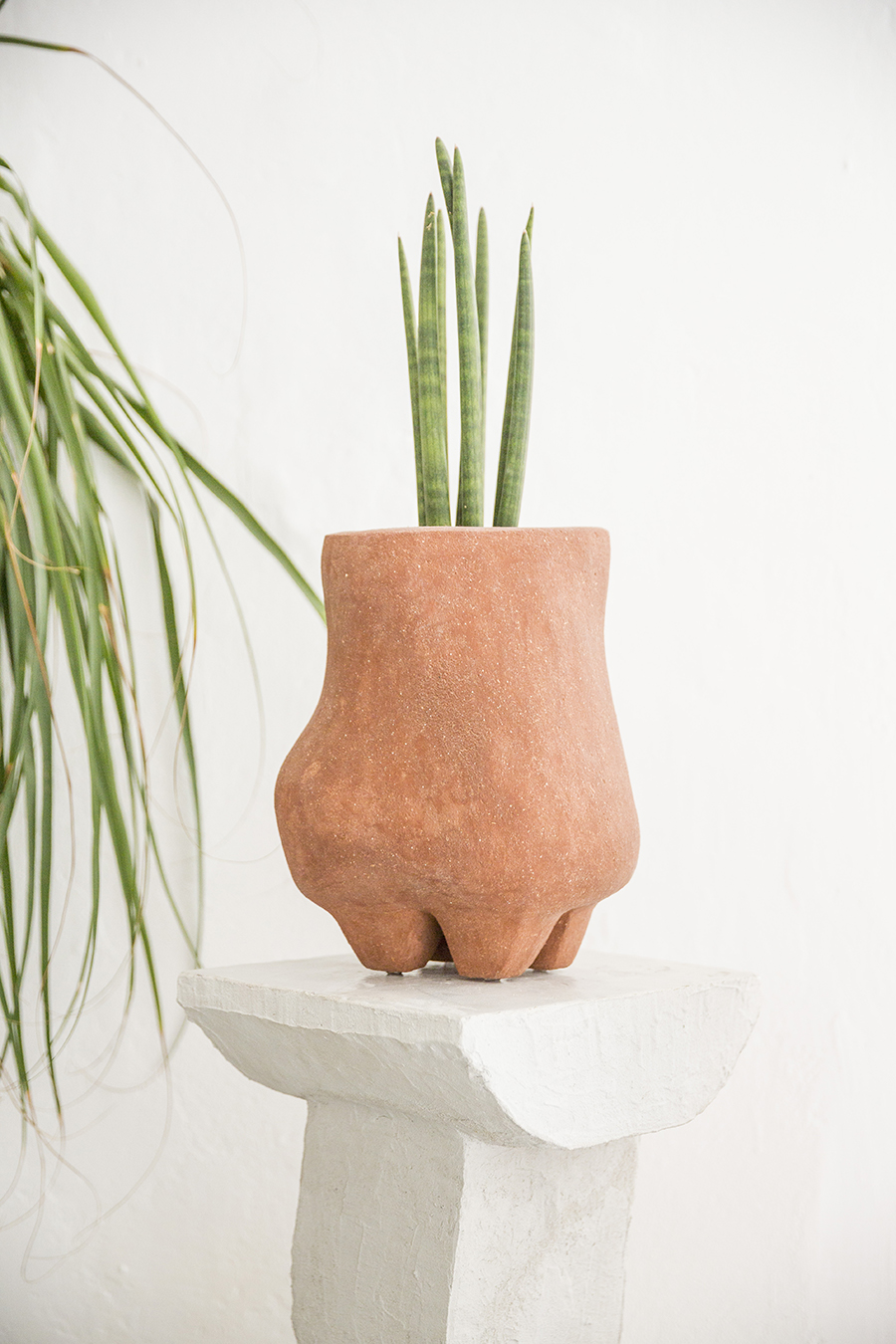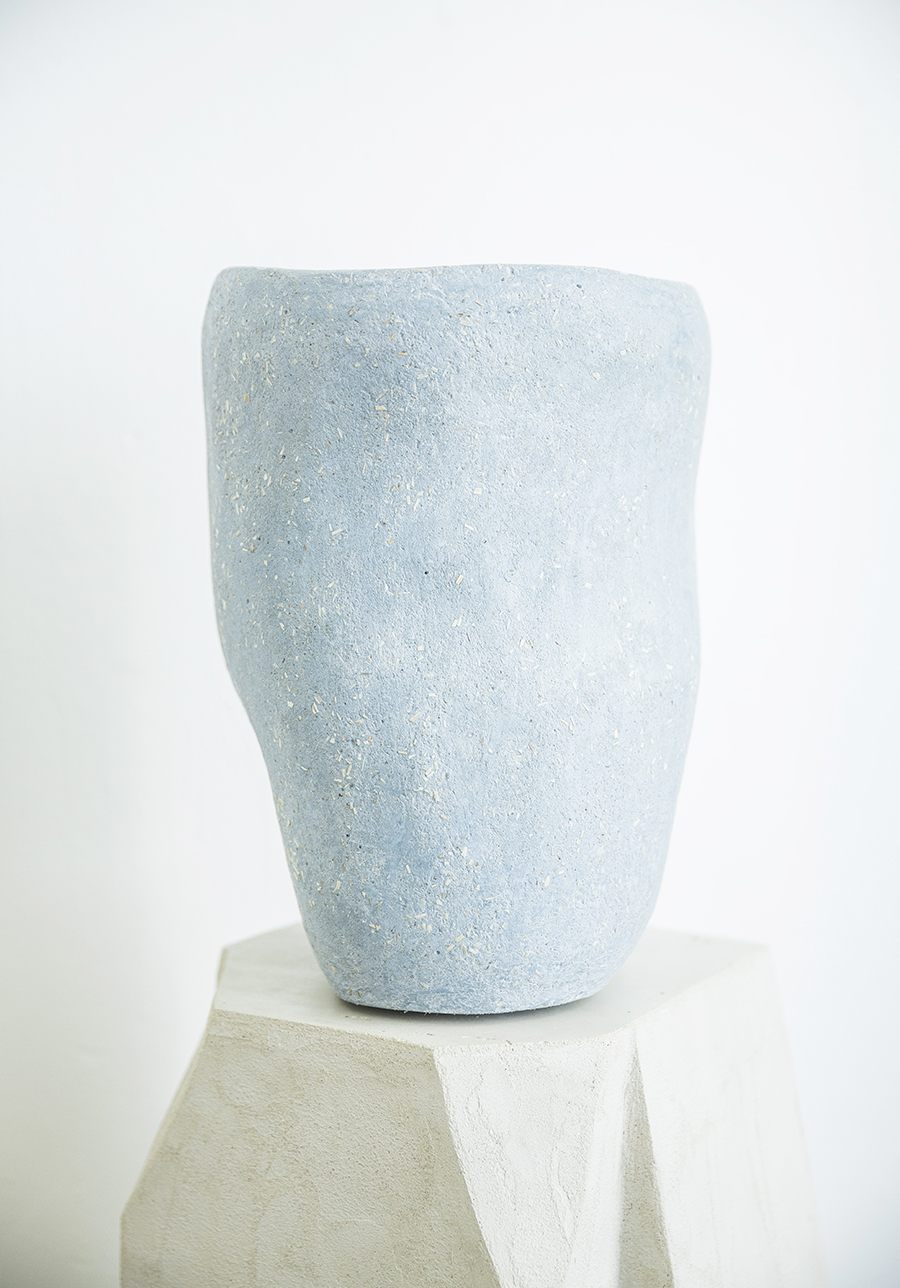 At the moment, she's content working on commissions and selling one-off pieces through Instagram, but looking forward, she has larger-scale plans. "I want to build a house," she says of the future, "that's my ultimate goal."
And, once she's finished telling the world about Hemp's limitless uses, she hopes you will too.
PHOTOS BY PASCAL ROHÉ