04.17.20
Three Recipes for Virtuous Comfort Food, From a Fave Restaurant of New York Creatives
If you're a creative in New York — or one who's visited a lot — odds are you have a soft spot for the Chinatown restaurant Dimes. Although the food is actually quite adventurous, featuring all the unusual ingredients and garnishes that today's young vegetable-forward eaters have come to appreciate (ourselves included), Dimes is not the place you go when seeking an elevated, palate-expanding foodie experience. It's the place you go to eat well amongst people you might know, or might want to; it's about the festive atmosphere and those high-meets-low, laid-back downtown vibes. The restaurant itself may be closed now for the foreseeable future, but you'll find those same vibes in its new cookbook, Dimes Times, which is filled with smiling carrot cartoons and purposefully grungy photo backdrops.
Its timing is both terrible and perfect. Ever since Dimes opened in 2013, friends had asked co-founders Sabrina De Sousa and Alissa Wagner when they were going to make a book; they demurred, wanting to be certain they could faithfully translate their ethos to paper. They finally released Dimes Times on March 12, only to have to shutter first their release party and then the restaurant itself. And yet, we don't know anyone who cooked as much before as they are now, nor do we know anyone who's not eager for the kind of virtuous comfort food that Dimes does so well. That's why we asked De Sousa and Wagner if we could share some of their recipes on Sight Unseen — the three dishes below are all warm and soothing, relatively easy to make, and freezer-friendly, too. It's no sitting-at-a-Matisse-inspired-table-sipping-wheatgrass-margaritas, but it's the perfect thing for a pandemic that's deprived us of such.
Purchase your own copy of Dimes Times here.
PHOTOS BY MARY MANNING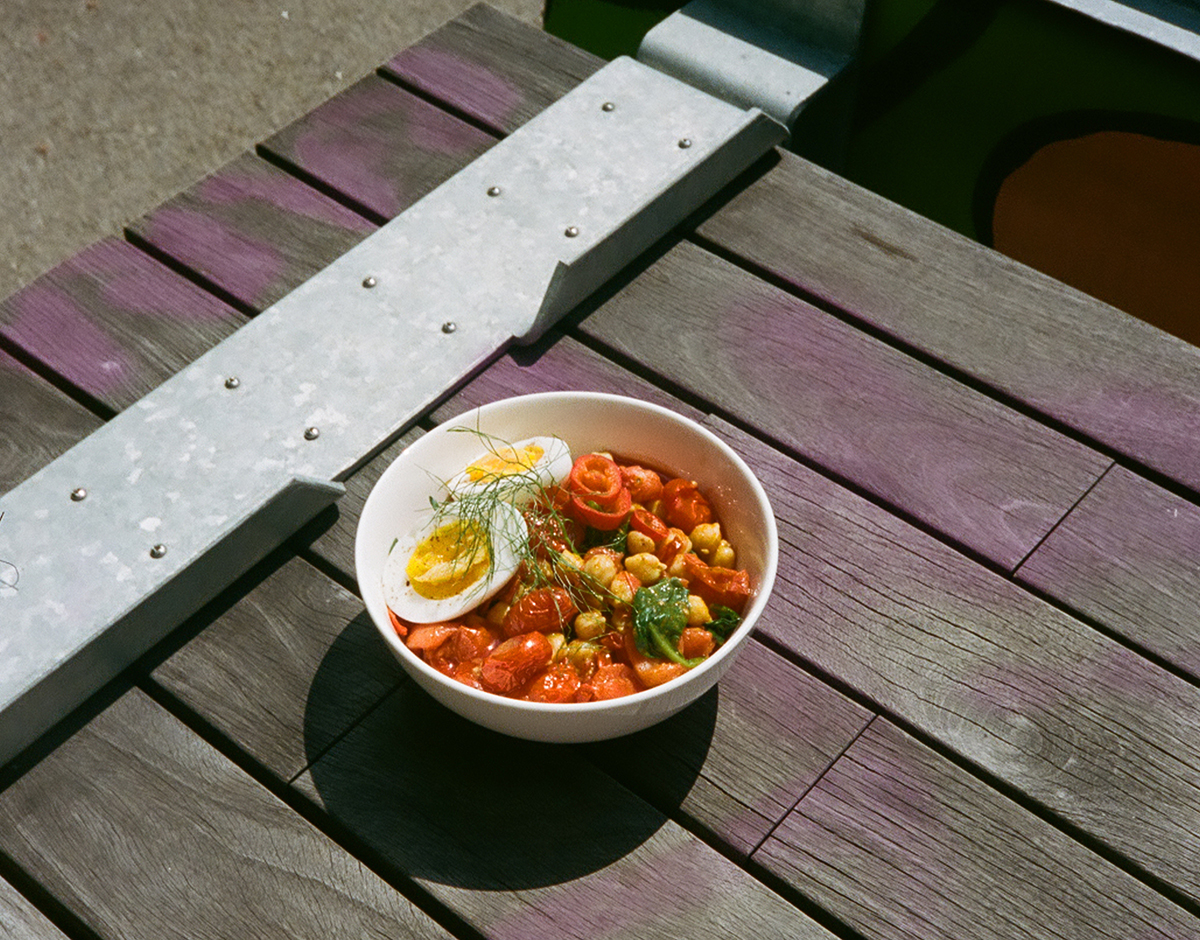 Chickpea Stew
2 tbsps coconut oil
1 onion, thinly sliced
4 garlic cloves, thinly sliced
2 thai chilies, minced
1 tbsp ginger root, grated
1 tsp fennel seeds
2 tbsps yellow curry powder
1⁄4 tsp cayenne
4 cups cooked chickpeas
1 pound hearty greens, thick stems removed, chopped into bite-sized pieces
1⁄2 cup lime juice
1 (24 oz) can whole peeled tomatoes
1 tsp salt
1⁄2 tsp black pepper
1⁄4 cup chopped dill
In a small stockpot, sauté onion, garlic, chilies, and ginger in coconut oil. Cook until softened. Add spices and cook a minute or two until fragrant. Add chickpeas, greens, lime juice, and tomatoes with juices, tearing tomatoes with your hand as you add to break them apart bit. Stir in salt and black pepper. Simmer until tomatoes are broken down and sauce has thickened, about 10 minutes. Stir in dill just before serving. Serves 2-3.
SUGGESTIONS
This dish works great on its own as a hearty alternative breakfast dish. Beef it up with some avocado, and egg (hard boiled or sunny-side-up), or pulled chicken.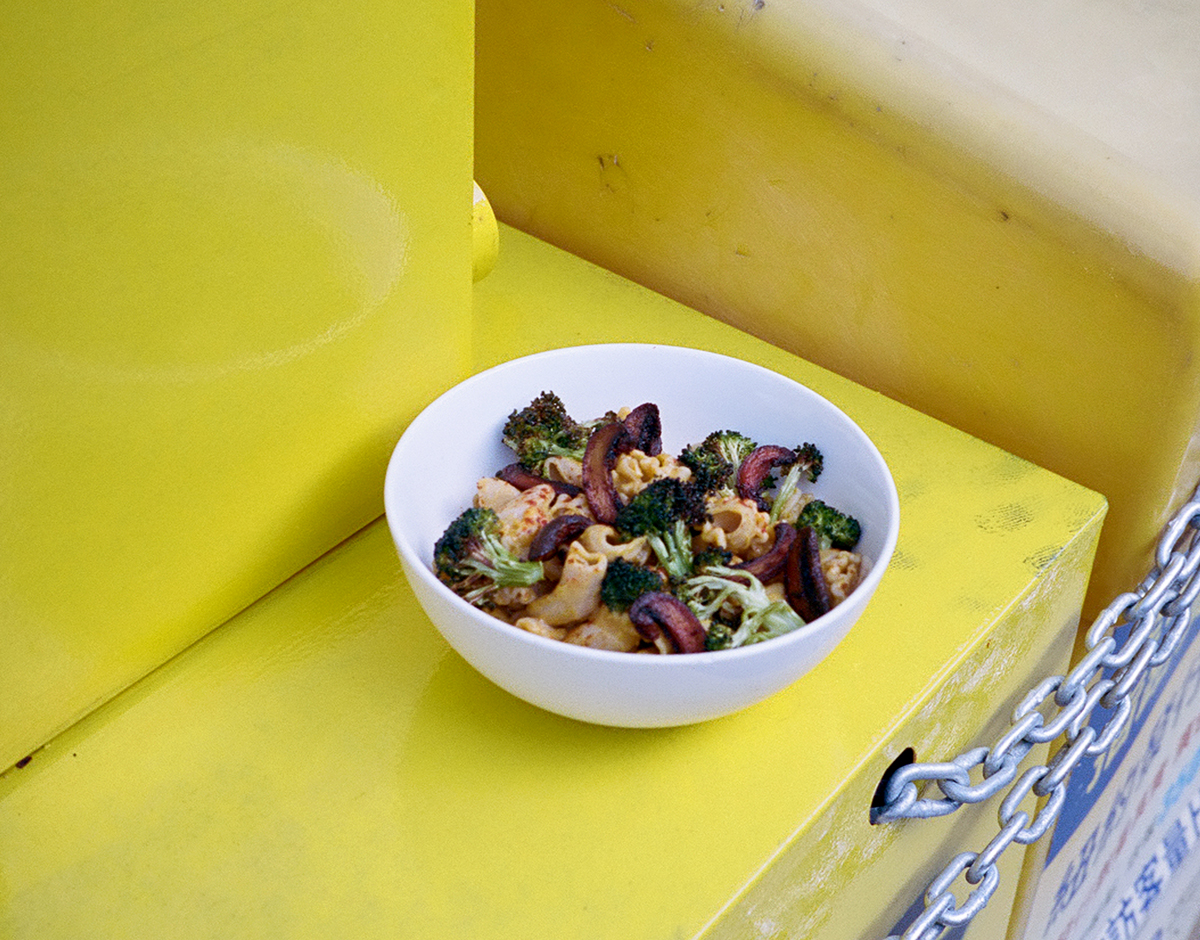 Vegan Mac N Cheese
4 cups shitake mushrooms, stems removed and thinly sliced
2 tsps paprika
1⁄2 lb winter squash (such as blue hubbard, kabocha, or butternut), peeled, seeds removed, and diced into large chunks
1 yellow onion, thinly sliced
2 garlic cloves, thinly sliced
5 sage leaves
1⁄2 lb broccoli, chopped into bite-sized pieces
1 lb pasta (such as campanelle, shells, anything with nooks + crannies)
1⁄2 block tofu
2 tbsps rice vinegar
1⁄2 cup plus 4 tbsps olive oil, divided
3 tsps salt, divided
Place mushrooms in a medium mixing bowl. Toss with paprika, 2 teaspoons salt, and 2 tablespoons olive oil. Roast at 400 °F until crispy, stirring occasionally. Toss squash with 2 tablespoons olive oil. Roast at 375 °F until very tender. Meanwhile, caramelize onions, garlic, sage, and remaining half cup of olive oil in a large skillet over high heat. Transfer to a bowl and set aside. Use the same skillet to sauté the broccoli, add more oil if needed to lightly coat. Saute over medium-high heat until just tender. Boil a large stockpot of water and cook pasta according to packaging. Drain pasta and place back in stockpot. Place roasted squash, caramelized onion mixture, tofu, rice vinegar, and remaining 2 teaspoons of salt in a blender and blend until very smooth and creamy. Add sauce to the stockpot and stir to combine. Fold in broccoli and shiitake bacon. Enjoy with TONS of hot sauce. We particularly like ours with Crystal Hot Sauce or Frank's Red Hot. Serves 4-6.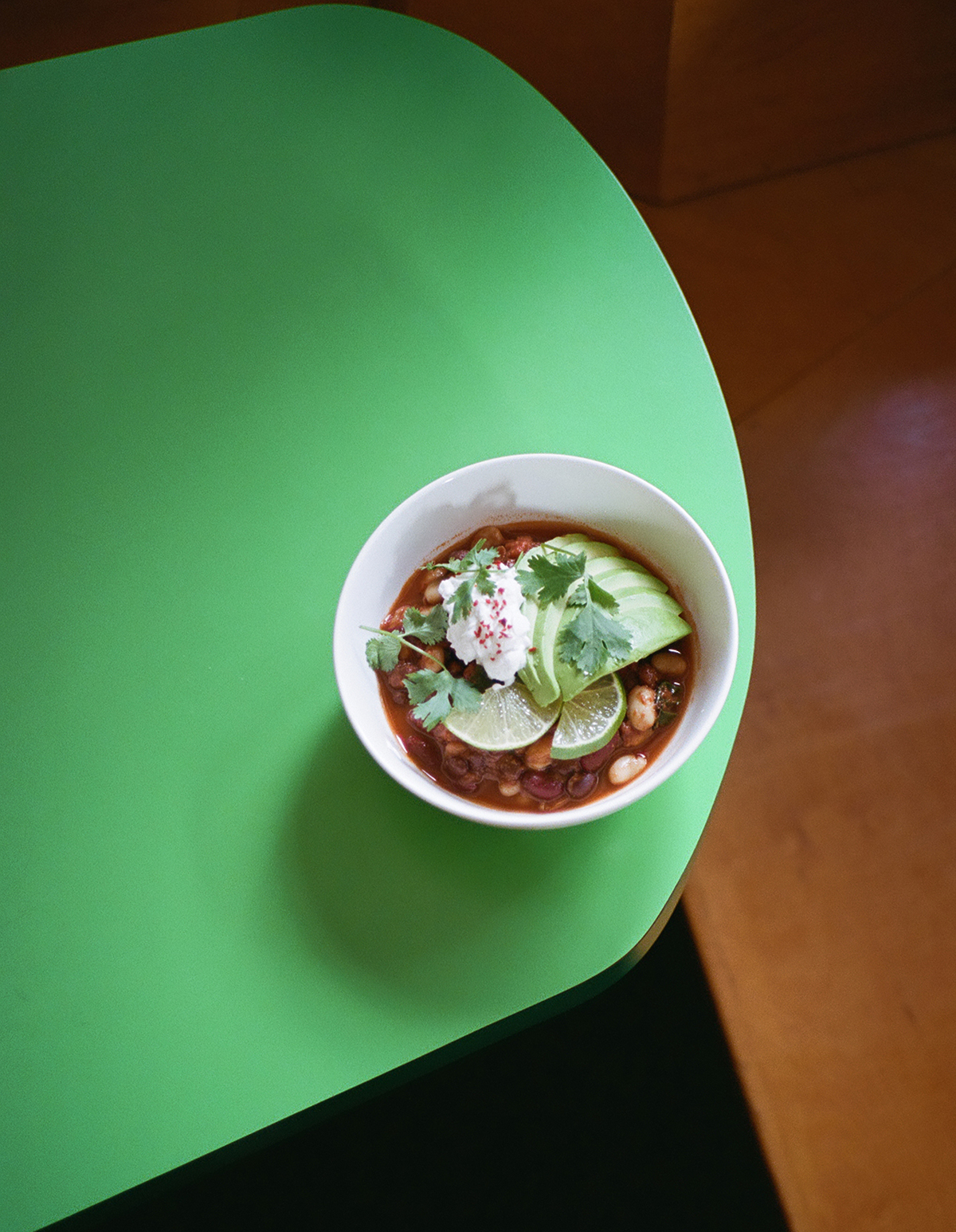 Dimes Chili
1 onion, diced small
6 garlic cloves, sliced thin
4 arbol chilies, crushed
1 tsp cumin
1⁄2 tsp nutmeg
1⁄2 tsp cinnamon
2 tsps ground cinnamon
2 tsps ground coriander
1 tsp cardamom
2 tsps unsweetened cocoa powder
1 tsp paprika
1⁄4 tsp cayenne pepper
1⁄2 tube tomato paste
1 can crushed tomatoes (28 oz)
1 can Great Northern beans (15 1⁄2 oz)
1 can red kidney beans (15 1⁄2 oz)
1 can black beans (15 1⁄2 oz)
1 can whole peeled tomatoes (28 oz)
3 limes, juice only
2 tsps salt
Fresh black pepper, a few cracks
1 head lacinato kale, chopped and wilted
Caramelize onions and garlic in olive oil to coat. Add spices and toast. Stir in tomato paste, crushed tomatoes, and beans. Add whole tomatoes and their juices, breaking them apart into small pieces as you add them to the pot. Stir in lime juice, salt, and pepper and cook until thick and flavorful. Stir in kale and cook until just wilted. Enjoy with Greek yogurt, avocado, and lime wedges. Serves 4.