05.13.20
The Minimal, Masculine Eagle Rock Hideaway of a Top Creative Director
Five years ago — when Nathan Warkentin last spoke to Sight Unseen — the designer was living in New York City, nearly three years into his role as creative director for the Brooklyn-based chocolate company Mast Brothers. "We were opening a Los Angeles factory at the time," he remembers. "I was already thinking about moving to California and wanting to buy a house, and it seemed like a good time to make that transition." From there, things unfolded quickly: He and his wife made the cross-country move that same year. 
Since then, much in the designer's life has changed. Shortly after leaving Mast in 2016, he established his own practice, Original Action Group, a boutique design firm specializing in brand strategy and design; more recently, in September 2019, he partnered with co-principal Devin Carlson to launch Suplex, an agency focused specifically on spatial identity in the hospitality industry. "We take a holistic approach to what we do," Warkentin says. "Instead of having different people handle brand identity, interiors, and concept, we do it all under one roof." (Though Warkentin's design roots lie elsewhere, he switched his focus to interiors after being asked to design a Mast Brothers chocolate factory. "My experience is a little backwards from most interior designers," he says. "I kind of like it that way.")
Since relocating, Warkentin has also devoted time to the gut renovation of the Eagle Rock home he shares with his wife and infant son. It was the first time, he says, that he's had the chance to translate his interest in interiors fully into his own space, which is a 1,500 square-foot study in agreeable contrast: indoor collides with outdoor, antique combines with contemporary, minimalism mingles with warmth. (Memorable details include custom items like a black leather dining table and a modular couch in olive green; vintage treasures, such as a 1940s Japanese teak and bamboo chair; and contemporary pieces from Tom Sachs and Andreas Fornell.)
We caught up with Warkentin in April — just two weeks after California issued its statewide stay-at-home order to reduce the spread of COVID-19 — to learn more about his influences, his approach to interiors, and the ways in which the lockdown has changed his experience of home.
PHOTOS BY JESUS BANUELOS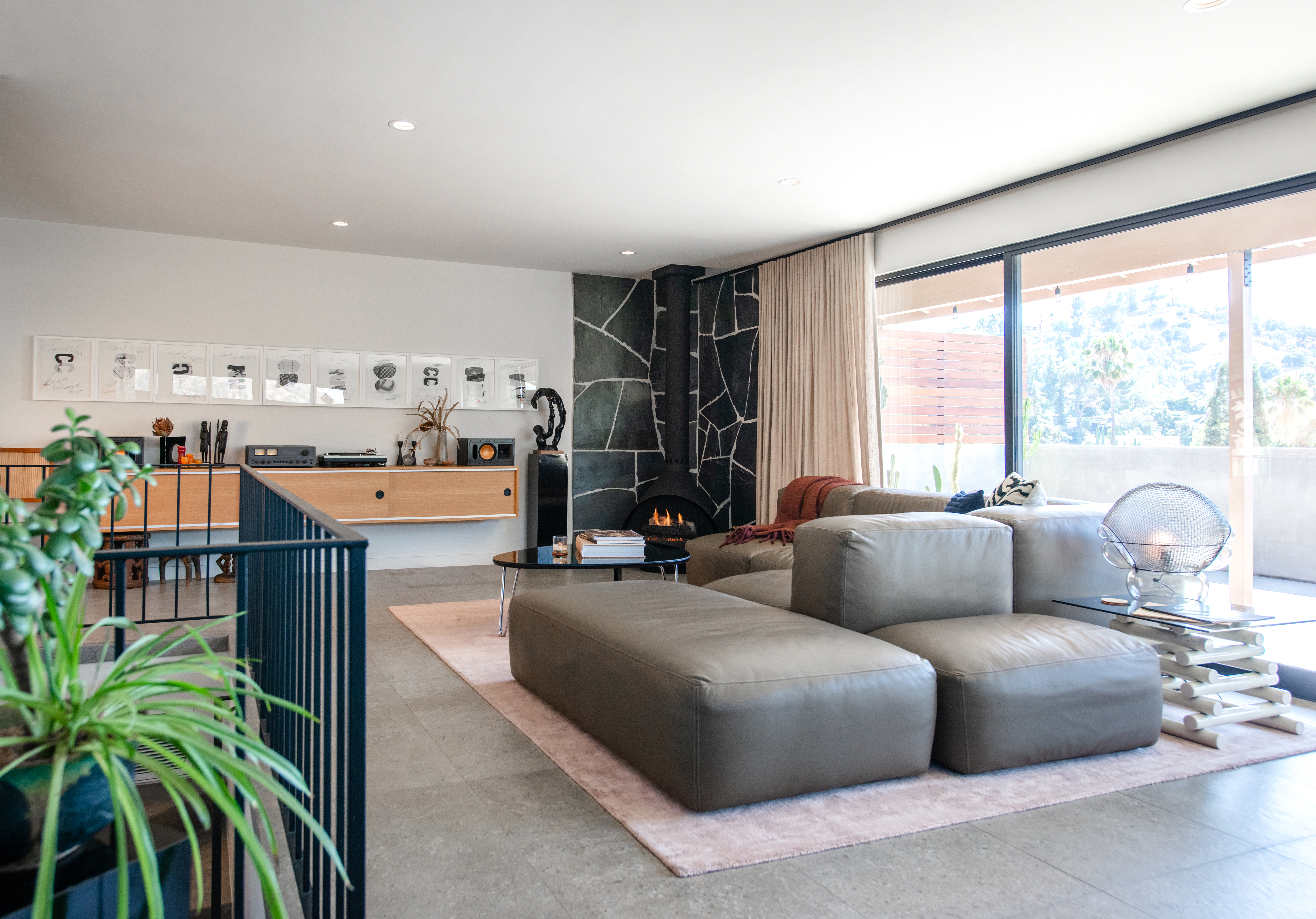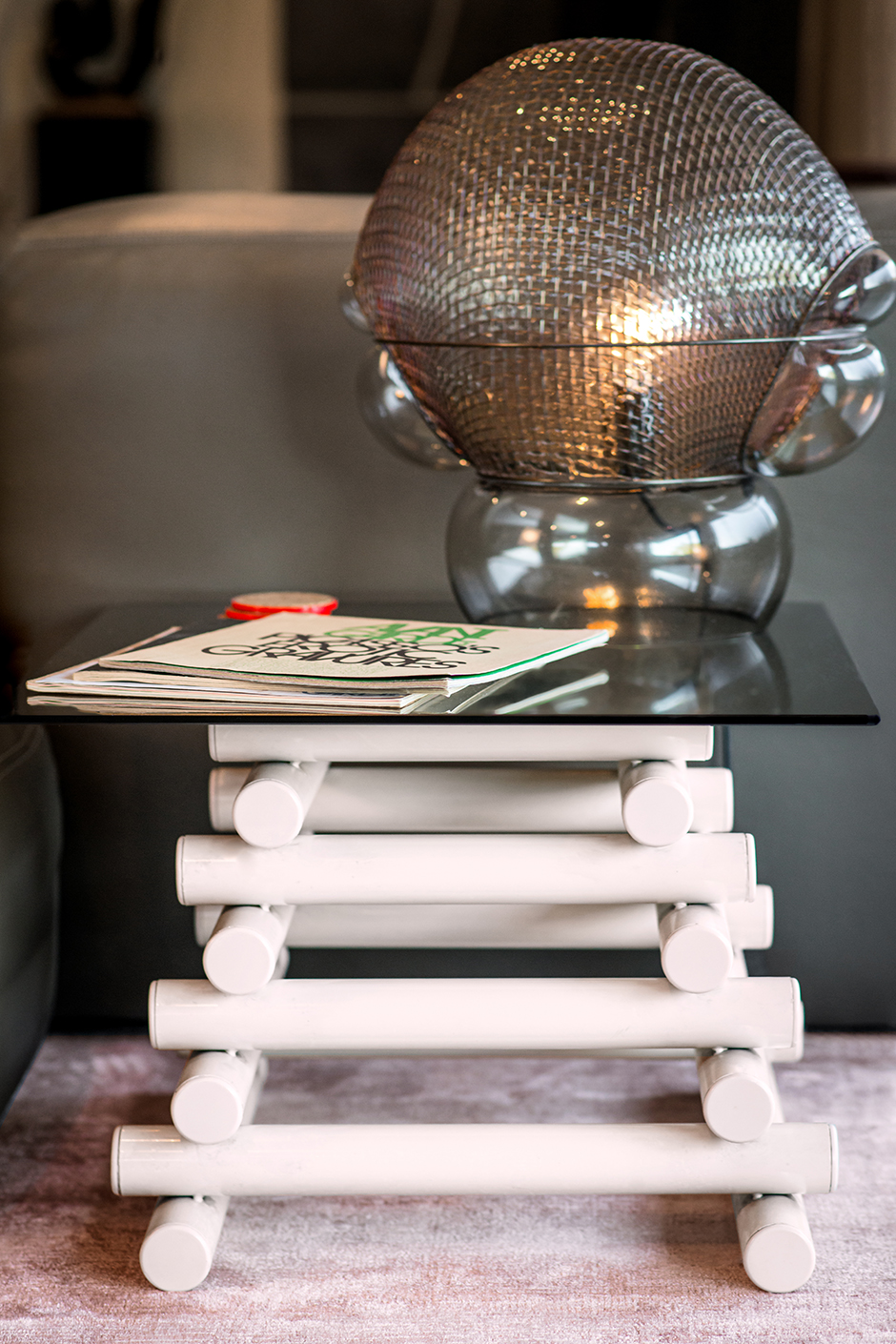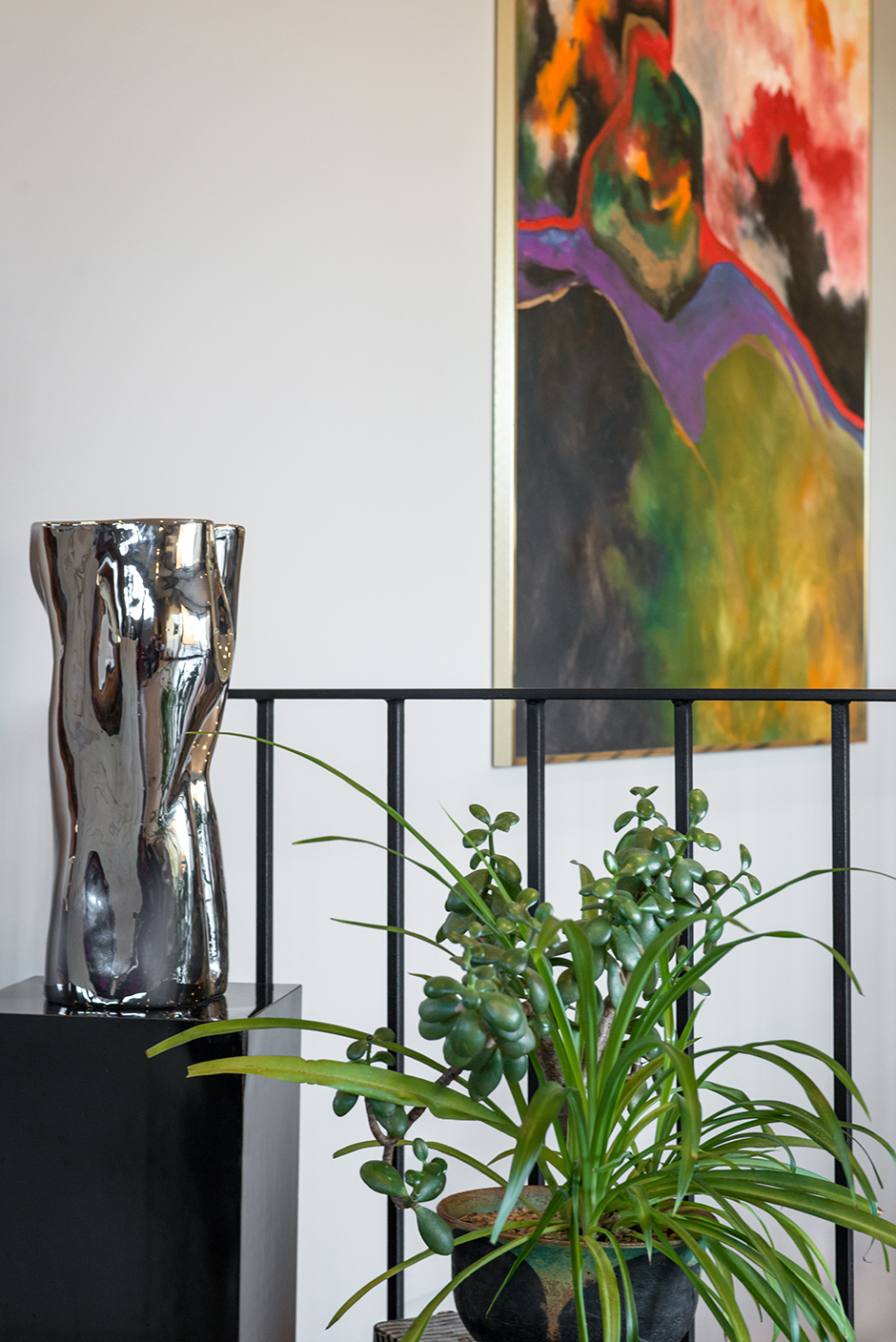 Your newest venture, Suplex, focuses on spatial design. As someone with experience in a variety of creative mediums, what led you to this type of work—and what draws you to designing spaces in particular?
I studied studio art and graphic design in college, and was later brought on as a graphic designer for a clothing brand called Ever. Eventually, the creative director asked if I'd be interested in designing clothes, and even though I had no training, I said yes. He taught me to make basically everything, from T-shirts to denim to leather jackets to swimwear. I really liked the detail-oriented nature of that, and the cohesive storytelling aspect that went along with it: You come up with a collection, and each individual piece has to tie back to that concept. 
A similar thing happened when I transitioned into designing interiors. I was at Mast Brothers, and I was asked if I'd be interested in designing a new chocolate factory. Again, I was learning as I went, and I became obsessed. An interior is the most immersive thing you can design because you're actually physically in that space. Since that first project, I've really focused on making interior design the center of my work.
What are the uniting factors between all of the various spaces you've designed? Are there certain references or sources of inspiration that you draw from regularly? 
It's less about specific aesthetic inspirations that unite the spaces, and more about philosophies or concepts. I don't feel like I have an identifiable style that I apply across the board to all of my work. For me, the process is about trying to channel the essence of a brand into a physical space, so a lot of my work looks pretty different. The Mast Brothers chocolate factory looked like a Donald Judd installation, really simple; other spaces have been over-the-top with different materials and patterns and colors. What ties the spaces together is more about approach, as opposed to, 'I always use chrome,' or 'I always use leather.' It's about whatever is appropriate for the job. Although, I do have certain personal affinities.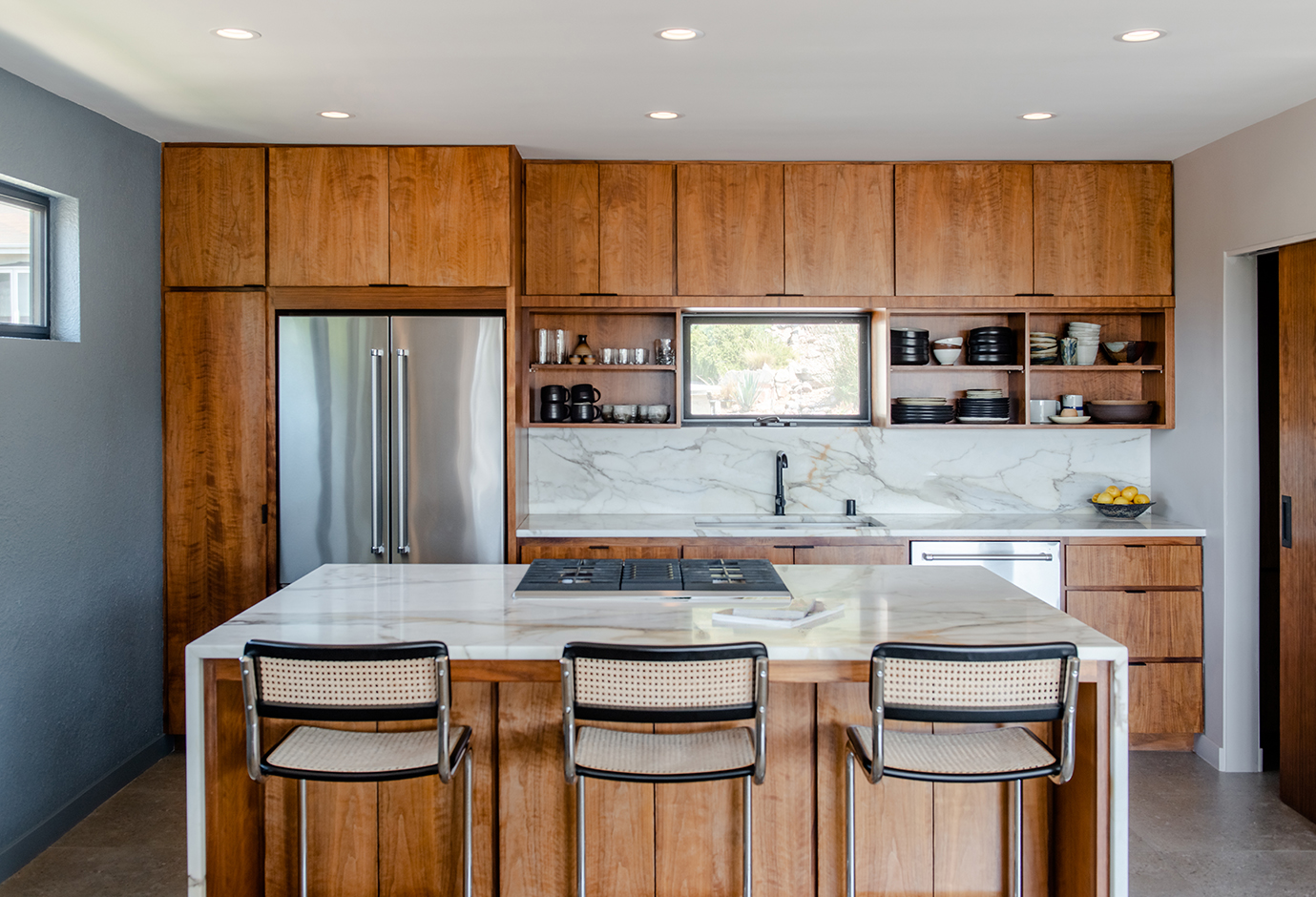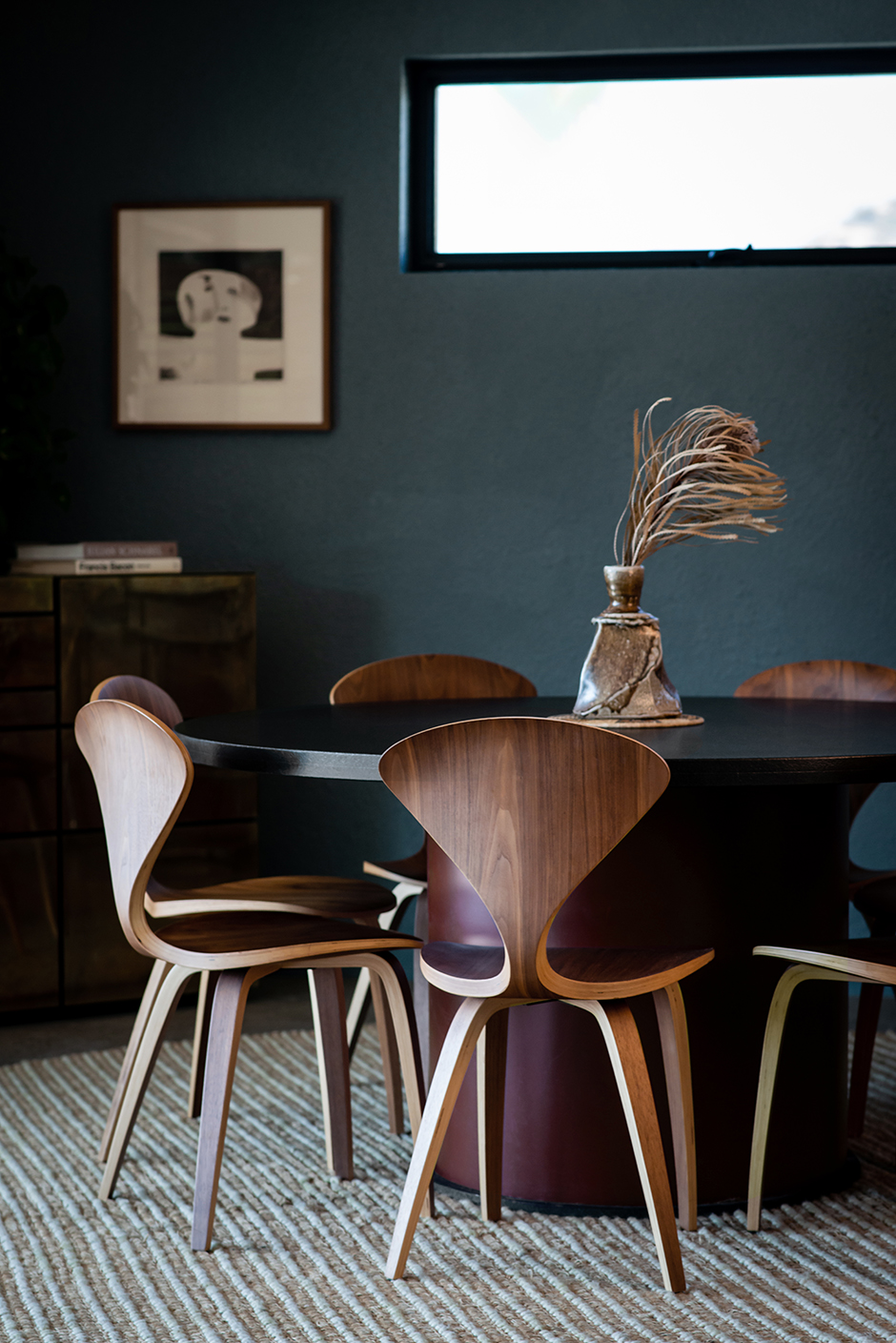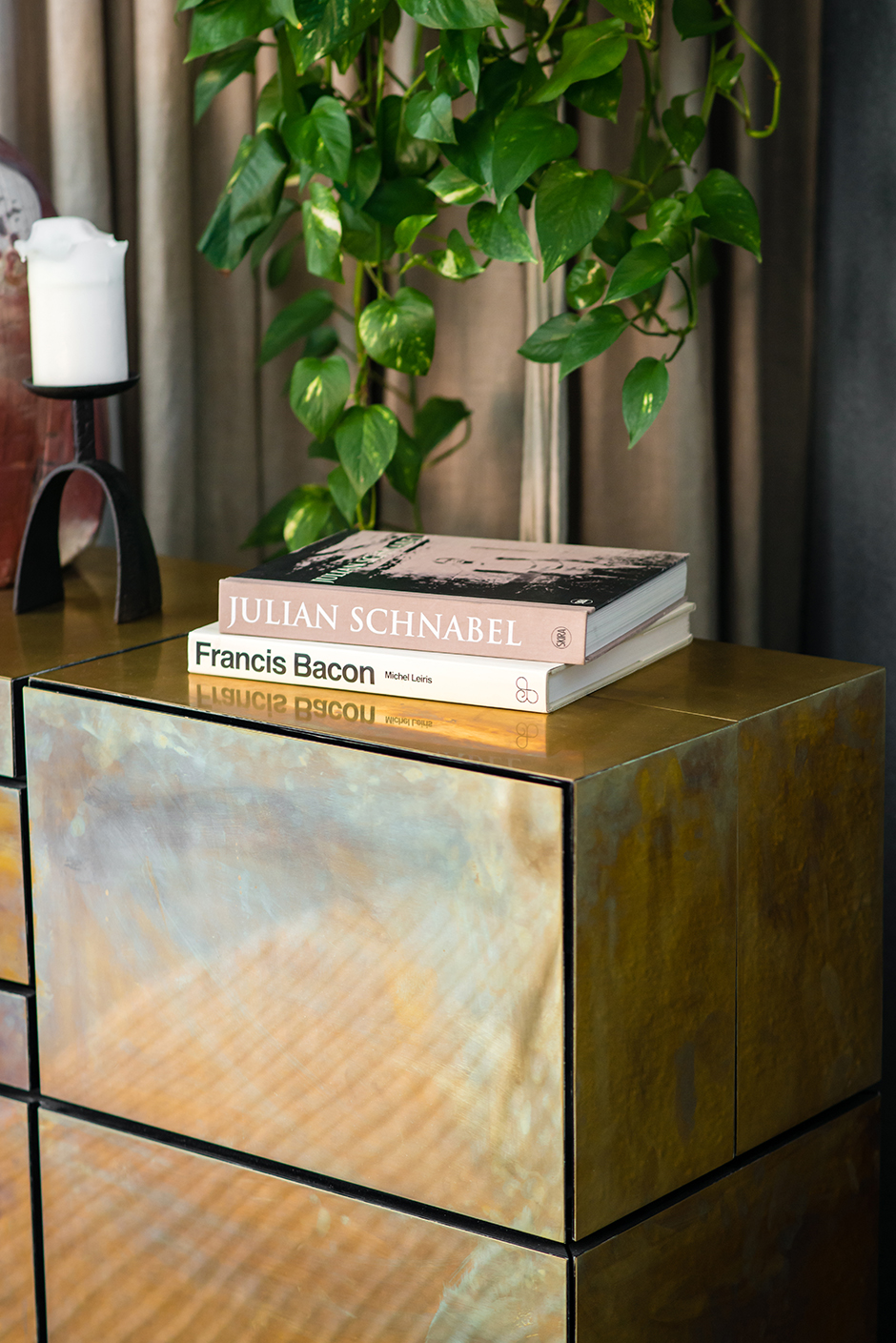 On that note, tell us about the design of your home. As someone who designs physical spaces, what was most important to you about this one?
We bought the house when we were still living in New York, and we started working on it right after we moved to LA. Basically, it was a gut renovation—none of the window openings are the same, a lot of the walls and partitions aren't the same. I moved a lot of things around. Every surface is brand-new. More than any specific style, the number one thing I focused on was making things feel open, so I tried to eliminate any unnecessary partitions. Also, coming from New York, we really craved outdoor space. The main feature of the house is a 24-foot sliding glass door that opens onto a terrace that overlooks the mountains, so we wanted to create a sort of airy, indoor-outdoor feel.
From there, it was about picking materials to make things feel warm and inviting. Simple but also with points of interest. All white, minimal houses annoy me a little bit—there are some of those moments in our house, but I also wanted to have wood tones, and interesting objects, and layers of things that are old and new, so that the space wouldn't feel like a predictable contemporary design.
Is this the first time that you've been able to design your own space in this way?
This is the first time I've owned, so yeah. I mean, I've definitely invested money in the past on rentals when I shouldn't have, going in and ripping up carpet and painting, that sort of thing. But this was the first time I really dug in, and it was the first opportunity to say, 'I want to remove this whole wall,' or 'I want to put a window here.' Those are chances I wouldn't have had before. A lot of our furniture is custom-designed, too, and basically tailored to the space. That's something I wouldn't have done as a renter.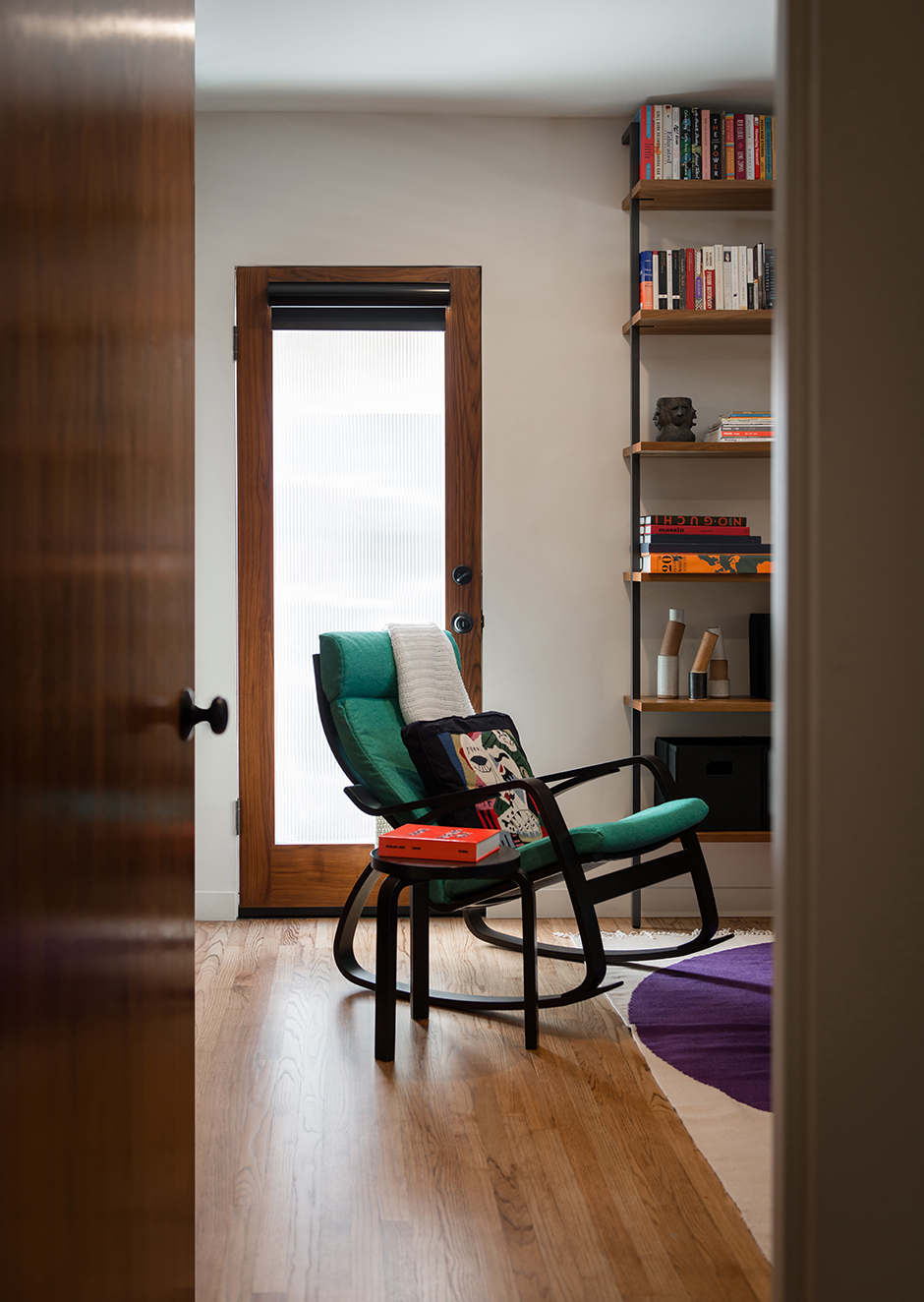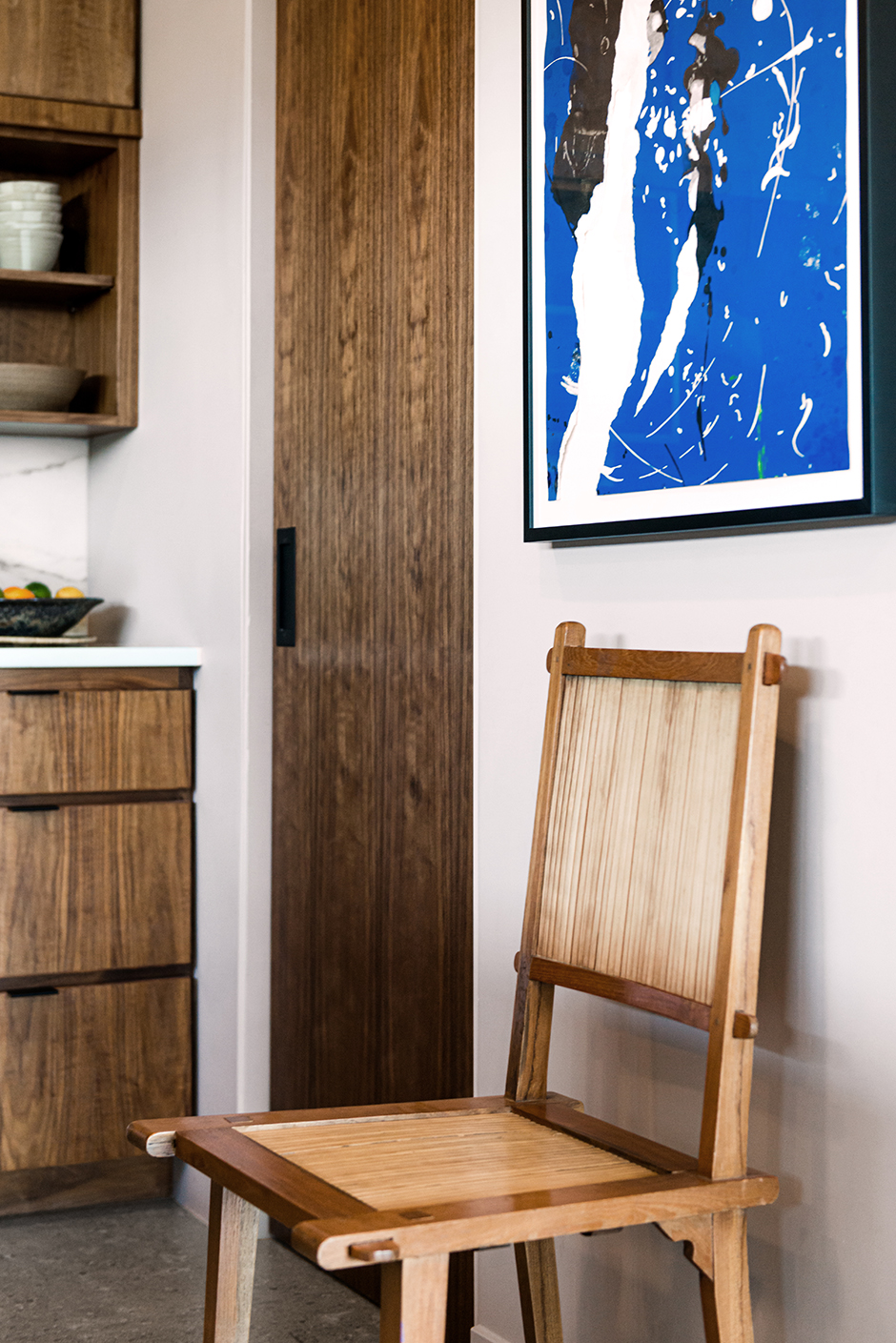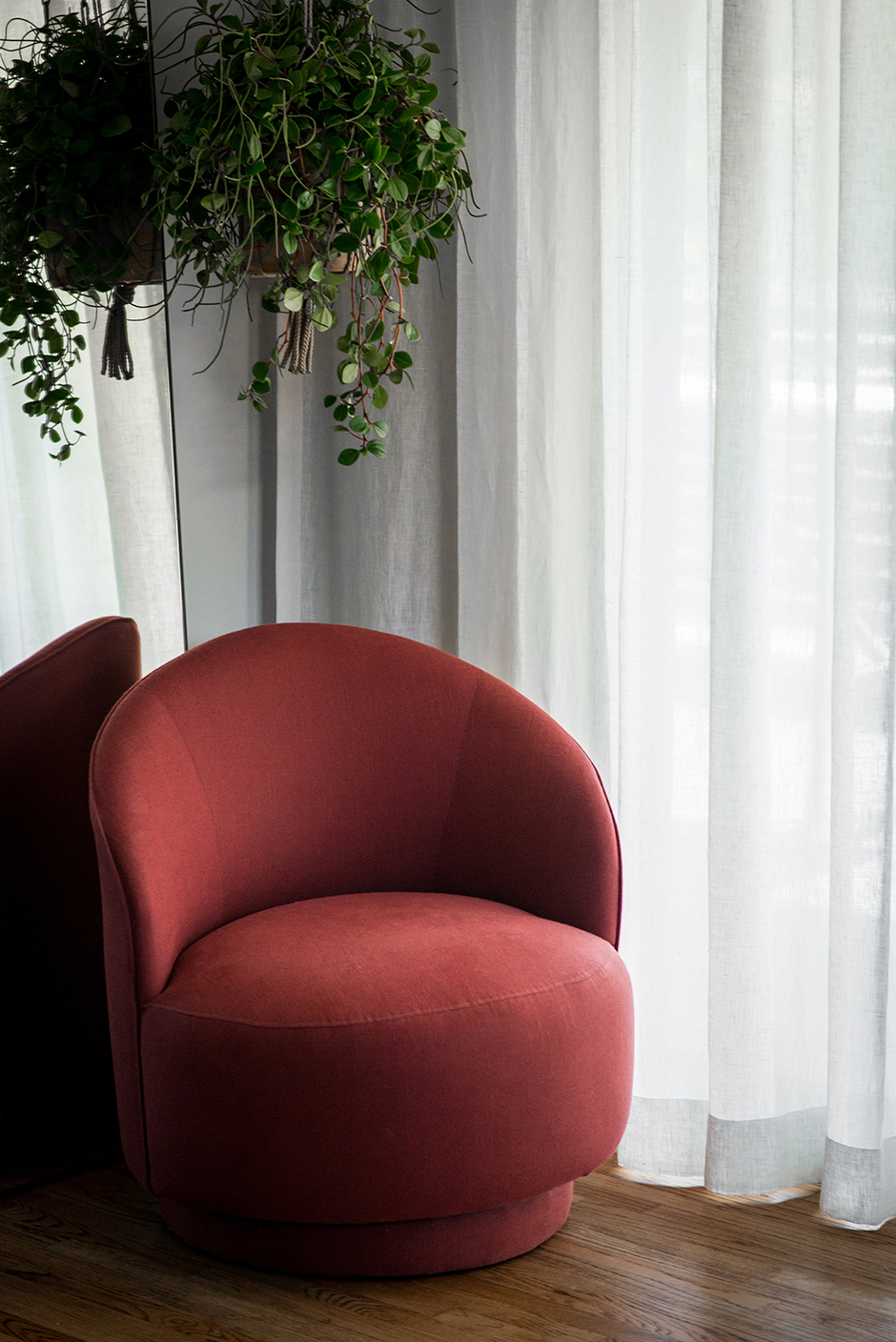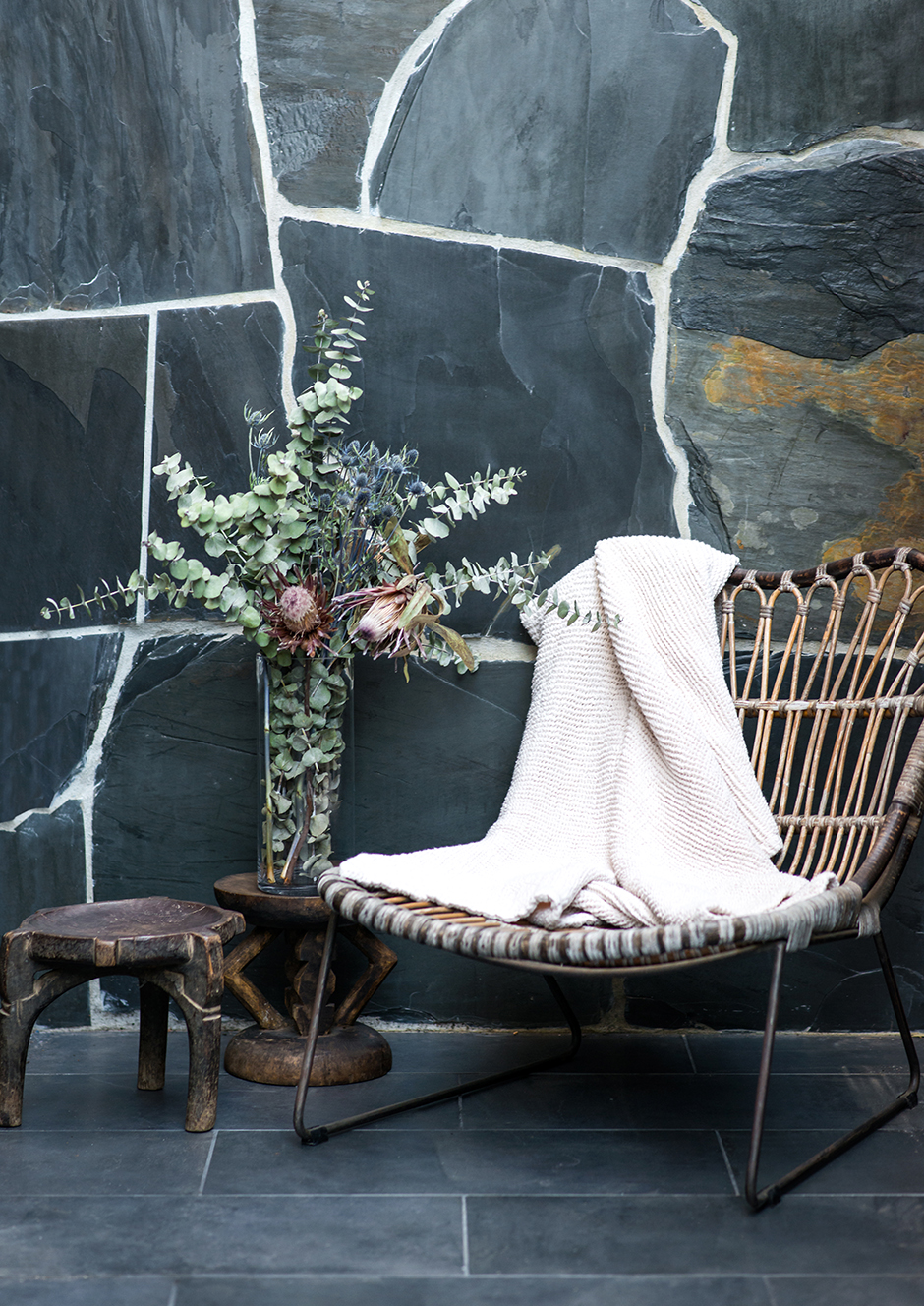 What are some of your favorite details or pieces in the space? 
One of my favorite pieces is a table that I found in the bushes by our house—someone was throwing it away. It has a kind of pyramid design, with cream-colored metal cylinders and a smoked glass top. What's funny about it is that it was free, and the piece that ended up going on top of it is this 1970s hand-blown Italian lamp by Gae Aulenti. It's high-low: Some things cost a lot, and some things I literally found in the trash.
We also like to go to estate sales and flea markets, and when we're traveling, we try to bring back a couple of things every time—small accessories, or furniture. I have about five African stools that I've collected over time. I like bringing in pieces like that and mixing them with things that are more contemporary and modern.
Were you always attuned to the way spaces look and feel? Are there memorable homes or interiors from your past that you found yourself drawing on when you were designing this house? 
When it comes to childhood or past memories, the influence is a little more abstract. It's more about drawing on things like the way a room feels when the light is bouncing off wood in a certain way, or reflecting off glass. These things are so subtle, they're not even conscious choices that I've made, but they definitely have emotional resonance. In the upstairs bathroom, there's beautiful light that comes in in the morning through a reeded glass window and casts a reflection on the tile. It feels nostalgic and emotive to me in a way, without referencing, you know, specific pieces of furniture that were around when I was a kid.
Early trips to Denmark or Sweden when I was in college were really impactful in terms of design for me, too. I'd never seen such functional, simple, and beautiful designs before. Even the way schools and children's furniture are over there—these were things I'd never been exposed to in the States. It made a big impact on me, this idea that minimalism doesn't have to be cold. In this house, the goal was to create an inviting and peaceful space. So I tried to use warm materials like walnut cabinets and doors, natural fiber rugs, and nubby linen curtains, contrasted by heavy minimal materials like porcelain floor tiles, granite counters, and steel railings.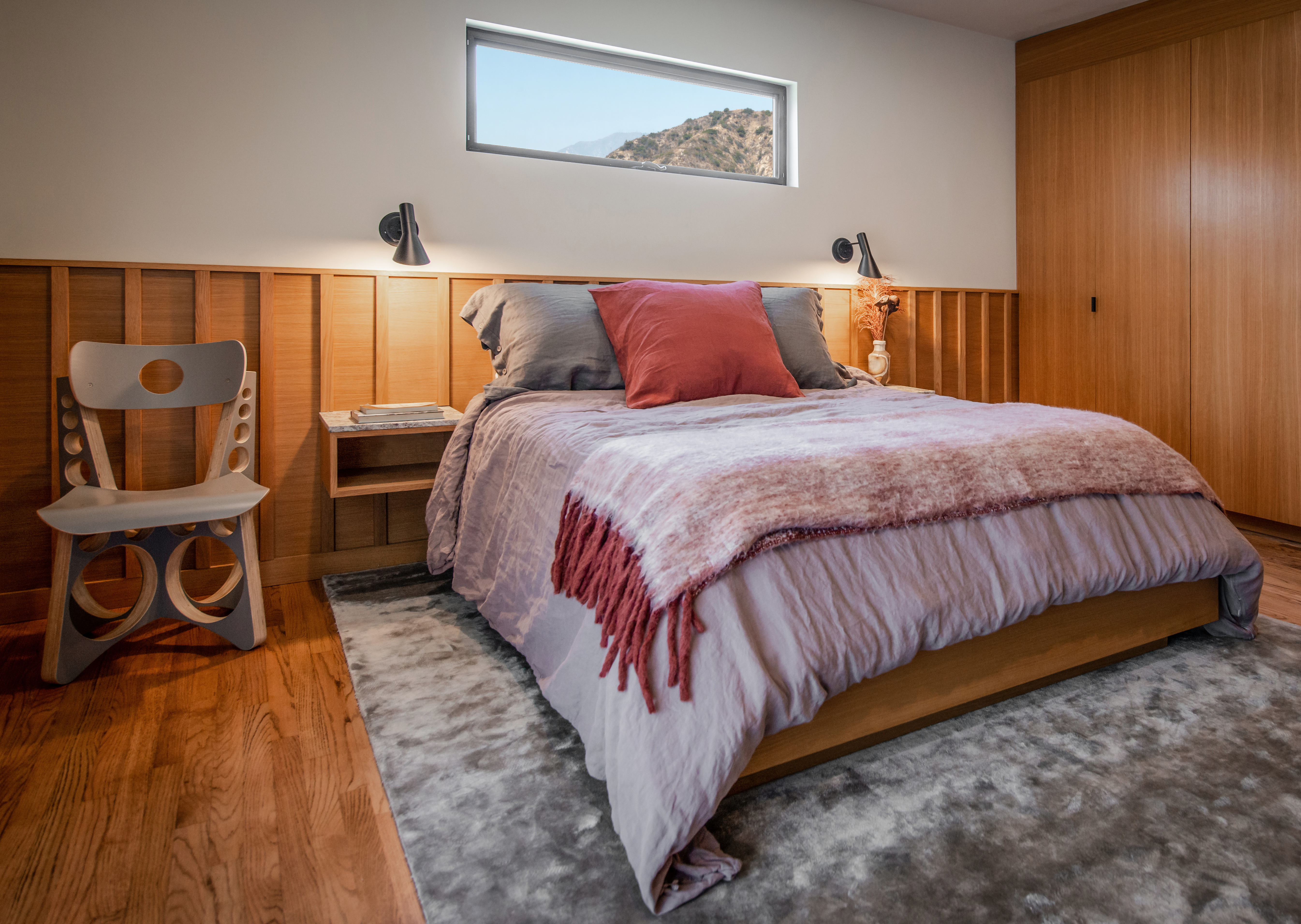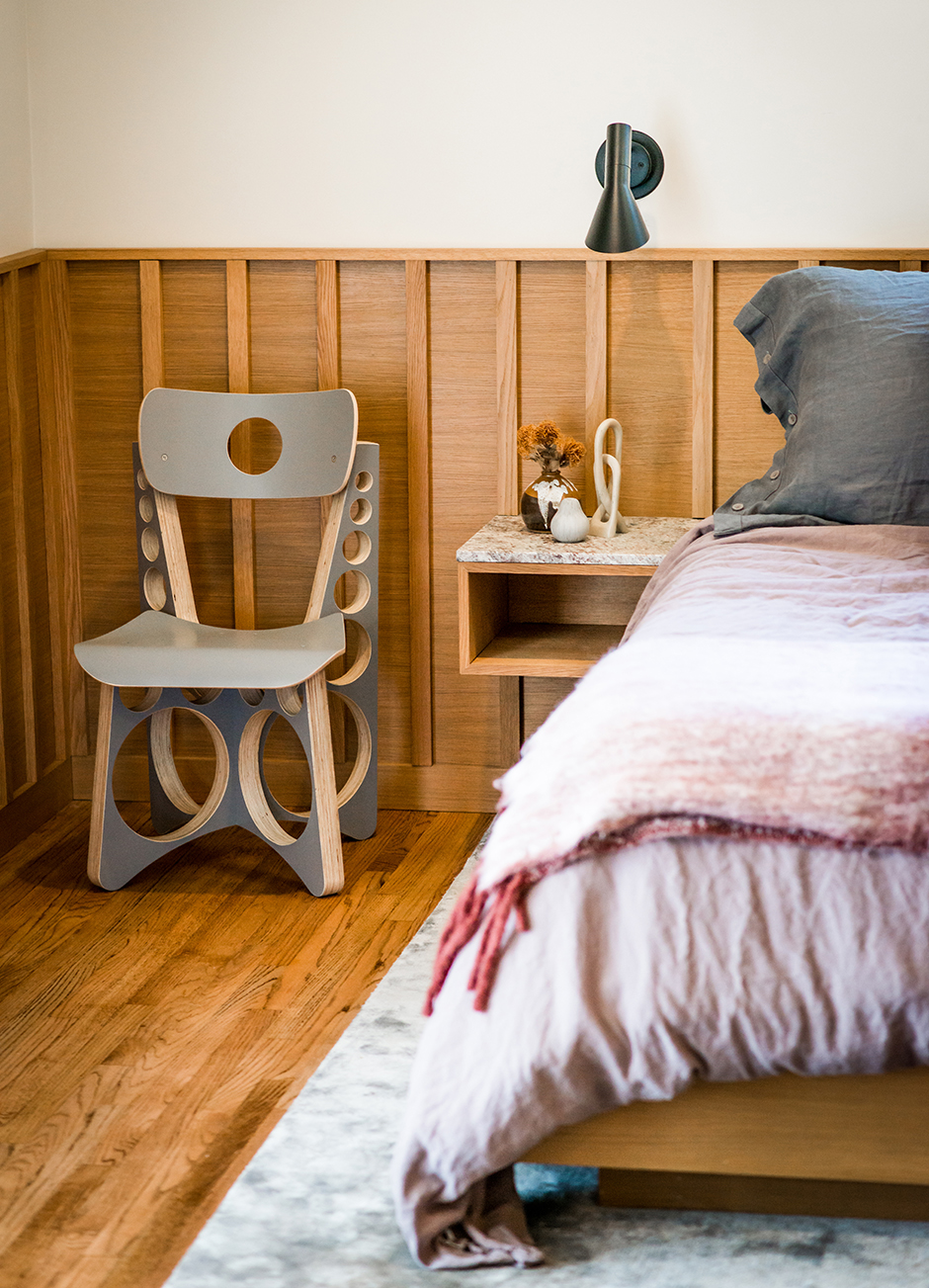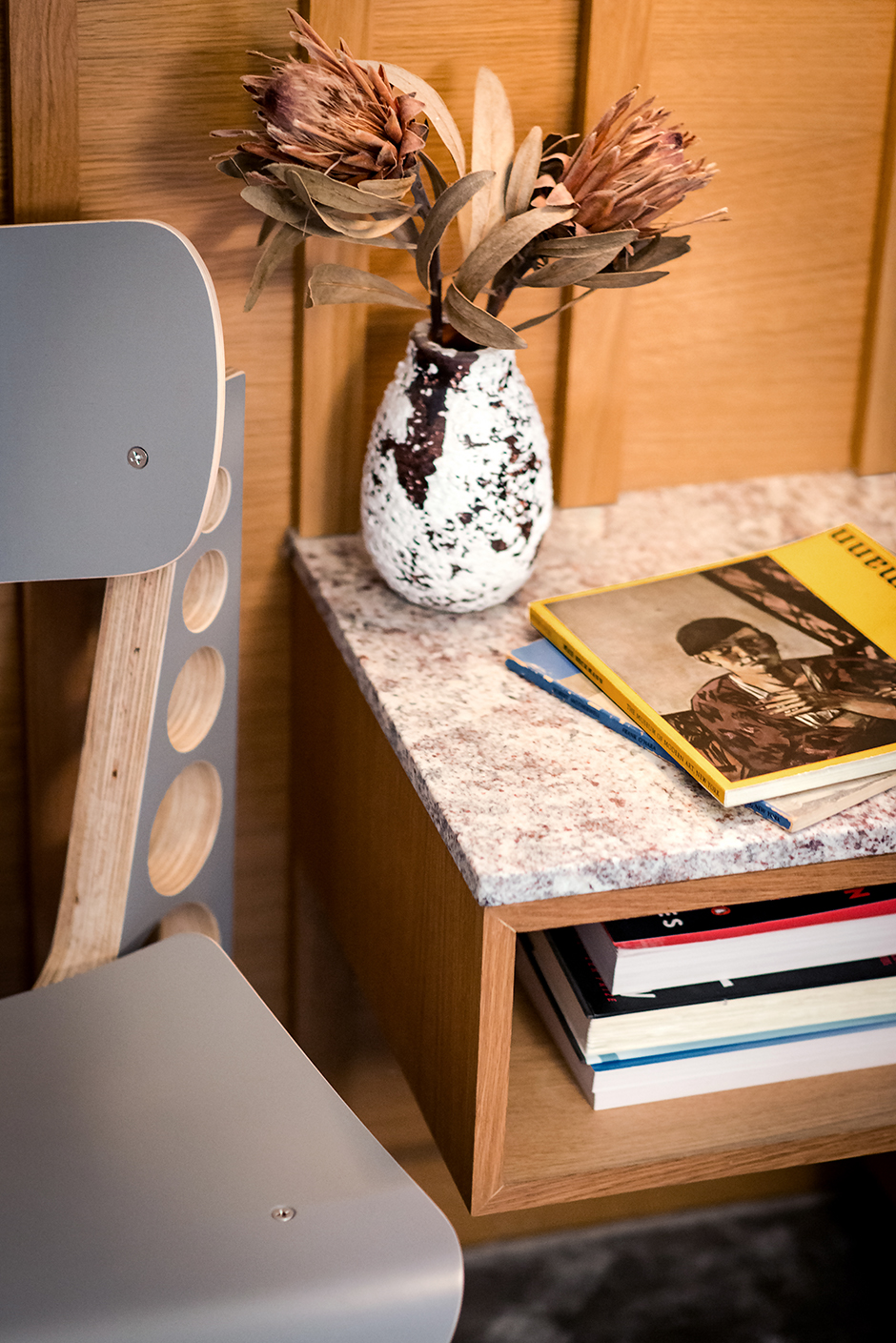 Where do you find yourself spending most of your time when you're at home?
I probably spend most of my time in the kitchen. It's a really open floor plan, so the kitchen, living, and dining rooms are all connected. Even when guests are over, we always end up gathering around the kitchen island, cooking and making drinks. I guess that's pretty common, but our kitchen is definitely the central hub of the home.
This year, thanks to the coronavirus pandemic, many of us are becoming acquainted with the idea of home in ways that we've never experienced before. How has your experience or your view of this space changed during this time, if at all? 
I'm definitely spending way more time here than I ever have. There's basically never been a time when I've been home for two weeks straight, without little things here and there. 
I've been thinking a lot lately about how grateful I am to have this home and to have had the ability and the resources to make it how I wanted it to be. Being here with my little family unit, it feels like a safe, cozy, calming space. Those are the things, especially at a time like this, that you really hold on to.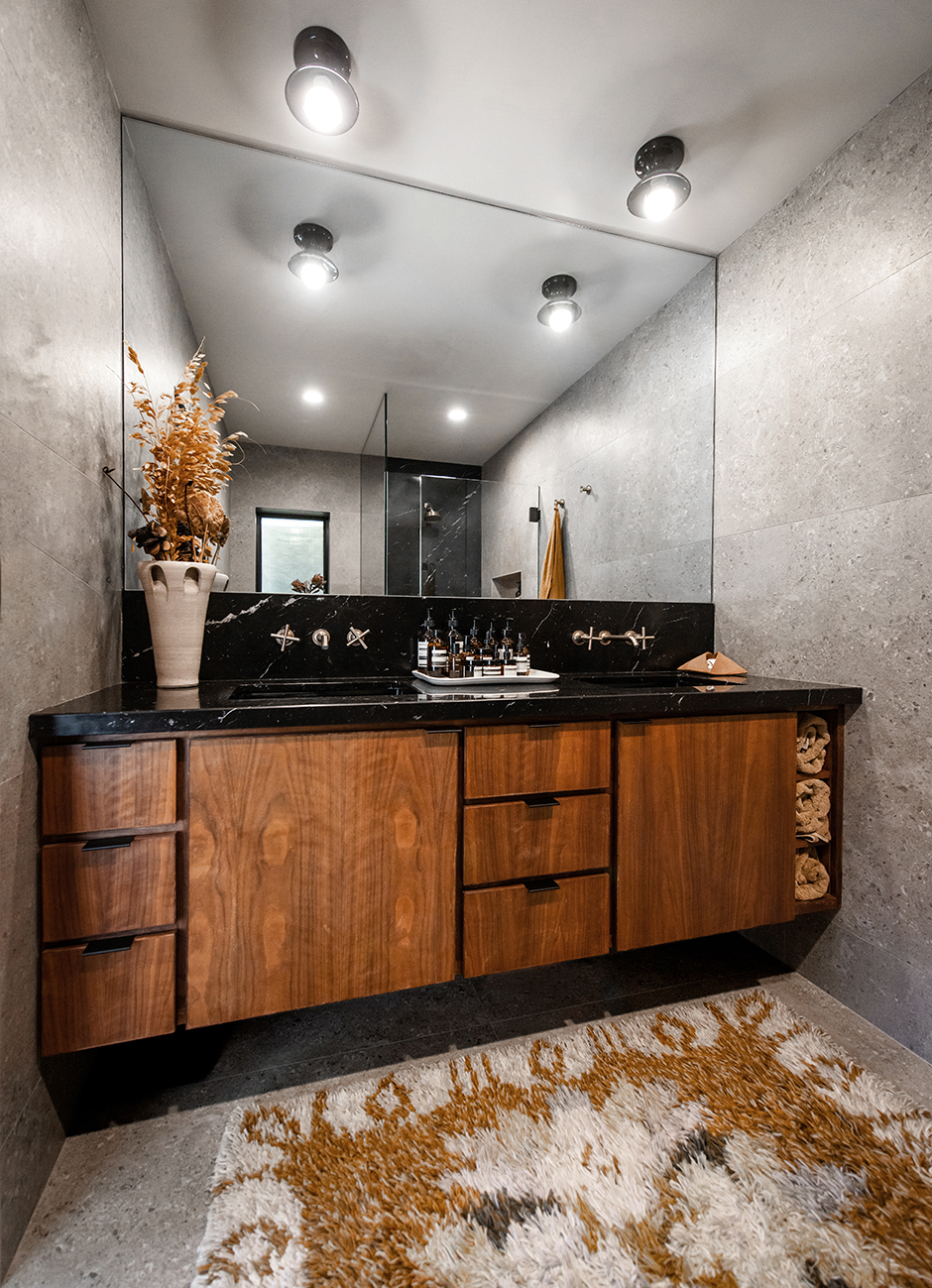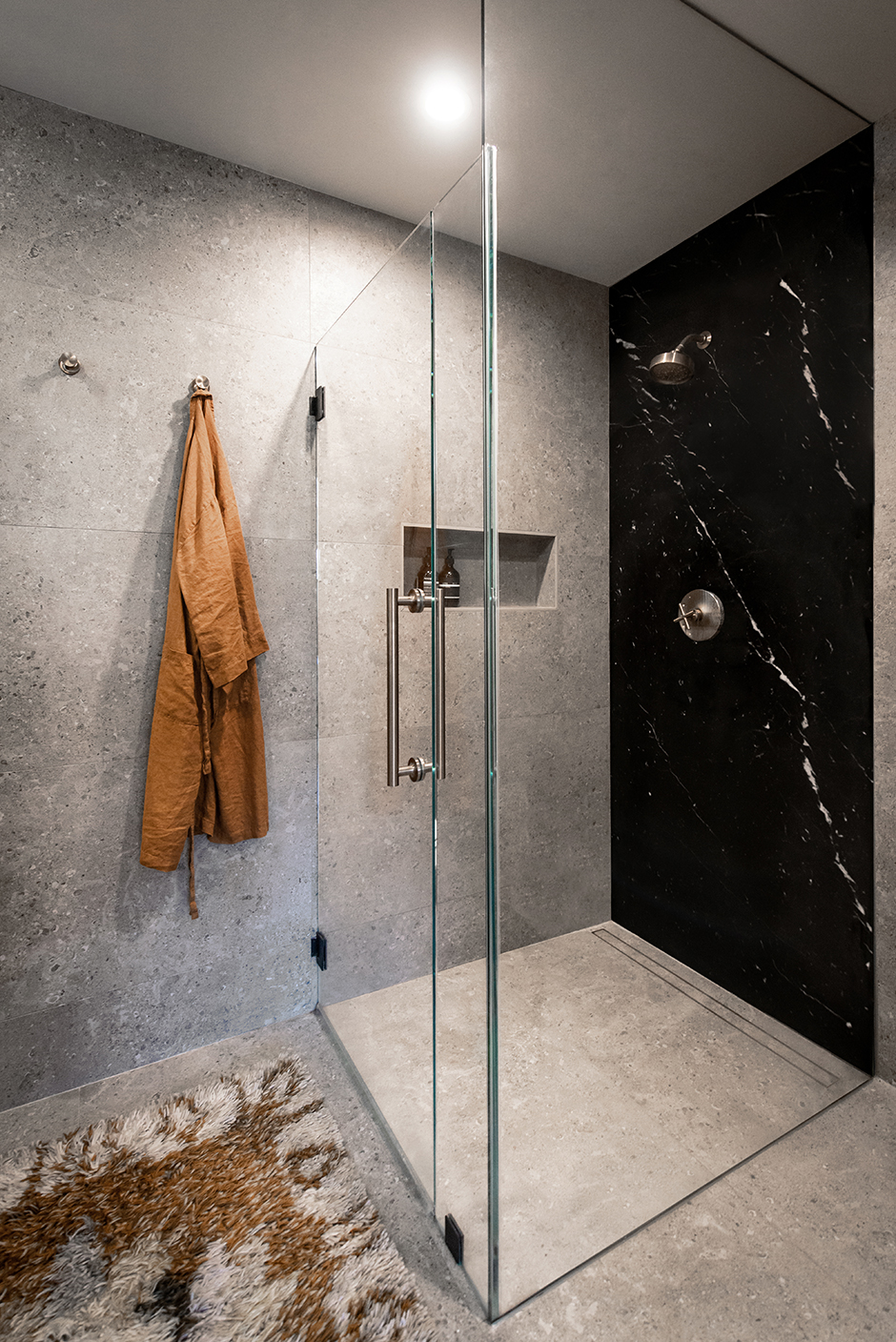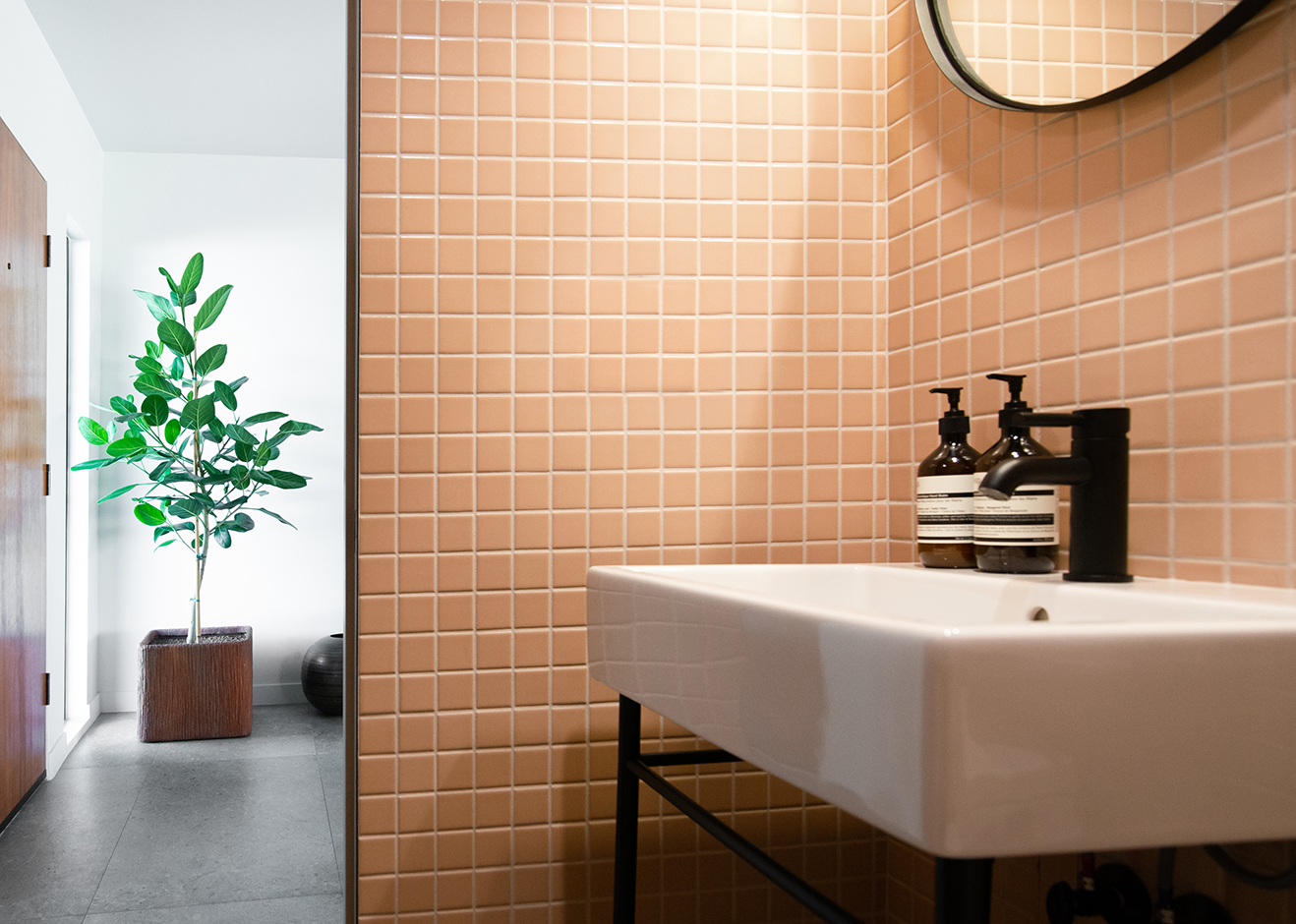 People are talking so much these days about how much they miss the ritual of gathering in restaurants, bars, coffee shops. Do you think this collective experience we're having will impact the way the types of spaces you design are approached in the future? 
Even prior to coronavirus, there had been a global shift toward more personal, intimate, and private gathering spaces. I would imagine that this trend will continue and become even more exclusive in the field of hospitality. I think you'll see a lot of public spaces starting to look more like private residences.
Is there a type of space you've never designed before, that you'd love to try your hand at once this is over?
I've always wanted to design a boutique hotel. I think hotels are so interesting from a design perspective, because they have a bit of everything: food and beverage spaces, retail, public spaces, and private rooms. They all have to work together to create a larger narrative but can each have their own identity, which makes for a good design challenge.