01.26.21
Justin Morin's Silk Draperies Reference Pop Culture and Natural Phenomena in Equal Measure
Justin Morin's printed silk installations take many forms — some unfurl dramatically against an expansive gallery wall; others are cinched and pleated like couture; still others are knotted, tied, looped, bunched, gathered, or, simply hang listlessly like a flag. Morin's specific visual vocabulary, developed over the course of a decade since he created his first printed silk work in 2011, proposes that anything and everything in our information-dense and visually overwrought world can be unraveled and represented in sensual, gradient silk. Indeed, each work is accompanied by a rhetorically instructional title that begins, "How to drape…" Cult-favorite movies, classical music, Japanese animé, and natural phenomena like waves and shells are just some of the concepts and images that Morin has translated into his signature treatment.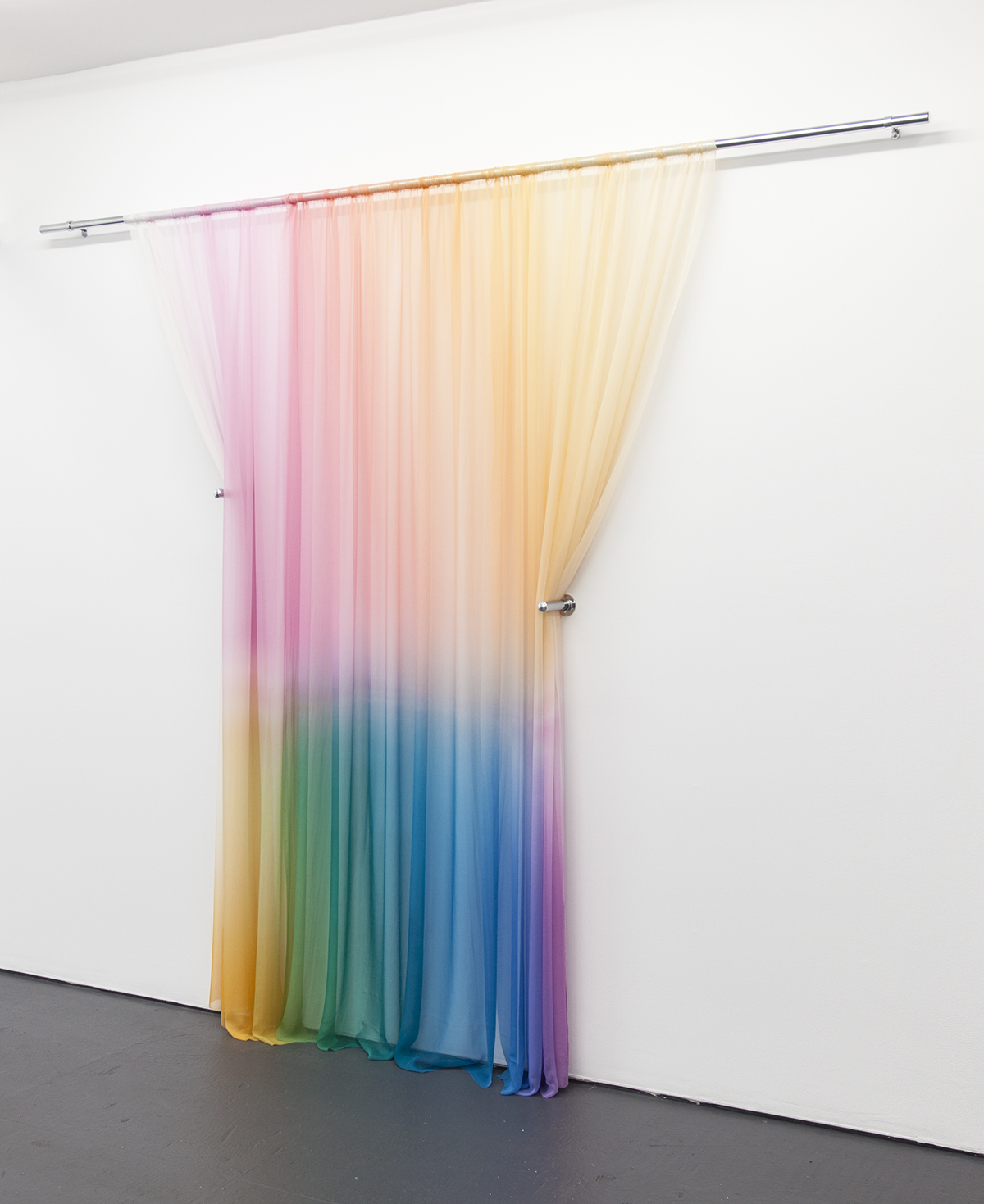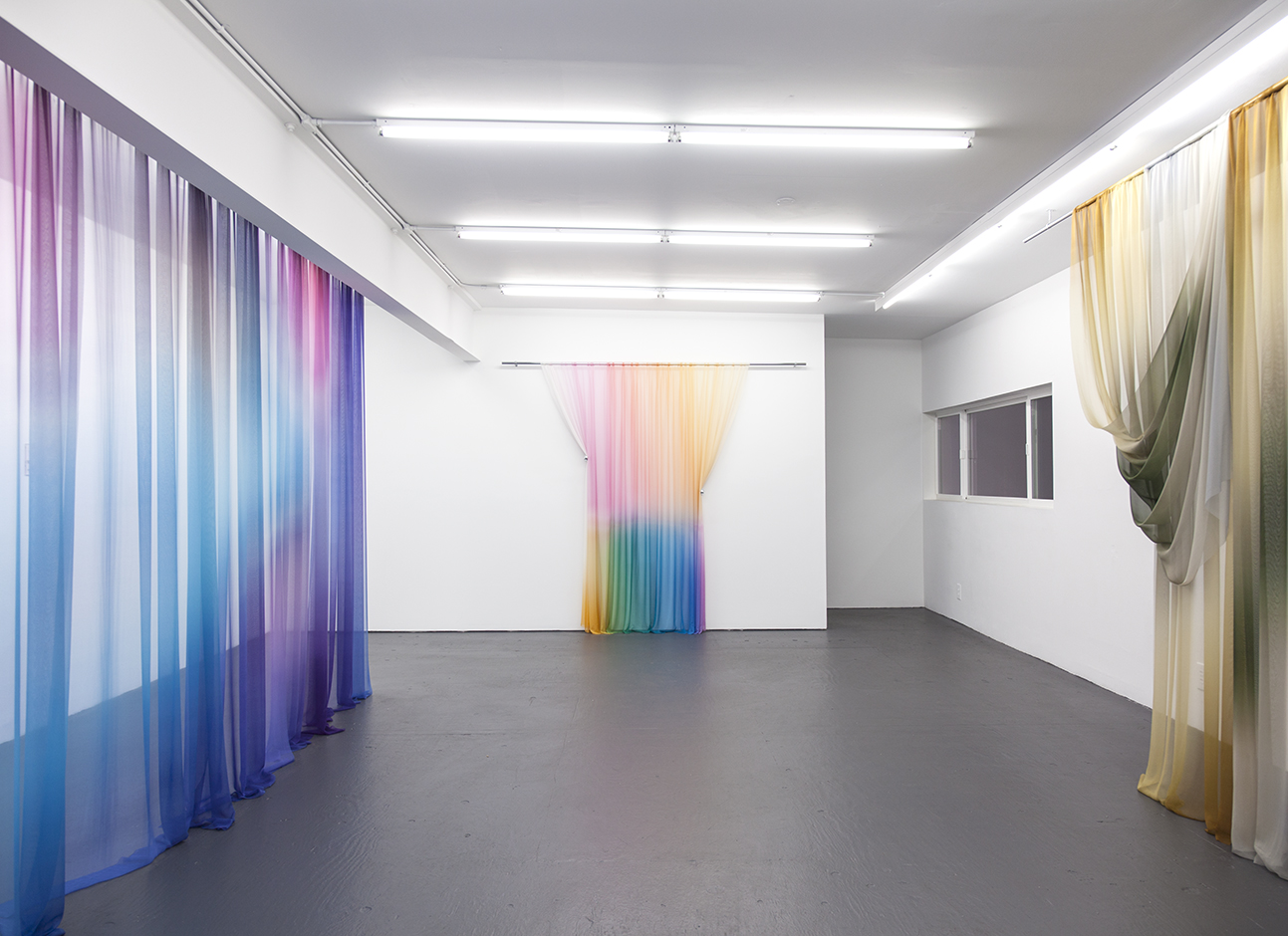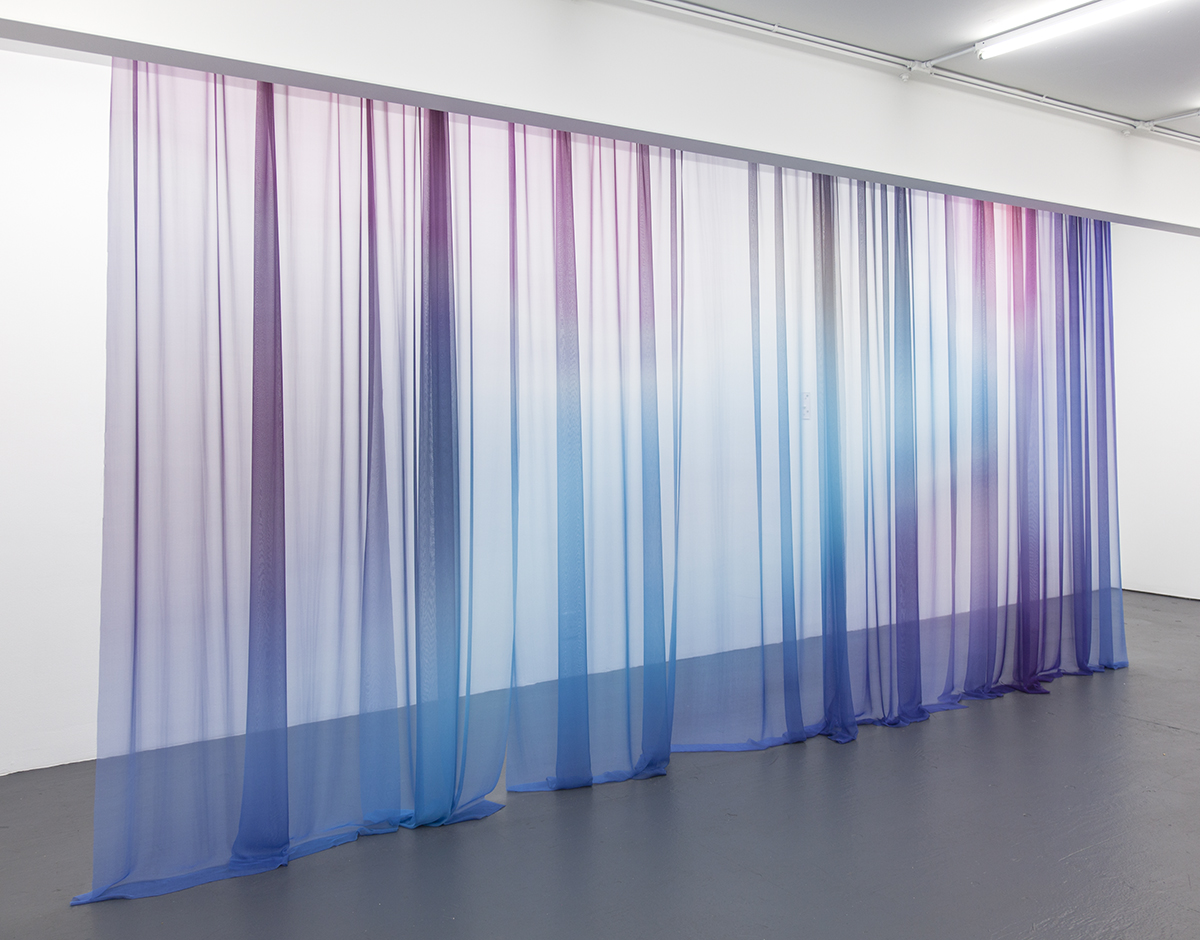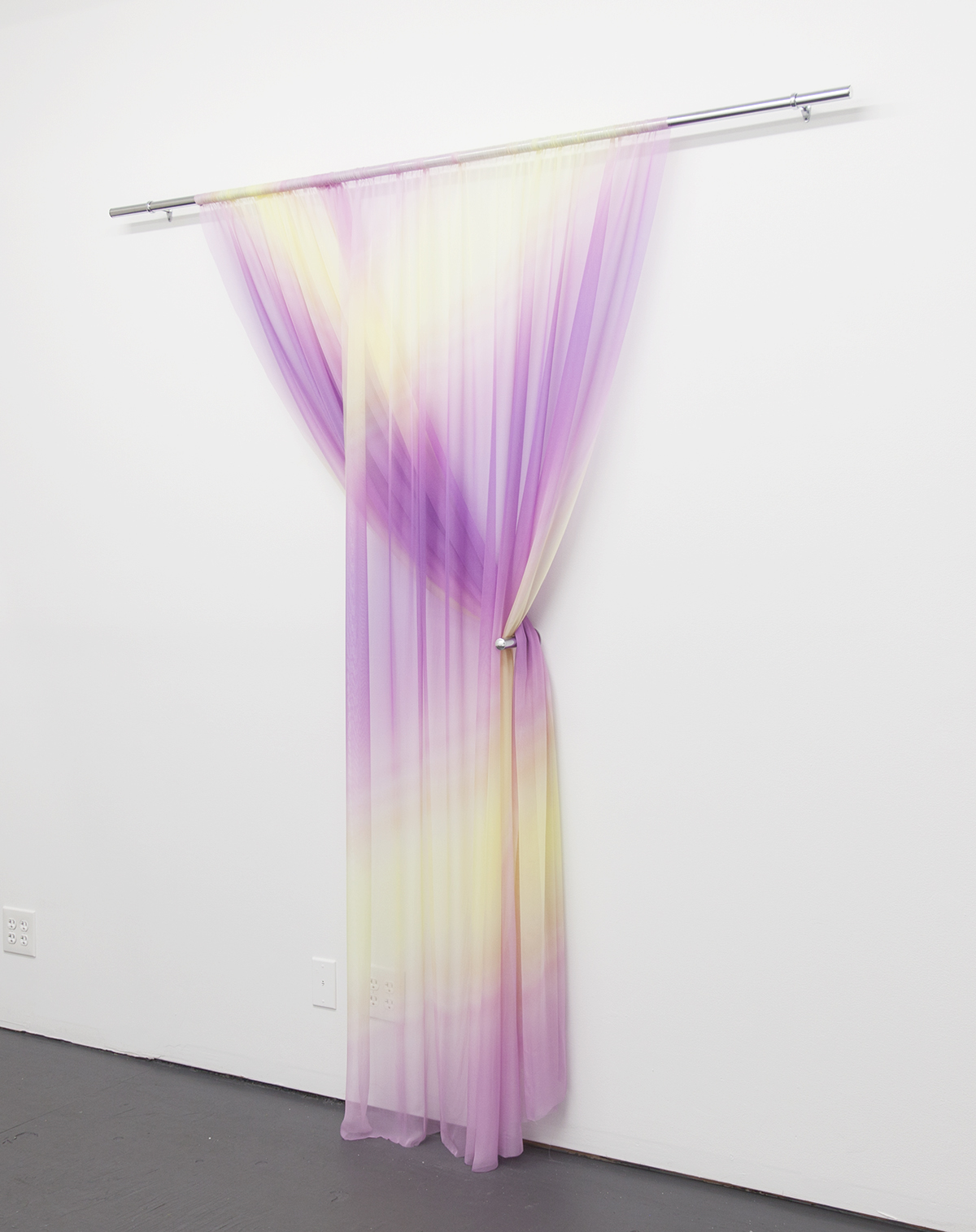 At times, pop culture references are seemingly at odds with the sultry silks, resulting in a delightfully surprising reveal. In Morin's latest show at Last Resort gallery in Copenhagen, a black and blue swath of silk accented with a pitch of red cascades down from a slightly obtuse angle of chrome pipe, having the effect of a high fashion model with arms akimbo, bent in at the waist. A glance at the title, however — How to drape the Terminator 2 movie poster (2020) — reveals a much more populist, brutish reference than the elegant silk might imply. Another sequel of sorts (to Morin's 2018 How to drape the Twin Peaks opening), How to drape the third season of Twin Peaks (2020) breaks from Morin's typical curtain-like format as sparse, tangled wisps of silk in mossy green, ochre, and purple wend their way across an almost 6 foot long steel tube, like a horizontal Maypole gone awry. It's strangely the perfect visual for the long awaited return of the offbeat David Lynch series.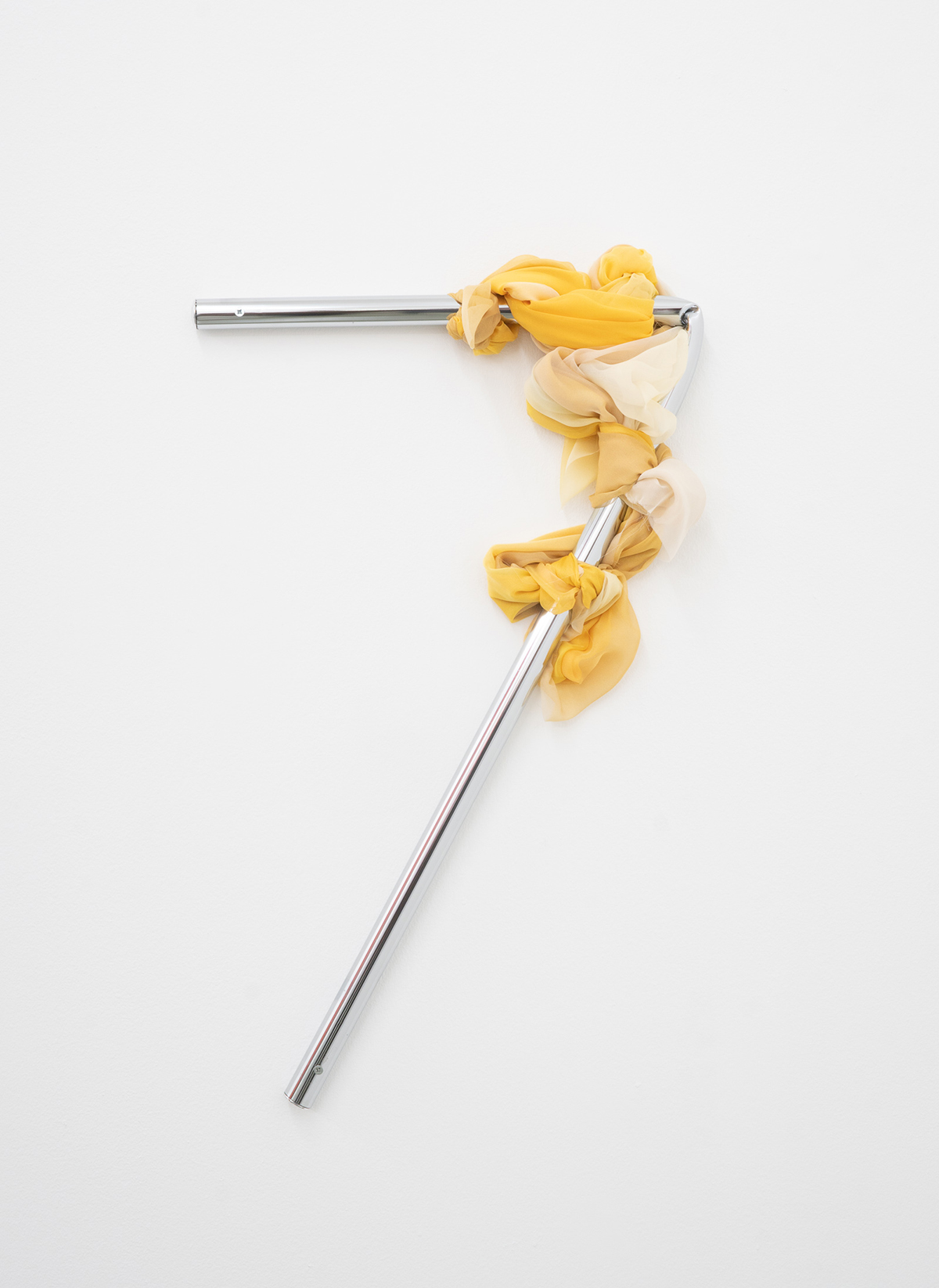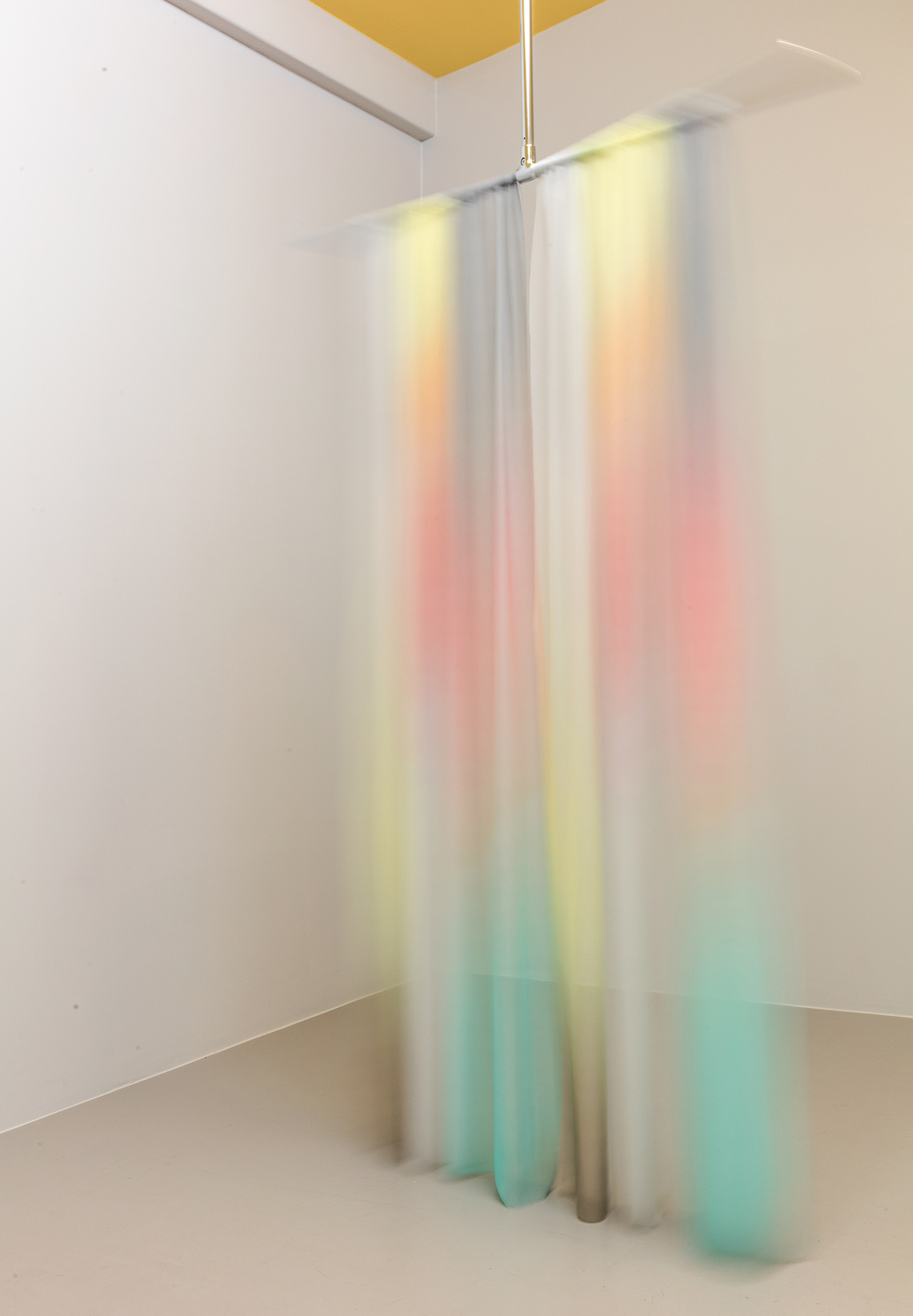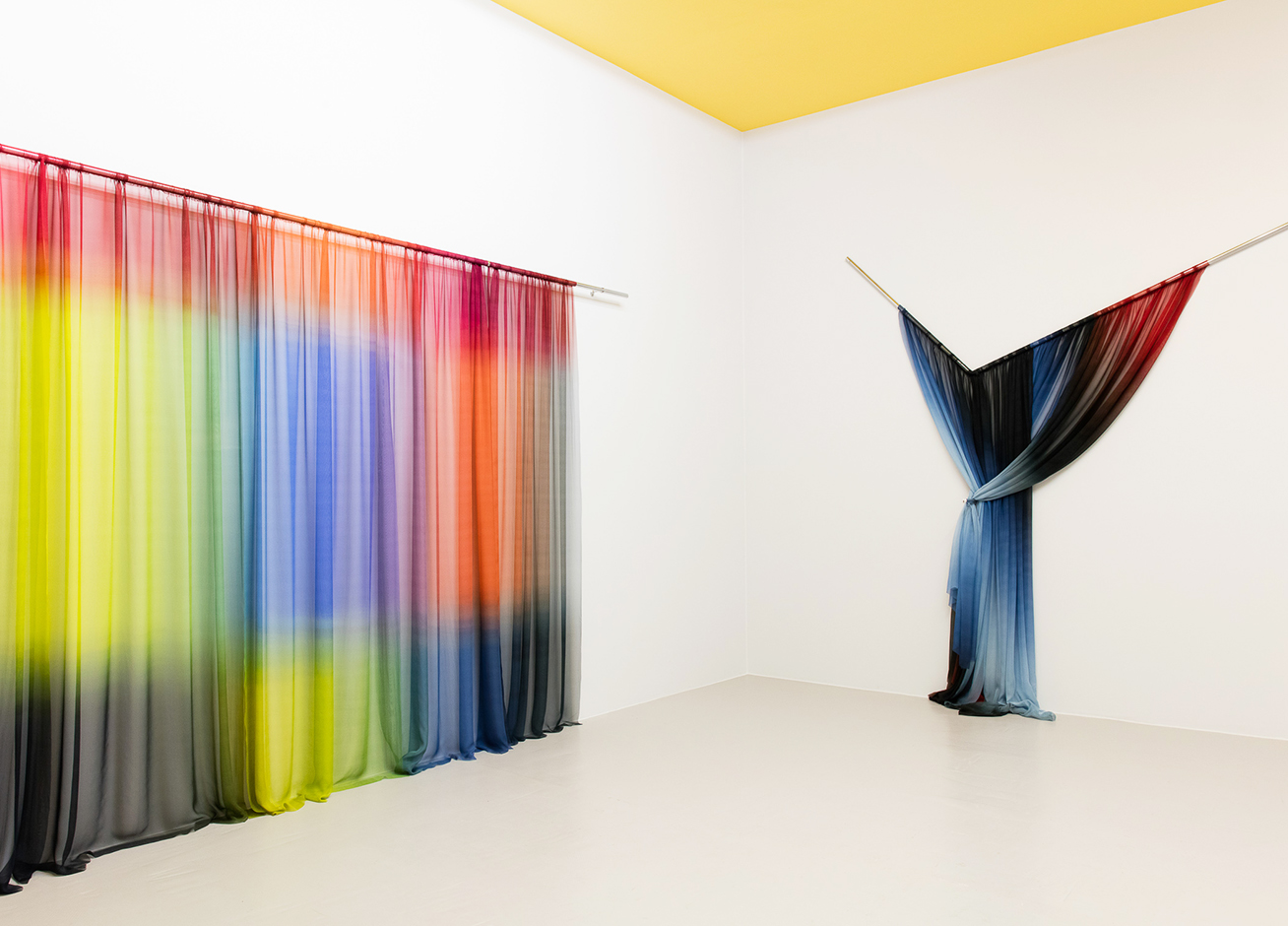 Morin's draperies are at times an apt physical summation of the ephemeral or fleeting. His 2019 show at Capital gallery in San Francisco was themed around the small but remarkable phenomenon of natural pearl production in oyster and mussels. The undulating pinks and yellows in How to drape iridescence (2019) capture the infinite interior of a shell. The watery green and blue of How to drape the sound of the waves (2019) somehow visually capture the aural experience of being at the ocean or holding an echoing conch to your ear.
Growing up in a tiny French border town, Morin, now Paris-based, considers his initial experience of art and materials to be through his parents' occupations. His father was a plumber that worked often with pipes; his mother spent her days at a local perfumery: "My first exposure to anything artistic was perfume and makeup. And I'm now using the same kind of pipe my father worked with." On a video call with Sight Unseen, Morin was fond of finding serendipities and parallels throughout his life. Enamored with canonical artists like Donald Judd and Dan Flavin when he first began making art early in his career, Morin set unrealistic goals to create a perfect object — without the aid of fabrication studios. "I used to work with concrete and heavy materials, but I was very frustrated with the work and I developed back problems. Then one day, at the osteopath to fix my back, I realized I had to work lighter, in all aspects of the word."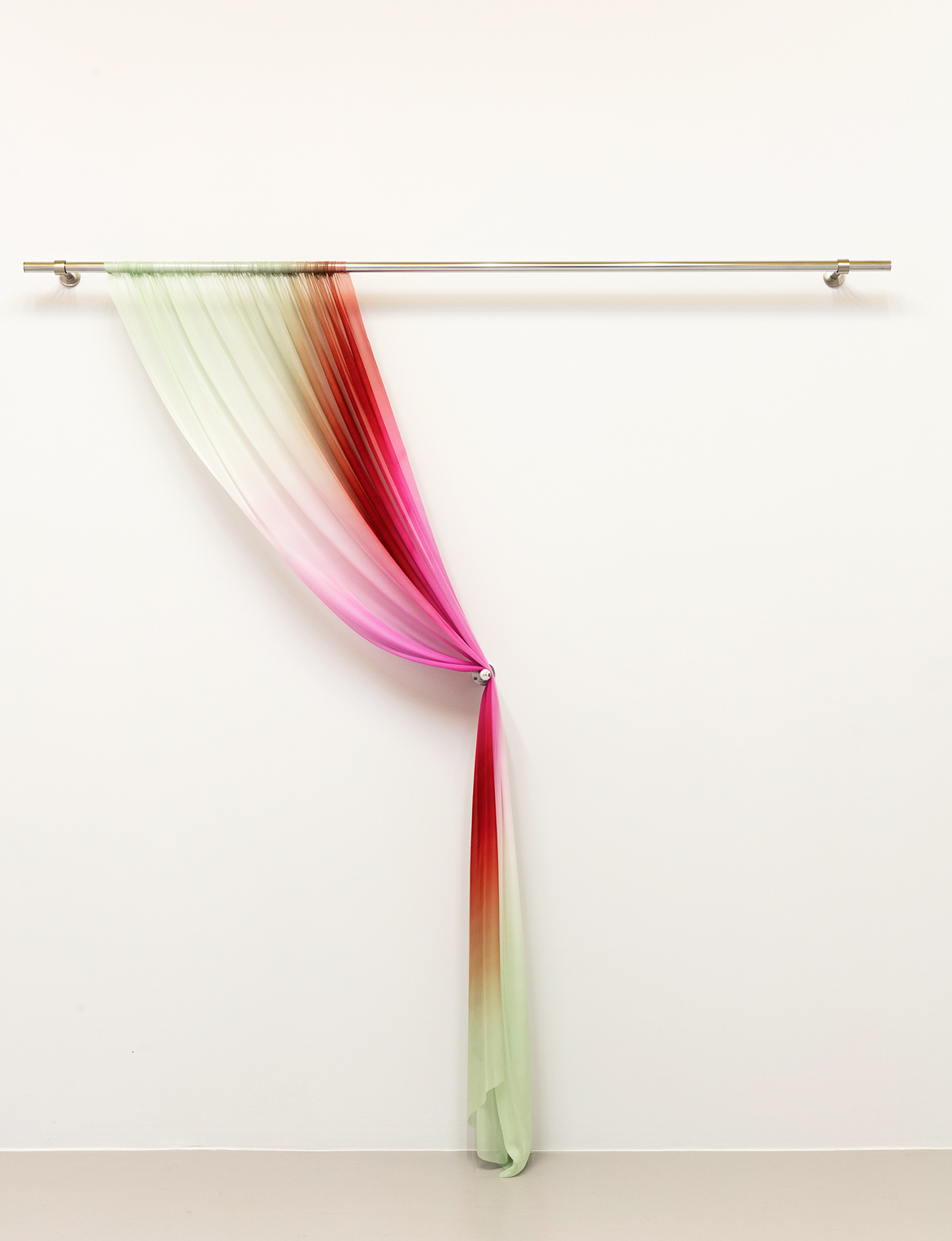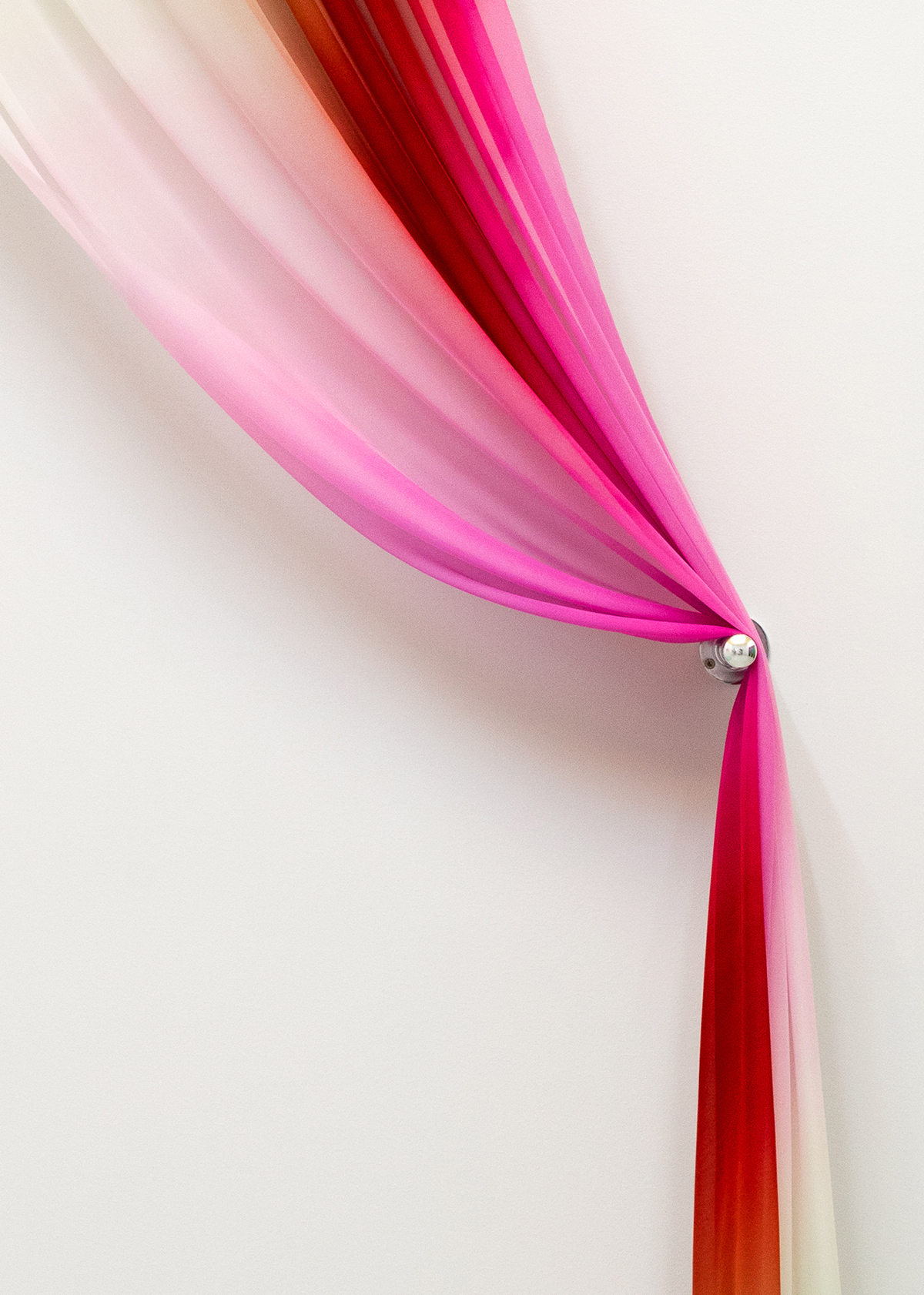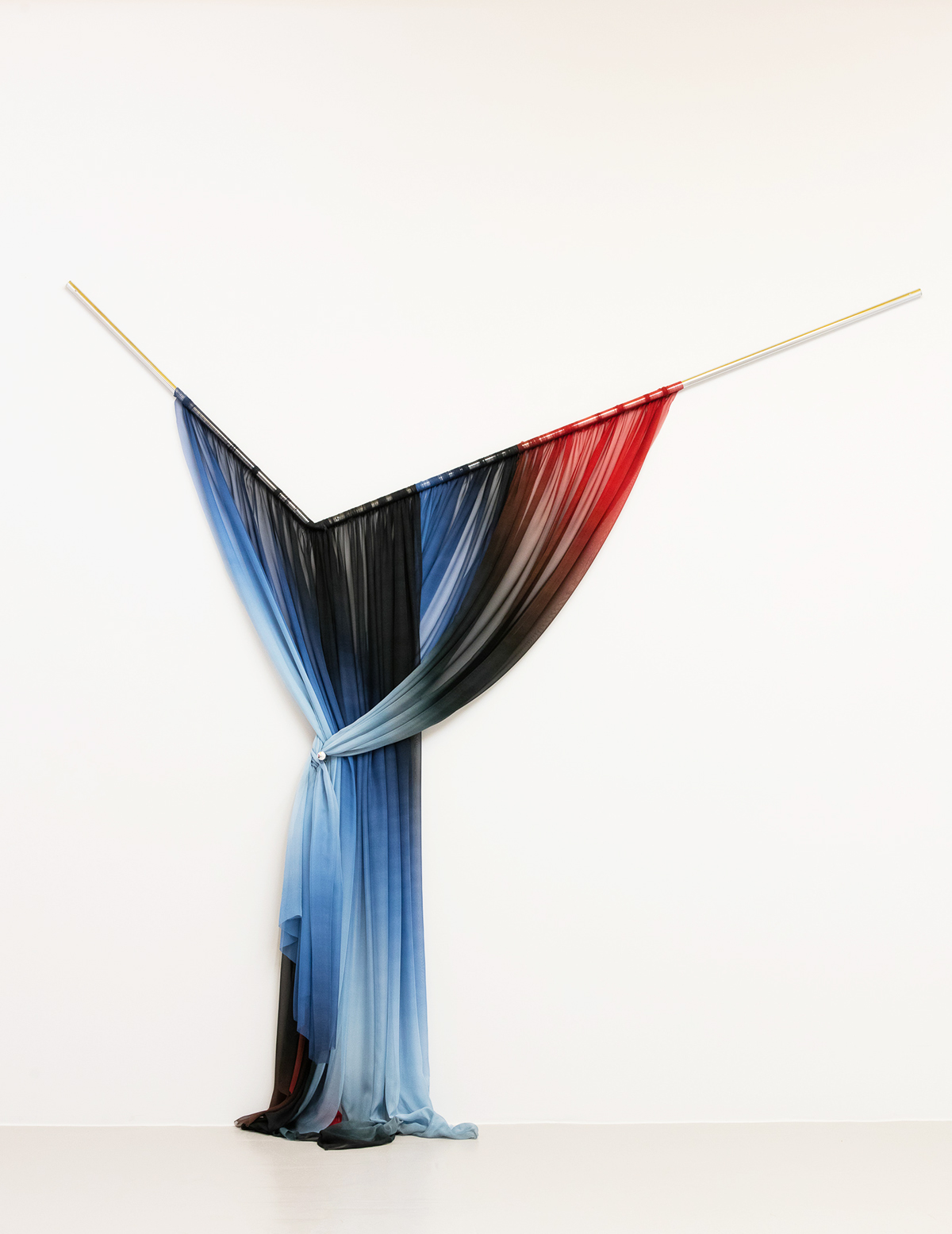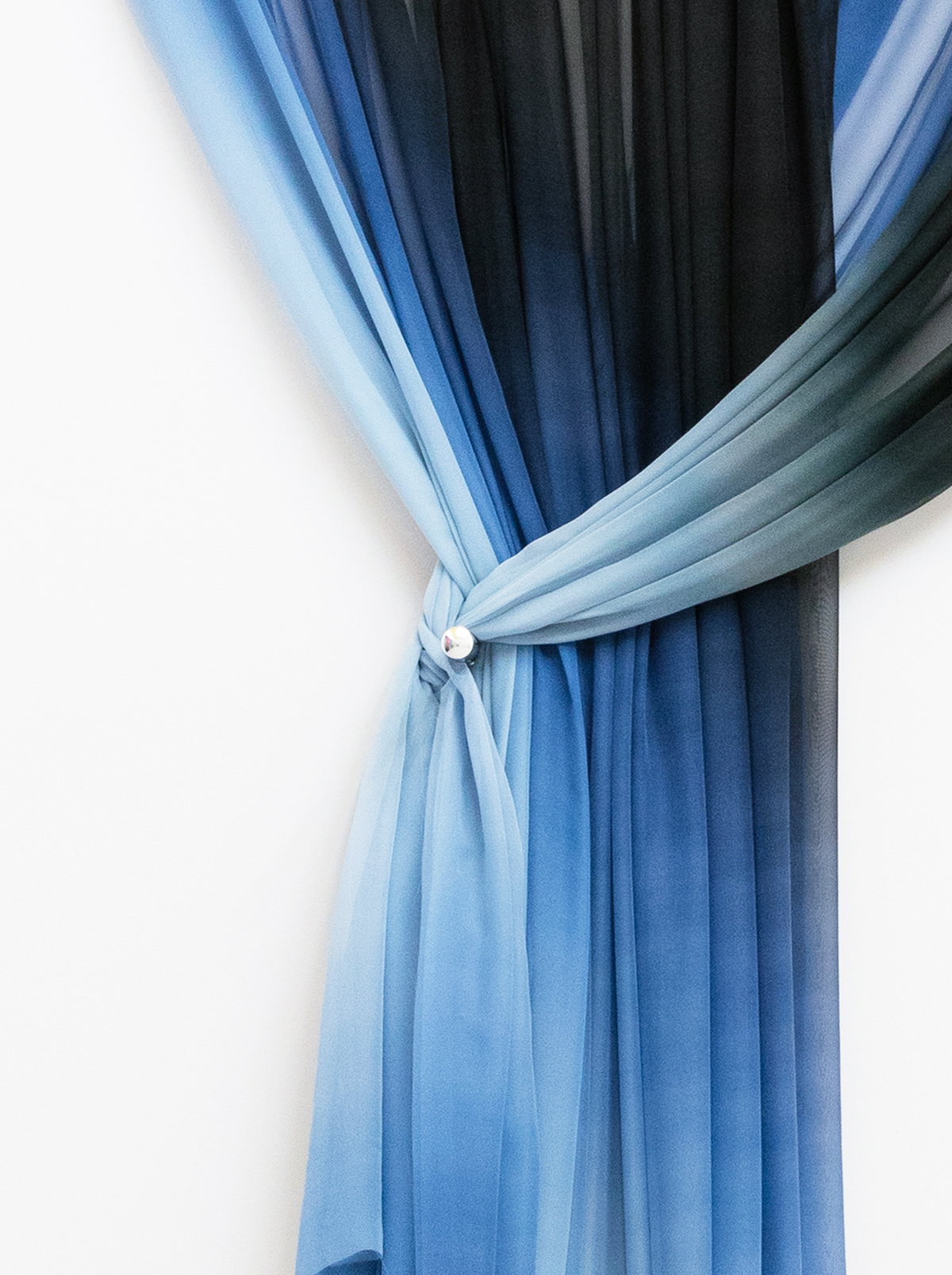 In addition to silk, Morin also uses aluminum, foam, and other lightweight materials. Diet (2020), a light-hearted homage to Robert Morris's bodily, skin-like felt sculptures, is a striated piece of industrial foam that can be installed wider or slimmer in according to the owner's mood — or waistline. An erstwhile journalist, Morin continues to write and is the editor in chief of Revue, a French art and fashion magazine. Wordplay figure prominently in his work. For Locked Galaxy #1 and #2 (2019), a tinted resin rectangle in the exact dimensions of a Samsung Galaxy phone is adhered to the wall with tri-wing screws, a proprietary fastener requiring a tool used by the aeronautics industry and unavailable to the public. Irregularly shaped natural pearls dot the surfaces like chewed gumballs. Like the universe, pearls are created through the buildup of time. And while our devices offer us the whole world and beyond at our fingertips, they are also our keepers as we punctuate our days by obsessively checking them. This is Morin's gentle reminder to put our screens down and look up at the sky—the actual galaxy and world around us.
With a beatific smile, Morin says that because he's constantly working, he must do things he enjoys. Like the silkworm and the pearl oyster, Morin works diligently to create the beautiful and luxurious. In addition to writing, teaching, and regular art exhibitions, he is working on a line of functional draperies similar to his art pieces, as well as a collection of furniture.