03.01.22
A Young, Milan-Based Designer Inspired by the Brutalist Architecture of Eastern Europe
There are two distinct threads that run through the work of Milan-based, Macedonia-born designer Daniel Nikolovski. The first is a penchant for storytelling. His objects and furniture all seem to point to an obscure reference or emerge from a well-thought-out backstory; the forms that make up his EYE Lamps, for example, were inspired by Yugoslavian monuments, like the Brutalist buildings Kenzo Tange constructed in Nikolovski's hometown of Skopje following an earthquake that decimated the city in 1963. The other major tenet of his work is craftsmanship, which is actually the reason he ended up in Italy at all.
After finishing an MA in Interior Design at the Royal College of Art in London, Nikolovski moved to Verona in the Veneto region — part of the Venetian hinterlands, where historically much of Italy's furniture manufacturing is based — to launch his erstwhile brand, Kabinet, which he describes as a "future-nostalgic" collection of upholstered goods, lighting, and experimental pieces. "This was how I got introduced to the Italian manufacturing scene, considering Veneto is a very rich craft region," Nikolovski says of the experience, which has informed his practice even now working as an independent designer. When Kabinet came to a close in 2020, he moved to Milan and "started developing furniture prototypes by myself or in collaboration with various craftsmen," he says.
Indeed, his work now spans a spectrum of materials and types of craft, from the conventional — like ceramics, stone, wood — to ones that are less so, like polyurethane foam (his Bounce chair, above, is essentially an armchair with its skin peeled off) and cellulose acetate, normally used to make sunglasses, which he turned into a wavy, 1950s-feeling appliqué lamp. We spoke to Nikolovski about this breadth within his practice, working with artisans in Italy, and some of the references that have woven their way into his work.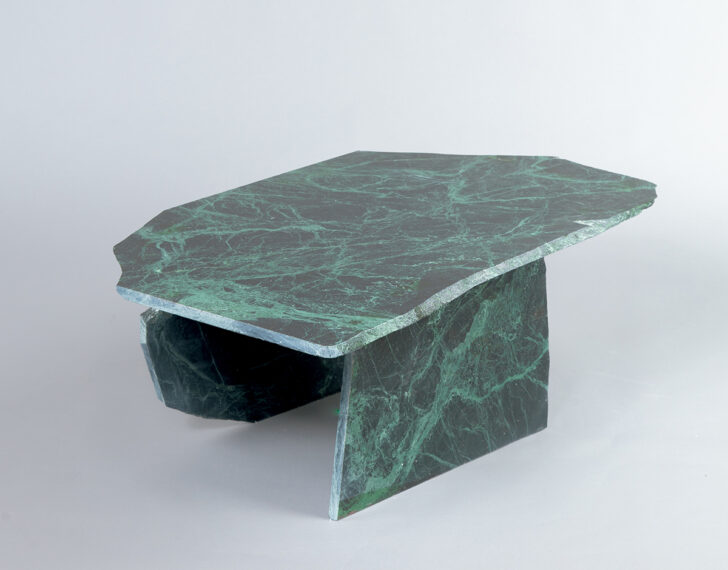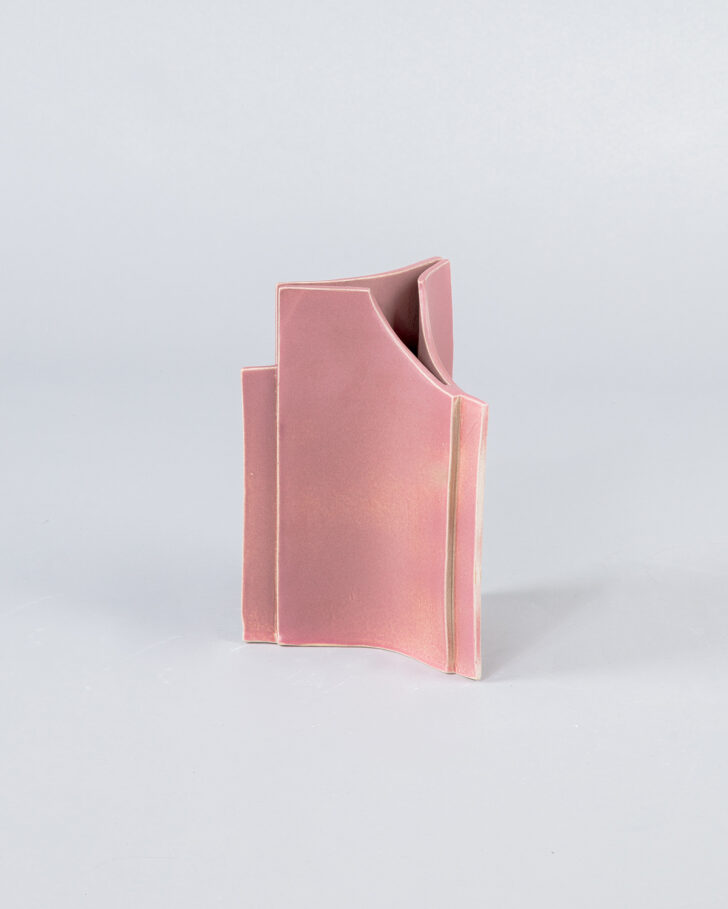 Above photos © Christian Kondic; creative direction by Daniele Carlini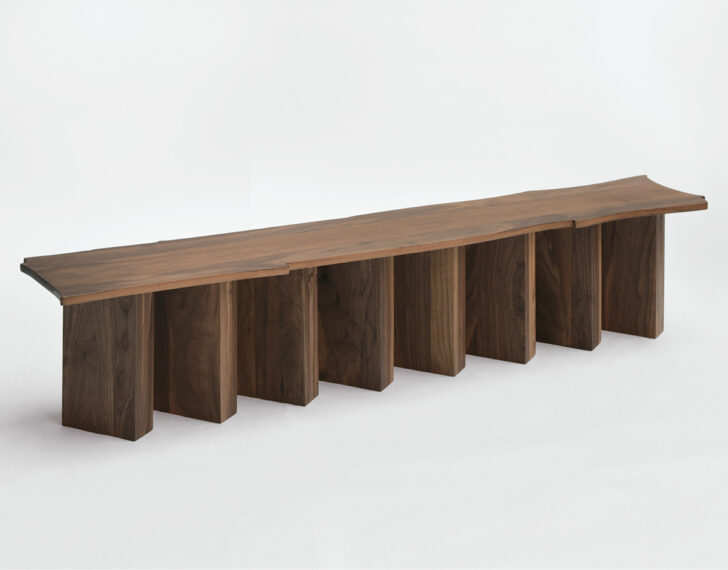 What's your studio like?
My home studio in Milan is a small creative hub, with sketchbooks dating a few years back that I use for inspiration. I like to collect the pieces that I've previously designed for companies. But mostly, I like to keep it clean and work with as few things as possible, just having some simple tools for model making and keeping a bunch of clay around for when inspiration hits.
I am a lot on the go, between different workshops and labs in Milan and Lombardy, as well as frequently traveling in my home country, Macedonia, for another part of the production.
Take us through your process of designing an object or collection. Where do you start?
Currently I am designing a collection of furniture pieces that I will present during Salone Satellite 2022. Working on a collection vs a single object is very different. When designing objects, there is a lot of freedom to it; I work on each product independently and create a unique story that helps support each item to stand on its own. My objects belong to their own world and do not necessarily work among themselves. I usually start with a feeling or a mood I need to express, then move to create experiments, and at the end, I approach an adequate craftsman.
Designing a collection on the other hand is more about creating elements that are far from each other idea-wise, but together they create harmony. They bounce off each other and transport you in a space that should inspire you without being a repetition of the same idea or material.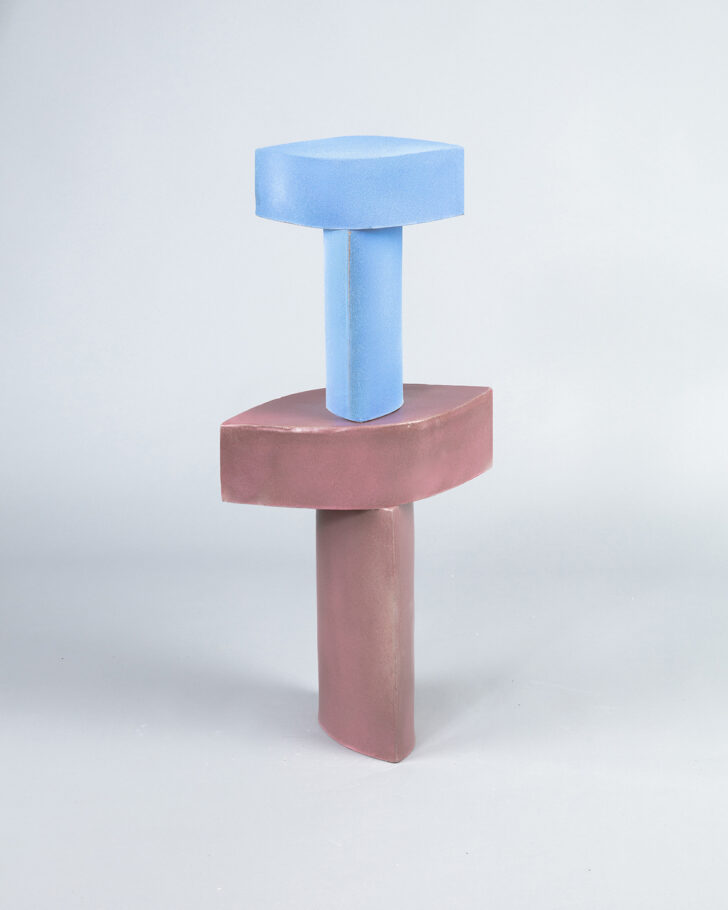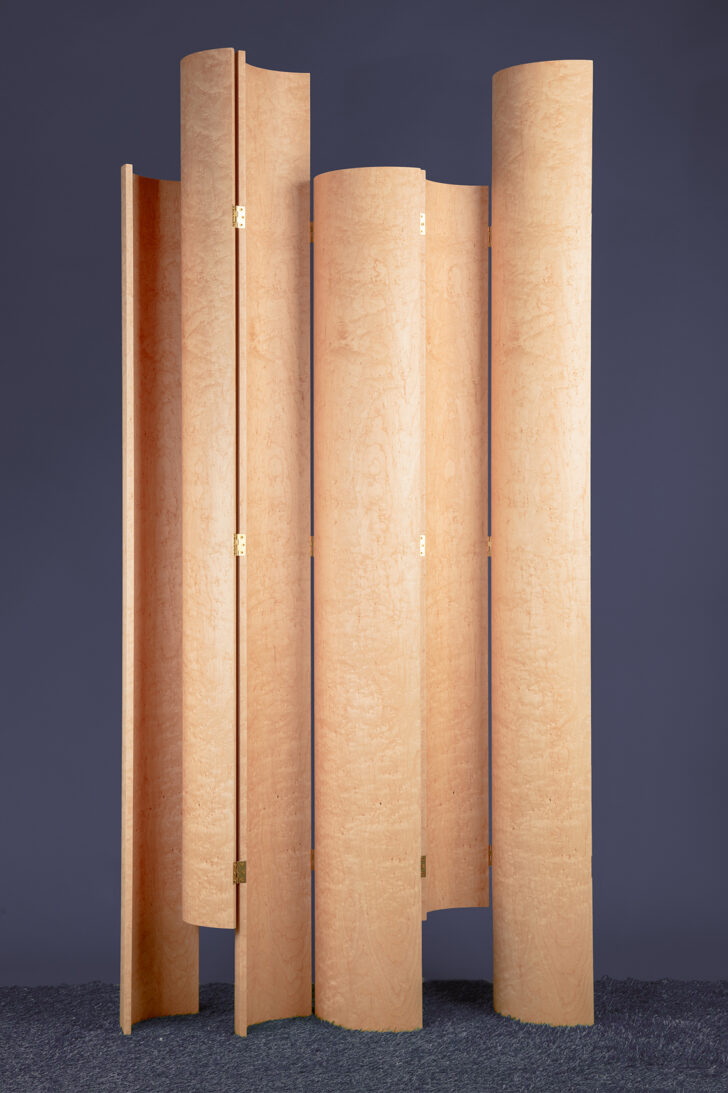 Above photos © Christian Kondic; creative direction by Daniele Carlini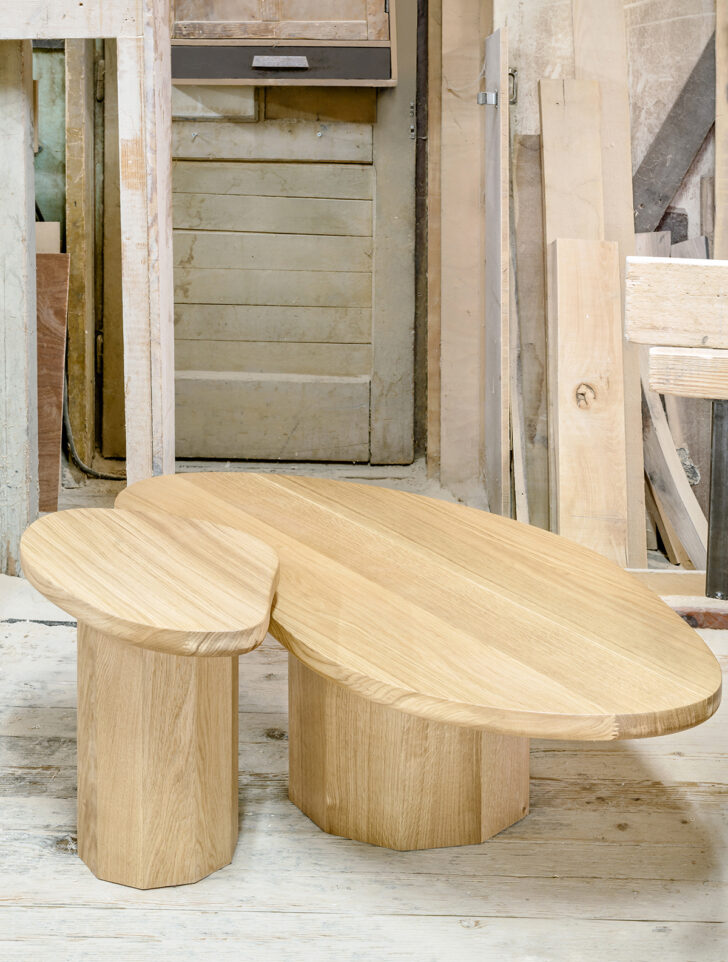 You've written that narrative is an integral part of your design process. Tell us how you incorporate storytelling into your work? Is there a certain object or collection that best exemplifies this?
My design language originates from two places: the tangible everyday things that I encounter and my subconscious, Surrealist imaginary world. I want to tell stories about the feeling I get when I see, touch, and create. But growing up in Skopje, Macedonia — a city within a Brutalist architecture context, surrounded by mountains — made me interested in what's behind the mountains. I had hopes that was a dreamy, imaginary world, that I later incorporated into my highly subjective work.
There's a huge range of materials involved in your work. What are the first things you do when working with a material for the first time? What is that learning process like?
One of the most unique materials I worked with while working on Kabinet was cellulose acetate, the translucent sunglasses material that is an imitation of a tortoise shell. I was curious how this material could become a light source. How would it emit light? What are the techniques used to curve the cellulose acetate sheet and make it sculptural? The first product was Voodoo light, a sculptural wall lamp that is bent to seem like a piece of fabric; the second was Obelisk, a monolithic table lamp where the light comes from a thicker block of cellulose acetate. Both emit a very subtle, warm, and inviting feel into a room. This is the fun part of working with new material: understanding its unique tactility, what processes work with or against the material. You become aware of a material's chemical "aliveness."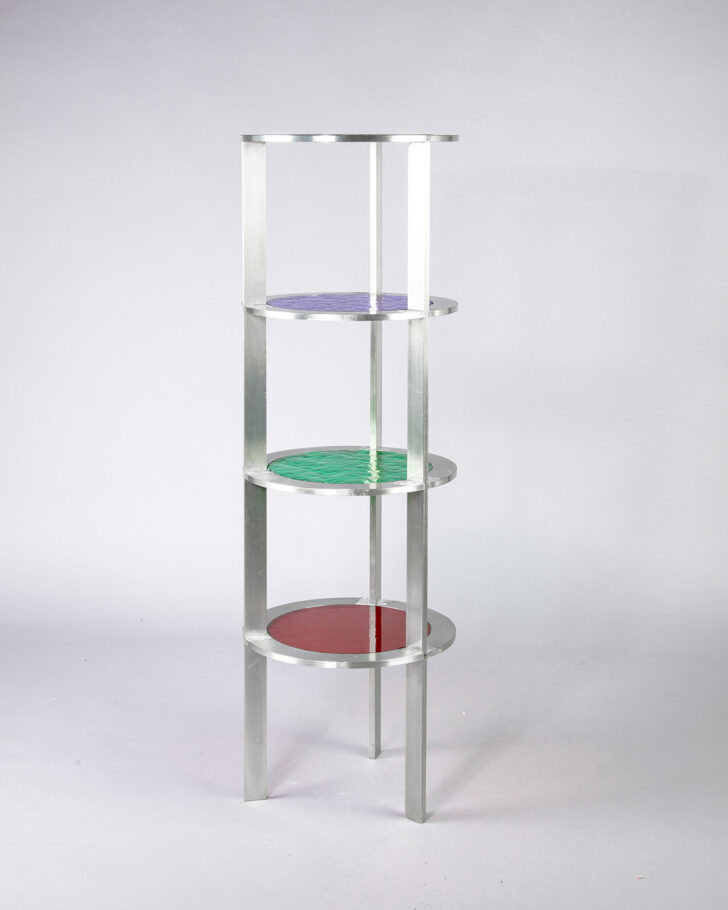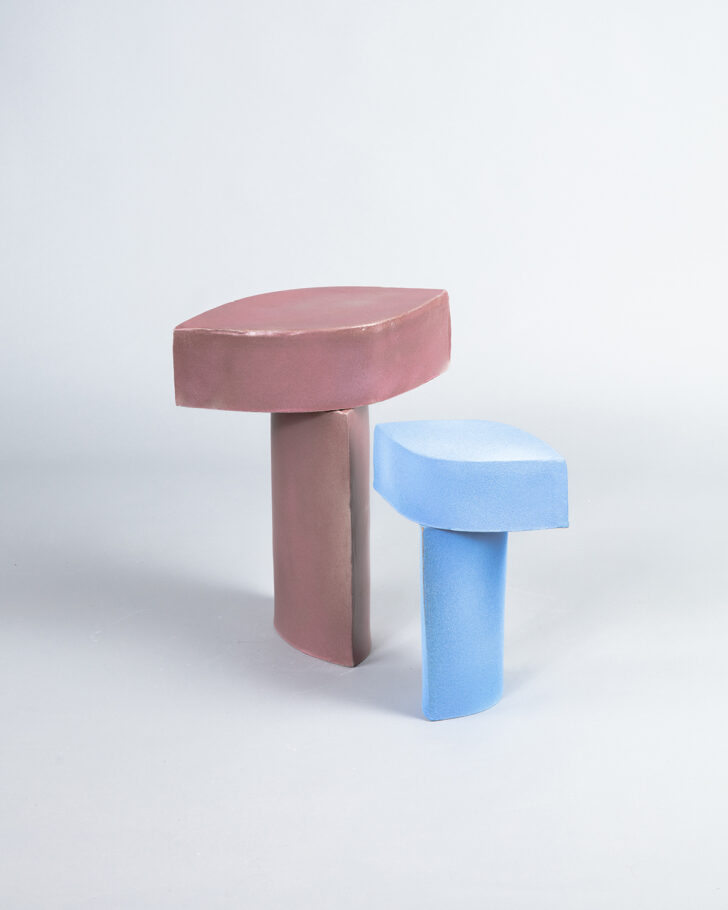 Photos © Christian Kondic; creative direction by Daniele Carlini
You write that your EYE lighting was inspired by Yugoslavian monuments. What monuments do they reference, and how did you interpret them?
Brutalist architecture and Yugoslavian architecture and monuments are really big inspirations in my work. I was born in Skopje, North Macedonia, a city that had a major earthquake in 1963 where 80% of the city was destroyed. During that time, the city had to undergo a major urban redevelopment designed by Kenzo Tange and many architects marked Skopje with Brutalism. I was born into this Brutalist architectural surrounding, and I only realized later in life that cities are not typically invaded by grey concrete monumental buildings. The EYE Lamp references a combination of monuments in North Macedonia such as Kosturnica in Veles, an structure that resembles an eye, as well as Makedonium in Krusevo, which is a monument/building with multiple 'eyes'. I took the eye as a concept and turned it into a little lamp, using colored glazing to add playfulness.
One of the benefits of working in Italy is the access to highly skilled artisans, which I know is a big part of your work. What is the process of working with these traditional craftsmen often like?
Prior to Milan, I used to work in the Veneto region, which is rich in the craft area. Many little workshops specialize in upholstery, woodworking, wood finishing, metal, and resin. Small family-run businesses that work on custom lamps, bigger manufacturers that only do industrial chairs, and many other categories were discovered. Working with traditional craftsmen can be challenging, especially as a foreigner in Italy. It's all about discovering the person who is equally motivated to work on innovative designs as you are. They might not respond to emails or have websites, but the end product quality is making it worth it. One of the things that are fulfilling is the mutual sharing of knowledge. They always teach me how traditional techniques can be applied to contemporary design and how to make things work with what is already there.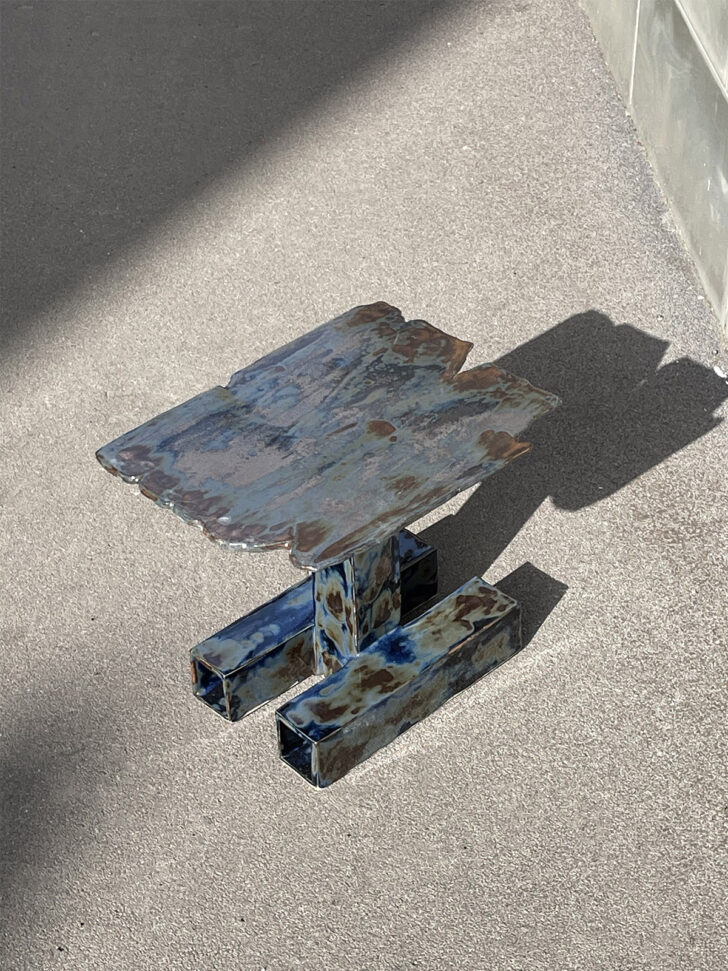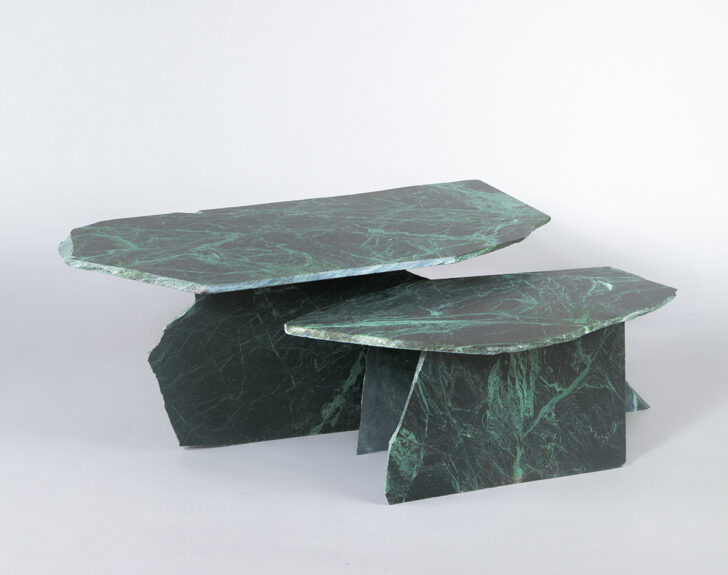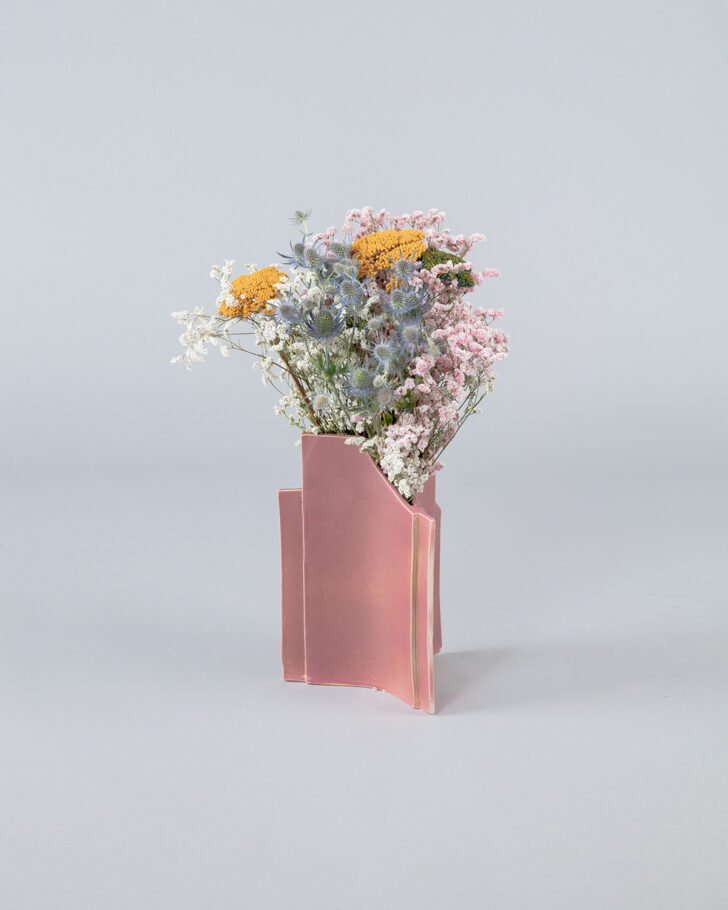 You currently have some ceramic pieces on show at Swing gallery in Benevento, Italy. Tell us about that exhibition and the pieces that are on show.
Last March, I was invited by Swing Design Gallery to showcase my recent ceramic pieces. Ceramic is a new medium for me; the first piece I made was during the pandemic and I found it healing from the current global distress. The options with this material are limitless, and that's exactly what I needed during the lockdown, to get my hands dirty and create. For the exhibition, I present a side table called Lastra, which uses the slab clay technique, coated in non-metallic glazings that when combined are creating a surprising oil-spill effect. Soviet Vase pays homage to Soviet architecture — more precisely, a Catholic church in the city of Skopje designed by Blagoja Mickovski-Bajo. Also, I present 10 plates from a family of objects called Silent Fire — expressive, handmade pieces created by roughly sculpting a piece of clay, this object evokes subtle gestures of "flames."
What's next for you?
The next exciting thing that I am currently working on is Salone del Mobile, this June 2022. I will be part of Salone Satellite and will be showing a brand new collection of furniture pieces, including a modular sofa, that will be presented in an interior setting inspired by the '70s, with a futuristic twist.