05.18.23
Danny Kaplan Wants His New Furniture Collection, Made From Clay and Oak, to Appear Built By Nature
Danny Kaplan is a ceramicist, but he's also a bit of a wizard, conjuring pieces that somehow manage to feel earthy and ancient — as if they've always existed — yet also exceedingly current and fresh. "A lot of my forms were born from looking at Etruscan ceramics and thinking about midcentury ones as well," says the New York–based designer. "I love the idea of blending these things in an organic way where it feels like my pieces are almost built by nature," their geometry and angles always slightly relaxed or imperfect. This especially applies to his latest collection, Brick, which is launching as part of our Sight Unseen Collection today, both online and in NYC through May 25 at Voltz Clarke Gallery on the Lower East Side. As its name suggests, the shapes of these four stacked ceramic and wood pieces — a lamp, a coffee table, a side table, and a stool — are "like bricks that you'd build with, but they retain the softness of something handmade or of the natural world. They feel as if they're growing out of one another," Kaplan says.
The idea of building and natural growth, of creating a kind of sustainable momentum, has been with Kaplan since he started in ceramics eight years ago. Kaplan studied fine arts at Parsons, but it wasn't until he was working as a prop stylist and feeling drawn towards something more creative that he found his way to the wheel. "I had dinner with a friend who was coming from his pottery class, and he showed me pictures on his phone of what he'd been making. It was kind of a lightbulb moment. I felt this pull to throwing on the wheel, and I fell in love with it right away. I became obsessed with the process and mastering it," says Kaplan. "It took me a long time to even learn how to center clay, but it became this challenge that I really wanted to tackle. I was there every night working, trying to get the clay to behave."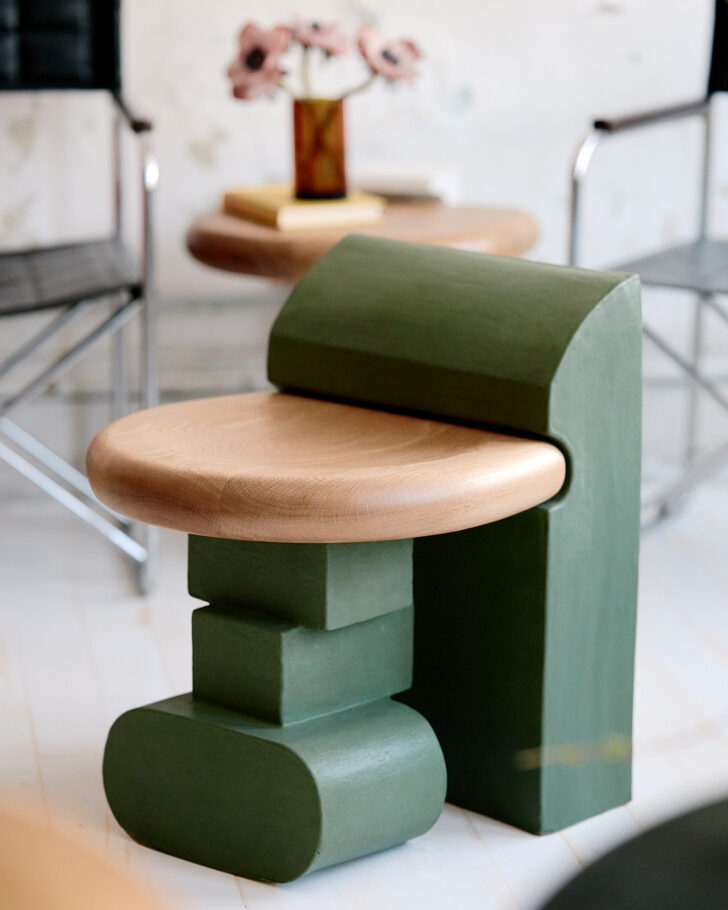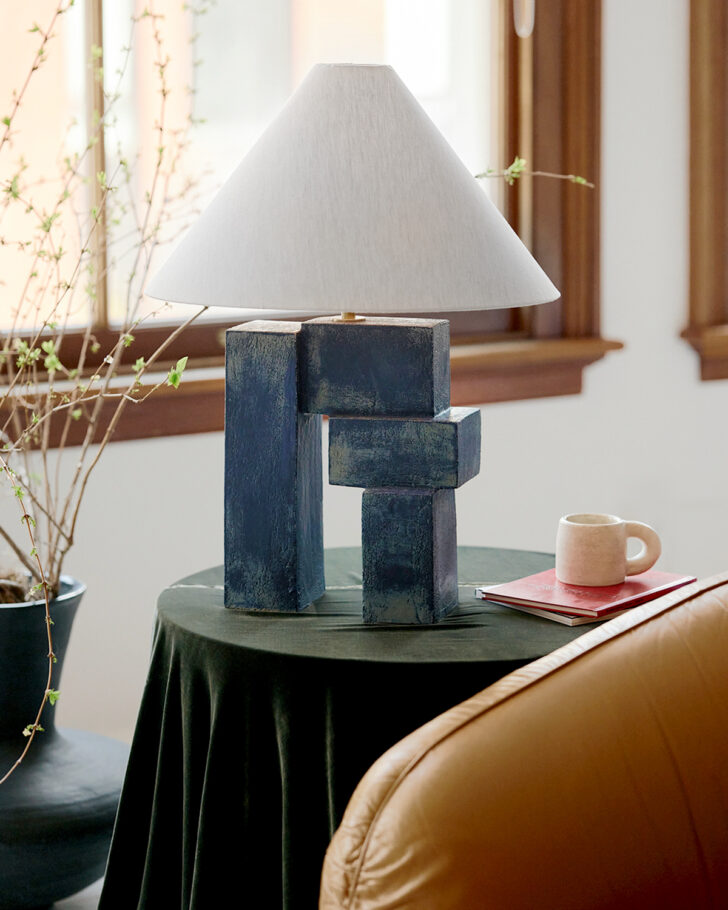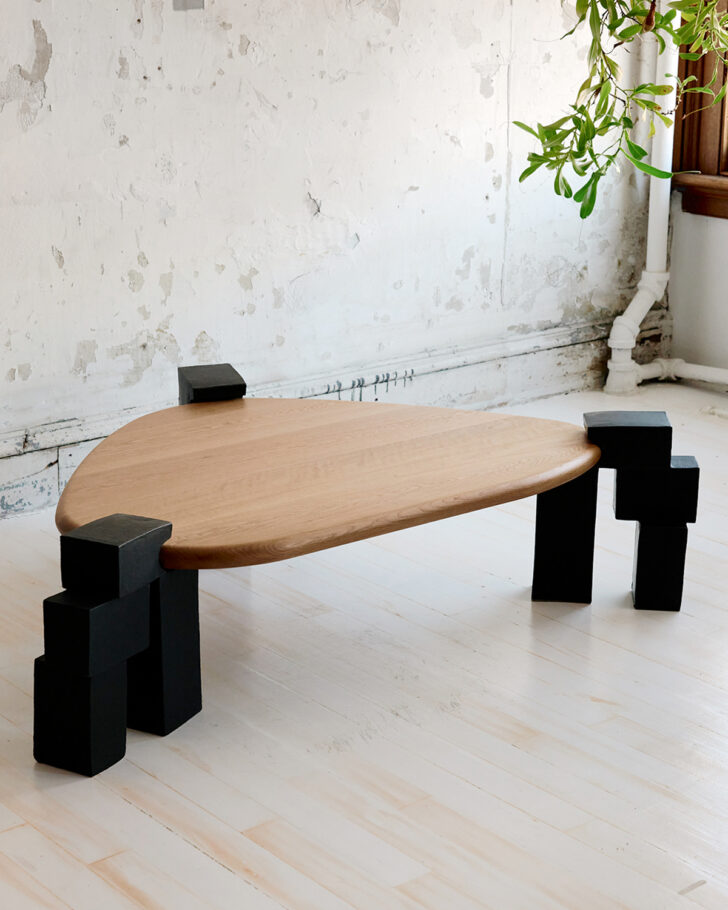 At the start, the functional aspect of ceramics appealed to him: "If it was a bowl and it held something, then it was successful. Once I became more comfortable with the forms and the wheel itself, then I could start to think about what I wanted the pieces to look like, infusing them with my taste and my influences." Coming from the world of food and tabletop prop styling, much of Kaplan's early ceramics involved dishware. A combination of skilled instructors, YouTube tutorials, and deep research dives spurred his interest in more sculptural work. "I started to learn about incorporating different hand-building techniques like coil- and slab-building. The more you bring into your practice, the more exciting the pieces become. It's endless. I was also constantly discovering ceramic artists from the '40s, '50s, and '60s, who have become major inspirations." An education into iconic figures like Lucie Rie, Hans Coper, and Peter Voulkos shaped Kaplan's aspirations and aesthetic, as he expanded his practice both in scope and style. Lighting became the focus, including the geometric Terra series Kaplan produced last year with fellow Brooklynites In Common With.
While those previous works were "really fun to make," says Kaplan, they were limited in scale. He'd been wanting to produce a coffee table, which he couldn't achieve in his studio's kilns and which would be nearly impossible to ship under the groaning weight and fragility of clay. He began to think about how to keep the ceramic element but also bring wood into the equation. Collaborating with nearby woodworker Andy Vasquez resulted in white oak tops (oiled or ebonized) for the triangular Aurora coffee table, Penelope stool, and James side table, with stacked ceramic blocks acting as supports. "The first idea for the Brick collection was an extension of these pieces we'd been making with cube forms, but I wanted to stack them in a more architectural way, inspired by Brutalism, and create pieces that felt more structural." Bruno Gambone's square-based vessels and the rectilinear details of Jean-Michel Frank's work were significant influences here.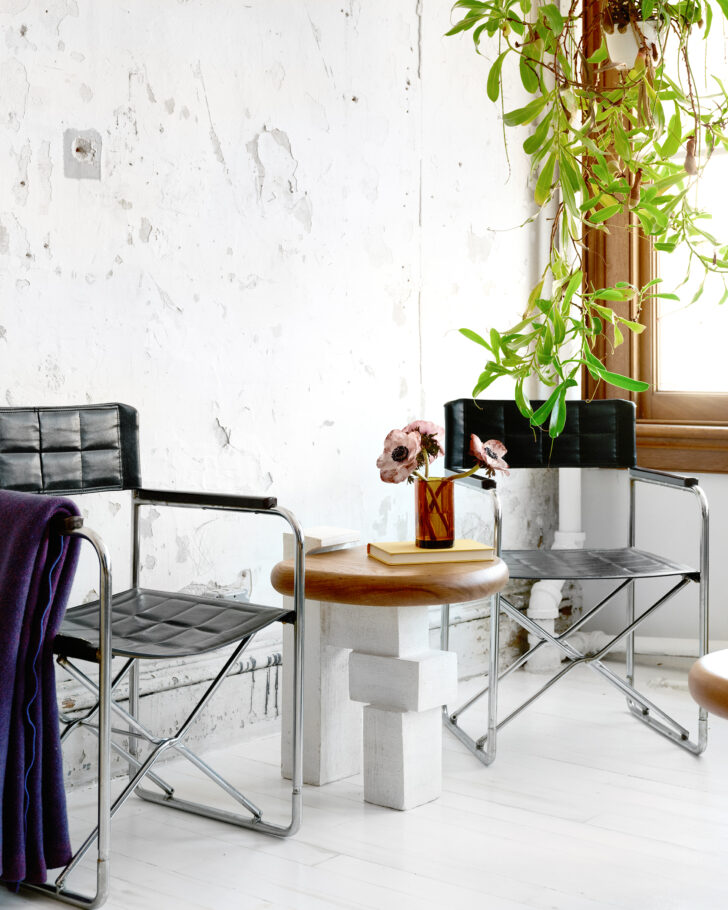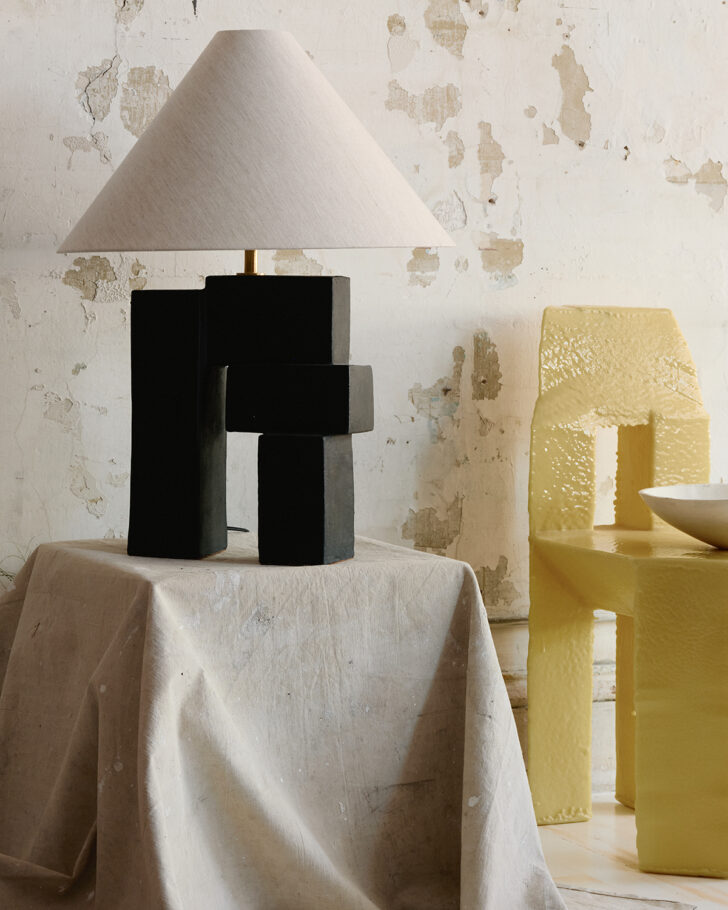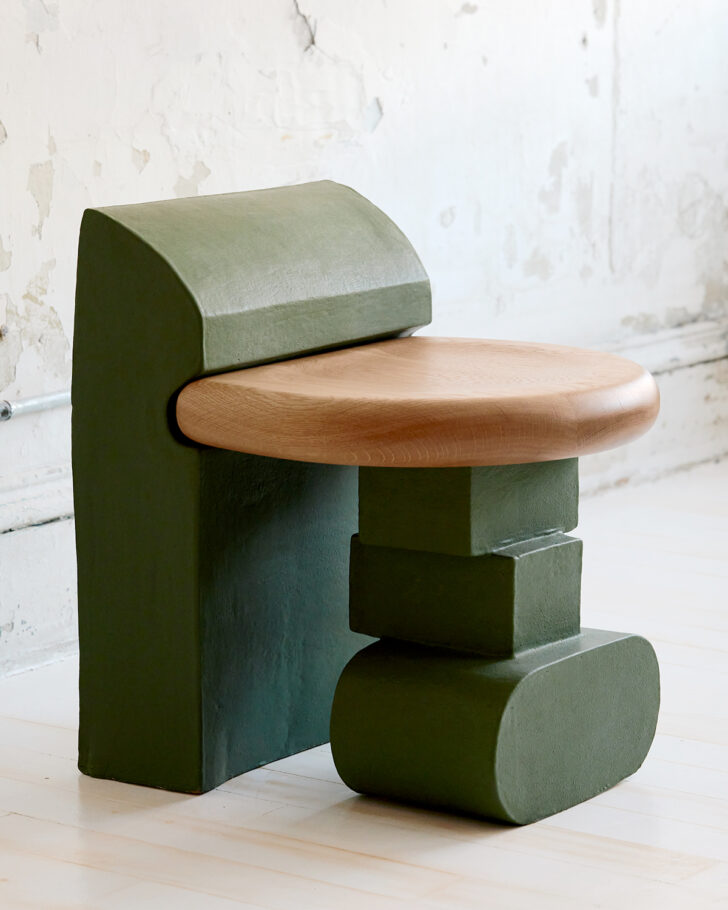 The slab-built pieces of the Brick collection are available in six finishes: stone, anthracite, lapis, ivy, chestnut, and terra sigillata (a crackled white). "We've basically kept the finishes that we've been building over time, and we plan to add more throughout the next few months." Similarly, if Brick feels like a fully realized set, with the deliberation of a completed thought, consider these foundational pieces to be but building blocks. "I want to keep exploring these shapes and playing with this idea of the wood nestling into the clay. I see this as a collection that we'll keep adding pieces to," says Kaplan. "There are so many more ways we can push this idea, it's really just the beginning."
PHOTOS BY WILLIAM JESS LAIRD
Danny Kaplan Studio's Brick collection will be on view and available for long-lead purchase from May 19-25, 12-6PM, as part of the Sight Unseen Collection at Voltz Clarke Gallery, 195 Chrystie, New York, NY. It is also available for purchase online through Sight Unseen.