06.01.23
Jonathan Pessin Shops 7 Days a Week to Amass the Collection of Objects He Jokingly Calls "Not For Sale"
In honor of our How to Live With Objects pop-up at Nordstrom, which is shoppable through June 19 — and to celebrate the six-month anniversary of our book being out in the world! — we're going to be publishing over the next few weeks some of our favorite home tours from the book that you may not yet have seen. (It is also, we might point out, an excellent time to buy our book if you haven't already, or gift it to your favorite Gemini, a graduating college student, a dad, a host whose house you're visiting — truly whatever!)
First up is our dear Los Angeles friend, Jonathan Pessin, whose home we visited in the summer of 2021, and who could not decipher, for the first three hours of our photo shoot, whether I, in fact, loved or hated his living space. (Obviously, I loved.) A collector with a penchant for the oversized and the absurd, Pessin runs the cheekily named vintage showroom Not For Sale from a giant space next to his (now-former) loft in Los Angeles. When we visited, the boundary between the two spaces was practically nonexistent, cycling in as he does favorite finds like a giant Mr. Goodbar, a papier-mâché Bart Simpson, and, always, French industrial furniture from the 1950s.
PHOTOS BY CHARLIE SCHUCK / STYLING BY TESSA WATSON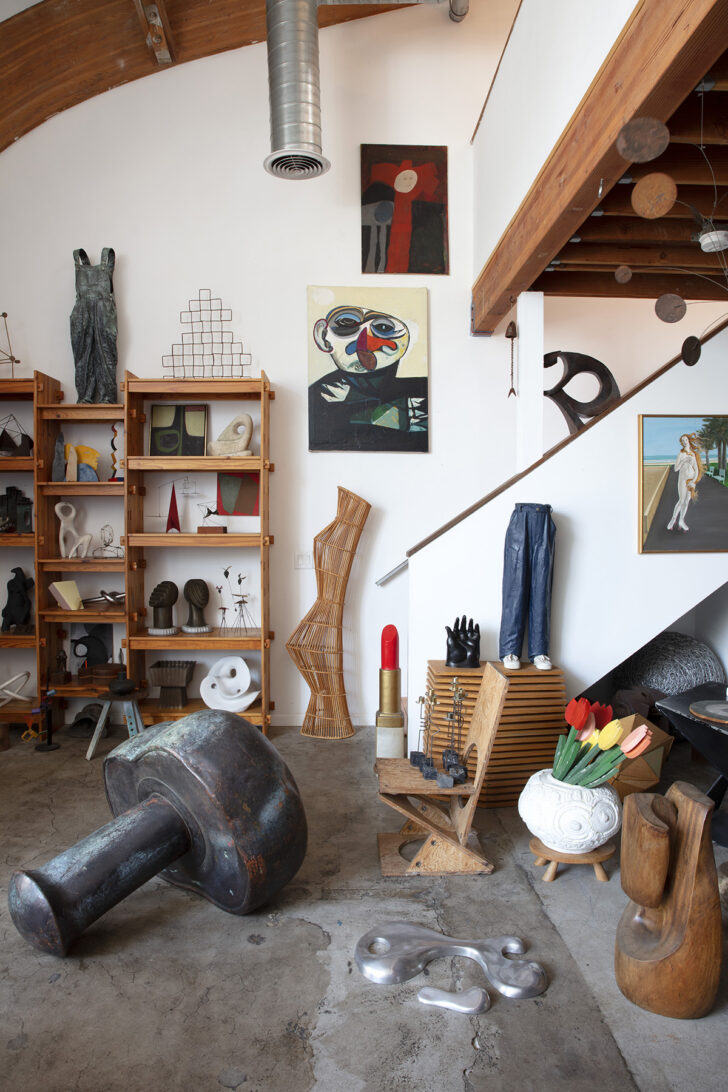 "My parents got divorced when I was four, and my twin sister and my mother and I moved to a condominium in Brookline, Massachusetts. It was in this big, converted Victorian house, so there were four condos. We were on the bottom floor of one side of it, and there was this staircase leading to the condo upstairs. There was this weird sort of space under the stairs, next to a hallway closet, and my mother — and I give her all the credit for this because I was four — but she had the wall taken out between the closet and this weird, dead space and had a loft built in and a ladder. So, I basically grew up in a converted closet. As a result, I never want to live in a regular house. I always want to live in a weird, converted, never-meant-to-have-someone-live-in-it space. So, the idea of a loft was appealing — plus, you know, the fact that I collect oversized things. As soon as I saw this space, I was like, that's amazing — because it has the giant wood curved beam, it's almost like being on the inside of a ship."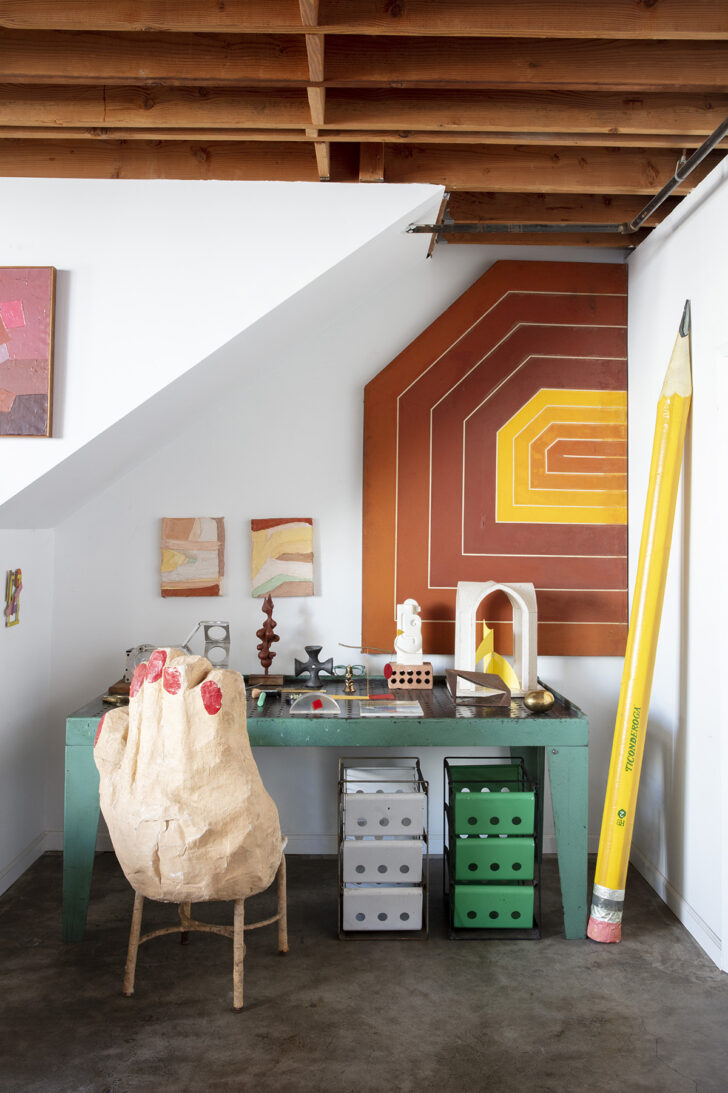 "I'm pretty good at connecting a space with an object. Like with my desk under the staircase, I wanted a weird piece of art that would fit, and of course, I have this Frank Stella–shaped canvas that in my mind, looks like it was meant for this space. I think it's just because I spend all my time and energy thinking about objects. Every time I have an open space in my loft, I'm like, what can I put there? What would be the coolest, weirdest, most original thing? Sometimes things just come to me.
"I shop seven days a week. It's a compulsion. Every time I think, okay. I have everything I need. I recognize these things don't do anything. They don't necessarily bring about happiness, but visually I'm inspired by things. All the things in my loft are things that, when I walk past them, I'm still excited about them. When I walk past something and I'm not as excited about it, that's when I let it go."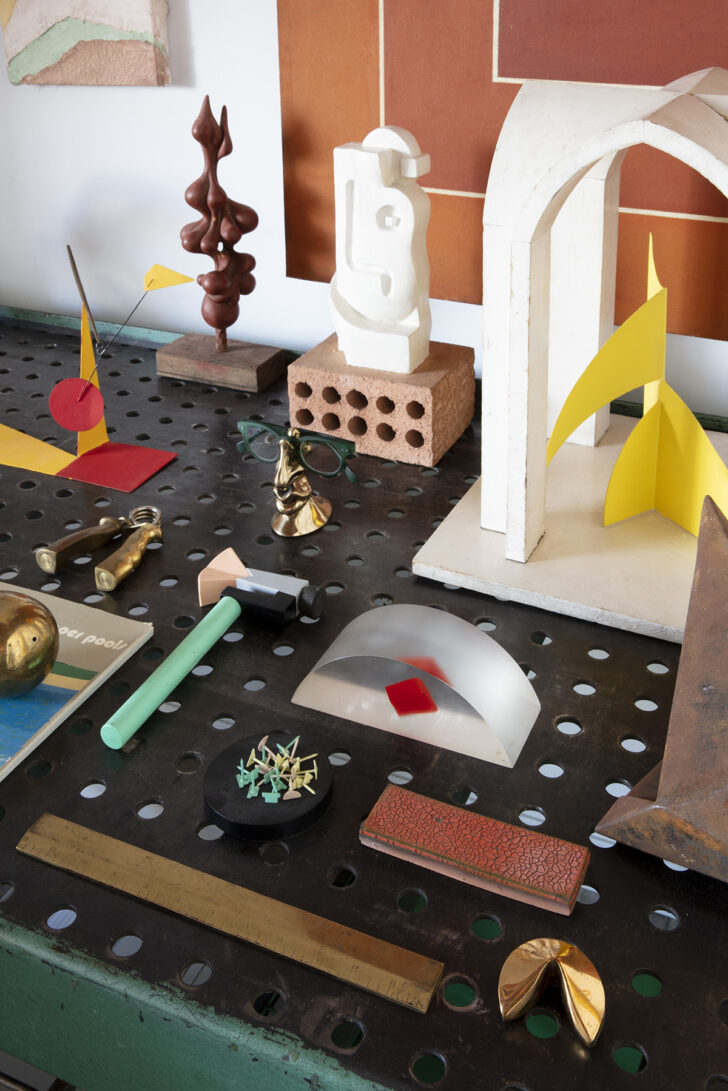 "I love French industrial design— anything Prouvé-esque, or Charlotte Perriand-esque. Because those pieces are so expensive, I actually like finding someone's anonymous inspired version of something. Under my desk are these perforated shelves that I bought at a flea market. They seemed French industrial and super cool; anything metal and perforated is a magic combination for me. People have tried to buy them, and I'll always be like, 'They're not for sale.' Somebody saw them in a picture I posted, and they asked, 'Do you know what those are? They're from a supermarket freezer, to put produce in.' For a second, I was kind of bummed, but now anytime someone comes to my loft and wants them, I won't sell them, but I will say, 'By the way, do you know what they are?' Because it's a great story.
"I like having something that was never meant or intended to be used as a domestic object. For instance, that papier-mâché hand chair. It's so amateur. Is it a foot? Is it a hand? I like things out of context, and a giant hand is so out of context."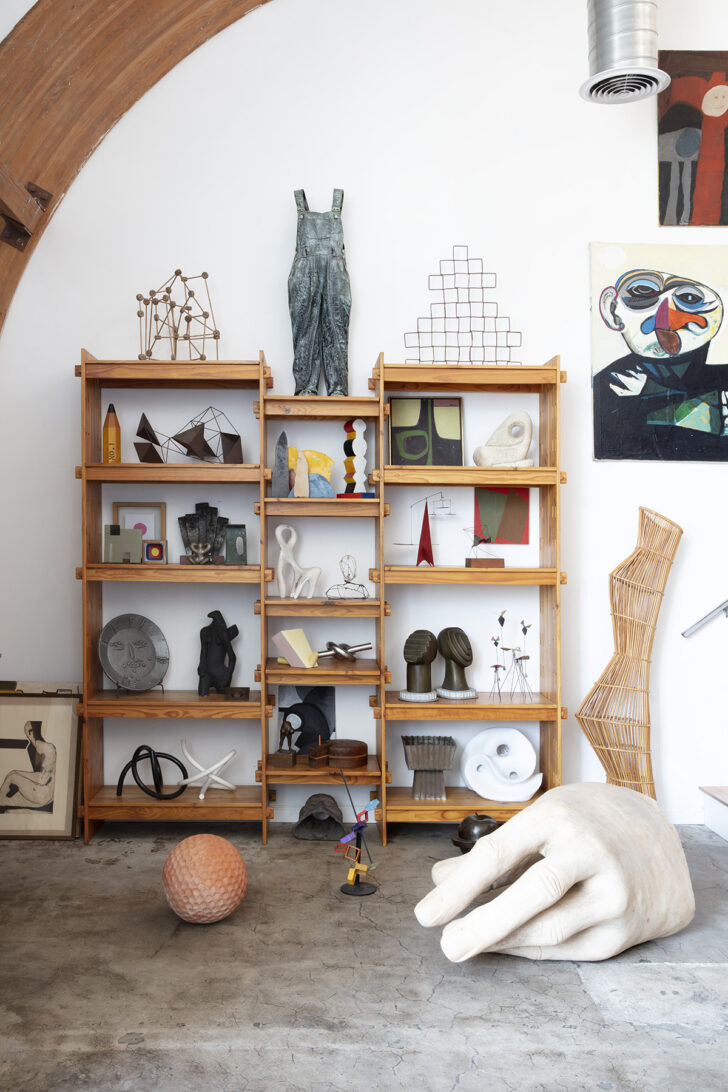 "I don't like practical things, so if I have to have a practical object, I want a giant version of it that renders it impractical, like a giant toothbrush. I like absurdity and anything oversized. I like having a playful element. I missed out on this giant rotary phone recently. It was three feet long, and in my head, it would have been the perfect thing to have where most people would have a coffee table.  Of course, now I'm trying not to buy oversized things because I don't want to be known as the guy who collects all the oversized things.
"There's this desire for me to have  the thing that no one else has. I can love something, and then as soon as I find out someone else has one, I'm kind of over it. I spend so much time and energy thinking about objects, probably in an unhealthy way. An old therapist would say I'm narcissistically attached to them, but it's part of my brand. It's NFS, not for sale. I want to keep everything, but a lot of the things that I think I want, when I get them,  I don't anymore. I love the hunt. I like the story of finding it and how things come to me."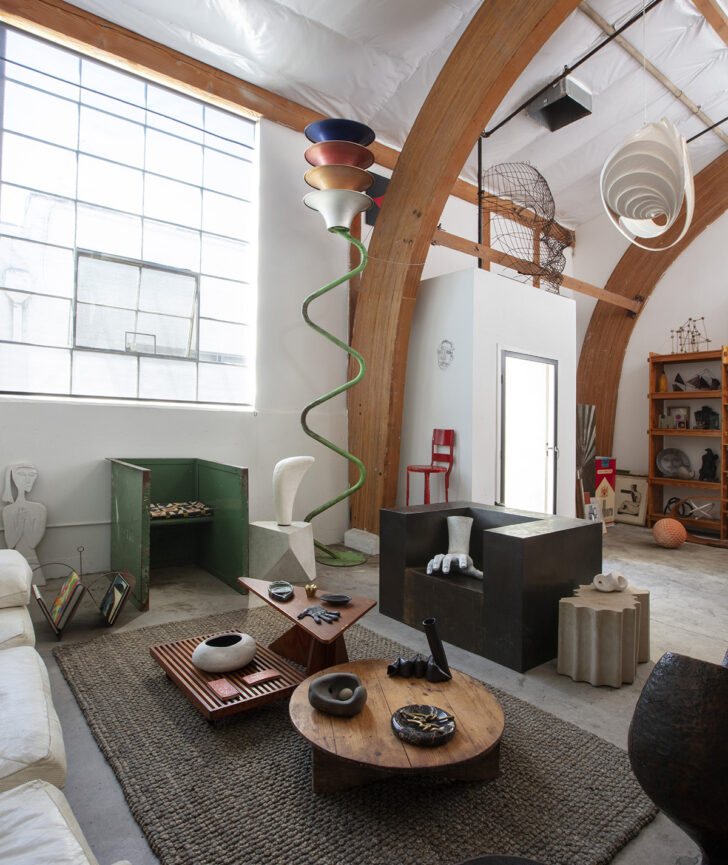 "The Peter Shire Olympic torch is a special piece. I had seen them before, but most of the ones out there are shorter, like 10 feet. I think this one is 14 feet, and it's actually the one that was in the 1984 Olympic Village. I went to a friends' sale, and this was in pieces on the floor. I knew just from seeing the curved stem what it was. After I bought it, somebody wanted to buy it from me, and at first, I was going to sell. But then I was like, 'I don't want to sell this thing. It's too weird and cool; what a perfect piece for this space.' It's not exactly my vibe. I like Postmodern, but it's a little whimsical for me. But the scale of it is so good. And the honest answer is that the more people like something in my loft, the less inclined I am to let it go."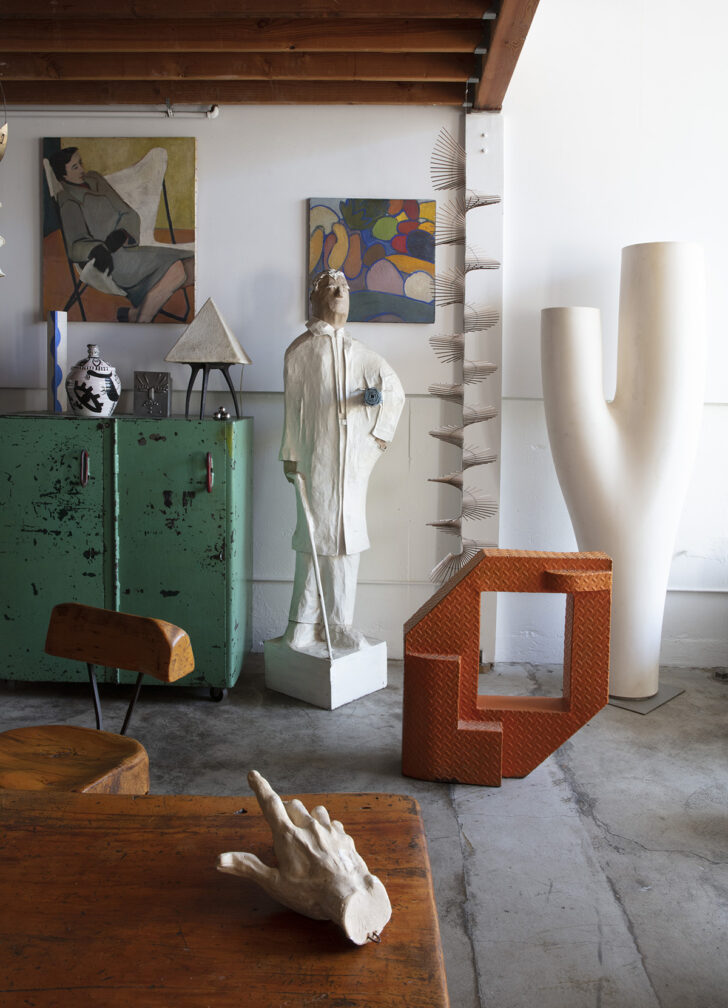 "The life-size papier-mâché Mies van der Rohe has a good story. The California mid-century architect Craig Ellwood was teaching a class in the '50s or '60s and had Mies come talk to his students. The students made this for Mies as a gift, and then it stayed in Ellwood's office until it went to LA Modern Auctions, where it lived in their warehouse for ten years. I don't think it was important enough for them to auction. They had a big warehouse sale, and when I walked in, it was all mostly mid-century furniture, which is not my thing. I walked past this thing—it was in a nook, and it had a price tag of $75— and I was like, done."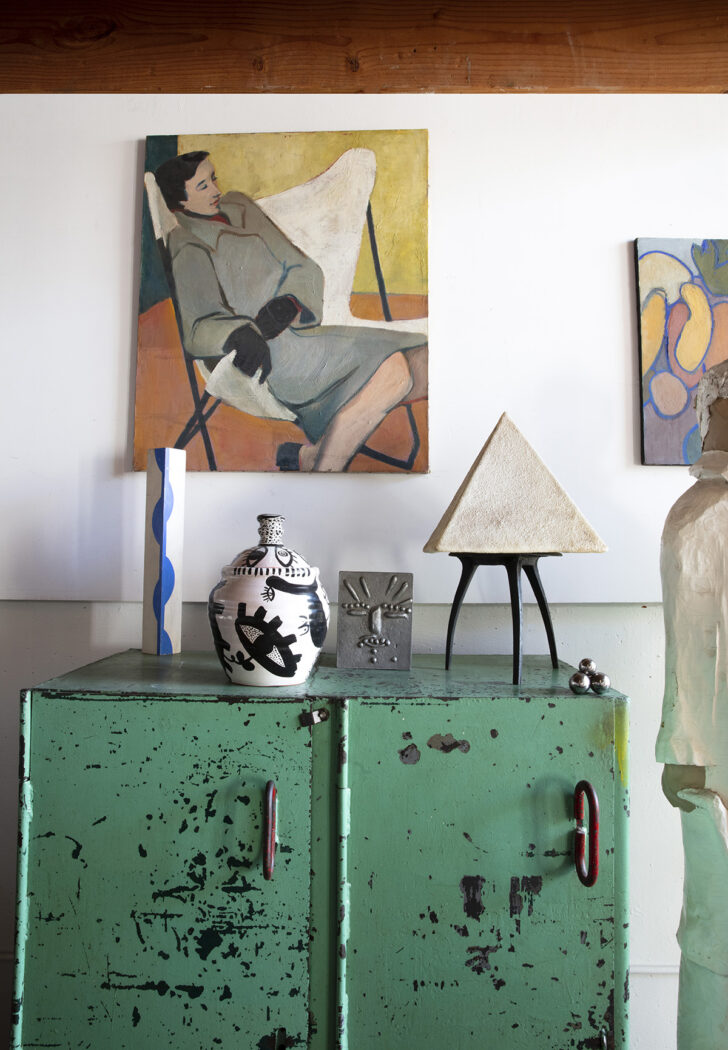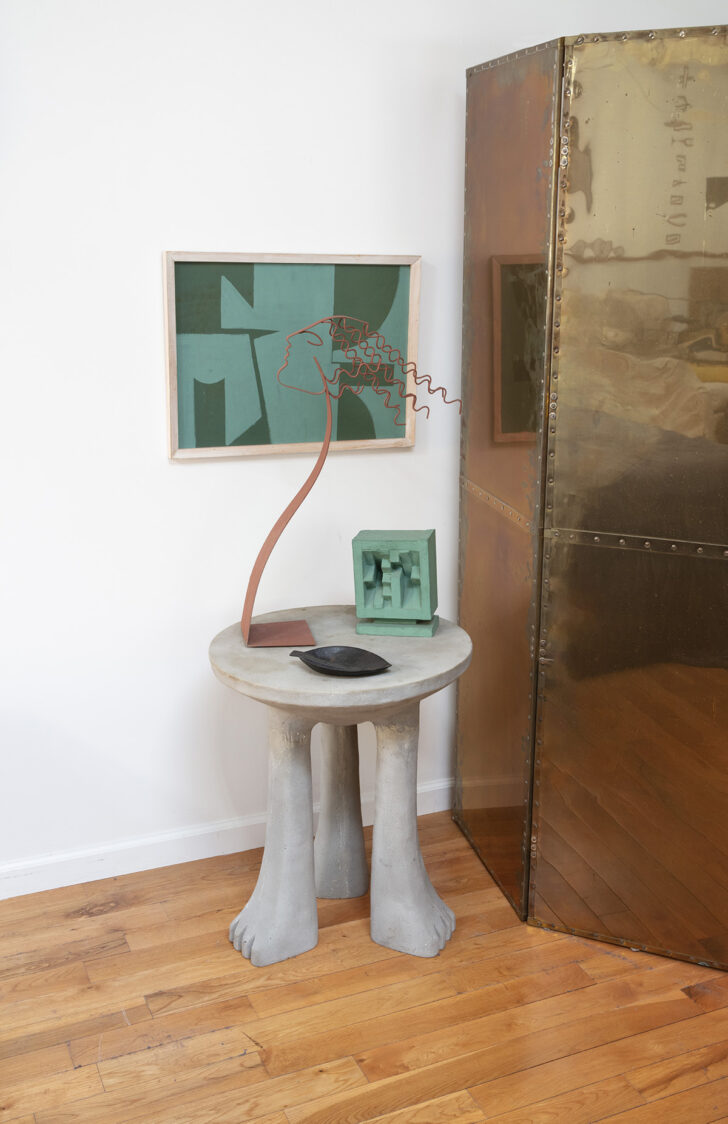 "Part of the reason I named the store Not For Sale is that one of my superpowers is I can go into any store, and the first thing I pick, they're like, 'Welllll, that's the one thing not for sale.' It annoys me because I'm like, 'You're a store. You shouldn't have it in there if it's not for sale!' The way I justify it for myself is, well, it's my brand, it's in the name—so you can't get mad at me."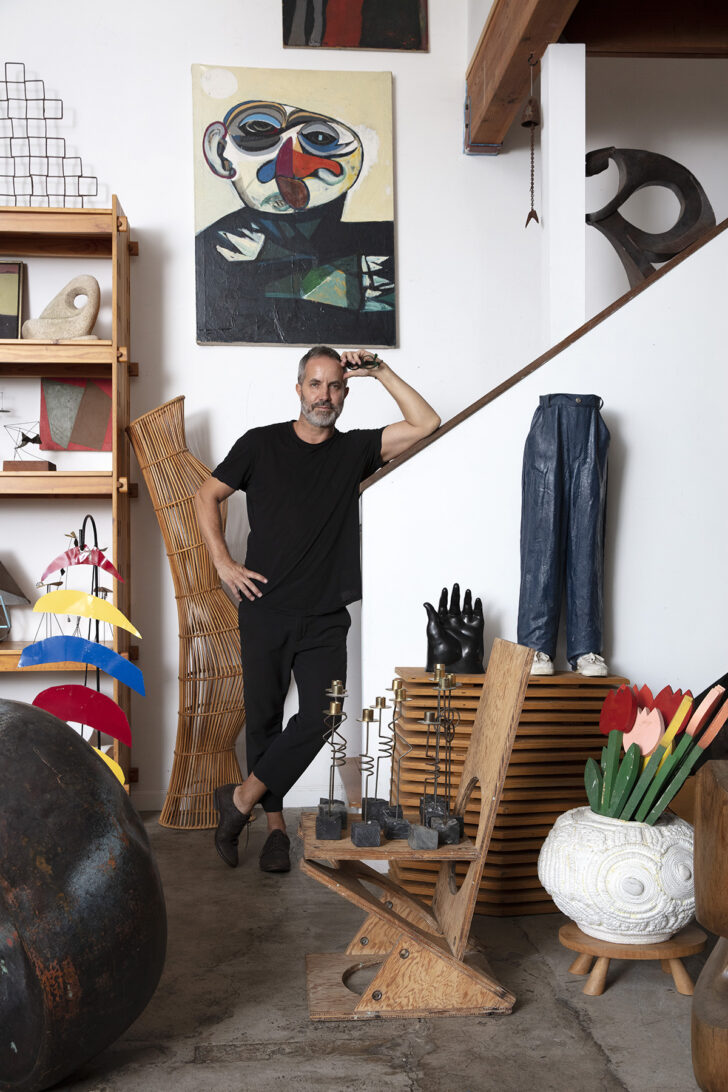 Excerpted from How to Live With Objects, published by Clarkson Potter, 2022.