09.26.12
At the London Design Festival, Part IV
Less than a week after we left the London Design Festival, it already feels like a distant memory — mostly because as of yesterday, we've already shifted our focus to making plans for the next edition of our own design showcase, the 2013 Noho Design District. And yet to some degree, we're also already drawing on what we saw at the LDF for inspiration: While we may not have access, in the middle of downtown Manhattan, to the kind of stunning 150,000-sqft. former mail-sorting facility that Designjunction had the luxury of spreading out in last week (incorporating multiple cafes and a pop-up version of the new online shop FAO, pictured above), we do have a few new talents on our hit list, a few schemes cooked up over drinks with old friends, and a few programming strategies to mull over. Meanwhile, we're offering you one last chance to see what we saw at the festival, which though it was by no means everything, will hopefully give you something to mull over, too.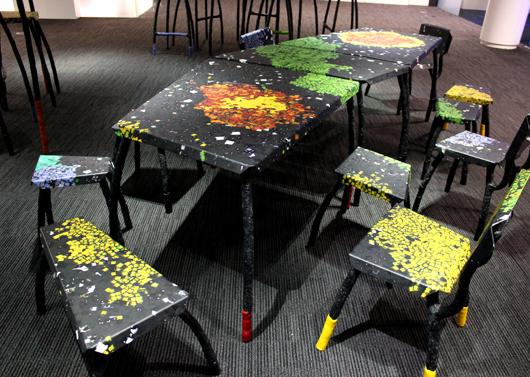 Bloomberg has been running their "Waste Not Want It" program for a few years now, inviting designers to raid their warehouse full of disused office electronics and turn the refuse into design objects they can install in their London offices. The concept is getting a bit repetitive by now but the caliber of designers is still rather impressive — this year's roster included Peter Marigold, Karen Ryan, and our new faves Silo Studio, who took outdated models of Bloomberg's signature colored keyboards, stripped them of their keys, and melted those keys down onto black plastic sheets to create the table above.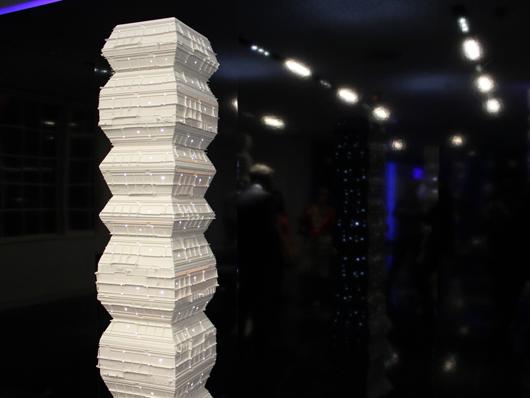 Phil Cuttance made a cluster of towering lights out of the backs of said keyboards, whose perforations make them twinkle like constellations.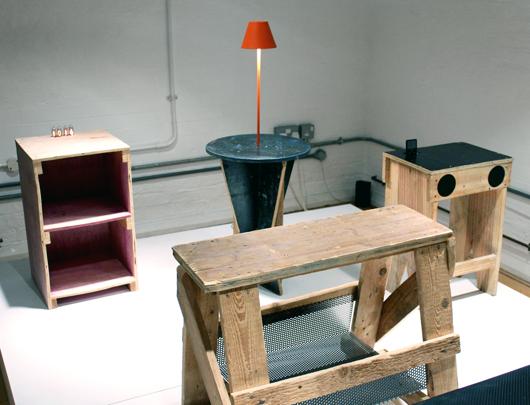 Gallery Fumi's opening was surprisingly rollicking, perhaps due to the ridiculously strong cocktails being passed out — and the fact that no one we spoke to when we showed up at 9:30 pm had eaten any dinner. The work on view was equally fun: The construction workers at one of Brazilian architect Marcio Kogan's building sites were asked to make furniture from the project's waste materials, after which Kogan modified the pieces with accents like strips of gold mosaic, copper lamps, and built-in iPod docks.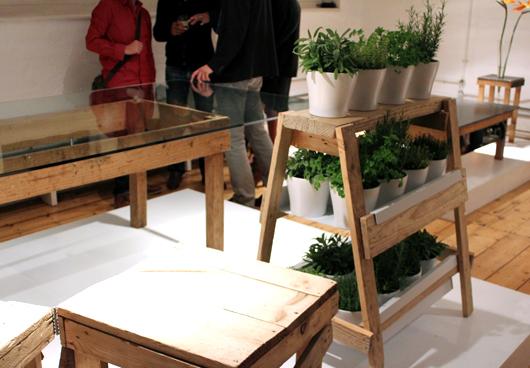 Actually, the project goes back four years, and this is a kind of retrospective — including a few brand-new works produced in collaboration with two Italian architects, Manuela Verga and Paolo Boatti, who, according to the press release, "personally supervised the restoration works on the fifteenth-century castle of Vigevano, Italy."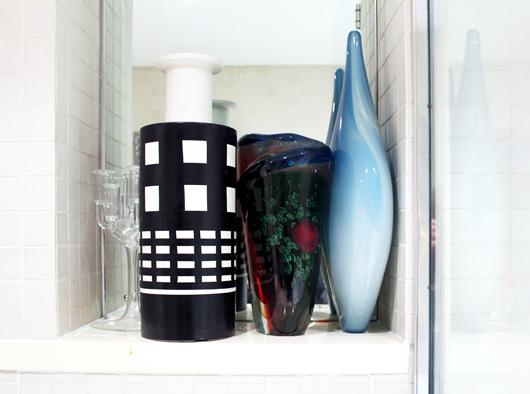 Halfway through the party we accidentally used the wrong bathroom — the show was in the gallerists' living room, and we wandered into their private loo — where this cluster of Venini and Sottsass vases was watching us from overhead. We're not sure we were supposed to take this photo, but we did confirm with co-owner Valerio Capo that we could send a proper photographer back to shoot an At Home With once the living room was back in tact.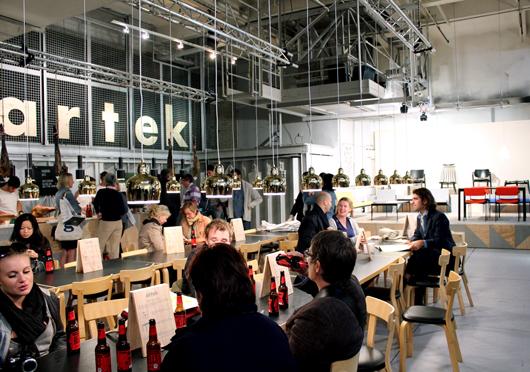 We spent a record four hours bouncing around the tri-level Designjunction show, mostly because we kept running into people we knew. But there was also a ton of work on view, plus an Artek bar designed by Philippe Malouin and erected by his team in less than two days. The tables and chairs are vintage Aalto, but the furniture in the back right corner is a selection of the company's new releases from this year.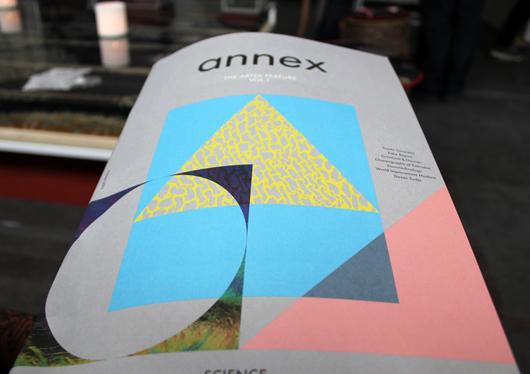 Our press bag contained this design/art magazine that we had no idea Artek produced, but whose cover we were rather fond of. So much so that we took this crappy shot of it balanced on our knee.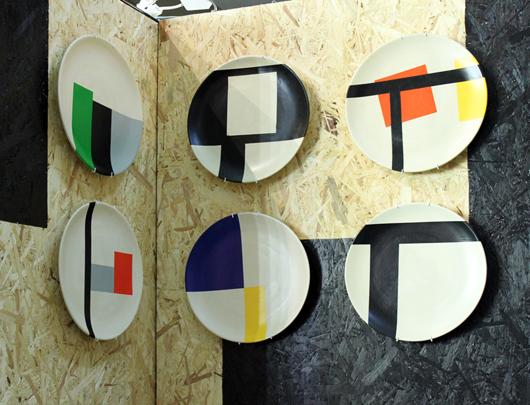 Among the many casualties of our too-short trip was a planned hike up to one of our favorite stores, Darkroom. We're still mad at ourselves for missing it (and the Studio Toogood installation), but at least we got a small taste at the store's Designjunction booth, where these Bauhaus-ian plates were one of the many small goods on offer. Another pang of regret came when we had to walk away without purchasing the lot of them. Price tag: $175 each.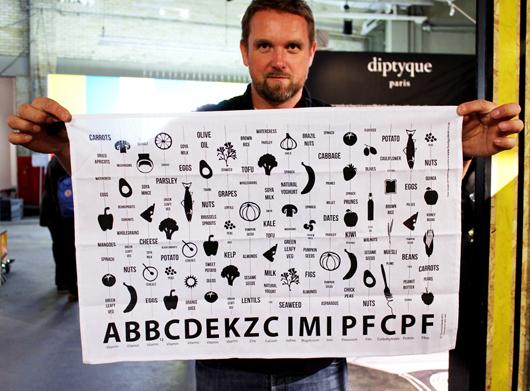 It wouldn't be a trip to London without a run-in with the inimitable Thorsten van Elten of Theo, who had a pea-sized booth stuffed with novelties like this tea towel, which is printed with a pictorial guide to which foods correspond with which essential vitamins. Want! Thorsten himself was kind enough to demonstrate.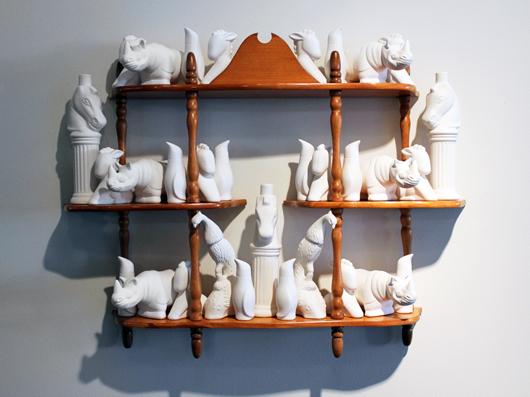 We were all excited to post this quirky picture of the work of Camberwell College of Arts student Joanna Mires, which consists of a series of porcelain animals stationed around the kind of wooden display cabinet your grandmother almost definitely kept picture frames and trinkets on when you were growing up. And then we saw that Wallpaper totally beat us to it. But we decided to post it anyway. Great minds think alike!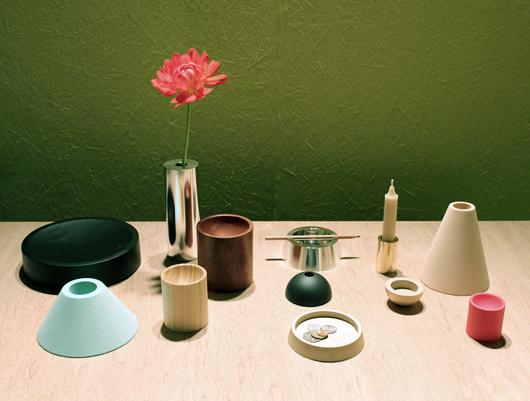 We posted a portrait of geometry-obsessed Aussies Daniel Emma a few days ago, now here's their latest collection of monolithic tabletop objects. Each piece consists of only one element in one material, not unlike their Basics series. Check out the photos on their website by following that link; it looks even better on a white background. And, ahem, shot by a professional.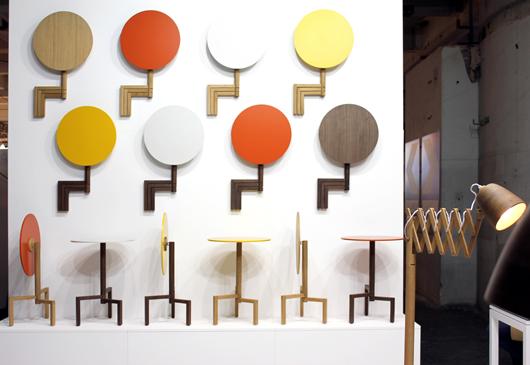 A nice graphic arrangement of folding tables by a brand we were unfamiliar with — Channels — along with an even nicer scissored wood-veneer floor light. (We originally attributed these to Another Country, whoops! They were showing a new sofa and table just next to this. Also gorgeous!)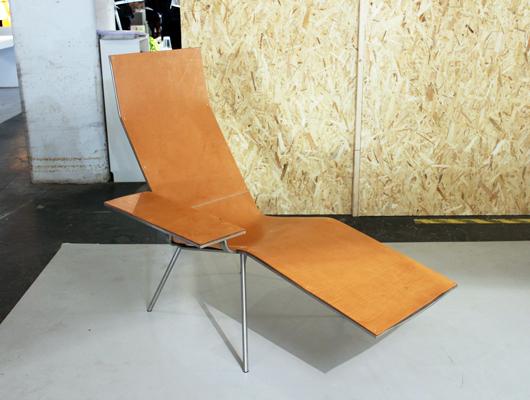 This piece, however, is decidedly old: It's a 2004 Maarten van Severen design, in production with the Dutch company Pastoe. We just liked it, that's all.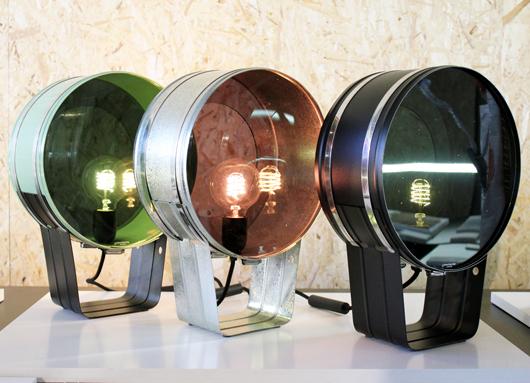 We also liked the new Submariner lamp by Neil Conley — pretty sure it was our best in show! It's made using sheet steel secured by two metal clamps, and Conley says it's inspired by "materials and techniques seen in traditional marine exploration: port holes, diving helmets, periscopes." The glare-proof tinted glass in front is not only pretty, it prevents the bare bulb inside from burning holes in your eyeballs.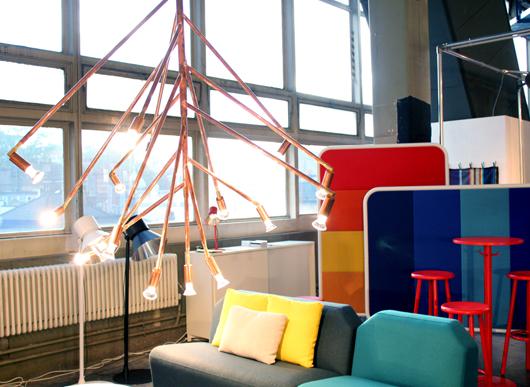 Designjunction hosted this display of furniture by Swedes, including both Jonas Bohlin and Jonas Wagnell….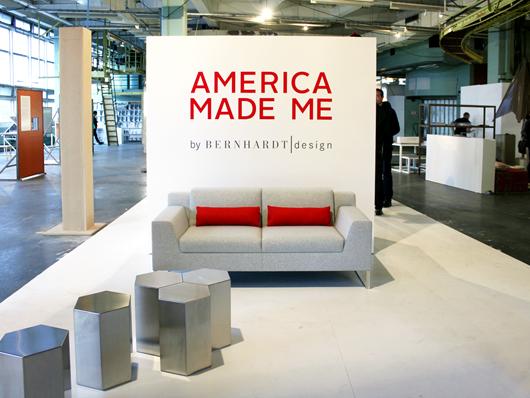 ….While the Americans got their own props nearby in this booth by Bernhardt design, which was the second in its burgeoning "America Made Me" series. We're not gonna lie, it felt kind of good to be in a foreign country and yet be surrounded by the work of our friends and neighbors. Not that we're the kind of people who would go all the way to Europe only to eat at McDonalds, but still.
A moody shot of two mobiles by Miranda Watkins, silhouetted against the construction site across the street.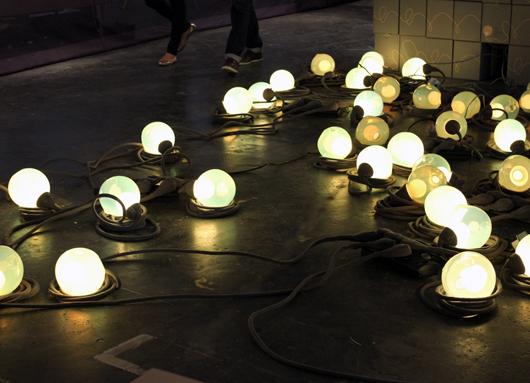 And finally, an even moodier shot of Canadian lightmaker Bocci's newest release, the 28d desk lamp, which represents the company's first attempt to make a more consumer-ready product. It's basically a glass shade nestled into what looks like a soft pile of coiled rope but is actually stiff, so the piece holds its shape. It comes in all sorts of colors, but designer Omer Arbel decided to create the show display in a glowy green hue reminiscent of uranium glass that was pretty much impossible to capture in a photograph. Marco Tabasso of Rossana Orlandi Gallery, who was standing right next to me as I took this picture, did a much better job. Maybe we should hire him to cover all our design fairs for us?