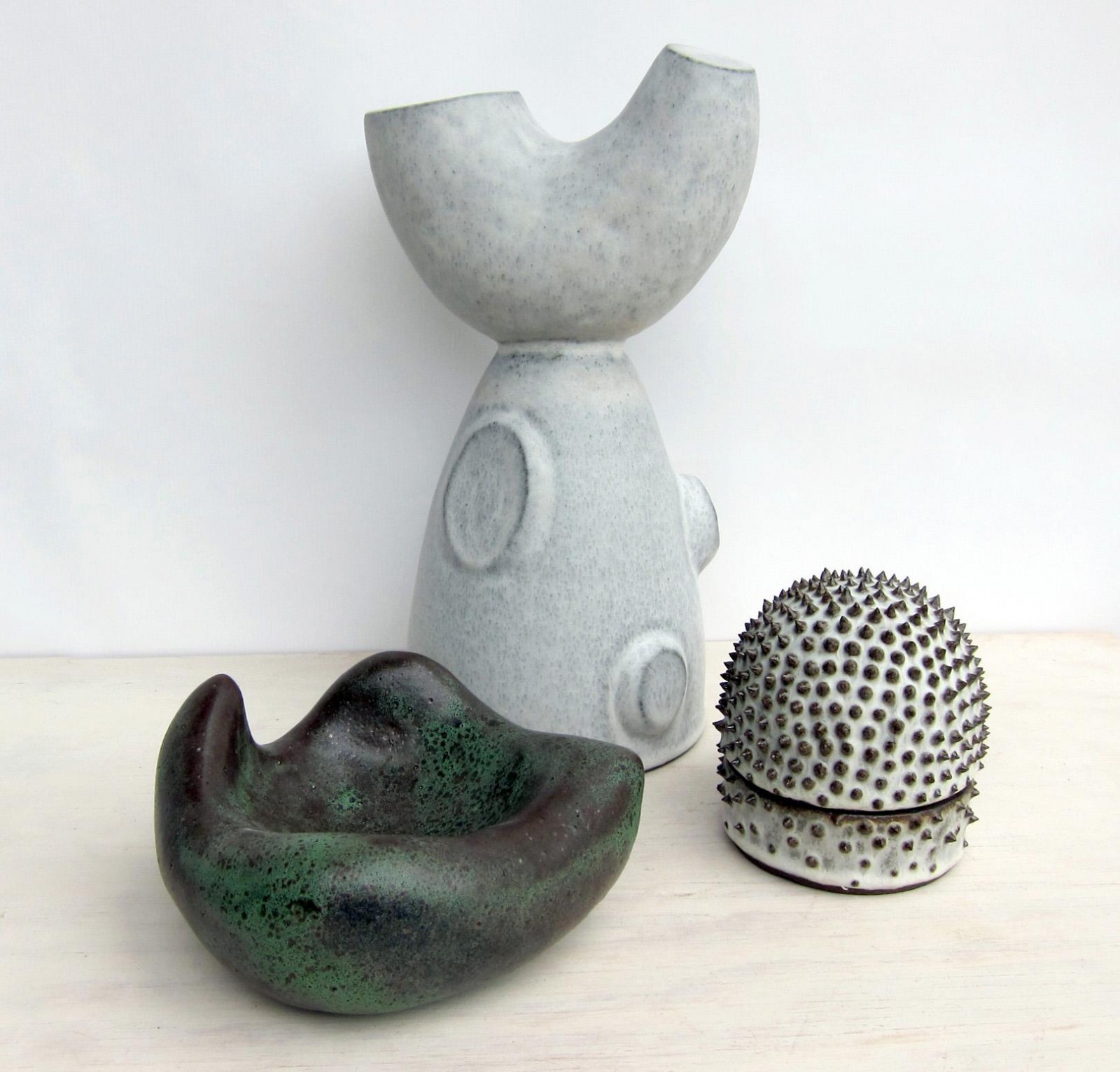 A weekly Saturday recap to share with you our favorite links, discoveries, exhibitions, and more from the past seven days. This week: ceramics from a graphic designer, paintings from a lighting designer, and the coolest $300 rock you've ever seen.
Discoveries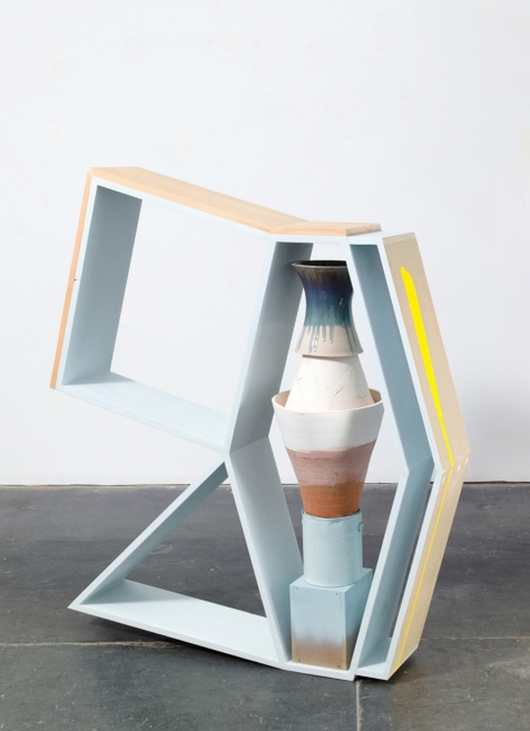 This week, we're planning on finally making a pilgrimage to see the NYC Makers biennial at the Museum of Arts & Design (for which we helped nominate participants!). This preview on Artsy is getting us psyched to discover new talents (or at least talents who are new to us) like Nicole Cherubini, whose earthenware and acrylic sculpture is shown above.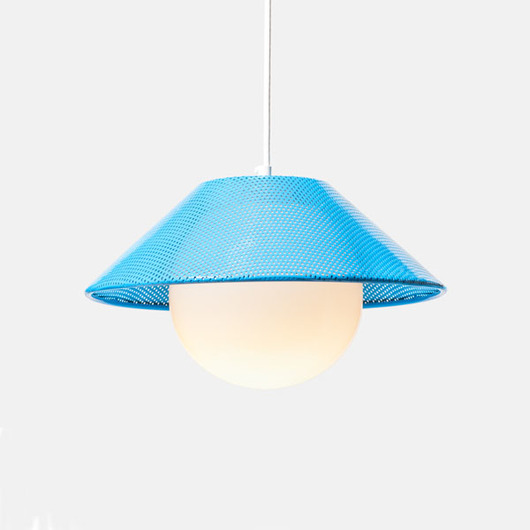 Earlier this year, the Brooklyn-based trio Rich Brilliant Willing announced they'd be eschewing the furniture part of their business in favor of a lighting-only model. If this new colorway of their perforated Akoya lamp is any indication, they're also returning, at least in part, to their happily, colorful origins. (Remember this guy?)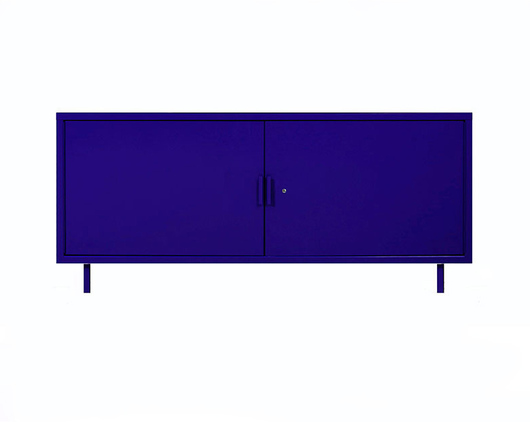 Another guest to the "now available in blue" party: Heartwork's collection of gorgeous office storage pieces (a phrase we never thought we'd utter), now available in a heart-stopping hue of Yves Klein indigo. Between this and the ever-expanding palette of TPS cabinets, there's no excuse anymore for a boring old office design.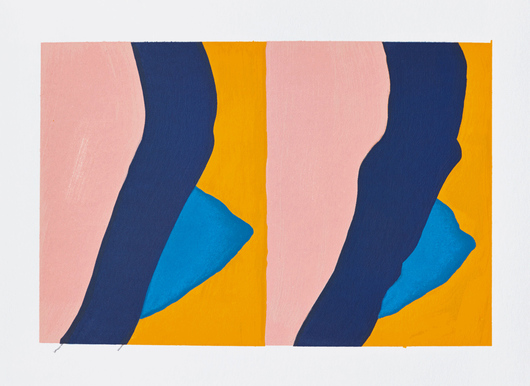 We know Brock Shorno as both the tallest member of Lindsey Adelman's studio and the other half of one of our favorite former contributors, but not until we followed his Instagram were we aware of his incredible talent as a painter. The piece above comes individually or in a set of seven from Worthwhisland, but Shorno's Instagram reveals a few of these color studies a month.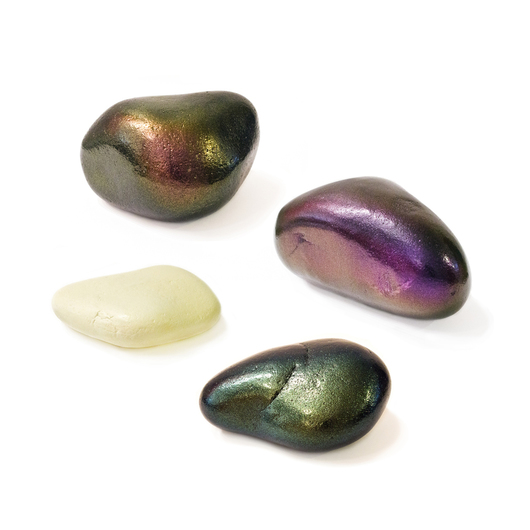 Never thought I'd be tempted to drop $300 on a rock, but here it is: Eric Cahan's Mood Stones for Grey Area were collected from Camp Hero, a state park and decommissioned Air Force base in Montauk. "Initially Cahan began collecting the stones for his own collection with the intention of personally coating them with chameleon paint and displaying them together to create his ideal rocky beach — a beach covered with iridescent Mood Stones. Each stone goes through a process of a coat of automotive paint on one side, drying, then painting the other side repeated several times in order to achieve the desired effect: stones that are weather proof and can be cleaned just like you would clean the exterior of a car."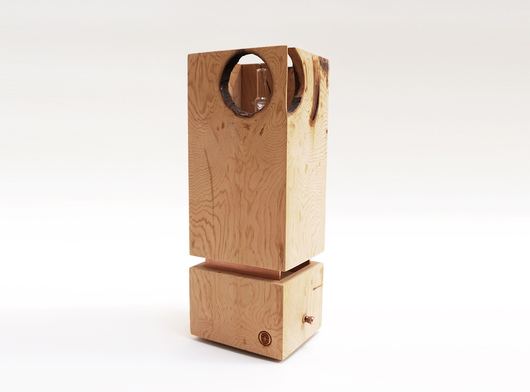 And in other crazy expensive but secretly tempting news: this series of scenters, which are a collaboration between Commune Design and the LA-based artisanal fragrance house L'Oeil du Vert. The fragrance is a mix of California flora, burnt Japanese wood and Viennese leather, while the distributors are made from either vintage Douglas Fir or vintage Redwood with either bronze or copper accents and frames. "The wood is re-purposed, with the nail holes, knots, and cracks of a past life and history." These will run you $2,400.
Exhibitions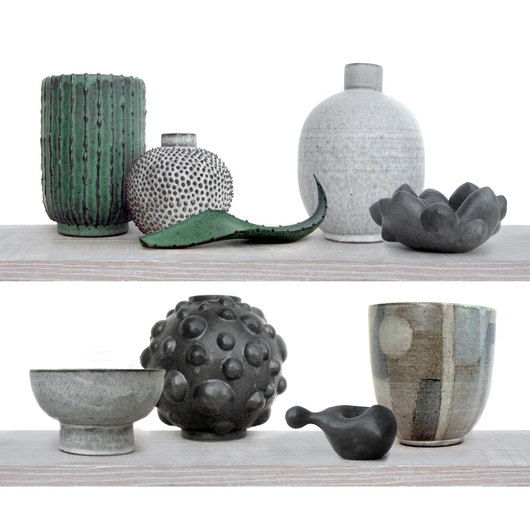 Why do graphic designers make such excellent ceramicists? The last year alone has seen new lines from the lovely Natalie Herrera of High Gloss (who did stints at AR New York and Project Projects) and now Eric Roinestad, who once upon a time was the art director who helped launch Flaunt Magazine and did graphic design work for Universal Pictures, Chronicle Books and Capitol Records. Roinestad's first ever ceramics show opened at Mohawk General Store in LA last night; do yourself a favor and go see it!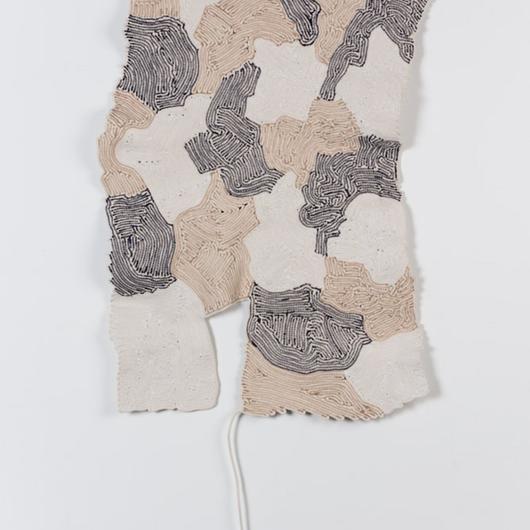 We love the new work on view in Tulsa, the hometown of Doug Johnston, whose coiled rope work now goes way beyond baskets. Amusingly titled Brooklyn Nets, the exhibition sees Johnston exploring the more two-dimensional aspects of his medium, as well as some truly excellent multi-hump vessels.
Events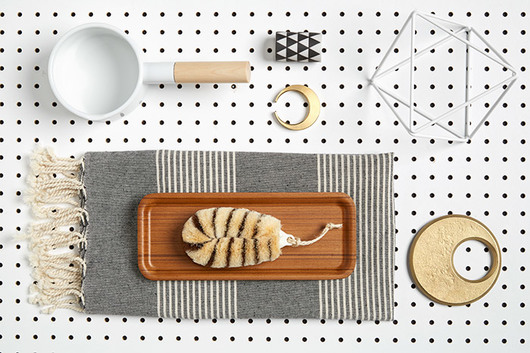 We were supremely bummed that the nearest outpost of the Poketo x Nordstrom Pop-In — which commissioned work from some of our favorites, like Ellen Van Dusen, Eric Trine, and Ben Medansky — was in Paramus, New Jersey. Until, of course, we realized that almost everything is for sale online! The goods are on view in 8 locations across America until August 3, but if you don't live near one of them, head on over here.
Links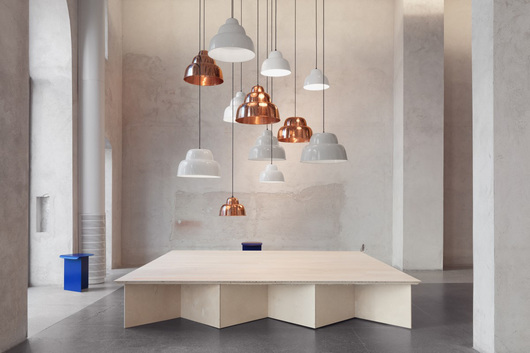 We've been touting the Sleepy Jones Sunday newsletter, but you should also be keeping up with Need Supply, whose Moments With Sunday column has featured creatives like Form Us With Love (above), David Kitz, and yours truly! It's a keeper.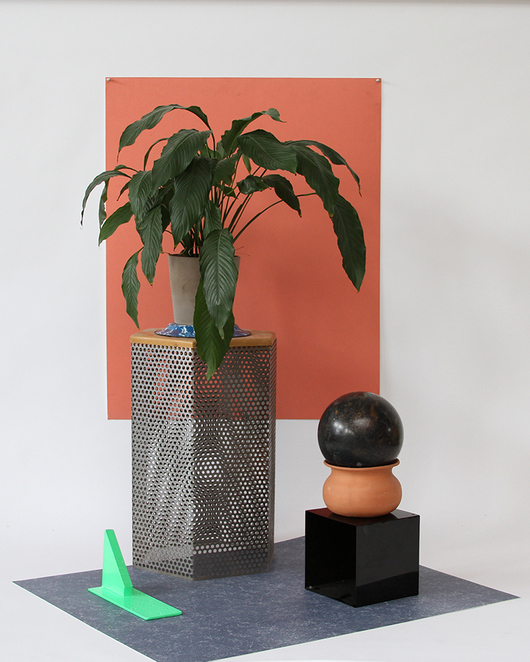 This is perhaps our favorite new trend: Designers letting you see the weird ways in which they fuck around in the studio. Iacoli & McAllister recently added a "studio vignettes" series to their Instagram, and Eric Trine recently added a whole section to his website showcasing the random object totems he makes and the "parts of my studio practice that don't fit into any one category nicely. They aren't projects, they aren't pieces, they're just practice — and they only exist (now) in their documentation."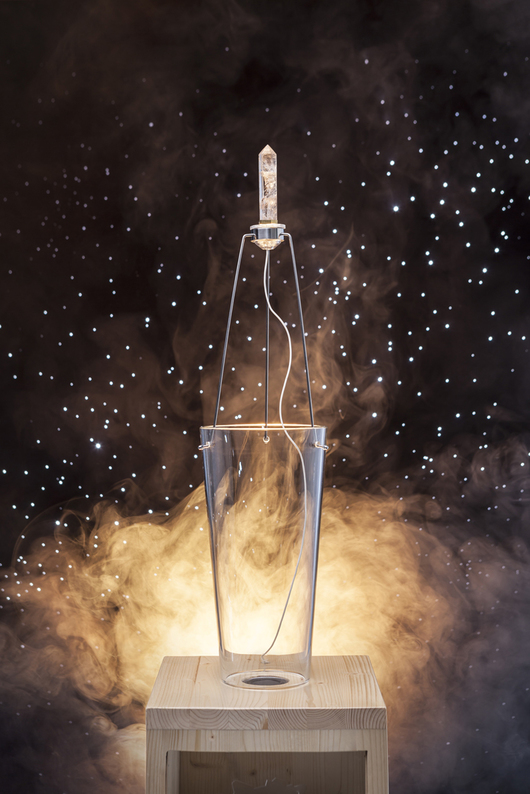 A nice article on Disegno about the winner of 2014's Design Parade: Laura Couto Rosado, whose project explored the symbolic and technological qualities of quartz. She created three structures that produced distinct musical notes by passing electric currents through quartz crystals. The notes, produced by the vibrations of the crystals, were amplified by clear glass speakers that the quartz was suspended above. If it sounds vaguely cosmic, get a load of the image above.

Instagrams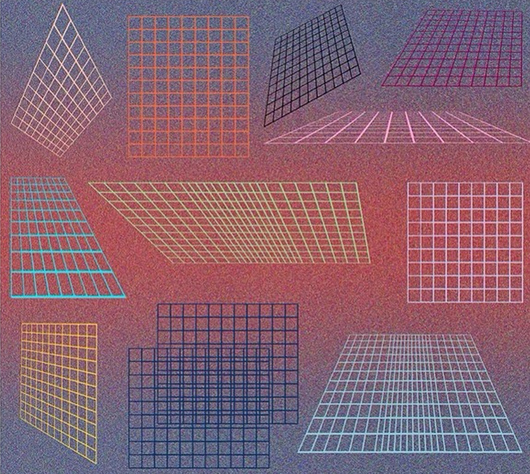 Digging the Instagram of fledgling product designer Rita Clare (she's only 22!), whose grid design shown here is, incidentally, also available as a dress on Print All Over Me!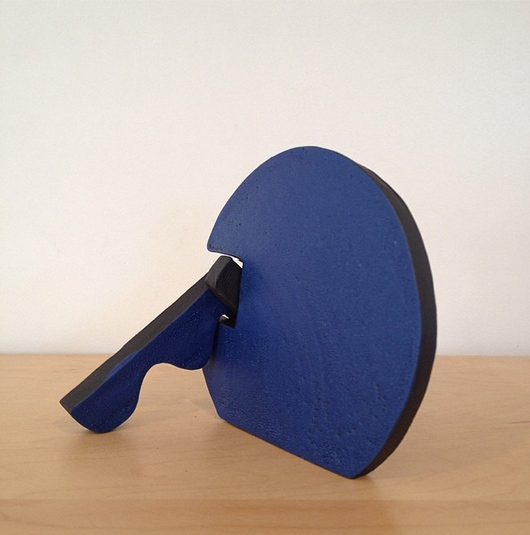 More graphic shapes, this time in 3D form from Morgan Peck, who we featured last week. This one we found on her Instagram, and promptly bought it.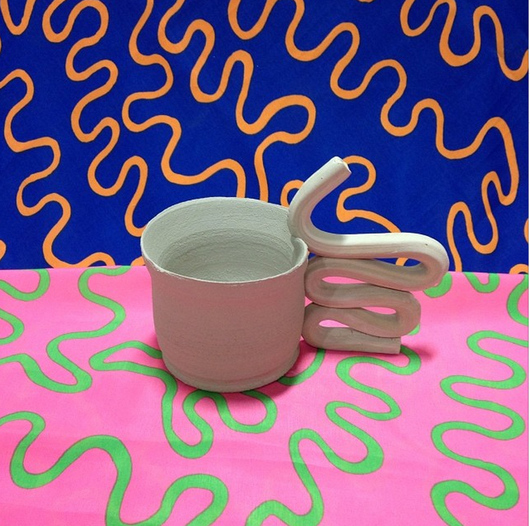 We're not sure about the functionality of this pre-fired mug form by @ceramicjock (aka LA ceramicist Mauri Moskowitz) but whatever, we love it anyway.