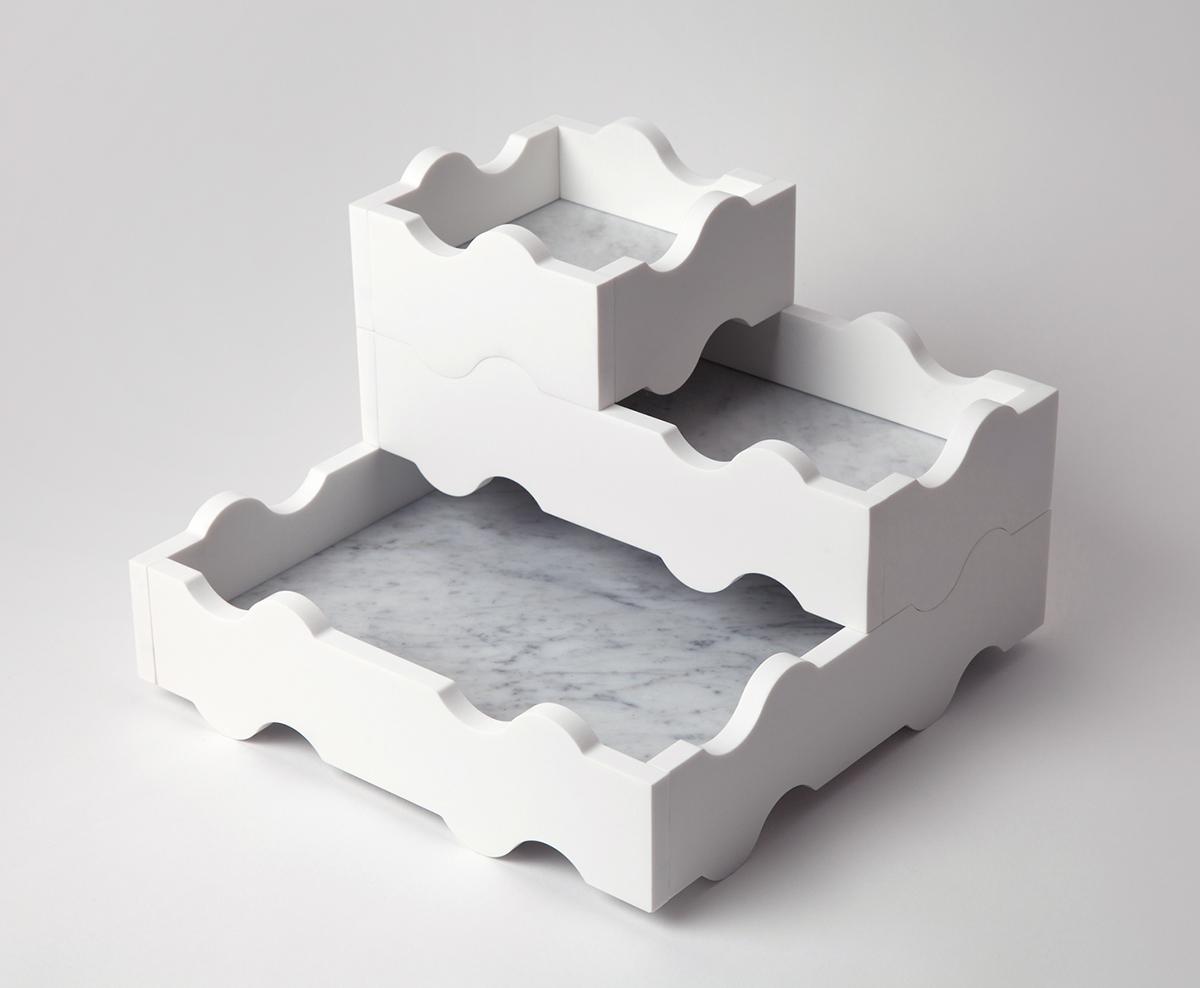 A weekly Saturday recap to share with you our favorite links, discoveries, exhibitions, and more from the past seven days. This week had a very geometric vibe, from our favorite picks from the NYNOW gift fair, to a lamp inspired by '80s virtual reality, to a photography series showcasing the nature of shadows.

Discoveries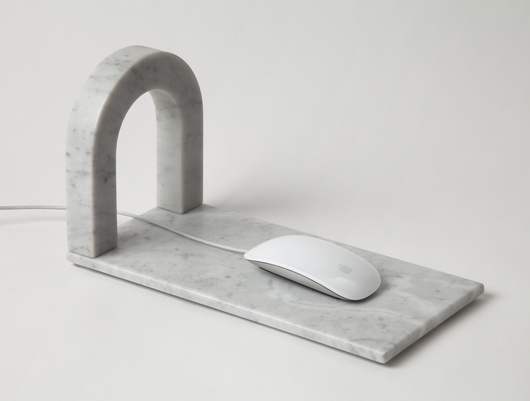 Last week, we made our twice-annual pilgrimage to the NYNOW gift fair to scout out new work by some of our favorite young American talents. Unlike New York design week, where they can get a little experimental, the gift fair is more about commercial products; Chen Chen and Kai Williams, for example, launched several in marble and concrete that are more minimal than their usual fare, including a set of Brutalist boxes and the Stone Wave stacking trays pictured at the top of this post. We also loved this concpetual mousepad, which the designers call "a kind of triumphal arch for your desk." While its materials reference classical architecture, its form evokes cartoon mouse holes, which undercuts that seriousness.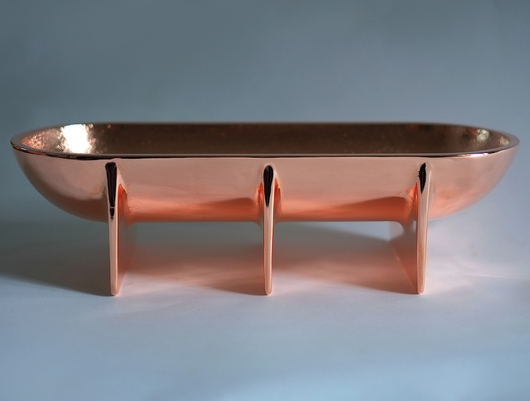 Fort Standard also debuted a beautiful series of marble accessories — a swing-arm candleholder, a sconce, a wall shelf — as well as these updated versions of their Standing Bowls, coated in high-gloss copper.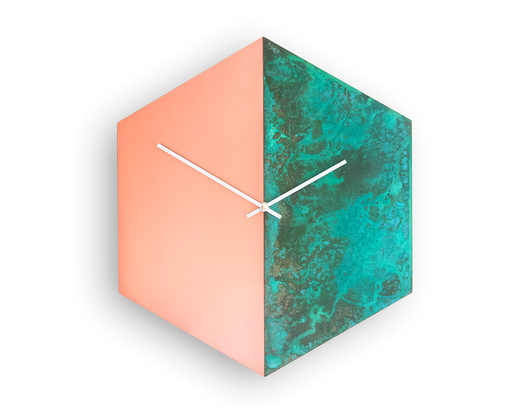 Another great use of copper at NYNOW: this half-polished, half-patinated wall clock by Brooklyn-based Studio Cofield, founded by Pratt grads Sara Ebert and Jason Pfaeffle. It also comes in a blue and brass version.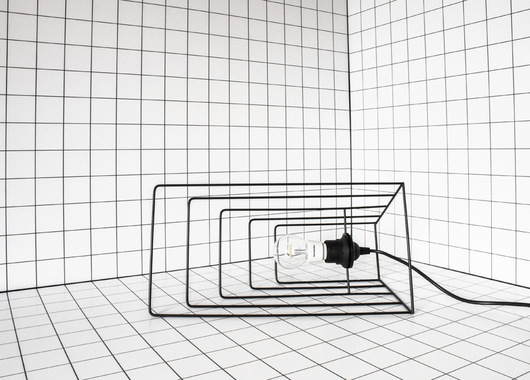 Venice-based Davide G. Aquini is part of a great new emerging design scene happening in Italy right now; we first discovered the Domus Academy grad's work via his triangular-marble Novocento lamp, and his new Zoom Wireframe light is equally covetable. Inspired by "'80s virtual reality," he says, "it becomes a schematic graphic representation, almost undergoing a digitization process that is the opposite from the design method in which the 3-D model is passed to the physical object."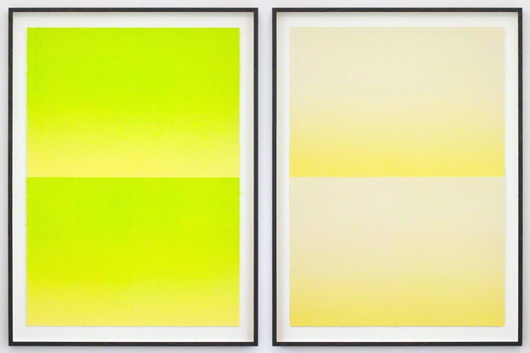 We love getting newsletters from Artsy about new art fairs they've catalogued online. As much as we love Copenhagen, we had no plans to attend its upcoming CHART contemporary art fair — we'd never even heard of it, in fact — but previewing it online was a pretty good excuse for some afternoon procrastination. The piece above is by Mads Gamrup.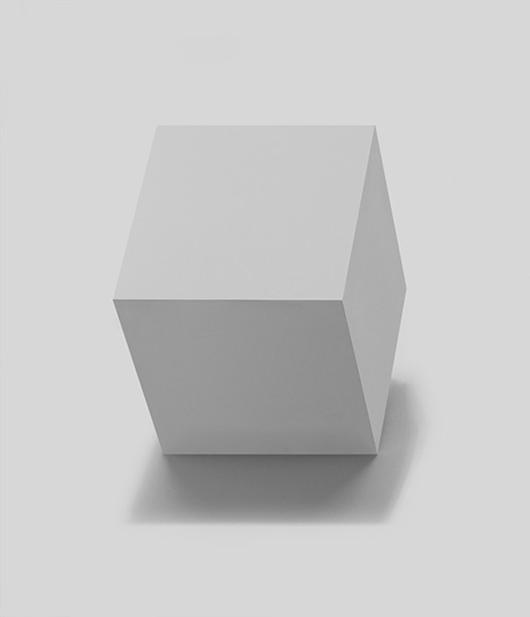 Brooklyn photographer Andrew Musson's latest project is a series of eight haunting monochromatic still lifes called "Umbra," which he describes as "a study of shadow … bypassing usual views and showcasing its shape and nature." View the other seven — some more abstract and some less — here.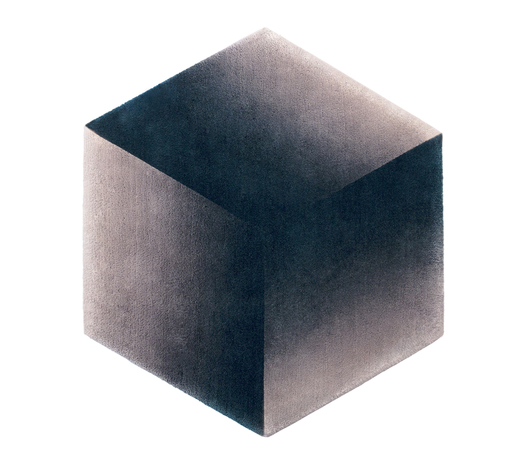 This week we received this interesting submission from Portuguese designer Luis Nascimento: Rather than relying on precise hand-tufting methods to achieve the color fade in his new Gradient rug, which typically results in a surface that's ever-so-slightly not uniform, he simply took a rug tufted evenly in a single fiber color, then had the dark ombre design spray-painted on top of it. Industrially, of course.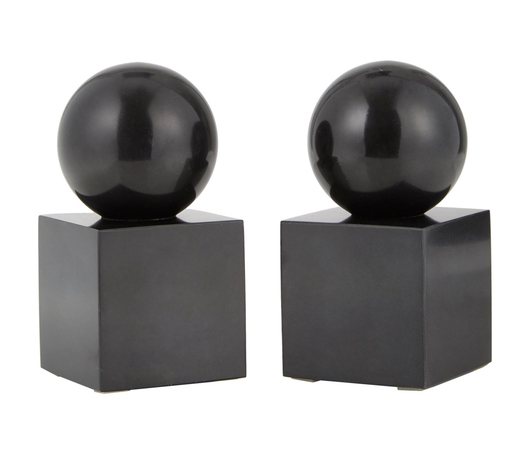 Barneys isn't the first place we typically look for beautiful design objects, but while perusing the store's site recently for sartorial purposes, we discovered these sculptural specimens: two 6-inch tall, jet-black marble, balustrade-like bookends for $165 that are so going on our holiday list.

Yesterday we featured the Danish studio KONTO, a collaboration between artist Morten Bencke and textile designer Elizabeth Kiss; while poking around Kiss's website, we discovered her amazing series of black and white mask drawings, which we think would look pretty amazing as tattoos.
Links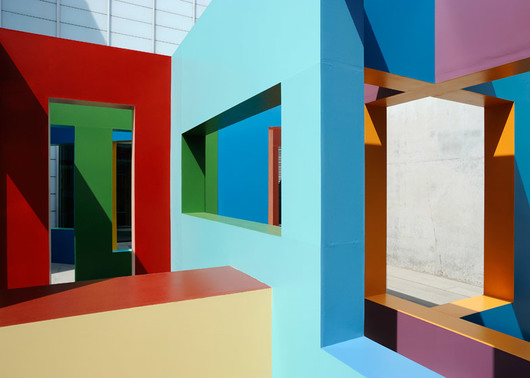 This color explosion is actually an architectural intervention by Dutch artist Krijn de Koning, commissioned for the south terrace of the Turner Contemporary gallery in Margate, England. The colors themselves reference the UK's traditional seaside pavilions and beach huts, according to Dezeen, which is where we spotted it.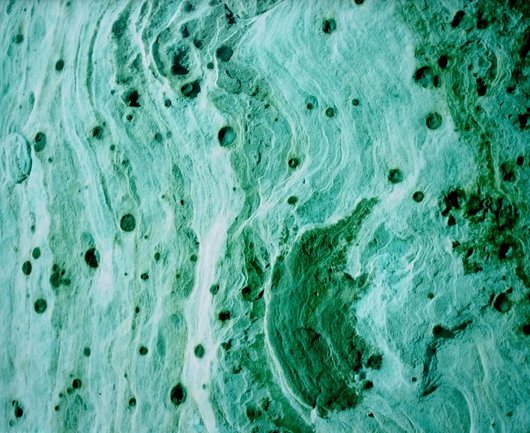 Having just returned from a brief romp through L.A. ourselves, we were particularly interested in this post on T magazine's blog, highlighting eight artists who have moved to the city in the past two years, from ex–New Yorker David Benjamin Sherry (pictured above) to the Brussels sculptor Gabriel Kuri. We also heard from a lot of our friends in L.A. that its cultural scene has been booming in the last five years, with the arrival not only of new artists but tons of new galleries as well.
Instagrams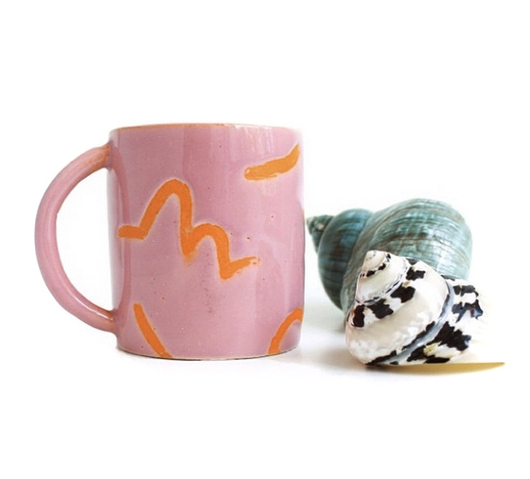 Most of you know by now that Sight Unseen is not just an online magazine but a housewares and jewelry shop, too — we've kept things relatively quiet on that front in the past couple months, but only because we've been gearing up for a major fall/holiday update, with more than a dozen new items by emerging designers on the way. We'll be launching them all online on September 11, but those of you lucky enough to be in New York between then and October 6 will be able to come out and see them in person in a super-amazing pop-up shop we're debuting at the new Space Ninety 8 project space in Williamsburg (sign up for our newsletter here if you want to be reminded when it opens!). The pink mug above is a super sneak peek by Courtney Reagor of Sandwich Shop, posted on her Instagram earlier this week. It's exclusive to Sight Unseen — snag one for yourself next month!