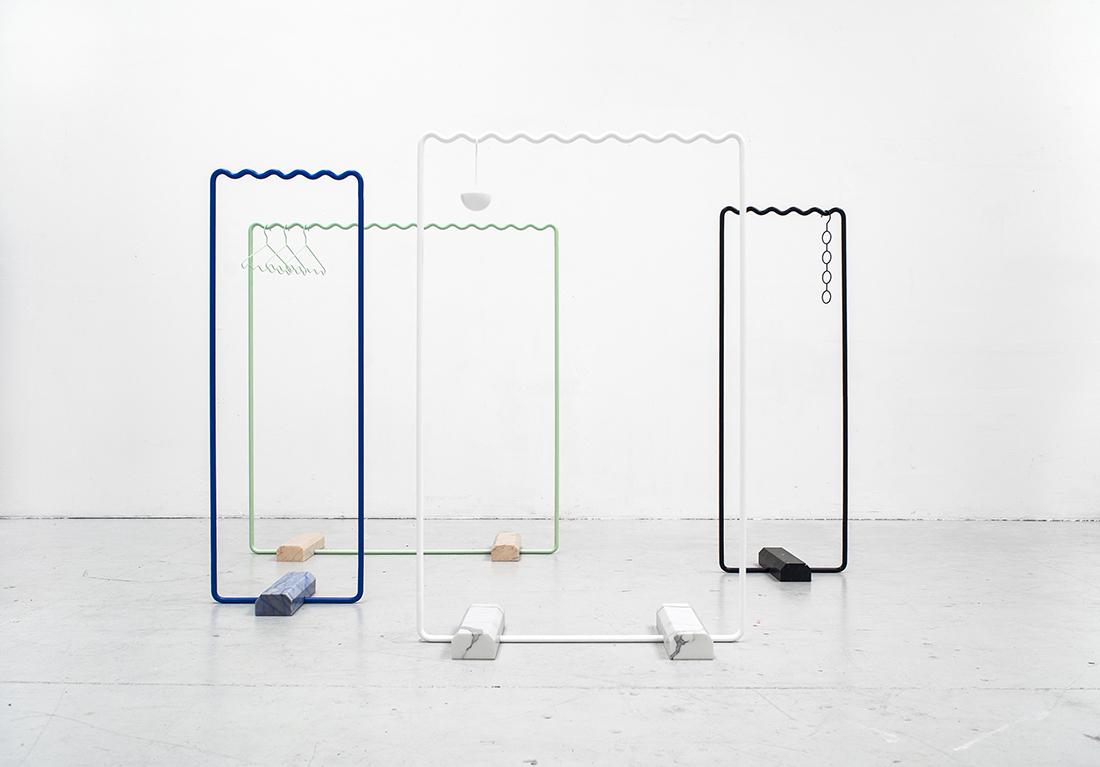 A weekly Saturday recap to share with you our favorite links, discoveries, exhibitions, and more from the past seven days. This week was all about color: a neon acrylic and marble sandwich, an ombre basalt table, dip-dyed carpets, and more. PLUS: Design fair season marches on, moving from Paris to Stockholm, where we found the cutely graphic marble, steel and aluminum hanger system above.

Discoveries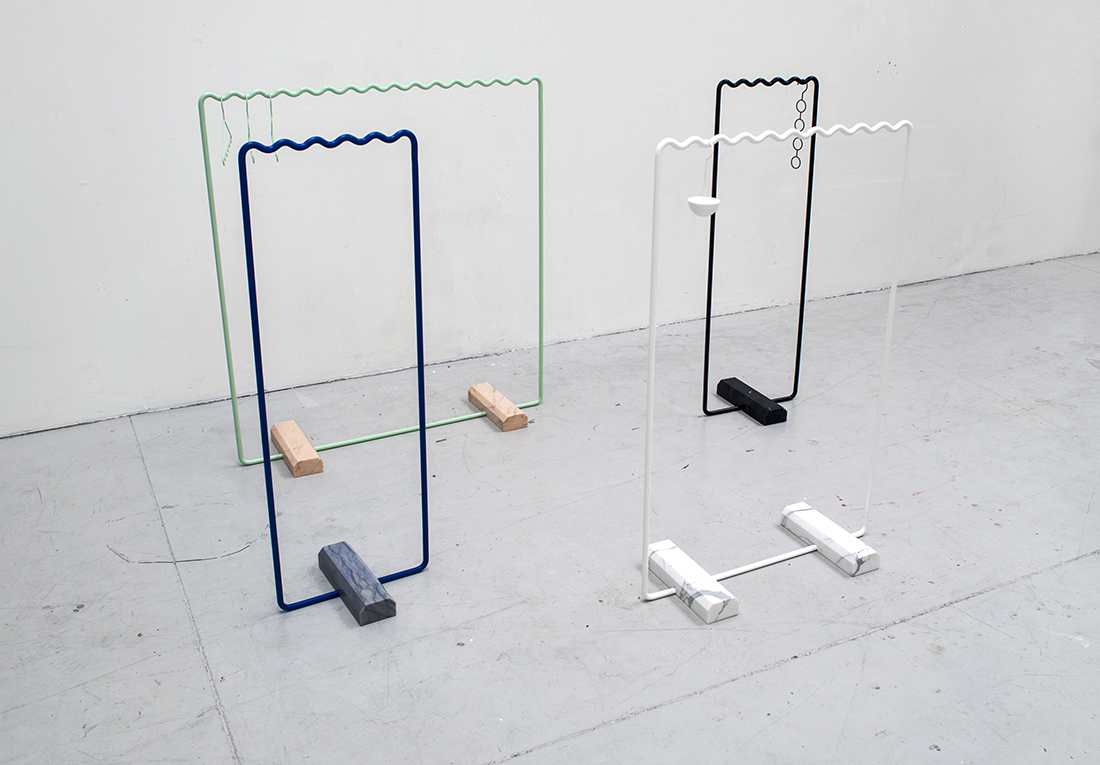 We'll be bringing you a more comprehensive look at this week's Stockholm Furniture Fair next week — with on the ground reporting by one of our favorite designer/photographers Katrin Greiling — but we couldn't help but share a few of the goodies that landed in our inbox this week. First up: Anton Alvarez tipped us off to a collaboration between two friends, graphic designers Erik Olovsson and Kyuhyung Cho, who make the move from two dimensions to three with their Sine collection, a marble and aluminum hanger system. Say the designers: "We are surrounded by invisible sine waves everyday in the form of light, sound and electromagnetic waves. By using the Sine wave in this collection we have highlighted the invisible, in the same way we would use a wave line in typography to highlight key texts."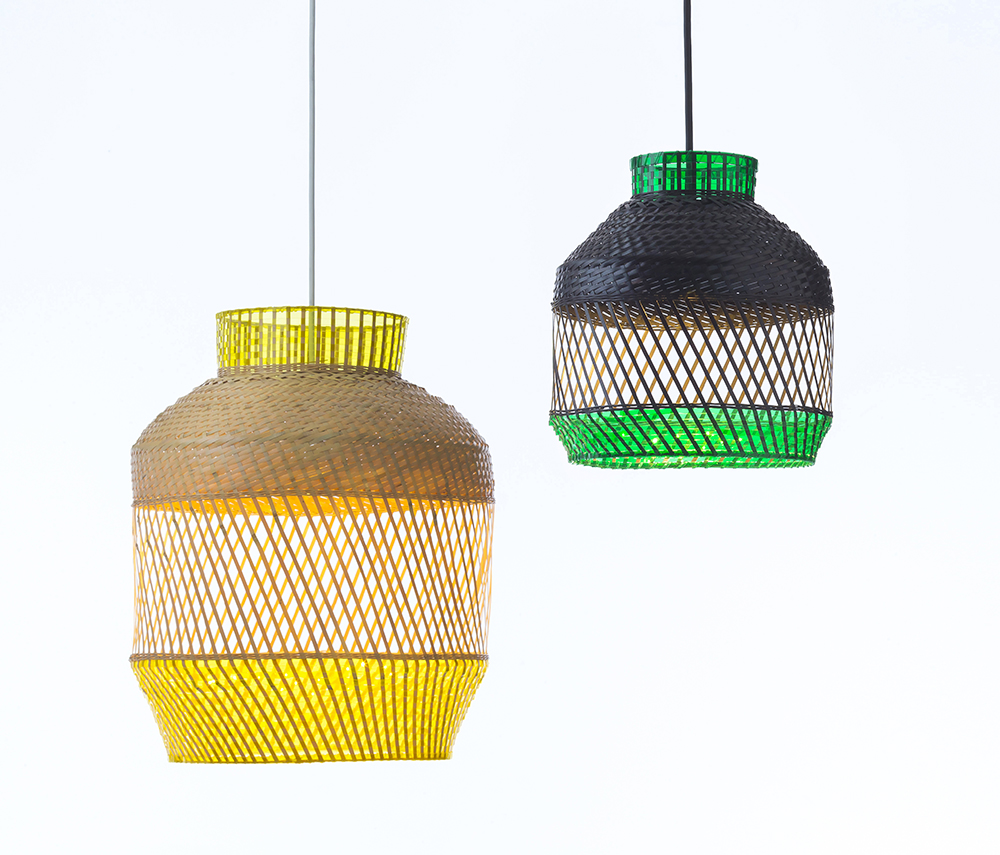 At the fair's Greenhouse section for students and up-and-comers, international trio Eli Gutierrez (Paris), Rui Pereira (Milan) and Ryosuke Fukusada (Kyoto) exhibited their "Unexpected Composites" collection, which included these pretty Gabbia lamps, made in a bamboo weaver's studio in Kyoto.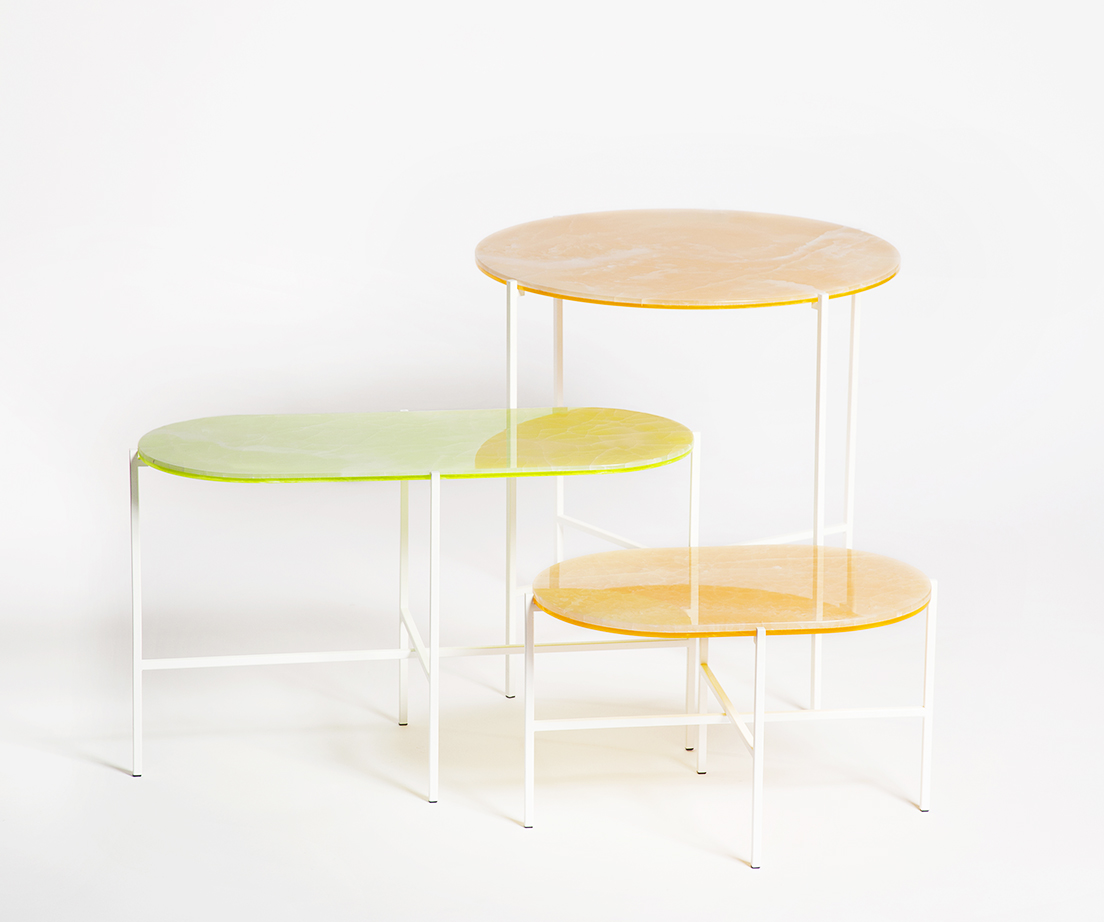 We're also still catching up on any amazingness we missed from last month's Maison & Objet, like Sebastian Herkner's Neon sidetables for Haymann Editions, which are made from a "sandwich" of onyx marble and colored acrylic.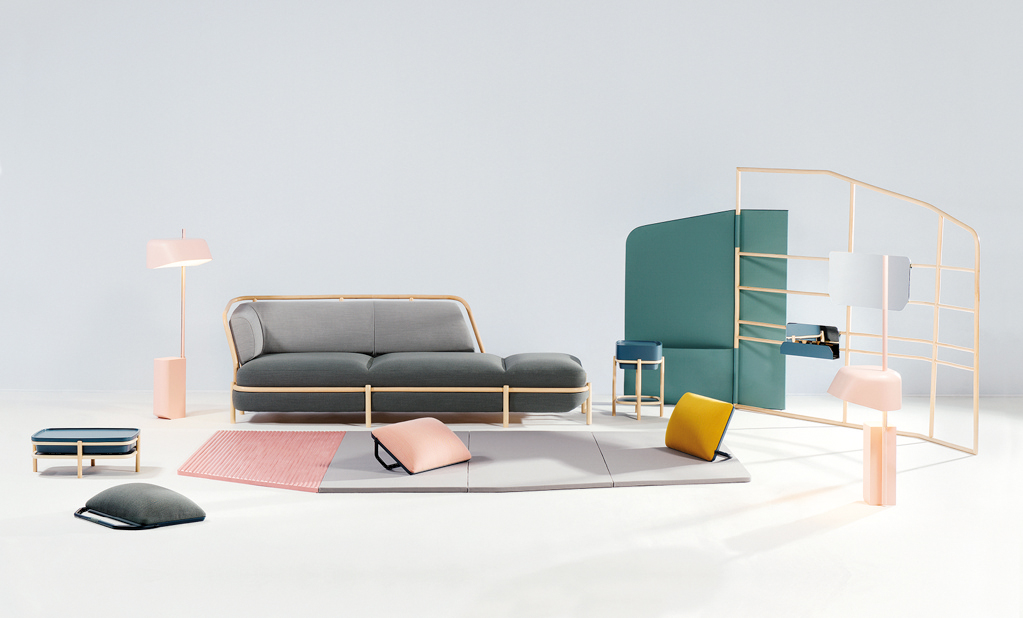 The Insulaire collection by French design studio Numero 111, which also debuted at M&O, sees the living room as an island, where the couch is no longer the central element of the room but rather the rug. In this case, the rug comes with easy-grip cushions in a pretty, muted palette, which can be positioned as headrests, footrests, or seats.  (Though that ombre green, rattan-backed beauty of a sofa isn't exactly a shrinking violet in this picture either!)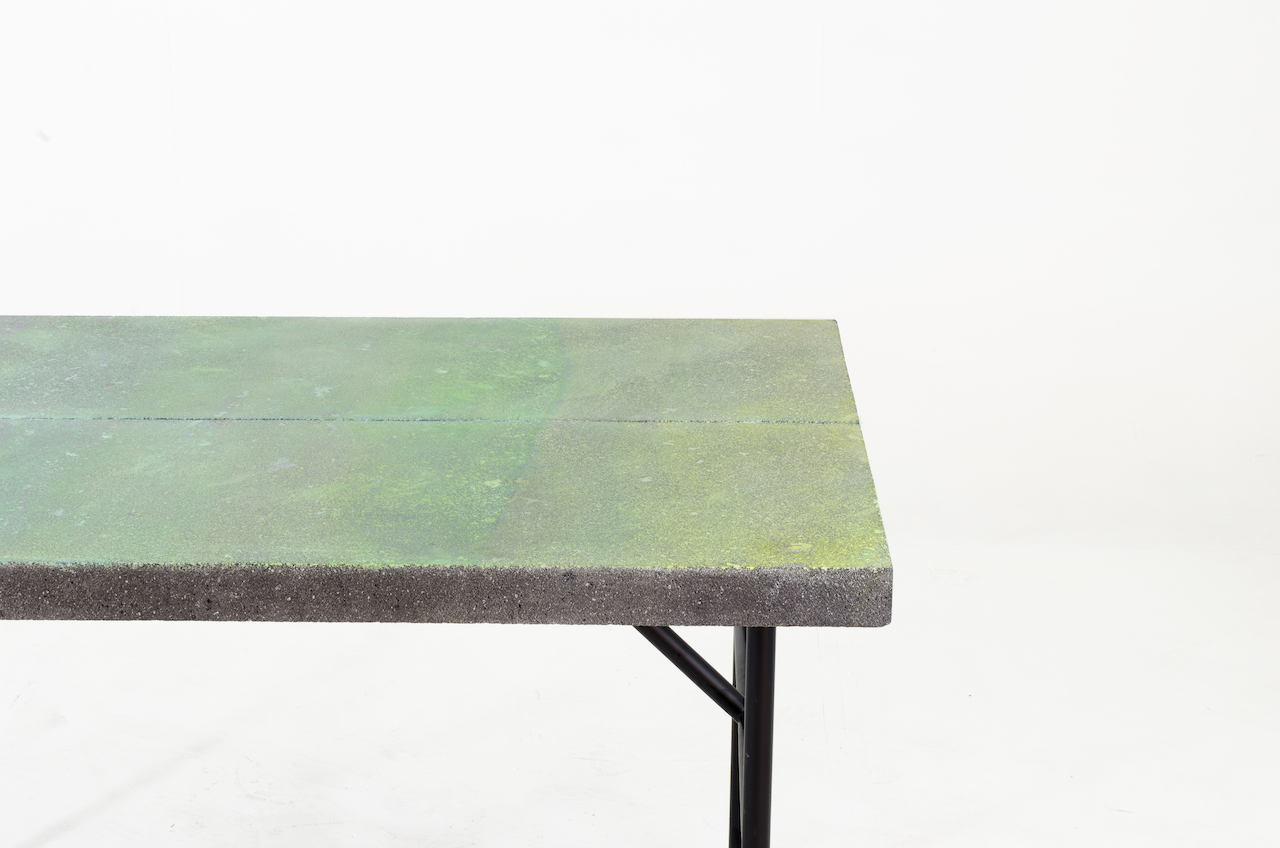 One fair a bit closer to home this week was Zona Maco, the Mexico City–based art fair now in its eleventh year. The design section was especially strong this year and included this Colored Basalt Table by one of our favorite design finds of 2013, the Mexican collective Panorámica. The black stone's gradual fade from yellow to green to blue is hard to grasp fully in photos, so watch this making of video for a closer look at their process.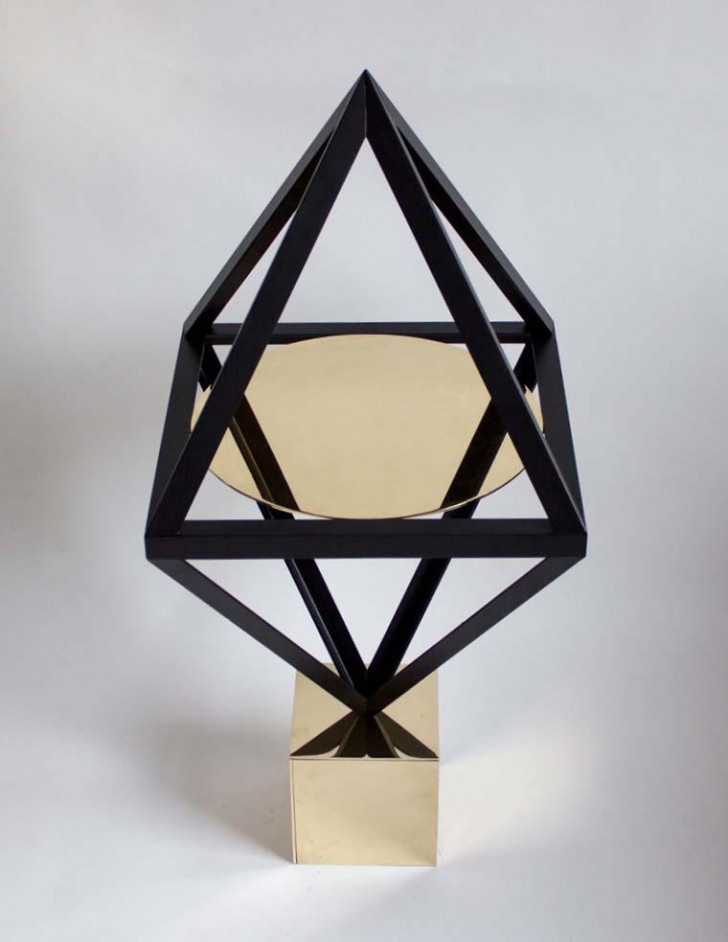 People sometimes ask us if it's difficult to constantly find new talents, and the answer is, of course, not at all: New people making interesting new things pop up all the time, and this one appeared quite literally in our backyard. This week we were introduced to Material Lust, the fledging studio run by Parsons grads Christian Swafford and Lauren Larson (who's also design director at Grey Area). After falling in love with their Alchemy table above, a quick bit of Googling uncovered this Cool Hunting studio visit, also published this week, which reveals the two work maybe half a mile from my home office. Can we come over and play?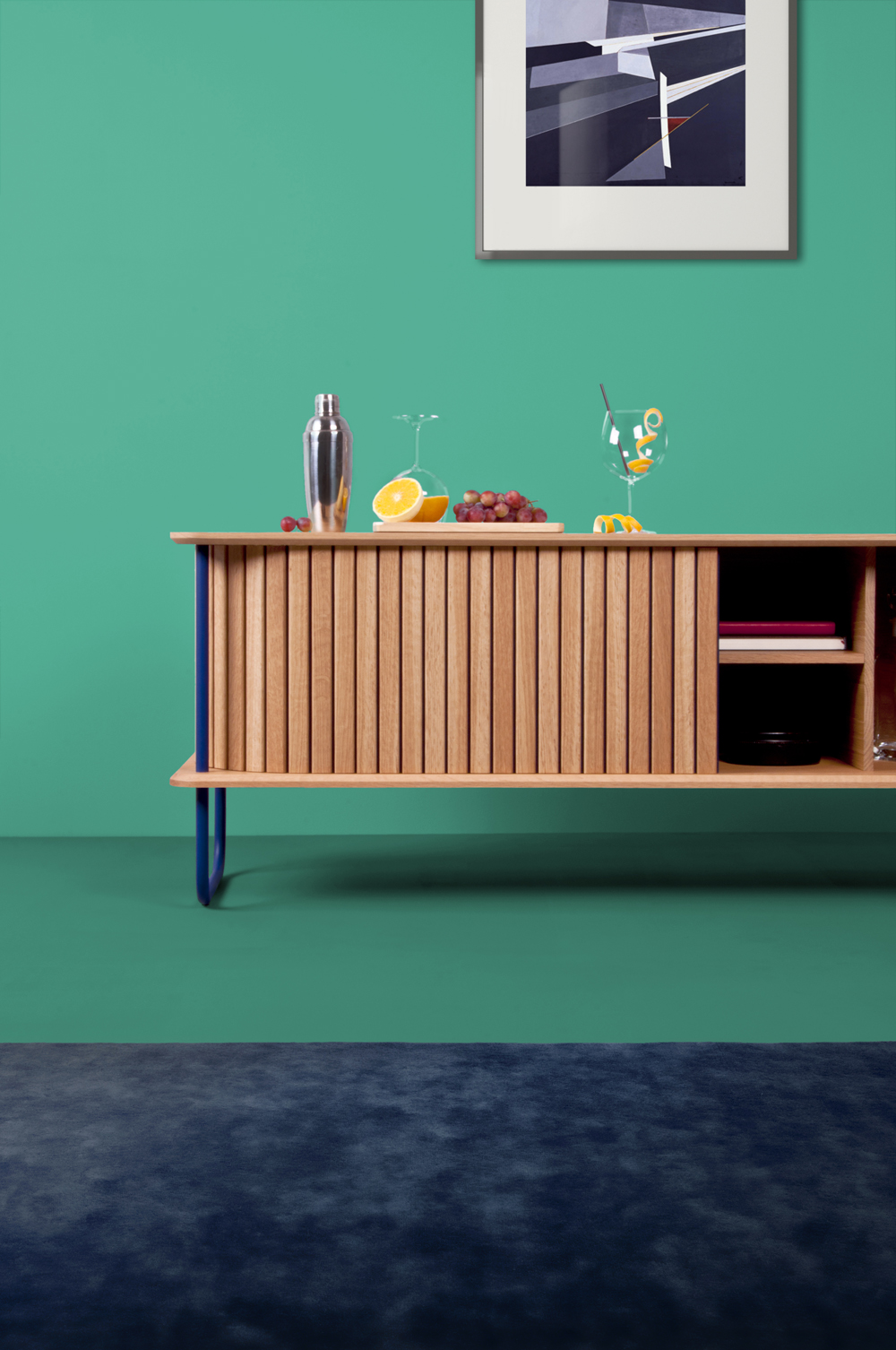 We were also introduced this week to a promising new Spanish design studio, the Barcelona-based Goula Figuera. Their solid oak Loop sideboard is mysteriously handle-less (you have to figure out which slats push open the tambours), and we're fans of their three-legged Piedra Rosa pink stone stools as well.
Events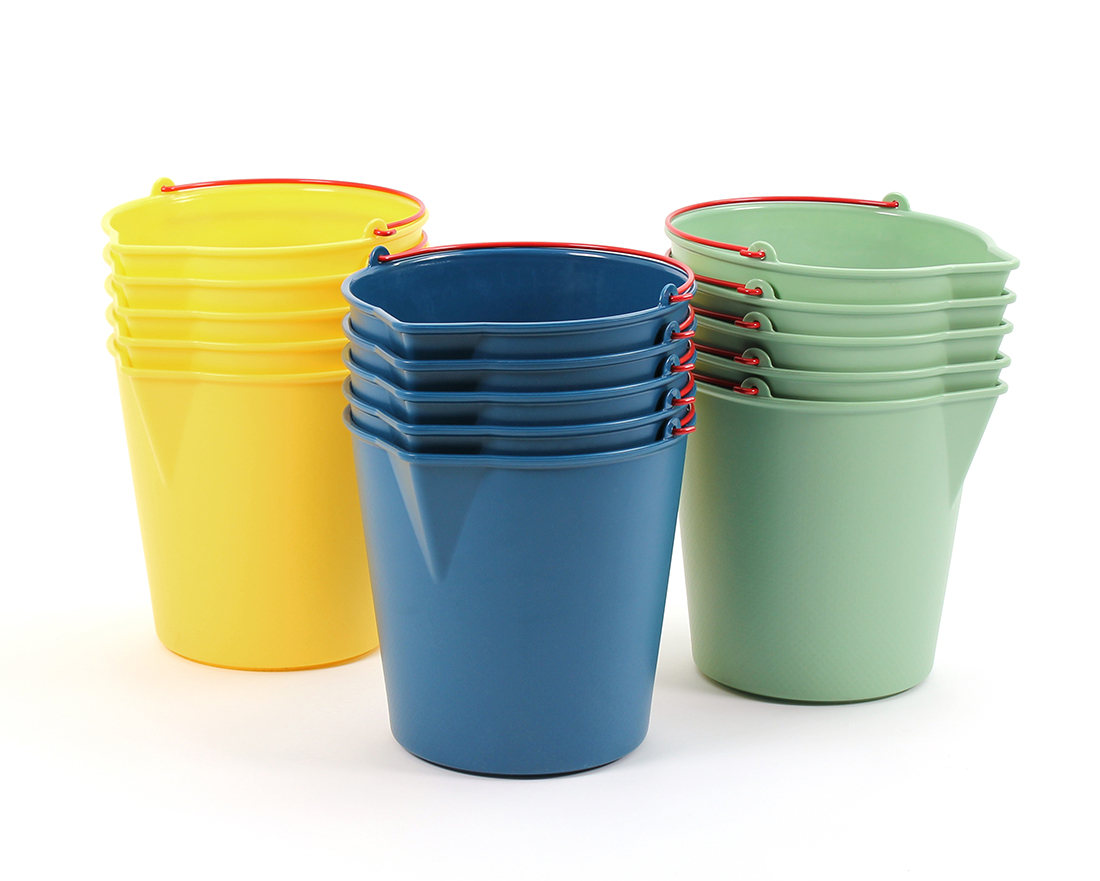 This week we made the rounds at NYNOW and found lots of hidden gems, including these cute, punchy buckets at the Neo-Utility booth, from the Belgian brand Xala. Unsurprisingly turns out they're by one of our favorite designers, Sylvain Willenz!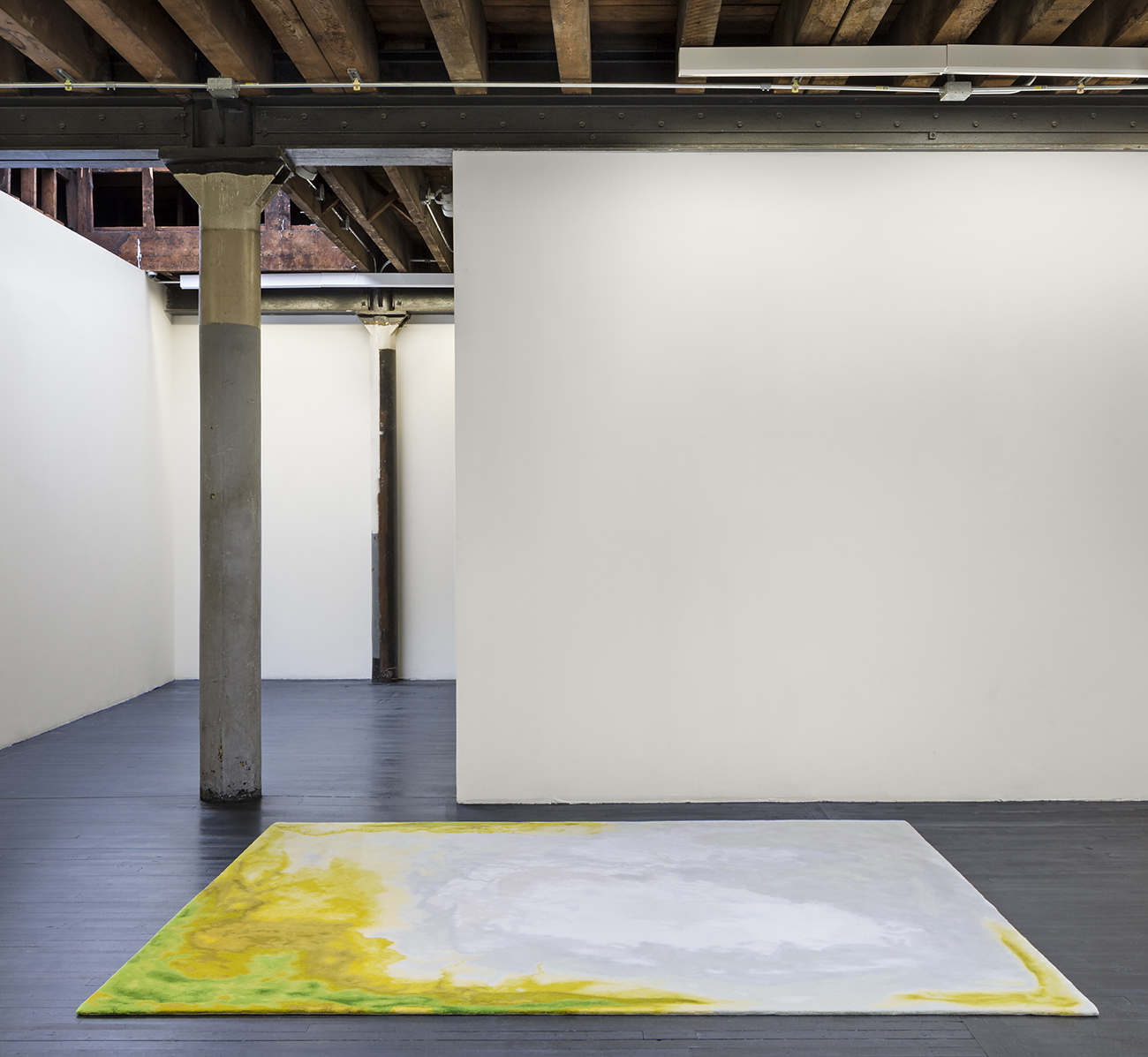 Before NYNOW we popped into the press preview for Chroma, a new rug collection from Tai Ping, who's seriously been upping their design game lately. (Remember these Chen + Kai rugs from Miami?) We're planning a bigger story on the collection later this spring, but we couldn't resist previewing one of our favorite patterns here.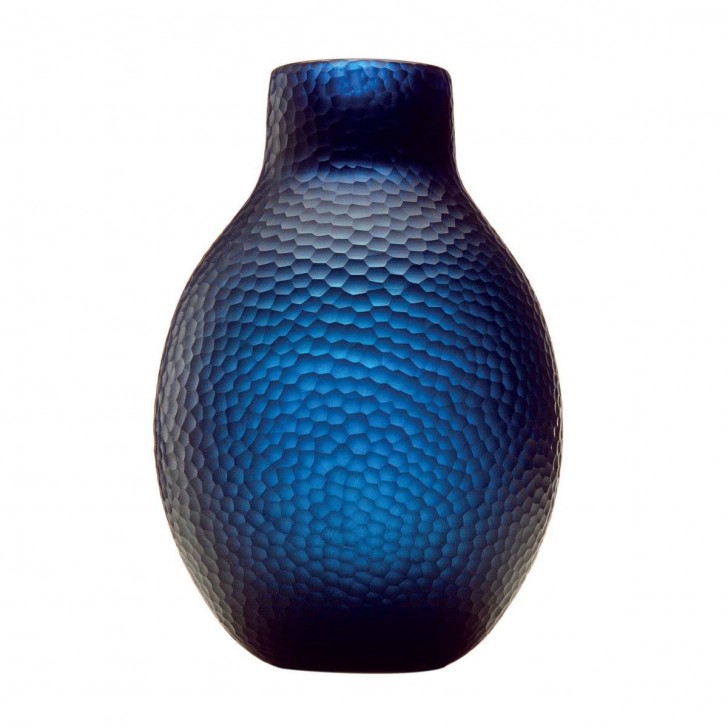 And here's an event that's happening tomorrow, for anyone in the New York area: a talk at the Met Museum between Carol Bove, Josiah McElheny, and curator Nicholas Cullinan discussing how Carlo Scarpa's architecture, museological displays, and work in glass (shown here) continue to influence and inspire artists today.
Exhibitions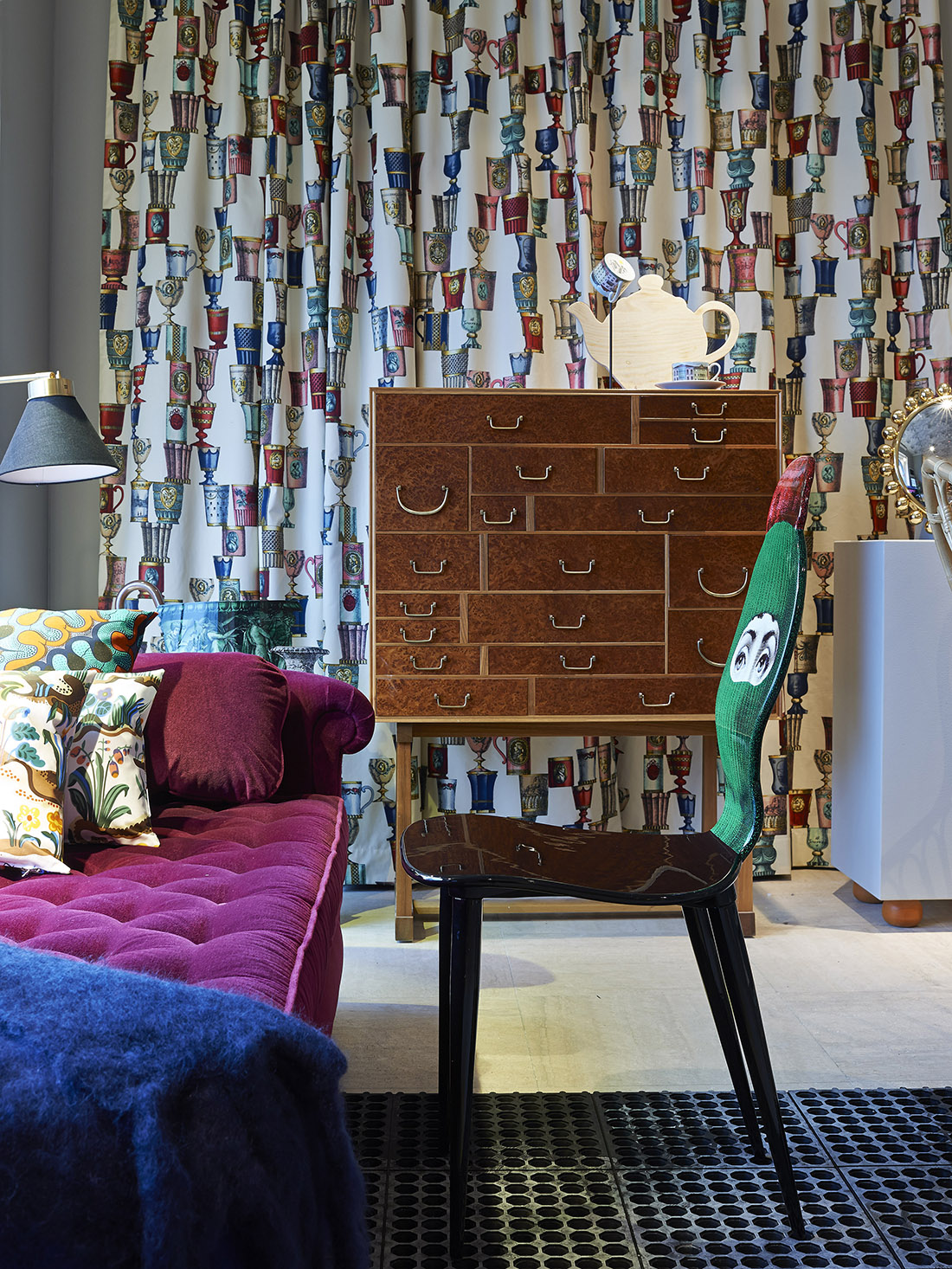 On the exhibition front, Stockholm saw the opening of a Fornasetti exhibition at the legendary design and textile store Svenst Tenn…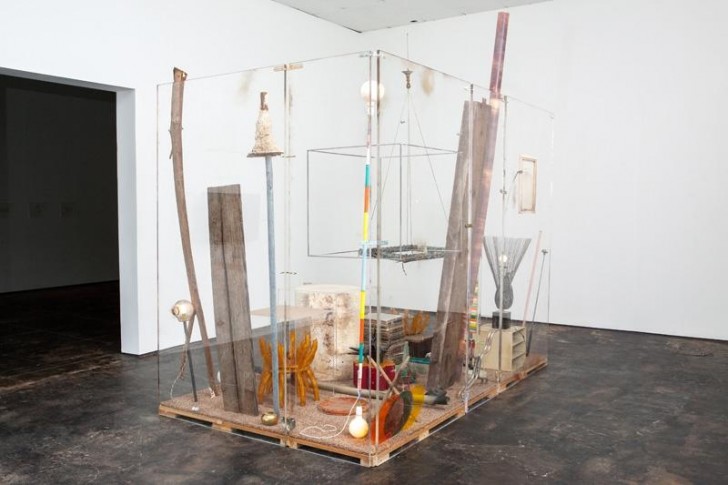 …While hipster New York fashion boutique Maryam Nassir Zadeh became the unlikely home for a new exhibition from Austin-based artist Andy Coolquitt. It's part of a new initiative by Coolquitt's gallery, Lisa Cooley, to show work outside a typical museum or gallery context.
Instagrams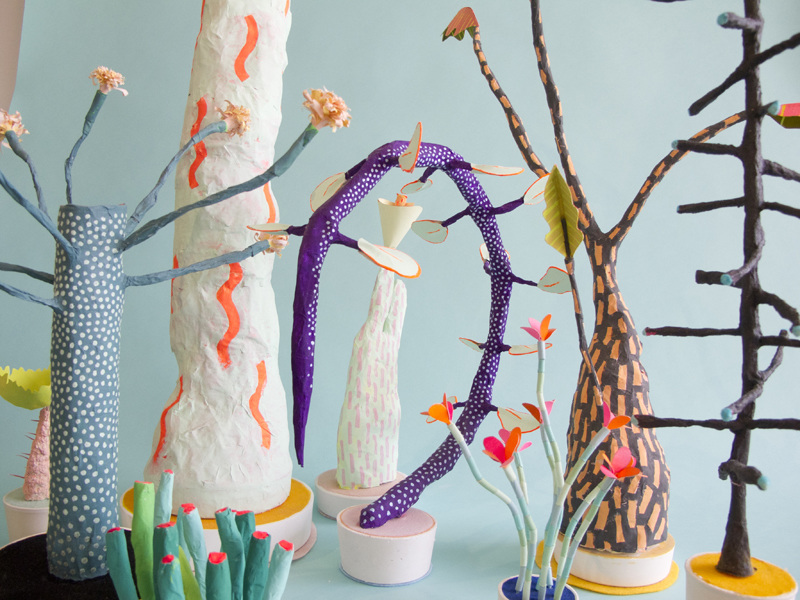 We previewed this last week on our own Instagram when Monica visited Terri Chiao and Adam Frezza of Chiaozza for an upcoming studio visit, but the designers themselves this week offered a better glimpse of the amazing Paper Forest they're creating for an upcoming exhibition: "Ashen Branches, Vibrant Keys" opens at Wayfarers Brooklyn February 21.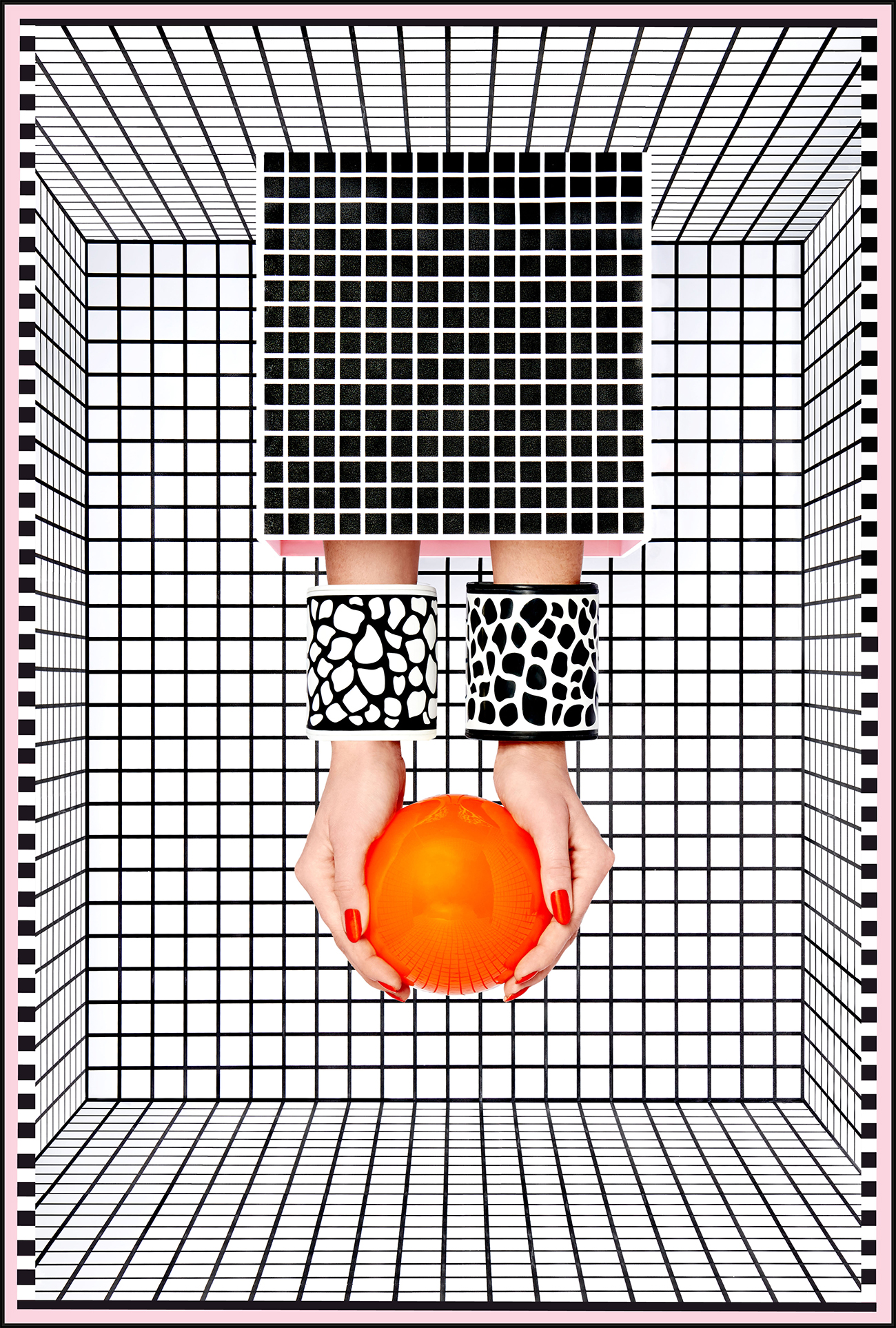 We've long been obsessed with the graphic work — and Instagram feed — of London-based artist Camille Walala, but this week we hit the jackpot. Walala offered glimpses of her first-ever set design, photographed by Jess Bonham and using jewelry by Liron Kliger.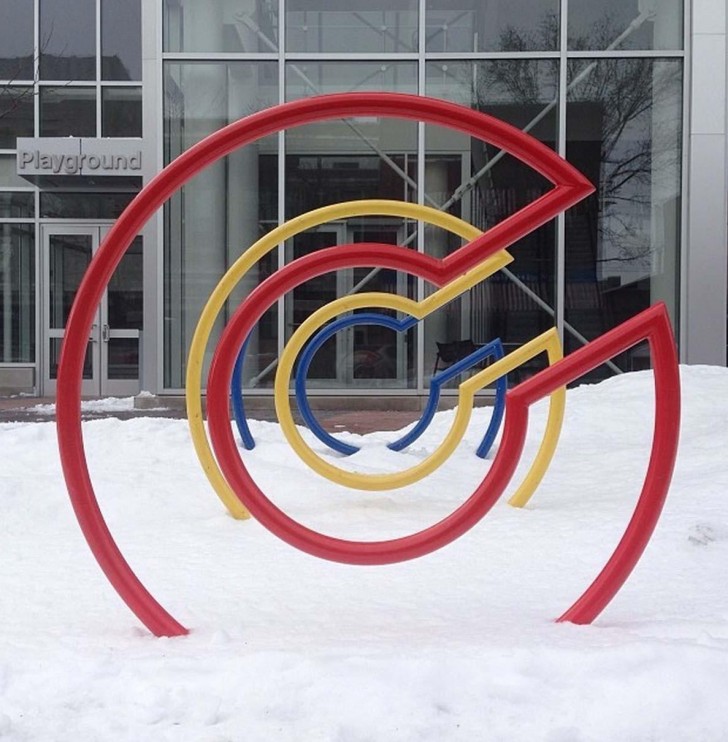 We love it when Instatwins show up in our feed — first came this shot of Columbus, Indiana's famous Paul Rand–designed bike racks, courtesy of Jonathan Nesci…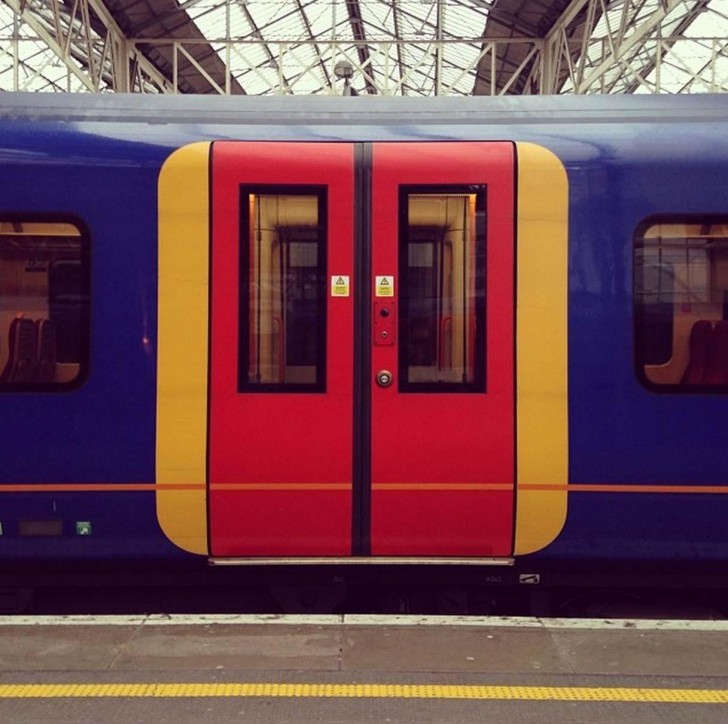 … followed quickly by Annie Lee Larson's amazing London train capture. We're feeling the primary color vibes this week (which could be a consequence of one of us spending our waking hours with a two-and-a-half year old!)