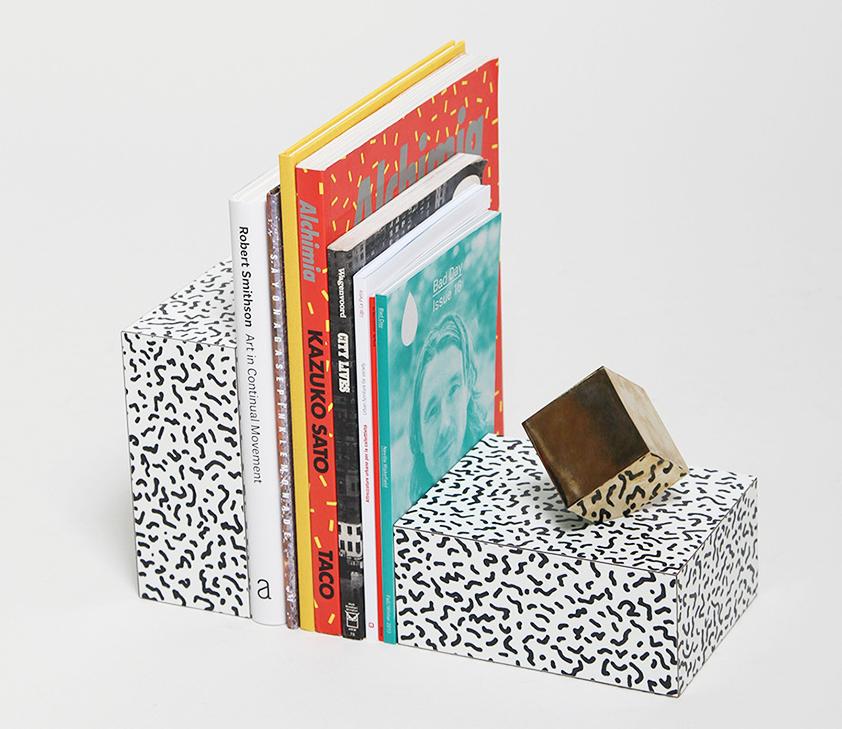 A weekly Saturday recap to share with you our favorite links, discoveries, exhibitions, and more from the past seven days. This week: vintage Brooklyn hipster interiors, shelves inspired by Venetian bridges, a new website for Josef and Anni Albers, Sottsass Bacterio bookends (above), and more.
Discoveries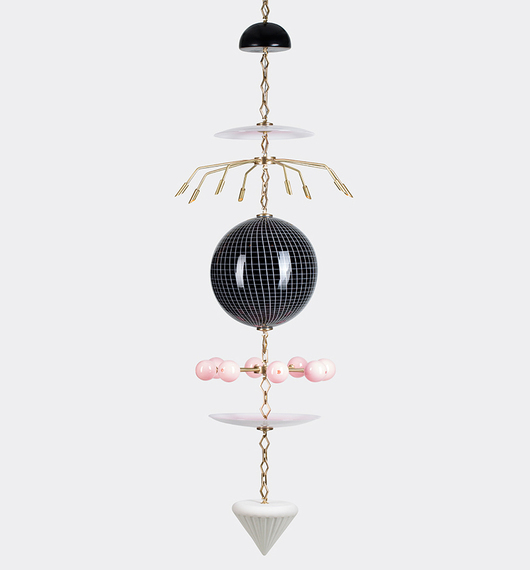 This weekend marks the debut of a new design and art fair devoted to modernism: Fog, taking place in San Francisco through tomorrow evening. Artsy has a great guide to the works on view, exhibited by everyone from Hedge to Friedman Benda to The Future Perfect, the latter of whom unveiled this new Totem chandelier by Lindsey Adelman with glassmaker Nancy Callan.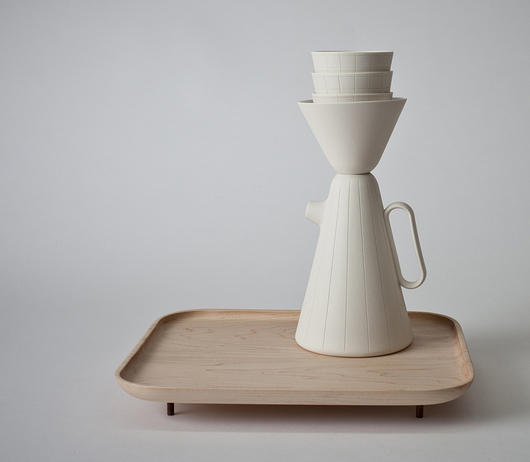 Ridiculously prolific Italian designer Luca Nichetto's latest design, the Sucabaruca coffee set, has quite the global backstory: The first time Nichetto visited Canada, he was recommended by Swedish designer Eero Koivisto to visit the Toronto gallery Mjölk, which deals mostly in Scandinavian and Japanese products, which inspired him to create the final pieces, launching as an exclusive at the gallery this Wednesday.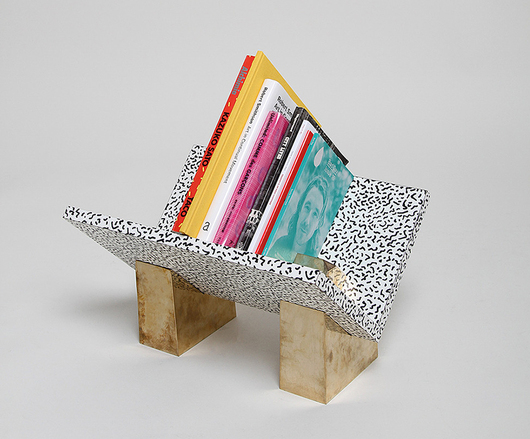 Another new design-store exclusive: the Bacterio Bookrest from Portland boutique Table of Contents. Bacterio, of course, refers to the squiggle-motif laminate created by Ettore Sottsass in 1978, which the shop has also applied to a pair of blocky bookends (pictured at the top of this post).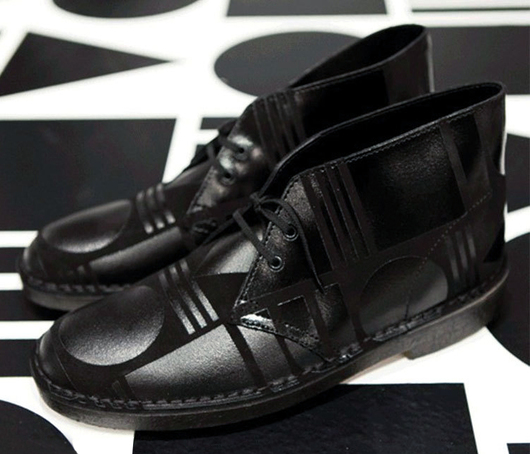 Guys who aren't afraid of pattern on their feet as well as their bookshelves should consider snagging a pair of these amazing new tone-on-tone Desert Boots, a collaboration between Clarks and the London design and research studio Patternity.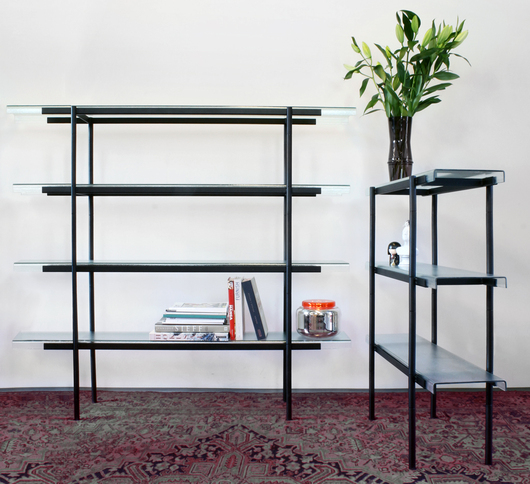 We're hoping to do a big roundup post in the next week or so with all of our favorite new launches from IMM Cologne, Maison et Objet, and Stockholm Design Week (none of which we're personally attending this year, sadly). For now, here's a sneak peek at one Cologne novelty: Sebastian Herkner's Passarelle shelves for Pulpo, which are inspired by — and named after — the pedestrian bridges used in Venice during high tides.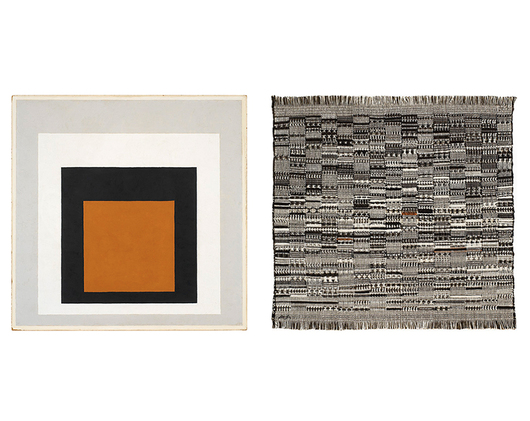 This week, the Josef and Anni Albers Foundation unveiled its brand new website, which is far more comprehensive than the last — it includes, among other resources, letters the couple wrote to one another, an exhaustive chronological exhibition history, and numerous examples of their work.
Exhibitions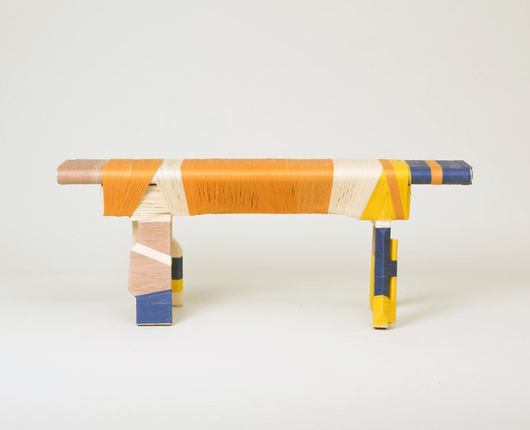 Libby Sellers opened a new show this week called Drawn From, which she describes as "a celebration of the linear qualities within the designed object." Granted it's kind of a greatest hits–style group show, with existing works by folks like Simon Hasan and Peter Marigold, but we really liked the premise — and this nicely colored wrapped bench by up-and-comer Anton Alvarez.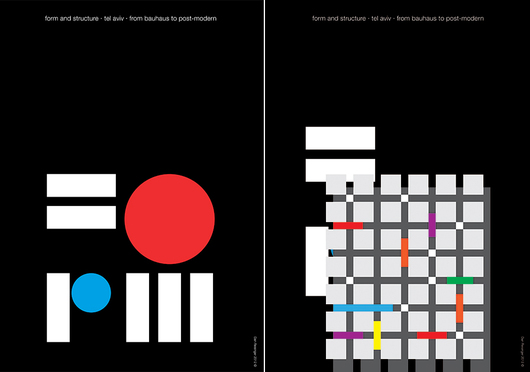 Halfway across the world, this show opened on the same day: an exhibition of posters by the noted Israeli graphic designer Dan Reisinger at Los Angeles's Skirball Cultural Center. The 2102 posters above are part of a series "focused on Tel Aviv's changing architectural landscape, from Bauhaus to postmodernism."
Links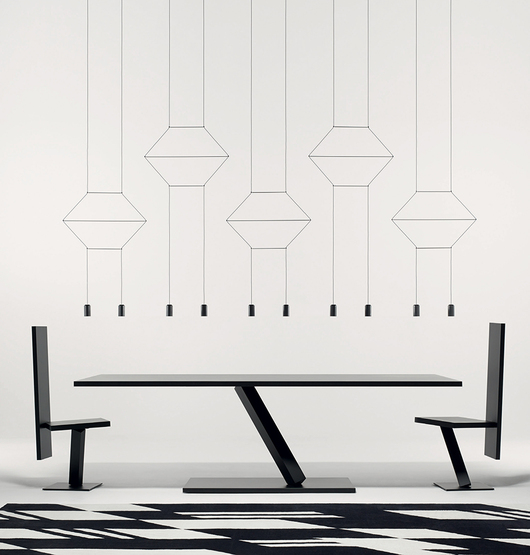 Granted we already told you about the announcement of the first round of winners in Wallpaper's annual design awards in last Saturday's post, but we figured we'd mention it again this week, partly because the Best Domestic honorees have just been revealed, but mostly because we're just obsessed with these pendant lights by Arik Levy for Vibia.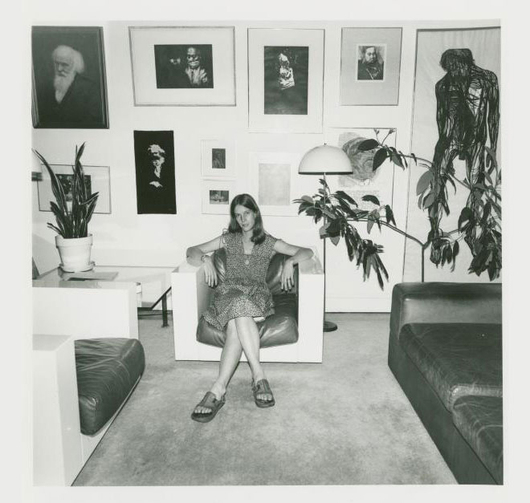 Hands down our favorite thing on the web this week was a post by Miss Moss that we were completely mesmerized by. The photo above looks like it could have been taken last week, but it was actually shot in Brooklyn sometime in 1978 or 1979! It's part of a series by Dinanda Nooney, whose work Diana of Miss Moss recently found on the NYPL's digital archive. Head over to her post to see tons more photos of equally awesome bygone Brooklyn interiors.
Instagrams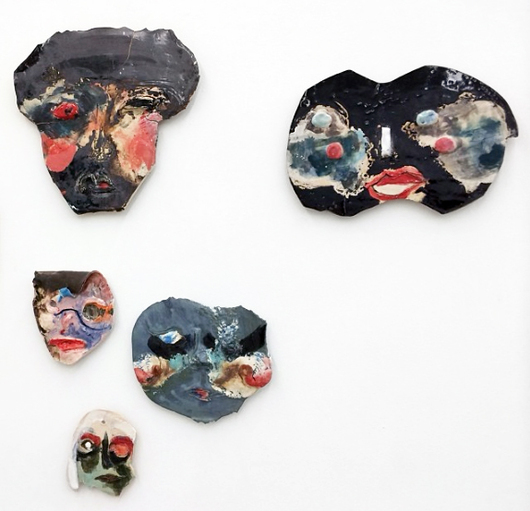 Paul Simmons (aka Pawl_Wall) alerted us to a great group show at New York's Martos Gallery called "Bad Fog," which features these creepy ceramic masks by Jennie Jieun Lee as well as work by Bill Adams, Antoniadis and Stone, David Armacost, Liz Craft, Jesse Littlefield, Dan McCarthy, Ross Simonini. See it before it closes February 15.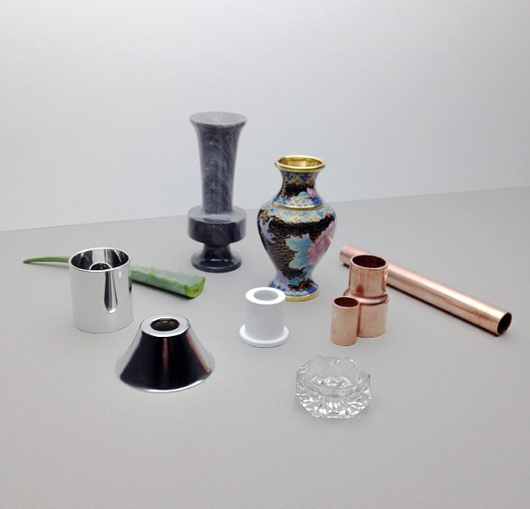 We had no idea what this was when we first saw it, but we knew we liked it, so we did some digging — turns out its a still shot from a video made by photographer Richie Talboy and his friend Christian Martin, made with found objects in response to the Richard Siken poem "Visible World." We assume you'll be able to see the video soon at one of their websites, but we'll leave you with Talboy's description of it: "The project was a narrated video of the objects photographed, set behind an invisible two-way mirror. At the end of the video, we switched on a lamp positioned behind the mirror, illuminating the other side of the room and revealing that there was a mirror between the camera the whole time. All of the found objects were representative. They each operate as a symbol relating to the poem's representation of lightness, heaviness, grief, healing, etc."