06.17.15
Designers Interpret the Classic Tolix A Chair
We aren't quite sure how we missed this project — considering both our affinity for the classic Tolix A chair (we might own seven of them) and our affection for the designers involved — but in Milan last month, the French company celebrated its 80th anniversary and in doing so invited eight design studios to reinterpret its most famous offering. The brand — founded in 1935 by Xavier Pauchard — is best known for its Chaise A, a stackable sheet-metal chair that's typically dipped in galvanizing zinc (and at this point, often powder-coated in any number of hues). The project, called Face to Face With an Icon, was curated by Kilian Schindler, a German designer who's worked closely with Tolix for years. After devising eight themes — ideas like alteration, zeitgeist, value, and impact — Schindler began reaching out to designers who he thought could respond correspondingly. The results were as thoughtful as they were lovely — from Formafantasma, a graceful, mobile-like form that balanced a rectangle of steel against an untouched chair; from Lex Pott, a seat that was oxidized to the most brilliant shade of green. We've excerpted our favorites from the project below, but go here to see the whole lot.
1. Formafantasma: "Our idea was to allow the public to learn more about the chair. We have neither altered nor added any element to the original design. We just hung the chair on a pendulum arm balanced against a piece of metal of the same weight on the other side. This way, the public has the opportunity to discover the production process and experience the clever use of the metal."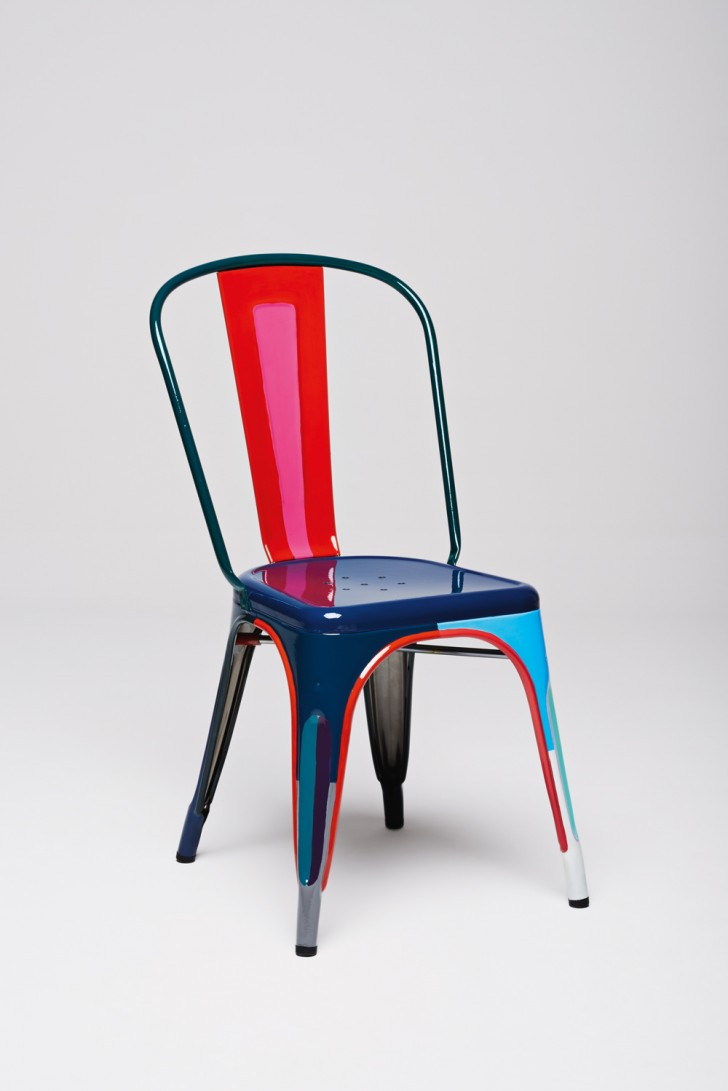 2. Julie Richoz: "On the first look, the Tolix 'Chaise A' is very far from a decorated and painted wooden chair. Although, it immediately reminded me of a wooden chair I had bought at a flea market when I was seventeen. I loved it because of its bold colours. Each detail, each volume was underlined by a color. Even if the "Chaise A" evokes another imagery, it nevertheless carries a certain type of decoration deeply related to its production. The sheet metal embossed for strength, the perforated seat to let the water flow, the numerous visible welds… All these little marks tell the story of its making and decorate the chair– composing its personality. These are the elements I painted by hand.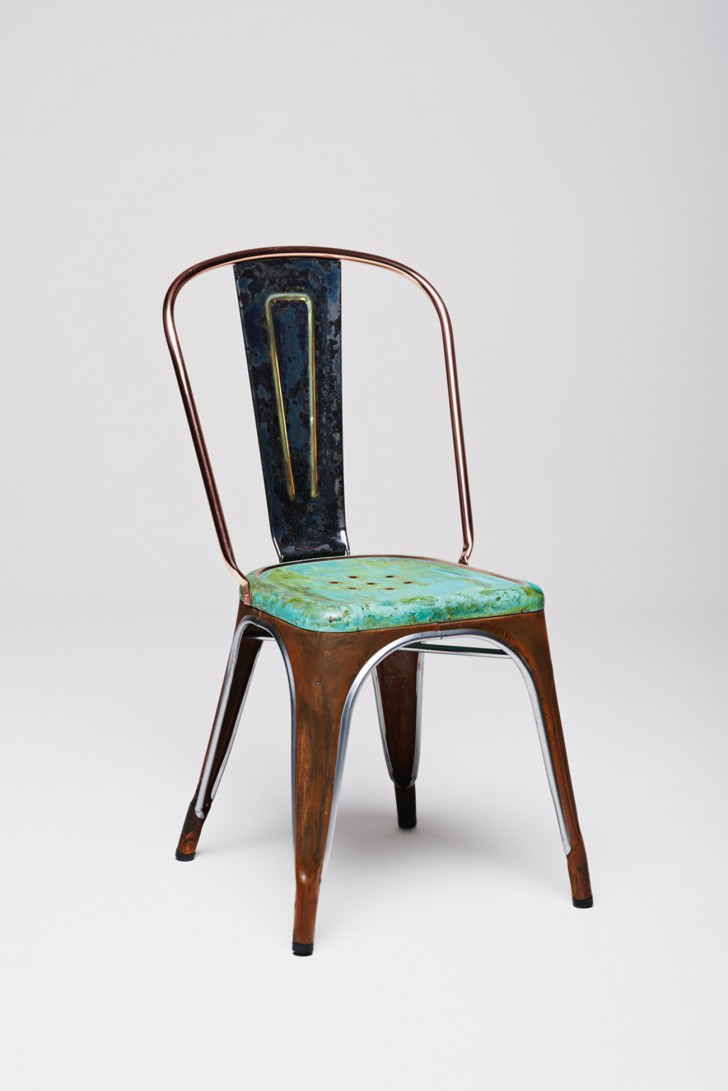 3. Lex Pott: "The Tolix chair was created in galvanized sheet metal, in order to be protected from the ravages of time. I used various metals like oxidized steel, copper and brass in order to show the altering process. Weathered by time, these metals change color. I accelerated the time through oxidation to create a patina corresponding to the theme of alteration."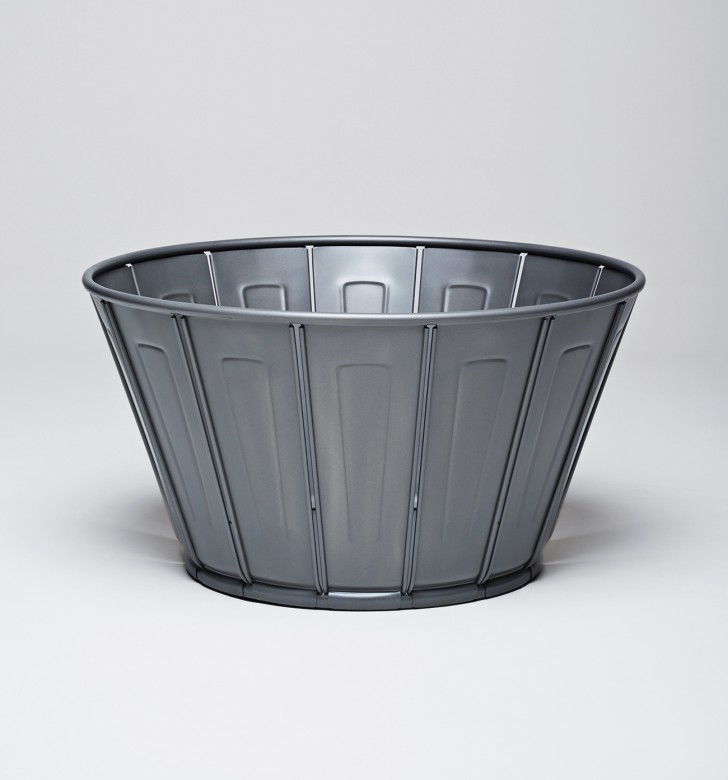 4. Konstantin Grcic: "The 'Chaise A' by French company Tolix is an icon in the history of chairs. Made of sheet metal and tube, it combines lightness and strength, industrial esthetics and craftsmanship. When Kilian Schindler and Tolix invited my office to create an object based on the model A, it was absolutely clear to us that, whatever we do, it mustn't be a chair. Charlotte Talbot, my assistant, came up with the construction of a large vessel made of the chair's sheet metal spine (in Tolix lingo referred to as 'Palmette'). 14 × Palmettes determined the size and shape of the bucket. The object couldn't have been made without the chair, yet, it doesn't pander to it. It is simply a large bucket made from sheet metal and tube at the Tolix factory."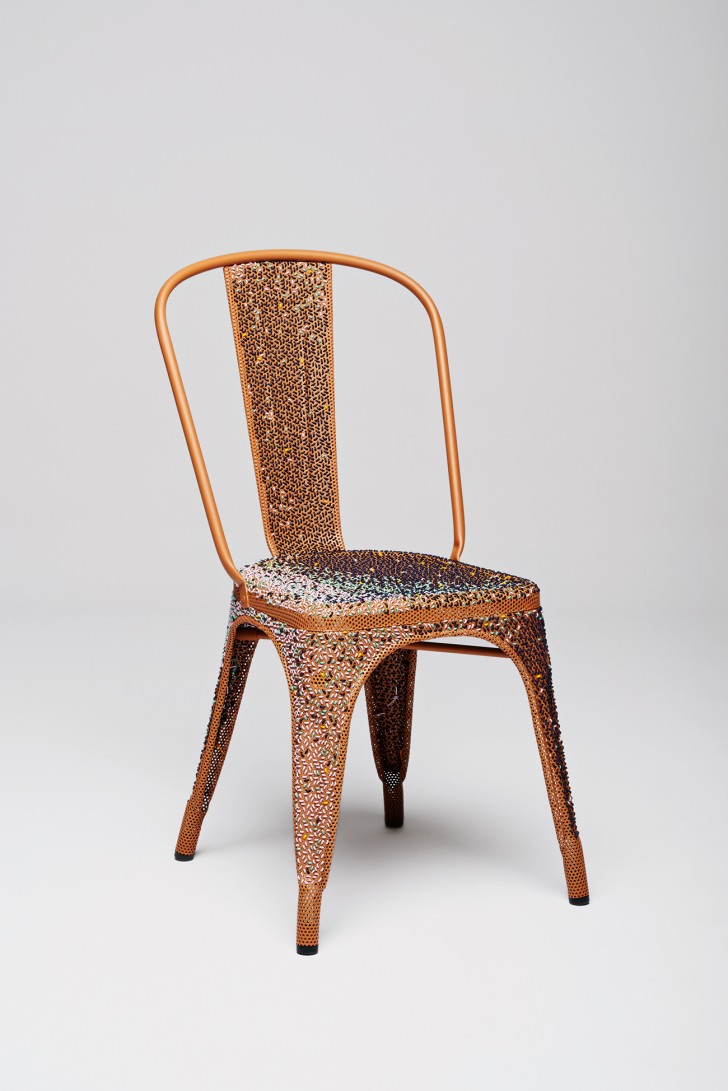 5. Sebastian Herkner: "In all my projects, there is a conjunction and a composition of materials and colors. I endeavor to give a soul to the objects I design. This time, I wanted to combine industrial chic with something hand crafted. I live in Offenbach, which has been the centre of leather hand craft in Germany for a long time. Therefore, I used leather laces of different colours to soften the chair made of perforated sheet. It is also a tribute to the colonial rattan seats, the first to be used outdoors."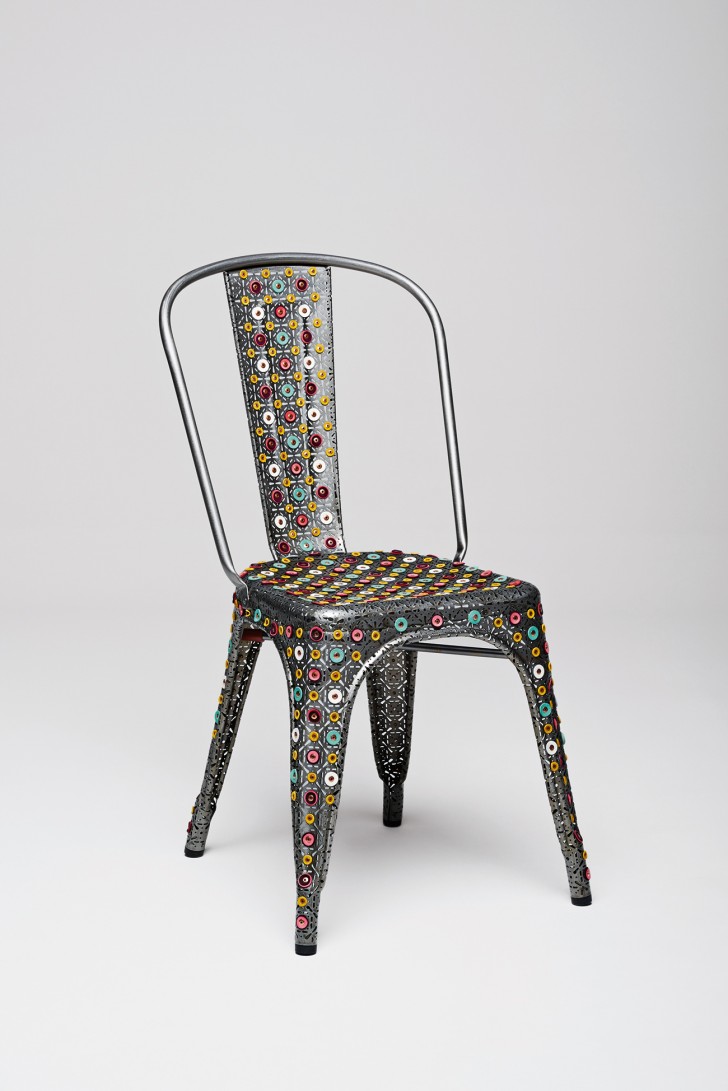 6. Bethan Laura Wood: "I have two female icons as source of inspiration: Maria, the humanoid robot, heroin in Metropolis, the Fritz Lang film – created around the same time as the chair, and Elizabeth of England – as queen, she has always dressed very feminine in a man's world. On the "Chaise A", the palmette in the backrest evokes the "boned bodice" (precursor of the corset) which gave the dress bodice a pointed shape, like the queen used to wear. For this chair made of perforated metal, I have created a motive to liven up the surface, playing with colourful small leather disks and metal rivets. So here again, we find this mix of femininity and industrial performance. It is somehow a tribute to the strength of women."