06.11.15
Wintercheck Factory's Collection No. 300
When we asked Brooklyn's Wintercheck Factory — who debuted their latest collection with us at Sight Unseen OFFSITE last month — to shoot those new pieces in the most appropriate scenario they could imagine for our Self Portrait column, their choice of venues ended up being even more fitting than they themselves realized. The 1910 bank building in Bed-Stuy that's pictured above is about to become the duo's new studio, and clearly it makes for a stunning backdrop, but having been ripped up, painted, retiled, left to rot, bricked up, and, now, appropriated as a creative space, it can also be read as a symbol of Wintercheck Factory's own gradual reinvention: Kristen Wentrcek quit her job in real estate to start a furniture company in 2009, switched to home accessories, felt too anonymous, joined forces artist Andrew Zebulon Williams in 2011 to recast vintage furnishings, and then overhauled Wintercheck entirely last year to re-focus it on designing and producing new furniture.
Their first three collections emphasize "utilitarian materials and powerful geometric forms," incorporating extremely clean lines, manufacturing help from some of the country's oldest factories, and — in the case of the works featured in this post — inspirations like Donald Judd and the Osaka subway. Below, Wentrcek explains how she and Williams got the shot.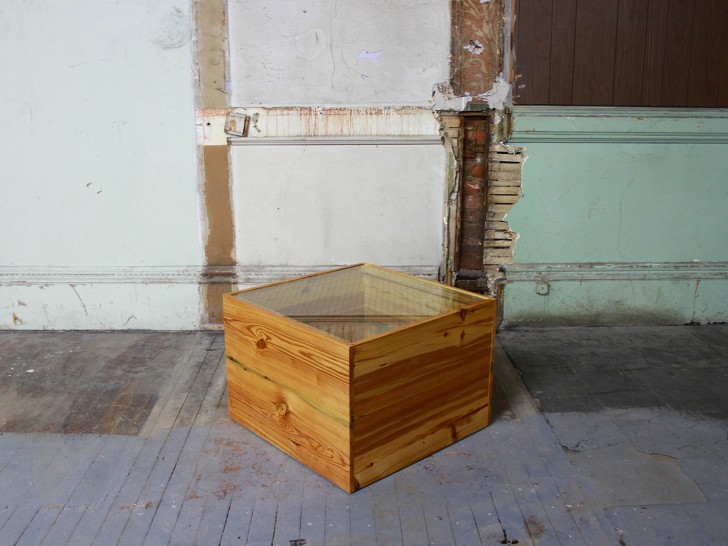 "Collection 300: Wire Glass is a hybrid of our first two collections, mixing Southern yellow pine with wire glass, an industrial American material. Wire glass is used everywhere from kitchen restaurants to laboratories to subway cars; we love how this collection showcases the material, which is quite beautiful, while still maintaining an industrial vibe.
"In our work, we use wood to produce forms that would typically be mass-manufactured in metals or plastics. In order to get the large panels needed to produce our designs, we join planks of solid wood into large sheets using a labor-intensive joining and sanding process. This allows us to create industrial, clean-lined shapes that maintain the look and feel of wood without resorting to using veneers."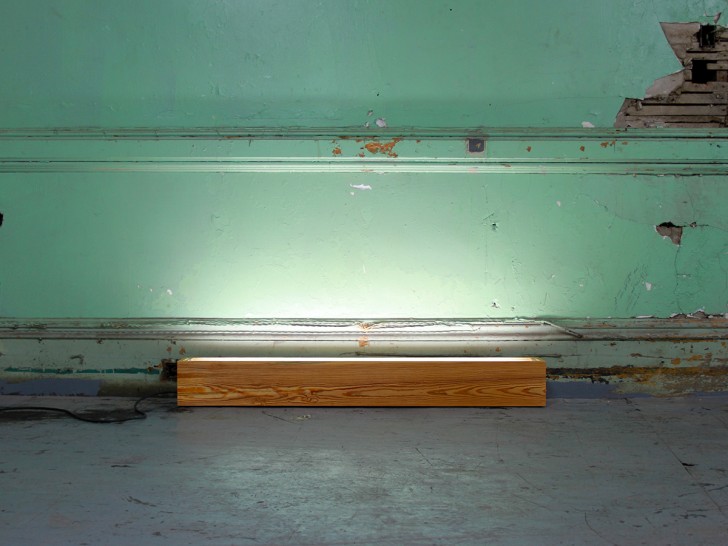 "We love working with wood, but so many designers use it to produce traditional furniture with bowtie inlays and live edges. We go the opposite way, removing as many organic qualities as possible. But inevitably you're confronted with the limitations of an organic material, so even a perfect, finished product has tiny imperfections, varying one piece from another and making each one unique. With this collection, we feel that we've finally landed on a process that reflects both the style we're looking to create and a fabrication model that is scalable. We can custom build each design to specified dimensions in-house, controlling the quality and finish. The wire glass, which is sourced from a local fabricator, completes the pieces by providing a manufactured complement to the wood."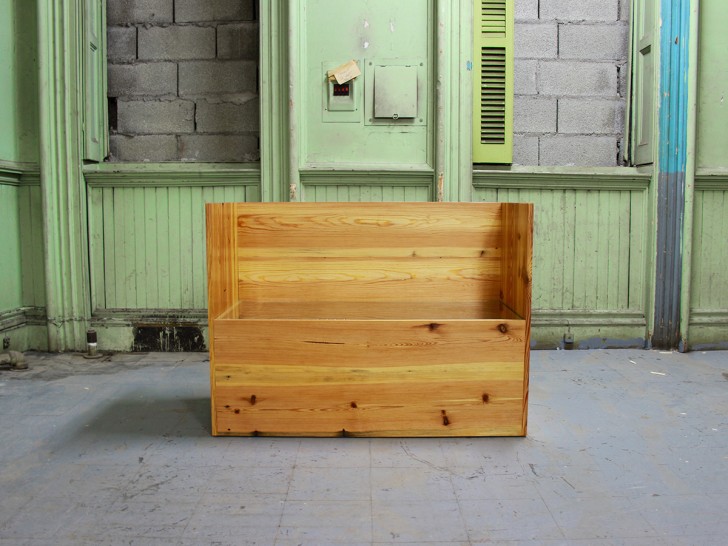 "For our Self Portrait, we photographed the collection in our new studio space in Bed-Stuy — it's in a building that's been bricked up for years but was originally a bank, built in 1910. Although it's been torn up, painted green, and lined with linoleum, many of the original details still exist, like 15-foot windows, tin ceilings, and horsehair-plastered walls. We chose to shoot the collection in some of the most dilapidated spots in the building; using the ornate architectural details as a backdrop, we've been able to highlight the sparseness and the exacting geometry of our designs. Because we spend so much time editing each piece down, we wanted to choose a setting which would emphasize this process as much as possible."