07.20.15
Stephanie Specht, Graphic Designer
People always ask where exactly we find our story subjects, and for the past two years, the most frequent answer has invariably been Instagram. And it's true, in the case of Belgian-born graphic designer Stephanie Specht, we were fans of her @spechtstudio handle long before we ever knew who was behind it. But our interest was piqued even further in recent months after Specht got the imprimatur from two friends with an impeccable knack for collaborations: Sandeep Salter of McNally Jackson Picture Room, where Specht released an edition earlier this year, and Alex Proba, with whom Specht created this series of plant-inspired posters. When we reached out to find out a bit more about her for this story, we got a taste of why Specht is such an ideal partner-in-crime: well-spoken, crazy on top of a deadline, and whip-smart to boot — and did we mention how great her designs are? Here's a quick crib sheet as to how Specht arrived on the scene.
"Initially, I wanted to become an architect. In Antwerp, where I grew up, I started an architectural design course when I was 16. I didn't know what graphic design was, but I'd always loved to draw. At one point, one of my teachers advised me to change direction since my math wasn't good enough. So I started a more general art course, and instead of focusing on buildings, I began looking at the style of architectural movements (Bauhaus, Brutalism, De Stijl, Modernism). I became fascinated by the lettering on buildings. In Belgium, there was a time when the architect would put his name on the facade of his building. Only by looking at this typeface could you tell the building year of the house. During my last year in high school, a typography teacher introduced me to graphic design. Everything made sense to me suddenly. I started studying graphic design at the Royal Academy for Fine Arts in Antwerp."
"After graduating life took me to many places like Cape Town, Brussels, and New York. During those 10 years I worked from 'home,' wherever I was living at that time. I learned to adapt to every living situation and very slowly became this modern nomad living out of a suitcase. For a while I moved back and forth between America and Belgium, but ended up in Antwerp because of a relationship that ended. I needed to be with my friends and family again. But after having lived in New York, Antwerp had become way too small for me. I didn't see the beauty of it any more. I had to learn to see the city through different eyes — and slowly I started to love it again." Read on for more!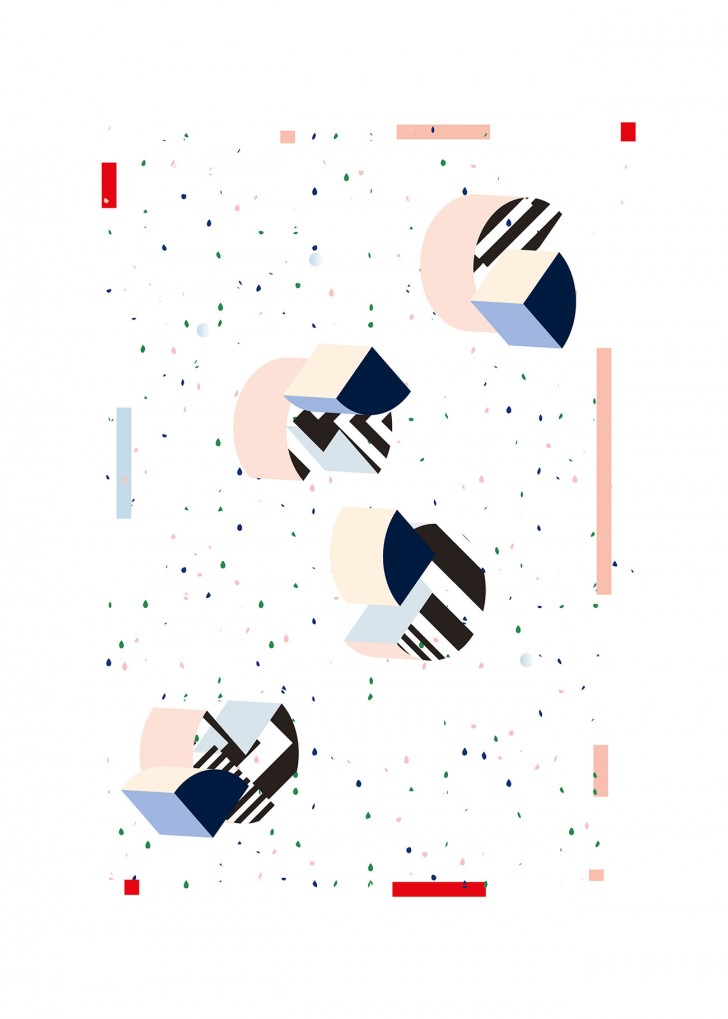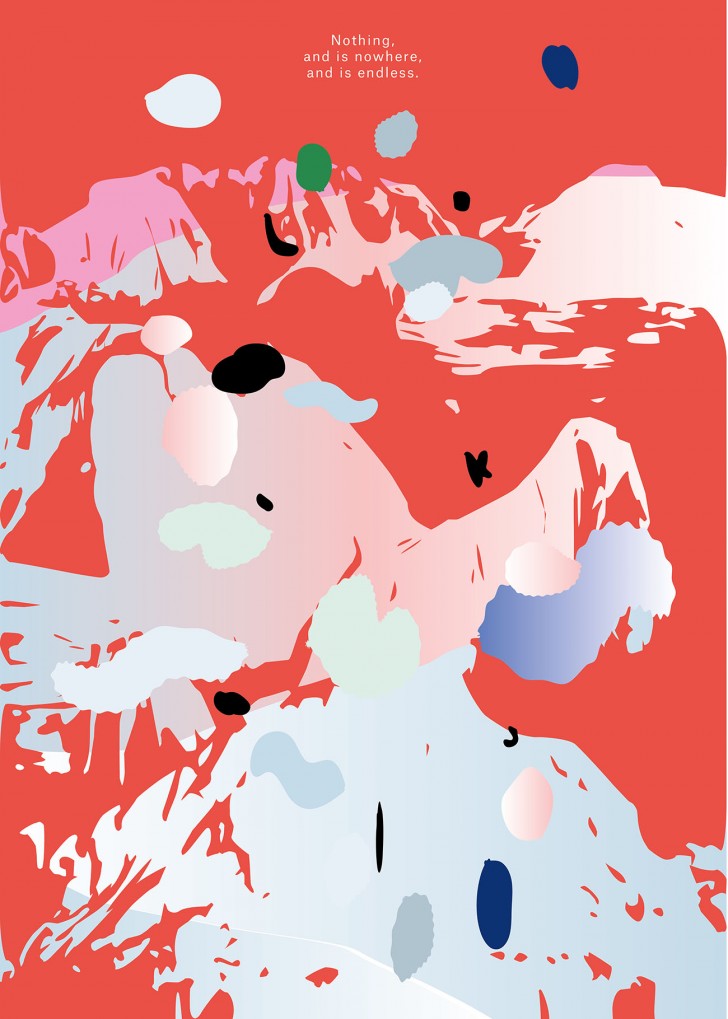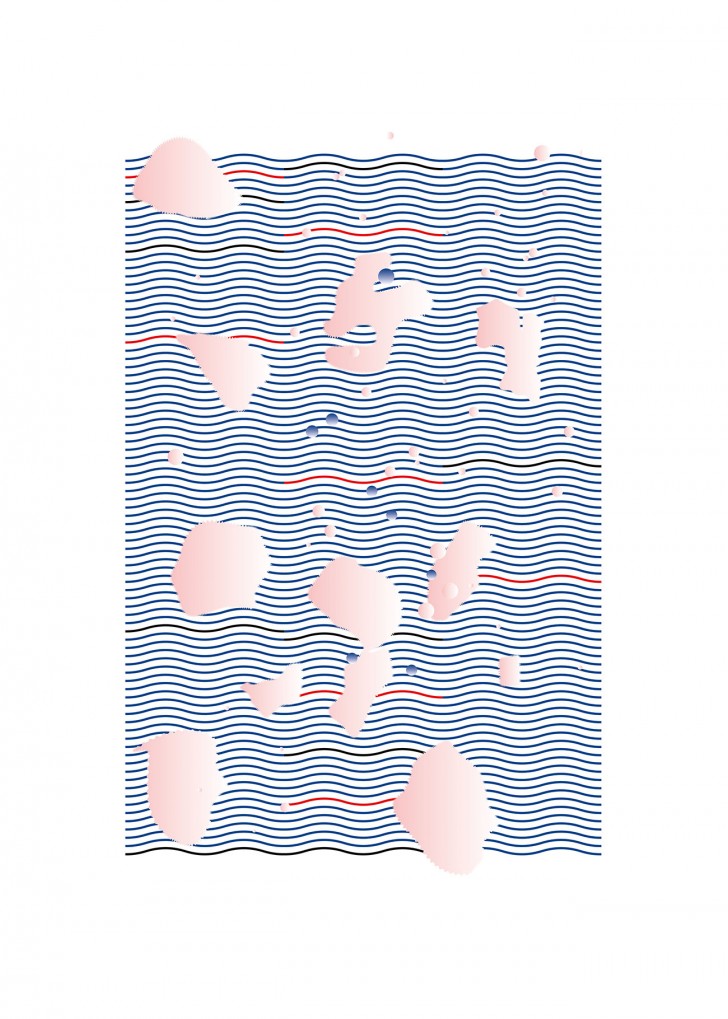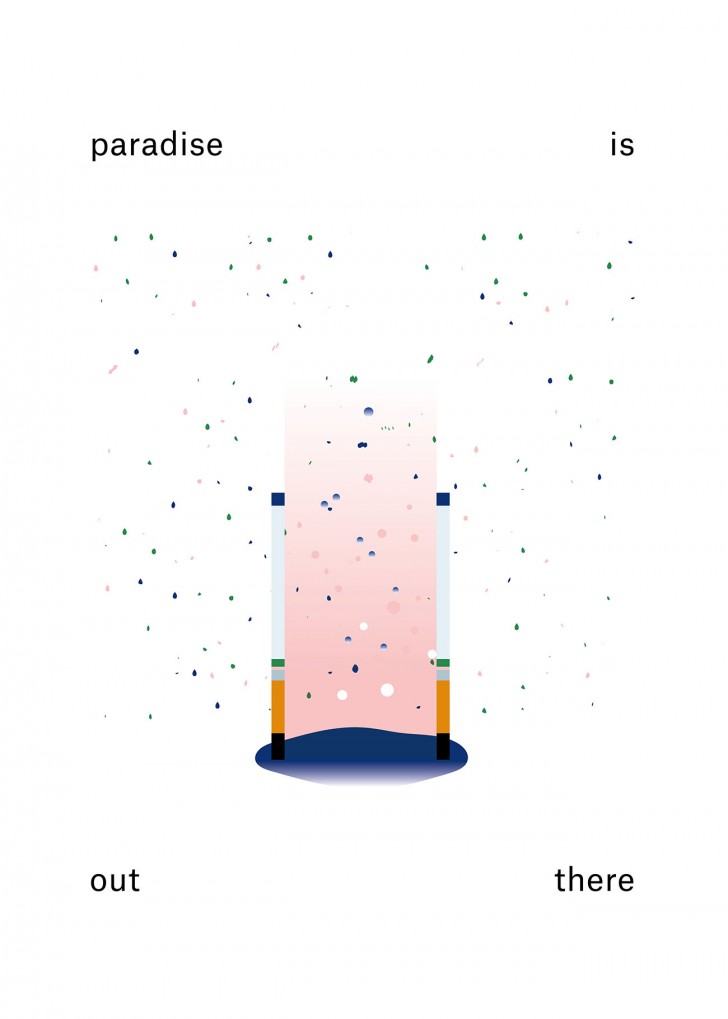 Describe your most recent project and how it was made.
Inspired by the Philip Larkin poem "High Windows," I created an edition for Picture Room called Paradise is Out There. It's a suite of 10 digital illustrations depicting a series of spatial alignments and shifting depths within a field. Exploring the idea that the window is a reflective portal through which to see into another time or space, the sequences fluctuate between pictorial states just as Larkin moves fluidly between present and past, observation and reflection. With their luscious gradients and fractured patterning, the works simultaneously seduce and obscure a "view" into an intangible paradise, suggesting a restless yearning and desire for, to take Larkin's lines: "the deep blue air, that shows / Nothing, and is nowhere, and is endless."
I had met Sandeep Salter (the art buyer at Picture Room) only once before she asked me to do these editions. We connected immediately and shared the same aesthetic views. Before starting with this project we emailed about ideas. She told me about her favorite poem by Larkin. I read it and was really inspired by it. Since music is a really important thing for me while designing, I decided to make a playlist that would match the mood of poem and the works. During the design process I would listen to this playlist over and over again. I would send Sandeep updates of the design progress and over a months time I finished the works. All of the works were printed in Antwerp.
Some of the tracks:
Don't Mind Me by Nosaj thing ft. Whoarei
Saxophone Alto by Paul Desmond
We've Only Just Once More by Andrew Pekler
Eloy by Deaf Center
Miniature 4 by Matthew Robert Cooper
I'm God by Clams Casino
We were in love by Ta-Ku
Non Hoi by Plaid
Without by Shlohmo
Red ladies in navy pants, & pants by Tülpa
Energy Map Sound Project by Zachary Todd Barr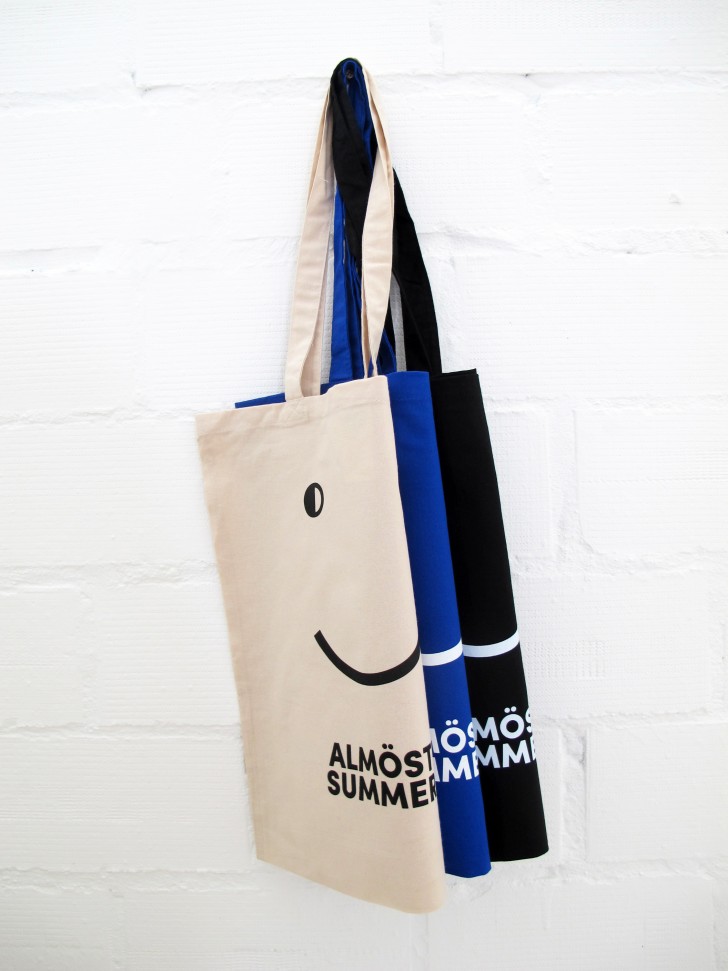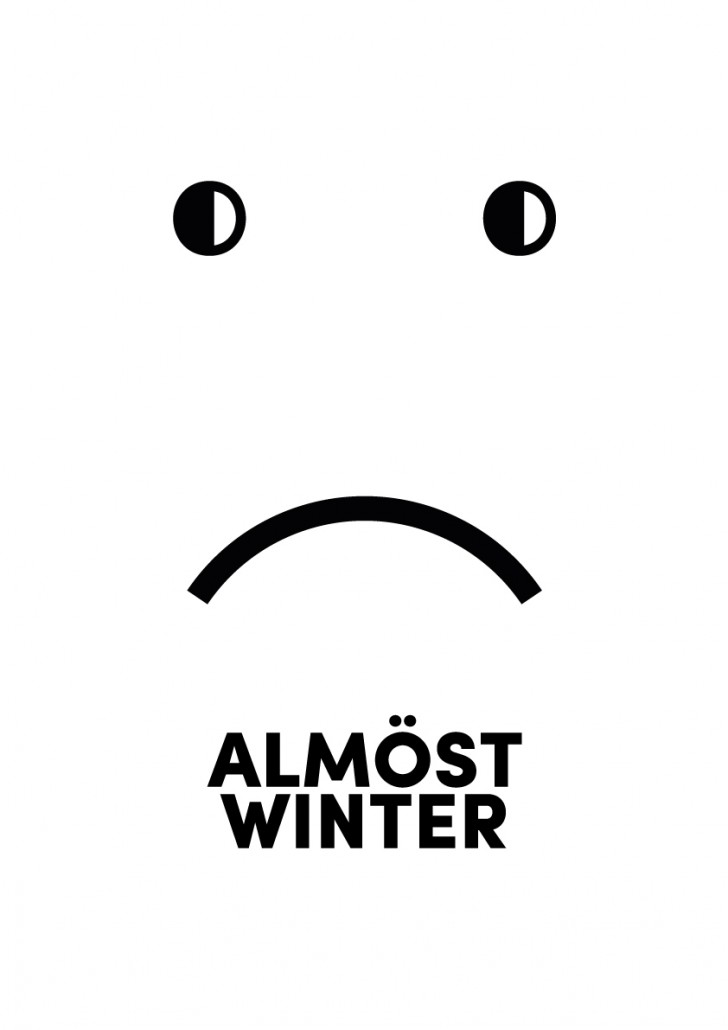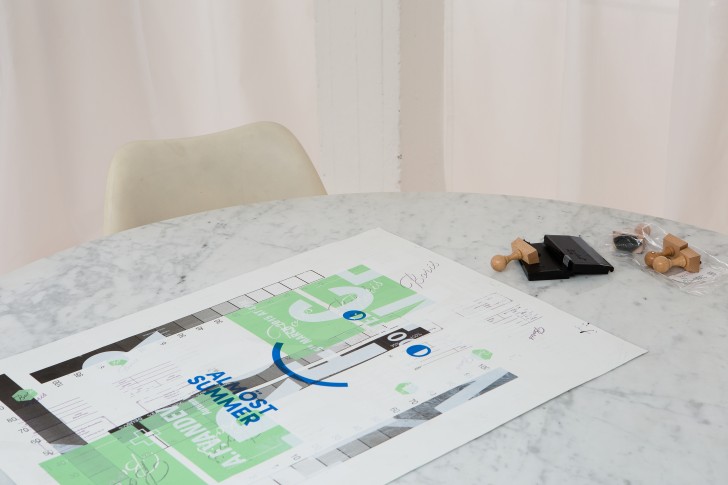 Describe your next project and how you're currently making it.
Almöst Summer was a project I started last winter, on December 31, 2014. I had three sweaters screen printed and five tote bags. It quickly became something popular, so I produced 50 sweaters (25 grey with blue print and 25 blue with white print). I only have some large sizes left now. In the meantime I also produced new tote bags since they were popular too.
Right now I am working on the new "tiny" line Almost Winter, which I want to launch at the end of August or beginning September. This will be the last Almost Collection. So it's tiny and very limited. The design is minimal too. Just some bold lettering and a smiley / sad face.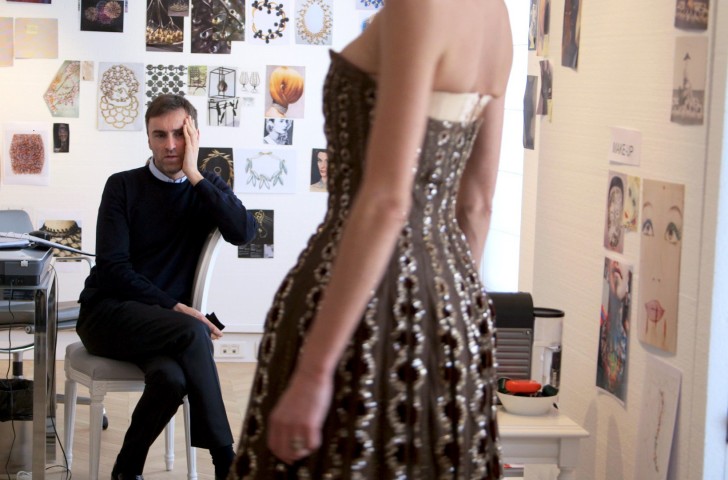 Tell us one thing that's been inspiring you lately and why.
I went to the Dior and I movie premiere in Brussels a couple of weeks ago. I loved the movie because of all different reasons. The main reason why I loved it was that it really showed the whole team behind the designs. The movie felt really honest and showed how hard work really pays off. Of course these are Raf Simons' designs but there's so much more to that. It showed a beautiful group of people all working into detail with each other. Almost like a family.
I found it really inspiring to see how Raf commutes between Paris and Antwerp while he is in charge of so many things all at once (designs, the show locations, his team). There was a time where I lived a little bit in New York and a little bit in Antwerp and I found this really exhausting. These are both inspiring cities but it takes a lot of energy to adapt/change constantly. It's multitasking to the maximum. He adds a real modern touch to this classic haute couture house and that is something really fascinating to me.
It shows that you can always re-invent yourself (as a designer). I think that's a healthy thing. But also to try to do this with new clients. It's great when you can convince a new client to step out of his/her comfort zone and try something new. After seeing this movie I was so inspired to do much more than I am already doing now. It gave me a real boost!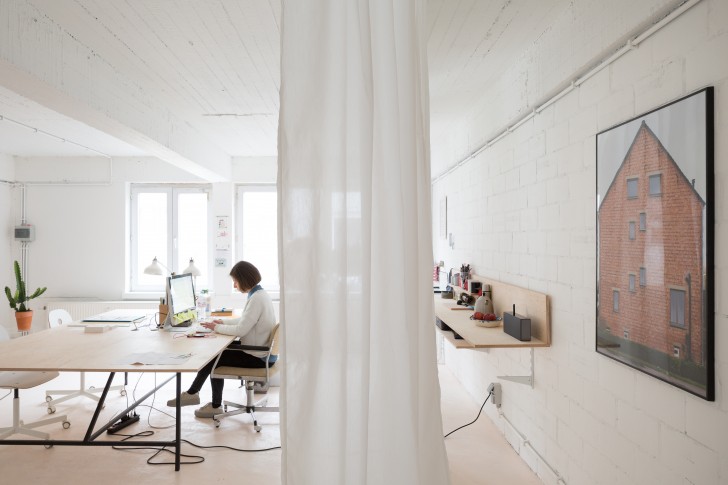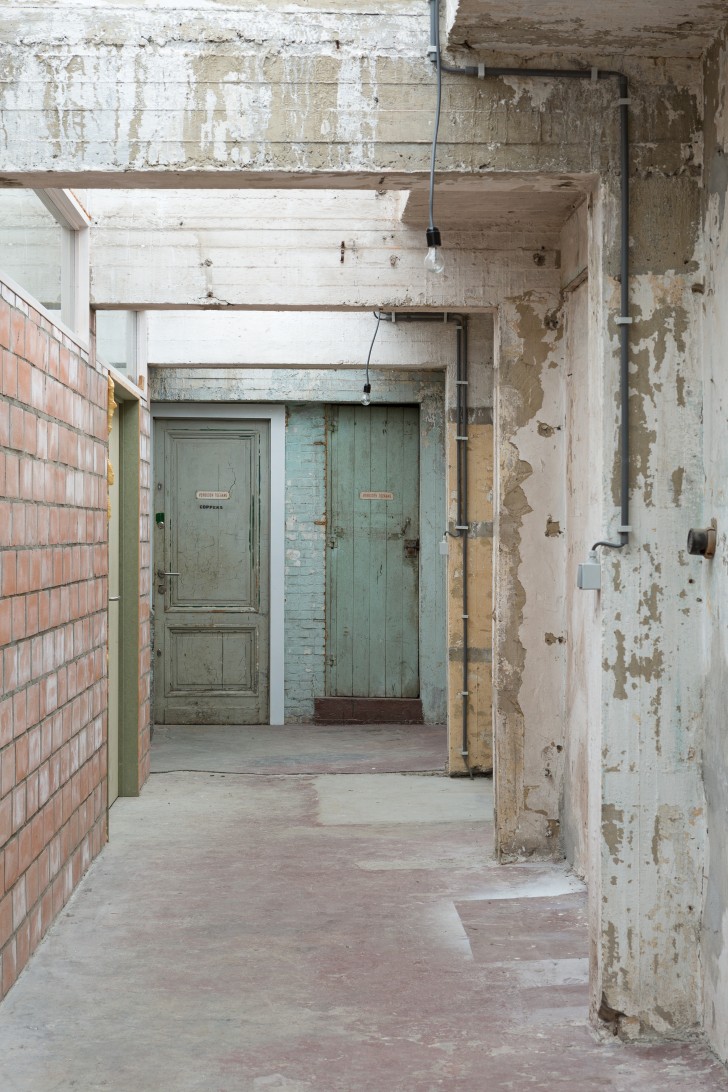 Show us your studio and tell us what you like about it.
My studio is in an old building materials warehouse. There are 12 studios in total, all occupied by creatives. The interior was designed by Nicolas Petillon. The space is really rectangular and when he suggested to use a ceiling-high curtain line in the form of a wave through the space, my first reaction was 'why break this space!?' But he was right. The curtain gives the space even more 'space.' I can open the curtain wherever I want and change the whole room.
I also have a marble Knoll table in my meeting room. It belonged to my grandmother who passed away a few weeks before I opened up the studio (March 2015). I inherited this table. The curtain follows the shape of the table and this space now almost feels like a sanctuary. It's beautiful. I decided to paint my floor apricot white which adds a certain warmth and feminine touch to the all concrete white space. I also have a lot of plants. It feels like a soft jungle.
I really love working here.
High Windows
BY PHILIP LARKIN
When I see a couple of kids
And guess he's fucking her and she's
Taking pills or wearing a diaphragm,
I know this is paradise
Everyone old has dreamed of all their lives—
Bonds and gestures pushed to one side
Like an outdated combine harvester,
And everyone young going down the long slide
To happiness, endlessly. I wonder if
Anyone looked at me, forty years back,
And thought, That'll be the life;
No God any more, or sweating in the dark
About hell and that, or having to hide
What you think of the priest. He
And his lot will all go down the long slide
Like free bloody birds. And immediately
Rather than words comes the thought of high windows:
The sun-comprehending glass,
And beyond it, the deep blue air, that shows
Nothing, and is nowhere, and is endless.